If cooking was basketball, this would be a slam dunk! Seriously, these little things are aWeSOmE!!! (I only put 3 exclamation marks there because I know some people get annoyed when bloggers go wild with exclamation marks, but in my mind, I'm adding about 30 more.) You've gotta try them… your taste buds will love you. They won't take much of your time… 40 min from walking into the kitchen to popping one in your mouth.
STOP.
What was it that you could be doing 40 minutes from now?
Ok, just wanted to be sure you caught that.
Here's a little unnecessary tidbit… I made these with one hand. I was going to quickly get them into the oven before putting Megan down for a nap. Well, just as I was ready to start, she got crabby and clingy, it was over, naptime was NOW.
Unless I was holding her.
So, I thought 'oh well, no age is too young to start training a little cook'. Actually, I didn't think that, I just thought it right now, but it would've been a cool reason to hold her while making these! So, yeah, from measuring the first ingredient to spooning the batter into the pan (including taking pictures), I had a 24-lb 10-month-old on my hip. She was tired enough to just lazily watch and not grab stuff. Then, while they were baking, I put her to sleep. Yep, I rock my babies to sleep. My babies were never trained to just lay down and go to sleep on their own. Not saying it's for everyone, but it's definitely for me. It's 18 months out of each of their little lives that I rock them to sleep and that's some cozy little moments that I'll never regret. And it gives me plenty of time to try to memorize the feel of them in my arms in hopes that when they're all grown up, I can reach in and grab those memories again… and remember.
Ok, where was I? (Yeah, I know this is a cooking blog, but I don't do a personal blog, so I like to (and my mom likes me to) stir bits of life into here sometimes.)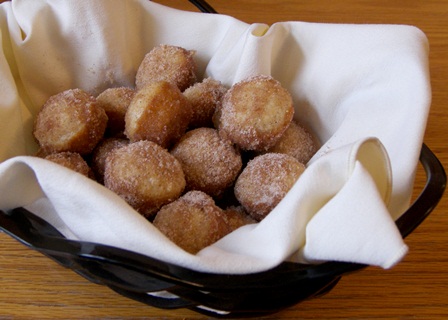 Donut Muffins …taken from here, but I'd have probably never found and tried them if my friend Diane hadn't alerted us to them on a message board I frequent. So, Diane, if you're reading this, thanks a ton!

1/2 cup white sugar
1/4 cup margarine, melted (I used butter)
3/4 tsp. ground nutmeg
1/2 cup milk
1 tsp. baking powder
1 cup flour
1/4 cup margarine, melted (it's up to you… you can either add a few Tbsp more right away or you can melt more butter when you're running out halfway through dipping them 😉 )
1/2 cup white sugar
1 teaspoon ground cinnamon
Preheat oven to 375. Grease 24 mini-muffin cups. Mix 1/2 cup sugar, 1/4 cup margarine, and nutmeg in a bowl.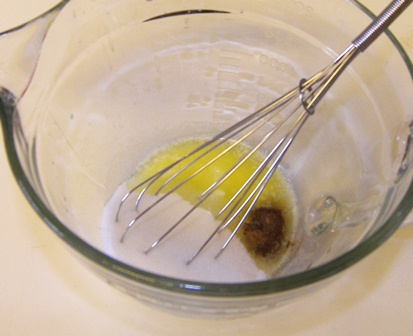 Stir in the milk, then mix in the baking powder and flour until just combined.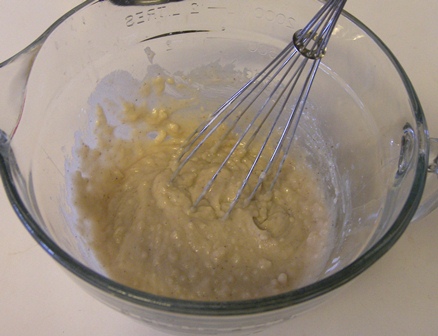 Fill the prepared mini muffin cups about half full. Yeah, I know these aren't all evenly filled, but I was never a perfectionist, and probably never will be. Plus, I was holding a baby and by this time, my left arm was starting to kill me.

Bake until the tops are lightly golden, 15 to 20 minutes. During this time, a mouth-watering nutmeggy smell will be wafting throughout your house. While muffins are baking, place 1/4 cup of melted margarine in a bowl. In a separate bowl, mix together 1/2 cup of sugar with the cinnamon. Remove muffins from their cups, dip each muffin in the melted margarine, and roll in the sugar-cinnamon mixture.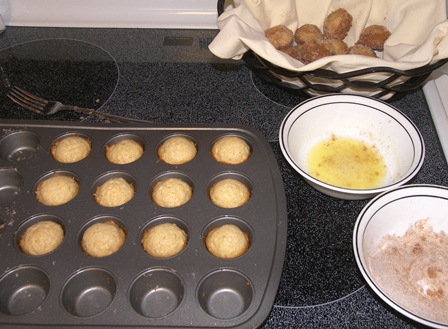 Let cool and serve. I don't know WHY it says 'cool and serve'! I say 'serve warm'! I only had one and that was a warm one and it was such incredible melt-in-your-mouth awesomeness that I'd try to serve them warm on purpose, if possible.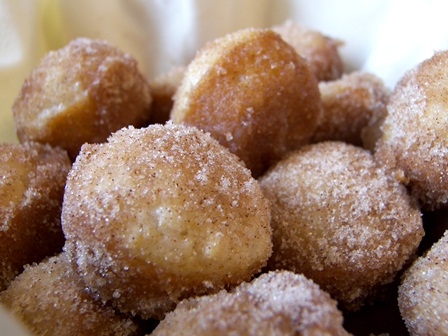 I don't know what category to put these in. They're so versatile.
— Make them for an after school snack.
— Take them to a 'bring food' church function.
— Make them for brunch.
— Serve them for dessert.
— Make them this evening for a bedtime snack.
Coming up next… a Lightning McQueen cake. 😉
An easy yummy-sounding recipe showed up in my email Inbox on Tuesday. It was from my cousin-in-law, Sharon. Is cousin-in-law a proper term? I don't know, it sounds strange. Anyway, she's married to my cousin. Not like you need to know that or anything. Thanks for the recipe, Sharon. They were easy and fast and delicious. And I had fun playing around with them too… bonus pictures at the end. 
It only takes 4 ingredients. I like recipes like that because there's more of a chance that I'll have everything on hand! Although, yesterday, I wanted to make potato salad (way more than 4 ingredients) and I had everything except milk! Really, who runs out of milk?! I did have chocolate milk, but I didn't think that would work too good. Anyway, that has gotta be one of my biggest cooking pet peeves… going to make something and not having all the stuff. That's why I need to live nextdoor to the grocery store.
So, here's our easy 4-ingredient recipe.
Cherry Cheese Danish
1 tube (8 oz) refrigerated crescent rolls
4 Tbsp. cream cheese, softened
1 cup cherry pie filling (or your choice) I used strawberry.
1/2 cup vanilla frosting
Separate crescent dough into four rectangles. Place on an ungreased baking sheet; seal perforations.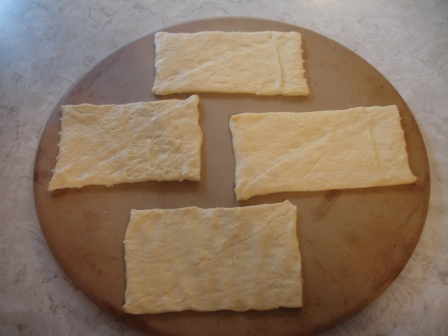 Spread 1 tablespoon cream cheese onto each rectangle.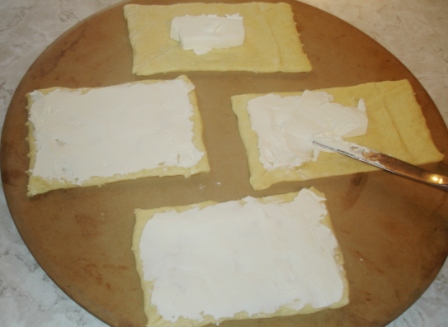 Top each with 1/4 c. pie filling.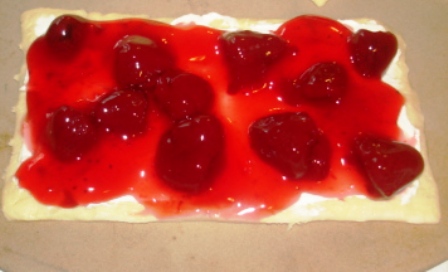 Bake at 375 for 10-12 minutes or until edges are golden brown. Cool for 5 minutes. Place frosting in a microwave-safe bowl; heat on high for 15-20 seconds. Drizzle over warm pastries. I didn't have frosting, so I mixed 2 Tbsp butter, about 2 Tbsp. milk, about 1 1/4 cups powdered sugar, and a bit of vanilla. That made about exactly 1/2 cup!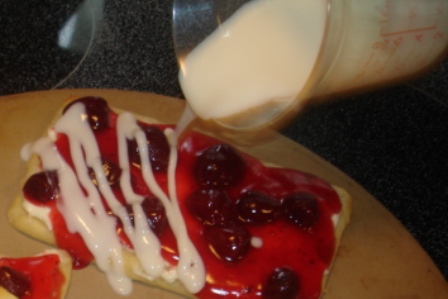 Serve warm. Refrigerate leftovers (if there are any

). Yield: 4 servings. 
I think I should've let them cool a bit more before glazing. It all ran together and you can't see the striping anymore.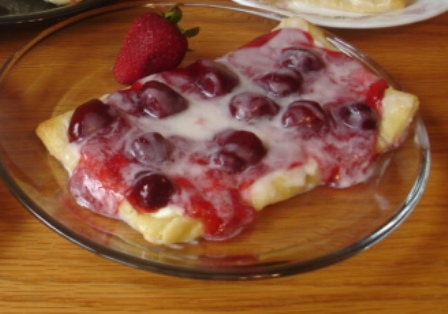 Here's a note that Sharon wrote at the end: I don't usually have vanilla frosting on hand, so I make my own powdered sugar glaze. I add almond extract for cherry pie filling, a little cinnamon for apple, lemon for blueberry, nutmeg for peach, etc. Don't you just love that sentence? She's such a good creative cook! Wish I'd think of stuff like that! They're quick and perfect for a special Sunday morning breakfast, or for company, or for just anyhow with coffee. And they're even good made light, which I usually do (reduced fat crescent rolls and cream cheese).
Bonus: 
I decided to play with them a bit…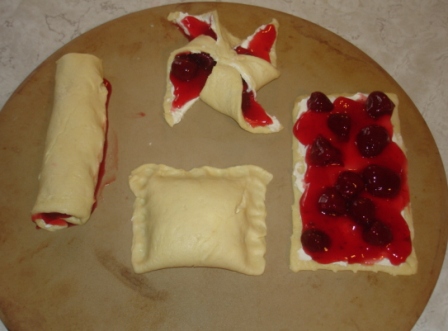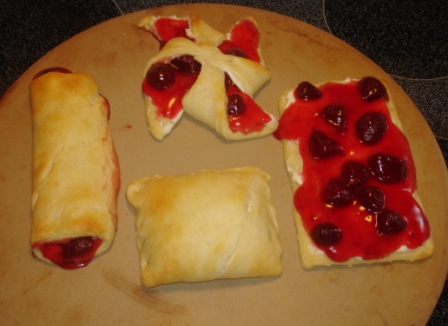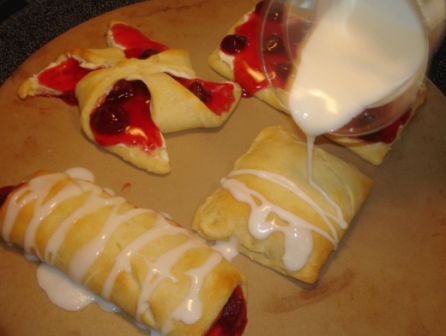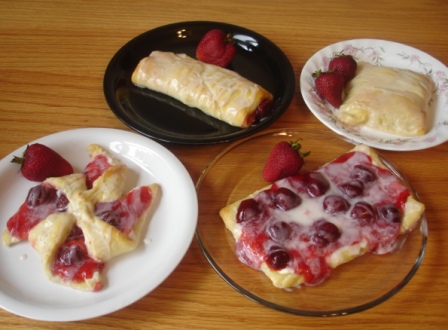 We have a regular flat one, a pinwheel, a turnover, and a spiral. The spiral turned out to have way too much filling in it and made a mess when I rolled it up (like a little jelly roll). The turnover and spiral should've been baked a few minutes longer.
The pinwheel was my favorite (not for taste… they all tasted the same). It was easy to do and looked a bit fancier. Next time, I think I could make them neater, too. It was Tiffany's favorite too. She said, "I want dat one" about 10 times while I was taking the pictures and her little pointer finger kept coming into view in my camera window whenever she'd say it.
These pastries are so good! Perfect with a cup of coffee! I just made them for the girls and I, and since the girls eat about as much as a chickadee does, there was actually some left over. The next morning, I ate another one and instead of warming it up, I ate it refrigerator cold and it was really good that way too! 
Try them! Try them! Try them!
…start it with raspberry cream cheese rolls and coffee!
Sometimes I wonder if I should try a post that's in poem format. This would be a good one to do that on because the title rhymes… and that just happened, didn't even try it. The best poems are ones that flow, that you can't tell the poet was working hard to get it to rhyme. An example of working too hard to rhyme would be like this:
My friend and I met
this morning at eight.
Our coffee we drank
and our donuts we ate.
You just don't say "our coffee we drank" and "our donuts we ate" in regular conversation, you say "we drank our coffee" and "we ate our donuts". That is one of my pet peeves in poetry. I know it's 'legal', but it just makes it sound so much more formal. It would be much better to say,
Coffee and donuts
and a friendly chat,
Breakfasts don't get
much better than that.
I used to get a kick out of writing poems in my adolescent years. My favorite has always been a 6-line style where lines 1& 2 rhyme, 3&6 rhyme, and 4&5 rhyme. I don't know what it's called, kind of like a limerick, but not quite. Around 16, I wrote a whole poem consisting of about 10 stanzas in that style. The first stanza was:
In August we moved
To what actually proved
To be home at Valley View Orchard.
At first, work was fun,
But before all was done,
We thought we were seriously tortured.
…and so on it went, about life on our orchard.
My dad was/is great with poems. I still remember when I we were growing up, Dad would start making up a poem about this or that and just kept going and going for quite awhile, not having to pause to think of a rhyming word. It was amazing to me even at a young age how he could do that. Of course, the bar was pretty low because we were just kids and were thrilled with anything that rhymed.
Anyway, when I started this post, I had no clue I'd get into poems! So, instead of erasing the poem parts, I went up and added "(and other rhymes)" into the title. I was just posting to tell you that I made raspberry cream cheese rolls this morning AND that I finally have a new FAVORITE coffee mug once again! Here are both: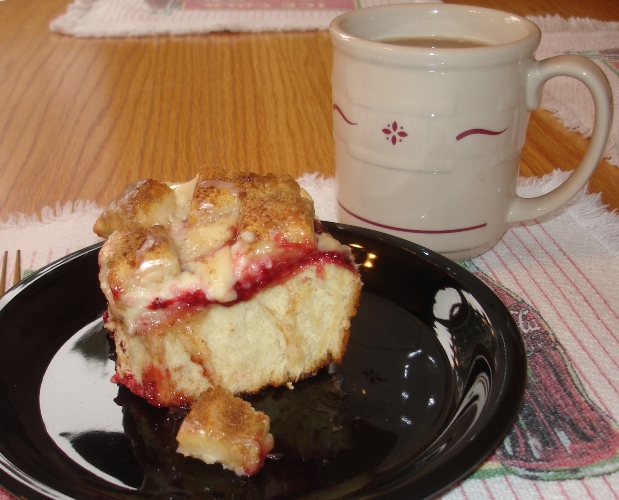 My friend, Shannon, from OH,  sent me that coffee mug. It's perfect. The 'walls' are thick, just how I like them. It's heavy and solid. And the design is great. And she said that they're hard to break… which is good! Did you know that I break more dishes than my 2 children do?! Sometimes I wonder if I'm clumsy. Anyway, it's a Longaberger mug, if you're interested in getting one. She tells me Longaberger mugs are the best. And I think I'm convinced.
And those raspberry cream cheese rolls (here is the link to the recipe), they are just the best! Seriously, try them! I just thought of it now, I got the recipe for these rolls from Shannon, too (same one that just gave me the mug). These rolls are easier than they look and the dough is SO nice to work with because it doesn't stick to anything… not to the rolling pin, not to the counter, not to your hands. The raspberry filling is just regular pie filling from the grocery store (I put it into a plastic storage bag, cut a corner off, and pipe it on). It doesn't have to be raspberry, in fact, this time I used strawberry. I put it in the food processor so there wouldn't be big chunks. The cream cheese filling is from a bulk foods store in plastic bag tubes. BUT, Barb, if you're reading this, you had asked a question about the cr. ch. filling if you don't have a bulk foods store around. I made it from scratch this time just to experiment and it turned out great! I edited the post that the rolls are featured on and added that filling recipe.
So, now everyone, tell me what you had for breakfast in a comment! You can make it in poem form if you want to.

Here I'll start:
My roll was first-rate
My coffee was great
And Shannon confirmed that when he ate his.
You may have guessed
These are the best
And I don't care who your grandmother is!
I have started making breakfasts on Saturday mornings! I know, most of you probably already do that, plus do it Monday mornings and Tues mornings and Wed mornings…   Anyway, I do try to steer clear of recipes that require me to get up early though! Here's one we had recently on a Saturday morning…
Peach Coffee Cake… which actually ended up being Apple Coffee Cake. Recipe taken from the 2006 Quick Cooking Annual Cookbook
1 cup butter, softened
1 3/4 cups sugar
4 eggs
3 cups flour
1 1/2 tsp. salt
1 1/2 tsp. baking powder
1 can (21 oz) peach pie filling (I used homemade apple pie filling that Mom gave me, or was it Grandma? I am blessed!)
ICING:
1 1/4 cups confectioners' sugar
1/2 tsp. almond extract
3 to 4 tsp. milk
In a large mixing bowl, cream the butter and sugar until light and fluffy. Add the eggs, one at a time, beating well after each addition. Combine the flour, salt, and baking powder; add to the creamed mixture and beat until just combined. Spread 3 3/4 cups of batter into a greased 15″ x 10″ x 1″ baking pan. (I didn't measure out 3 3/4 cups!)


Carefully spoon the pie filling to within 1″ of edges.


Spoon remaining batter over filling.

Ok, THIS is harder than it looks! At times like this, I'm glad I'm not a perfectionist. At this point in the recipe, I had decided I might not feature this after all. Thankfully, it came out of the oven looking much better with the 'islands' more connected and not so choppy and oddly shaped!)
Bake at 350 for 20 – 25 min or until a toothpick inserted near center comes out clean (cover loosely with foil if edges brown too quickly).


Cool on a wire rack. In a small bowl, combine the icing ingredients. Drizzle over coffee cake. Yield: 16 – 20 servings.

 Mmmmmmm! Just delicious! I came back to them later for a late-morning snack and I thought it actually tasted even better at room temp than when it was warm from the oven… just my opinion. I'll bet this would be good with about any fruit. I do want to try it with peach sometime… I didn't have any peach filling on hand when I went to make these.
Thanks to those of you who tried the biscuits and then mentioned it. It's always fun to hear feedback from you if you try recipes on here! Also, a big thanks to heidirhodes for taking time to post your recipe! I'm planning to try that one next time I make them.
Do you ever do this? Go leafing thro' a magazine and clip out the recipes that reach out and grab you before throwing the magazine away? Then what? I have all mine in a folder and my goal is to try every single one and then make a decision between A or B:
A. Throw it away
B. Paste it into my 'blank' cookbook (that isn't so blank anymore)   In case you don't know what a blank cookbook is, it's set up like a cookbook with all the different categories (breads, meats, main dishes, veggies, desserts, etc), but the pages are either lined or blank. I got mine from mimmistidbits about 5 years ago and love it!

The clipped recipe I'm featuring this time is:
Pecan Cinnamon Buns    …from a Bon Apetit magazine
Filling:
3/4 cup packed dark brown sugar
1/2 cup pecans, toasted, chopped
1/4 cup sugar
2 tsp. ground cinnamon
1/4 tsp. ground cloves
1/8 tsp. salt
2 Tbsp. (1/4 stick) unsalted butter, melted
Combine everything except the butter in medium bowl. Stir in melted butter (filling will be dry and crumbly).
Dough:
Nonstick vegetable oil spray
2 1/2 cups (or more) all purpose flour
2 Tbsp. sugar
1 1/4 tsp. baking powder
1/2 tsp. baking soda
1/2 tsp. salt
1 1/4 cups buttermilk
9 Tbsp. unsalted butter, melted, divided (I divided it before it was melted, then melted each part separately…


Preheat oven to 425. Spray 10″ diameter cake pan with 2″ high sides with nonstick spray. Whisk 2 1/2 cups flour, sugar, baking powder, baking soda, and salt in large bowl. Stir buttermilk and 6 Tbsp melted butter into dry ingredients until blended. Transfer dough to lightly floured surface and knead until smooth, adding more flour by teaspoonfuls if dough is too sticky, about 8 turns (I added probably at least an extra 1/2 cup). Roll dough out on lightly floured surface to 12×10″ rectangle. Brush dough with 1 Tbsp melted butter.


Sprinkle filling evenly over dough, leaving 1″ plain border on 1 long side. Press filling gently into dough to adhere.


Beginning at long end opposite plain border, roll up dough jelly roll style. Pinch border of dough to seal. Cut dough crosswise into 8 equal slices. 


Place 1 bun in center of prepared cake pan; surround with remaining 7 buns, spacing apart (buns will expand to fill spaces during baking). Brush tops of buns with remaining 2 Tbsp melted butter.


Bake buns until golden brown, about 23 minutes (some filling may come out sides of buns). Cool buns in pan on rack 5 min.


Drizzle icing (recipe below) over warm buns, then serve warm or at room temperature.  

The only round pan I had that was big enough was my springform pan. Turned out to be handy because I just took the sides off and the rolls were easily accessible!
Mascarpone Icing
1 cup powdered sugar
2 Tbsp. mascarpone cheese (an Italian cream cheese available at many supermarkets)
2 Tbsp. buttermilk
Whisk in medium bowl until smooth.
And now the real question: Will this recipe… A. Get thrown away or B. Go in my blank cookbook?
The answer is A. One reason is because I don't keep unsalted butter, buttermilk, and mascarpone cheese on hand, so I'd always be substituting salted butter, reg milk with vinegar, and cream cheese anyway. Also, while they were really good, they weren't quite as light as reg cinnamon rolls.
One thing that I really liked about this recipe, though, was that I didn't have to get up early to have hot fresh cinnamon rolls for breakfast! No waiting for it to rise twice!