When it looks like this outside,

it oughta look like this inside: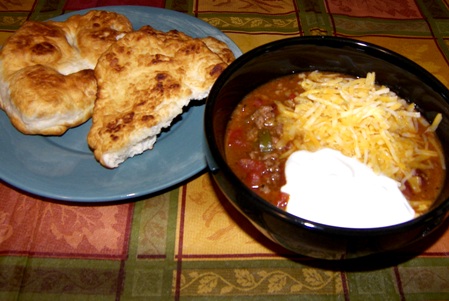 "Huh?! Shouldn't it be chili soup and cornbread?" you say.
Nope.
I do like chili soup with cornbread too. But not nearly as good as chili soup with fry bread!
I grew up with that combo. 'Chili soup and fry bread' was like 'peanut butter and jelly' or 'cake and ice cream' or 'donuts and coffee'… where one was, it was a given that the other would probably be there too. I wonder if my mom grew up with the chili-soup-and-fry-bread combo too. The reason I wonder that is because my fry bread recipe comes from my aunt Dar. She gave me a little collection of recipes when I got married and this was one of them. Aunt Dar and my mom are twins, complete with rhyming names… Darlene Fay and Marlene Kay (just a little tidbit from my family tree).
Navajo Indian Fry Bread …I'll bet you've got all the ingredients on hand for this.

Printable recipe coming soon
4 cups flour
2 tsp. salt
2 tsp. baking powder
1 1/2 cups warm water
Mix by hand. Set aside in a covered bowl for a few hours. Take out small bowl of soft dough and, with hands, stretch and flatten into shape of a pancake, round and flat. Melt 1 cup of shortening in frying pan. Deep fry at 375 degrees.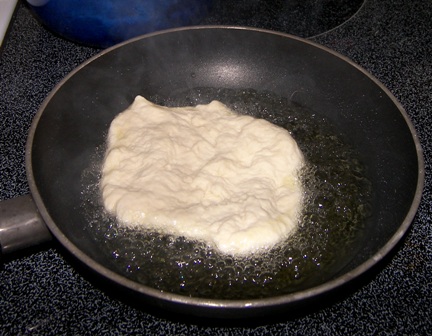 When it looks likes this,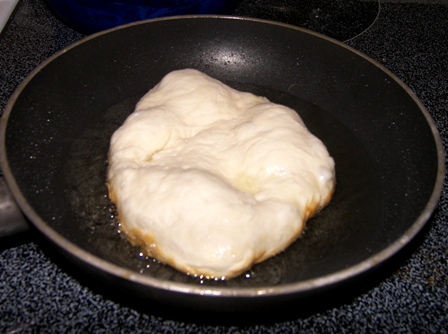 flip it over, browning on both sides.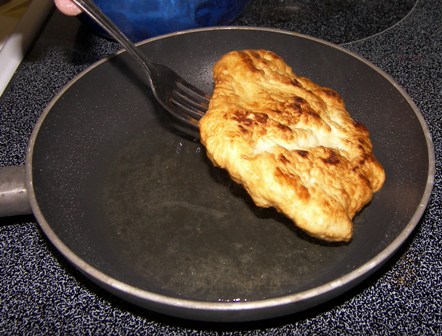 Makes 8 pieces, about 4″ in diameter. This, by the way, is a little saute pan. I only made a half batch of fry bread because they don't make good leftovers, so I just used a little pan. Another really good thing to do with this fry bread is to coat it with cinnamon sugar as soon as you get it out of the frying pan. Would make a good breakfast side dish or an after school snack. Yum!
HOT Chili Soup …as in spicy. This recipe did not come from a cookbook. This is from my kitchen, exactly how I like chili soup… 
Printable recipe coming soon
1 lb. ground beef
1/2 of an onion, chopped
1 28 oz. can diced tomatoes
1/2 cup water
1 Tbsp. flour
2 Tbsp. brown sugar
1/4 cup ketchup
1 16 oz can hot chili beans, juice and all, do not drain
2 tsp. chili powder
1/4 cup canned hot jalepenos, chopped
several shakes of Tabasco sauce
Brown beef with onion. Stir in rest of ingredients.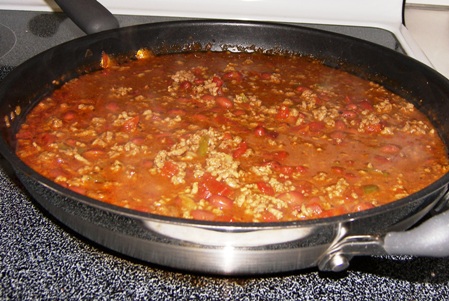 Simmer, covered, for 30 min. Serve with sour cream, shredded cheese, and FRY BREAD.

You could adjust the spiciness of this to your liking, maybe you don't like your nose to run while you're eating. This isn't very juicy. Or brothy. Or whatever you call it when it's chili soup. That's how I like it. You could always add more diced tomatoes or tomato juice.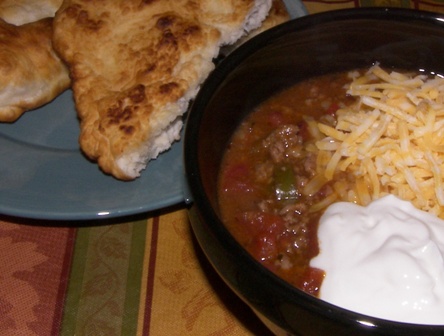 Mmmmm, soup. Perfect for winter. That reminds me, last Spring I got a taco soup craving and was going to spend this winter perfecting a taco soup recipe because I love taco soup… and now the winter is already half over!
One problem with soup is that you don't get as much meat as you would in a meal with the meat separate. So, when I made this soup, I doubled the meat because it was going to be the main dish (served with biscuits and mozzarella cheese sticks). I wasn't planning to feature it at the time I was making it because I put in double meat and added an extra spice (as in, I didn't follow the recipe perfectly), so after the first step, I stopped taking progress pictures. Then, at mealtime I was regretting it because it was SO good and I thought you oughta have the recipe after all. 😉 So, the 'done' picture was taken at lunch today when I warmed up the leftover soup and served it with fresh Red Lobster biscuits, salad, and sliced cheese.
Hearty Hamburger Soup …from the Treasured Recipes for our Mothers (compiled by the 3rd &4th grades 1990-1991 at Lebanon Valley Christian School, but I'll bet the moms did more work at the compiling than the students did, altho' the students names are written beside the recipes 😉 )
2 Tbsp. butter
1/2 cup chopped green peppers
1 lb. hamburger (I used 2 lbs)
1 cup diced or shredded potatoes
1/8 tsp. pepper
4 cups milk
1 cup chopped onion
1 cup sliced carrots
2 cups tomato juice
1 1/2 tsp. salt
1/3 cup flour
and I added about 1/2 tsp. of Chef Paul Prudhomme's Meat Magic seasoning
Melt butter in pan. Add onion, carrot, and green peppers. Cook until onion is tender, not brown.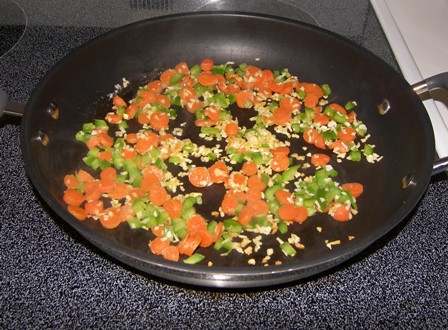 Add hamburger and cook until meat is crumbly (I assumed this meant how it gets after it's browned). Stir in tomato juice, potatoes, and seasonings. Cover and cook over low heat until tender. Combine flour with 1 cup milk and beat until free of lumps. Stir into soup mixture. Add remaining milk and heat, stirring frequently. Do not allow to boil.

Soooo… what do YOU usually serve with soup? It's often a got-all-the-food-groups-in-it dish (assuming you add crackers or croutons), so what food groups do you double up on?
But I'm still looking for that perfect recipe.
I just recently made taco soup. I've had it at other people's places, but this was the first time I've had it from my own kitchen. The taco soup I made was really good, but I've had better, so I'll keep trying some other recipes in my cookbooks.
 Actually, now that I think of it, I might put that on hold for awhile… that sounds like a great winter project for next year. With the snow melting outside and the promise of Spring, who wants to be making taco soup or any soup?!
Unless it's bread soup. Now THAT's a summer soup! Did you ever have that? Rip up a piece of bread, put some fruit chunks in (bananas, fresh peaches, or fresh strawberries are best), sprinkle some sugar over it, then add milk. On a hot summer day, that is just a great lunch. So refreshing! And you don't break out in a sweat while eating. Mom made that now and then when we were growing up. Another cold soup (that I don't know if I'd ever have the nerve to try) is Cool Raspberry Soup. I see it in one of my cookbooks now and then and even though there's a picture, I always flip past, knowing I'd never make it.
Anyway, back to the taco soup. It's cold and damp and rainy outside, so I think it's still ok to talk about and feature hot soups. This recipe comes from the Fix-It and Forget-It cookbook. I'll bet alot of you have that cookbook. It seems pretty popular. One thing I think is so neat about it is that I know a couple people who submitted recipes and tips. I have a few cookbooks like that. Makes it feel like it's just not some random cookbook compiled by some random unknown people. I even know someone in one of my Taste of Home's Quick Cooking cookbooks!
Taco Soup with Pizza Sauce
2 lbs. ground beef, browned
1 small onion, chopped and sauteed in ground beef drippings
3/4 tsp. salt
1/2 tsp. pepper
1 1/2 pkgs. dry taco seasoning
1 qt. pizza sauce
1 qt. water
Tortilla chips
Shredded mozzarella cheese
Sour cream
Combine ground beef, onion, salt, pepper, taco seasoning, pizza sauce, and water in 5-qt, or larger, slow cooker. Cover. Cook on Low 3-4 hours. And there ya go, easy as that! Top individual servings with tortilla chips, cheese, and sour cream. Notice there IS soup under the toppings. Can almost see it.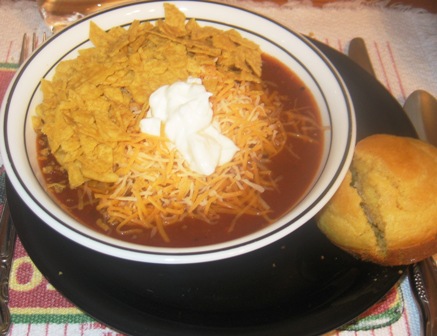 Makes 8-10 servings. 
At the bottom of the recipe, it says, "Variation: Add 15-oz can black beans and 4 oz. can chilis to mixture before cooking." I thought that sounded good, so I added both.
The soup went perfect with cornbread muffins! About every time I post, I wish there'd be a way to give you a taste of whatever food I'm featuring. Technology and computers keep advancing, but I'm quite sure there will never be software to install for that feature. Oh well, you'll just have to come visit sometime… or try the recipes yourself.
You know the term "just quick throw a soup together"? Well, I don't see it that way!!! Every time I make a soup from scratch, it's alot of work. But I do get a satisfaction out of starting with raw whole veggies and ending up with a good soup. And it's fun to make… I just don't buy the thing of it being 'quick'. Any comments on that?
This soup is actually pretty easy though because the only raw veggies in it is potatoes and onions.

Chunky Potato Soup    . ..I'm not sure where this recipe comes from, it's handwritten it on a blank cookbook page
3 med red potatoes
2 c. water
1 sm onion, chopped
3 Tbsp. butter
3 Tbsp. flour
Crushed red pepper flakes
Black pepper
3 cups milk
1/2 tsp. sugar
1 cup shredded cheddar cheese
1 cup cubed ham
Peel potatoes and cut into 1″cubes. Cook until tender.


Drain, reserving liquid.
Saute onion in butter until tender, but not brown.


Add flour, red pepper flakes, and black pepper. Cook 3-4 min.


Add potatoes, 1 cup liquid, milk, and sugar to saucepan. Stir well. Add cheese and ham. Simmer 30 min, stirring frequently. Serves 12. Very good! That red pepper gives it some kick and extra flavor.

I know my dipper for the soup is way too big! I bought a smaller one just this morning.
Red Lobster Biscuits    …from Freida   
Preheat oven to 450. Mix 2 cups Bisquick, 1/2 cup water or milk, and 3/4 cup grated cheddar cheese. Drop onto a greased baking sheet and bake for 8-10 min. After baking and while still hot, brush on 1/4 cup butter mixed with 1 tsp. parsley flakes, 1/2 tsp. garlic salt or powder, and 1/2 tsp. Italian seasoning. Serve hot!
I have tried to copy Red Lobster biscuits SO often! I think every time we go there, we say we've gotta figure out how to do them. And this is the closest I've gotten to them yet! Still not quite as light and moist, but very close. Definitely the best biscuit recipe I've tried so far! You know they've gotta be good though… the tops are laden with melted butter! You really oughta try them!!!!!
EDIT: This was my 1st attempt. Then, I got another recipe, which is better… so if you try the biscuits, please use this recipe instead.
This was a very easy meal to make! I've had my eye on these sandwiches and have been wanting to try them for awhile. The domestic part of me gets a kick out of making soups from scratch, altho' we don't have soup very much. I'm more used to popping open a can when we do have soup, so there's something kind of 'fun' about starting with raw potatoes and carrots! 
Quick and Easy Italian Vegetable Beef Soup    …This recipe comes from the Fix-It and Forget-It Cookbook , all the recipes use a crockpot.
1 lb ground beef or turkey, browned and drained
3 carrots, sliced
4 potatoes, peeled and cubed
1 small onion, diced
1 tsp garlic powder
1 tsp Italian seasoning
3/4 tsp salt
1/4 tsp pepper
15 oz can diced Italian tomatoes or 2 fresh tomatoes, chopped
6 oz can Italian-flavored tomato paste
4 1/2 cups water (I put in only about 3 cups to cut down on the broth, I like soups full of stuff without a lot of broth)
1 quart beef broth
Combine all ingredients in slow cooker. Cover. Cook on high 6-8 hours, or until potatoes and carrots are tender. So easy. I had it in the crockpot by 10:00 a.m. and didn't have to touch it till supper… well, ok, I couldn't help but stir it now and then. It made about 12 cups, fit nice in my 4 qt crockpot. It was a good hearty soup. We liked it.

The Ultimate Grilled Cheese    … This recipe comes from the 2001 Annual Quick Cooking Cookbook.
1 pkg (3 oz) cream cheese, softened
3/4 cup mayonnaise ( I used a little less than 1/2 cup the second time and that tasted better)
1 cup (4 oz) shredded cheddar cheese
1 cup (4 oz) shredded mozzarella cheese
1/2 tsp garlic powder
1/8 tsp seasoned salt
10 slices Italian bread (This isn't with the regular bread, at our grocery store anyway. It's over by the bakery.)
2 Tbsp butter or margarine, softened
In a mixing bowl, beat cream cheese and mayo until smooth. Stir in cheeses, garlic powder, and seasoned salt. Spread 5 slices of bread with the cheese mixture, about 1/3 cup each.

Top with remaining bread. Butter the outsides of sandwiches; cook in a large skillet over medium heat until golden brown on both sides. Yield: 5 servings. I buttered the bread, put the bottom piece in the skillet, then put the stuff on, the put the other buttered piece on top… seemed like it would be a little less handling and a little less messy that way. We had one left over and it was really good reheated in the oven! I made this meal Wed evening and it tasted like too much mayo in these sandwiches, so when my sis-in-law Liz came over yesterday, I made them again and put less mayo in and it was better. We had some of the leftover soup and Liz brought salad to go with it. Anyway, Shannon and I really liked these sandwiches (I'll let Liz speak for herself
). It was a nice variation from reg grilled cheese.

---
This tip was in a
"Sandwich Secrets" 
section in the same cookbook:  "Here's a hurry-up way to make grilled cheese sandwiches for a crowd: Prepare the sandwiches as you would for the griddle, but place them all on a cookie sheet instead. Bake in a 350 oven for 5-8 minutes on each side until they're golden brown." I just saw that tip, so I didn't get a chance to try it yet, but I plan to do it next time I get the chance.  
---
On a different note:
On the last post, someone commented on my smooth top range and wondered how I like it… I absolutely love it! I've had the other and this is much better… no getting down in under burners to clean and there's a cleaning solution you get with the smooth top that works like a charm. My mom and dad built a new house and got new appliances. Mom got a smooth top and really likes it too. I've heard that it's not good for them to do alot of canning on them, but that's not an issue for either of us. I didn't know that about the cast iron, ski_n_beach_bum. That's interesting.
So, let's hear from you… which do you like best, what are the pros and cons, or maybe you prefer gas over electric?