If cooking was basketball, this would be a slam dunk! Seriously, these little things are aWeSOmE!!! (I only put 3 exclamation marks there because I know some people get annoyed when bloggers go wild with exclamation marks, but in my mind, I'm adding about 30 more.) You've gotta try them… your taste buds will love you. They won't take much of your time… 40 min from walking into the kitchen to popping one in your mouth.
STOP.
What was it that you could be doing 40 minutes from now?
Ok, just wanted to be sure you caught that.
Here's a little unnecessary tidbit… I made these with one hand. I was going to quickly get them into the oven before putting Megan down for a nap. Well, just as I was ready to start, she got crabby and clingy, it was over, naptime was NOW.
Unless I was holding her.
So, I thought 'oh well, no age is too young to start training a little cook'. Actually, I didn't think that, I just thought it right now, but it would've been a cool reason to hold her while making these! So, yeah, from measuring the first ingredient to spooning the batter into the pan (including taking pictures), I had a 24-lb 10-month-old on my hip. She was tired enough to just lazily watch and not grab stuff. Then, while they were baking, I put her to sleep. Yep, I rock my babies to sleep. My babies were never trained to just lay down and go to sleep on their own. Not saying it's for everyone, but it's definitely for me. It's 18 months out of each of their little lives that I rock them to sleep and that's some cozy little moments that I'll never regret. And it gives me plenty of time to try to memorize the feel of them in my arms in hopes that when they're all grown up, I can reach in and grab those memories again… and remember.
Ok, where was I? (Yeah, I know this is a cooking blog, but I don't do a personal blog, so I like to (and my mom likes me to) stir bits of life into here sometimes.)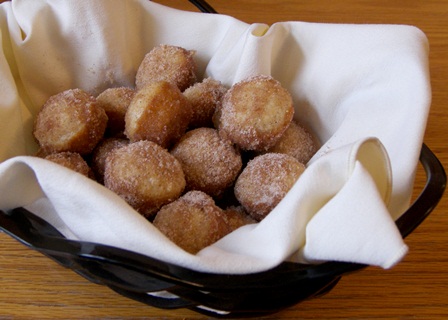 Donut Muffins …taken from here, but I'd have probably never found and tried them if my friend Diane hadn't alerted us to them on a message board I frequent. So, Diane, if you're reading this, thanks a ton!

1/2 cup white sugar
1/4 cup margarine, melted (I used butter)
3/4 tsp. ground nutmeg
1/2 cup milk
1 tsp. baking powder
1 cup flour
1/4 cup margarine, melted (it's up to you… you can either add a few Tbsp more right away or you can melt more butter when you're running out halfway through dipping them 😉 )
1/2 cup white sugar
1 teaspoon ground cinnamon
Preheat oven to 375. Grease 24 mini-muffin cups. Mix 1/2 cup sugar, 1/4 cup margarine, and nutmeg in a bowl.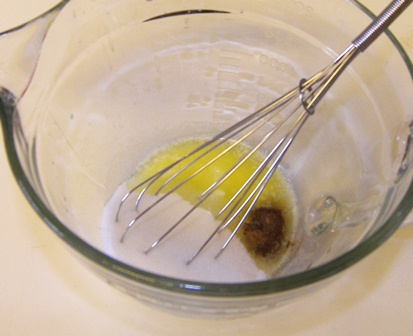 Stir in the milk, then mix in the baking powder and flour until just combined.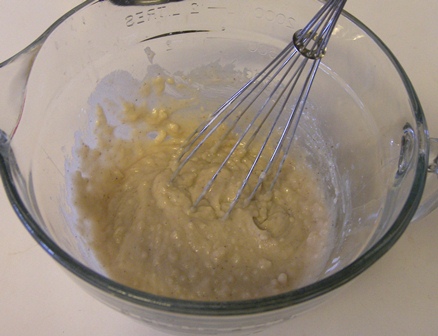 Fill the prepared mini muffin cups about half full. Yeah, I know these aren't all evenly filled, but I was never a perfectionist, and probably never will be. Plus, I was holding a baby and by this time, my left arm was starting to kill me.

Bake until the tops are lightly golden, 15 to 20 minutes. During this time, a mouth-watering nutmeggy smell will be wafting throughout your house. While muffins are baking, place 1/4 cup of melted margarine in a bowl. In a separate bowl, mix together 1/2 cup of sugar with the cinnamon. Remove muffins from their cups, dip each muffin in the melted margarine, and roll in the sugar-cinnamon mixture.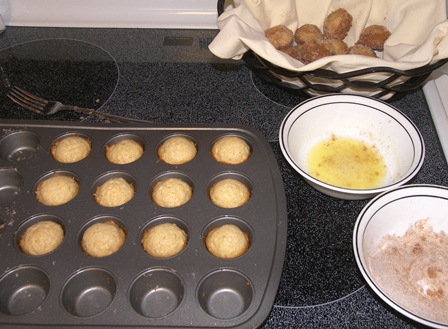 Let cool and serve. I don't know WHY it says 'cool and serve'! I say 'serve warm'! I only had one and that was a warm one and it was such incredible melt-in-your-mouth awesomeness that I'd try to serve them warm on purpose, if possible.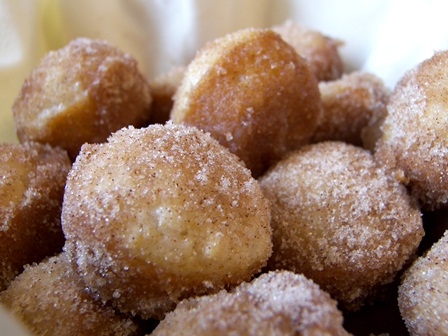 I don't know what category to put these in. They're so versatile.
— Make them for an after school snack.
— Take them to a 'bring food' church function.
— Make them for brunch.
— Serve them for dessert.
— Make them this evening for a bedtime snack.
Coming up next… a Lightning McQueen cake. 😉
Really mini. Not 4″ pie pans.
Smaller.
Not cupcake pans.
Smaller.
These were made in mini muffin pans.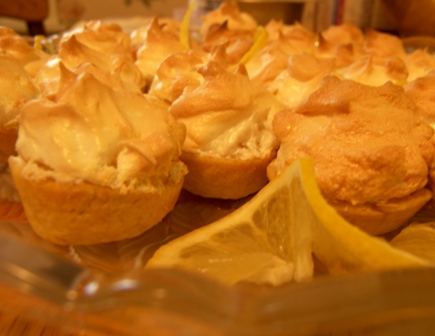 These are perfect for a bring-a-salad-or-dessert church gathering. You know, there are 20 desserts to choose from and you have a hard time narrowing it down to 5 and one of the desserts calling to you is pie cut into 8 pieces. A piece of pie is a complete dessert, so there goes the rest of the selections. I decided to try making little individual pies instead of a couple big lemon meringue pies to take to the Fall Praise Social picnic this past Sunday evening. And it worked! With these little things, you can have a taste of lemon meringue pie without passing up the pecan bars, eclair dessert, monster cookies, and fresh peach delight.
Use your regular lemon meringue pie recipe or use my favorite recipe featured here. Roll the crust a bit thinner than usual, then cut out circles. The tube of my Pampered Chef Measure-All Cup was the perfect size for circle-cutting. Then, press them into the mini muffin pan and bake at 375 for about 10 minutes. Make the filling and spoon into crusts. Make the meringue and spoon on top of filling. Bake at 375 for about 10 minutes. Should be easy to remember… everything to bake gets baked at 375 for about 10 minutes.

Here's the process in pictures: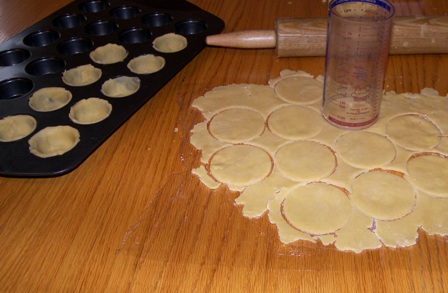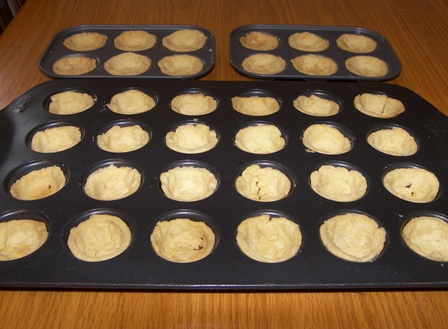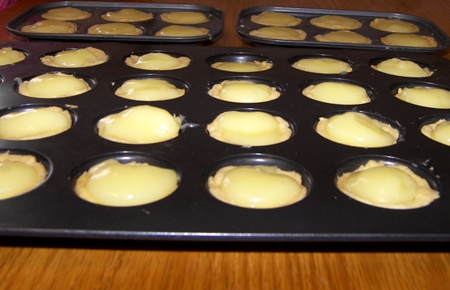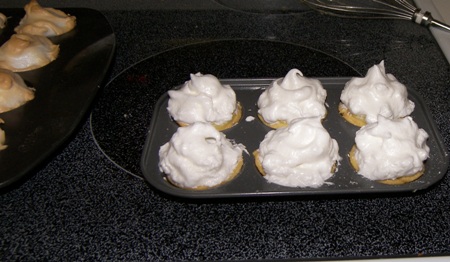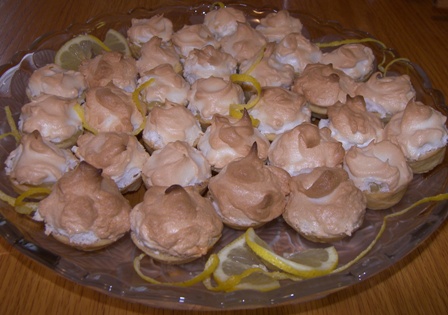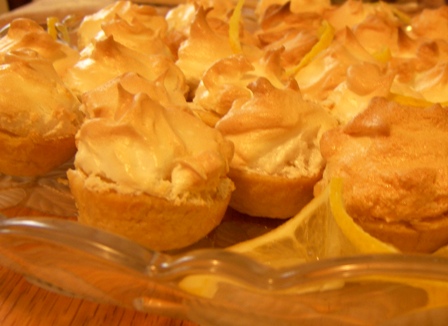 They tasted exactly like lemon meringue pie. I guess that would make sense, what with using that recipe and all. They're long gone, and I just feel like snitching one off the picture and inhaling it in 2 bites.
—————————————————————————————-
In other news, you may want to stay tuned. I think I might blog live this evening for a couple hours. Lexi is planning to make supper. She's 6. She feels quite capable and wants me to leave her alone in the kitchen with her cookbooks. Tiffany and I are allowed to help her by setting the table and we also may carry things to the table like bbq sauce and salt & pepper. I think she's in for a bit of surprise and will end up needing more help than she thinks she will. Here is the menu she picked out (going by pictures in cookbooks): Easy Mac n Cheese, Crunchy Chicken Tenders, Trees with Cheese, and Puddin' Cones. She gets home from school around 4:15. Supper is scheduled for 6:30.
Oh, and did I mention that she doesn't know the difference between a teaspoon and a Tablespoon?
Well, it's that time of the year again. School has started, or is starting soon (unless you're in Peru, where I just found out that 'summer vacation' is in the winter).
The kids come home from school,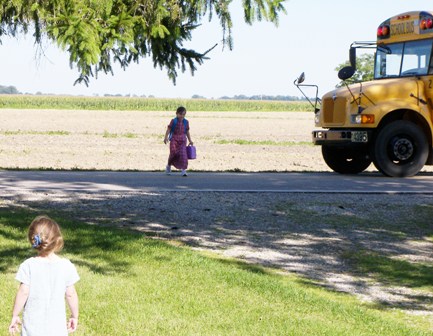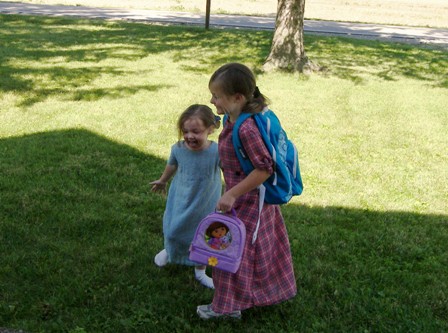 …and they are STARVING!!!!! Or so they think.
I remember that when I was a schoolgirl too. I NEEDED a snack. I was starving. We lived 1/2 mile from school and half of that distance was our 1/4 mile long lane. We'd often walk to school and sometimes Mom would put the snack on a platter and walk out to meet us, disperse the snacks, and we'd all walk together to the house, munching away. Good memories. My favorite snack of all is when she'd mix peanuts, chocolate chips, and marshmallows and put them in little cups.
Renita was telling me about an after school snack that she makes sometimes for her boys. So, yesterday I stole her idea and made it too. Here it is.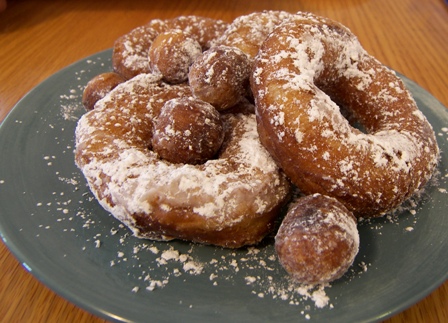 Biscuit Donuts
1 can refrigerated biscuits
Oil or shortening for frying
Powdered sugar
I put about a cup of shortning in a small pan and heated it to about 375 degrees. Take each biscuit and make a hole in the middle with something round.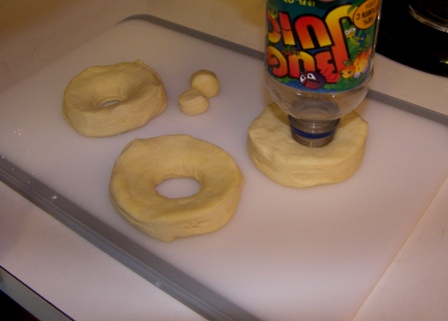 If you use the Grands biscuits with flaky layers, split them in half (where 2 of the layers meet)… makes so they aren't doughy in the middle when the outside is done. And it also makes twice as many donuts that way. 😉 Is donuts spelled 'donuts' or 'doughnuts'? I've seen it both ways, not sure what the difference is except that one way is shorter, so I'll stick with that one. Fry the donuts in oil for 45 seconds – 1 minute per side.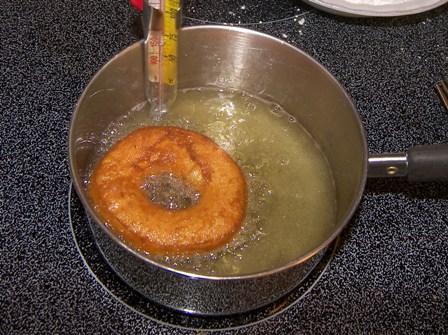 Drain on paper towel.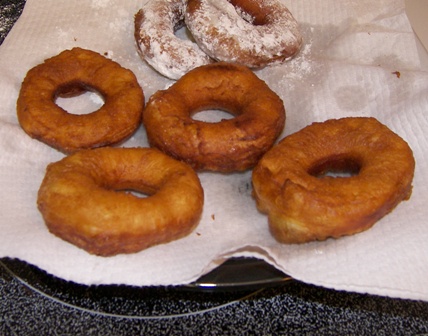 Coat with powdered sugar.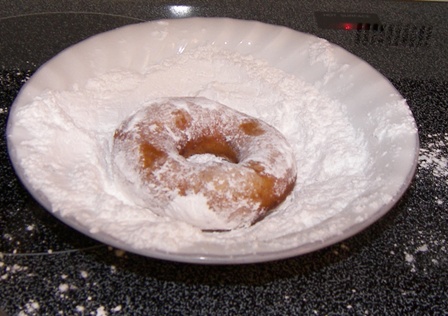 Easy.
Yummy.
Only 3 ingredients.
Other after school snack ideas:
— Apples with peanut butter
— Cookies and milk
— Their leftover lunch 😉
— Nachos with salsa (serving of tortilla chips spread out on plate and sprinkled with shredded cheese and microwaved for about 20 seconds to melt the cheese)
— Fruit
— Pudding
— Graham crackers with milk
— Reeses Puffs 😉
— Popsicles
— Salties (chips, pretzels, Cheetos, party mix, etc.)
That's all that came to my mind right now. What do you give your kids for an after school snack? Or do you say, "Go look in the kitchen, see what you can find."?

Today, I was in the middle of doing laundry, so I said that and they found goldfish crackers and drank chocolate milk.
I just realized I don't have an 'Appetizers' category on here! What's up with that?! Shows how often I serve an appetizer before a meal. Actually, I think I did it only one time so far this year. It was a couple Sundays ago. I called everyone to the table and set the appetizer down for them to eat while I dished up the meal. The appetizer was…
these Stuffed Mushrooms. 😉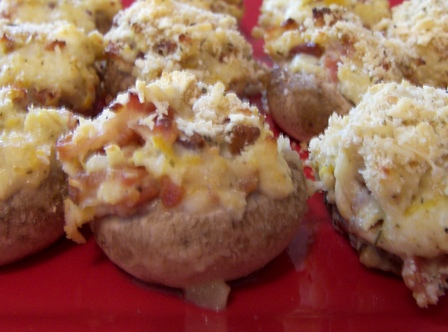 I love stuffed mushrooms, but have never made them before. Seems like every time I see a recipe, they always have crabmeat or are tomato-y or something. Not that there's anything wrong with that, it's just not my favorite kind.
Then, one day, as I was browsing Tasty Kitchen, I found a cheesy, cream cheesy, bacon bits recipe. Perfect! Here it is.
Stuffed Mushroom Caps
25 whole mushrooms
½ of a small sweet onion
1 Tbsp. minced garlic
½ of a bell pepper
5 Tbsp. grated parmesan
1 tsp. fresh or dried sage
4 oz. cream cheese
3 Tbsp. seasoned bread crumbs (I used cracker crumbs with some Italian seasoning mixed in)
2 Tbsp. shredded mozzarella
¾ cup hamburger or sausage or bacon (I used bacon)
Clean and stem the mushrooms. Preheat oven to 375 degrees and grease a foiled cookie sheet.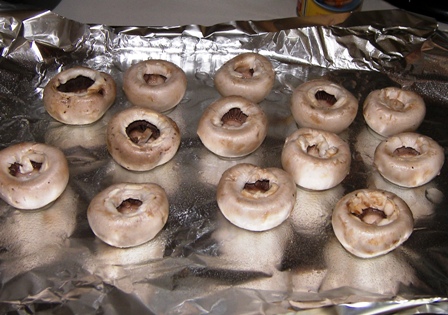 Dice the bell pepper, mushroom stems and onion and toss in a food processor with the garlic and sage. Process until all is mixed together well and remove. Heat a pan or skillet with a little bit of olive oil and cook the meat (of your choice) with the bell pepper and onion and garlic mix. When the meat is browned, remove and pour into a mixing bowl. To the bowl with the meat mixture, add three tablespoons of the parmesan, the mozzarella, and cream cheese. Season with salt and pepper to taste. With a melon scooper, fill each mushroom cap with the mix.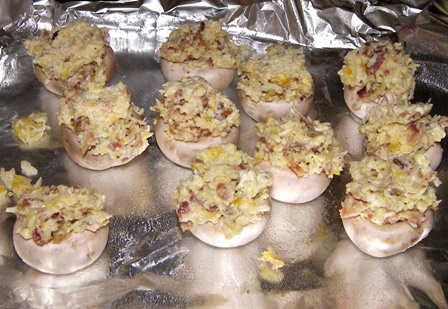 Mix the remaining parmesan and bread crumbs and sprinkle on top of stuffed mushrooms.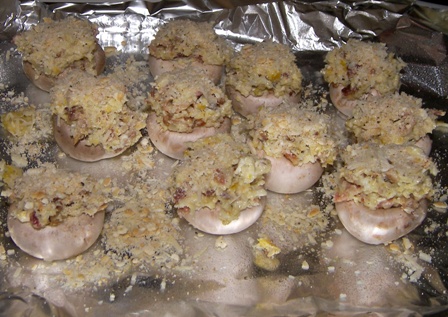 Drizzle a little olive oil on each one and bake for 15 minutes in the oven.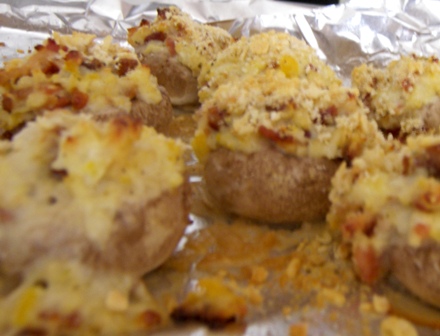 Mmmmm! These were rated 'Definitely make again'. I was afraid they'd be too garlicky because I could smell the garlic while they were baking. But… they weren't.
So… how many moms perked up at the 'no drip' part?

I was just going to freeze Koolaid into popsicles, but then I saw this recipe and had to try it. Really, how can there be a no-drip popsicle?!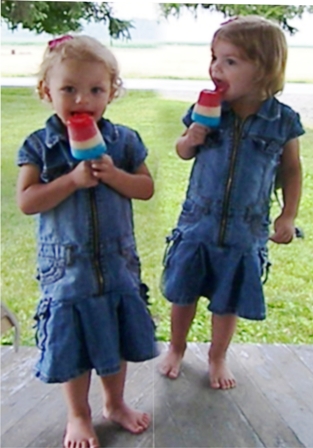 These are my friend Carrie's twins, Chloe and Jasmine. Aren't they just adorable? They are 2 1/2. You oughta hear them talk.
When I started thinking of how to make these popsicles, there was one problem… how to get the white part. The red is cherry, the blue is blueberry; both kinds are in the Koolaid dept and the jello dept. Well, what about white? The lightest thing I saw in the Koolaid was lemonaide, so I got that. And the lightest thing I saw in the jello section was pineapple, so I got that. When I mixed them together, it was yellow. Way too yellow. I still hadn't put all the water in, so I thought of evaporated milk and replaced some of the water with that. Worked great! And that layer actually tastes good too. That's always a plus. 😉
No-drip Popsicles …recipe comes from here
1 3oz pkg jello, any flavor
1 pkg kool-aid, (same flavor as jello)
1 cup sugar
2 cups boiling water
2 cups cold water
Popsicle molds (I used 9 oz. plastic cups and popsicle/craft sticks)
Pour boiling water over jello, kool-aid and sugar. Stir till completely dissolved. Pour into molds; freeze. I did this recipe 3 times (once in red, once in white, and once in blue) and it made 16 popsicles. Freeze between each layer. When the middle white layer gets thick enough, put popsicles sticks in. Making these took all day (poured the first layer in around 9 am, and the popsicles were ready to eat by 7:30 pm).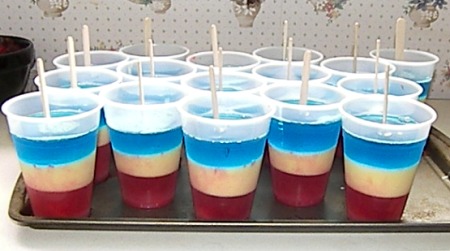 And here is our test crew to see if the popsicles are actually no-drip or not.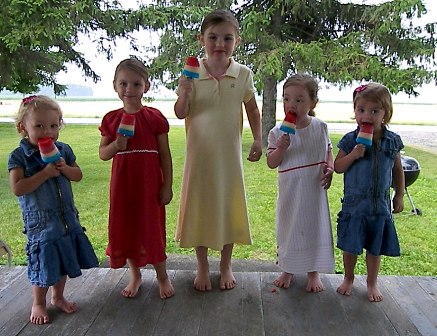 They, of course, did drip some, but I was pretty impressed. I've seen popsicles make alot bigger messes! I think the jello in there made it thicker… the juice didn't run too much. They're easy and quick to make (especially if you make them all the same color instead of layered).
What a great summertime treat! Send your kids outside with some!