It's all the same thing… which do you call it? When I was a kid, we called it puppy chow. So, it will always be puppy chow to me. My kids seem to have heard it called monkey munch somewhere, in addition to me calling it puppy chow, because they call it monkey chow. Sometimes I wonder how foods get their names. This fun make-in-15-minutes-or-less snack has nothing to do with monkeys or puppies. Or buddies.
I'm going to post the regular recipe, but I'm also going to post a variation. It all ends up tasting pretty much the same. I tried it one time when we needed a puppy chow fix and we were out of chocolate chips. And it worked! Improvising when you need a chocolate fix and you're out of chocolate chips reminds me of no bake cookies. Been there done that. I have a confession to make… I often don't keep chocolate chips on hand for the sole purpose of not having to exercise as much self control. If it wouldn't be for chocolate in my life, I fully believe I wouldn't struggle with weight. Milk chocolate, that is. Why did they ever have to invent milk chocolate anyway? *she said, secretly thankful that they did because of the amazingness it has added to her life*. Dark or semi-sweet is about as tempting to me as, say, apples or something. Liz, I just now thought of you, my dark-chocolate-lovin' sister-in-law. So anyway, having milk chocolate chips in my cupboard are as tempting as having a stash of candy bars in there. I've tried to switch to baking with dark chocolate chips, but my girls happen to not like dark chocolate very well. Hmmm, I wonder why.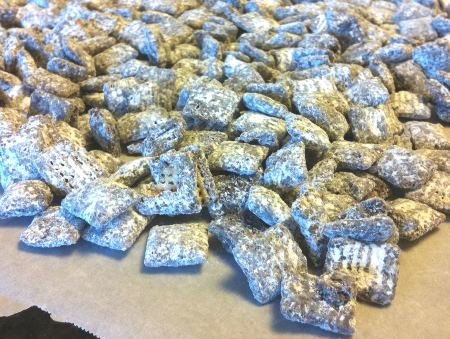 Puppy Chow
9 cups Chex cereal
1 cup chocolate chips (variation: melt 6 T butter and stir in 1/2 cup cocoa powder and 1/2 cup sugar)
1/2 cup peanut butter
1/4 cup butter
1 tsp. vanilla
1 1/2 cups powdered sugar
Put chocolate chips, peanut butter, and butter in a bowl and microwave for 1 minute. Stir. If it's not all melted, put it back in the microwave for 30 seconds until it can be stirred smooth. Stir in vanilla.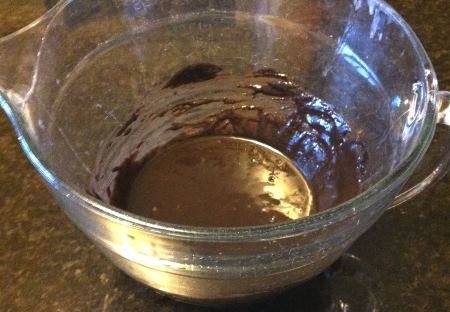 Dump Chex in and stir until coated.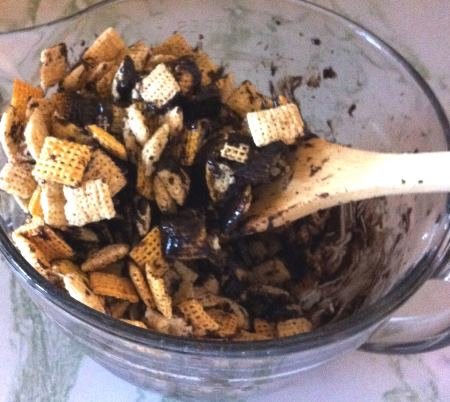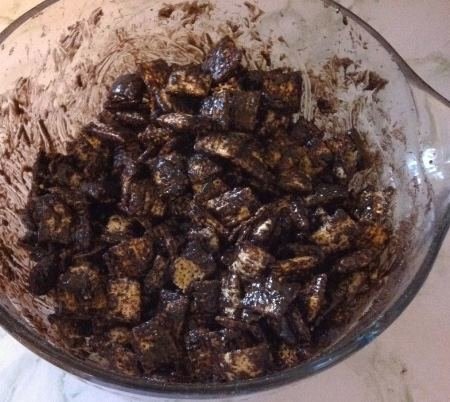 Pour into large ziplock bag, add powdered sugar, and shake to coat.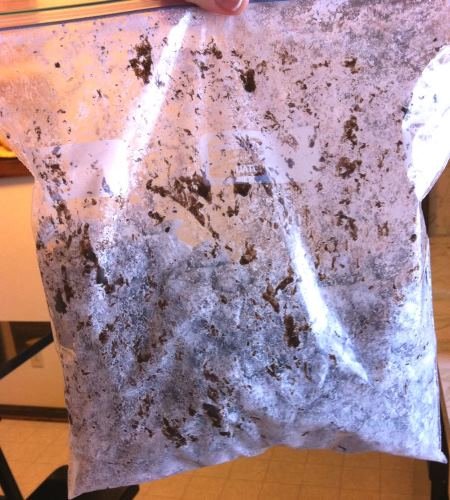 Spread on waxed paper to cool.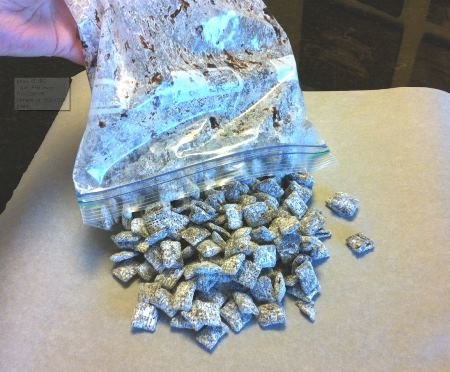 At this point, the puppy chow is dangerously vulnerable to kids, who magically appear in the kitchen while it's cooling.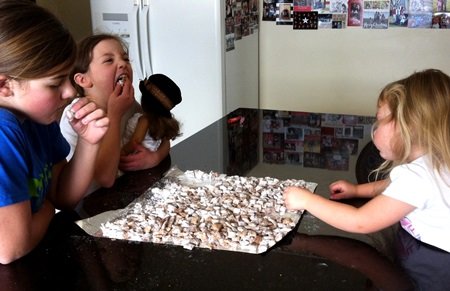 Liz and I were talking about puppy chow over the holidays because I was going to make it when she and a bunch of other family were here (but then didn't because there were SO many snacks already sitting around) and she said she stores it in the freezer because it gives it extra crunch. Crunch is a good thing. So now I store mine in the freezer too.
If it makes it to the freezer, that is. (Refer to cooling picture above.)
These fresh fruit kabobs drizzled with chocolate are the perfect item for adding a bit of beauty and pizzazz to the table without a lot of time-consuming work. You can't beat that, right? So, keep it in mind next time you need to take food somewhere. It doesn't even require a fork so it works for "bring finger food" occasions. These particular ones were made for my husband Shannon to take to a company potluck at his office at Keller Williams Real Estate.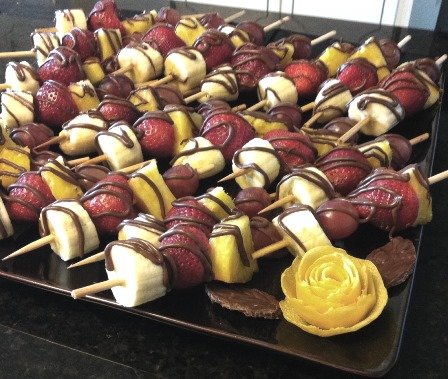 There is no recipe, just use any kind of fruit you want to… They all work great. Well, except apples. Apples sometimes split when you put them on the skewers. If you're using apples, the thinner the skewer the better. Just for the record, apples and chocolate go together awesomely! Is awesomely a word? I figure as long as you know what a word means, it doesn't really matter if it's technically not a word.

Chunk up/slice all the fruit that gets chunked or sliced. Take stems off of fruit that gets de-stemmed. Toss fruits that get brown with lemon juice (more on that later).
In other words, before I start threading them on skewers, I like to have them all ready to go.
Then, start poking fruit on until: 1. Fruit is gone, 2. Skewers are gone, or 3. You have the desired amount.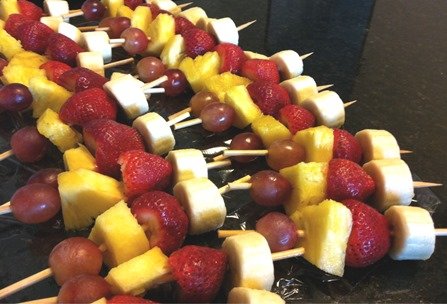 After the fruit is all on the skewers, put about a half cup of chocolate chips or candy melts in a sandwich bag, but don't seal shut. Put it in the microwave for 30 seconds. Flip it over and microwave it for 20 second. Work the bag with your hands and put them in for 10 seconds. Do this until all the chocolate feels smooth and no chunks are left.
I need to get back in my zone… that zone where I automatically remember to take pictures at each step! I was having too much fun and just kept rolling instead of stopping for pictures.
Now, you're ready to drizzle. Put the kabobs all really close together so less drizzle lands on the table. Snip a little corner off of the bag and just scribble back and forth over the fruit. Then immediately separate them or else the chocolate will harden and pull drizzles off of its neighbor.
Put them on a plate. Garnish if you want to.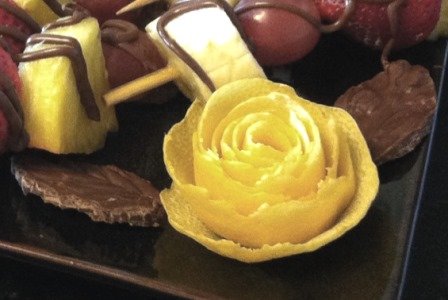 Here are tutorials on the rose and leaves, in case you want to make some:
Rose • Chocolate leaves
The rose tutorial is actually for making a tomato rose, but it's the same technique.
Now, about the bananas and keeping them from browning.
Lemon juice is the secret here. I did a little test where I checked them after 3 hours and after 6 hours. A little after the 6-hour mark, my girls came home from school and I let them eat my experiment for an after school snack… and then thought of it later that I should've tested the bananas longer, like 24 hours. But what I did learn is that lemon juice works its magic for at least 6 hours, and that was the info I needed because unless they have to set/freeze/marinate/etc, I rarely make things more than 6 hours ahead of time. Maybe that's because I'm a procrastinator.
So here we go, the experiment. The pictures above were taken right after I made it, where even a fresh banana would still be looking good. The pictures below were taken 3 and 6 hours afterwards.
3 hours after being tossed with lemon juice: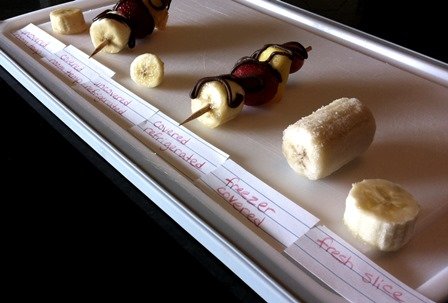 From left to right: uncovered room temp, covered room temp, uncovered refrigerated, covered refrigerated, covered frozen, and a fresh slice.
The fresh slice is NOT 3 hours old, it's just there for comparison. The frozen one is thrown in there for fun… it actually has no lemon juice on, it was peeled and put into the freezer right away and is probably more like 3 months old.
6 hours after being tossed with lemon juice:



The middles are starting to get a little brown, but are still fine.
What I was surprised was that between all the lemon-juiced ones, there was pretty much no difference! I'm glad about this tidbit because it gives flexibility. Here is a closer up. They all stayed firm too, no mushiness.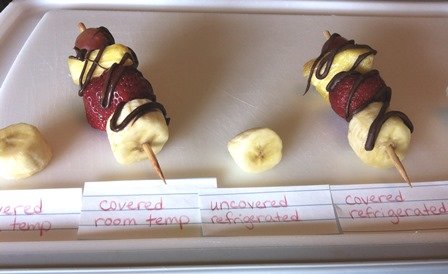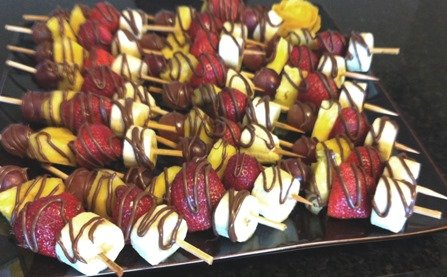 Here come the Holidays… make some of these pretty things!  It's a delicious, healthy snack to set out on the snack table (with the chocolate covered Ritz crackers, cookies, red-green-silver-foil-wrapped Hershey kisses, and party mix).
There. I did 2 posts with meat in, so let's get back to the fun stuff!

No, really, I am planning to keep it a little more balanced… I think anyway. Sometimes I think I should've named this site something like "Chocolate Dipped Tidbits" or "Living for Chocolate, Dying for Some More" and do sweets only, what with that being my passion and all.
Speaking of which, I totally get Tiffany (my 5-yr-old) in this little conversation that happened one day last week:
Her: "May I have an ice cream cone?"
Me: "No, you already had one today."
Her: "Pleeeeeeeeeeeeease? I REALLY need one."
Me, feeling sorry for her, but sticking to my guns: "No."
Her, pulling out the trump card in desperation: "I'll give you all my money if you let me have one."  
If we run out of cones and ice cream around here, my girls think it's a real crisis. Currently, we have sugar cones (the pointy ones that sorta look like waffle cones) and regular cones in 2 sizes (the ones that are flat on the bottom and taste like newspaper just plain). These cone cake pops use the mini size of the regular cones.
Awwww, aren't they adorable?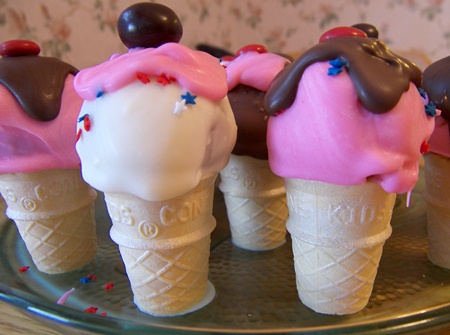 You really do need to see these in real life. The cuteness factor doubles from a picture to real life.
I know you can't really tell the exact size because there's nothing to compare it to. So, here's one in a 13-month-old pudgy hand, if you know what size they are in real life. This is a real ice cream cone, but the same size cone.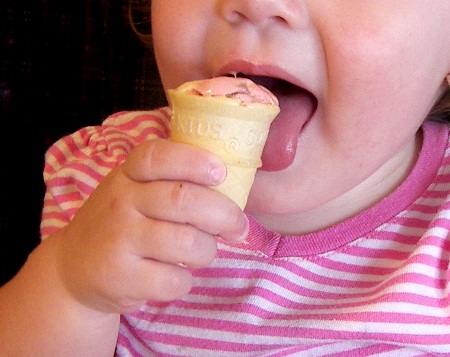 Yeah, we're getting Megan hooked on ice cream cones already. This size is so perfect for her because she's done eating it by the time it starts melting and dripping.
I got this Ice Cream Cone Cake Pops idea from Bakerella's website and her Cake Pops cookbook (which my friend Ruthie gave to me for my birthday last year… it was on my wish list, and I never told her, how cool is that?!) Bakerella used sawed-off sugar cones, but I decided to just use mini regular cones so I wouldn't have to do all that cutting.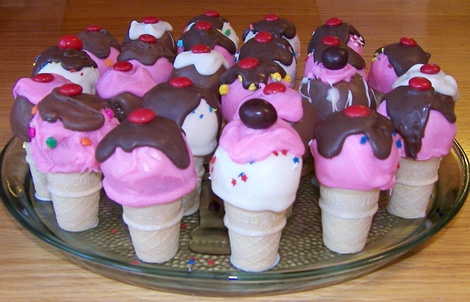 So here's what you do. Take a baked cake and crumble it up and add a bought can of frosting and mix it together.
Or…
Get the leftover cake out of the freezer from a graduation cake you made earlier, thaw it, crumble it, mix up some frosting and mix a few dollops into the cake crumbs. That's what I did. So, these cake pops were white cake mixed with cinnamon cake.
By the way, next time you're buying cake mixes and you're undecided on the kind, please buy a cinnamon one. This is the first time I tried it and it was SO good! You'd think I would've already thought to try that, what with having married into a we-love-cinnamon family. I want to make one sometime with cream cheese frosting. Mmmm mmmm mmm!!! You can use cream cheese frosting in these cake pops, but then you should refrigerate them, which is why I used regular frosting.
Here are the cake crumbs and dollops of frosting. I forgot to take a picture after it was mixed…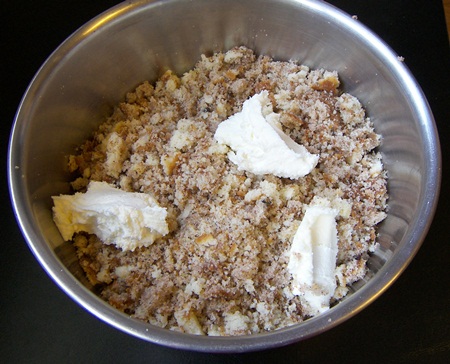 Roll the cake mixture into balls about the size of a golf ball, maybe a little smaller. Don't make all those little dents in it like a golf ball has, though. Put the cake balls in the freezer for 15 minutes, then transfer them to the fridge if you're not ready to dip yet. They should be chilled, but not frozen.
Here is when I was just ready to start. Those bowls are both melted white chocolate, but the one has pink food coloring in it. The melted milk chocolate is missed on the picture. I put some M&Ms in the bottom of the cones just for a fun surprise.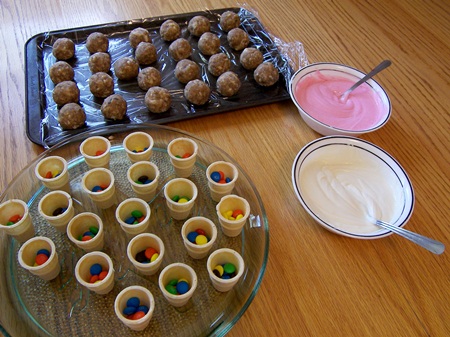 Dip a skewer in the melted chocolate, then into a cake ball. You can take a spoon and spoon some chocolate over to get it fully covered if the chocolate isn't deep enough to fully immerse the cake ball, but don't spin or stir or twist it around in the chocolate because crumbs may fall off or it might come apart. Then, put the drippy chocolate covered cake ball on one of these mini cones and pull the skewer out. It will kind of start to drip over the sides to make a melty look. That is a good thing.
This is after the process is underway…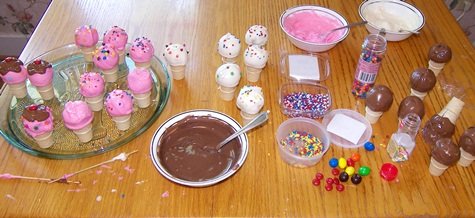 After the cake pops are dipped and put on the cones, take another color of melted chocolate and put on top, letting it start going down the sides a bit. Put on sprinkles if you want to. Put a red M&M or peanut M&M on top for a cherry.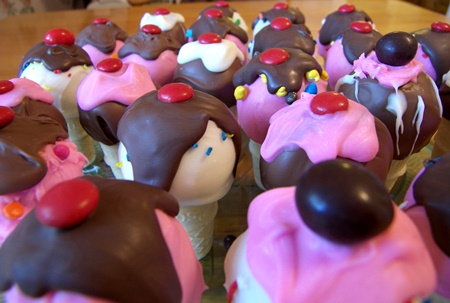 To make tipped over ones, put the cake ball on a flat surface instead of on a cone, then put the cone slanted on top of it. Bakerella calls this a "happy accident on purpose". I love that term! :)
 Now, we leave Bakerella and go on to an extra tip and idea for these from me:
1. These little things are top-heavy. So if you're taking them somewhere, put a little bit of melted white chocolate on the bottom of the cone, then set it on the plate. In no time, it is hardened and you can move the plate around at will… without ice cream cones landing on the floor.
2. Pipe thick chocolate letters on plastic wrap or wax paper, put them in the fridge till they're hard, and stick them to the top with a dollop or two of melted chocolate… and you've just personalized your cake pops to the season/event/occasion!

Here are some specific ideas:
– Write "Welcome Home" on them and put them on the counter, ready for someone coming home. That's actually the very thing that made me think of putting letters on top of these… around the time I was making these for a church picnic, some friends of ours were coming home from a trip and I had intentions of doing that with the extra ones, but with a combo of a change of plans in my day and procrastination, they got home before I got it done. But at least I'm glad for the idea now, to use in other ways. 
– Use them for the cake at a birthday party and write "Happy Birthday (insert birthday person's name)" 
– Write your kids' names.
– Make the entire alphabet, with extra A's, E's, T's, M's, S's, and whatever other letters are used more often. Then, let your kids play with them, writing words and phrases or even complete sentences.
And last but not least, if you love someone, do this…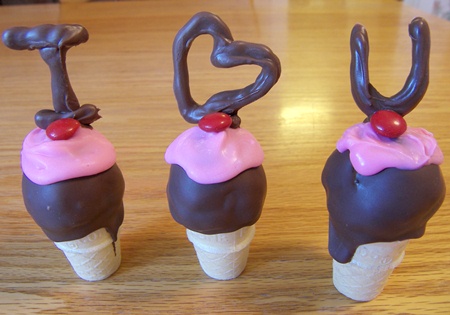 This is a perfect summer snack. It's easy to throw together and it's cool. Perfect summer snack, as in, if you're going to make it, summer would be the perfect time to do it. Not everything about the snack is perfect…. the taste and flavor combo is just amazing, BUT the. kids. had. sticky. e.v.e.r.y.w.h.e.r.e. I mean, when you're talking melted caramels and marshmallows, it's pretty much a given that it's gonna be sticky.
And it's also pretty much a given that it's gonna be yummy.

So, consider the 'sticky' a warning and the 'yummy' a recommendation, and then you decide from there.

Maybe the time to serve it would be while the kids are out running thro' the sprinkler or on the Slip 'n Slide… think all mess outside and then getting washed off. Now we're talkin'!
The main thing is that we all kept coming back for more, and they are SO good… which is why I'm posting them and will definitely make them again!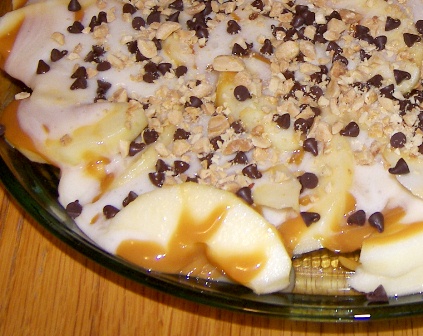 Apple Nachos …recipe taken from Taste of Home Oct/Nov 2010 magazine (and going by the picture they have with it, they only put on about an 1/8 of the topping quantities and their apples aren't peeled)
36 caramels
1 Tbsp. water
30 large mashmallows
1/3 cup butter, cubed
4 medium tart apples, peeled and cut into 1/4″ slices
1/3 cup chopped dry roasted peanuts
1/3 cup miniature semisweet chocolate chips
3 Tbsp. Halloween sprinkles (I skipped this)
In a microwave-safe bowl, melt caramels with water; stir until smooth. You could probably use caramel ice cream topping, but I think melted caramels would taste way better.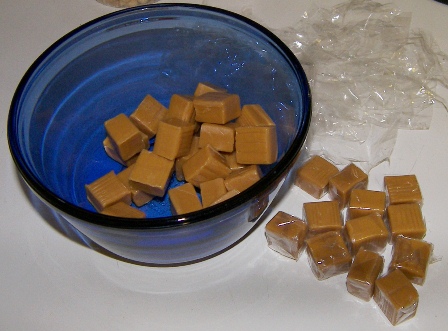 Meanwhile, in a large saucepan, melt marshmallows and butter. I think next time I'll do these in the microwave too… I do it in the microwave when I make rice crispy treats, so why not for this? I also want to try just putting a a jar of marshmallow creme in the microwave and see if it melts and becomes pourable.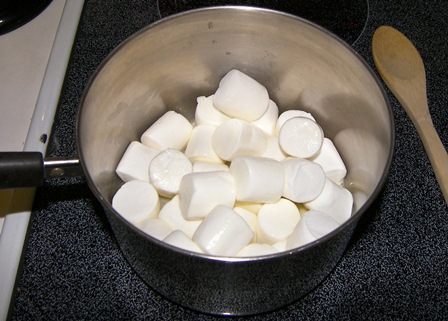 Arrange apple slices on a large platter.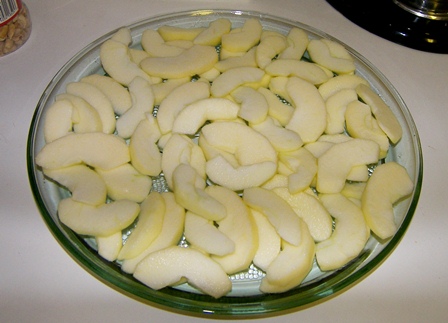 Drizzle with caramel. Love that phrase, the word 'drizzle' bumps it up a level. "Put the caramel on" just wouldn't have the same ring to it.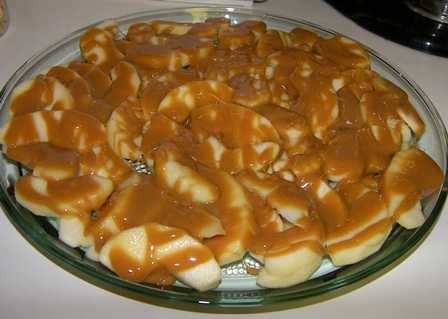 Top with marshmallow mixture.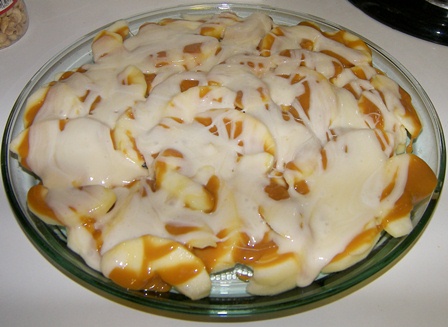 Sprinkle with peanuts, chocolate chips, and sprinkles.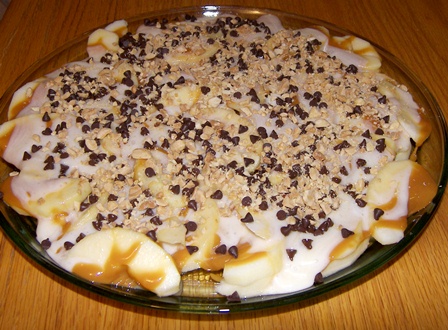 Serve immediately. Not kidding about serve immediately… we didn't eat the entire thing and a couple hours later, it was kind of milky and liquidy between the apples and caramel and the marshmallow stuff firmed up. It was fine, just not as easy to eat because huge chunks of toppings wanted to come along with each bite. Still tasted great, though!

If cooking was basketball, this would be a slam dunk! Seriously, these little things are aWeSOmE!!! (I only put 3 exclamation marks there because I know some people get annoyed when bloggers go wild with exclamation marks, but in my mind, I'm adding about 30 more.) You've gotta try them… your taste buds will love you. They won't take much of your time… 40 min from walking into the kitchen to popping one in your mouth.
STOP.
What was it that you could be doing 40 minutes from now?
Ok, just wanted to be sure you caught that.
Here's a little unnecessary tidbit… I made these with one hand. I was going to quickly get them into the oven before putting Megan down for a nap. Well, just as I was ready to start, she got crabby and clingy, it was over, naptime was NOW.
Unless I was holding her.
So, I thought 'oh well, no age is too young to start training a little cook'. Actually, I didn't think that, I just thought it right now, but it would've been a cool reason to hold her while making these! So, yeah, from measuring the first ingredient to spooning the batter into the pan (including taking pictures), I had a 24-lb 10-month-old on my hip. She was tired enough to just lazily watch and not grab stuff. Then, while they were baking, I put her to sleep. Yep, I rock my babies to sleep. My babies were never trained to just lay down and go to sleep on their own. Not saying it's for everyone, but it's definitely for me. It's 18 months out of each of their little lives that I rock them to sleep and that's some cozy little moments that I'll never regret. And it gives me plenty of time to try to memorize the feel of them in my arms in hopes that when they're all grown up, I can reach in and grab those memories again… and remember.
Ok, where was I? (Yeah, I know this is a cooking blog, but I don't do a personal blog, so I like to (and my mom likes me to) stir bits of life into here sometimes.)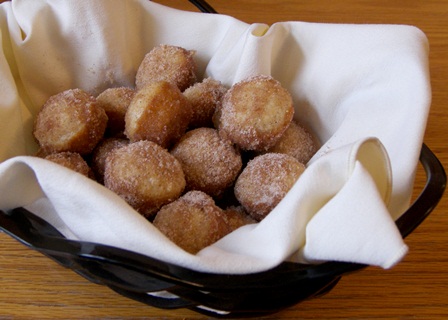 Donut Muffins …taken from here, but I'd have probably never found and tried them if my friend Diane hadn't alerted us to them on a message board I frequent. So, Diane, if you're reading this, thanks a ton!

1/2 cup white sugar
1/4 cup margarine, melted (I used butter)
3/4 tsp. ground nutmeg
1/2 cup milk
1 tsp. baking powder
1 cup flour
1/4 cup margarine, melted (it's up to you… you can either add a few Tbsp more right away or you can melt more butter when you're running out halfway through dipping them

)
1/2 cup white sugar
1 teaspoon ground cinnamon
Preheat oven to 375. Grease 24 mini-muffin cups. Mix 1/2 cup sugar, 1/4 cup margarine, and nutmeg in a bowl.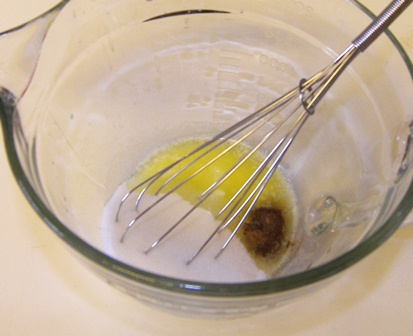 Stir in the milk, then mix in the baking powder and flour until just combined.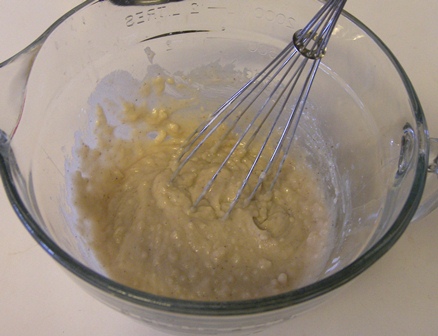 Fill the prepared mini muffin cups about half full. Yeah, I know these aren't all evenly filled, but I was never a perfectionist, and probably never will be. Plus, I was holding a baby and by this time, my left arm was starting to kill me.

Bake until the tops are lightly golden, 15 to 20 minutes. During this time, a mouth-watering nutmeggy smell will be wafting throughout your house. While muffins are baking, place 1/4 cup of melted margarine in a bowl. In a separate bowl, mix together 1/2 cup of sugar with the cinnamon. Remove muffins from their cups, dip each muffin in the melted margarine, and roll in the sugar-cinnamon mixture.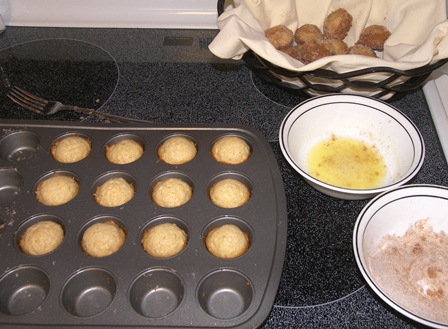 Let cool and serve. I don't know WHY it says 'cool and serve'! I say 'serve warm'! I only had one and that was a warm one and it was such incredible melt-in-your-mouth awesomeness that I'd try to serve them warm on purpose, if possible.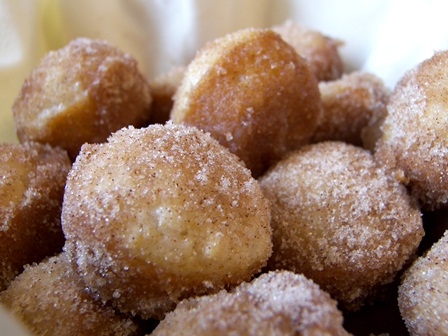 I don't know what category to put these in. They're so versatile.
– Make them for an after school snack.
– Take them to a 'bring food' church function.
– Make them for brunch.
– Serve them for dessert.
– Make them this evening for a bedtime snack.
Coming up next… a Lightning McQueen cake.