Lexi made supper tonight.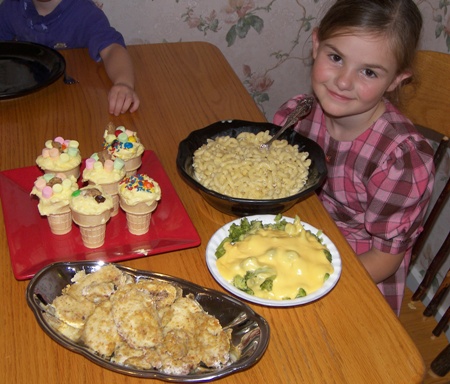 Her menu was:
Crunchy Chicken Tenders
Easy Mac n Cheese
Trees with Cheese
Puddin' Cones
There were only 4 ingredient spills. The only help Lexi accepted was finding some of the right ingredients and measuring cups/spoons and reading the recipe ("because it's faster if you do it and I don't know all the words") and a couple times, handling hot stuff. I did tell her when to do stuff so it would all get done at the same time. I also gave her lots of tips and how-to's, but she did the actual work. She did very well, actually better than I expected.
Now and then, Tiffany (3) crossed her arms, put on a scowl, and whined, "Mom, she won't let me dump that in. I don't have ANYTHING to do!"
I was planning to blog as it was going on, but I was kinda busy with damage control.

She loved doing this meal! I believe we have a cook in the making. 😉
Crunchy Chicken Tenders … recipe from Betty Crocker Kids Cook cookbook
3/4 cup cornflakes cereal
1/2 cup flour
3/4 tsp. salt
1/2 tsp. pepper
1/3 cup buttermilk or milk
1 pound uncooked chicken breast tenders, not breaded
Heat the oven to 400. Line a 9×13 pan with foil.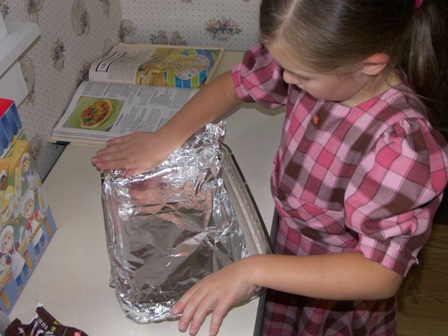 Spray the foil with cooking spray.
Put the cereal, flour, salt, and pepper in a plastic bag. Seal bag closed. Use a rolling pin to crush the cornflakes.
Pour the milk into a bowl. Dip chicken in milk.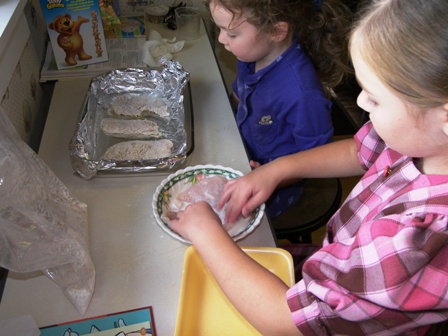 Drop milk-coated chicken, a few pieces at a time, into cereal mixture. Seal bag closed. Shake bag to coat chicken with cereal mixture. Put the coated chicken in the pan.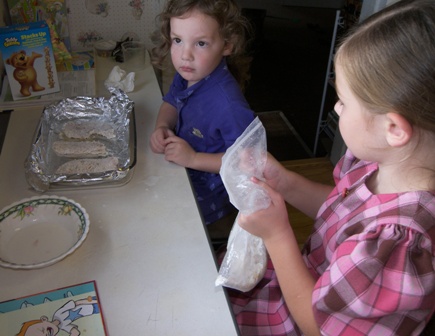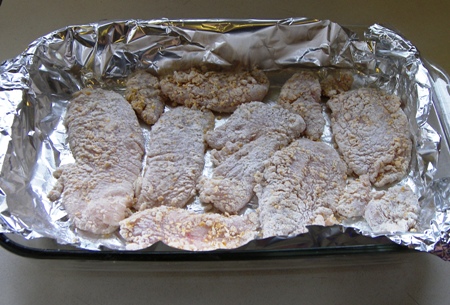 Spray chicken with cooking spray. Throw away any leftover cereal in the bag. Bake for 25-30 minutes or until coating is crisp and chicken is no longer pink in center. Makes 4 servings.
Dishing it up…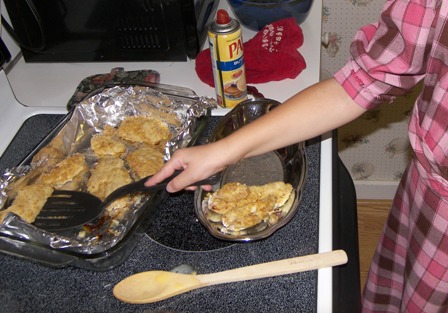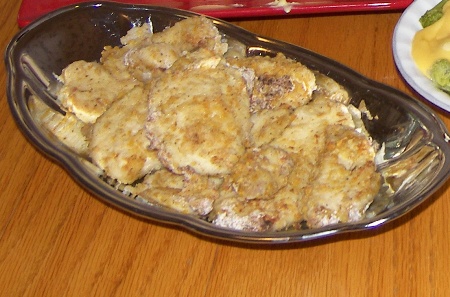 Good stuff! We ate them with bbq sauce. I realize I didn't get a picture of the rolling pin part… they had great fun with that!
Easy Mac and Cheese …recipe from Betty Crocker Kids Cook cookbook
Water
2 cups uncooked elbow macaroni or small pasta shells
1 Tbsp. butter or margarine
1 cup milk
1 1/2 cups shredded cheddar cheese or American cheese
1/2 tsp. salt
1/2 tsp. ground mustard (I had to talk her into putting mustard in!)
1/4 tsp. pepper
Fill a 3-qt saucepan about half full with water. Bring to a boil. Add pasta to water.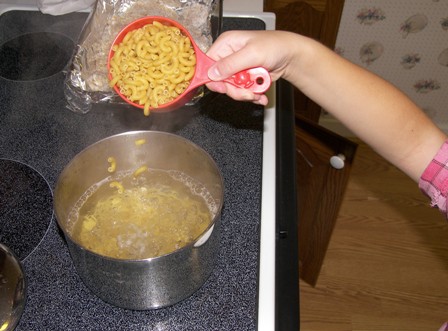 Heat to boiling again. Boil uncovered for 8-10 minutes, stirring often with a wooden spoon. Drain pasta (put a colander in the sink and pour the pasta into it). Put drained pasta back into saucepan. Add butter, milk, cheese, salt, mustard, and pepper to pasta.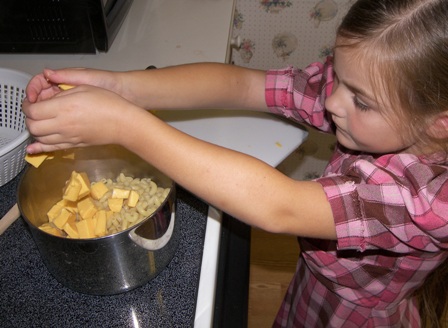 Stir with spoon until mixed. Cook over low heat for about 5 minutes, stirring a few times, until cheese is melted. Makes 4 servings.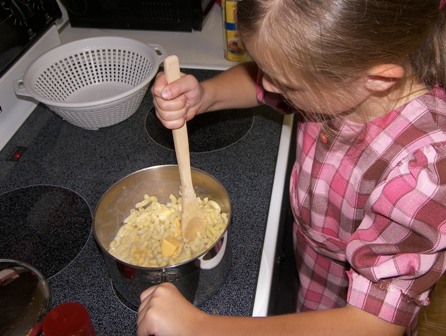 Dishing up. This was a bit wild! Whoosh! and it was all in the serving bowl in about 2 seconds. Pretty amazing that some didn't land on the floor!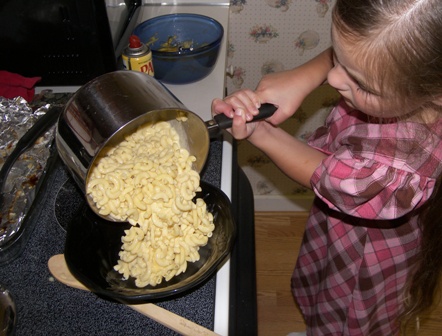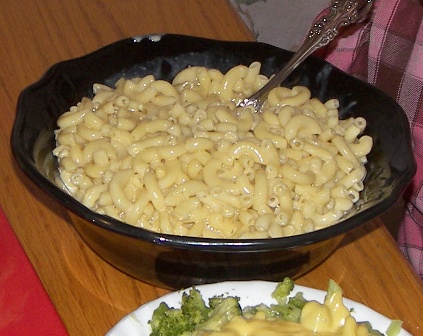 Trees with Trees … recipe from Betty Crocker Kids Cook cookbook
1 1/2 pounds fresh broccoli (I just had her use a bag of frozen broccoli florets.)
3 Tbsp. water
6 oz process American cheese loaf
1/3 cup milk
1/4 onion salt
1 drop red pepper sauce, if you like (she didn't like 😉 )
Microwave the broccoli and water till hot and crisp-tender. Melt the rest of the ingredients in a saucepan or microwave. Stir with a wooden spoon until the cheese is melted and mixture is smooth. Drain broccoli and put it into a serving bowl. Pour hot cheese over broccoli. Makes 6 servings. I didn't notice it at the time, but in all the photographing, I missed the broccoli, all except the dishing it up!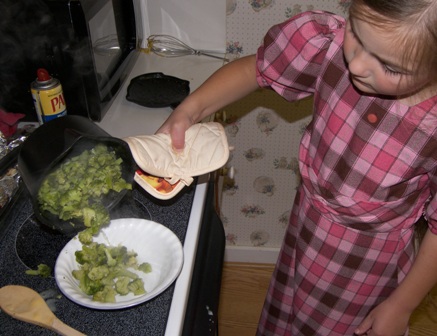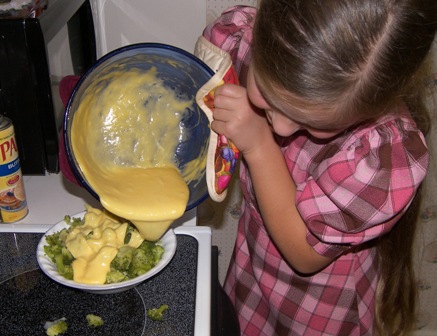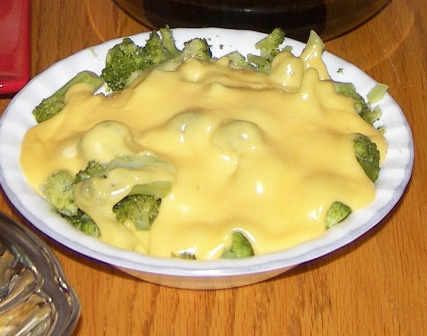 Puddin' Cones … recipe from the 2003 Quick Cooking annual cookbook
This is what sparked the whole idea of making supper. Her cousin Krista made these for dessert when she made supper one time and Lexi saw a picture and wanted to make them too. Krista, you're her hero!
1 1/2 cups cold milk
1 pkg. (3.4 oz.) instant vanilla pudding mix
3 envelopes whipped topping mix (when Lexi read this, she said "Envelopes?! What do envelopes have to do with cooking?")
8 cake ice cream cones (about 3 inches) She used only 6.
Chopped nuts, jimmies and miniature colored baking chips or topping of your choice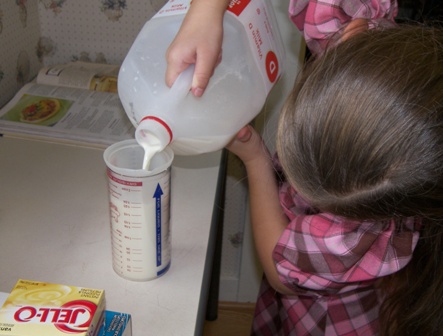 In a mixing bowl, beat milk and pudding mix on low speed for 2 minutes.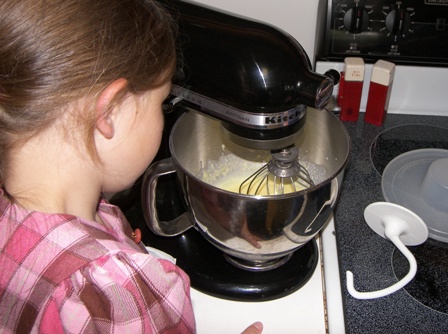 Blend in whipped topping mix; cover and refrigerate for at least 1 hour. Spoon 1/4 cup into each cone; sprinkle with toppings. Yield: 8 servings. I just told her to fill the cones, not to measure. When the pudding mixture was gone, there were only 6 cones used, which I think is better because they look more like ice cream cones if they're heaped a little.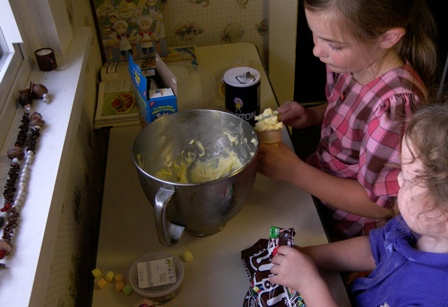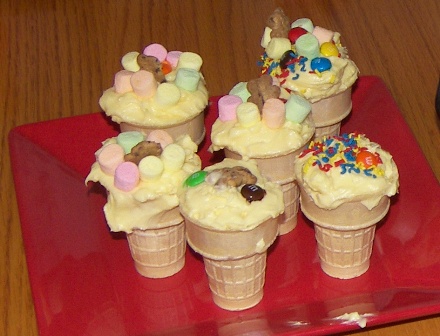 These were good, altho' not as good as real ice cream. She made them right before she dished up the food and till we got done eating and were ready for dessert, the cones were starting to get a little soft already. So, they should not be made too much in advance!
If you want quick-n-easy, here you go. These would honestly fit into a "30 minutes to mealtime" category. And 20 of those minutes is the potatoes cooking, so that's some free time to fry some chicken, make a salad, or whatever else is for dinner. All you do is peel a stripe around the potatoes, throw them in a kettle to cook, then 20 minutes later, toss them with a butter and herb mixture and put them on the table.
This is one of those recipes I clipped a long time ago. Well, I didn't technically clip it, I scribbled it down. When I have a clipped recipe, sometimes I can tell where they came from, but when I just wrote it, it's only a guess. Maybe it was out of a magazine in a doctor's office or somewhere (because, you know, I'd never rip a recipe out of someone else's magazine!). I've seen this potato recipe in my stash of clipped recipes pretty often, but never tried it… maybe because it's so hard and complicated. Just kidding.
Anyway, this recipe is definitely a keeper. It's simple enough for a regular weeknight meal, but dressy enough for Sunday company. As I wrote that part about being dressy, I wondered what I thought makes it dressy and I guess it's because of the peeled stripe around it and the parsley garnish. 😉  We ate these with sour cream, but I wish I'd have thought of Ranch dressing. I'll bet that would've been really good with them too!
And here's the recipe:
Herbed new Potatoes
12 small new potatoes
4 tsp. butter
1 1/3 tsp. dried parsley (or 1 1/3 Tbsp. chopped fresh parsley if you prefer)
1 1/3 tsp. chives
Fresh parsley for garnish
Peel 1/2″ strip around center of each potato. Place in cold water in saucepan. Boil potatoes about 20 minutes or till done. Don't overcook.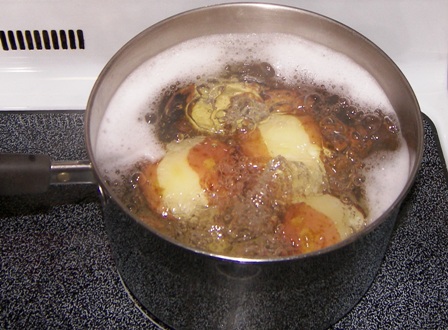 Drain and cover. Melt butter and stir in chives and parsley. Pour over potatoes and toss to coat. Spoon potatoes into bowl and garnish with parsley. Serve immediately. Serves 4. Variation: Can also sprinkle with bacon or finely minced greeen onions.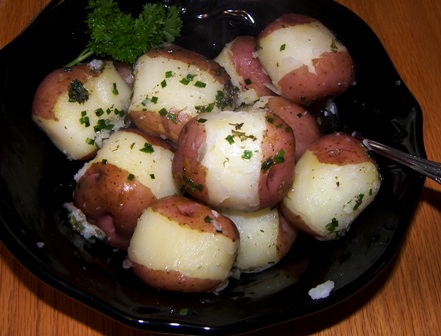 Oh, and about ripping a recipe out of someone's else's magazine… *ahem* … Confession: I did one time several years ago at an oil change place while waiting on my car to get done. But only that one time. Seriously. 😉 I forget, but I probably didn't have a pen and paper on me. It was a garlic biscuit recipe of some sort, but not these Red Lobster ones.
Change of subject now: This article hit the news last week. 😉 By Melissa Dutton for the Associated Press: http://www.wral.com/lifestyles/story/5579539/ I guess now you'll know what Lexi's 7th birthday cake will be.

While we were eating this at lunch today and someone said, "I'll take some more broccoli", the person passing it said, "It almost seems wrong to call it broccoli". Getting your vegetables by eating this broccoli dish is kinda like getting a fruit by eating strawberry jam. 😉 Besides the broccoli, this has: sour cream, Parmesan cheese, buttered toasted crumbs, and cheese. I don't think I need to tell you whether or not it was good!!! We've got a winner here. A recipe that will be repeated in this household.
Another reason that this recipe will be repeated is because it's fast. I made it for lunch today. When we got home from church, I hadn't done anything ahead of time for this. It took a couple minutes to cut up the head of broccoli, then during the 7 min that it was cooking, I toasted the crumbs, measured the sour cream and Parmesan cheese, and grated the Swiss cheese. It took a minute to throw it together in the dish and then several minutes under the broiler. So, from start to finish, about 15-20 minutes total. Not bad. And I could've even saved a couple minutes by cutting up the broccoli earlier.
I don't know where this recipe comes from… it's an anonymous clipped recipe in my mammoth clipped-because-I-want-to-try-it-sometime recipe collection. Sometimes I wonder if I'll ever get thro' them. The reason I wonder that is because I think I keep clipping them faster than I'm trying them! Beside the recipe, it says, "Meal Ideas: Baked ham, oven-roasted potatoes, broccoli au gratin, apricot tart". Our meal was: Beef roast, herbed new potatoes, broccoli au gratin, crescent rolls, and fresh strawberry pie.
Broccoli Au Gratin
1 large head broccoli (about 1 1/2 pounds)
3/4 cup sour cream
1/4 cup grated Parmesan cheese
3 Tbsp. butter
1/2 cup bread crumbs I always use cracker crumbs when a recipe called for bread crumbs. They're tastier.
1/2 cup shredded Swiss cheese
Trim broccoli; cut off florets. Peel stalks; cut into 1″ chunks. In a saucepan, bring one inch of water to a boil over high heat. Add broccoli stalks; cover and cook for 2 min. Add florets; cover and cook until crisp-tender, about 5 min. Drain.
Melt butter in small skillet. Add crumbs and stir until coated with butter and toasted.

Combine sour cream and Parmesan. Stir in the broccoli. Pour broccoli mixture into a baking dish.

Sprinkle with bread crumbs and Swiss cheese.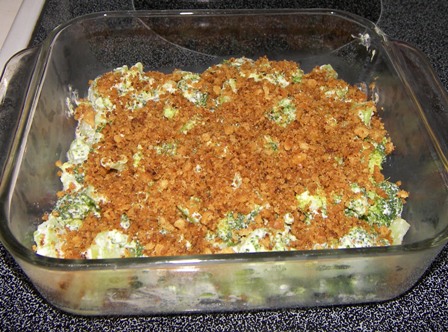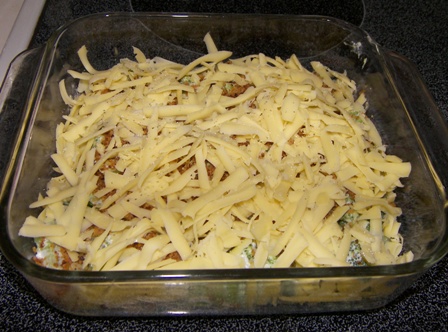 I don't know if you can tell it, but at this point is when I thought of it that there's no salt in this recipe, so I sprinkled s&p over it. Oh, and the cheese… I didn't measure it so I could put more on.

Broil until cheese melts. 4 servings. 4 servings is right… we had 3 adults and 2 kids and we had just a teeny bit left over.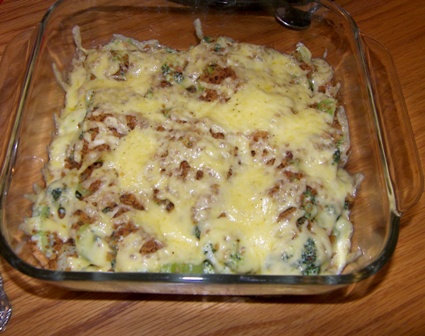 Well, our little cooks are back! Actually, they never went anywhere and have been quite busy in the kitchen, it's just that they haven't been making recipes on their own lately. One reason I know they've been in the kitchen is because I'm often tripping over their little chairs that they stand on.
It seems like a hassle, the way they have to move their little chairs around while working in the kitchen… put them in front of the sink, climb up and wash their hands, get down, move the chair over to the cupboard, climb back up, etc. I do wonder how it would be to be working in the kitchen and the counter is at eye level though, so I guess it's worth all the moving around.
The food I'm featuring here barely merits calling it a recipe. But, we got it out of a cookbook and it was in recipe form, complete with amounts. We got a kid's cookbook (a Betty Crocker cookbook named Kids Cook!) for Lexi for Christmas. She loves it. She often gets it off of the cookbook shelf and sits around looking at it and saying, "Mom, we should try this!" So, one time I told her she could pick something to make sometime soon because we're going shopping and we should see first if we need any ingredients. And THIS is the recipe she picked. It is called:
Ants on a Log (Gag! Who ever named them that?!)
Celery
Peanut butter
Raisins
I'll spare you the recipe details and let the pictures and video show you how it's done. Or how it WAS done anyway, maybe not how it oughta be done (there was a bit of licking fingers by the 2-yr-old). One nice thing about the mini cooks making this is that it didn't involve the oven or stovetop or mixer. It did, however, involve a sharp knife for a little bit, but that was closely supervised, and when we were done with that step, everyone still had all fingers intact.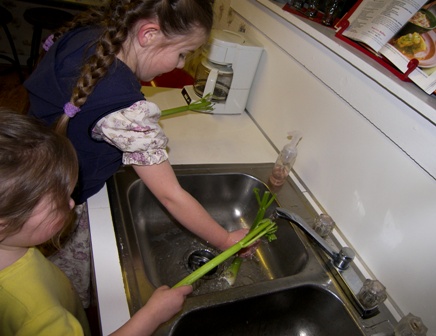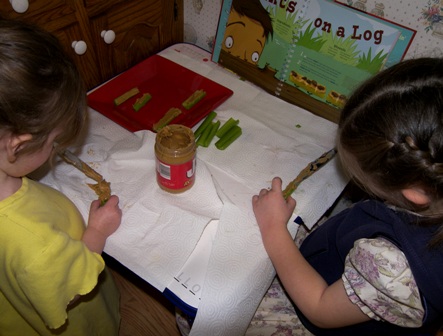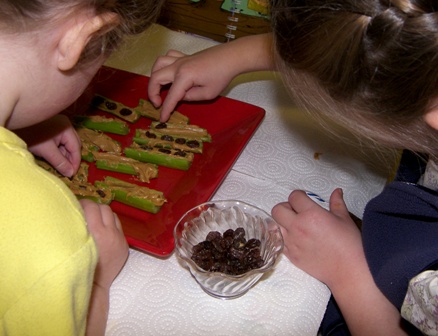 And here it is in action:


Ok, so I get an F on making mozzarella sticks! About half of them had melted cheese running out. The taste, though, gets an A+!
I've had an eye on this recipe for awhile and I'd buy string cheese and before I got them made, the string cheese got eaten, so I'd buy another pack of string cheese, and it would get eaten again, and so on. String cheese is a great snack, especially if you need a snack on the run… the pieces are individually wrapped, so you don't have to waste time putting it in a snack bag or anything.
Just to clear the air a bit, in case you're wondering why I'm posting non-diet things, I did figure out how many calories these little things have… it's 80. 80 calories each and they're only about 2″ long! And you can eat one in 2 bites.
But it is a really yummy 2 bites!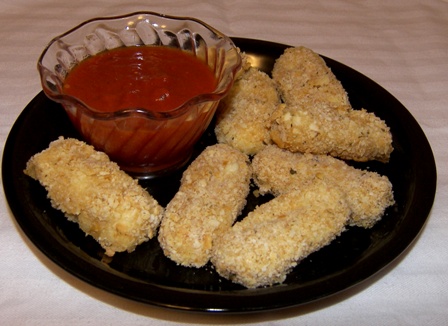 Baked Mozzarella Sticks
2 packages (5 oz each) string cheese
1/2 cup flour
1/4 cup cornstarch
2 large egg whites
2 Tbsp. water
1 1/2 cups bread crumbs (I used cracker crumbs)
1 tsp. dried oregano (I think next time I might try Italian seasoning instead)
1/2 tsp. salt
2 Tbsp. melted butter
Marinara sauce
This is the cheese I used…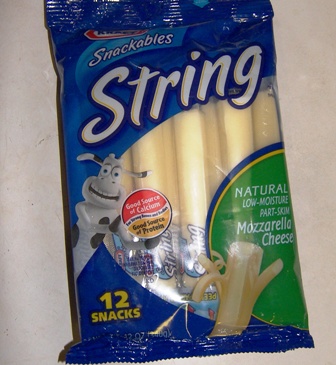 Remove cheese from packages; cut each cheese stick in half crosswise.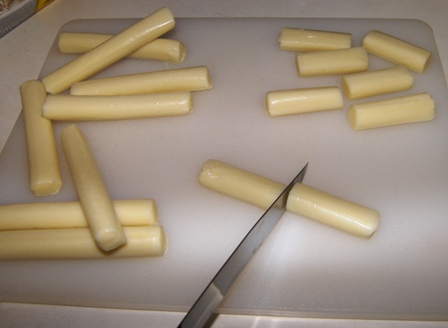 Combine flour and cornstarch in a shallow dish. Beat egg whites and water in another shallow dish until well mixed. Combine bread crumbs, oregano, and salt in a third shallow dish. Coat cheese with flour mixture. Dip into egg white mixture, being sure to coat thoroughly, including ends. Coat with bread crumb mixture.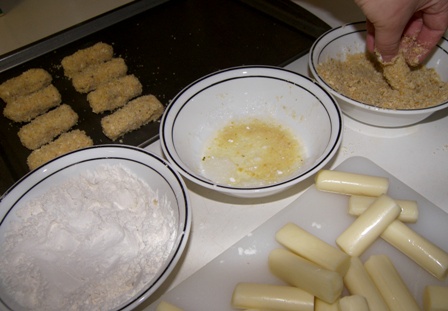 Dip into egg whites and bread crumbs a second time, being sure ends are coated. I ran out of the egg white mixture AND the crumb mixture and had to make more. The flour mixture looked like it barely had a dent in it! Place on ungreased baking sheet.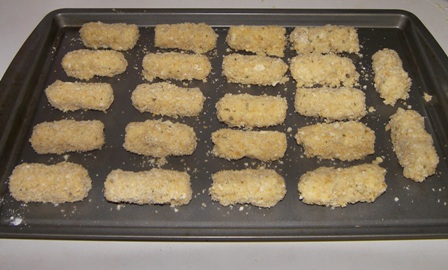 Freeze at least 1 hour. Preheat oven to 400. Drizzle cheesesticks with melted butter. Bake until crumbs just begin to brown, 5-7 minutes.
Oh, no!!! Cheese all over the place!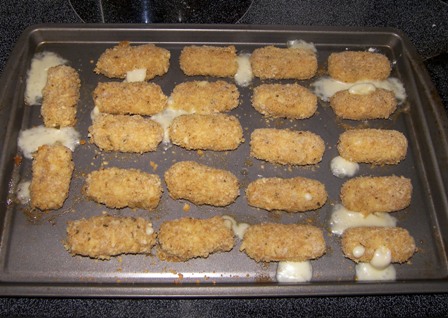 Here is what happened: I totally forgot the 'drizzle melted butter over them' part and took them out of the freezer and put them in the oven. When they were in for about 5 min, I suddenly remembered the butter! So, I got them out and drizzled butter over them. At that point, no cheese was showing. I put them back in for another 5 min so they could brown and this is what they looked like when I got them out again. I thought of waiting and making them again before featuring them, but decided you might as well know that I make plenty of mistakes (some of which I can hide though 😉 ).  
Serve warm with marinara sauce.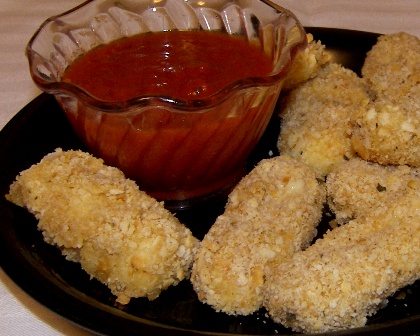 This recipe came from an Easy to Bake Easy to Make recipe card. A tip on there is: "Since these must be frozen before baking anyway, keep several batches in the freezer and bake them whenever you need a quick snack." Sounds like a great idea for spur-of-the-moment company! Or if you need a quick side dish to go with a meal. Last night, I served them with Hearty Hamburger Soup (to be featured later) and biscuits.