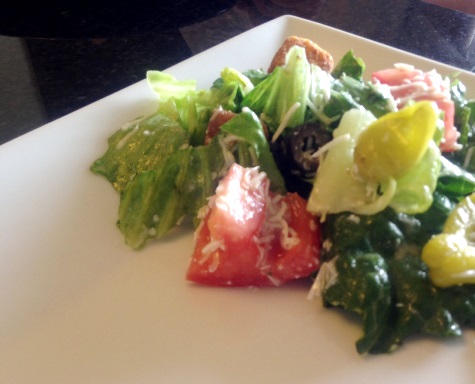 Have you ever had the salad at Olive Garden? What they lack in breadstick perfection, they make up for in salad (my opinion). We love this salad and it often accompanies our meals when we have Lasagna, Spaghetti & Meatballs, or Parmesan Chicken.
There are 7 ingredients: Romaine lettuce, tomatoes, black olives, pepperoncini, shredded mozzarella cheese, croutons, and dressing. Parmesan cheese is optional. This salad tastes exactly like one you'd get at Olive Garden.
Here's why.
I think in any salad, the secret is the dressing. For this salad, I've tried dressing recipes that were named "Olive Garden Dressing", but none of them tasted quite right. Sure, they were good, but not AS good. So, here's my secret: I go into our local Olive Garden and buy a bottle of dressing.

It's $5.49 with tax (and I never know whether or not to tip when it's just a quick no packaging carry-out item, so sometimes a do and sometimes I don't). It may be slightly more expensive than other dressings, but you can make 3 salads with one bottle. And it tastes perfect every time AND you don't have to make dressing every time you make the salad. I heard it's available at Sam's Club now. I wonder if it's the real thing. Does anyone know? I just might have to get some there and do a taste test.
Olive Garden Salad …ingredient list came from studying my salad one time at the restaurant, quantities are my personal preference
1 bunch Romaine Lettuce
2 Roma Tomatoes, seeded and each cut into 8 chunks
1/2 cup sliced Black olives, or a 2.25 oz can, drained
15 mild Pepperoncini
1 heaping cup shredded Mozzarella Cheese
1 heaping cup Croutons
3/4 cup Olive Garden Dressing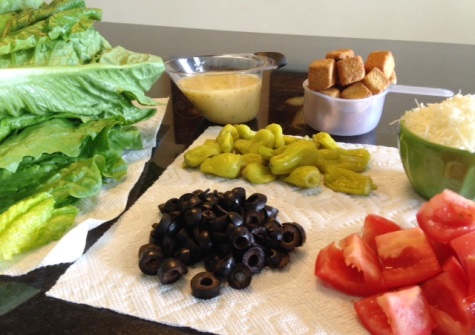 I always drain the olives, pepperoncini, and tomatoes on paper towel for awhile before putting them in the salad.
Wash lettuce. Dry and rip into large bowl. (A lettuce spinner has been on my wish list for about 5 years, but every time I have some extra spending money to blow on kitchen stuff, I decide drying lettuce leaves with paper towel will be fine after all, and end up getting more "toys" for cake decorating instead.)
Put all ingredients into a large bowl and toss.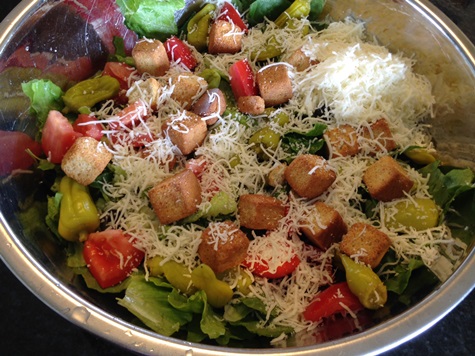 Dump into serving bowl and serve.
For how many this serves:
If using as a side salad, I make a half batch for our family of 5 (and the girls eat about as much as an adult would, even the 3-yr-old).
If using as a main dish with grilled chicken on top, I make a whole batch (as a main dish, the girls don't eat quite as much as an adult would).
In both cases, there's usually a serving or two left over.
For company, I make one batch for every 10-12 people.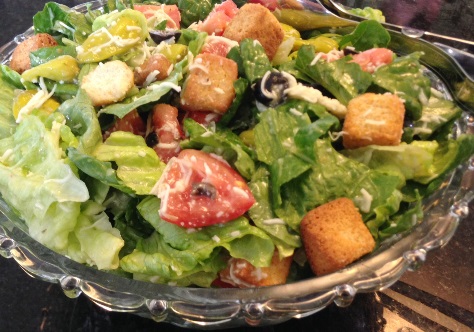 We had this for lunch yesterday and there was a serving of leftovers. Because this salad keeps better than some dressing-mixed-in salads, I put the leftovers in the fridge. I ate it for supper (5 hours later) and the lettuce was still crisp and crunchy. I think it might keep better because it's a low sugar dressing and doesn't make the lettuce soft.
Speaking of lunch yesterday, here is a variation for serving this salad. It's commonly thought of as a side salad, but once in awhile, we like to switch things up from our regular chicken breast salad and use Olive Garden salad for the salad part instead. (By the way, our regular chicken breast salad is featured here almost 3 years ago, but we still do it exactly the same, and still make it often, especially in the summer.) Anyway, we switched it up yesterday and used Olive Garden salad… simply fill a plate with the salad and put a sliced perfectly-seasoned-and-grilled-by-Shannon chicken breast on top.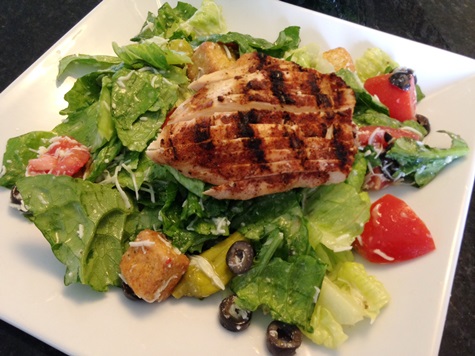 Short and sweet.
That's what this post is going to be.
I just want to show you the very best way to do baked potatoes.
Step 1: Rub them with oil of your choice. I use light tasting olive oil for almost everything in cooking. The exception is cake mixes… I use vegetable oil for that. I've never tried olive oil for that, not sure why not.
Step 2: Sprinkle coarse kosher salt on all sides of the potatoes.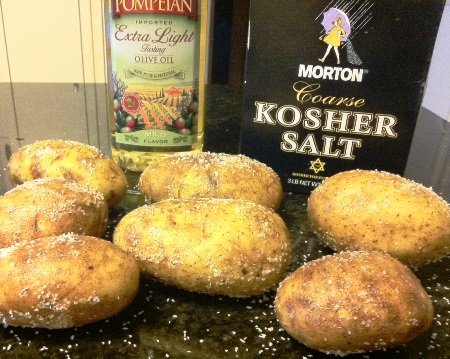 Step 3: Bake them.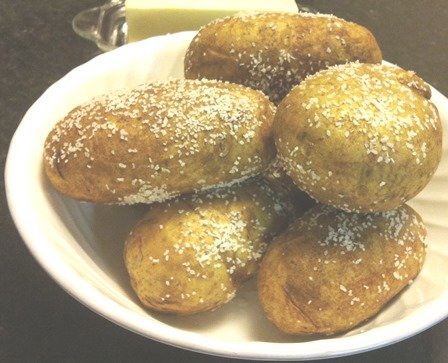 Step 4: Eat them. And enjoy the saltiness and crispiness of the skins. My 3-yr-old decided she doesn't like the skins… so I get to eat hers.

Here are some Do's and Don'ts.
Do Not:
– use tin foil if you don't like crispy skins… it reacts with the salt.
– bake for 3 hours at 275 (yes, I tried this one morning while we went to church), think salty hockey pucks.
– put them directly on the oven rack… unless you want to clean a bunch of salt off of your oven floor.
Do:
– Bake them at 400 for 1 hour.
– Bake them at 350 for 1 1/2 hours.
– Bake them on a cookie sheet or pan, uncovered.
– Serve them to company.
These fresh fruit kabobs drizzled with chocolate are the perfect item for adding a bit of beauty and pizzazz to the table without a lot of time-consuming work. You can't beat that, right? So, keep it in mind next time you need to take food somewhere. It doesn't even require a fork so it works for "bring finger food" occasions. These particular ones were made for my husband Shannon to take to a company potluck at his office at Keller Williams Real Estate.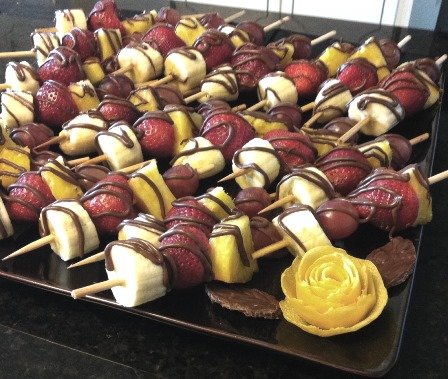 There is no recipe, just use any kind of fruit you want to… They all work great. Well, except apples. Apples sometimes split when you put them on the skewers. If you're using apples, the thinner the skewer the better. Just for the record, apples and chocolate go together awesomely! Is awesomely a word? I figure as long as you know what a word means, it doesn't really matter if it's technically not a word.

Chunk up/slice all the fruit that gets chunked or sliced. Take stems off of fruit that gets de-stemmed. Toss fruits that get brown with lemon juice (more on that later).
In other words, before I start threading them on skewers, I like to have them all ready to go.
Then, start poking fruit on until: 1. Fruit is gone, 2. Skewers are gone, or 3. You have the desired amount.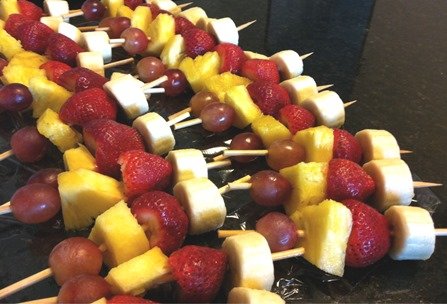 After the fruit is all on the skewers, put about a half cup of chocolate chips or candy melts in a sandwich bag, but don't seal shut. Put it in the microwave for 30 seconds. Flip it over and microwave it for 20 second. Work the bag with your hands and put them in for 10 seconds. Do this until all the chocolate feels smooth and no chunks are left.
I need to get back in my zone… that zone where I automatically remember to take pictures at each step! I was having too much fun and just kept rolling instead of stopping for pictures.
Now, you're ready to drizzle. Put the kabobs all really close together so less drizzle lands on the table. Snip a little corner off of the bag and just scribble back and forth over the fruit. Then immediately separate them or else the chocolate will harden and pull drizzles off of its neighbor.
Put them on a plate. Garnish if you want to.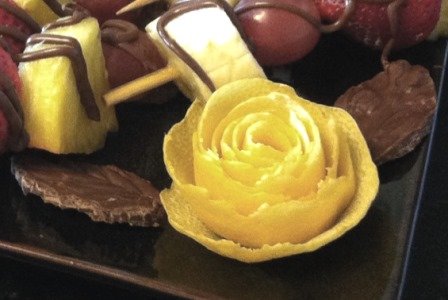 Here are tutorials on the rose and leaves, in case you want to make some:
Rose • Chocolate leaves
The rose tutorial is actually for making a tomato rose, but it's the same technique.
Now, about the bananas and keeping them from browning.
Lemon juice is the secret here. I did a little test where I checked them after 3 hours and after 6 hours. A little after the 6-hour mark, my girls came home from school and I let them eat my experiment for an after school snack… and then thought of it later that I should've tested the bananas longer, like 24 hours. But what I did learn is that lemon juice works its magic for at least 6 hours, and that was the info I needed because unless they have to set/freeze/marinate/etc, I rarely make things more than 6 hours ahead of time. Maybe that's because I'm a procrastinator.
So here we go, the experiment. The pictures above were taken right after I made it, where even a fresh banana would still be looking good. The pictures below were taken 3 and 6 hours afterwards.
3 hours after being tossed with lemon juice: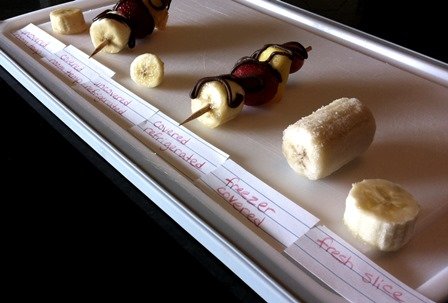 From left to right: uncovered room temp, covered room temp, uncovered refrigerated, covered refrigerated, covered frozen, and a fresh slice.
The fresh slice is NOT 3 hours old, it's just there for comparison. The frozen one is thrown in there for fun… it actually has no lemon juice on, it was peeled and put into the freezer right away and is probably more like 3 months old.
6 hours after being tossed with lemon juice:



The middles are starting to get a little brown, but are still fine.
What I was surprised was that between all the lemon-juiced ones, there was pretty much no difference! I'm glad about this tidbit because it gives flexibility. Here is a closer up. They all stayed firm too, no mushiness.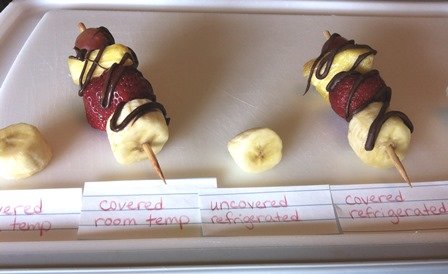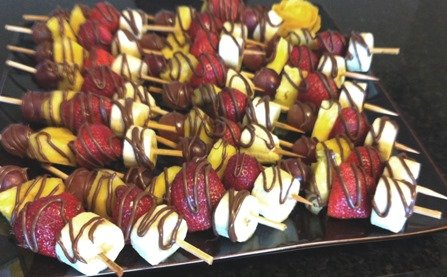 Here come the Holidays… make some of these pretty things!  It's a delicious, healthy snack to set out on the snack table (with the chocolate covered Ritz crackers, cookies, red-green-silver-foil-wrapped Hershey kisses, and party mix).
Is this recipe made up, you wonder?
Yep, it is.
All because I fell in love with some chipotle mayo from Yutzy's Farm Market and I use it on everything that I think it might possibly go with.
We had a fish fry last night. One of the couples from church (Jr. and Darla) go up to Lake Erie to fish every year. Then, they clean the fish. And then, they GENEROUSLY share them with us. I know. We're privileged. And we realize it and are very grateful.
They and their kitchen helpers fry/bake the fish (there's some of each) and make a big roasterful of scalloped potatoes and do pork chops for anyone who doesn't like fish. Then, the rest of us bring salads and desserts. It's quite a spread… the row of food tables is roughly the length of an airport runway (give or take a few hundred yards) and is lined down both sides with food food food. Good stuff! I'm wishing right now that I'd have taken my camera along to take a picture of it.
So, anyway, I was trying to decide what to make in the salad category. I just got a new Dessert Decorator, and it HAD to be something that I could use that for. The decorator was a just-for-anyhow gift from my husband, which are THE best kind of gifts.
So now, we're only eating soft foods that can fit thro the decorator… but hey, at least we're eating pretty stuff.

I made twice-baked potatoes a couple days ago and piped them into the shells with the decorator, but then I had a problem. I hadn't thought of the cheese. So it was forfeit cheese and see the beauty or have potatoes with yummy melty cheese on top. The cheese won. Oh well. I still had fun doing it.
Anyway, back to what to take to the fish fry, I thought of Deviled Eggs.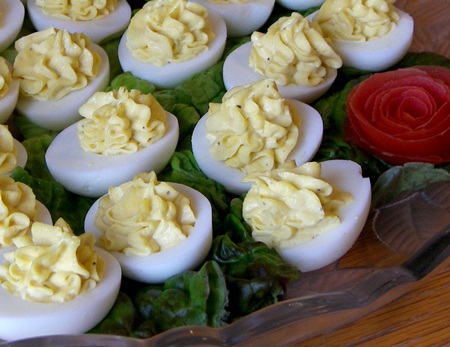 And while I was getting the yolks out of the whites, I thought of my beloved Chipotle mayo and decided to throw some of that in there. Next time, I'd add more… it adds a little kick and I didn't want to add too much kick for some unsuspecting person at a church fish fry who doesn't like kick.
Chipotle Deviled Eggs
12 eggs
3/4 cup mayo (use less if you prefer a stronger egg yolk taste)
2 tsp. Dijon mustard
1 Tbsp. Roasted Chipotle Mayonnaise (more would be better

)
1/4 tsp. salt
1/2 tsp. pepper
Hard boil the eggs. Peel and cut in half. Put yolks in a food processor; set whites on a serving tray.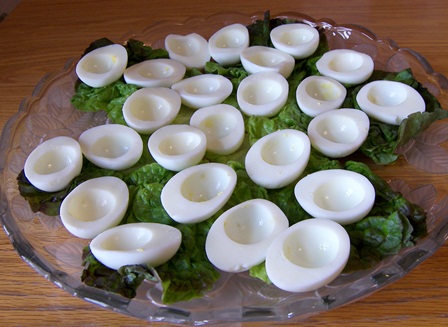 Running the yolks thro' the food processor makes for a creamier filling. After there are no chunks left, add the rest of the ingredients. Pipe the filling into the egg white shells. (Side note: sometime, try piping egg filling into an egg white with one hand WHILE holding still enough to take a picture with the other hand

)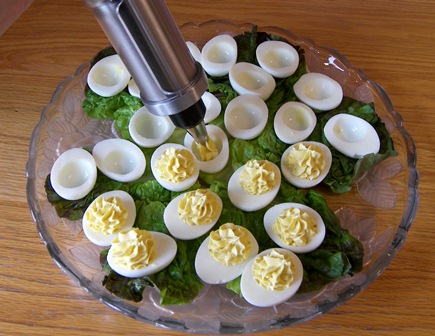 Here's a little tip: when you're getting the last of the filling out of the bowl, it's nice to have one hand to hold the bowl and one hand to use the scraper, putting the filling right into the decorator as you're scraping. This leaves no hand to hold the decorator so… prop it in a cup.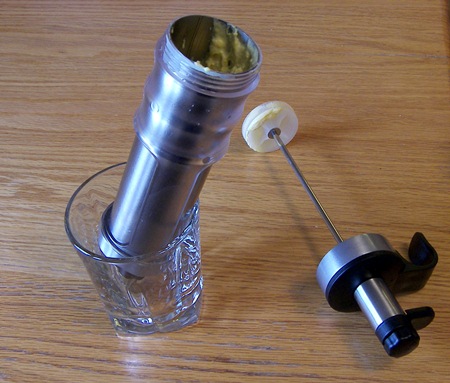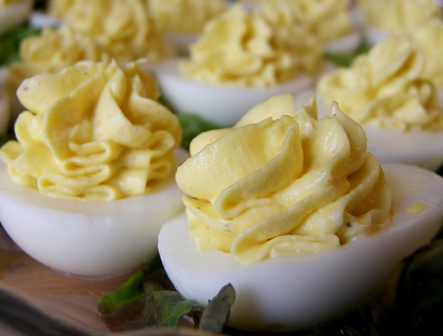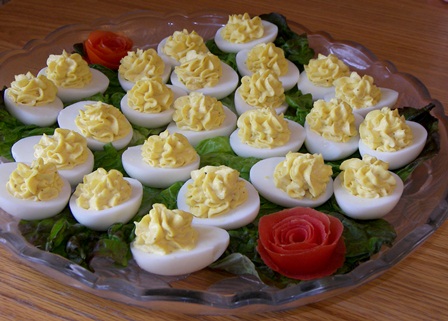 If you want to garnish the tray with tomato roses, but don't know how, this link is for you: How to Make Tomato Roses.
Coming up in the next few posts: Tiffany's ladybug birthday cake, Fun play-with-your-food Spring-themed stuff, and Donut Muffins.
Lexi made supper tonight.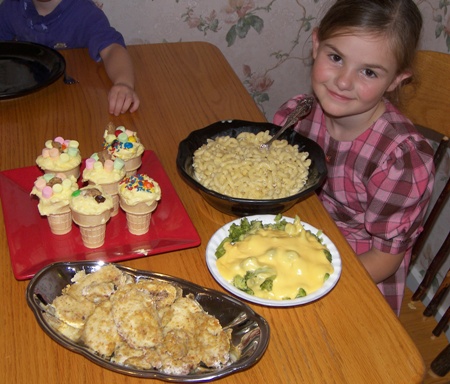 Her menu was:
Crunchy Chicken Tenders
Easy Mac n Cheese
Trees with Cheese
Puddin' Cones
There were only 4 ingredient spills. The only help Lexi accepted was finding some of the right ingredients and measuring cups/spoons and reading the recipe ("because it's faster if you do it and I don't know all the words") and a couple times, handling hot stuff. I did tell her when to do stuff so it would all get done at the same time. I also gave her lots of tips and how-to's, but she did the actual work. She did very well, actually better than I expected.
Now and then, Tiffany (3) crossed her arms, put on a scowl, and whined, "Mom, she won't let me dump that in. I don't have ANYTHING to do!"
I was planning to blog as it was going on, but I was kinda busy with damage control.

She loved doing this meal! I believe we have a cook in the making.

Crunchy Chicken Tenders … recipe from Betty Crocker Kids Cook cookbook
3/4 cup cornflakes cereal
1/2 cup flour
3/4 tsp. salt
1/2 tsp. pepper
1/3 cup buttermilk or milk
1 pound uncooked chicken breast tenders, not breaded
Heat the oven to 400. Line a 9×13 pan with foil.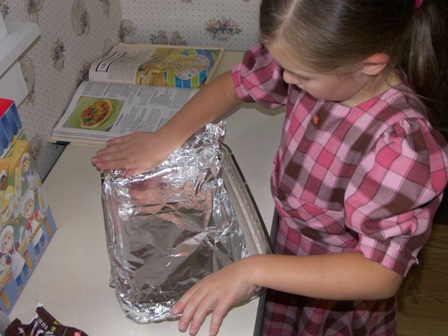 Spray the foil with cooking spray.
Put the cereal, flour, salt, and pepper in a plastic bag. Seal bag closed. Use a rolling pin to crush the cornflakes.
Pour the milk into a bowl. Dip chicken in milk.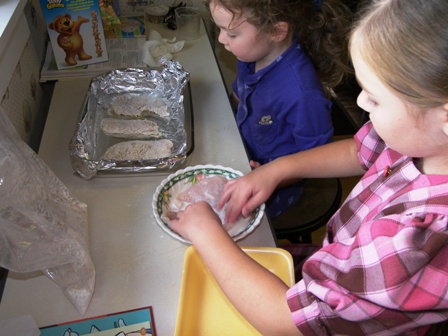 Drop milk-coated chicken, a few pieces at a time, into cereal mixture. Seal bag closed. Shake bag to coat chicken with cereal mixture. Put the coated chicken in the pan.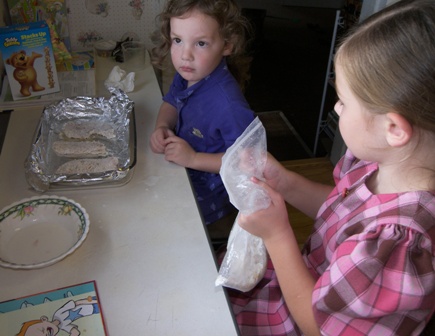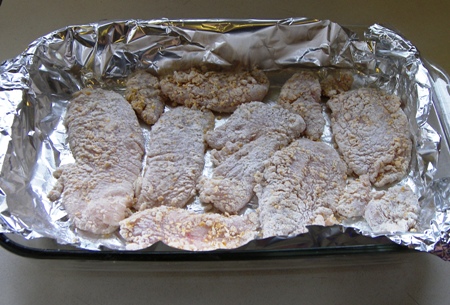 Spray chicken with cooking spray. Throw away any leftover cereal in the bag. Bake for 25-30 minutes or until coating is crisp and chicken is no longer pink in center. Makes 4 servings.
Dishing it up…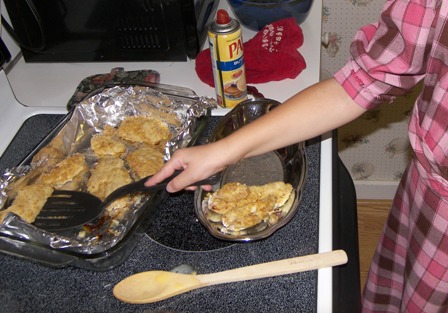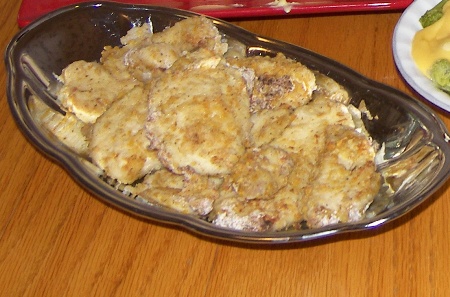 Good stuff! We ate them with bbq sauce. I realize I didn't get a picture of the rolling pin part… they had great fun with that!
Easy Mac and Cheese …recipe from Betty Crocker Kids Cook cookbook
Water
2 cups uncooked elbow macaroni or small pasta shells
1 Tbsp. butter or margarine
1 cup milk
1 1/2 cups shredded cheddar cheese or American cheese
1/2 tsp. salt
1/2 tsp. ground mustard (I had to talk her into putting mustard in!)
1/4 tsp. pepper
Fill a 3-qt saucepan about half full with water. Bring to a boil. Add pasta to water.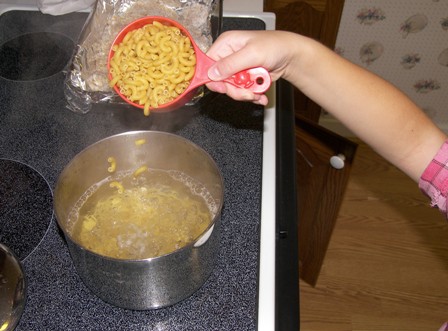 Heat to boiling again. Boil uncovered for 8-10 minutes, stirring often with a wooden spoon. Drain pasta (put a colander in the sink and pour the pasta into it). Put drained pasta back into saucepan. Add butter, milk, cheese, salt, mustard, and pepper to pasta.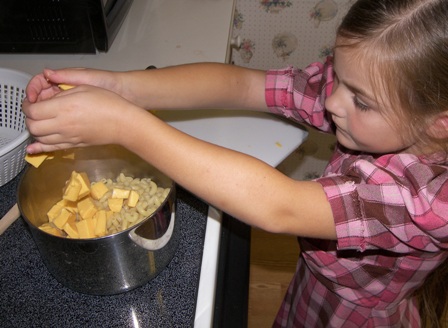 Stir with spoon until mixed. Cook over low heat for about 5 minutes, stirring a few times, until cheese is melted. Makes 4 servings.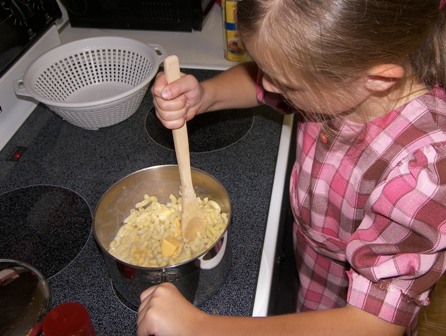 Dishing up. This was a bit wild! Whoosh! and it was all in the serving bowl in about 2 seconds. Pretty amazing that some didn't land on the floor!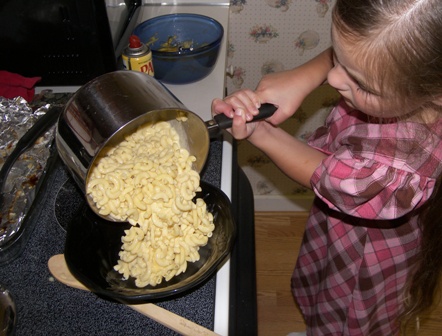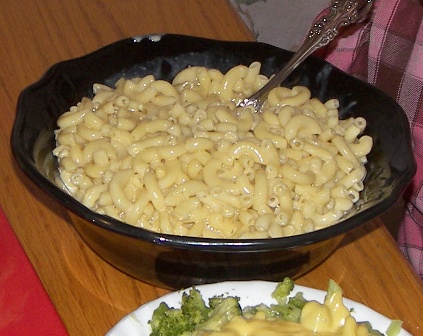 Trees with Trees … recipe from Betty Crocker Kids Cook cookbook
1 1/2 pounds fresh broccoli (I just had her use a bag of frozen broccoli florets.)
3 Tbsp. water
6 oz process American cheese loaf
1/3 cup milk
1/4 onion salt
1 drop red pepper sauce, if you like (she didn't like

)
Microwave the broccoli and water till hot and crisp-tender. Melt the rest of the ingredients in a saucepan or microwave. Stir with a wooden spoon until the cheese is melted and mixture is smooth. Drain broccoli and put it into a serving bowl. Pour hot cheese over broccoli. Makes 6 servings. I didn't notice it at the time, but in all the photographing, I missed the broccoli, all except the dishing it up!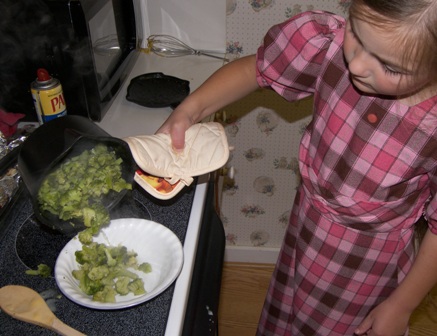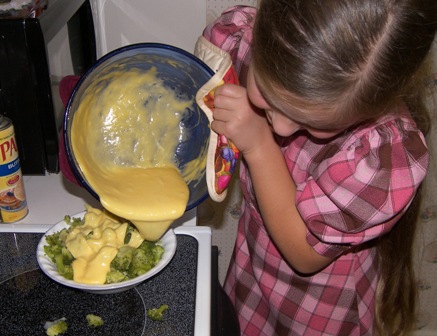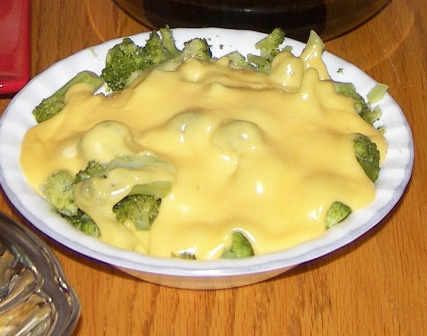 Puddin' Cones … recipe from the 2003 Quick Cooking annual cookbook
This is what sparked the whole idea of making supper. Her cousin Krista made these for dessert when she made supper one time and Lexi saw a picture and wanted to make them too. Krista, you're her hero!
1 1/2 cups cold milk
1 pkg. (3.4 oz.) instant vanilla pudding mix
3 envelopes whipped topping mix (when Lexi read this, she said "Envelopes?! What do envelopes have to do with cooking?")
8 cake ice cream cones (about 3 inches) She used only 6.
Chopped nuts, jimmies and miniature colored baking chips or topping of your choice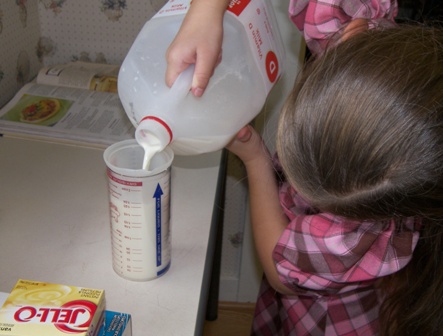 In a mixing bowl, beat milk and pudding mix on low speed for 2 minutes.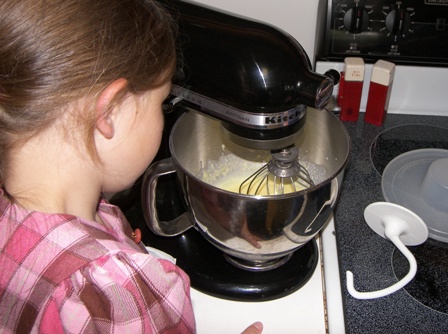 Blend in whipped topping mix; cover and refrigerate for at least 1 hour. Spoon 1/4 cup into each cone; sprinkle with toppings. Yield: 8 servings. I just told her to fill the cones, not to measure. When the pudding mixture was gone, there were only 6 cones used, which I think is better because they look more like ice cream cones if they're heaped a little.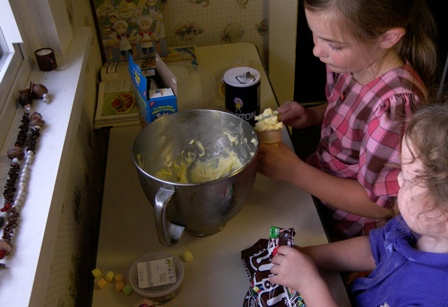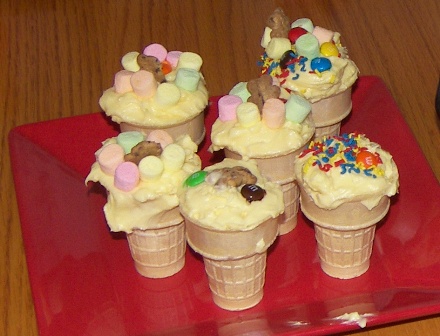 These were good, altho' not as good as real ice cream. She made them right before she dished up the food and till we got done eating and were ready for dessert, the cones were starting to get a little soft already. So, they should not be made too much in advance!