I'm going to throw in another 'Out of my comfort zone cooking' post. Because that's exactly what it was. I didn't know a thing about cole slaw, except that I like to eat it. I don't remember ever buying cabbage in my life. I do, however, remember a science experiment in grade school involving purple cabbage, but I forget what it was all about or I'd tell you. It must not have made an impression on me back then.
I was walking thro' the grocery store the other day and beside the bagged ready-made lettuce salads in the produce section was shredded cabbage. I suddenly got hungry for cole slaw. Instead of going over to the deli counter and ordering a small container of cole slaw, I decided to try homemade cole slaw, made by me. So, I grabbed a bag of the shredded cabbage.
We had a church picnic last night at Dan's (our pastor's) house. There were going to be burgers and hot dogs and from there we were supposed to bring a salad and dessert. I thought of cole slaw for the salad (and what I took for dessert will be featured in the next post). The nice thing about a potluck where there are 50 dishes to choose from is that if something flops, there are enough other dishes to pick from. The other nice thing about a potluck is that if something flops, nobody knows who made it. Unless they ask around. So, I made cole slaw.
I learned something about cole slaw. Saturday evening, I was chatting online with my aunt and I asked her if I should make the cole slaw now so the flavors can blend together or if it would just get mushy and if it would be better to wait till Sunday afternoon. She said she doesn't know (she must not make cole slaw very often either

), and said 'why do today what you can put off till tomorrow'. So, me, being an expert at procrastinating, made it Sunday afternoon, about 4 hours before the picnic. It looked perfect. I covered the bowl with plastic wrap and put it in the fridge and went to take a nap. 3 1/2 hours later, I got it out of the fridge to go to the picnic and it looked totally different! It had gotten runny and the cabbage was softer than it had been! Must've been from the sugar in it. I was so glad I hadn't made it Saturday evening, because it was about perfect at the picnic. It may have gotten too mushy made too far ahead of time.
Another thing I learned is that it is possible for me to make good coleslaw and another thing I learned is that it's SO easy and quick to make! This recipe is taken from the Famous Daves Backroads and Sidestreets cookbook.
Creamy Sweet & Sour Cole Slaw
10 cups chopped shredded red and green cabbage
1/4 cup grated carrot
2 cups Miracle whip
1/2 cup sugar
1 Tbsp. prepared horseradish (I'd recommend not putting this much in unless you're making it for a Memphis-style sandwich or really really like horseradish 😉 )
1 Tbsp. dry mustard
1 tsp. white pepper
1/2 tsp. salt
1/4 tsp. garlic powder
1/4 tsp. celery seeds
Toss the cabbage and carrot in a bowl. I used a bag of shredded cabbage and carrots. The bag said there is 7 1/2 cups in it, so I just didn't put all the dressing on.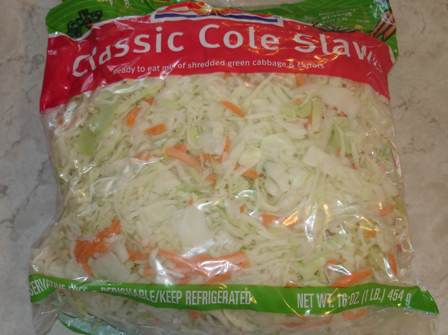 Mix salad dressing, sugar, horseradish, dry mustard, white pepper, salt, garlic powder, and celery seeds in a bowl. Add to cabbage mixture and mix well.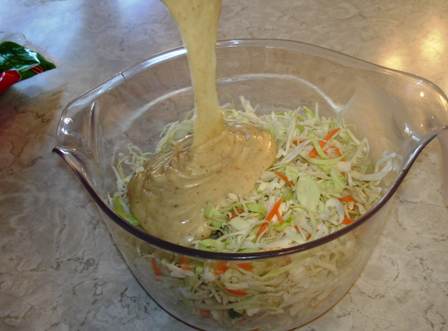 Chill, covered, until serving time. Yield: 6 to 8 servings.
Right after mixing…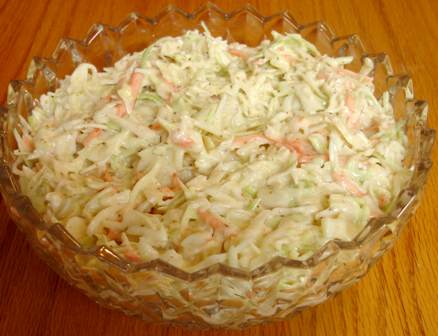 3 1/2 hours later…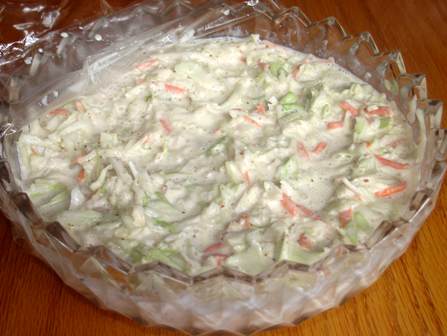 That coloring difference is from different lighting, but it did actually get lighter in color too. Actually, I guess it does look more like real cole slaw in this picture. Maybe all cole slaw recipes do that. As far as the taste of this, it was great! It will be my cole slaw recipe, but I might try others now and then too. I'm just so impressed how easy it was and how flavorful it was. I'd even make it for company. Or for a summer picnic. Or just for anyhow. 
Do you ever just stop and wonder WHO decided what goes together? And who decided that scrambled eggs and pancakes are breakfast foods? And who decided that you shouldn't eat ice cream or a Hershey's w\ Almonds candy bar before 10:00 a.m.? And who decided that corndogs are a kid's food? And WHO was the first person to have the guts to put fruit and nuts in a lettuce salad?!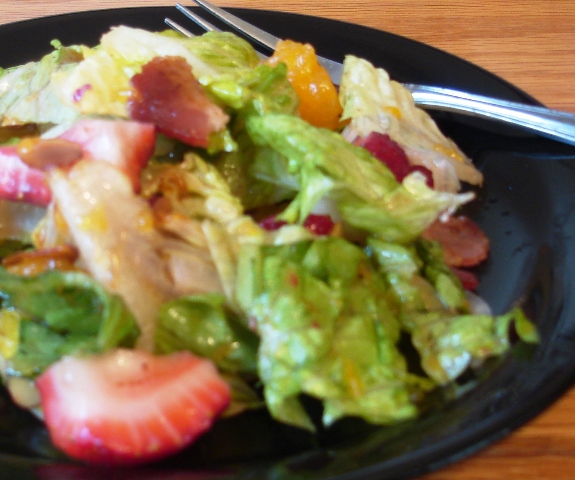 But, you know what, this salad was good! Really good! I could not believe it! And I could also barely stop eating it! If you have never tried it, this recipe would be a great one to try it on. Especially the strawberries were good with it. And the dressing.
If any of you are coming up for air about anything in the first paragraph… "Hey, we eat scrambled eggs and pancakes for supper sometimes!" "Hey, c'mon, I eat ice cream every morning!" "I LOVE corndogs and I'm 27!", I know, I know. Me too. Well, me too all except the parts about ice cream EVERY morning and being 27. But, when you have pancakes and eggs for supper, you call it a 'breakfast supper'. And I would think my husband was the one who decided that about no ice cream or candy bars before 10:00 (yes, we've had these discussions), except that Dairy Queen doesn't open till 11:00 a.m., so that's kind of another clue. And have you ever seen corndogs on the regular menu at a restaurant? Nope, you'd have to order them off the kid's menu. There, that oughta save some ranting in the comment section.

Back to this salad, it comes from the 2001 Quick Cooking Annual cookbook. There's a picture, and it is so colorful, and it grabbed me. I also learned something… I almost didn't put the onions in because I do not like raw onions in stuff and was afraid that the amount of them would for sure wreck it. The recipe calls for a sweet onion, so when I went shopping, I made sure to get an onion labeled 'sweet'. It was a world of difference from the regular onions I usually buy! These were good! And not as strong. I'd still use the regular onions for cooking, but I won't dodge around raw onions in other recipes anymore… I'll just make sure they're sweet onions.
Berry-Mandarin Tossed Salad
1/4 cup sugar
2 Tbsp. cider vinegar
2 Tbsp. honey
1 1/4 tsp. lemon juice
1/2 tsp. paprika
1/2 tsp. ground mustard
1/2 tsp. grated onion
1/4 tsp. celery seed
Dash of salt
1/3 cup vegetable oil
8 cups torn mixed salad greens (if you see grated carrots and red cabbage in there, it's because my bag of ready-to-serve Romaine salad mix had them in)
2 cups sliced fresh strawberries
1 can (11 oz) mandarin oranges, drained
1 medium sweet onion, sliced into rings
1/3 cup slivered almonds, toasted
4 bacon strips, cooked and crumbled
Note: To toast the almonds, I just tossed them with about a teaspoon of melted butter in a pan, then put them in a 400 degree oven till they started turning brown, maybe 10 minutes or so, I didn't time them, just kept checking them.
In a 2-cup microwave-safe bowl, combine the first nine ingredients. Microwave, uncovered, on High for 1 1/2 -2 minutes; stir until sugar is dissolved. Whisk in oil. Cover and refrigerate until serving.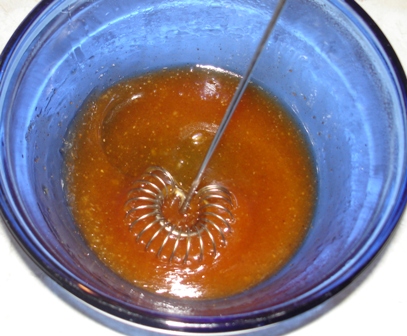 I actually had some problems with the dressing… the oil didn't want to blend into the rest of the stuff, the dressing got really thick after being in the refrigerator, and I thought it was too much dressing. And I did follow the recipe exactly, right down to the celery seed. It actually worked out ok and coated the salad evenly (I was afraid it would be thick in some places and none in other places). I think next time, I would put only about 2/3rds of it on though.
In a salad bowl, combine the greens, strawberries, oranges, onion, almonds, and bacon.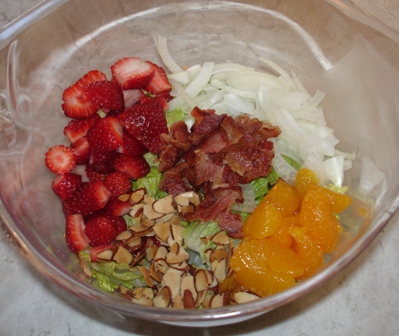 So pretty, huh?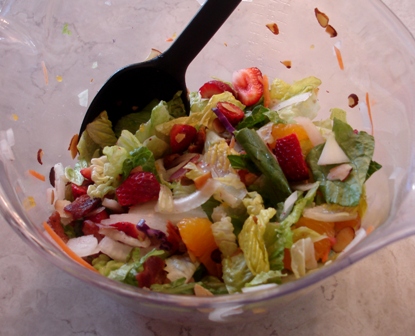 Drizzle with dressing and gently toss to coat. Yield: 12-14 servings.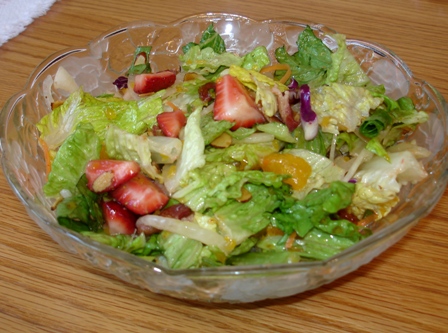 Maybe this type of thing is a regular dish on some of your tables, but we don't see it much around here. I'm going to take this salad to the next fellowship meal at church… see if anyone takes any.

And now, I have to get an inspiration for something to make for a meal this evening… we eat in a little over an hour and a half and I have no clue what we're going to have. Any ideas?
I tried the corn chip salad over the weekend. Thanks for the recipe, Barb!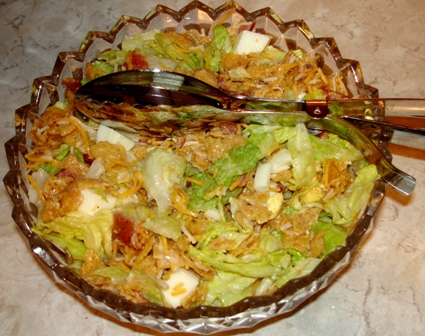 Barb posted it in the comment section of this post. She didn't leave a link, so I can't refer you to her site if she has one. The salad is very easy to make (no veggies to chunk up) and has a nice crunch to it. I liked the combo of salty (corn chips) and sweet (dressing).
Usually, when I think of salad, I think 'diet'. This is not by any means a 'diet' salad! The only thing diet in there is the lettuce. Everthing else is laden with calories and fat. No wonder the salad is so good, huh?!
Barb was right though… leftovers are not good! I made 1/4 batch just for us and we didn't eat it all, so I put it back in the fridge. The next day, it was soggy and the lettuce was wilted.
I'd say a whole batch would be about right for 18-20 people, unless you're making it to go along with a big meal, then it would feed more people, maybe more like 25. Ok, hopefully that guess isn't too far off for those of you who have it in a cookbook if it says how many servings it is! I could not find a corn chip salad recipe in any of my cookbooks.   
Corn Chip Salad
1 head lettuce
6-8 hard boiled eggs
1 pound bacon, fried and crumbled
1/2 pound shredded colby or cheddar cheese
4-6 cups corn chips, crushed (the more-the better)
Dressing:
1 cup miracle whip
2 Tbsp. red wine vinegar (can use apple cider vinegar)
1/4 cup milk
1/4 cup sugar
1/4 cup brown sugar
Toss lettuce, eggs, bacon, and cheese. Add chips and dressing just before serving.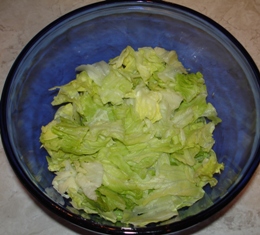 …Lettuce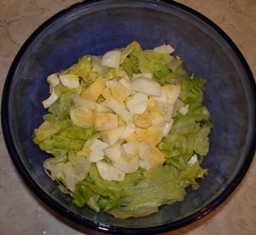 …Eggs
   …Bacon and cheese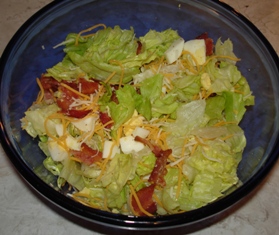 Toss it.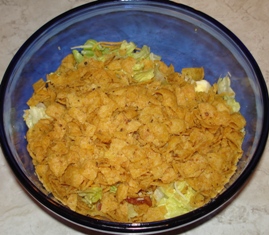 Add dressing and corn chips.
I just put all the dressing ingredients in a bowl and beat it with a wire whisk. Forgot to get a picture of it.
Toss it all together.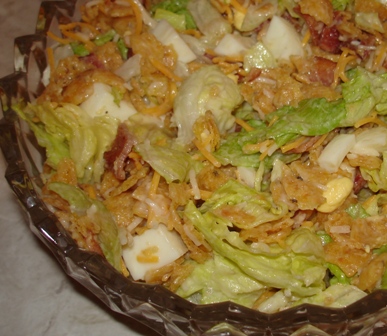 Sounds like some of you have made this, but if you haven't, I'd highly recommend it. The corn chips in there is what makes it so good (and the bacon helps too!). Plus, I've always liked salads that are tossed with dressing.
Tired of looking at roses? Me too! Time to dust off this site again and put something fresh on here.
I'm going to feature a full meal today, a napkin folding post soon, and hopefully some inspiration will come by the weekend for some Thanksgiving ideas!
This meal is taken out of the 2003 Quick Cooking Annual Cookbook on pages 8 & 9… I know, I'm like a broken record, Quick Cooking cookbook this, Quick Cooking cookbook that. I just love those cookbooks, and you know why? Because they have PICTURES!!!!
Pepper Jack Meat Loaf
1 egg or 1/4 cup egg substitute (I used an egg)
1 cup seasoned bread crumbs
1/4 cup chopped onion
1/2 to 1 tsp. salt
1/2 tsp. pepper
1 1/2 lbs lean ground beef
1 cup (4 oz) shredded pepperjack or monterey jack cheese, divided (I used all pepperjack cheese.)
In a lg bowl, combine the egg, bread crumbs, onion, salt, and pepper. Crumble beef over mixture and mix well. Press half of the beef mixture onto the bottom and halfway up the sides of a greased 8″x4″x2″ loaf pan. Sprinkle 3/4 cup cheese over meat to within 1/2″ of sides.


Pat remaining beef mixture over cheese.


Bake uncovered at 350 for 50 – 55 minutes until meat is no longer pink and a meat thermometer reads 160. Sprinkle with remaining cheese. Bake 5 min longer or until cheese is melted.


Let stand for 10 min before slicing.

Yield: 6 servings. We really liked this! It was good for something different, although I still prefer meatloaf with ketchup stuff on top. That pepperjack cheese really gave it some kick. Lexi (who is 4 and a picky eater) said it's too spicy. Tiffany (who is 19 mos and eats anything) chowed it right down. We ate it with ketchup.
Potato Chip Potatoes
6 medium potaoes, peeled and cut into 1/2″ cubes
3/4 cup crushed potato chips, divided
1/2 cup chopped onion
2 Tbsp butter or margarine, melted
3/4 tsp. salt
1/4 tsp. pepper
In a bowl, combine everything, except 1/4 cup of potato chips; toss to combine.Transfer to a greased shallow 2 qt baking dish. Sprinkle with remaining potato chips. Bake, uncovered at 350 for 40 – 50 min or until potatoes are tender.

Yield: 6 – 8 servings. This was good, but nothing special. We ate it with ketchup because it was kinda blah without anything. It's a good way to use up those last broken up chips at the bottom of the bag.
Creamy Pea Salad
2 pkgs (16 oz each) frozen peas, thawed
1/2 cup diced cheddar cheese
1/2 cup diced mozzarella cheese
1 medium onion, chopped (onion AGAIN!)
1 cup mayo or salad dressing
Salt and pepper to taste
4 bacon strips, cooked and crumbled
In a bowl, combine everything except the bacon; mix well. Refrigerate until serving. Sprinkle with bacon.

Yield: 6 – 8 servings. Ok, I'm not even gonna pretend… this was NOT at all good! I don't like cold peas or raw onions, but I decided to be open-minded and give it a shot, thinking maybe the other ingredients would make it good. None of the others liked it either. I ended up fishing out and eating the cheese and bacon and threw the rest away.
Chocolate Cherry Angel Cake
1 pkg (16 oz) angel food cake mix
1/3 cup finely chopped maraschino cherries, well drained
1 square (1 oz) semisweet chocolate, grated  I put an ounce (at least an ounce
) of milk choc chips in a food chopper.
GLAZE:
2 Tbsp. butter (no substitutes)
1 square (1 oz) semisweet chocolate Again, I used milk choc… I try to stick to the recipe, but with chocolate, whenever I use semisweet like the recipe says, I always end up saying 'next time I'll use milk chocolate'. So I'm just going to start always using milk choc the 1st time.
1 Tbsp. light corn syrup
1 cup confectioners' sugar
3 to 5 tsp. maraschino cherry juice
Maraschino cherries and fresh mint, optional
Prepare cake mix according to directions. Fold cherries and chocolate into the batter. Pour into an ungreased 10″ tube pan.

Bake at 350 for 40 – 45 minutes or until cake springs back when lightly touched. Immediately invert pan; cool completely. Run a knife around sides of cake and remove from pan. In a saucepan, combine butter, chocolate, and corn syrup. Cook and stir over low heat until chocolate is melted. Stir in confectioners' sugar and cherry juice until glaze reaches desired consistency. Drizzle over cake.


Garnish with cherries and mint if desired. 

Yield: 12 servings. YUM!!!! This tasted as good as it looked! If you like chocolate covered cherries, you'll like this! Shannon doesn't like cherries and he even kinda liked it. It would be GREAT for around Christmas time too… doesn't it look sorta Christmas-y? 

Tried and True
Not a new recipe. Just one that's so good, you've gotta have it!
 It's from the Derstine cookbook .
Taco Salad
1 lb hamburger
1 chopped onion
Salt and pepper
2 cans chili beans
Taco salad seasoning, 1 envelope
Lettuce, chopped (I use about 2 heads)
4 med tomatoes, diced
8 oz cheddar cheese, grated (I use taco cheese or Mexican cheese)
TACO DRESSING:
Sprinkle on crushed taco chips
2 c. oil
2 c. sugar
3/4 c. vinegar
2 tsp. salt
2 tsp. Worcestershire sauce
1/2 c. ketchup
Fry hamburger, add rest of ingredients, serving over lettuce, tomatoes, and cheese. Blend dressing thoroughly. I do an all-in-salad side dish out of this recipe. When we were on food committee at church, I got the idea from one of the ladies (actually she's one of the Derstine's who compiled the cookbook) who makes it whenever she's on for salad.
Pictured below is a half batch. Fry the hamburger and onion. Add taco seasoning and salt and pepper. Drain the beans a little and put them in a large bowl. 


Put in the hamburger mixture next.


Put cheese over that (the hamburger should be cold so the cheese doesn't melt).


Put diced tomatoes on next (forgot to take a picture).
Then the lettuce.


Then the crushed chips (again forgot a picture). I make the chip layer at least 1/2″ deep. At this point, you can put the lid on and it can be refrigerated for at least a couple hours. Mix all the dressing ingredients in the blender.


Toss the salad and mix the dressing in (I don't use quite all the dressing). Serve immediately.

  Forgot a finished product picture, so this is what was left after the meal. Leftovers are not good… If you make it for lunch, the lettuce will be wilty and the chips will be soggy by suppertime. If served as a side dish, I'd say a whole batch would serve about 25 people. We had grilled brats and hot dogs with it… I know, kinda mixing all-American with Mexican, but that's what we were in the mood for.