It appears that the cook around here is on strike, doesn't it? I think it's more a thing of needing to hire a scribe because I currently have pictures for 4 posts. I've made supper the last 2 evenings, and for some crazy reason, I can't remember back farther than that. Probably several snacky fend-for-yourself meals in there somewhere. Yeah, we do have those weekly, and then some more on the weekend… that's why I try to keep frozen pizzas, hot dogs, nacho stuff, cheese & pretzels, and cold cereal on hand. Anyway, the last 2 evenings, we've had grilled chicken salad and wet burritos, respectively. I like the grilled chicken salad because all I have to do is throw a couple salads together and possibly pop some refrigerated Pillsbury breadsticks in the oven… the rest is on the grill, which, if you've been reading Kitchen Scrapbook for any length of time, you'll know I don't touch the grill. I have the 4 plates of salad sitting out on the counter and Shannon brings the chicken in AND cuts it up and puts it on top of the salads. On the wet burritos, I read my post on that last night and thought it was strange that I served crescent rolls and salad with it. Huh? That sounds more like lasagna sides! I don't even remember serving that with it; now I serve tortilla chips salsa with it. And sometimes applesauce, just because I have a thing aboout that there's gotta be at least 3 different things on the table, not counting condiments, otherwise it looks skimpy. 
I finally made my salad that I'd been craving a couple weeks ago. So, what does the word 'colorific' mean? I decided it must be a made up combo, merging colorful and terrific. And that would fit this salad. I got this recipe from Jolene. Thanks, Jolene, it's a keeper! Connie, thanks for your recipe too, I'd like to try it sometime… I don't go for feta cheese, but I'll bet that could be substituted for mozzarella.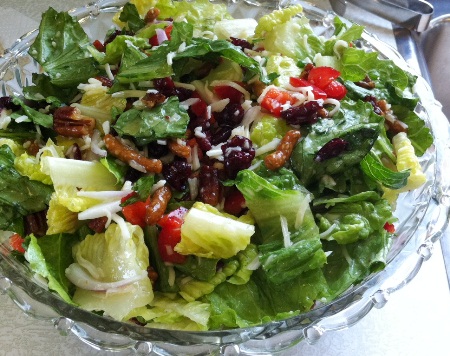 Colorific Salad
1 c. craisins
1 c. red peppers
1 c. honey roasted sesame sticks
1 c. pecans
2 c. shredded cheese
1/2 of a purple onion
1 head of romaine lettuce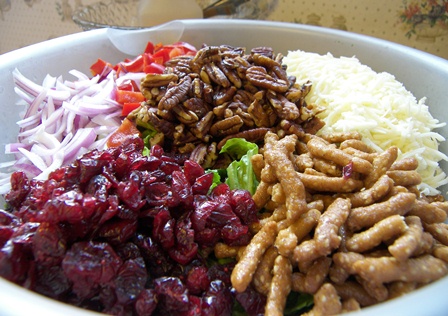 Mmmmm… you know it's gonna be a good salad when you have to say "Where's the lettuce?"

Oh, one little tidbit… I took the idea from Connie's recipe to saute the pecans… yum! I didn't sugar them though.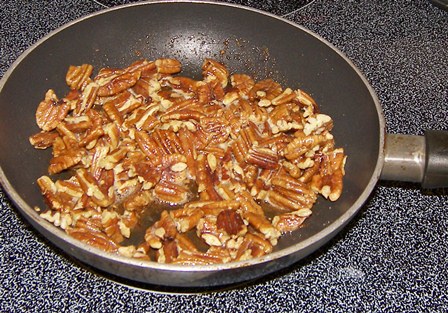 Dressing:
1 T. mustard
1 c. sugar
1/2 c. oil
1/3 c. vinegar
1/4 c. water
1 tsp. salt
1 Tbls. minced onion Blend dressing in blender. I put this picture on here so you can see what color the dressing is…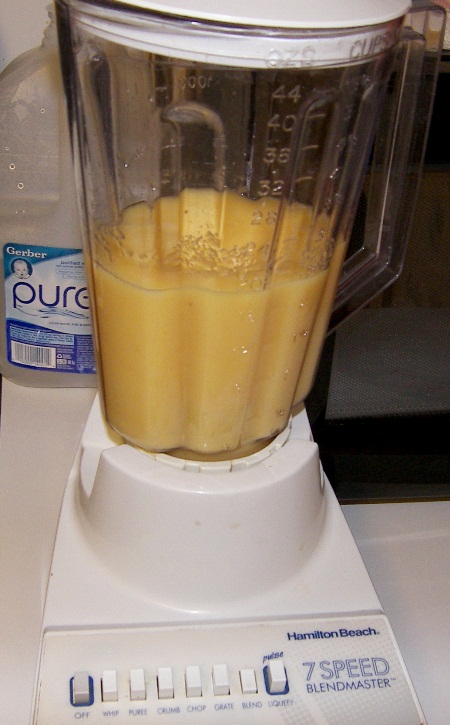 Toss with salad ingredients.
I was taking this to a carry-in meal at church, so I took it in this big bowl with a lid (more room for tossing) and put the dressing in a separate container… you can see it all in the background here.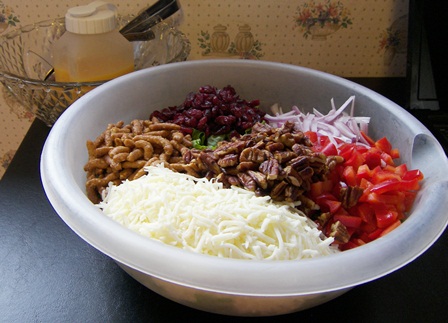 And then, instead of letting the kitchen help take care of tossing my salad, I went out when church was almost over to do it myself so I could get a 'done' picture.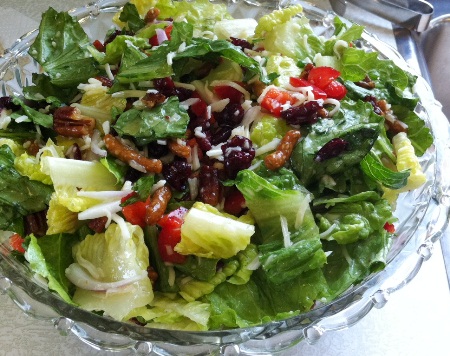 Next up… Megan's puppy birthday cake. How did my baby turn 1 already?!
And this afternoon, I'm planning to bake monster cookies. Yay! I just did last week, but who cares. In a perfect world, I'd bake 'em every week.

This is a cranberry relish recipe that Mom added some variation to. It is SO good!!!! You don't even have to be crazy about cranberries to like it. Mom gave me this recipe along with the ingredients.

There are several different ways to make it and on the recipe she wrote: "It might not always taste exactly the same, but always leaves that crisp flavor in your mouth!"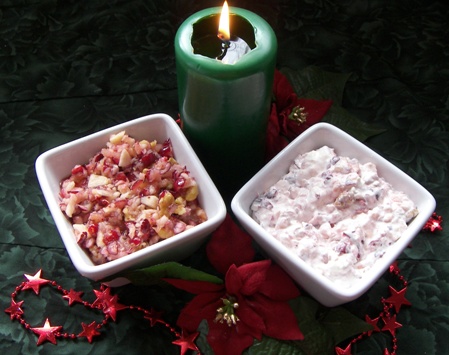 Cranberry Relish
Printable recipe coming soon.
2 cups washed, raw cranberries
2 cored apples
1 large peeled orange, or put in some peel if you like OR substitute the orange for crushed pineapple
1 – 2 cups sugar, to your taste
1/2 cup or more chopped walnuts or pecans
Pulse in blender or grind together berries and oranges. Do not over blend to mush. I opted for the crushed pineapple instead of the orange. I LOVE pineapple! I put in about half of a can.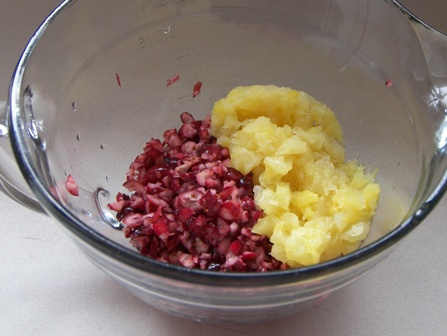 Shred or chop apples. Add nuts.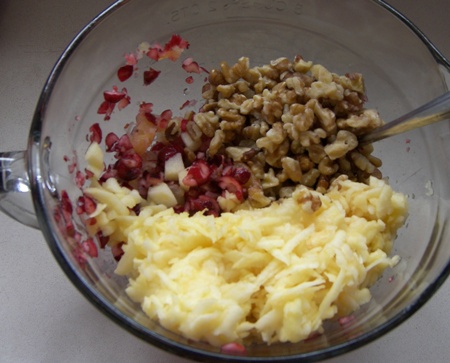 Mix together and keep tasting and adding sugar till happy. I liked it with 1 cup of sugar… didn't want to interfere too much with the tartness. Don't miss popping a few cranberries between your teeth for a tart burst of flavor! Makes 3 cups. May be frozen.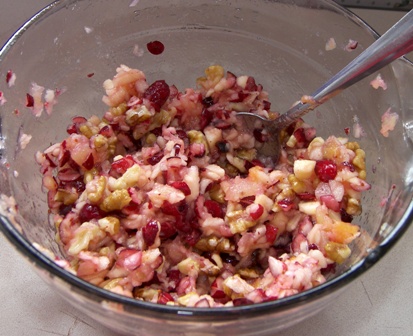 And here's another variation, which I love! You can also mix in some Cool Whip and cream cheese. Mmmmm! I think this addition would make it a salad instead of relish.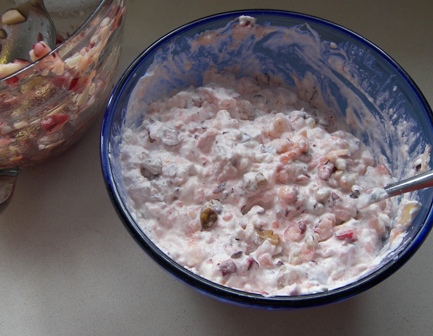 So there you go, this one or that one… take your pick… you can't go wrong either way!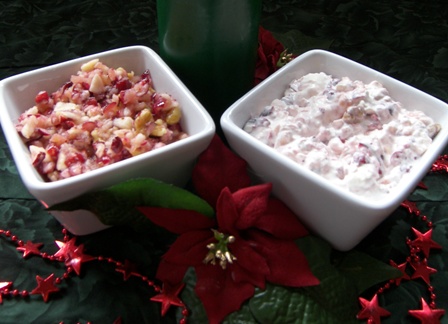 Here's a quick and easy and delicious salad recipe you've gotta have. It's got Italian flavor. Yum. I actually put Italian seasoning on lots of stuff, including all salads.
This salad recipe comes with a homemade croutons recipe. I haven't bought croutons for several years now… these don't take long to make and it uses up bread that's not soft anymore and here's the best thing about them (besides the taste): They're soft enough to poke with a fork, but still have a crunch. I don't like croutons that are so hard that when you try to poke them on your fork, they break into 5 pieces and no piece actually gets onto the fork. Just a trivial tidbit that this reminds me of… when we were on our FIRST date, we were at a restaurant eating our house salads and my boyfriend (who's now my husband) poked into a crouton and a piece shot across the table and hit me. I still remember, in my nervousness, trying to make a quick decision of whether I should ignore it or laugh about it or throw it back at him. We just laughed about it. Now, I kinda feel like telling you all about our first date because several funny things happened and I still remember thinking it was so crazy that I was nervous because we were highschool sweethearts and were just WAAAAAAAITING for my 18th birthday when I was allowed to date (we had our first date the evening of my 18th birthday) and I guess I was nervous because the atmosphere was somehow different and this was the real thing, but I guess I won't go into it because most of it has nothing to do with cooking, not that everything I write on here has something to do with cooking.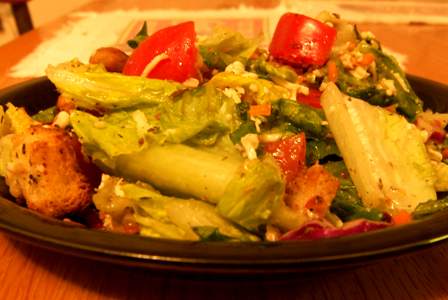 Robust Italian Salad …recipe comes from the 2001 Quick Cooking annual cookbook
1 pkg (16 oz) ready-to-serve salad
1 pkg (2 1/2 oz) sliced pastrami, cut into 1/2″ pieces, optional
1 cup (4 oz) shredded mozzarella cheese
4 plum tomatoes, chopped
1 tsp. Italian seasoning
1/3 cup Italian salad dressing
1 cup Seasoned Croutons (recipe below)
Sliced ripe olives, optional
In a large salad bowl, combine the first 5 ingredients. Drizzle with dressing; toss to coat. Top with croutons and olives if desired.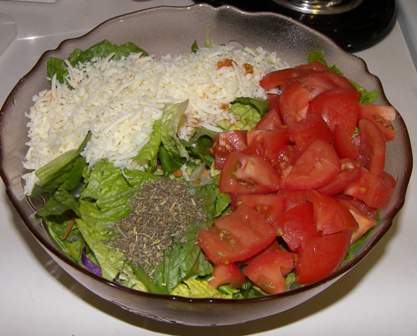 Garnish with tomato roses and parsley.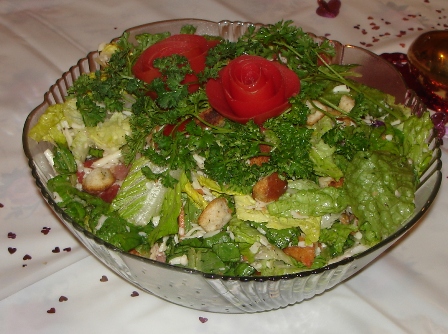 Seasoned Croutons (the kind that don't shoot across the table when you poke them with your fork)
2 Tbsp. butter
1 Tbsp. olive or vegetable oil
1/4 tsp. garlic powder
1/4 tsp. onion powder
1/4 tsp. dried oregano
1/4 tsp. dried basil
Pinch of salt
6 slices day-old bread, cubed
In an ungreased pan, combine the first 7 ingredients. Place in a 300-degree oven until butter is melted. Remove from the oven; stir to combine. Add bread cubes and toss to coat. Bake for 10 – 15 min or until lightly browned, stirring frequently. Cool. Store in refrigerator in airtight container. Yield: 3 cups. These are not only great with salad, but we also use them in soup.
Because Mom's is always the best, isn't it? No matter who 'Mom' is.
 This potato salad is not my mom's recipe, it's just potato salad that's like hers… just basic potato salad, with no fears of biting into a piece of celery or a pimiento. The reason it's not her exact recipe is because there is none. She just cooks a few potatoes, cooks a few eggs, and makes the dressing, which is a few dollops of salad dressing, a bit of milk, a squirt of mustard, a scoop of sugar, etc., then she tastes it and adds more as needed.
 I think that's what makes a truly good cook… when you don't need recipes, yet the food turns out great. My sister Jan inherited that style of cooking, but not me. I do really admire that style of cooking and am impressed when I ask someone for a recipe and they say 'I don't actually have one'. But the times I've tried to fling it without a recipe, it's been mostly flops, so I'll stick to recipes.
This recipe doesn't have progressive pictures because I wasn't planning to post it when I made it, but then after tasting it again, I changed my mind because I just love it. But, you didn't miss much by no progressive pictures, it's pretty basic.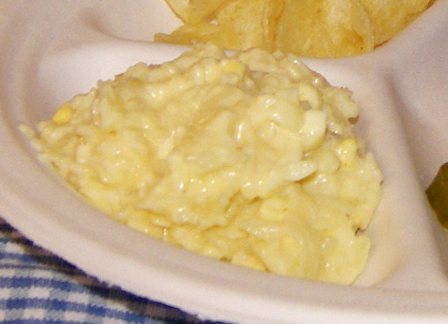 Mom's Potato Salad
6 hard boiled eggs, cut up (I put them thro' the egg slicer one way, then the other)
5 medium potatoes, cooked, then peeled, then cooled, then shredded 
Dressing:
1 1/2 cups salad dressing
1 1/2 Tbsp. Dijon mustard
2 Tbsp. vinegar
1 heaping cup of sugar
2 tsp. salt
1/4 cup milk
Pour dressing over potatoes and eggs and stir slowly till evenly mixed. Refrigerate. It can be made ahead… it's just as good or better the next day. Enjoy!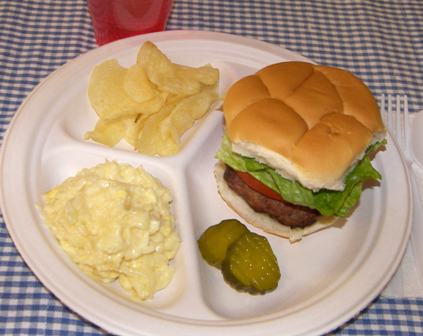 I'm going to throw in another 'Out of my comfort zone cooking' post. Because that's exactly what it was. I didn't know a thing about cole slaw, except that I like to eat it. I don't remember ever buying cabbage in my life. I do, however, remember a science experiment in grade school involving purple cabbage, but I forget what it was all about or I'd tell you. It must not have made an impression on me back then.
I was walking thro' the grocery store the other day and beside the bagged ready-made lettuce salads in the produce section was shredded cabbage. I suddenly got hungry for cole slaw. Instead of going over to the deli counter and ordering a small container of cole slaw, I decided to try homemade cole slaw, made by me. So, I grabbed a bag of the shredded cabbage.
We had a church picnic last night at Dan's (our pastor's) house. There were going to be burgers and hot dogs and from there we were supposed to bring a salad and dessert. I thought of cole slaw for the salad (and what I took for dessert will be featured in the next post). The nice thing about a potluck where there are 50 dishes to choose from is that if something flops, there are enough other dishes to pick from. The other nice thing about a potluck is that if something flops, nobody knows who made it. Unless they ask around. So, I made cole slaw.
I learned something about cole slaw. Saturday evening, I was chatting online with my aunt and I asked her if I should make the cole slaw now so the flavors can blend together or if it would just get mushy and if it would be better to wait till Sunday afternoon. She said she doesn't know (she must not make cole slaw very often either

), and said 'why do today what you can put off till tomorrow'. So, me, being an expert at procrastinating, made it Sunday afternoon, about 4 hours before the picnic. It looked perfect. I covered the bowl with plastic wrap and put it in the fridge and went to take a nap. 3 1/2 hours later, I got it out of the fridge to go to the picnic and it looked totally different! It had gotten runny and the cabbage was softer than it had been! Must've been from the sugar in it. I was so glad I hadn't made it Saturday evening, because it was about perfect at the picnic. It may have gotten too mushy made too far ahead of time.
Another thing I learned is that it is possible for me to make good coleslaw and another thing I learned is that it's SO easy and quick to make! This recipe is taken from the Famous Daves Backroads and Sidestreets cookbook.
Creamy Sweet & Sour Cole Slaw
10 cups chopped shredded red and green cabbage
1/4 cup grated carrot
2 cups Miracle whip
1/2 cup sugar
1 Tbsp. prepared horseradish (I'd recommend not putting this much in unless you're making it for a Memphis-style sandwich or really really like horseradish

)
1 Tbsp. dry mustard
1 tsp. white pepper
1/2 tsp. salt
1/4 tsp. garlic powder
1/4 tsp. celery seeds
Toss the cabbage and carrot in a bowl. I used a bag of shredded cabbage and carrots. The bag said there is 7 1/2 cups in it, so I just didn't put all the dressing on.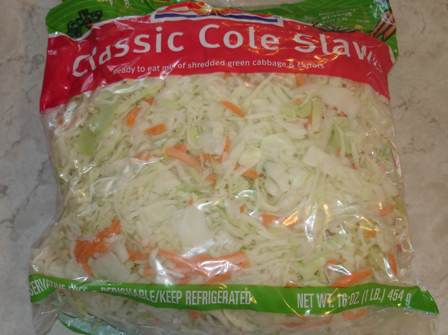 Mix salad dressing, sugar, horseradish, dry mustard, white pepper, salt, garlic powder, and celery seeds in a bowl. Add to cabbage mixture and mix well.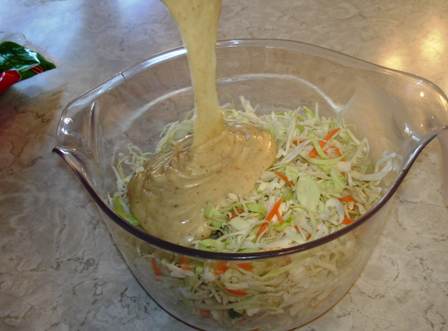 Chill, covered, until serving time. Yield: 6 to 8 servings.
Right after mixing…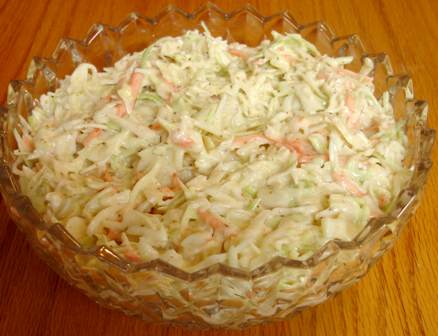 3 1/2 hours later…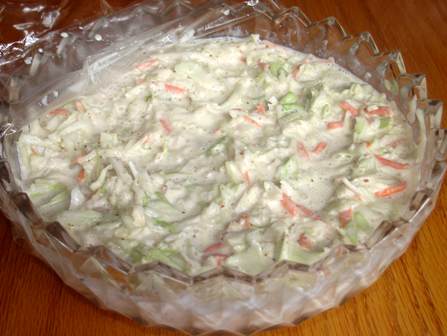 That coloring difference is from different lighting, but it did actually get lighter in color too. Actually, I guess it does look more like real cole slaw in this picture. Maybe all cole slaw recipes do that. As far as the taste of this, it was great! It will be my cole slaw recipe, but I might try others now and then too. I'm just so impressed how easy it was and how flavorful it was. I'd even make it for company. Or for a summer picnic. Or just for anyhow.