Wow, where did my week go?! Here it is, Saturday morning already. Did you ever wonder why life seems to go faster now that you're older? The first I remember wishing life would pick up a little speed was 6 years old, er , 5 years old, I wanted to be the big 6. And then it was like that up until 19 when I got married. You know all the milestones… 13 – teenager, 16 – driver's license (which I flunked twice, by the way… once was an over all lack of driving experience and the other was getting caught in a funeral procession at a stop light. And worse than the fact that I still didn't have my license was the fact that I had to blushingly tell my friends that, sigh, I flunked again. At 16, it's not easy to admit mistakes to friends. I guess that goes for any age, actually.) Anyway, after I got married, I had no more milestones to be reaching ahead for. I just wanted to settle in and have life slow down. And be in the 'young marrieds' group forever. Now a couple years ago, we got 'kicked out' of that. But, that's not too bad, we just passed our 12th anniversary a few days ago.
Anyway, this has nothing to do with HAM, but I still wonder where my week went!!!!
This recipe comes from the Grandma's Recipes cookbook. I love this cookbook! Maybe one reason is because I know Ray and Elsie, the ones who compiled it. And I must compliment them on the index! It's VERY user-friendly! I think in a cookbook, one of the hardest things would be making the index, categorizing everything and making sure you didn't miss a recipe.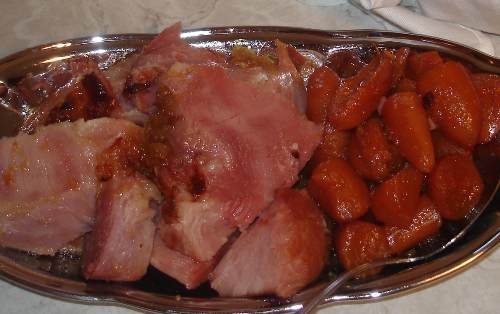 Baked Ham with Sweet Potatoes and Pineapple
1/2 ham, 5-6 lbs.
1 c. brown sugar
6 medium sweet potatoes (didn't have these, so I subbed canned ones)
1 c. crushed pineapple
Rub fat side of ham w\ brown sugar. Peel sweet potatoes and arrange around ham (or dump in a can or two of canned ones, they didn't get too mushy). Pour crushed pineapple over ham.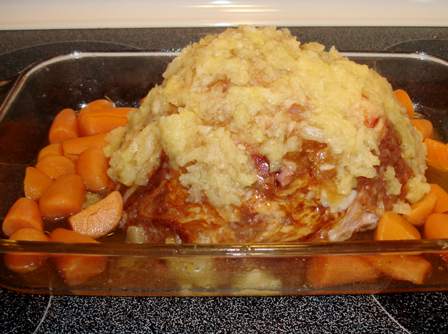 Bake at 325 allowing approximately 25 minutes per pound or until internal temperature reaches 160.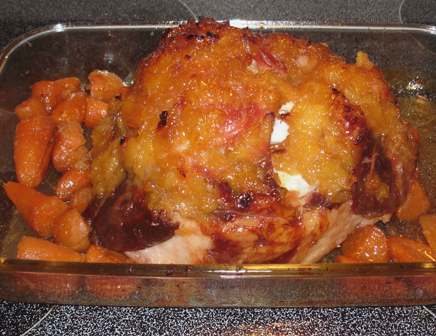 That white part is the bone.
This was great! And easy! No scoring the ham and poking a bunch of cloves in. I baked it uncovered and the ham was really moist. Those sweet potatoes tasted candied, just delicious!!!! Part way through baking time, I took some of the juice and basted the ham and also turned the potatoes over. Not sure if that made a difference or not.
Here was the rest of our meal: Ham and sweet potatoes along with breadsticks and applesauce…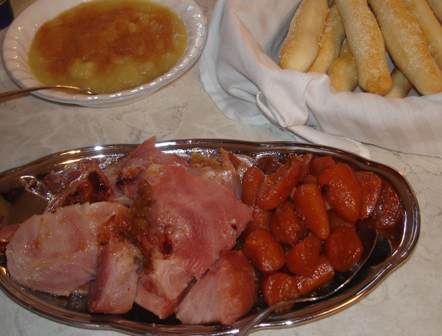 Those breadsticks landed on the 'Don't bother making again' list, but I'll feature them sometime anyway.

Can't have all top notch recipes… as Pioneer Woman would say 'Just keepin' it real'.
I've never made bacon-wrapped anything. I've had bacon-wrapped crackers and I've had bacon-wrapped filet mignon, but didn't make either of them. So, here it is, the first time I've made a bacon-wrapped something…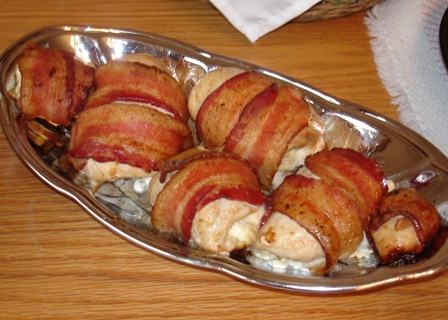 Bacon-Wrapped Chicken    Recipe taken from the 2001 Quick Cooking cookbook
6 boneless skinless chicken breast halves
1 carton (8 oz) whipped cream cheese with onion and chives
1 Tbsp. butter or margarine, cubed
Salt to taste
6 bacon strips
Flatten the chicken to 1/2″ thickness.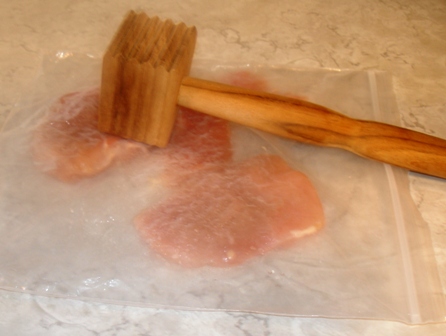 Spread 3 Tbsp cream cheese over each. Dot with the butter and sprinkle with salt. Have you ever tried spreading cream cheese on slippery raw chicken? It's hard!!!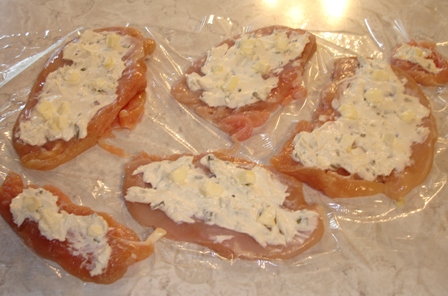 Roll up. Wrap each with a bacon strip. Place, seam side down, in a greased 9×13 pan.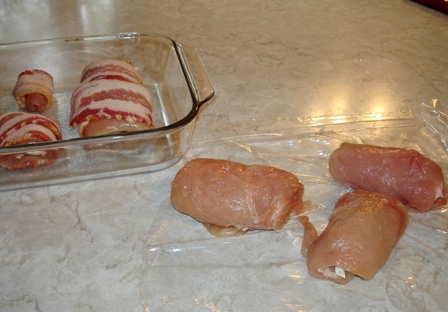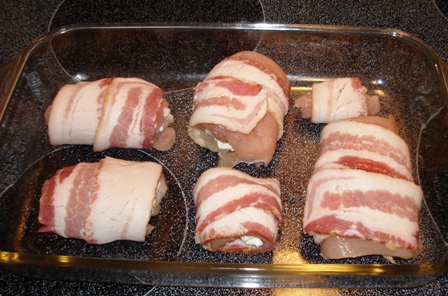 Bake, uncovered, at 400 for 35-40 minutes or until juices run clear. Broil 6″ from the heat for 5 minutes or until bacon is crisp. Yield: 6 servings. Look at the difference in the pan of the picture above and the picture below! The bacon sizzled and splattered while baking. We could hear it.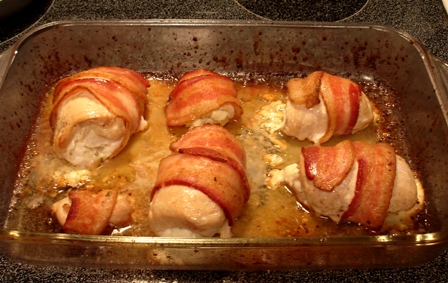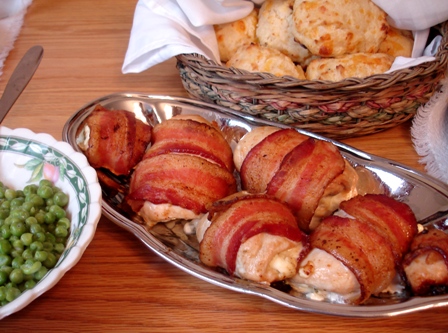 We had creamed peas and Red Lobster biscuits with it.
This bacon-wrapped chicken actually looked REALLY good and sounded like it would be top notch, as in put it on the make-for-company list. The combo of chicken and bacon was really good, but the chicken was a bit dry and it wasn't really all that extra flavorful.
Next time, I'm going to skip the cream cheese thing and sprinkle other seasonings inside instead. Then, I'll bake it covered (so the splattering bacon doesn't total my oven!) and uncover it for the broiling at the end. I think the chicken would stay more moist that way. And then we could eat it with barbeque sauce. Bbq sauce didn't seem like it would go with that cream cheese mixture.  
But it does look kinda neat, doesn't it? One thing that surprised me was that the bacon stayed on, even when it ended at the top. I didn't have to tack it down with toothpicks or anything!
One of these weeks, I'll have to do a week of re-doing recipes that I've tried. I say 'next time' and then just keep making new recipes and 'next time' doesn't really happen, although I did try something different with those carrot pancakes… I traded the cup of carrots for 1/3 cup of pumpkin and doubled the pecans. I kept everything else the same, but maybe should've added nutmeg. It was much better than the original recipe!
Up until a few years ago, we had a thing where we'd have my husband Shannon's family over for Easter Sunday lunch. Shannon would make a ham that got rave reviews. I'm not sure what happened, but we don't do that anymore. I guess we probably missed a year and the 'too-new' tradition was lost. Anyway, here is his recipe. He's done it for Christmas, too. He hasn't made it lately, and I only have 2 pictures of it… the last time he made it was before the days that I automatically put 'food' and 'camera' in the same boat, like I do now… these days, food and camera go together "like pancakes and blueberry syrup" (that was a line in a story tape we had in our growing up years and we still kick it around).
Twice-Smoked Ham
1 (12-15 lb) smoked bone-in ham
Whole cloves
Pineapple slices
Marachino cherries
1 cup frozen tangerine juice concentrate
1 cup Polander apricot preserves
1/2 cup French Pommery mustard
1/2 cup Grey Poupon Dijon mustard
1 cup packed light brown sugar
1 tsp. ground cloves
1/2 tsp. course ground black pepper
1/2 tsp. cayenne
To make this ham, use the indirect method of slow-cooking as described on page 13. (You don't need to own a smoker for this. Let's go to page 13… it says: Using a chimney starter, get 15 briquettes red hot. Place coals on one end of grill and place 1 pound of green hickory around coals. Use water-soaked hickory chunks if you can't get fresh-cut hickory. (Shannon buys and soaks the hickory chunks.) Keep the internal temperature of the grill at 200 – 225 degrees. Add more charcoal and hickory chunks every hour as needed. Don't put meat directly over hot coals. Shannon has a rotisserie that he always put the ham on.) Now, back to the recipe: Score the ham in a cross diamond pattern. Stud the ham with whole cloves at each intersection.


Smoke at 225 degrees for 3 hours ('pg 13′ directions above). Remove the ham and place on sheet pan. Secure the pineapple slices and the cherries to the ham with toothpicks.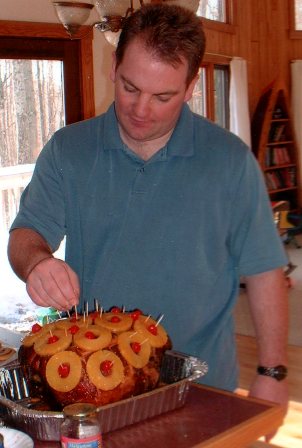 To make the glaze, combine the tangerine juice concentrate, preserves, mustards, brown sugar, ground cloves, and peppers in a bowl and mix well. Generously slather the ham with glaze and bake in a 350-degree oven for 1 1/2 hours. Brush the ham with glaze every 20 minutes. Remove from the oven and let rest for 30 min before carving. Yield: 10 – 12 servings.
Now, if you're church-going and have thought of the conflict of glazing every 20 minutes while you're sitting in church, what Shannon did was glazed it every 20 min while it was smoking, then before we left for church, he poured a bunch of glaze over it and with the cherries and pineapples on there, it stuck pretty good. Then, he glazed it again when we got home.
A lot of work goes into this ham, but it is SO good. The outside is candied and the inside is moist and delicious! Next time we make it, I'll get decent pictures and update with them! We haven't even talked about it yet if we're going to make it this Easter, but it seems like with a ham like that, we should have company, and well, my ankle still feels better being propped up instead of flying around cleaning the house and making food!
This recipe comes from the Famous Daves Backroads and Sidestreets cookbook. I need to feature more recipes out of that cookbook. They have lots of ingredients, which equals lots of flavor! The next one I want to try is a wild rice soup that has 22 ingredients. I've had it at the restaurant several times and it is to die for.
Have any of you ever been to a Famous Daves restaurant? What did you think of it? Have you ever been to the original one in Hayward, WI? Here's a picture of it… I scanned it in from my cookbook. It's actually a 2-page spread and that white line is where the pages meet.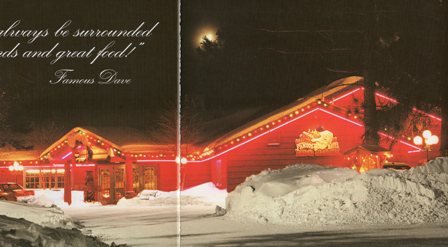 Happy Easter!
Our suppers last night… or maybe you call it 'dinner' (I am, after all, from the boonies in northern WI!)
That was so fun to get some supper ideas! Thanks!!!! You can leave that in a comment anytime… I'll make it my header for awhile.
Just some comments on some of them…
There were a couple breakfast ones. I want to start doing that once every week or so, since we never eat breakfast together in the morning. Rufusannie gave me a breakfast haystack recipe that I'm dying to try. At home, we used to have a breakfast supper every Wed eve. We didn't eat b-fast together either, so this way we still got to eat b-fast foods now and then. I wonder if Mom still does that.
I've never heard of fried zucchini patties. I like other squash and I like zucchini bread (I know, it's nothing like bread
 ), so I might like them. Care to share your recipe, Twila?
Those potatoes with sw cond milk & velveeta sounds good! Actually everything sounded good and some good quick summer ideas too… like leftovers.
  I also love the idea of just cutting up watermelon and making blt wraps and taking it out to the family!
We had an easy meal last night too… very little prep time, but oh, so good!


Apricot Baked Ham (recipe below)
Baked potatoes (just threw them in the roaster with the ham)
Peas (cooked in the microwave, then added S&P and butter spray)
Fresh bread (don't let this fool you, it IS fresh-baked, but it was frozen dough bought from the store, NOT from scratch)
Apricot Baked Ham     …recipe comes from Taste of Home 2nd Edition cookbook, one of my oldest cookbooks, I got it as a wedding gift almost 11 years ago)
1/2 fully cooked ham with bone (5 to 7 pounds)
20 whole cloves
1/2 c. apricot preserves
3 T. dry mustard
1/2 c. packed light brown sugar
Score the surface of the ham with shallow diamond-shaped cuts. Insert cloves in cuts.


Combine preserves and mustard; spread over ham (I didn't put all of it on) .


Pat brown sugar over apricot mixture.

Place ham on a rack in a roasting pan. I also put about 1/4 cup water in the bottom of the pan. Seemed like it might keep it more moist. Bake at 325 for 20 min per pound or until ham is heated thro' and thermometer reads 140. After about 1 1/2 hours, I got some of the liquid off the bottom of the pan and basted the ham with it. Yield: 10-14 servings.

I forgot to take a picture till I had sliced some off already and got the potatoes out, but here it is anyway.    I was a little worried about the apricot tasting ok on there because I don't think I really like apricots, but the ham was delicious! I couldn't have picked out the apricot flavor if I didn't know it was in there. Nice and moist too!
I haven't been taking much time to cook lately… just stuff like open-faced pork chop sandwiches, ravioli and applesauce, stromboli, and tonight we had baked sweet potatoes and grilled ham and salad. No new recipes and no good ones that haven't been already featured. I'm a very sporadic cook, so I'm going into my reserve of meals that I made in a cooking streak and didn't have time to post. Here's one of them…
Pigs in Blankets
There are different ways of making these, but here's how I did it…
1 can refrigerated crescent rolls
24 Li'l Smokies
Separate rolls and cut each roll into thirds (you can also cut them in half if you like more bread per weiner, then it would be 16 Li'l Smokies instead of 24).


Starting at a wide edge, roll a Li'l Smokie up in it. Put on ungreased cookie sheet. Bake at 375 for about 12 minutes.

Very good! Quick snack if company is coming. Children love 'em, too!
———————————————————————————————————————-
Broccoli Casserole
2 pkgs (16 oz each) frozen broccoli florets
1 can (10 3/4 oz) condensed cream of mushroom soup, undiluted
1 cup (8 oz) sour cream
1 1/2 cups (6 oz) shredded sharp cheddar cheese, divided
1 can (6 oz) french-fried onions
Cook broccoli according to package directions; drain well. In a large saucepan, combine the soup, sour cream, 1 cup cheese, and 1 1/4 cup onions.


Cook over medium heat for 4-5 minutes or until heated through. Stir in the broccoli. Pour into a greased 2 qt baking dish.


Bake, uncovered, at 325 for 25-30 minutes or until bubbly. Sprinkle with the remaining cheese and onions. Bake 10-15 minutes longer or until cheese is melted. Yield: 6-8 servings.

I made a half batch for us. This stuff is SO good!!!! I went a little heavier on the french-fried onions and also used mozzerella and reg cheddar in place of the sharp cheddar (sharp cheese is NOT my thing!).
———————————
Pudding Pumpkin Pie
1 egg white, beaten
1 reduced fat graham cracker crust (8 inches)
1 cup cold fat-free milk
1 pkg (1 1/2 oz) sugar-free instant vanilla pudding mix
1 can (15 oz) solid pack pumpkin
1 tsp. pumpkin pie spice
1/2 tsp. ground cinnamon
1/2 tsp. ground nutmeg
1 1/2 cups reduced fat whipped topping, divided
Brush egg white over crust. Bake at 375 for 5 min. or until lightly browned. Cool on a wire rack. In a large bowl, whisk milk and pudding mix. Stir in the pumpkin, pumpkin pie spice, cinnamon, and nutmeg. Fold in 1 cup whipped topping. Pour into crust.


Refrigerate for 4 hours or overnight. Cut into slices; dollop with remaining whipped topping. Refrigerate leftovers. Yield: 8 servings. 1 piece = 180 calories.

(That color change is the difference between no flash and flash… it doesn't change colors once it's refrigerated! LOL) I couldn't have told this was a diet pie. Could probably be made though with non-diet ingredients. It was really good! Nicely spiced. Will definitely make again!