You bake cookies. You could do it on autopilot. Your kids even know the drill… one time, Tiffany came out to the kitchen as I was starting cookie baking and said, "Can I help you bake cookies?"
"How did you know I'm gonna bake cookies?", I asked.
"Because I saw you open the mixer and get that *pointing to the shortening* and the sugar out of the cupboard, and that's how you always start baking cookies.", she confidently said.
Sometimes I feel in such a rut with cooking and baking. When we have cookies around, 90% of the time they're either monster or chocolate chip. When we have cake around, 90% of the time, it's chocolate with peanut butter icing. When we have pie around, 90% of the time it's either peanut butter or lemon meringue. And it looks like when I get into a percentage rut, it's usually 90%. Seriously, though, if I make something other than the things listed above, you pretty much always see it on here. Sometimes I feel too predictable and want to change things up a bit…
We can still have our favorites, but in a different way.
Take chocolate chip cookies, for example. I was making some for an after school snack, so you know, for kids. Instead of using the same ol' Pampered Chef cookie scoop, I just used a spoon and made teeny little scoops. The teeny little scoops turned into adorable 1-and-a-half-inch-in-diameter cookies. The adorable cookies, placed in a little bucket, turned into an after school snack that was a huge hit… little cookies, huge hit. They thought it was great that they could have TEN cookies for after school snack! 😉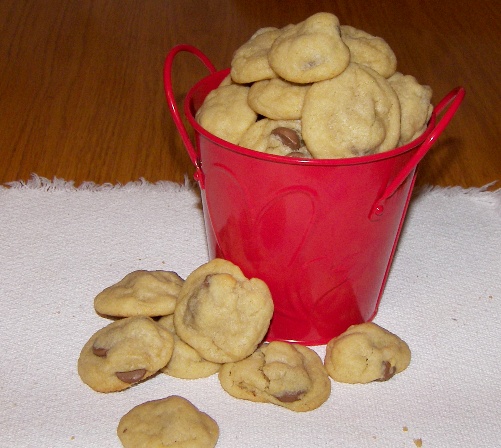 Awwwwwww.
And now, not to wreck the fun I'm-SOOOOOO-gonna-bake-cookies-this-afternoon-and-do-that-cuz-the-kids'll-love-it mood or anything, but just let me warn you: the dough goes down v.e.r.y slowly, it takes way longer to put them on and get them off the cookie sheet, and the yield is dozens and dozens, do not even try to count.
*WHIPLASH ALERT*
We're now going to switch from baking dozens of little time-consuming mini cookies to 1 pan of bars. 
Let's say you're baking cookies and you mix the dough up and while the first panful is in the oven, you realize you're not really in the mood to bake cookies after all… not in the mood to drop them onto the cookie sheet every 10 minutes, not in the mood to be setting your laptop down and jumping up 5 times an hour.
But, you've got a batch of dough sitting there.
No problem. Just spread the dough in a sheet cake pan and bake it for 25 minutes… and ta-da, bars made from your favorite cookie recipe. I just tried this for the first time about 3 weeks ago and thought it was really great that I thought to do this on my own UNTIL some of my friends said, "Oh, yeah, I do that all the time."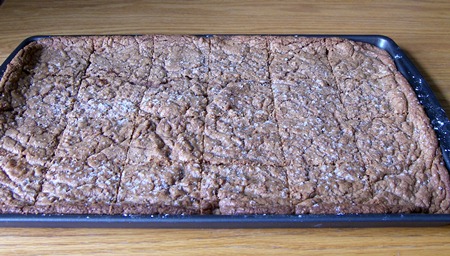 Side note here: that's my chocolate chip cookie recipe, except that I substituted FUDGE + 1 cup of flour for the chocolate chips. I had about 5 cups of fudge on hand from when I made this cake.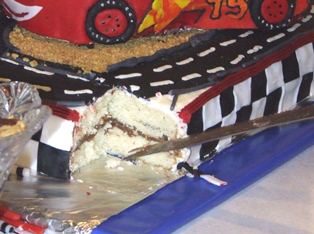 I was going to use the fudge in the middle layer between the 2 cakes, but then when I started spreading it on, I was afraid it would be too soft and squish out from the weight of the cake plus car on top of it (I used melted-then-hardened chocolate instead). So, I used the fudge up in those cooki— uh, I mean bars.
Another way to change up chocolate chip cookies is to mix them up and bake them, leaving out the chocolate chips. Then, melt the chocolate chips, spread them on something metal to harden and make cutouts. Or just drizzle the melted chocolate over the cookies. After they're baked, you can cut out some of the baked cookies into heart shapes… the girls (and I) did these 2 years ago for Valentines Day and we shipped them to WI to their 2 grandmas.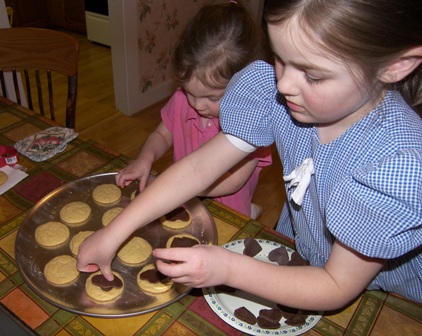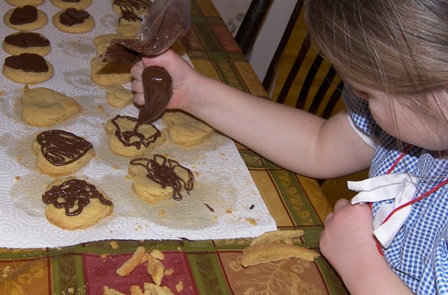 For cake: sometimes I do chocolate cake with peanut butter icing in a 9×13, sometimes I do it in a sheet cake pan, and once in a great while, into cupcakes. I know, exciting. 😆 Next time, I'm going to do mini ones. I made mini cupcakes for the first time last week. If you ever want to do this, one cake mix made exactly 6 dozen… I filled the wells about 3/4 full with batter. And it takes double the frosting. 😉 Pile it up even more than this… it's part of what makes minis fun. I only made a single batch, so I couldn't put as much on as I wanted to AND I ran out.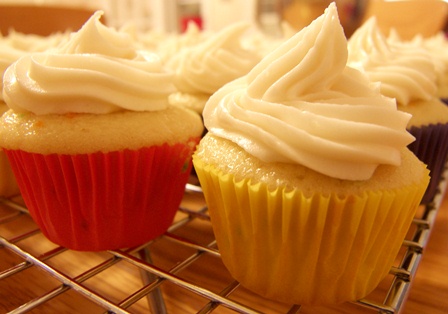 For pie… if you want lemon meringue pie, but not in big piece form, do this: make pie crust, cut 3″ circles, press them into mini muffin pans, and bake. Make your regular lemon pie filling and fill the crusts. Make regular meringue and pipe or dollop it on, brown it in the oven, and you've got these sweet li'l thangs…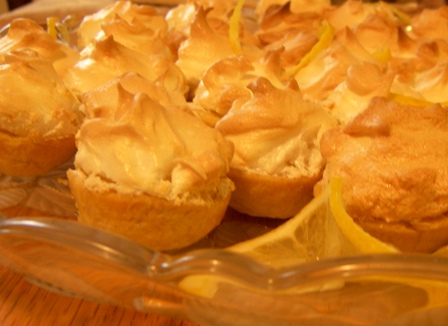 You could do that with probably any kind of pie. It's great for potlucks or snacks.
And now, still on the pie subject, the grand finale to this whole 'switching things up' thing… how about calorie-free… 😉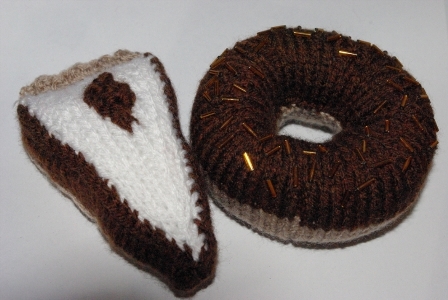 I ran across this website (April Cottage Ramblings) one day as I was surfing and immediately saved the link. Absolutely amazing!!! Seriously, this lady is talented… she KNITTED a piece of pie and a donut!!! She knits and crochets other stuff too… I fell in love with a little short-sleeved ruffly purple sweater that she made for her granddaughter. I don't know her, and I don't knit, but I'm very impressed. And it sounds like she's going to knit more cakes, so I'm going to stay tuned.

Coming up next… Lately, I've been hungry for lettuce salad with craisins and pecans in it, so I'm going to look for a recipe like that. I don't have one in mind, so if you have a slam good one that you're bursting to share, let me know!

Really mini. Not 4″ pie pans.
Smaller.
Not cupcake pans.
Smaller.
These were made in mini muffin pans.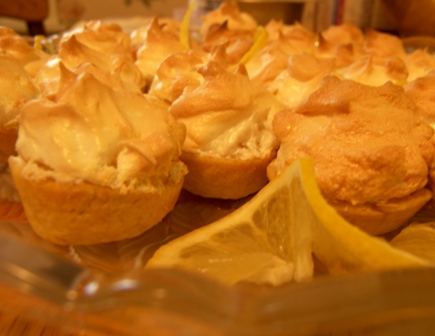 These are perfect for a bring-a-salad-or-dessert church gathering. You know, there are 20 desserts to choose from and you have a hard time narrowing it down to 5 and one of the desserts calling to you is pie cut into 8 pieces. A piece of pie is a complete dessert, so there goes the rest of the selections. I decided to try making little individual pies instead of a couple big lemon meringue pies to take to the Fall Praise Social picnic this past Sunday evening. And it worked! With these little things, you can have a taste of lemon meringue pie without passing up the pecan bars, eclair dessert, monster cookies, and fresh peach delight.
Use your regular lemon meringue pie recipe or use my favorite recipe featured here. Roll the crust a bit thinner than usual, then cut out circles. The tube of my Pampered Chef Measure-All Cup was the perfect size for circle-cutting. Then, press them into the mini muffin pan and bake at 375 for about 10 minutes. Make the filling and spoon into crusts. Make the meringue and spoon on top of filling. Bake at 375 for about 10 minutes. Should be easy to remember… everything to bake gets baked at 375 for about 10 minutes.

Here's the process in pictures: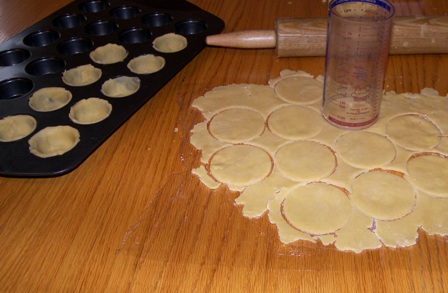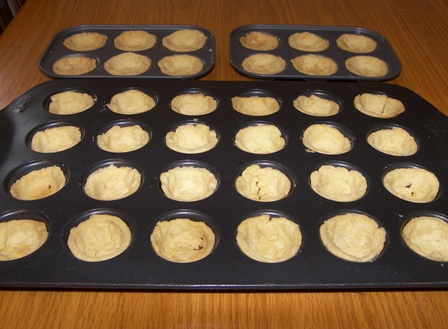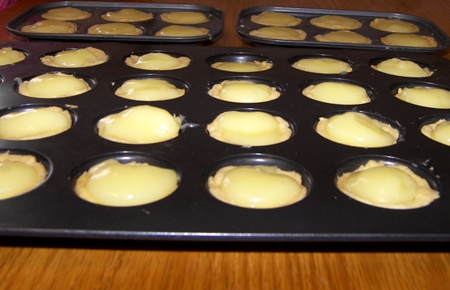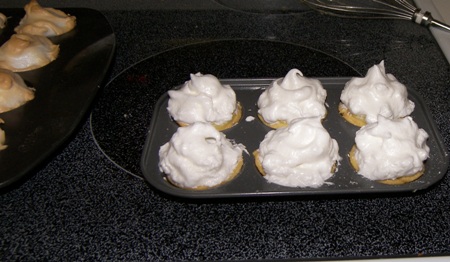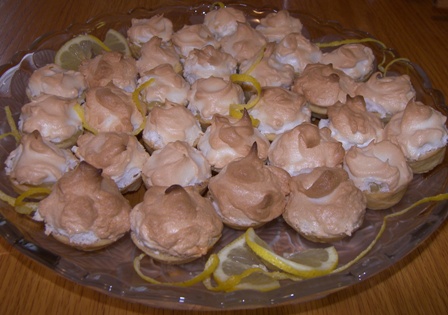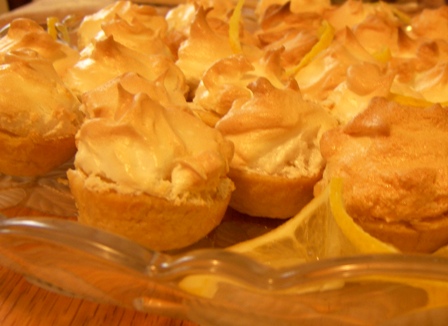 They tasted exactly like lemon meringue pie. I guess that would make sense, what with using that recipe and all. They're long gone, and I just feel like snitching one off the picture and inhaling it in 2 bites.
—————————————————————————————-
In other news, you may want to stay tuned. I think I might blog live this evening for a couple hours. Lexi is planning to make supper. She's 6. She feels quite capable and wants me to leave her alone in the kitchen with her cookbooks. Tiffany and I are allowed to help her by setting the table and we also may carry things to the table like bbq sauce and salt & pepper. I think she's in for a bit of surprise and will end up needing more help than she thinks she will. Here is the menu she picked out (going by pictures in cookbooks): Easy Mac n Cheese, Crunchy Chicken Tenders, Trees with Cheese, and Puddin' Cones. She gets home from school around 4:15. Supper is scheduled for 6:30.
Oh, and did I mention that she doesn't know the difference between a teaspoon and a Tablespoon?
I just thought it would be ideal if I'd post this BEFORE the strawberries are completely over! You know, that way you could still try the recipe without having to go to the grocery store and buy some. How many of you have fresh strawberries in little square boxes in your fridge right now? Me! *raises hand* 
I made this pie last evening and it lasted only about 24 hours. We have 2 big people and 2 little people here. And we all like strawberry pie! So… I'm gonna make another one this weekend!

It is just so refreshing and bursting with juicy-berry flavor and so pretty!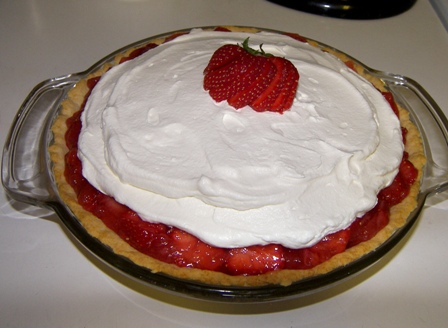 This recipe comes from my mother-in-law. There is something about this strawberry pie that makes it stand head and shoulders above regular fresh strawberry pie. You can't tell it by looking at it. It's a hidden feature, until you cut it and serve a piece… 
It has a cream cheese layer hidden under those strawberries! Mmmmmmm!
Fresh Strawberry Pie
Crust:
1/4 cup butter
3 Tbsp. boiling water
1 cup Bisquick
Mix and press into a 9″ pie plate. Bake at 375 for 15 minutes.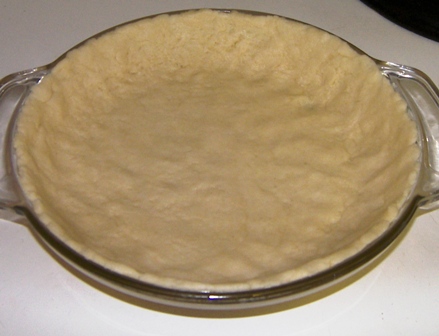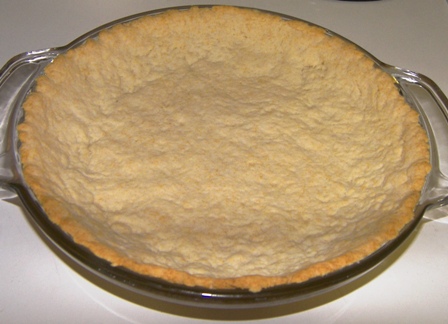 Cream cheese layer:
1/4 cup powdered sugar
4 oz. cream cheese
3/4 cup Cool Whip
Mix and spread on cooled crust.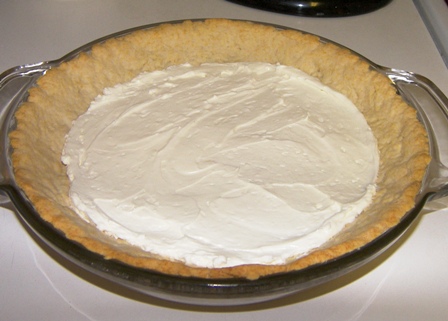 Strawberry layer:
1/4 cup instant Clear Jel
3/4 cup sugar
4 cups sliced fresh strawberries
1/2 cup water
Add the water to the strawberries. Mix sugar and Clear Jel together. Sprinkle over the strawberries and mix in.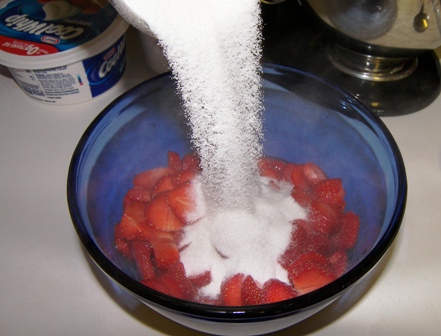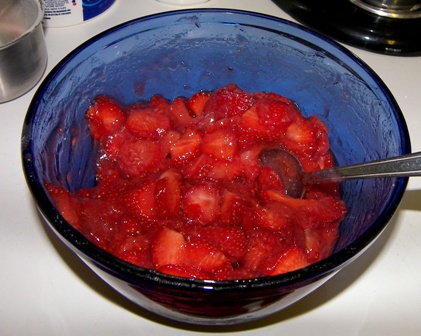 Pour over cream cheese mixture.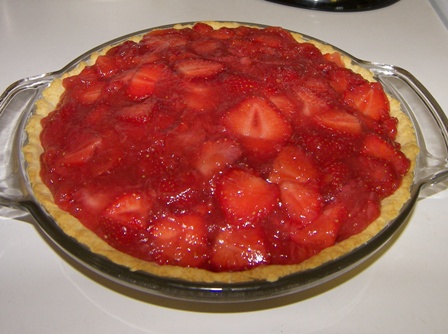 Top with more Cool Whip.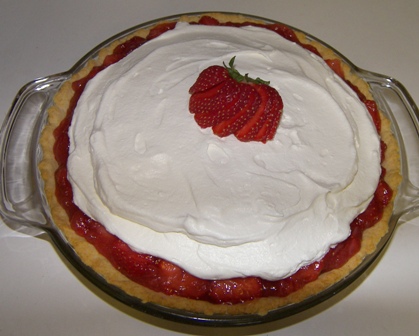 Chill. It sort of sets up right away, but it's best if it chills for a couple hours.
Important note 😉 :When peaches are in season, please remember this recipe… it works great to substitute the strawberries for sliced fresh peaches. I wonder if it would work to substitute other fruit too, like blueberries or raspberries.  
I've been making this pie since before I started this cooking blog. Every time I'd make it, I'd toy with the idea of featuring it. But I never did… here's why: I don't have meringue down to a science yet. Sometimes it turns out, sometimes it doesn't. I was planning to have this detailed 'How to Make the Perfect Meringue' tutorial when I feature it. But, instead of waiting until I'm a meringue expert, I decided to feature it now and get tips from you for making the perfect meringue. 😉 So, I made this lemon pie this past weekend and the meringue happened to turn out well… which was kinda handy because it's not as much fun to feature flops!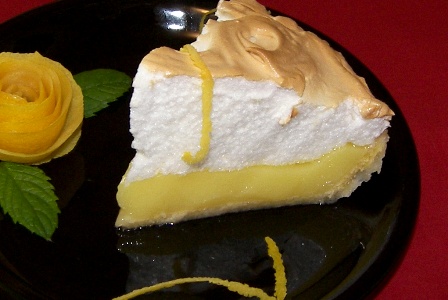 I think this pie has just the right amount of lemon flavor, just the right amount of yellow color, and just the right amount of meringue. It's adapted from the A Taste of the Country cookbook. In there, it's called 'World's Best Lemon Pie'. And so far, in my opinion, it's held true to its name. When I say it's adapted from there, I mean that I follow the recipe, but made a few little changes:
1. Deleting the 1 tsp. of grated lemon peel
2. Insisting on fresh-squeezed lemon juice as opposed to any lemon juice
3. Adding a 4th egg white to the meringue to make a higher pile of it
4. Adding 1/4 tsp. cream of tartar to the meringue
I'll post the recipe how I make it…
Lemon Meringue pie
1 cup sugar
1/4 cup cornstarch
3 Tbsp. flour
1/4 tsp. salt
2 cups water
3 egg yolks, beaten
1 Tbsp. butter
1/4 cup fresh-squeezed lemon juice
1 9″ baked pie crust (for a pie crust tutorial, go here)
Meringue:
4 egg whites
1/4 tsp. cream of tartar
1/2 cup sugar
In a saucepan, combine sugar, cornstarch, flour, and salt. Gradually stir in water. Cook and stir over medium heat until thickened and bubbly. Reduce heat; cook and stir 2 minutes more.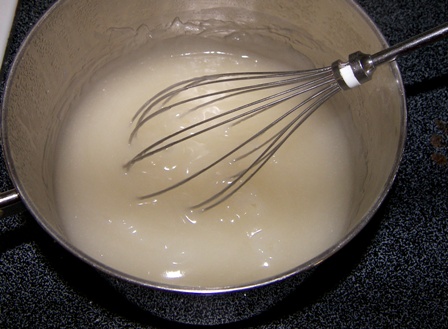 Remove from the heat.
Gradually stir 1 cup into egg yolks.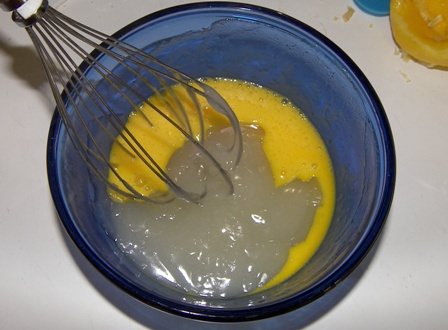 Return all to saucepan.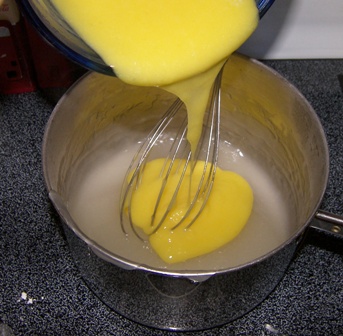 Bring to a boil. Cook and stir for 2 minutes. Remove from the heat. Stir in the butter and lemon juice.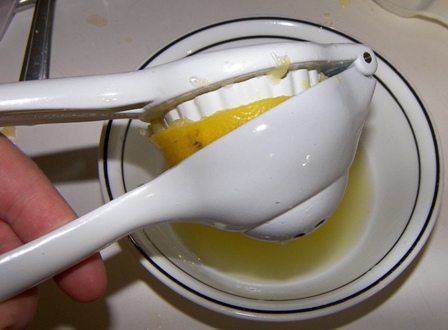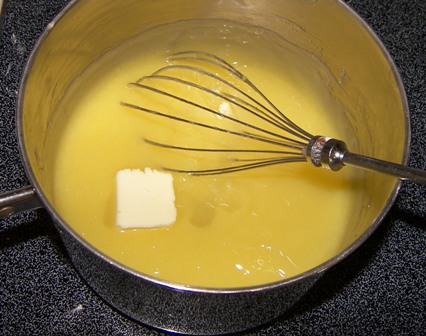 Beat egg whites and cream of tartar until soft peaks form.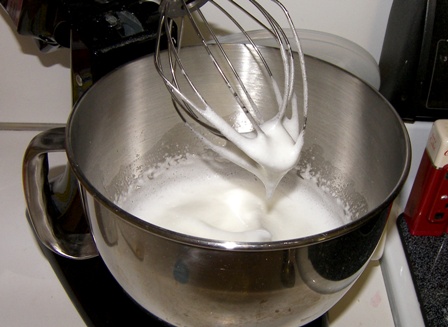 Gradually add sugar and beat until stiffer peaks form and sugar is dissolved (if you rub a bit of meringue between your thumb and finger, it will feel smooth as opposed to gritty).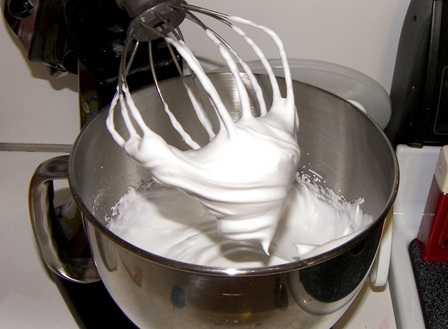 Pour lemon filling into pie crust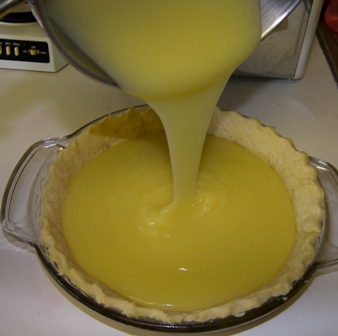 and immediately spread the meringue on, making sure to seal it to the edges of the crust. I start by taking a knife and sealing the edges, then pile and swirl the rest of the the meringue on.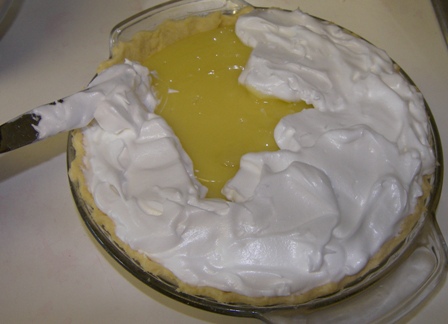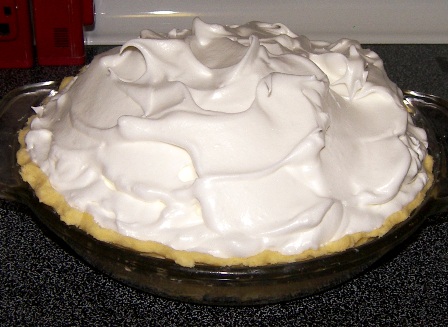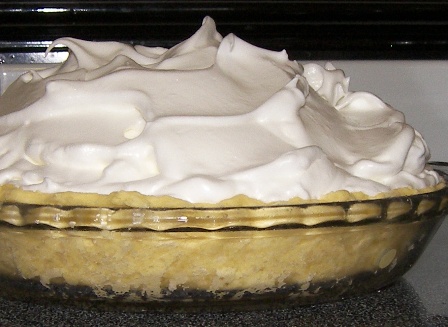 Bake at 375 for about 13 minutes. Cool.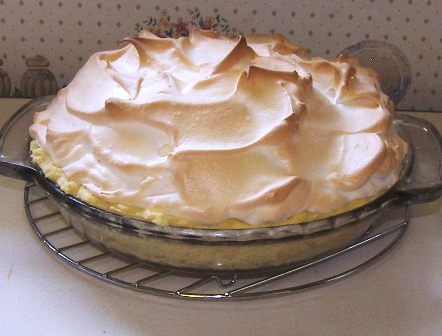 Store in refrigerator.
Tiffany (3) says she LOVES lemon pie… she eats the meringue off, then suddenly she's 'full and can't eat the rest'. Hmmm, never thought meringue would be so filling. 😉 I oughta make a meringue only pie for her sometime.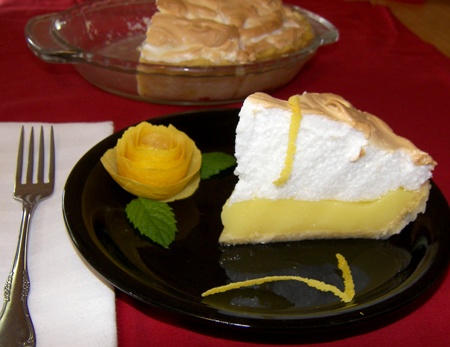 Want a piece?
Did you ever have it? I'm pretty sure I did before, but I'd never made it. Shannon grew up with it. He mentioned it awhile ago and I couldn't think what it looked like or tasted like, so I decided to try it. It was good!
About the only thing I've ever made with molasses is Gingerbread cookies at Christmastime. If you like molasses, you'll love this pie.
I got the recipe from my friend Charlene.
Wet Bottom Shoo-Fly pie

Crumbs
1 cup flour
2/3 cup light brown sugar
1 Tbsp. butter
Combine all ingredients and mix until uniform Set aside 1 cup.
Liquid
1 egg beaten
3/4 -1 cup golden molasses ( Charlene said, "I always use 1 cup", so I did too)
3/4 cup boiling water
1 tsp. baking soda
Stir soda into water. Combine all ingredients and mix thoroughly. Stir in remaining crumbs.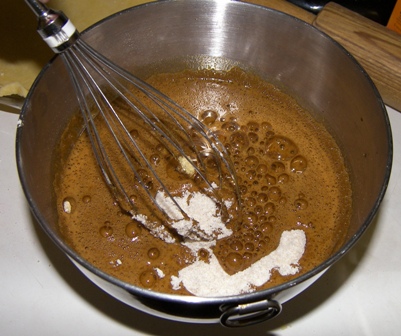 Pour into unbaked pie crust.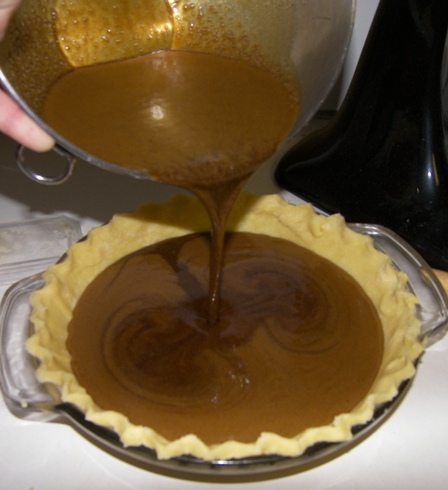 Top with 1 cup of crumbs.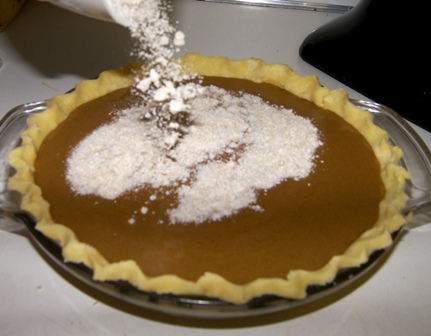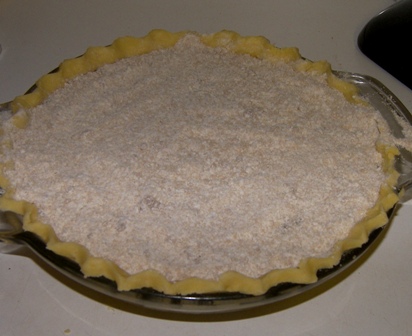 Bake at 375 for 10 min and then 350 for 30 min.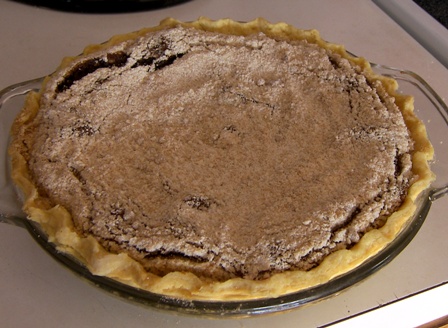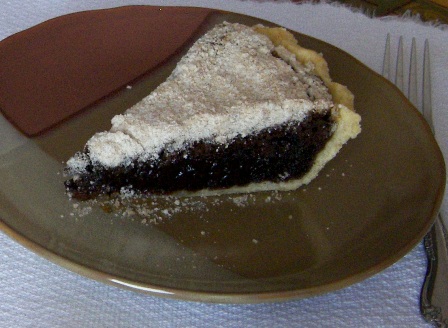 Yum! Make one for yourself! This one didn't last long around here.