I'm going to throw in another 'Out of my comfort zone cooking' post. Because that's exactly what it was. I didn't know a thing about cole slaw, except that I like to eat it. I don't remember ever buying cabbage in my life. I do, however, remember a science experiment in grade school involving purple cabbage, but I forget what it was all about or I'd tell you. It must not have made an impression on me back then.
I was walking thro' the grocery store the other day and beside the bagged ready-made lettuce salads in the produce section was shredded cabbage. I suddenly got hungry for cole slaw. Instead of going over to the deli counter and ordering a small container of cole slaw, I decided to try homemade cole slaw, made by me. So, I grabbed a bag of the shredded cabbage.
We had a church picnic last night at Dan's (our pastor's) house. There were going to be burgers and hot dogs and from there we were supposed to bring a salad and dessert. I thought of cole slaw for the salad (and what I took for dessert will be featured in the next post). The nice thing about a potluck where there are 50 dishes to choose from is that if something flops, there are enough other dishes to pick from. The other nice thing about a potluck is that if something flops, nobody knows who made it. Unless they ask around. So, I made cole slaw.
I learned something about cole slaw. Saturday evening, I was chatting online with my aunt and I asked her if I should make the cole slaw now so the flavors can blend together or if it would just get mushy and if it would be better to wait till Sunday afternoon. She said she doesn't know (she must not make cole slaw very often either

), and said 'why do today what you can put off till tomorrow'. So, me, being an expert at procrastinating, made it Sunday afternoon, about 4 hours before the picnic. It looked perfect. I covered the bowl with plastic wrap and put it in the fridge and went to take a nap. 3 1/2 hours later, I got it out of the fridge to go to the picnic and it looked totally different! It had gotten runny and the cabbage was softer than it had been! Must've been from the sugar in it. I was so glad I hadn't made it Saturday evening, because it was about perfect at the picnic. It may have gotten too mushy made too far ahead of time.
Another thing I learned is that it is possible for me to make good coleslaw and another thing I learned is that it's SO easy and quick to make! This recipe is taken from the Famous Daves Backroads and Sidestreets cookbook.
Creamy Sweet & Sour Cole Slaw
10 cups chopped shredded red and green cabbage
1/4 cup grated carrot
2 cups Miracle whip
1/2 cup sugar
1 Tbsp. prepared horseradish (I'd recommend not putting this much in unless you're making it for a Memphis-style sandwich or really really like horseradish 😉 )
1 Tbsp. dry mustard
1 tsp. white pepper
1/2 tsp. salt
1/4 tsp. garlic powder
1/4 tsp. celery seeds
Toss the cabbage and carrot in a bowl. I used a bag of shredded cabbage and carrots. The bag said there is 7 1/2 cups in it, so I just didn't put all the dressing on.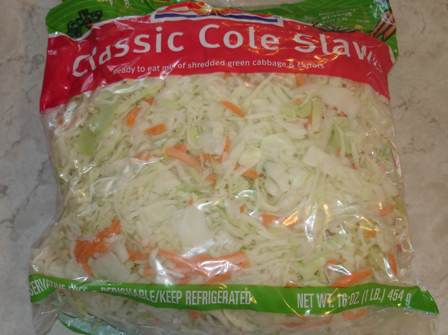 Mix salad dressing, sugar, horseradish, dry mustard, white pepper, salt, garlic powder, and celery seeds in a bowl. Add to cabbage mixture and mix well.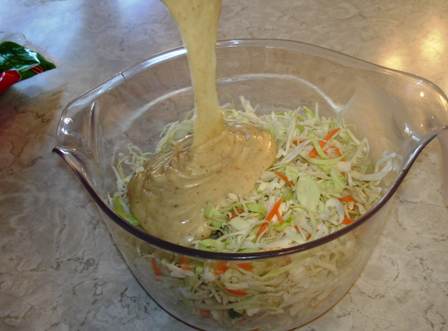 Chill, covered, until serving time. Yield: 6 to 8 servings.
Right after mixing…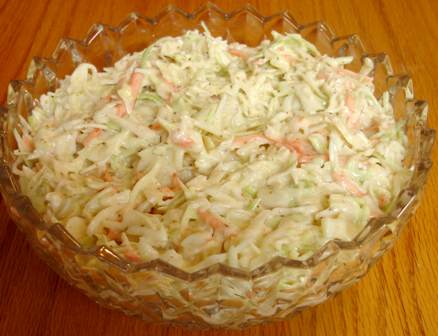 3 1/2 hours later…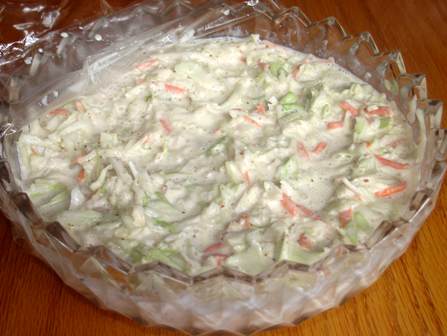 That coloring difference is from different lighting, but it did actually get lighter in color too. Actually, I guess it does look more like real cole slaw in this picture. Maybe all cole slaw recipes do that. As far as the taste of this, it was great! It will be my cole slaw recipe, but I might try others now and then too. I'm just so impressed how easy it was and how flavorful it was. I'd even make it for company. Or for a summer picnic. Or just for anyhow. 
Do you ever just stop and wonder WHO decided what goes together? And who decided that scrambled eggs and pancakes are breakfast foods? And who decided that you shouldn't eat ice cream or a Hershey's w\ Almonds candy bar before 10:00 a.m.? And who decided that corndogs are a kid's food? And WHO was the first person to have the guts to put fruit and nuts in a lettuce salad?!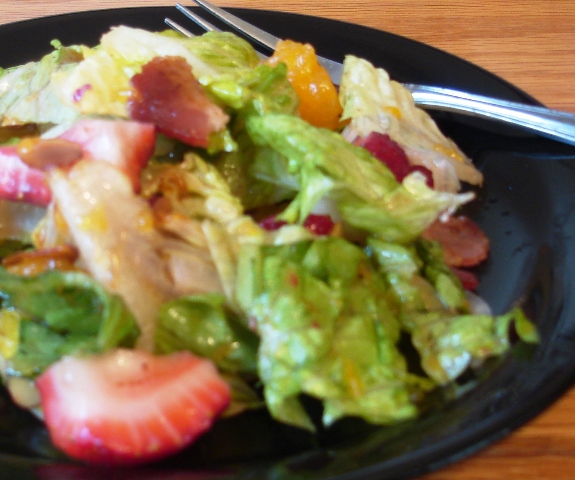 But, you know what, this salad was good! Really good! I could not believe it! And I could also barely stop eating it! If you have never tried it, this recipe would be a great one to try it on. Especially the strawberries were good with it. And the dressing.
If any of you are coming up for air about anything in the first paragraph… "Hey, we eat scrambled eggs and pancakes for supper sometimes!" "Hey, c'mon, I eat ice cream every morning!" "I LOVE corndogs and I'm 27!", I know, I know. Me too. Well, me too all except the parts about ice cream EVERY morning and being 27. But, when you have pancakes and eggs for supper, you call it a 'breakfast supper'. And I would think my husband was the one who decided that about no ice cream or candy bars before 10:00 (yes, we've had these discussions), except that Dairy Queen doesn't open till 11:00 a.m., so that's kind of another clue. And have you ever seen corndogs on the regular menu at a restaurant? Nope, you'd have to order them off the kid's menu. There, that oughta save some ranting in the comment section.

Back to this salad, it comes from the 2001 Quick Cooking Annual cookbook. There's a picture, and it is so colorful, and it grabbed me. I also learned something… I almost didn't put the onions in because I do not like raw onions in stuff and was afraid that the amount of them would for sure wreck it. The recipe calls for a sweet onion, so when I went shopping, I made sure to get an onion labeled 'sweet'. It was a world of difference from the regular onions I usually buy! These were good! And not as strong. I'd still use the regular onions for cooking, but I won't dodge around raw onions in other recipes anymore… I'll just make sure they're sweet onions.
Berry-Mandarin Tossed Salad
1/4 cup sugar
2 Tbsp. cider vinegar
2 Tbsp. honey
1 1/4 tsp. lemon juice
1/2 tsp. paprika
1/2 tsp. ground mustard
1/2 tsp. grated onion
1/4 tsp. celery seed
Dash of salt
1/3 cup vegetable oil
8 cups torn mixed salad greens (if you see grated carrots and red cabbage in there, it's because my bag of ready-to-serve Romaine salad mix had them in)
2 cups sliced fresh strawberries
1 can (11 oz) mandarin oranges, drained
1 medium sweet onion, sliced into rings
1/3 cup slivered almonds, toasted
4 bacon strips, cooked and crumbled
Note: To toast the almonds, I just tossed them with about a teaspoon of melted butter in a pan, then put them in a 400 degree oven till they started turning brown, maybe 10 minutes or so, I didn't time them, just kept checking them.
In a 2-cup microwave-safe bowl, combine the first nine ingredients. Microwave, uncovered, on High for 1 1/2 -2 minutes; stir until sugar is dissolved. Whisk in oil. Cover and refrigerate until serving.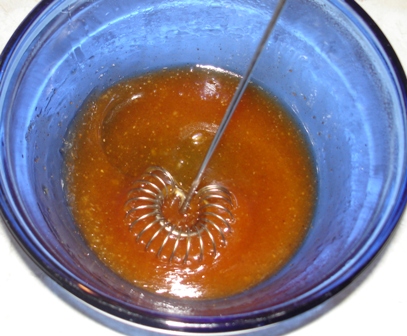 I actually had some problems with the dressing… the oil didn't want to blend into the rest of the stuff, the dressing got really thick after being in the refrigerator, and I thought it was too much dressing. And I did follow the recipe exactly, right down to the celery seed. It actually worked out ok and coated the salad evenly (I was afraid it would be thick in some places and none in other places). I think next time, I would put only about 2/3rds of it on though.
In a salad bowl, combine the greens, strawberries, oranges, onion, almonds, and bacon.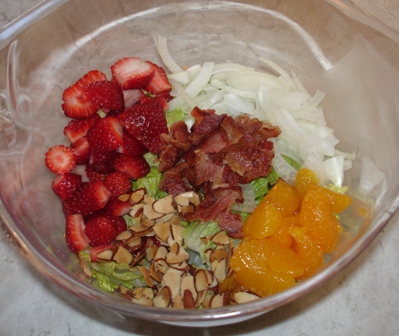 So pretty, huh?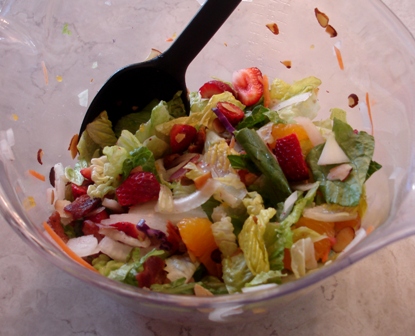 Drizzle with dressing and gently toss to coat. Yield: 12-14 servings.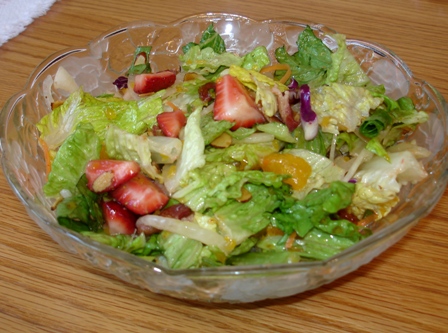 Maybe this type of thing is a regular dish on some of your tables, but we don't see it much around here. I'm going to take this salad to the next fellowship meal at church… see if anyone takes any.

And now, I have to get an inspiration for something to make for a meal this evening… we eat in a little over an hour and a half and I have no clue what we're going to have. Any ideas?
Does 'carrot pancakes' strike you as odd? It did me, for 2 reasons: 1. The thought of carrots in pancakes. and 2. These pancakes do not get served with syrup… there is a cream cheese mixture that goes on top of them instead. All my life, pancakes have gotten served with syrup. Sometimes with peanut butter underneath the syrup, but always with syrup. If we'd decide to put jam on them instead, that was not the norm.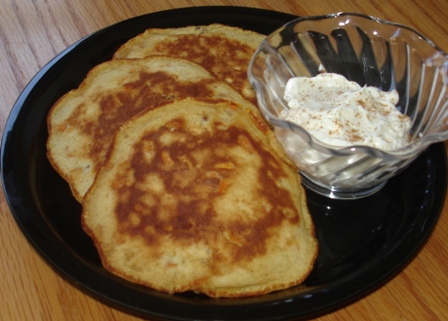 This recipe actually sounds really good. It's got pecans in it… YUM! and it's got cinnamon and brown sugar in it and that cream cheese spread sounds really good!!! And they are really good, except the carrots kind of wreck them, which is unfortunate because that's the main ingredient.
Carrot Pancakes – from the 2003 Quick Cooking Annual Cookbook
1 1/4 cups flour
2 Tbsp. finely chopped pecans (I didn't chop them very fine, I like running into chunks)
2 tsp. baking powder
1 tsp. cinnamon
1/4 tsp. salt
1/4 tsp. ground ginger
1 egg, lightly beaten
1/3 cup packed brown sugar
1 cup milk
1 cup grated carrots
1 tsp. vanilla
Cream Cheese Spread:
4 oz. cream cheese, softened
1/4 cup powdered sugar
2 Tbsp. milk
1/2 tsp. vanilla
Dash ground cinnamon
In a bowl, combine the first 6 ingredients. Combine the egg, brown sugar, milk, carrots, and vanilla; mix well.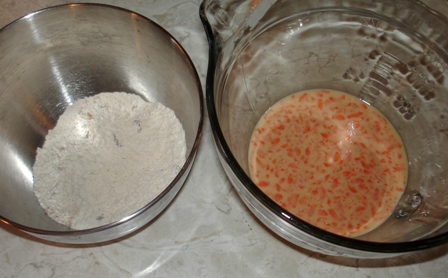 Stir into the dry ingredients just until moistened.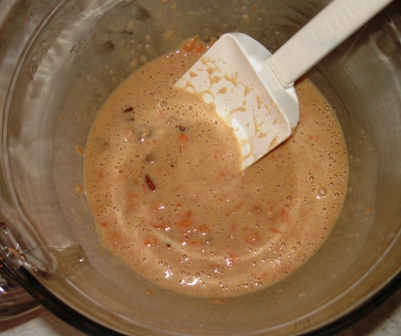 Pour batter by 1/4 cupfuls into a greased hot griddle.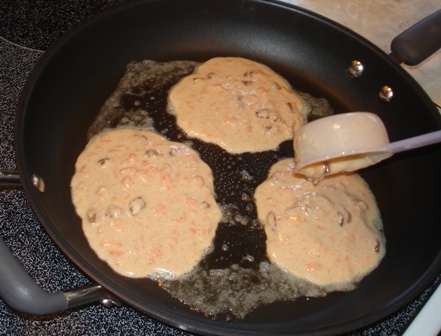 Mmmmm! Look at all those chunks! …too bad so many of the chunks are carrots, huh?
Turn when bubbles form on top of pancakes;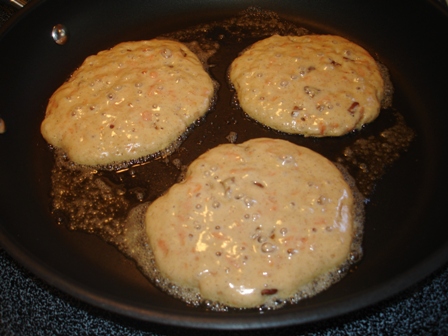 cook until second side is golden brown.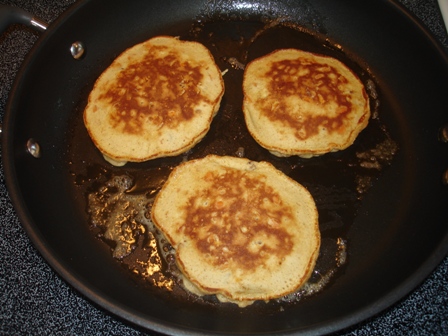 Place the cream cheese, powdered sugar, milk, and vanilla, in a blender or food processor; cover and process until smooth. Transfer to a bowl; sprinkle with cinnamon.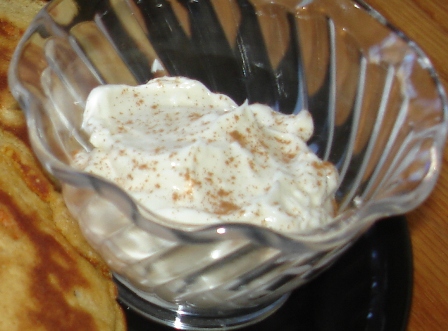 Serve with pancakes. Yield: 4 servings. This recipe makes 11 pancakes.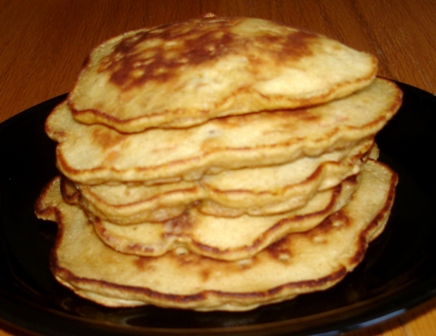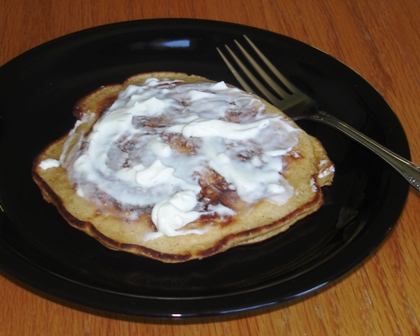 Next time, and I think there might be a next time, I would put in a few more pecans and considerably less carrots. They were fun to try for something different. Lexi (5) wouldn't touch them with a 10′ pole (and I sounded excited about them to her, carrots and all), but Tiffany (2) downed a whole pancake like nothing. Shannon didn't get a chance to taste them because he was at work, but I think his take on them would've been similar to Lexi's.
Edit: I tried these again later and replaced the cup of carrots with 1/3 cup of pumpkin and doubled the pecans, but kept everything else the same. I think I should've added nutmeg too. Anyway, they were delicious!
I'm actually having alot of fun with this Out of My Comfort Zone series. It's fun trying stuff I'd never try otherwise. Next week, I'm planning to try a lettuce salad with fruit and maybe nuts in it.
The reason the recipe this week is out of my comfort zone in NOT because of using an ingredient I don't like or because it seems like a weird ingredient combo. It is because right in the recipe directions there is the phrase "or the cans will explode".
We're talking canned cans, which are much thicker than pop cans. I have heard (but never seen) a can of Diet Coke explode. And I have cleaned up several DC can explosions in the freezer (you know, cooling it down quickly then forgetting about it) and in the car (winter time in WI). If a thin pop can can create that much of a bang and a mess, I don't even want to be around a regular can exploding. And I just had to think of the poor people who discovered that they do explode if you let the water boil dry. Also, I just cannot imagine 'covered with water' being such a magical thing to keep a can from exploding. So, because of these reasons is why I've never made this, even though I always thought it sounded so good!
But, here we are, kitchen still intact, no wild stories to tell, and a delicious dessert eaten!
Eagle Brand Milk and Pineapple Rings
Remove labels from Eagle Brank milk cans.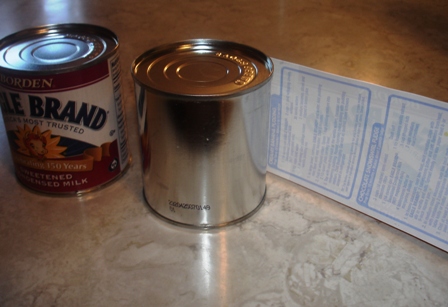 Set 4 cans in 4 qt stainless steel kettle. I did only 2 cans and used a smaller kettle because I don't have a bigger kettle, but that's another story… what happened to my big kettle. Fill with cold water. Turn on medium high heat until it cooks, then turn down to medium.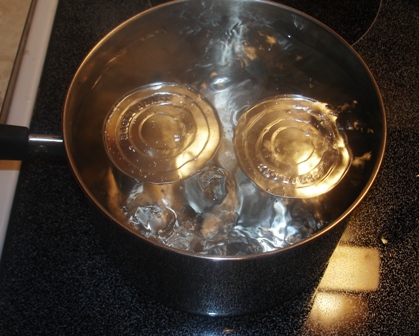 Keep adding warm water. Do not let the water evaporate or the cans will explode. Boil for 3 hours. Cool. Drain cooled pineapple rings and arrange on plate. (One can of Eagle Brand milk should be just right for 1 can of pineapple rings.)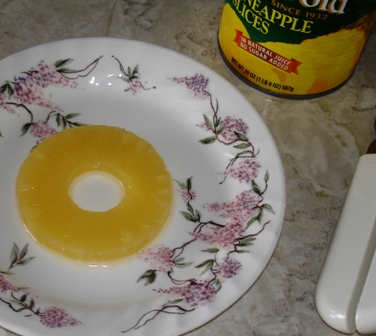 Open both ends of the milk cans. Remove one end and press the other end so that about 1/4″ sticks out of the end. Slice along the can with a sharp wet knife, slide onto pineapple ring.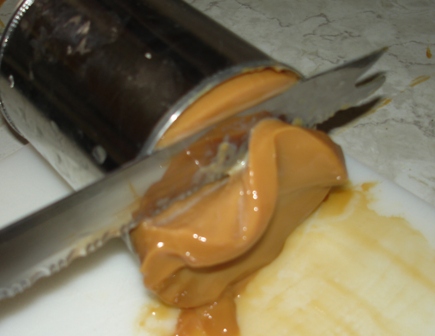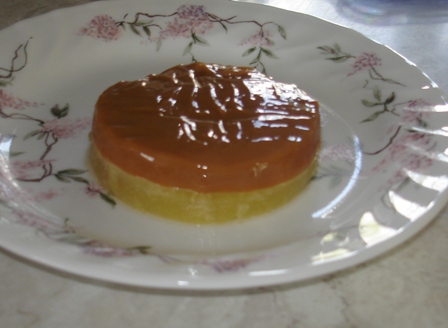 Top with Cool Whip and a cherry.

Man, this stuff is good! That milk tastes like caramel. And caramel goes great with pineapple! I'm not scared anymore to boil cans of milk and I'll make this again sometime! I'm also going to try that 'caramel' in a recipe that calls for caramel and see how it tastes. That was amazing to me how a can of white liquid could turn into a can of brown solid (soft solid).
Just thought of something I should mention yet so you don't learn the hard way like I did. If you have a Pampered Chef can opener, it'll go on the can like this:

That works great for the one end, but not for the other end (the end that you push on) because this can opener takes the lid off, including the rim. And the rim does not fit thro' the can when you go to push on it!
So, use a can opener that goes on the side of the can, not the top of the can. Thankfully, I kept my old Walmart can opener when I got my Pampered Chef one a few years ago!
Quote from my last Out of My Comfort Zone post:
"Up next week on Out of My Comfort Zone cooking… Baked Apples and Cheese. Yes, they are mixed together in the same dish, and yes, that would be cheddar cheese, not cream cheese. No, I didn't make it yet. But I'm looking forward to it."
Well, here it is, in all its syrup-y goodness: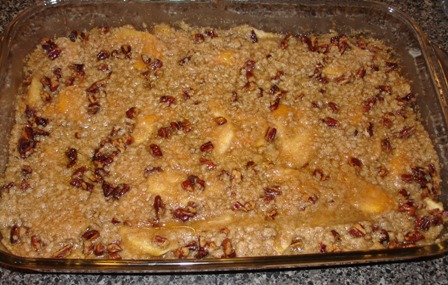 I was expecting rave reviews, but well, um, didn't get any. Not even from myself. It was good, but not exceptional. While I was eating my portion, I kept thinking I should try it sometime without the cheese… the rest of it was so scrumptious and that toasted pecan streusel topping on it was to die for, I could've eaten that stuff plain! You know, skim along the top with my spoon when nobody was looking.
I took it to a family supper and asked for feedback on it. The feedback was that the cheese was too chewy and that apples don't go with cheese. They said it was good though, just not 'make again' quality. My MIL liked it the best, although what she raved about mostly was the toasted pecans. They really were good, but then most things are good if they're tossed with melted butter and toasted in the oven!
So, here's the recipe and then we'll talk about cheese problems at the end. This recipe is taken from the Famous Daves Backroads and Sidestreets cookbook. That in itself is another reason I thought this recipe would be a keeper… that cookbook is loaded with keepers!
Baked Apples and Cheese
1 cup packed light brown sugar
1 tsp. cinnamon
2 Tbsp. butter
4 cups sliced peeled Granny Smith apples
3/4 cup flour
1/4 cup freshly grated Parmesan cheese
1 1/2 cups sharp cheddar cheese, cut into 1/2-inch cubes
Mix brown sugar and cinnamon in a bowl. Cut in butter until crumbly. Stir in apples. Mix flour and Parmesan cheese in a bowl. Add sharp Cheddar cheese, tossing to coat.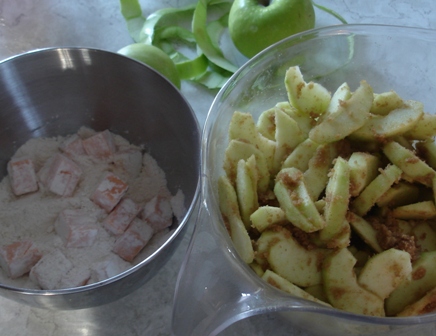 Add to apple mixture and mix well. Preheat the oven to 350 degrees. Spoon the apple mixture into a buttered 9×13″ baking dish.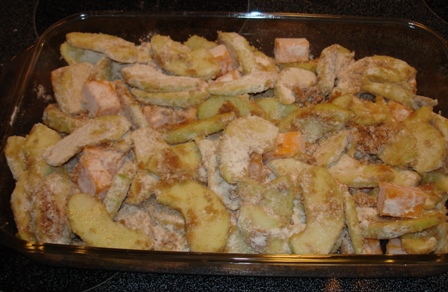 Bake for 20 minutes.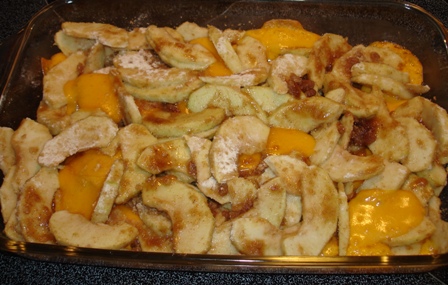 Lightly stir.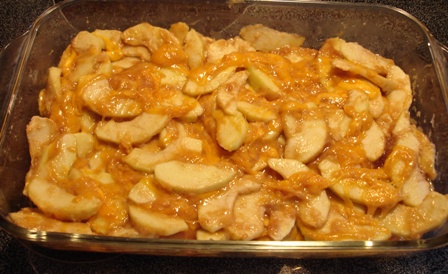 Sprinkle with Pecan Streusel Topping.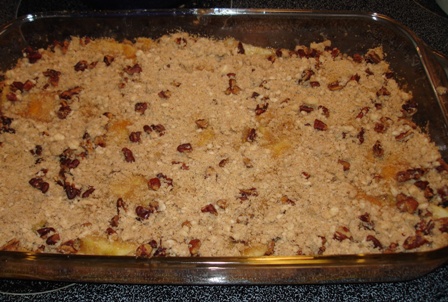 Bake 10 minutes more. Yield: 5 – 6 servings.
Pecan Streusel Topping:
1/2 cup chopped pecans
1 tsp. melted unsalted butter
2/3 cup flour
1/2 cup packed light brown sugar
1 tsp. cinnamon
1/8 tsp. ground nutmeg
1/2 cup unsalted butter
Toss the pecans with 1 tsp. butter in a bowl.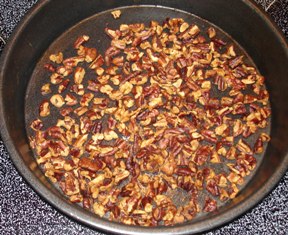 Spread in a round baking dish. Preheat the oven to 350 degrees. Bake for 13 minutes or until lightly toasted, then cool.
Combine flour, brown sugar, cinnamon, and nutmeg in a food processor container. Pulse in short bursts to mix. Add 1/2 cup butter. Pulse in short bursts until the mixture resembles coarse crumbs the size of peas. Stir in the pecans. Store, covered, in the refrigerator. Yield: 2 cups.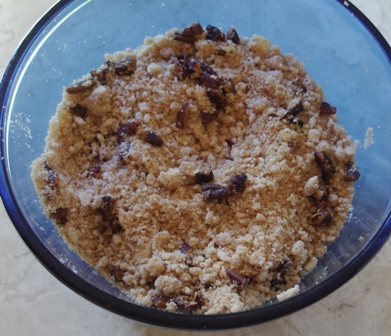 This topping can be used for other stuff too… layered in the middle of coffee cakes or topping for crisps and cobblers.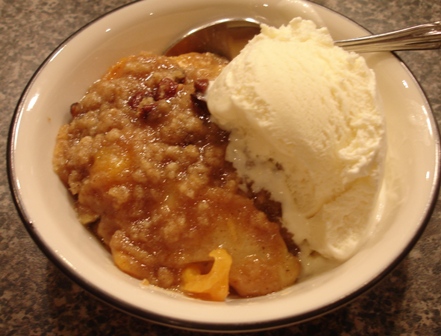 Now, about the cheese… the problem was that you'd hit a patch of chewy cheese, which is a good thing on a pizza or in a grilled cheese sandwich, but it tasted a little weird surrounded by sweetness.
Here are my ideas:
—maybe shredded cheese or smaller chunks would work better
—maybe a more 'melty' cheese, like American, would blend in better
—maybe I should've served it piping hot
—maybe this recipe would be THE best apple crisp recipe after omitting the cheese completely
I want to try this on my mom sometime and see what she thinks. She loves 'out of her comfort zone' stuff and trying new things. I could make half a pan with no cheese and the other half with cheese, using some modification ideas that I had… or modification ideas that you might have.
Not sure what next week's "Out of My Comfort Zone' food will be. I haven't had any inspirations yet.