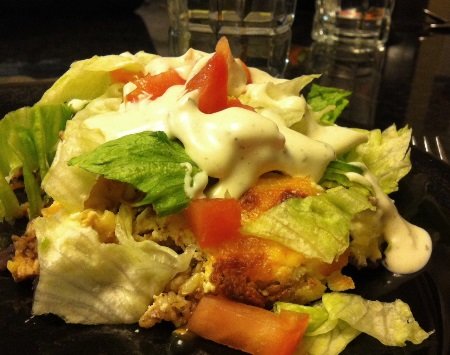 This is one of my favorite foods at the moment. I'm not even sure why I like it so good. I mean, it's basically just rice, beans, and chicken, which doesn't sound all that exciting. But man, it is so GOOD!!! It must be the cumin. Or cilantro. I don't know, but I just had it yesterday and I'm craving it again. I wonder how many days in a row I could eat it before I'd get tired of it.
So, please make it.
Don't let the list of spices, herbs and steps make it look daunting.
I'll be honest, it is kind of time-consuming to make. But all casseroles and soups are. ……..When I say that sentence in a conversation, it's like I want to ask myself "Did I yell that? Or why did everyone perk up and half the people are wildly talking over each other disagreeing with me?" Every time I say that, people come up for air defending it because "casseroles are so quick" and "just throw together a soup". It will forever be a mystery to me why I seem to always be standing alone on the casseroles-and-soups-are-more-time-consuming island. I just realized that I'm off on a bunny trail here, but I'll follow it a bit more and tell you why I feel the way I do… in case you're coming up for air too. 😉
There are so many steps to all-in-one dishes… you fry the meat, you cook the noodles, you chop the veggies, you sauté them, you make and thicken sauce. You mix it together, add more things, and then you still have to bake it, stir it, or cook it.
When it's all separate, you bake/fry/cook it, and then it's done and ready to put on the table.
Maybe I'm a bit biased because I prefer to cook the "separate" way, partly because that's how I grew up, partly because Shannon often grills the meat if it's separate, partly because I'm always stumped about what to put on for side dishes because all the food groups are in the main dish, and partly because you can taste each food better. Ok, let's bring this bunny trail back over to the main trail again.
I'm just sitting here wondering why I'm putting a plug in for "meat & potatoes" meals when what I'm posting is an all-in-one meal! Ha.
Yesterday when I made Chipotle in a Bowl, it seemed to go extra fast because… 4 of my friends were sitting on bar stools around my island (the one in my kitchen, not the opinion one up there that I stand alone on

) and we were all chatting the morning away with cups of coffee. I wish they'd come sit around my island every time I'm cooking. It takes something already enjoyable… cooking … and makes it even more enjoyable… cooking with friends and coffee! 😉
Chipotle in a Bowl …from the cookbook Simple & Satisfying
CHICKEN:
1 1/2 lbs chicken breast, cut into bite-sized pieces
2 Tbsp. lemon juice
1 1/2 tsp. seasoned salt
1 1/2 tsp. oregano
1 1/2 tsp. cumin
1 tsp. garlic salt
1/2 tsp. chili powder
1/2 tsp. paprika
Marinade chicken in seasonings for at least 4 hours. Fry in oil until done.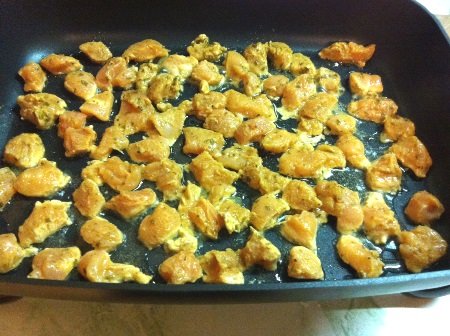 RICE:
2 Tbsp. oil
2 cups rice
1 c. chopped onion ( I go a little easy on this.)
1/2 tsp. pepper
1 tsp. salt
1 Tbsp. plus 1 tsp. chicken soup base
1 tsp. cumin
1 tsp. oregano
1 tsp. garlic powder
1 – 2 Tbsp. cilantro, fresh is best
4 cups water
Fry rice and onion in oil, then add remaining ingredients. Simmer until rice is soft. I've never timed this, I'd say it's about 1/2 hour. I just go by when the water is gone.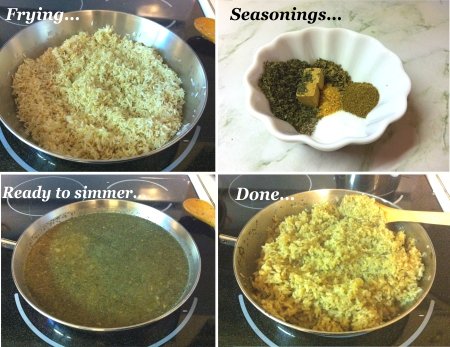 BEANS:
2 cups cooked black beans (I use canned. A couple of my friends say dry ones that you soak yourself are better. I want to try that next time.)
1/2 tsp. cumin
1/2 Tbsp. chili powder
3/4 tsp. lemon pepper
1/2 tsp. salt
1 – 2 Tbsp. cilantro
Simmer bean ingredients together for 10 minutes.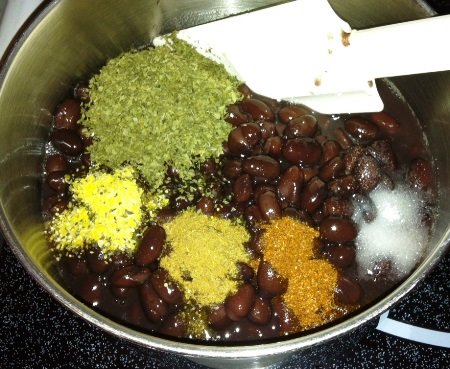 TOPPINGS:
2 cups sour cream
2 cups shredded cheddar cheese (I use Mexican blend.)
Lettuce
Tomatoes or salsa
Ranch dressing
Put rice in a greased casserole dish, then top with black beans and chicken. Spread sour cream over chicken and top with cheese. Bake at 350 for 30 minutes. Serve with remaining toppings.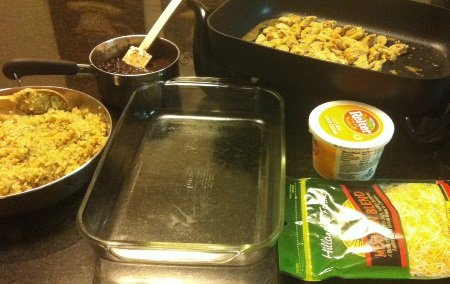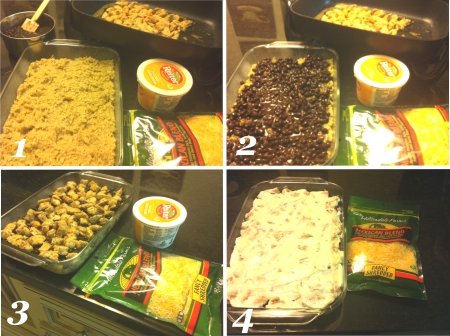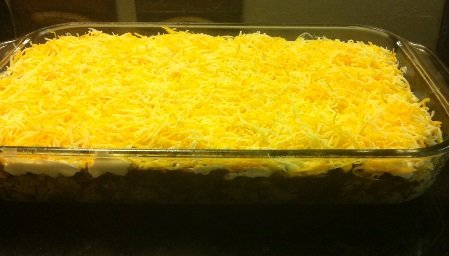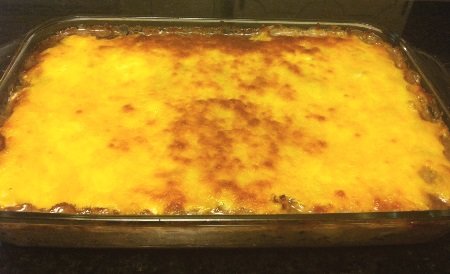 This recipe is great as is. The only thing I'm going to try changing sometime is using only half the rice. I think it's a bit of an overkill for how little chicken is in the recipe, even though I really like rice.
We all love this. It's just bursting with flavor and it's not too spicy for the kids.
Just recently, Shannon said, "You oughta put some meat on Kitchen Scrapbook again." As I thought about it, it did seem like it had been awhile, so just for kicks, I checked… and was surprised… in the last 27 posts, the only thing with meat in it on here was Haystacks! And that's not a dish where the meat is really monopolized on. So, here we go, something with meat… a main dish, for something different. I know it's not a CHUNK of meat, but hey, there IS meat here.
One main dish in 27 posts shows you a bit where my interests lie. I don't churn out full course meals as often as you might think. I like cooking meals, I really do. But you know what I LOVE? Baking, desserts, decorating cakes, and playing around with food. It's hard to do fun stuff with main course dishes. And main course dishes are necessary… the sweet things aren't… and we all know that somehow there's always more fun and passion in unecessary things. I should add in a clause here about meat… I've heard and seen enough from the guys I'm around that I DO understand that there is fun and passion in smoking and grilling chunks of meat… but I don't know a flippin' thing about doing it, so I'm quite happy to stay on the eating end of it rather than on the fire end of it.

This is the first time I'm posting one of Pioneer Woman's recipes on my site, even though I've made quite a few of them. One I still need to try is the cinnamon rolls. I just need to see for myself that it's just as good or better to sprinkle on white sugar instead of brown sugar just before rolling them up. When I do try them, I think I'll do some with white and some with brown… and compare. The best part of all that is that it entitles me to TWO cinnamon rolls. 😉 Anyway… why am I talking about cinnamon rolls?! Back to the thing of posting a Pioneer Woman recipe on my site… It's sorta like what's the point because it's already posted in much more finery and humor already on her site. It's not that I feel threatened by her… because you can only feel threatened by people or things that are in your league. 😉 So, here is the link to the recipe on her site: Pioneer Woman's Sloppy Joes. And in case you don't feel like clicking to go over there, I'll post it here, too.
I actually just grabbed my cell phone to take pictures of these because, well, my camera battery needed charged.
Also, I made a half batch, in case the quantity in the frying pan looks small to you… you know what I thought of right now, I should've made a full batch and put half of in it the freezer for another meal!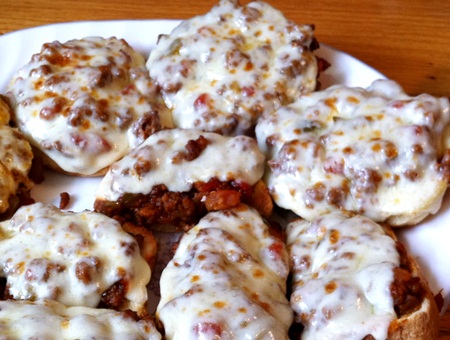 Pioneer Woman's Sloppy Joes
2 Tbsp. butter
2 1/2 lbs ground beef
1/2 onion, diced
1 green bell pepper, diced
5 cloves garlic, minced
1 1/2 cups ketchup
1 cup water
2 Tbsp. brown sugar
2 tsp. chili powder (more to taste) I actually cut back on this because I wasn't sure how much kick it would give it.
1 tsp. dry mustard
1/2 tsp. red pepper flakes (more to taste)
Worcestershire sauce, to taste
2 Tbsp. tomato paste (optional)
Tabasco sauce (optional; to taste)
Salt; to taste
Black pepper, to taste
Kaiser rolls
Butter
Add butter to a large skillet or dutch oven over medium high heat. Add ground beef and cook until brown. Drain most of the fat and discard. Add onions, green pepper, and garlic. Cook for a few minutes, or until vegetables begin to get soft. Add ketchup, brown sugar, chili pepper, dry mustard, and water. Stir to combine and simmer for 15 minutes, adding salt and pepper to taste.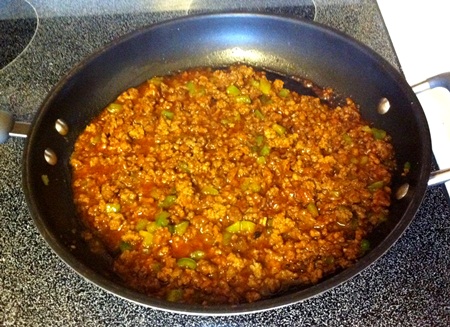 Also add tomato paste, Worcestershire, and Tabasco if desired. Taste and adjust seasonings as needed. Spread rolls with butter and brown on a griddle or skillet. Spoon meat mixture over the rolls. And then I added a slice of provolone cheese and put it under the broiler for a few minutes.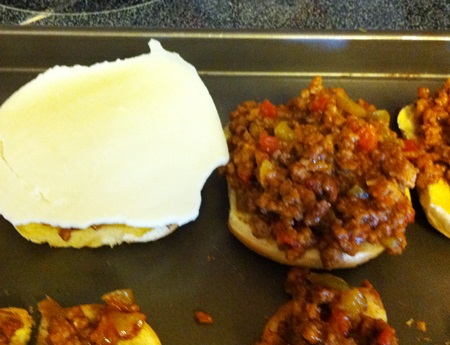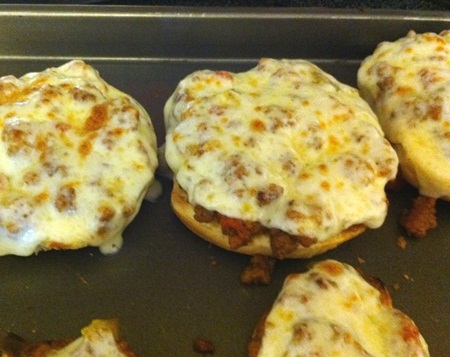 These are hands down THE BEST sloppy joes I've ever made or eaten! Dancing with flavor. I backed up the spicyness a little and I think it was just right… in my world, sloppy joes aren't supposed to be spicy. But a little zing was perfect. So, anyway, this will now be my sloppy joe recipe unless I find another one to kick it out of 1st place.
In other news, we're grilling tonight. Not sure what we'll grill, but I think I'll feature it in the next post, whatever it ends up being. The meats we have on hand to choose from are: burger, chicken breast, fish, and a 1.14-lb sirloin steak. Oh, and when I say "we're grilling", I am, as usual, using the term 'we' very loosely.
What are you grilling tonight? And feel free to use the term 'you' very loosely. 😉
I've been hungry for haystacks since February. Yeah, I know. You'd think I'd have made them before now, what with being in charge of the food around here and all!
How I know it was February is because for a couple weeks in a row, the church bulletin had "Haystack Supper Fundraiser: Friday eve, Feb 25″ in the Upcoming Events section for this area. Seeing that every week got me more and more in the mood for them and THEN we ended up not going to the fundraiser! So, to make a long story short (after I already told the long story), last night was the night, and I finally got my haystacks craving satisfied. Man, I could dig my fork into this pile all over again!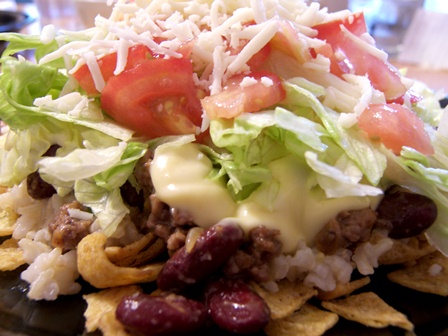 Haystacks are kind of a 'to each his own' thing, so there's not really a set way to do them… the components vary and the order of stacking varies. So, I'll just show you how we like them and you can tweak it from there. I use the term 'we' loosely because I'm the only one who likes rice on it and the tomatoes are not very popular among the little people around here.
Speaking of rice, the rice totally flopped last night. I mean really. Rice. How hard can it be… get it to boiling in a pan and then let it simmer for 45 min WITHOUT lifting the lid, then when time's up, you lift the lid and there is your rice, magically perfectly done, fluff it with a fork and put it on the table. Well, *ahem*. I now know what happens when you accidently put in too little water. The magic doesn't happen. Half of the grains are fluffily cooked and half of them look like you just dumped them out of the bag and half of them look partially cooked— ok, I think I got too many halves here, but you get the picture. I noticed it when I was about to dish everything up, so I put more water in, cranked the burner to High and cooked the rice like crazy for about 10 minutes. It worked ok and was soft enough to eat.
Here are the components to our haystacks. We thought of salsa later, so that's missed on the picture.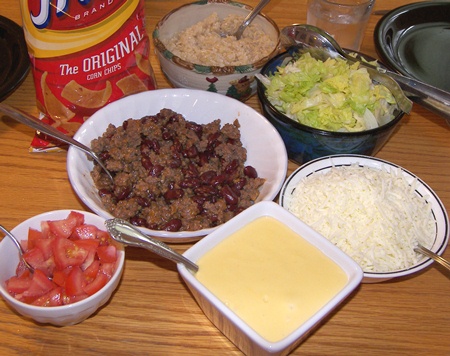 Here's the order I layer it in:
— Corn chips, slightly crushed (you can also use crackers, but I like the extra flavor and crunch of chips)
— Rice
— Meat mixture (brown hamburger with onion, then add a packet of taco seasoning and a can of kidney beans)
— Cheese sauce (1/4 cup melted butter, 2 Tbsp flour, 1 cup milk; bring to boil, then stir in 1 cup cheddar or Velveeta)
— Lettuce
— Diced tomatoes (can also open and drain a can of diced tomatoes, a handy time-saver tip from my friend Linda Y.)
— Shredded cheese
— Salsa
Maybe there is something I miss that would make haystacks even better, so if you make them different than this and if you feel like it, I'd love to hear what variations you do to haystacks!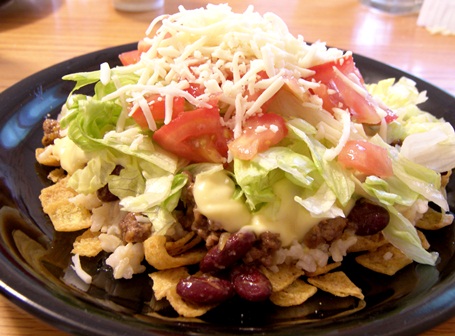 While I was making this, I was thinking that this would be a good meal option for those it's-4:30pm-and-I'm-staring-in-the-fridge/freezer/cupboards-for-a-menu-inspiration moments. Or maybe you guys never do that… I do it more often than I care to admit. Anyway, I think I'm going to keep this meal option on hand from now on… The rice takes very little time to get it to simmering, the meat would be fast (especially if it would be already browned in the freezer), cheese sauce takes very little time and the rest of the stuff is basically just putting it on the table… which the kids did last night. Actually, this meal isn't far away from the kids totally doing!
Speaking of which, my goal this summer after Lexi gets out of school is to perfect about 5 good, but easy enough, meals that the girls can do by themselves. Then, once in awhile, I can say, "Hey, you guys go make ____________ for supper, please." 😉 Haystacks may just be on that list.
Not sure what's up next, but it's seems like f.o.r.e.v.e.r since I've made or eaten sinful chocolatey richness, so I see that in my future for this weekend. And since I have to feature it on here in order to make it 'legal', that might just be coming up next……….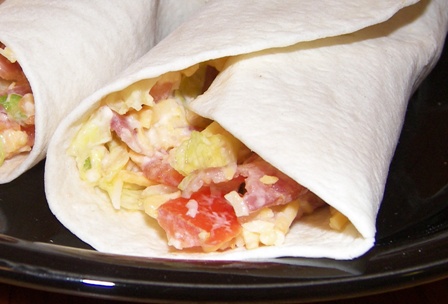 I'm trying to decide if this should even be a Cooks in Training post.
Reasons it should be:
1. Lexi and Tiffany made them.
2. The recipe comes from the Kids Cook! cookbook.
3. There is no kettle or baking involved.
Reasons it should not be:
1. What. a. mess!!!!!!
2. There is a sharp knife involved.
3. Next time we have these, I'll make them myself.
I don't want to give the impression that the Cooks in Training posts aren't usually messy. 😉 It's just that this one struck me as extra messy. Maybe it was because the floor around their chairs looked confetti-covered. Maybe it was because they were handling bacon (read: grease) twice. Maybe it was because when they wrapped their wraps up, the tortillas ripped and the filling was falling out and trying to fix the problem only made it worse.

Oh well, we all have our bad days in the kitchen. And these little cooks are no exception. The wraps tasted great, which is what matters. And it was a nice variation from a regular BLT sandwich. Which is not a bad thing either: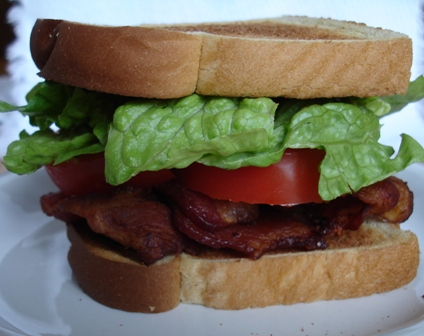 Mmmmmmmm! Yum.
This recipe has everything all diced up and mixed together, but it would probably be easier and quicker to just leave the ingredients whole and layer them in the tortilla.
Burrito BLT Wraps …from Betty Crocker's Kids Cook! cookbook
8 slices bacon
1 large tomato
2 cups shredded lettuce
1 1/2 cups shredded cheddar cheese (6 oz)
1/3 cup mayo or salad dressing
6 flour tortillas (8″-10″ across)
Put a paper towel on a microwavable plate. Put 4 bacon slices on top of paper towel. Add another paper towel and put on 4 more bacon slices. Put another paper towel on top of bacon. Microwave on High for 4 – 6 minutes or until bacon is crisp. Break it into pieces (after it cools, of course).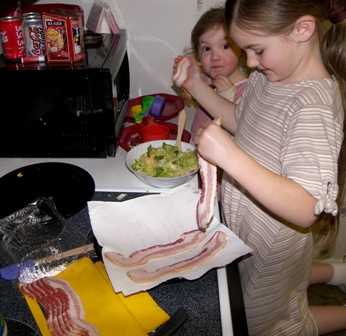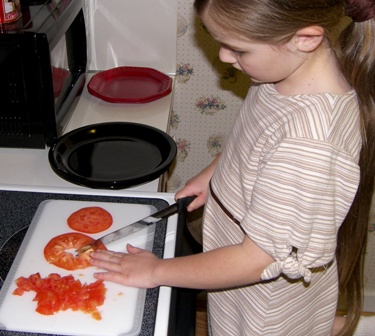 Chop the tomato into small pieces.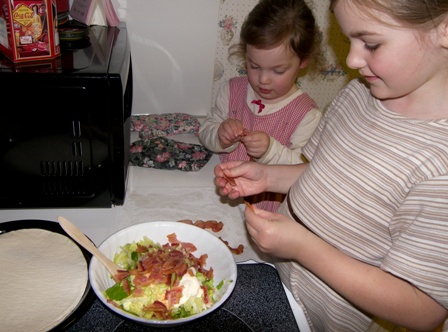 Put the bacon, tomato, lettuce, cheese, and mayo in a bowl. Toss together. Spread the BLT mixture evenly over the tortillas.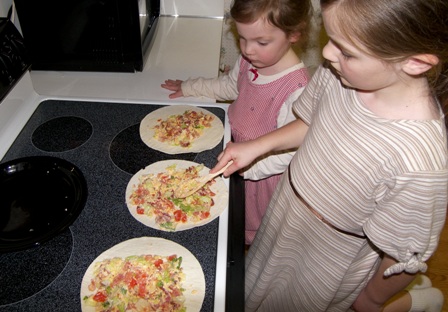 Fold up the bottom 1/3 of each tortilla, then roll it up.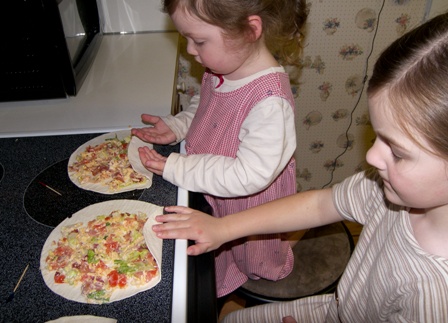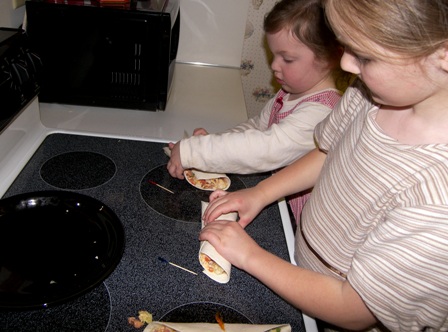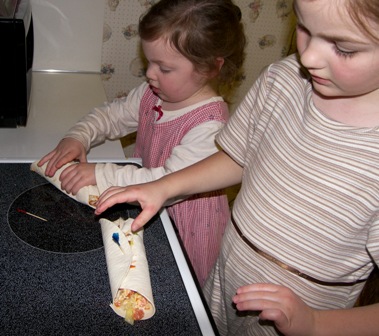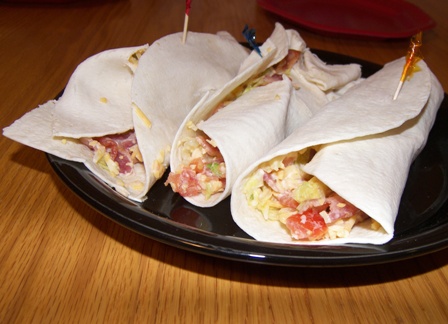 And here they are! In all their messy beauty. The pretty toothpicks were a bit hit. 😉
Whenever I think of BLT wraps, I think of one time when one of my friends said that one day, the whole family was working outside and suppertime rolled around and she made BLT wraps and cut up some watermelon and took it out to the picnic table for them to come and get it whenever. I just thought that sounded so summer-y.
Sometimes I feel stuck. In a rut. With cooking, that is. Well, other things too, but we'll just stick with cooking. 😉 
I have a certain style of cooking and I don't deviate from it much. I want to change that. Maybe doing some more 'Out of my Comfort Zone' foods would be a good idea. I don't make stir-able casseroles. Pretty much the only all-in-one casserole type things I make are wet burritos and lasagna. Other than that, it's sandwich-type things (like these melts) and most of the time it's meat, potatoes/pasta, veggies, and rolls. And I pretty much use the same seasonings too. So, this evening for supper, I was browsing a cookbook for new recipes and passed up the Chinese Beef and the Sirloin Squash Shish Kabobs and landed on something 'safer' like Chicken Cheese Melts. I use way more chicken breast than any other meat and I never buy the dark meat unless I get a whole rotisserie chicken. Other meats I keep on hand and regularily use are ham, ground beef, beef roasts, and bacon. And that's pretty much it. Other kinds of meat are very rare. Over the summer (think, more grilling), I buy pork chops, brats, and steaks.  
Do you think I need a bit of help here with diversity?

  What's your style of cooking? I'd love to hear it! Tell us in the comment section!
Meanwhile, here is a recipe using exotic ingredients like chicken breast, butter, cheese, and bread. Just kidding about the exotic part. This recipe comes from my newest cookbook, which I've owned for a little over 48 hours now… What's Cookin', compiled by the Schlabach family. Makes it more fun because I'm good friends with some of these Schlabachs. And I like seeing their names under a recipe now and then.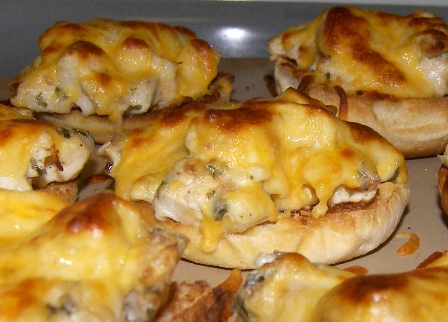 Chicken Cheese Melts
1 cup chicken, cooked and chunked (I used more like 1 1/2 cups, you can never go wrong with more meat 😉 )
1/4 cup margarine, melted (I used butter)
1/4 cup sour cream
2 Tbsp. onion, chopped
1 Tbsp. parsley flakes
Shredded cheese
Saute onions in margarine briefly.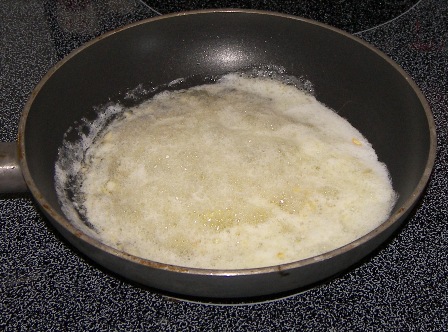 Mix together all ingredients.

Put on slices of French bread or any other bread. I used hamburger buns. And toasted them first. 

Top with cheese.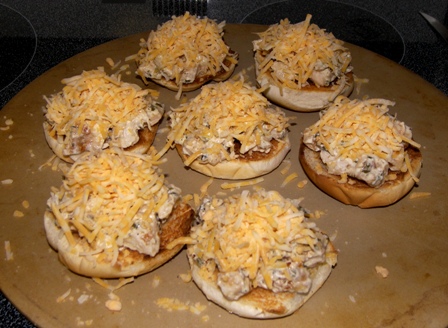 Bake at 350 until cheese is melted. The cheese was melted after about 5 minutes, but then I turned on the broiler because I like cheese to have a bit of browning on top.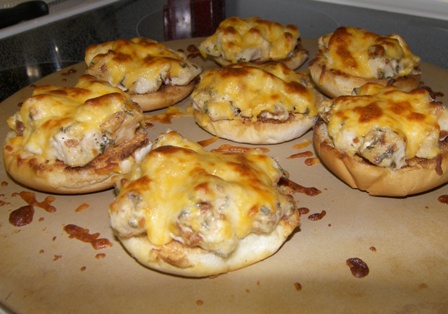 These, by the way, got rave reviews and were thrown into the 'Yum! Make again!' category. And they were easy and fast too, esp since I pulled chunked up fried chicken breast out of the freezer.
Now, I wanna hear about your this-is-the-norm-for-me cooking. Also, do you plan menus? I've seriously thought of doing that. Seems like that would eliminate the 4:00 p.m. staring in the fridge/freezer/cupboards/cookbooks for a supper idea!