Ok, I'll just show you how I do it, but don't expect alot of tips and all. Who knows, after this post, you might be giving me a lot of tips! 😉 That would be great, it would make us all better pie crust makers. And you might laugh at how I do it, for example, I use Saran Wrap in the pie-crust-making process. *Huh?!*
Warning: Eyes may glaze over… there are lots of pictures and it got a little wordy.

First, the recipe. This is the only pie crust recipe I use and I don't even try others because this one works great and has only 4 ingredients and it gets compliments now and then:
Pie Crust
1 1/3 cups flour
1/2 tsp. salt
1/2 cup butter-flavored shortening (Does shortening have an 'e' in it? I keep adding then erasing it. I should go look on the can.)
3 Tbsp. ice water
I put the flour and salt into a bowl and give it a few stirs w\ the teaspoon that I measured the salt with. Yeah, I about always measure stuff, I'm not one of those 'just dump it in' people. Then, I mix the shortening in with a potato masher…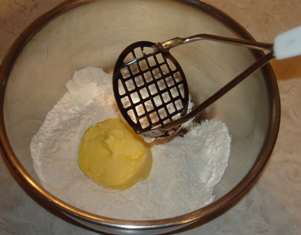 I've tried a pastry blender, two knives, a fork, and nothing works quite as good as a potato masher.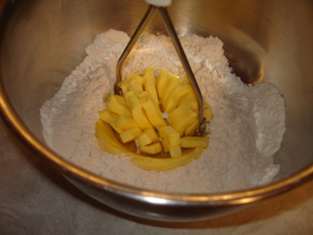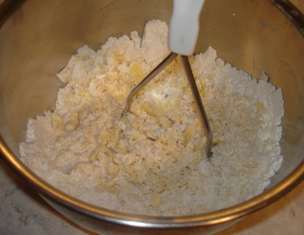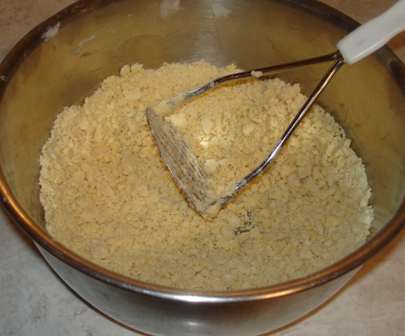 When it looks about like this, pour the water in all at once and quickly stir it with a fork. More like pourthewaterinallatonceandquicklystiritwithafork. Not sure why, but I feel some urgency to get it stirred in, maybe because I'm afraid it would soak into the part where it's pooled, then not get evenly dispersed. Anyway, I think that little tidbit might fall under the category of 'Weird Quirks' instead of 'Pie-Crust-Making Tips'.
When it looks like this,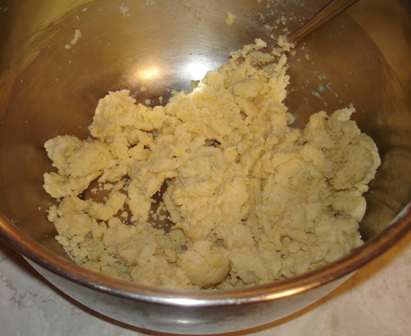 stop stirring and get a piece of Saran wrap, lay it on the counter, and sprinkle it with flour. Then, with your hands, get all the dough and squeeze it together into a ball, then flatten it a bit and put it on the floured Saran wrap.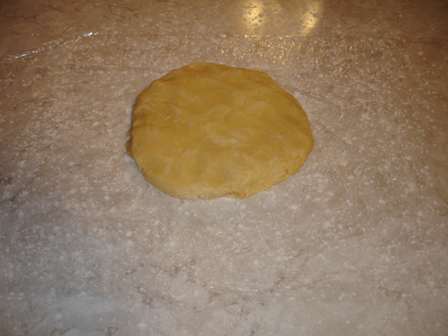 Sprinkle flour over the top.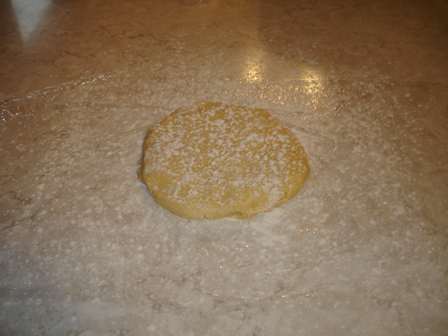 Take the rolling pin and roll it this way,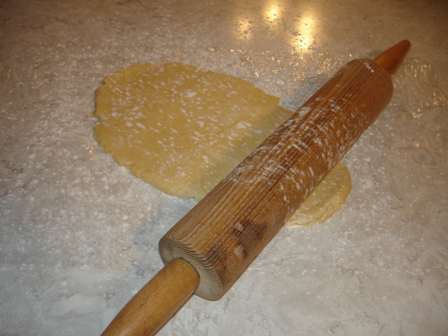 then that way.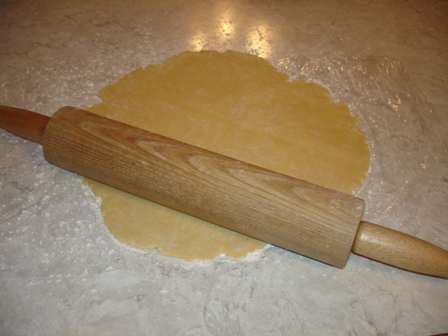 Sprinkle some more flour on because the rolling pin will be starting to stick a little.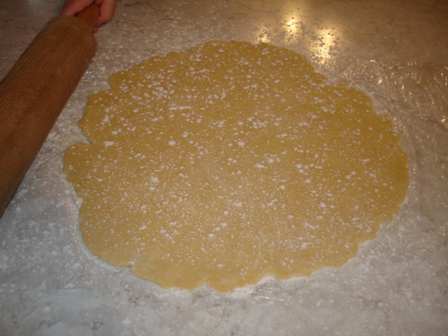 Roll it out some more till it's a couple inches bigger than the pie plate all the way around. Put one hand under the Saran wrap and the other hand on the back of the pie plate, and flip the whole works over.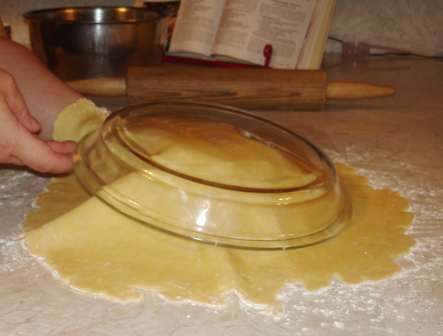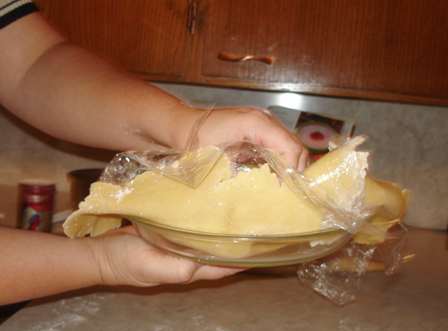 Peel off the Saran wrap. Now, here's an actual tip: Instead of just pressing the crust down into the pan, lift it up off the edge and let it line the pan without pushing down on it. Otherwise it will stretch the dough, then it'll shrink when it bakes. I don't really know how to explain it, but just DON'T make the dough stretch by pressing it down into where the side and bottom of pan meet.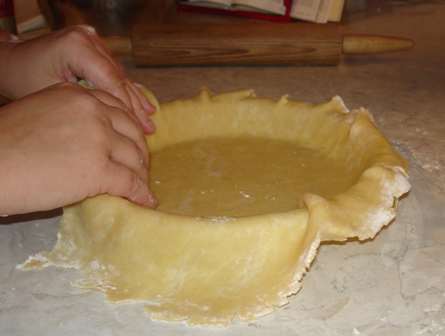 You can't really see it, but I'm not just pressing the dough down in with my fingertips… I'm lifting up the edge and putting it down in to line the 'corner'. Once it's all in there, press down a little around the top edge, this'll make it easier to cut the extra dough off. Take a knife and cut it off.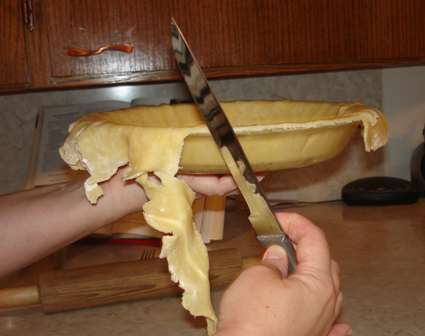 Here's where my extra dough always goes…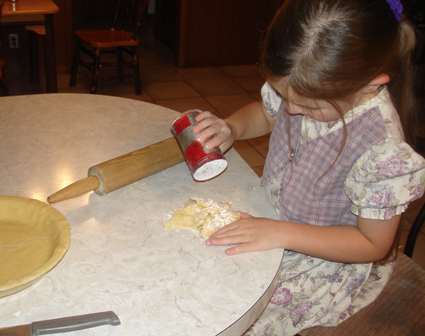 And she'd get my camera and take pictures of her own pie dough creations. Close up pictures. And the camera would focus on stuff behind the subject being photographed…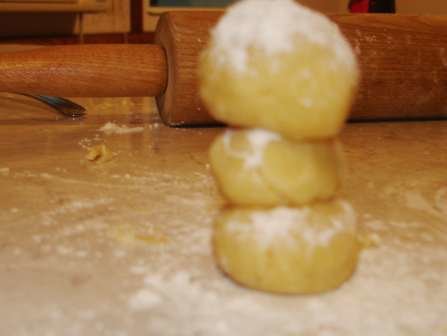 I usually crimp the edges of the dough between my thumb and finger.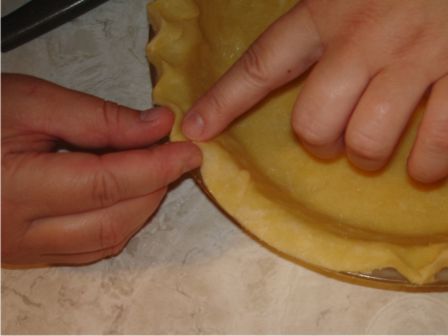 Poke the bottom and side of crust with a fork.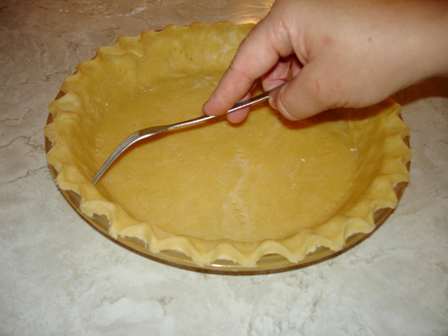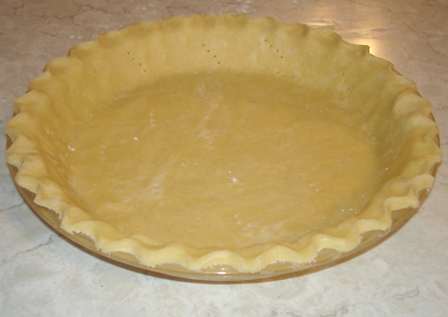 Bake at 375 for 12-15 minutes. And you've got a pie crust.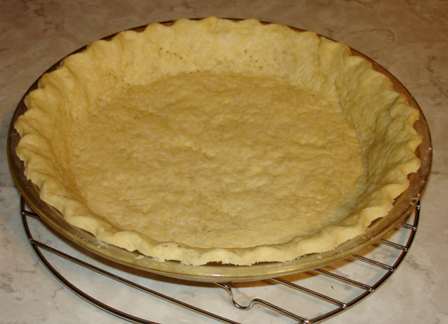 Yeah, it does shrink just a tiny bit, but it's good enough for me. I'd rather have that than mess with putting beans in it to bake it.
And, last but not least, the famous pie crust question… Is it flaky? I think so…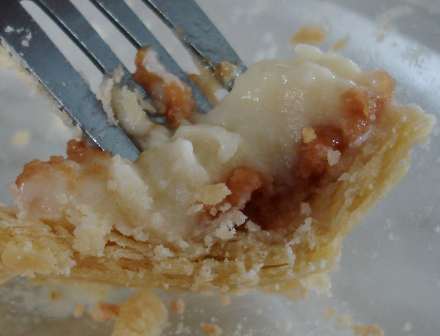 Now, let's hear from you… I know alot of you out there make pies. Please give us some more tips!

Silk is right. I wonder whoever came up with that term for pie. But it fits this one. Smooth as silk. And creamy and light. Light as in not heavy, not light as in diet. Far from it!
My grandma always said that she likes to make pies better than she likes to eat them. That doesn't mean that she doesn't like pie! Sometimes while I'm making pie, I wonder if I have reached that same status now. Then, I eat a piece and decide I'm not quite there yet. BUT, this pie may have been an exception. Not that the pie itself was so fun to make. The fun was in the garnishing… chocolate curls.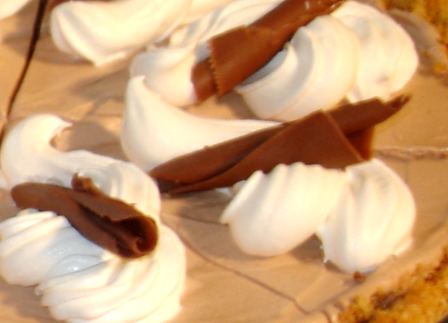 This recipe is taken from my newest cookbook… Simply with Taste. I got it about a week ago. I love it! Sometime, I'll tell you more about it and its nice features. This silk chocolate pie is the first recipe I tried from it.
Silk Chocolate Pie
1 pkg. (4 oz) Bakers German sweet chocolate
2 Tbsp. milk
6 oz. cream cheese, softened
1/4 cup milk
3 Tbsp. sugar
4 cups whipped topping
2 baked or graham cracker pie crusts
Microwave the chocolate along with the 2 Tbsp milk on high at 20-30 second intervals until chocolate is melted, stirring frequently. Beat the cream cheese, sugar, and 1/4 cup milk until smooth; add the chocolate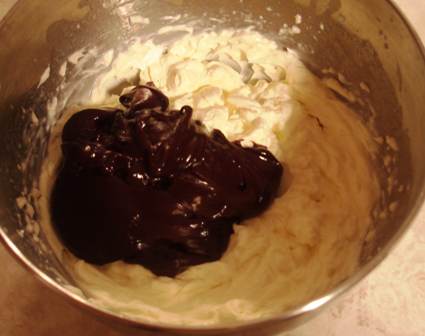 and mix until well blended.
Refrigerate for 10 minutes. Fold in the whipped topping.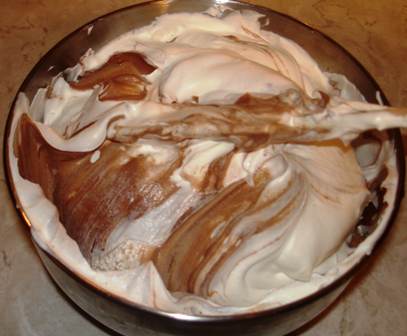 Spoon into the prepared crusts. May freeze if desired, or use within a day. Top with whipped topping and chocolate curls for garnish.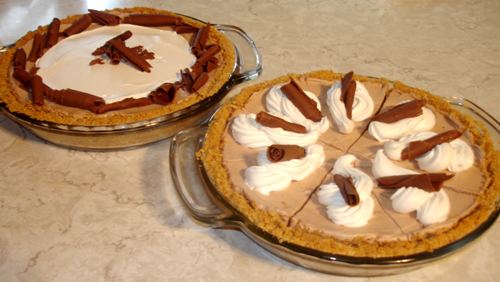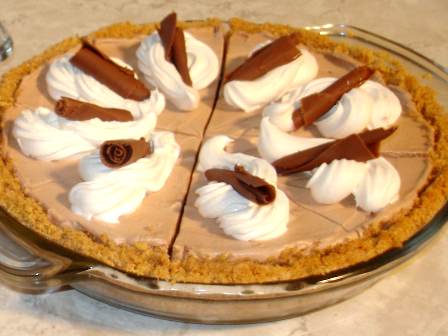 And now for the fun… How to Make Chocolate Curls
Melt about a 1/2 cup chocolate chips w\ about 1 Tbsp. of shortening.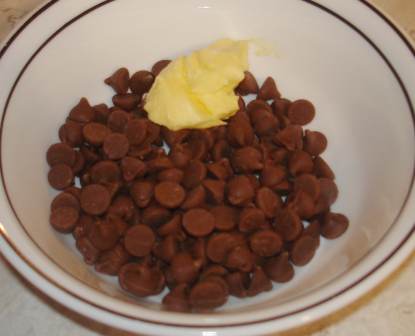 Spread into a thin layer on the back of a metal cookie sheet.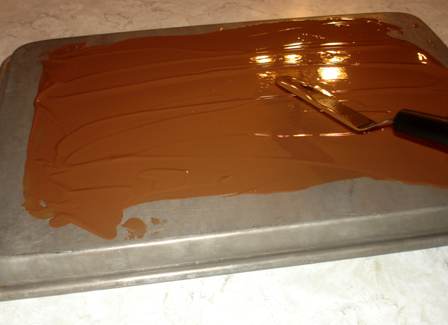 Put in the freezer for 3 minutes. Take it out of the freezer. Immediately, take a flat tool of some sort (I used my Pampered Chef little square scraper that's actually for cleaning stoneware, I use that little thing for alot of stuff!) and hold it at about 45 degrees and push down and across the baking sheet. The chocolate should curl right up.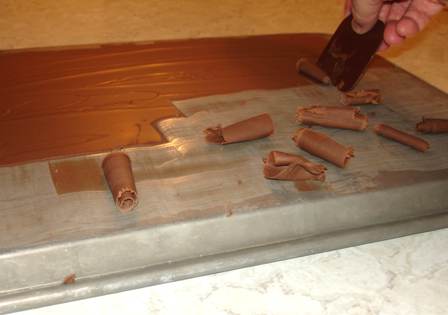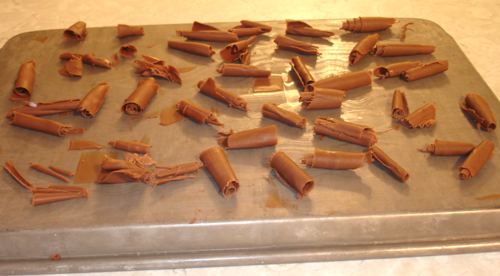 If it just breaks, wait a minute or 2 to let the chocolate soften, then try again. If it doesn't curl, put it back in the freezer for another minute or so. Depending how long it takes to curl all the chocolate, you may have to put it back in the freezer to harden up again before you're done. Use a toothpick or utensil of some sort to move the rolls to a plate and put them in the refrigerator. When they're good and hard again, you can put them in a plastic bag and store in the refrigerator. Or you can just put them on the pies like I did.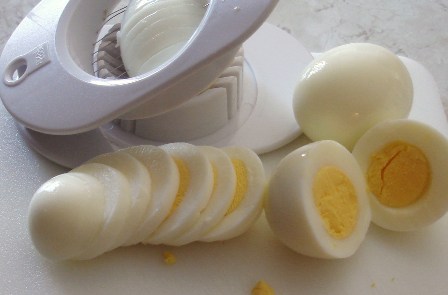 I'm wondering if, from reading the title, you thought "Duh, everyone knows how to do that!" or if you were secretly happy to finally have directions to do it instead of just putting the eggs on the stove in water and kinda guessing from there.
I would be in the last category, until yesterday. You know, there are some things it seems like everyone evidently is just automatically born knowing… you just never see a recipe in a cookbook of how to make hard boiled eggs. Or how to make baked potatoes or grilled cheese sandwiches.
I so seldom make hard boiled eggs, maybe about once a year for a salad. A salad was actually the reason I made them yesterday. I used to not like eggs at all. It was actually more psychological than anything, I think, just picturing what the yolk could have become. Then I grew up. Now they're fine if they're scrambled or made into omelets or somehow fried solid with the yolk and white mixed, nothing over-easy! Hard boiled with salt is too dry. Deviled eggs are good too, but I haven't made them in ages. I just eat the ones other people bring to church potlucks and picnics. So, that's my opinion on eggs, for whatever it's worth.
Anyway, we got together with family last night and I was in charge of bringing salad. Yesterday afternoon, I mused to Shannon, "I wonder what the proper way is to make hard boiled eggs". He said, "Just boil 'em in water for awhile". When I didn't go with those directions, he switched to 'Google knows everything'. By the way, did you know there are entire websites about cooking eggs?! To make a long story short, I followed some online directions and the eggs turned out PERFECT! So, I'm going to write them here so I have them for future reference (you know, for when I make hard boiled eggs next year). And if you flounder around and guess every time you make hard boiled eggs, then this is for you too. I also learned a tip to keep that greenish color from forming between the whites and yolks.
Put eggs in a pan and cover with cold water. Water should come an inch or so above the eggs.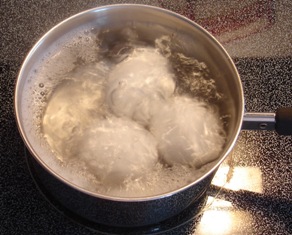 Bring to a boil over high heat, then turn burner down to medium and cook for 10 minutes.
When the 10 minutes is up, immediately drain the hot water and put them in cold water or ice water. I kept them in the pan and just rinsed them in cold water a few times till the pan was cold, then filled it with cold water. Let them sit in there for a few minutes, then gently crack the shells and peel them.

Tips:
—Getting them in cold water right away after they're done cooking keeps the yolks a nice yellow and cooling them down quickly keeps that greenish color from forming.
—For deviled eggs, to get the yolks centered, lay the eggs on their sides for about 8 hours (in the fridge of course) before cooking them.
—Don't use fresh eggs. They peel hard. Eggs should ideally be at least 2 weeks old when using them for hard boiled.
There is another way to hard boil eggs too. You can bring them to a boil, then take them off the burner and let them sit for 20 minutes. I actually made eggs twice yesterday because the first time didn't work. The yolks weren't quite done. I had used this method, but the directions said to let them sit only 10 min. There was another site that said 20 min, so I think that might be enough for the yolks to get done.
How do you hard boil eggs? Do you make them alot?