You can do so much more with food than just eating it. I mean, yeah, eating is usually the end result, but how about having a little fun first? 😉 It comes naturally, really. Kids do it without being taught… I remember using Bugles for fingernails, biting eyes and a mouth out of a round slice of bologna and using it for a mask, making roads with stirred up ice cream, shooting baskets with popcorn or M&Ms (in which the basketball net is your or your sibling's mouth), and best of all was peanut butter playdoh… you could form a bowl and spoon and peas in the bowl, and then actually eat the 'peas', and well, eat the spoon and the bowl, too.
Now, I play with food in a more grown-up way. So does my mom. She made garden meatloaf a couple weeks ago for a group of school children.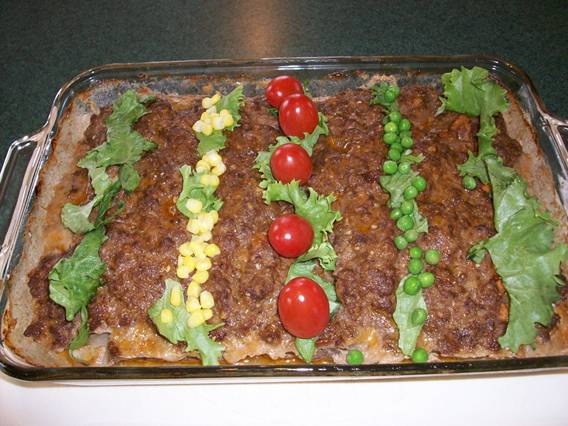 The middle 3 rows are obviously corn, tomatoes, and peas. The 2 end rows are potatoes and carrots, which are there, but underground, of course.

She made sure to put a potato and a carrot against the edge of the pan so you could see it from the outside. And that's not all… she put in mushroom pieces and the white ends of green onions and told the kids to look for slugs and worms. They had a heyday, digging through their meatloaf.
She also made bird-shaped dinner rolls, which were also a real hit.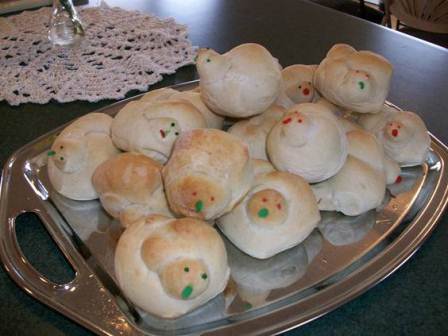 When Mom emailed these pictures to us girls, my sister Jan wondered if she had taken progress pictures. I thought that was a bit strange that Jan would need progress pictures because she has proven herself quite capable of creating in the kitchen with no directions (more on that later). Mom didn't have progress pictures, so, Jan, this portion of the post is just for you. Awww. 

Roll a rope about 7″ long. Tie it in a knot. Fan out one end and make little snips for tail feathers. Put a sliver of almond in the head for the beak and cookies decorations or bits of raisins or something for the eyes… I used cloves.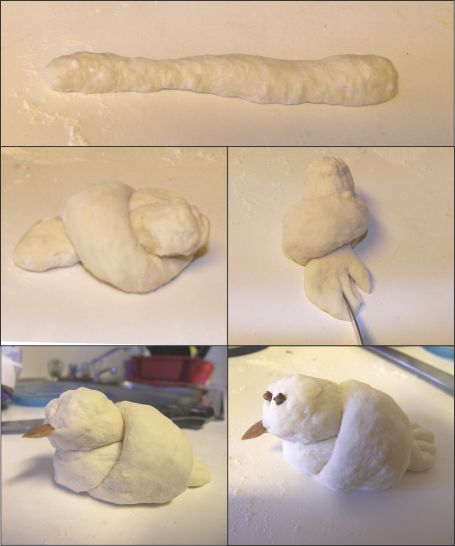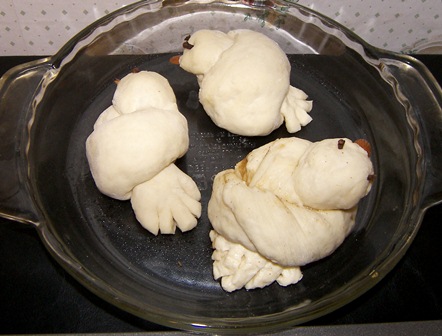 Let them rise and bake them. And TA-DA! fat little birds awaiting butter and jelly. Ok, that may be an unappetizing choice of words.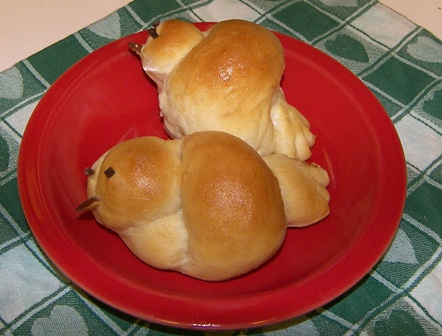 If you notice that the one bird (lower right in the picture with 3 unbaked in a pan up there) has some brown on it… I was making mini cinnamon rolls with this same bread dough, so I made a cinnamon roll bird by rolling the dough extra thin and into about a 4″ wide strip, spreading on butter, brown sugar, and cinnamon, rolling it up, cutting about 7″ off, and knotting it the same as the rolls above. Then, glaze it.
———————————————————————————————————-
Another Spring thing we did was Bird Nests. This portion should be a Cooks in Training post, since my little cooks did these. Melt 1 cup of chocolate chips with about 1/2 cup of peanut butter and mix it with 2 cups chow mein noodles. You can either spoon them onto a plate of some sort and then make a little indent for the eggs to go in, or you can do it like the girls did and put them in little containers to keep them round. They put them in the freezer for about 10 minutes to harden the chocolate, then popped them out of the container with a spoon, put eggs in and put a chic— oops, I mean, a BIRD on top. Really, who ever heard of a little yellow chick sitting on a nest… of COURSE that's a canary!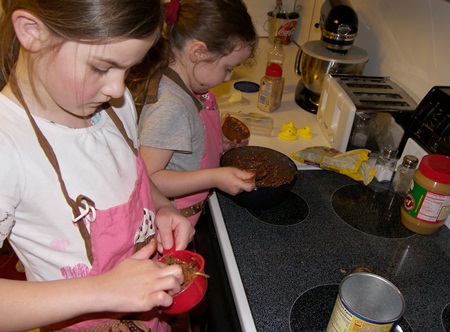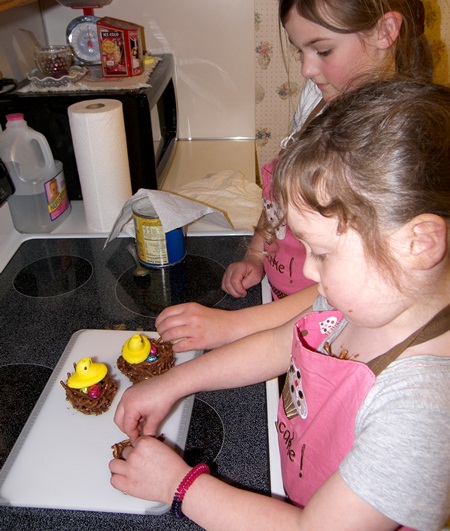 Uhhhh, is that what I think it is in Tiffany's apron? How did part of her nest get there?!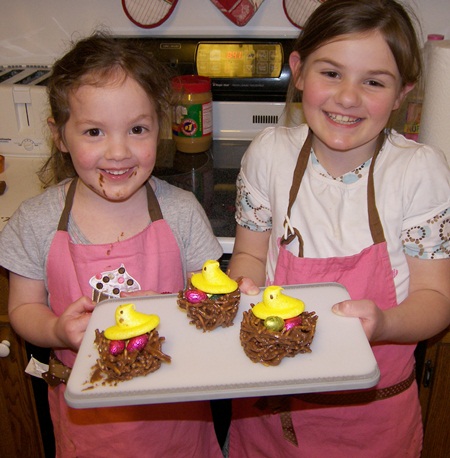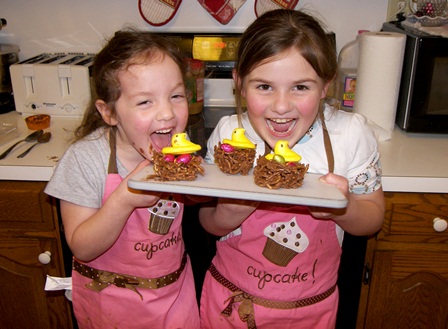 Then, they took them in the dining room to eat some and Lexi in a very excited voice said, "Mom! Come look! If you'd ever make a river cake with beavers, this would make a PERFECT dam! See? Doesn't that look just like a dam? All I did was flipped my nest upside down!" So, there you go… an idea for all those of you out there who are planning beaver cakes.

 Then, Tiffany flipped hers upside down on her chic-, uh, canary, and said, "Or, it would make a good hat too." I think it looks more like a turtle shell, considering the size ratio of hat to bird. Wow, the possibilities are endless with this chocolate chow mein noodle combo! Ha.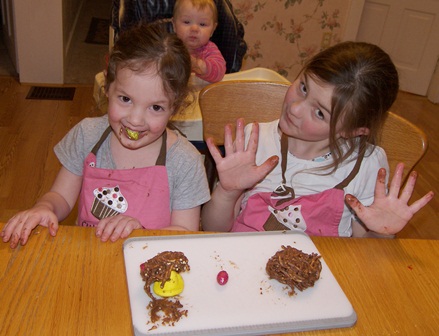 It tastes really good too. Could forget about the whole nest thing and just make these things and drop them on wax paper until they harden and you'd have a yummy snack. I'd double the amount of chocolate and peanut butter for that though. Meanwhile, Megan sits in her highchair, healthily eating peeled apple chunks.
—————————————————————————————————————–
Now, I want to add one more thing yet, even though it has nothing to do with Spring. It does, however, have to do with my sister Jan (who I mentioned up there) and playing with food (which I mentioned up there).  
Once upon a time, Jan won a contest. It was a Make Real Food Look Like Something Else contest from a few years ago on my cooking blog. If you feel like checking out the entries, here's the link: Contest
Jan won it fair and square, I might add… no rigging of votes by her big sister.
Here was her entry: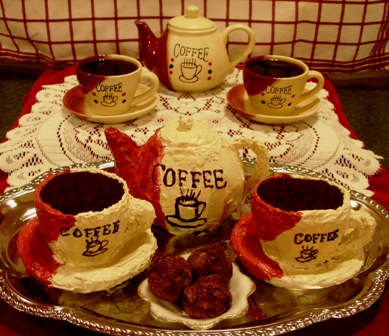 She has that miniature tea set  (in the back) as decor in her kitchen and made a little knock-off set from it. It's all cake and frosting except the 'coffee' is chocolate syrup and the cup/pot  handles are piped chocolate covered with frosting. She had some truffles on hand, so she put 3 on a plate to go with the coffee. So, this lovely detailed 5-piece tea set coming from a lady who sees bird-shaped rolls and asks for progress pictures?! C'mon, Jan!

As I was looking at these contest pictures again, I saw this, so I'll throw it in here because it DOES actually have to do with Spring. You could serve this for dessert at your garden-themed party…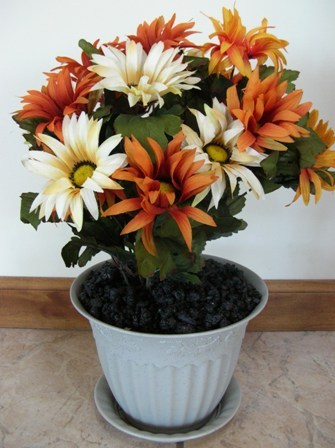 Dirt pudding, in which one of the ingredients is crushed Oreo cookies. I think this entry was submitted by Lavonne.
———————————————————————————————————————————————————————————————————————————————————————————————————————————————————————————————————————————————————————————————–
In other news, not really related to anything, but just something I'm excited about… I get to make a Lightning McQueen birthday cake tomorrow afternoon! I found this post with directions how to do it. 😉 The one tomorrow will have cake under the racetrack and maybe a couple other differences. We'll see how it all turns out, but the thing with having made it before is that I can learn from my mistakes.

Ok, people, take note. I am about to write a phrase that I have NEVER written before and that I will probably never write again. Ever.
White chocolate was better than milk chocolate. Oh, that sounds weird. Seems wrong. I feel like a traitor to milk chocolate.
But I made this cookie dough, split it in half, and added milk chocolate to one half and white to the other. When they were baked and cooled, I tasted them. In all my die-hard loyalty and love for milk chocolate, I'll have to admit that white chocolate just plain goes better with craisins.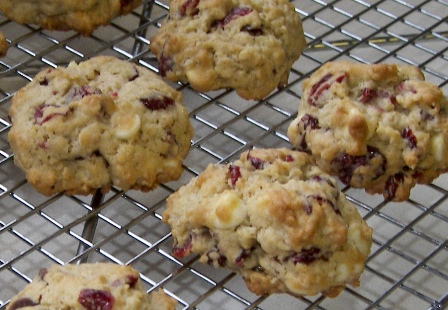 This all reminds me of a little conversation Shannon and I have had now and then about the museum at Lambeau field. I know, it might seem strange that chocolate reminded me of that conversation, but I have always loved analogies. Analogies help me understand things, see them in a different perspective. And this is an analogy… in which I am the milk chocolate, Shannon's brother Preston is the white chocolate, the Packer museum is the cookies, and Shannon is the taste-tester. In this conversation, we talk about his dream of some day going to Lambeau field and spending a day there going thro the museum, reading every piece of info and history, and when he does, it's not me (you know, ME, his favorite person ever) that he wants along …the person he wants to go with is his brother. Evidently, strolling thro' a football museum is not date material, holding hands as you go from one display to the next.?????

I do totally get it, though… I wouldn't want to browse Hobby Lobby and Michaels with him for a day. Things are always the most enjoyable when you get the right combo.
Like craisin cookies and white chocolate.
White Chocolate Craisin Cookies …recipe ripped out of either Taste of Home or Country Woman magazine, I forget which one
2/3 cup butter, softened
2/3 cup brown sugar
2 eggs
1 1/2 cups oatmeal
1 1/2 cups flour
1 tsp. baking soda
1/2 tsp. salt
1 6oz. package craisins
2/3 cup white chocolate chunks or chips
Preheat oven to 375. Beat butter and sugar together until light and fluffy. Add eggs, mixing well. Combine oats, flour, baking soda and salt. Add to butter mixture in several additions, mixing well after each addition. Stir in dried cranberries and white chocolate. Or do the taste-test for yourself and split the dough and try dark or milk chocolate.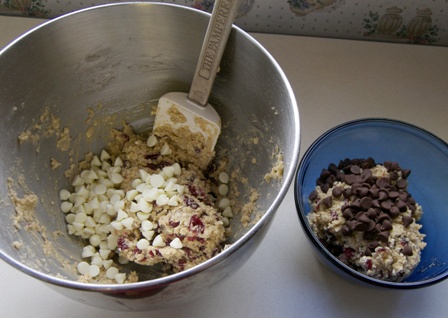 Drop by rounded spoonfuls onto ungreased cookie sheets. Bake for 10-12 minutes or until golden brown.

This made 28 cookies.
These are wonderful for Christmas! Or for any time of the year, since Christmas is about 11 1/2 months away… (read: didn't get it posted in time for Christmas). 😉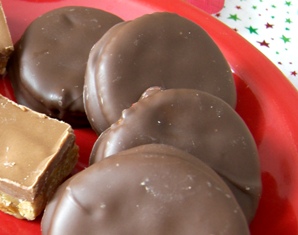 This is the first year that I've done so much chocolate dipping. Kinda fun. I was looking around for more stuff to dip… did you know mini marshmallows dipped in chocolate are good? And peanuts, of course.
I just wanted to put these dipped Ritz cracker things on here because I learned something with them.
First step is to put peanut butter on one side of a cracker. So, I got a knife, the pack of crackers, and the jar of peanut butter and went to work, spreading crackers with peanut butter. You wanna talk about tedious and hard to get the peanut butter even along the edges, plus not be messy with it!
I was about to stop the project when a lightbulb went on… I could pipe it on! So, I got a plastic bag, filled a corner with peanut butter, snipped of a little corner and started coiling it on till the cracker was covered. It really worked, but it took too long.
Then, the lightbulb got brighter and I snipped the corner off bigger and made a pile in the middle of the cracker, got another cracker, and pressed it down on top till the peanut butter was evenly to the edge of the cookie. Fast. Easy. Fun.
So, I started mass producing… laid a bunch of crackers out on the table, squirted piles of peanut butter on them all, then went through and pressed all the top crackers on. The whole batch was done in no time. Maybe you all already do it like that, but just in case there's someone out there going crazy, still spreading peanut butter with a knife and getting your hands messy, here you go.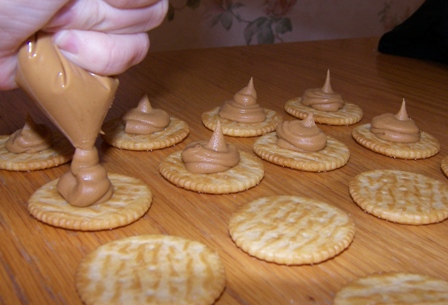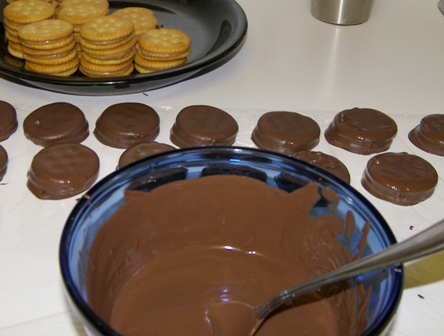 Before dipping, I put the filled crackers in the fridge because chocolate hardens faster when whatever it's about to cover is chilled. I don't know any secrets to dipping… I just dip them one at a time, dig them out with a spoon, shake of the excess, and put them on Saran wrap/wax paper to dry. I've thought of using a cooling rack and pouring melted chocolate over them, flipping them, and pouring more over, then catching what runs off and re-using it, but that just seems a bit too messy and I'd have to wash the rack and what if it wouldn't cover the sides right.
I want to make one more thing yet, then I think my Christmas cookie/candy making is done for this year… the first part of next week, I want to make Chocolate Chip Craisin Cookies… half of the batch white chocolate and half milk chocolate, and compare them. 😉 I decided to wait till after Christmas to post Lexi's birthday cake because I'm kind of in Christmas food mode, and her birthday cake has nothing to do with Christmas.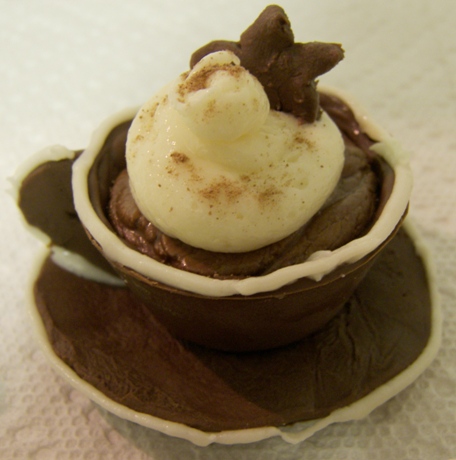 My sister-in-law Sheila had a birthday last month and her mom got her some teacup truffles from a local bakery. She was showing them off …notice I said SHOWING, not SHARING! 😉  
Here is a picture of them…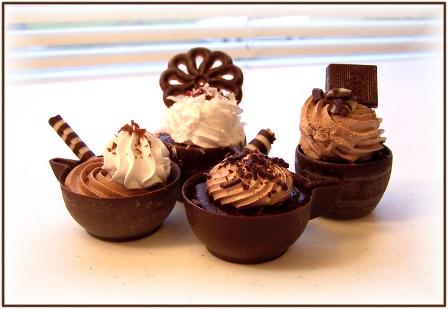 Aren't they adorable? As soon as I saw them, they went into my oughta-try-them-sometime cooking folder in my OneNote. By the way, Sheila took that picture. One of my Kitchen Scrapbook New Years Resolutions is to research food photography (lighting/props/angles/how to make it look good/etc) and practice and get to know my camera and aperture and focus and settings on it to up the photo quality a bit on here. I was planning to go online for that education, but it looks like I don't need to go any farther than our family gathering over the holidays to get tips… I love this picture! Looks like it came out of a magazine. Of course, the truffles look like they came out of a magazine, too!
I was at a cookie exchange today and I took a plate of candy instead of a dozen cookies. WAY more fun to make and nobody seemed to mind.

I decided this was my chance to try the teacups, thought it would be a cute touch to a candy plate.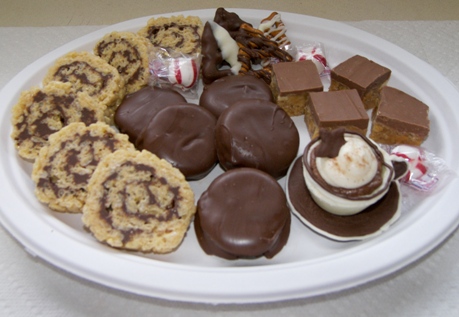 On the candy plate is:
— Rice crispy rolls
— Chocolate-covered Ritz crackers filled with peanut butter (to be featured tomorrow)
— Misc chocolate-coated/drizzled tree-shaped pretzels 
— O'Henry bars
— Chocolate teacup
— Store-bought peppermint candies
These teacups are not as hard and time-consuming as they may look. I want to make some more and next time, I'm not gonna go as crazy with piping trim on! Actually, I think I'll skip the piping altogether. I wanted them all coordinating with white and brown chocolate and I think it ended up looking too busy or messy or something. I think next time, I'd make the cup and saucer both the same monotone color. So, minus all that piping, these teacups were done in 7 steps, mostly easy steps:
1. Line the cups  of a mini muffin pan with white or dark or milk chocolate to form the cup part.
2. Make a saucer out of partially hardened chocolate.
3. Form a handle out of partially hardened chocolate and 'glue' it on with melted chocolate.
4. Fill the cup with fudge (that's what I did here) or truffles or mousse or whatever.
5. Pipe white frosting on top to look like whipped cream (remember that cup of frosting I had left over from the red velvet sandwich cookies? It came in handy here! 😉 )
6. Sprinkle the whipped cream with a bit of Nestles Quik powder.
7. Form a little decoration out of partially hardened chocolate or make a chocolate curl or use some other decoration for garnish.
Here are pictures and "What I learned" tips with each step…
Step #1.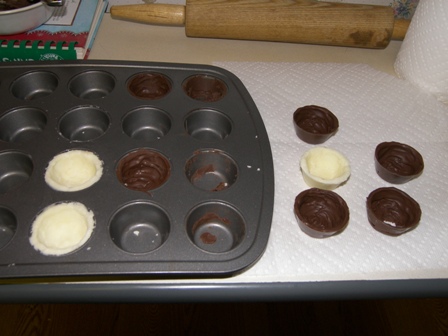 What I learned:
Grease the cups WELL.
The thicker the chocolate, the better… if it's too thin, the cups might break as you get them out (see the one in the front right has a hole in the bottom).
Chill before getting them out.
Best way to get them out is to push against the inside of the cup and turn it, when it comes loose, pull it out.
Step #2: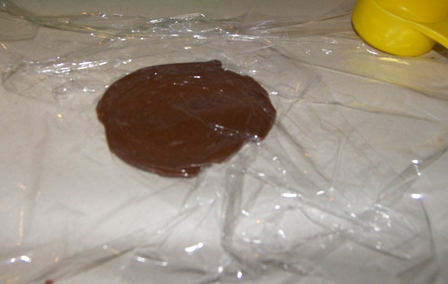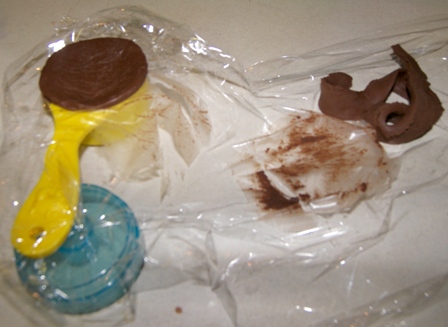 What I learned:
Use utensils/Saran wrap to do the work… using fingers melts the chocolate and creates a sticky mess.
Cut a perfect circle by using a round cutter… a drinking glass works great.
Lay the saucer on a measuring cup… it will sink down just a little in the middle to create a 'saucer' look.
The fridge was my friend. Chocolate hardens faster in the fridge. 😉
Step #3: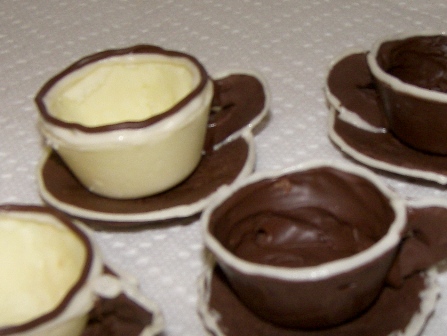 What I learned:
If the cups are chilled before putting the handles on, they adhere faster.
You need to hold the handle against the cup until the melted chocolate between them has hardened… otherwise the handle might fall off when you set it down. *rolleyes*
The rest of the steps don't have 'what I learned' tips because there were no issues/problems/lessons learned. That's a good thing. 

Step #4: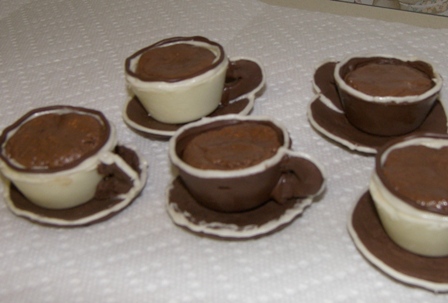 Step #5: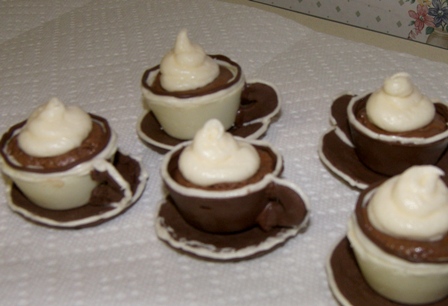 Steps #6 & 7: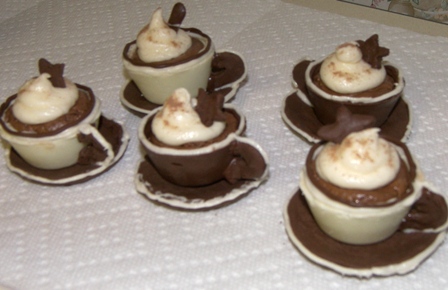 I made stars because, you know, Christmas. I thought stars would be easier than holly or trees or a wreath or a gift or a manger scene. 😉 I just made a ball, then flattened it, then pinched it in 5 places, then perfected the points. Haha, perfected the points? Then why aren't they perfect?! :p I guess I should've said I just made a ball, then flattened it, then pinched it in 5 places, then messed around with it till it looked more or less like a star.

Oh, and the one doesn't have a star, in case anyone noticed. It was the last one and REFUSED to turn out, so I ate it and just stuck in a random dripping from where I had drizzled the pretzels.
Oh, and here are the 5 plates of cookies that I came home with… Peanut Butter Kiss cookies from Rosalyn, Frosted Sugar cookies from Beth, Monster cookies from Sherri, Pumpkin cookies with caramel frosting from Rita, and White Chocolate Chip cookies and some coated party mix and chocolate-covered peanut butter crackers from Mary Esther. I love love love cookie exchanges!!! When else can you mass produce one thing and end up with a fun variety?!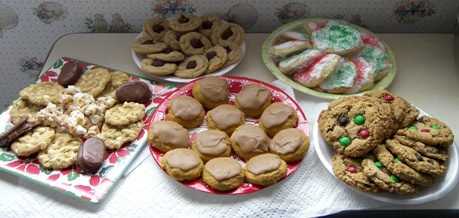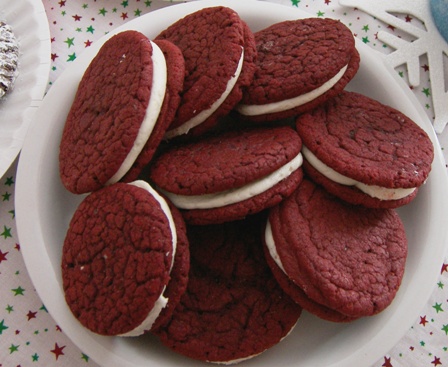 I was trying to picture a festive cookie plate to take to the cookie exchange. For awhile, I was waffling between White Chocolate Craisin Cookies and these. I ended up with these. I kinda got hung up on the white chocolate in the others, wondering if I wanted to 'waste' a couple batches of cookies on white chocolate… Shannon, maybe you should try them.

(Side note: This might be confusing to some of you because I have 2 Shannons in my life (my husband and one of my friends), both of which I refer to on here hit n miss, but if you know there are 2, you can usually tell which one I mean by the context. ;)) Back to these craisin cookies, I am planning to make a batch, and add the chocolate last, dividing the dough in half and adding white to one half and milk choc to the other.
 Wow, I just spent a whole paragraph writing about something that has nothing to do with what this post is about. Good grief.
First, before the recipes, I'll give amounts: I used 5 cake mixes, which made 9 1/2 dozen filled cookies, so I actually baked 19 dozen individual cookies. Me and baking 19 dozen cookies goes great together, I loved it… if it wouldn't make me gain 100 pounds, I'd bake every day. On the other hand, Megan (my 6-month old) and baking 19 dozen cookies does NOT go great together. Let's just say her naptime was blissful. Although, she thought it was bliss sitting back in a corner up on the counter playing with everything within reach (except toys). It's amazing how far a 6-month-old can reach, I found out! Anyway, I made the frosting recipe 3 times and had about 1 cup left over. So, I'll break this down for you to save you having to get out the calculator… 2 cake mixes would make approx 46 finished cookies (mine were anywhere from 2″ – 2 1/2″ across) and one batch of frosting would do approx 38 cookies… could become one of those deals where you make more frosting to use up the rest of the cookies, then you have too much, so you make more cookies to use up the rest of the frosting, then you have cookies left, so you make more frosting…… and so on.

Red Velvet Sandwich Cookies
1 red velvet cake mix
2/3 cup shortening
2 eggs
Mix. Shape into balls.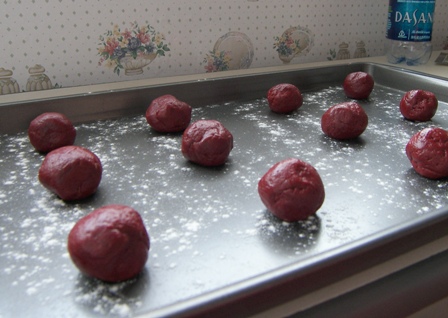 Bake at 375 for 7 minutes.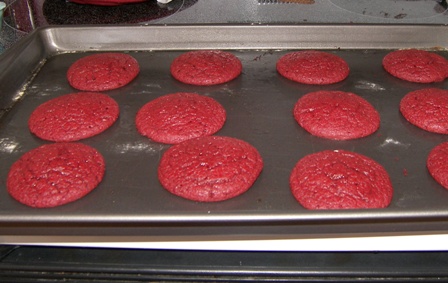 Meanwhile, this was going on…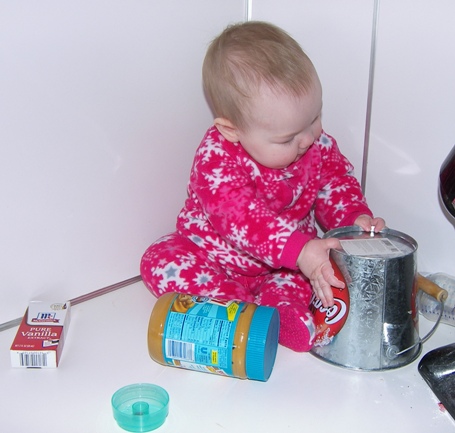 Marshmallow Creme Filling
2 sticks (1 cup) butter
1 7oz. jar marshmallow creme
3 cups powdered sugar
1 tsp. vanilla
Beat til creamy. Spread it on however you want, but I put it in a bag and piped it on. Easy and less mess!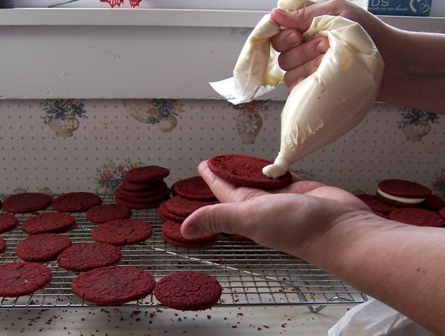 Put another cookie on top and you've got yourself a yummy little red velvet sandwich cookie!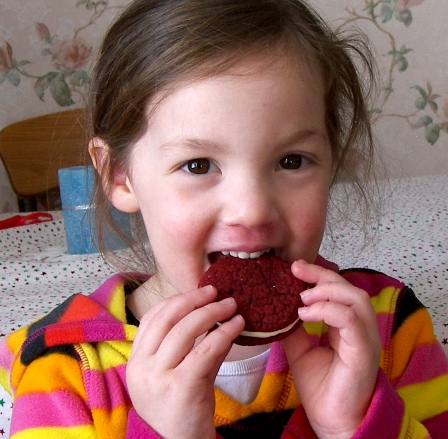 You know, I was just thinking, we could do all sorts of stuff with this because there are all sorts of cake mixes out there… use a white cake mix and put in green food coloring and have green sandwich cookies, make any kind of cake mix cookies and tint the frosting red or green, roll the assembled cookie in crushed red & white candy canes so it sticks to the frosting, dip half of a red velvet sandwich cookie in chocolate, mix up a white cake mix and a red velvet one and then fold them together til it's red & white swirled… any other ideas?