Probably most of you fit into 2 categories: rolling your eyes at all the red, white, and blue food and having "just grill me a juicy brown cheeseburger!" type of thoughts OR looking for red, white, and blue food ideas because you're hosting or taking food to a 4th of July party.
This post is for the latter category. 😉
If you want a cheeseburger, read this post instead (hmmm, not a bad idea actually, after looking at it to put the link here, makes me kind of hungry for a cheeseburger now!).
I bought a watermelon the other day. Among a few other fruits. It's summer. I think there's a rule that you need to have fruit on hand at all times during the summer. Or maybe it's just a personal preference.
With the 4th of July coming up, I was also trying to think of something 4th of July-ish to make, just because I like excuses to play with food… ha. I always think of raspberries or strawberries (red), bananas (white), and blueberries (blue) when I make patriotic food. I wanted something different, and that's when I thought of my watermelon I had just got. Watermelon actually has 2 of those colors! So, anyway, I ended up making a flag in the rind and used the watermelon for a fruit salad bowl.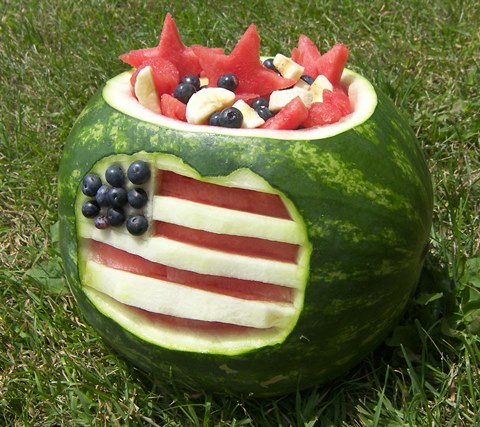 I'll show you how I did it. I'm sure this has been done before and there might be a better way, but this way was easy and quick. It was quick because I'm not a perfectionist. 😉
Slice off an area of green, the size you want your flag to be. Just a thin slice, you don't want to go deep enough to see any red! Not to sound mom-ish or anything, but be careful with this step! The rind is tough and slippery and while I was doing it, my knife slipped aaaaaaaand… I'm currently sporting a cut on my thumb from it.
Next, section off a box in the upper left corner for the star section. Then cut stripes. Slice underneath the stripes. Where the red stripes will be, cut the ends and you'll be able to lift the white rind out and tada! red stripe.
I know, I had to cut off a white stripe so I could get my knife in there, then I just secured it back on with toothpicks.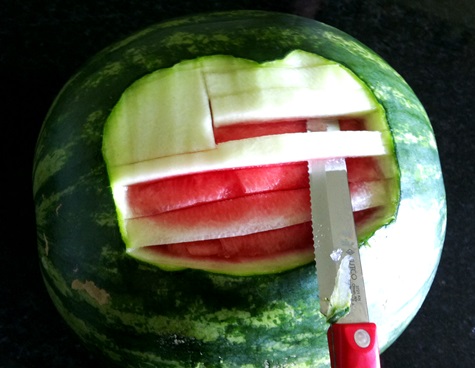 For the star section, I cut divots with the end of a vegetable peeler and then stuck blueberries in… some of them tucked snugly in and some of them had to be pinned in with a toothpick.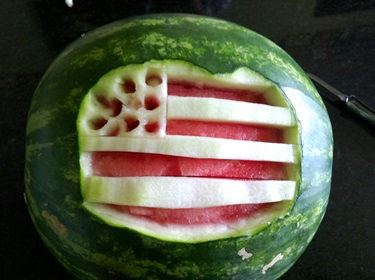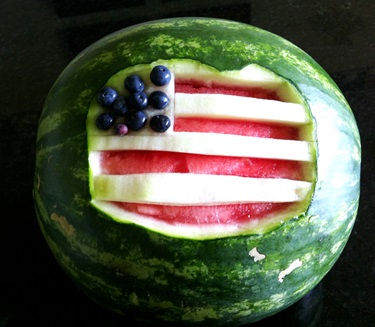 And there you go, a patriotic watermelon.

To make a bowl, cut a thin slice off of the bottom so it has a flat spot to sit on.
Scoop out the watermelon (but don't get too close to the back of the flag, it needs to stay solid red there).
Now, fill your homemade festive American bowl with fruit salad.
It could be any fruit mixture… I just added blueberries and bananas to the watermelon to keep it red, white, and blue, and cut a few stars out of some watermelon just for fun.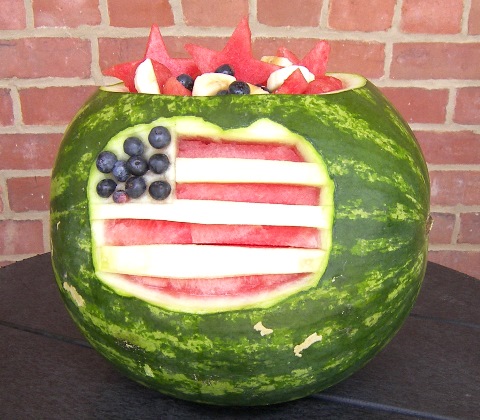 Breakfast on this Memorial Day…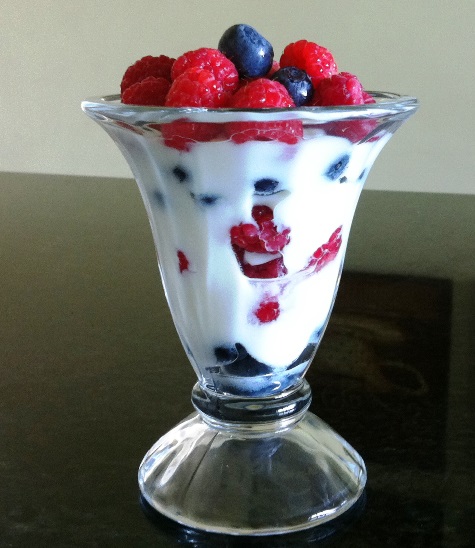 RED raspberries
WHITE plain unsweetened yogurt
BLUEberries
Remembering the many heroes who died for our freedom.
Happy Valentines Day!
I'm actually not sure yet what I'm going to do for our meal tonight. Can you say "last minute"? I like to at least acknowledge Valentines Day each year with a meal, but for tonight I'm kind of thinking regular food with Valentine décor and dishes. I'm really in the mood for Parmesan Chicken and I don't know how to make that heart-shaped without being too corny and chicken-wasting with a large cookie cutter and chicken breasts.
I'm not even sure why I said the corny part… that ship already sailed. Half of the stuff at Valentines is corny because we use our imaginations and anything goes as long as it involves hearts and red and love and "awwww". I think you'll see what I mean if you keep reading this post. 😉
Today I'm posting a meal that I made on a previous Valentines Day. So, if you're looking for some last minute ideas for tonight, here you go.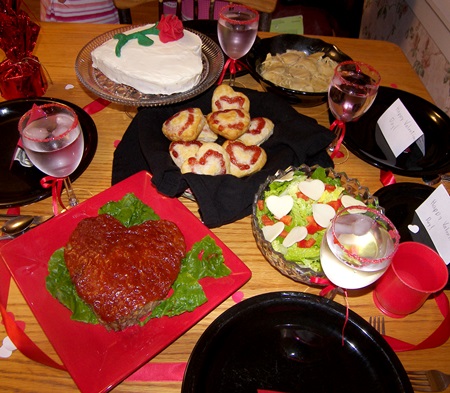 The menu was:
-Meatloaf
-Amish noodles
-Salad
-Biscuits
-Red velvet cake
Meatloaf
I used this recipe because it's THE *personal opinion alert* best meatloaf ever!! And I baked it in a heart-shaped pan. My mom used to always do that with meatloaf on Valentines Day.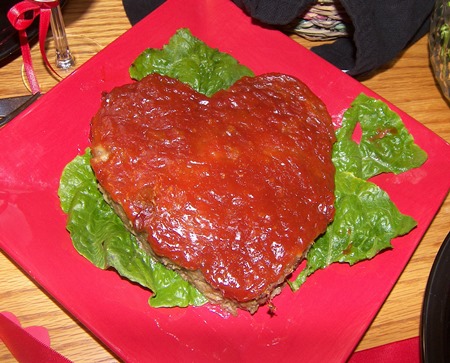 Amish Noodles
I made regular noodles and cooked a couple pieces of lasagna in with them. After it was cooked, I took a heart cutter and cut hearts out of the lasagna pieces and threw them back in with the noodles. When I dished it up, I pulled some of the hearts up to the top.
Here is the recipe for the noodles in case you'd like it:
1/4 c. butter
1 1/4qt. chicken broth
1 Tbsp. chicken base
1/2 tsp. Lawry's
8oz. homemade egg noodles
1/3 of a can of cream of chicken soup
Brown the butter. Add the broth and seasonings. Bring to a boil. Add the noodles and cook for 10 minutes. Add the cream of chicken soup, stir, put on lid, and turn off the burner, and let set 20 minutes.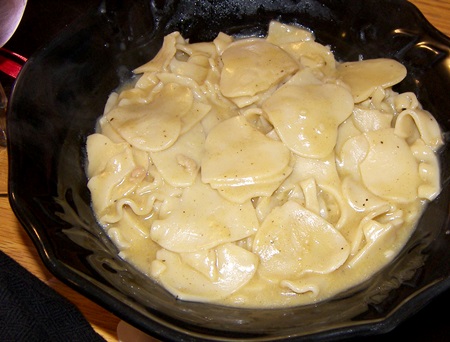 Salad
Another one from my childhood that Mom did… it's simply lettuce salad with little heart-shaped cheese tossed in it.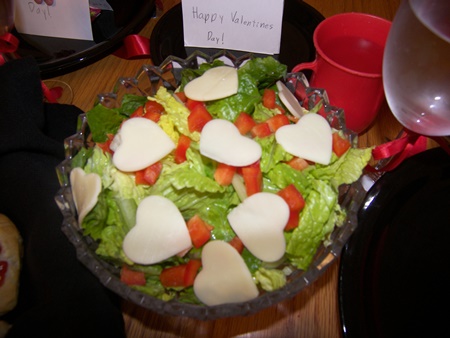 Biscuits with jam
I made regular biscuit and cut them out with a heart-shaped cookie cutter, and then just for extra color, piped a heart shape of jam on top before baking them (we ate more jam and butter with them at mealtime). The jam kind of got messed up in the baking process, but you could still tell what I was trying for.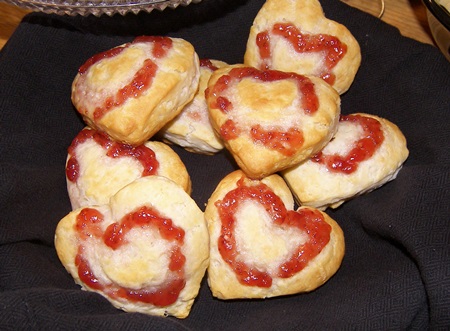 Red Velvet Cake with cream cheese frosting
I used this recipe, made only a 1/2 recipe and 1 layer, and made it heart-shaped instead of round. The rose is red and green candy melts. The rose tutorial is here and then I just sorta winged it with the stem and leaves.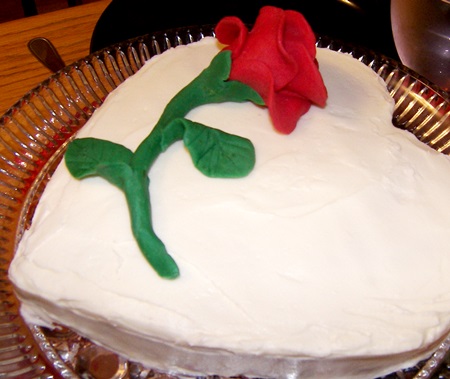 For the décor:
We put red ribbon around on the table and the girls used a heart punch to cut out hearts to sprinkle around.
We used goblets, dipped the tops into colored sugar, and tied red ribbon around the stems.
We had a red centerpiece (you can see the base of it on the first picture up there) that looked more or less like an explosion of spikes and hearts. Festive, but we didn't end up using it because the table was too full.
Lexi sneakily made Valentines for each of us and put it on our plates.
I really wish I'd have seen this Valentine note that I made to myself earlier because now it's too late because I don't plan to (or feel like) going anywhere today, but here is an idea I had tucked away for this Valentines Day and just found a bit ago. I'll put it on here though, because we're in the Valentine mode.
Remember what I said up there about corny? Well, here's a huge *corny alert*!
The idea was to put these on each plate:
For my husband: chocolate candy from our local bulk foods store that looks exactly like rocks, along with a note that says "You ROCK my world"
For Lexi (11): Starbursts and "I'm BURSTing with happiness that you're my girl"
For Tiffany (7): Gummy bears with "I love you BEARy much"
For Megan: (3): Suckers or smarties or anything sweet with "You're my little SWEETie"
Wishing all of you a wonderful Valentines Day, and thank God for all the ones you love!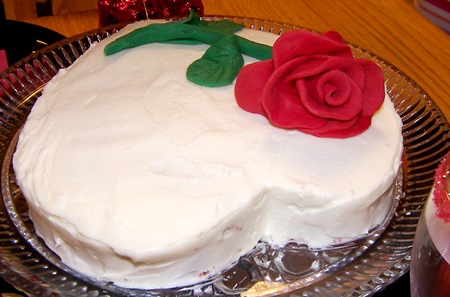 It's all the same thing… which do you call it? When I was a kid, we called it puppy chow. So, it will always be puppy chow to me. My kids seem to have heard it called monkey munch somewhere, in addition to me calling it puppy chow, because they call it monkey chow. Sometimes I wonder how foods get their names. This fun make-in-15-minutes-or-less snack has nothing to do with monkeys or puppies. Or buddies.
I'm going to post the regular recipe, but I'm also going to post a variation. It all ends up tasting pretty much the same. I tried it one time when we needed a puppy chow fix and we were out of chocolate chips. And it worked! Improvising when you need a chocolate fix and you're out of chocolate chips reminds me of no bake cookies. Been there done that. I have a confession to make… I often don't keep chocolate chips on hand for the sole purpose of not having to exercise as much self control. If it wouldn't be for chocolate in my life, I fully believe I wouldn't struggle with weight. Milk chocolate, that is. Why did they ever have to invent milk chocolate anyway? *she said, secretly thankful that they did because of the amazingness it has added to her life*. Dark or semi-sweet is about as tempting to me as, say, apples or something. Liz, I just now thought of you, my dark-chocolate-lovin' sister-in-law. So anyway, having milk chocolate chips in my cupboard are as tempting as having a stash of candy bars in there. I've tried to switch to baking with dark chocolate chips, but my girls happen to not like dark chocolate very well. Hmmm, I wonder why.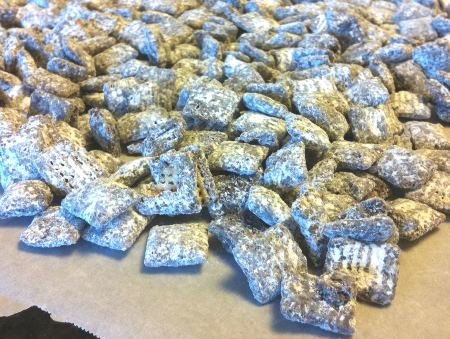 Puppy Chow
9 cups Chex cereal
1 cup chocolate chips (variation: melt 6 T butter and stir in 1/2 cup cocoa powder and 1/2 cup sugar)
1/2 cup peanut butter
1/4 cup butter
1 tsp. vanilla
1 1/2 cups powdered sugar
Put chocolate chips, peanut butter, and butter in a bowl and microwave for 1 minute. Stir. If it's not all melted, put it back in the microwave for 30 seconds until it can be stirred smooth. Stir in vanilla.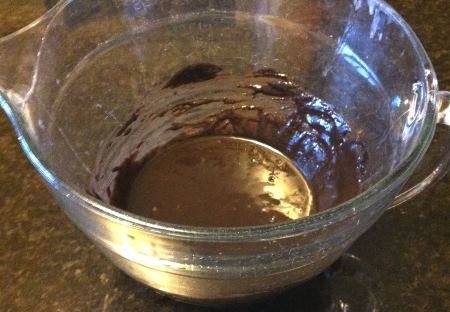 Dump Chex in and stir until coated.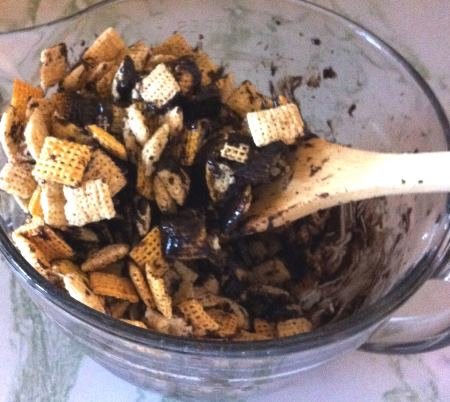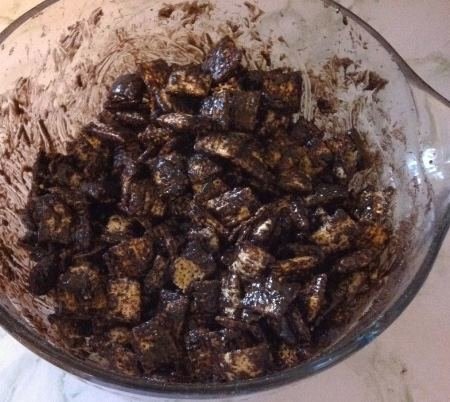 Pour into large ziplock bag, add powdered sugar, and shake to coat.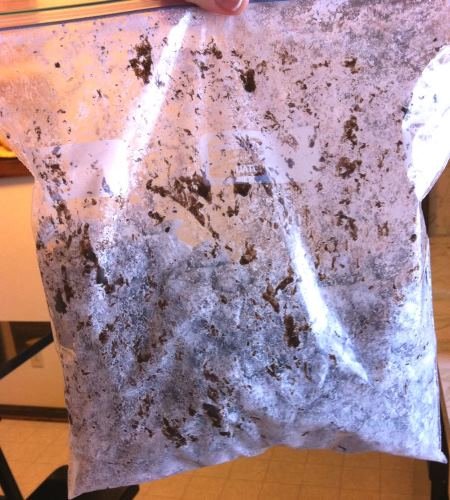 Spread on waxed paper to cool.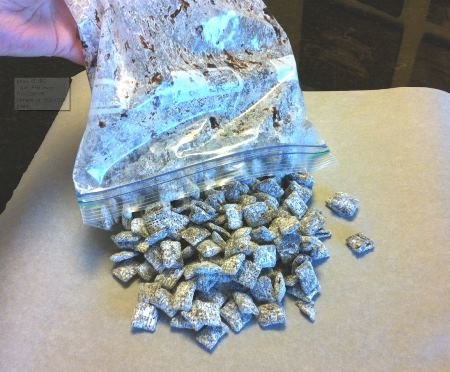 At this point, the puppy chow is dangerously vulnerable to kids, who magically appear in the kitchen while it's cooling.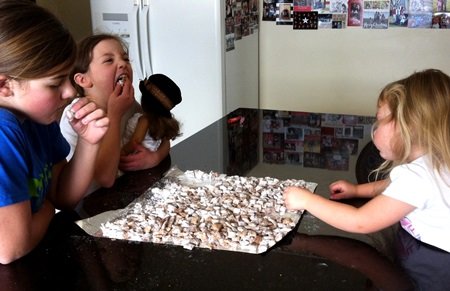 Liz and I were talking about puppy chow over the holidays because I was going to make it when she and a bunch of other family were here (but then didn't because there were SO many snacks already sitting around) and she said she stores it in the freezer because it gives it extra crunch. Crunch is a good thing. So now I store mine in the freezer too.
If it makes it to the freezer, that is. (Refer to cooling picture above.)
It's July. And it's blitzin' hot! Right now, mid-evening, the thermometer says 89 degrees. Perfect… it's July.
The girls and I had some red, white, and blue fun today. This is when we were ready to start. Excitement was high. I had a few ideas, but I didn't know what the end result would be… there was gonna be alot of experimenting going on…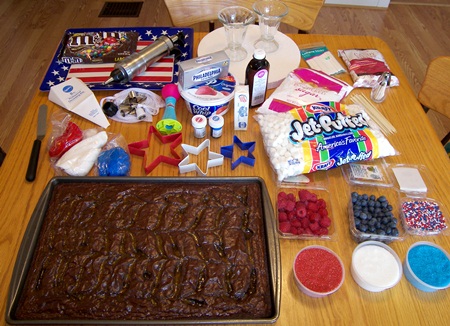 And here was the end result: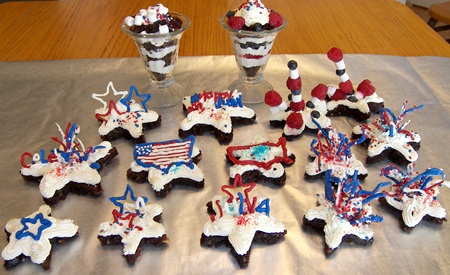 It's basically 4 different things… parfaits, berry shish-kabob decorations, fireworks, and randomly decorated brownies.
I made a big pan of brownies and then cut them out with star cookie cutters. I thought that would be faster because my star baking pan has only 6 wells and I'd have had to bake 3 or 4 batches. But, having it to do over, I'd use the star pan. You know how brownies kind of stick to the knife when you cut (unless you use a plastic knife)? Well, they stick to cookie cutters too. It wasn't too bad, though, and worked fine, but next time, I'll use my star pan.
Or, instead of brownies, it could be done just as easily on sugar cookies, cupcakes, or mini cupcakes.
The parfaits…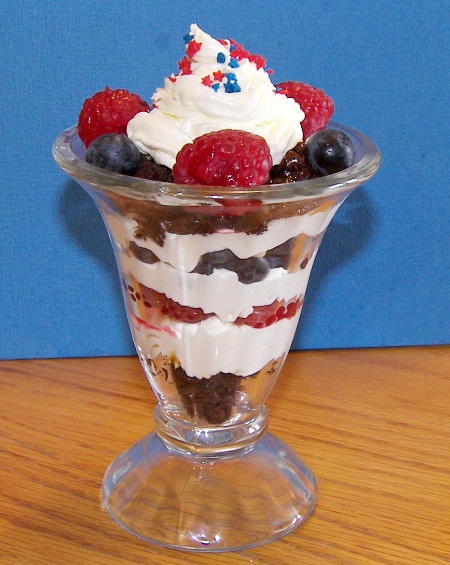 The parfaits tasted awesome and were easy and could be made in a large pedestal bowl instead of individual parfaits. This one is a layer of brownies, then cream cheese filling, then raspberries, filling, blueberries, filling, brownies, and then you can either put Cool Whip or filling on top and garnish with a bit of fruit and sprinkles. You could make a pan of brownies and cut them up into little squares to make this, or you could do what I did and use the brownie scraps left over from cutting out star brownies. 😉 The filling is: 8 oz cream cheese mixed with 1/4 cup powdered sugar, then that gets mixed with 8 oz Cool Whip.
The fruit shish-kabob decorations…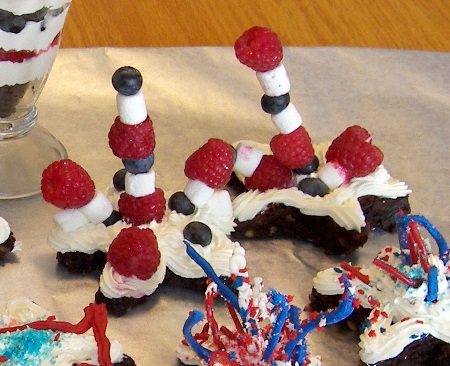 These shish-kabob things had serious issues… they kept falling over. We had to keep standing them up before each picture. We originally thought we'd try to make them look like fireworks, but we kept lowering our standards til our only requirement for them was to be red, white, and blue. We should've just skipped the sticks and made a mound of fruit on top. Oh well, the girls had fun stabbing the stuff on… and obsessing about making sure to get them in the right order of red-white-blue… but one time, one of them asked, "Mom, would blue-white-red be ok, as long as white is in the middle?" See? Obsessing. And you know what TOTALLY makes my day after all that fuss? I didn't notice it before, but just now I see that on the one tall one, it's red-white-blue-white-red-blue. 😉
The fireworks…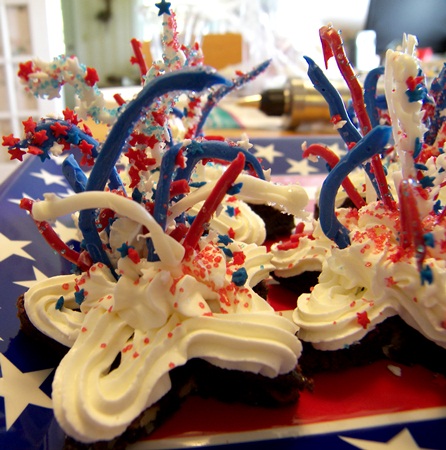 Oh, what fun! Didn't turn out quite like I had pictured, but that may be because the girls did most of it (also not what I had pictured) and I mostly just did damage control. We colored white chocolate blue and red and then piped the 3 colors on Saran wrap over a cutting board, then sprinkled on some colored sugar and star-shaped sprinkles, and put them in the fridge to harden.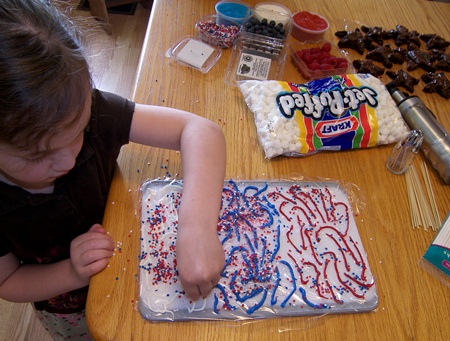 After 15 minutes or so, they were hardened and ready to assemble, which included jamming the sticks into the frosting on the brownies. Does 'jamming' sound a bit harsh for delicate little chocolate sticks? Yep. Harsh, but accurate. 😉 I really should've taken a video clip of that process… it was hilarious to watch and listen. 😆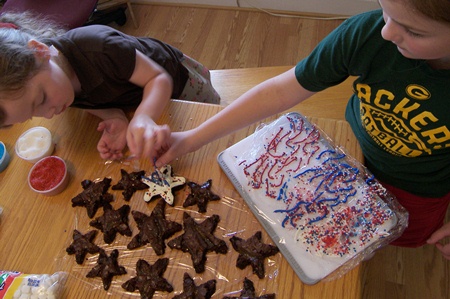 So, did it end up looking like fireworks? I don't know, but we at least have to give them credit for creating something that looks like some type of explosion…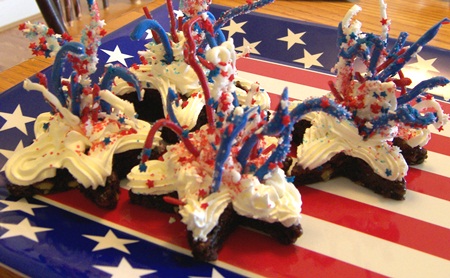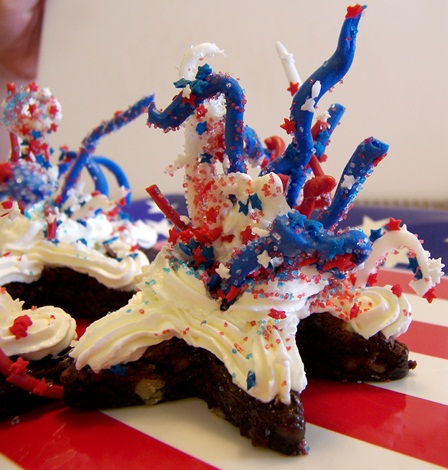 The randomly decorated brownies…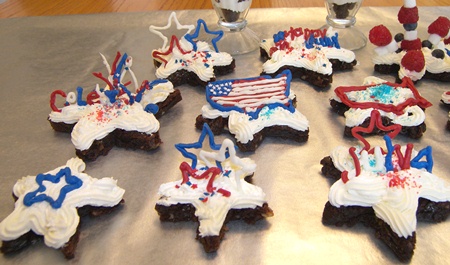 This was fun. I got an inspiration for this that I'll do more in the future for any occassion. Make a page on the computer of writing or shapes or outlines or whatever. Then, print it out and put it on a cutting board under a piece of Saran wrap. Then, pipe over it with chocolate. It'll make writing more even and shapes more accurate. Here is the Before/After…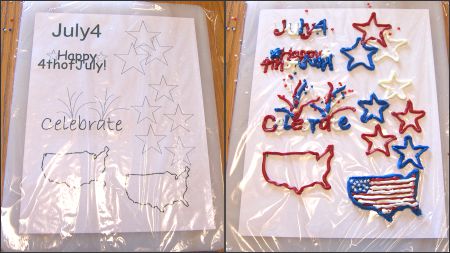 Then, put it in the fridge to harden. Peel off and garnish. The possibilities are endless with this print-out-and-pipe-chocolate thing! One tip is to make sure it's pretty thick. Another tip is don't hold it very long before putting it on because your warm fingers will start to soften it and it'll weaken and break.
Here are a couple of close-ups. Next time, I'd make an extra little thing sticking down to go into the frosting because, like July 4 down there, the Y looks like a V and the 4 looks like a triangle.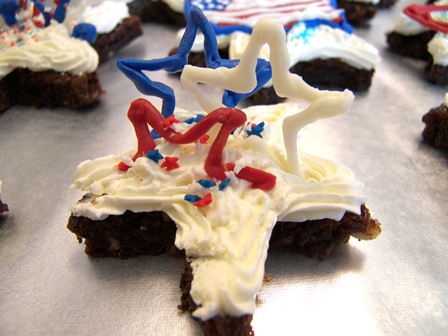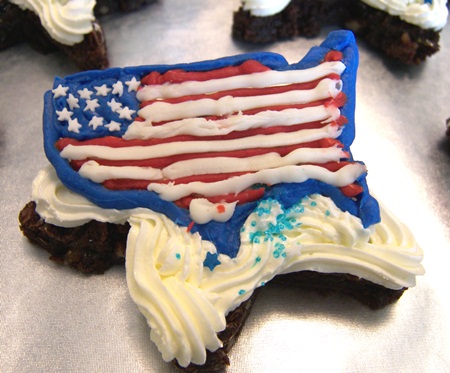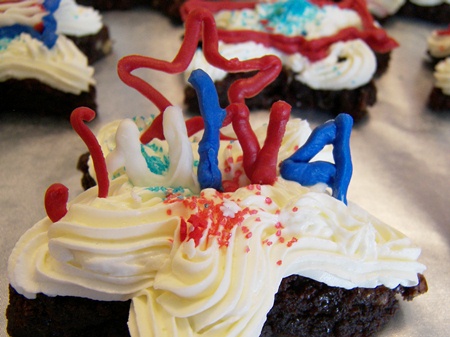 And, last but not least, United States rice crispy bars. After cutting it out, I put all the scraps together and re-flattened it out and cut out stars, then, sprinkled colored sugar on top. The flag is M&Ms… I had the kids separate out all the blue and red ones from a package.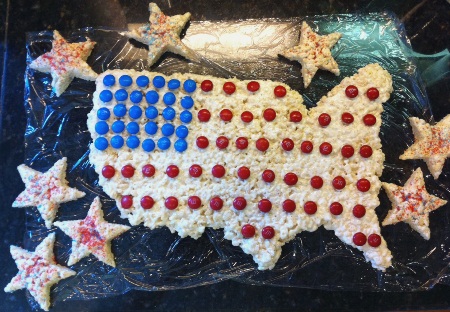 I used to have a plastic United States shaped mold. I had put it away for the year and when I went to get it out this year, something heavy was laying on it (a 15-lb dumbell, to be exact… yeah, don't ask, I have questions myself!) and it was hopelessly smashed. So, I just cut this freehand. The top does look a little odd from Michigan to Maine, but hey, you can at least tell what shape it's supposed to be, right?
Happy 4th of July from all of us! (even from Shannon, who was at work when we self-timered this picture)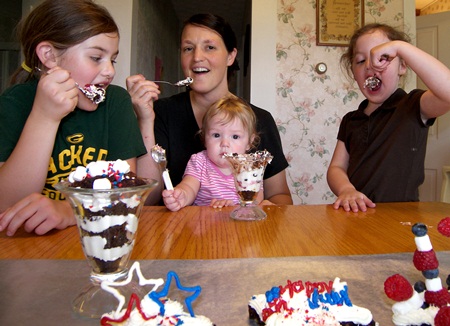 Excuse us for eating in front of you, but we couldn't help it when we saw that parfait sitting there. We're going to kick back and relax this weekend, maybe grill a burger or two and watch some fireworks. See ya next week!