Being a mom and having guilt go together like pancakes and syrup. It just goes with the turf. You wake up in the morning and right away you can think of things to feel guilty about. I should spend more time… I should not have gotten upset when…  I shouldn't have let them… Maybe we should give them… I should be getting up, what with the baby yelling for me from her crib and all…
If you get that first paragraph, then you know what I mean when I say how it makes you feel when your children make good choices… despite all your mistakes, something is getting through.
Well, here's my little triumph in the food dept… my girls count Grilled Chicken Breast Salad as one of their favorite meals. We have it at least every other week. It's hard to get a healthier meal than this, really… fresh veggies, hard-boiled egg, lowfat mozzarella cheese, some croutons, and grilled (not breaded or deep-fried) chicken breast. In the tortured mental games that I sometimes put myself through, them liking salad seems like it, in some way, compensates for the times I say yes to ANOTHER piece of candy or that lazy Saturday when we had ice cream cones for breakfast (hypothetically speaking, of course, not like any responsible parent would ever actually allow that, or do it herself), or those times when I let the girls fend for themselves for lunch and it's anything but a square meal, a triangle meal at best.
Chicken Breast Salad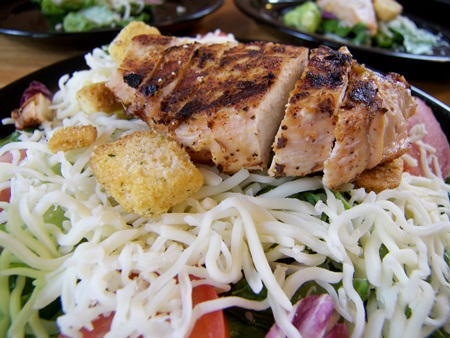 I'll show you how a meal that involves grilling is a joint effort for us… I'll color code it just to humor myself.
Shannon's 1st job: Starting the grill, either charcoal or gas. This particular time, he used gas because it gets ready faster.
My 1st job: Thawing the chicken breast. Here's how I do it. It goes from freezer to thawed in 5 minutes… which is good news to any of you who don't always plan ahead and don't get the meat out the night before to begin thawing!  
Take this out of the freezer: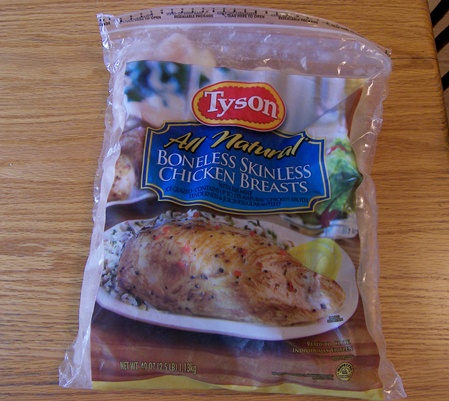 Put the frozen chicken pieces out on a dinner plate.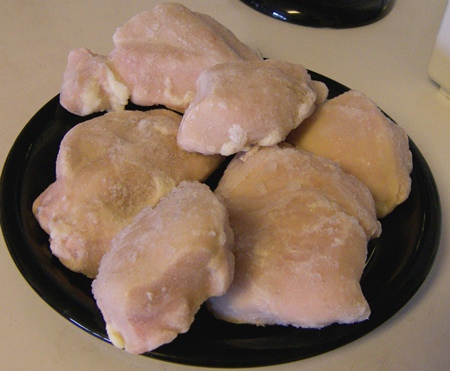 Put the plate in the microwave on High for 1 minute. Flip the pieces, reposition them so what was on the outside is now on the inside, and if one was on top, don't put it on top the next round… in general just move them around at random.
Repeat that step 4 more times. If we're having rolls or breadsticks to go with it, during those minute intervals is when I'd be getting them in the oven. Trim off some fat and drain off the juice. Your plate of chicken breasts should look like this, thawed and ready to hand over to the master of the grill.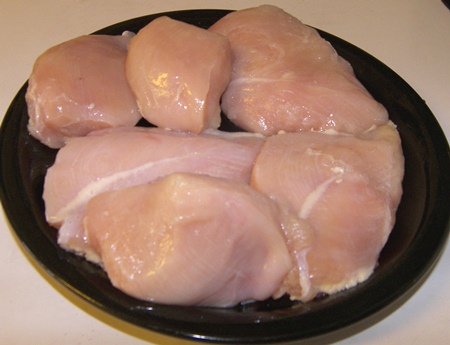 He seasons them with Chef Paul Prudhomme's Blackened Steak Magic seasoning. You can season more boldly when it's going on a salad than if you'd be eating the meat by itself. If you notice the 2 small ones with little seasoning, those are the ones the girls will eat. Their tastebuds seem to not be mature enough yet to handle the extra kick, so theirs get only Lawry's Seasoned Salt and I think Shannon might sprinkle some Lawry's on ours too. And then he puts them on the grill.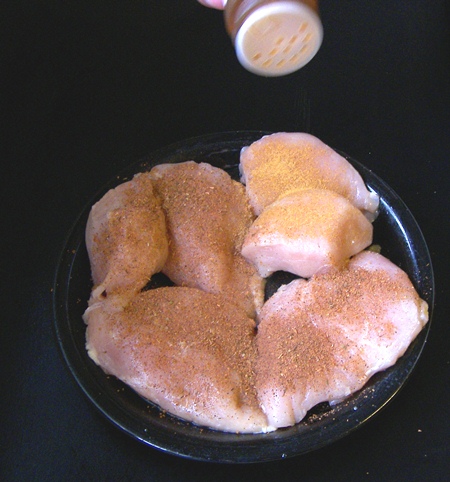 Meanwhile, I'm making salads…
Lettuce
Tomatoes
Mushrooms
Hard-boiled eggs
Shredded cheese
Croutons
Whatever else you want or have on hand like Carrots, Bacon, Italian seasoning, whatever. And they don't all need to be the same… personalize them to each person's taste.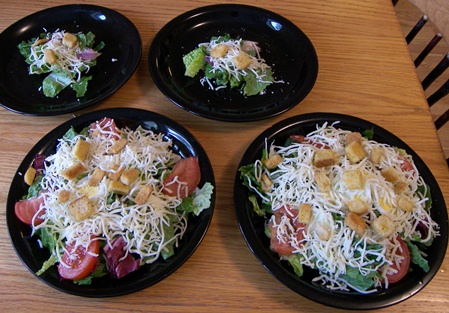 Looks kinda refreshing on a hot day, huh?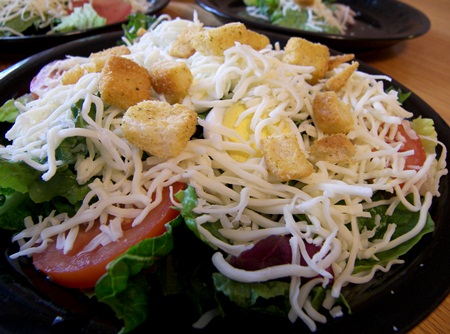 Meanwhile, the chicken is on the grill. I left my salad-making and followed Shannon out to the grill when he went out to flip them…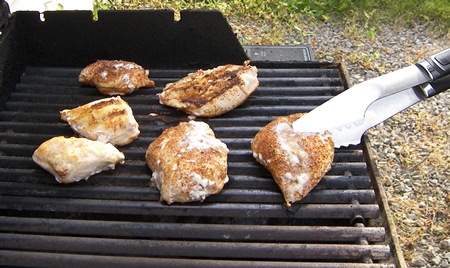 Those of you who want to make this salad, I hope you sorta know how to grill chicken breast because when I asked Shannon what he did and how and time on the grill and stuff, I got very sketchy details, but I also got some great tips.
For example, I asked how long they were on before he flipped them and he didn't know. He said you need to be on the edge of your comfort zone with it, though, and not overdo it. He said alot of people freak out about making sure chicken is done and then end up with dry rubbery chicken. You want it so it's just so done, not pink anymore, and juicy. So, of course, I asked how to know when that is and he said, "You just go by instinct."
So, yeah, good luck with that.
You could use a meat fork thermometer. Shannon used to have one, but hasn't for quite awhile because, uhhhh, one time yours truly immersed it in water because the handle was messy and, you know, of course one time of immersion wouldn't matter… famous last words. Yet, grilled chicken breast around here always ends up being perfect… done, but still juicy.
My only job left is to get out the cutting board and the knife… HIS knife, I should say. Yeah, we each have our own knife this size and we each think our own is THE best. Sometime, I should put them both on here and take a poll. I'll best mine would win because, if for no other reason… it has a case! 😉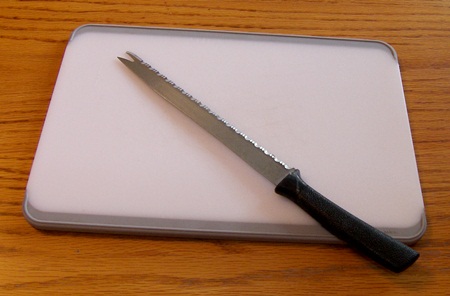 Soon, he brings the chicken in, slices it,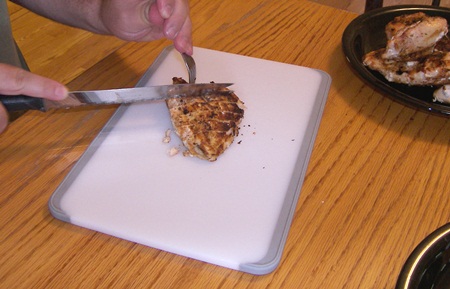 and places it on top of the salads.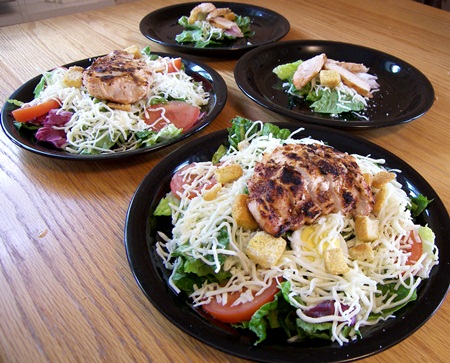 Zig-zag some Ranch dressing over it…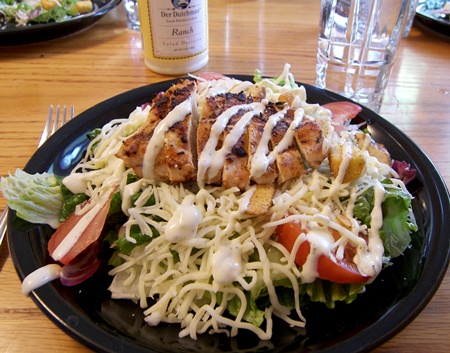 And dig in!
You don't think this salad is so healthy that it could actually take away those cavities caused by the extra pieces of candy, do you?
Hi again! It's been awhile! The 'famine' on here doesn't mean we haven't been eating! It means that the last 2 weeks have been abnormal weeks as far as cooking goes, with company and then being busy with a booth at a Home and Garden show. Not a cooking show booth, by the way. 😉
We were selling these: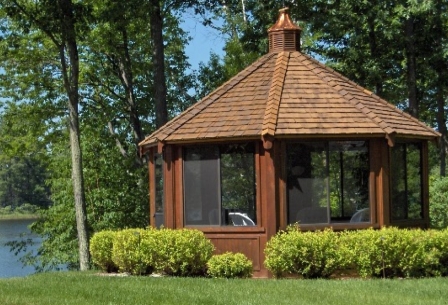 Anybody need a beautiful cedar gazebo in your yard?
I do love those little cooking show booths at shows though, even though the chefs always use the same lines and the same jokes. It just amazes me how they can talk AND cook at the same time! I think I'm a bit too absent-minded for that. And the cookware that cooks stuff without water… Wow! And the food doesn't burn… Wow! I have a hard enough time WITH water! Tonight while we were making supper, I even burned a piece of toast (not in water though… see, that's what happens when I cook without water)! Yeah, WE were making supper, not ME… because it involved grilling and that is my husband's territory.
Here, I'll show you what we ate tonight: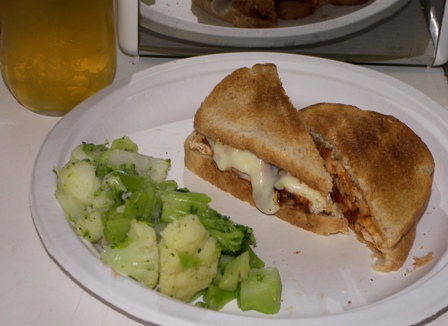 We're always trying to think of new things to do with grilled chicken breast besides chicken breast salad, shishkabobs, or just eating it plain w\ bbq sauce. This sandwich is actually along the lines of the Open-faced Pork Chop Sandwich that is a specialty around here.
Grilled Chicken Sandwich
Bread
Chicken breast
Provolone cheese (or cheese of choice)
Barbeque sauce OR dijon mustard
Toast the bread. Season and grill the chicken, then chunk it up.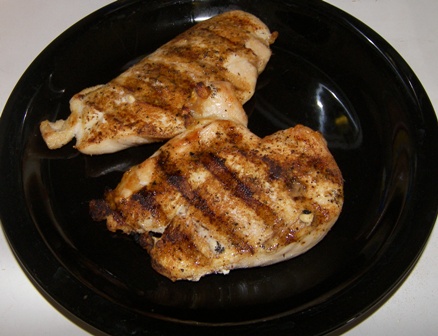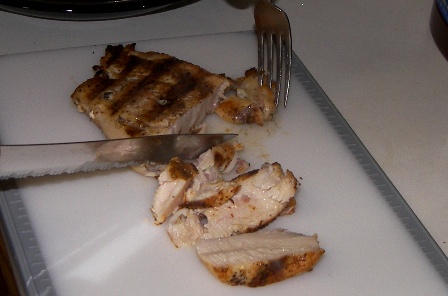 Assemble in this order: Toast, chicken, bbq sauce or dijon mustard, cheese, toast.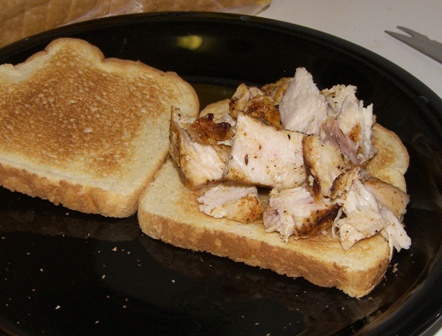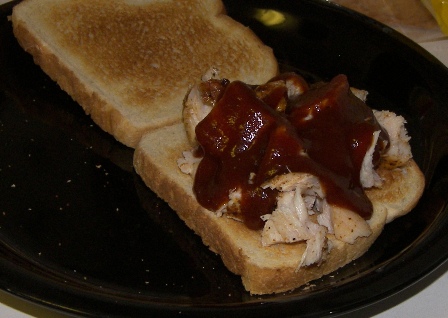 OR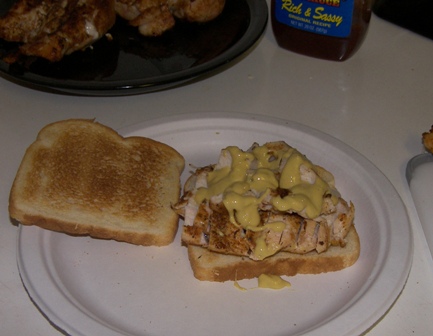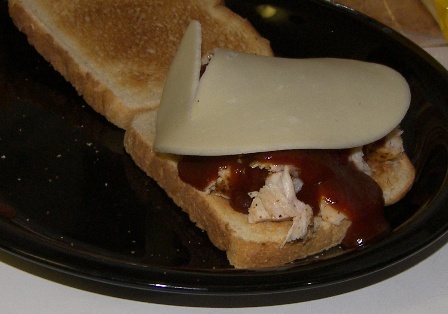 Microwave for about 1 minute, 2 min if you're doing 2 sandwiches.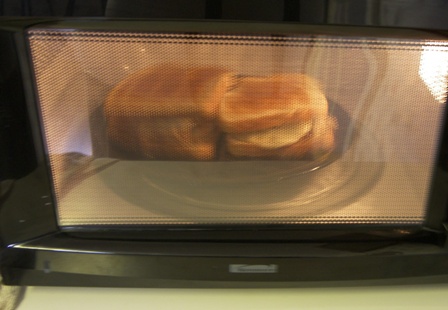 And… enjoy!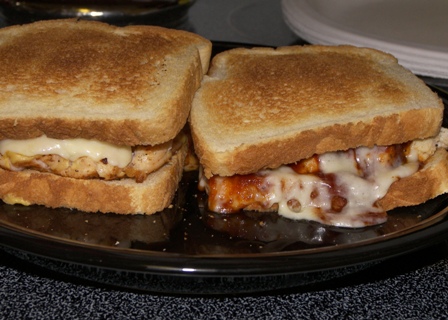 Mmmm, so good and so easy and so quick and not much cleanup!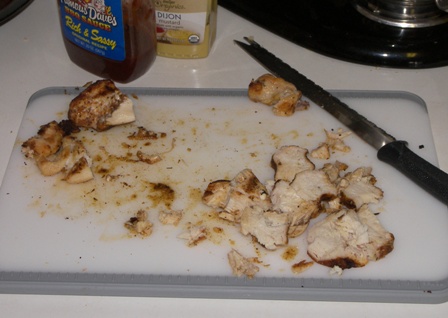 Wouldn't you just like to snitch a piece? It's flavored SO good and is nice and juicy! Not sure what seasonings he used.  Edit: He just said he used Cajun Black'n seasoning from the Bayfield Spice Company in Rhinelander, WI.
So, what happened then is that Kitchen Scrapbook ended up totally missing Christmas! I was living the moment, er, moments, surrounded by family and making food and snacks without blogging about it.
You know how when you get a whole bunch of Christmas cards in a row, 4 one day and 5 the next, and then it tapers off towards the end of December and then no more cards and then the 2nd week of January, you get another Christmas card? Well, that's how this post is… the other blogs you read have posted Christmas now and are switching from red & green colors to January blue and New Year's resolutions, but here, we're pulling you back to Christmas…
First, we have Pretzel Turtles


I got this idea from Judy on a message board that I frequent. Take small pretzels and put a Rolo candy on top of each one. Then, put them in the oven for a couple minutes at 350. When you get them out, immediately press a pecan half on top of each Rolo. Yum! They went over very well here!
We also had monster cookies, party mix, and gingerbreadmen: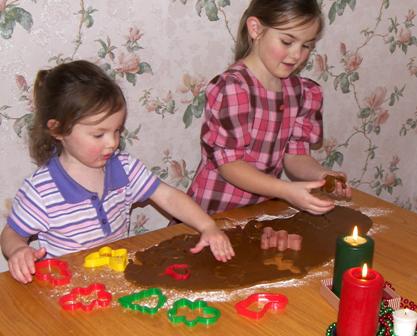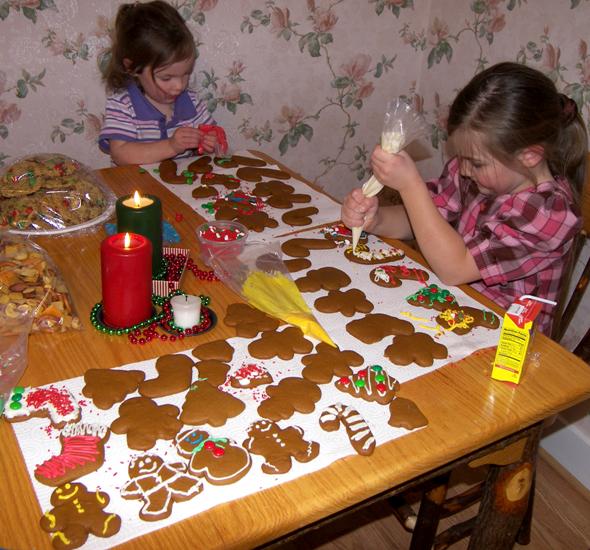 Lexi said, "Mom, look! I made twins!"…

Hmmm, someone samples cookies as she decorates…

And then onto our Christmas meal…
Here was our menu:
–Mashed potatoes and gravy
—Ham, rotisserie on the grill
–Noodles
–Baked corn
–Candied sweet potatoes
–Corn chip salad
–Rolls
–Jellied cranberry sauce
–Pies (pumpkin, lemon meringue, and peanut butter)
This is my husband, making some awesome ham…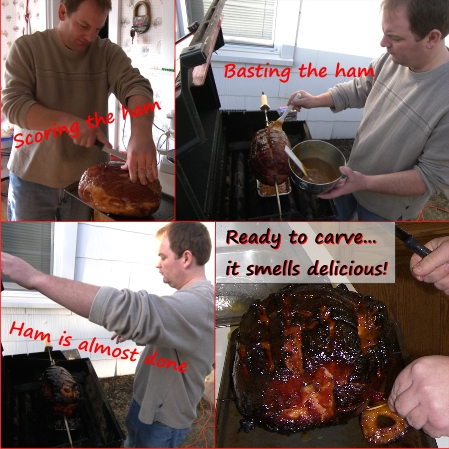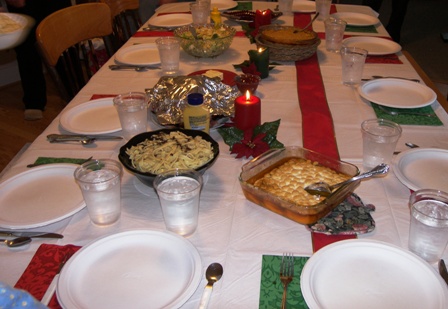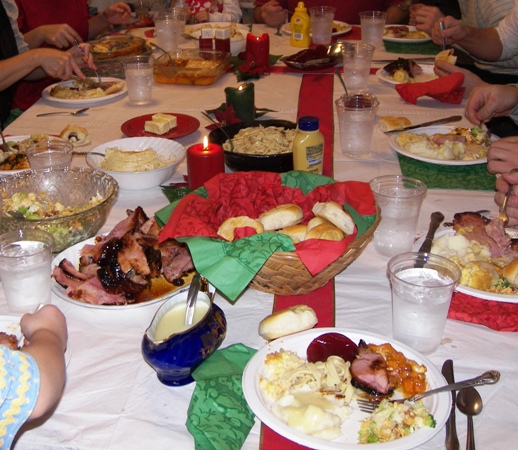 Missed the pies before they were eaten…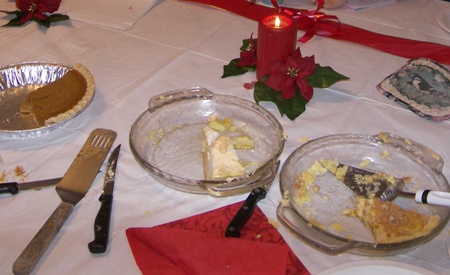 Pictured in the picture right under the ham collage is the candied sweet potatoes. I was trying to make a knock-off of Texas Roadhouse's loaded sweet potato. I baked 3 sweet potatoes, peeled them and put them in an 8×8 pan and mashed them with a fork. Then, melted a stick of butter and stirred in some cinnamon and about 1/2 cup of brown sugar, poured it over the potatoes, put a layer of marshmallows on top, then baked it at 350 until the marshmallows were browned. It was GOOD!!!
In addition to food, our Christmas consisted of gift opening, football throwing, baby holding, and much more…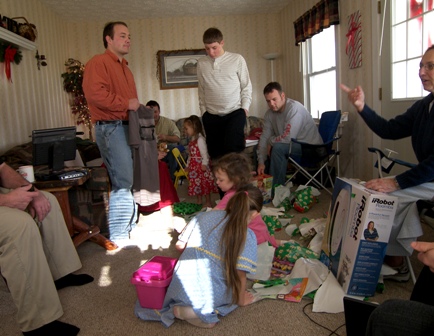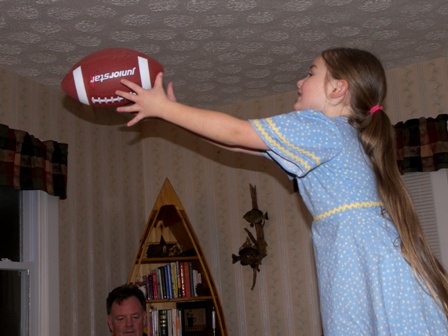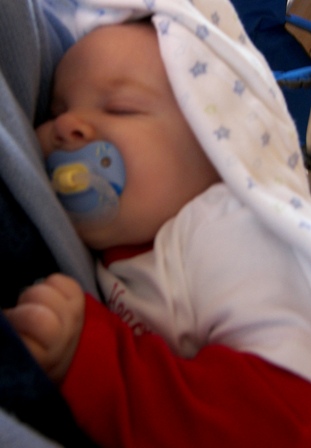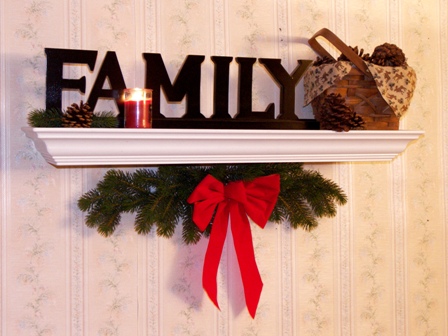 How are you spending the holiday? …Going out on the lake? …Firing up the grill? …Getting together with family and friends? …Going out to watch fireworks? I don't specifically remember not watching fireworks any year, but I'm sure there was a year or two missed in there somewhere. When we lived in town, we could see them from our house. Fireworks is what I think of first when I think '4th of July', then I think of my oldest brother (Happy Birthday, Tom!), then I think of grilling and burgers and brats. I know, with having a cooking blog, you'd think grilling and all would be first on my list.
Speaking of grilling, I'm sure we'll be doing some. Here are some of our favorites:
Hot dogs, our favorites are Ball Park beef franks…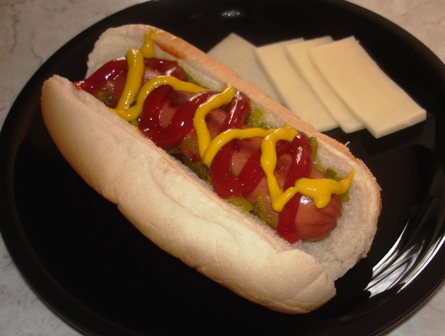 Brats, it's gotta be Johnsonville…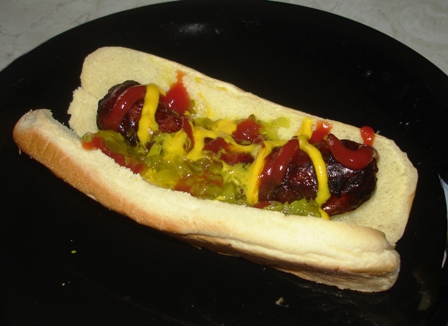 Cheeseburger, this has got to go on the menu this weekend! I'll have to talk to the guy in charge of grilling around here…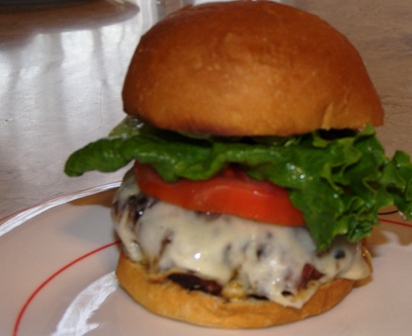 New York Strip Steak, and please don't forget the sauteed mushrooms! Mmmmm…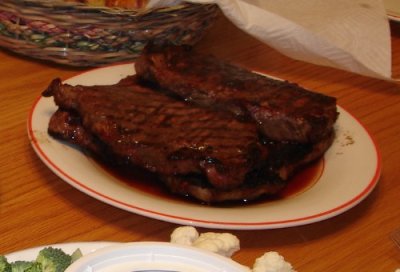 Rib-Eye Steak done medium, this was melt-in-your-mouth tender, didn't even need A1 sauce…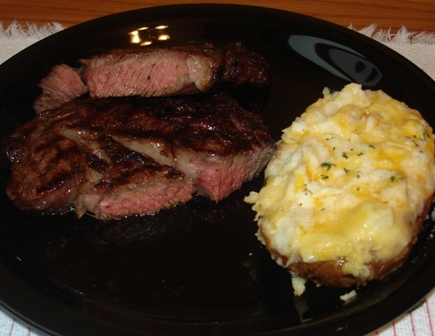 Shrimp and mushrooms grilled on skewers, a great appetizer…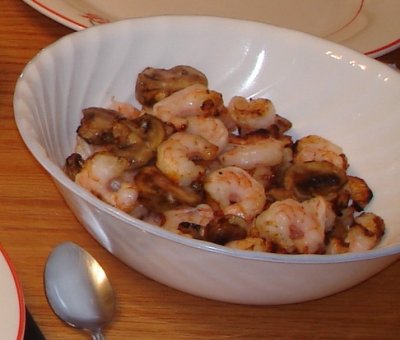 Pork chop sandwich, last but definitely not least! This is the thing out of this whole list that we grill the most. Yup, even more than throwing hot dogs and brats on the grill. Maybe next time we make them, I can remember to get a better picture! They're easy, at least for me, because all I do is set the table…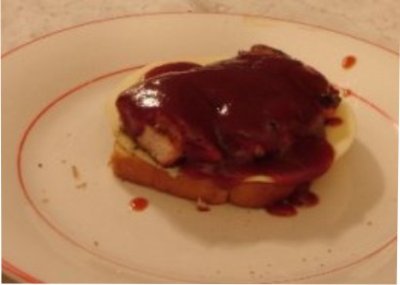 And then I couldn't let the holiday go by without playing around with my beloved for-any-occassion layered finger jello! It's a nice side benefit that it tastes good, too.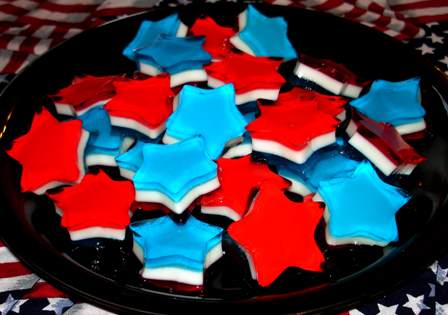 Instead of using a 9×13 pan for a batch, I used a large cookie sheet with sides so it wouldn't get so thick. The red and blue layers each have 2 batches of jello in them and the white layer is all of the white mixture (as opposed to dividing it in thirds). When I cut it into little shapes, it looks better if it's not so thick.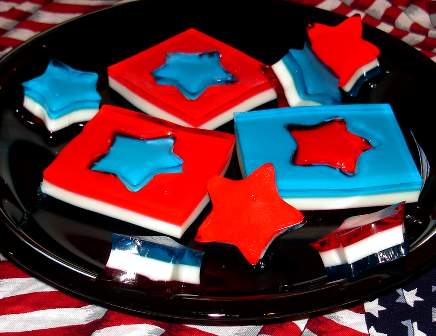 And then you can play around with it a little more and makes squares and cut a star out of the middle, flip it over, and put it back into the hole.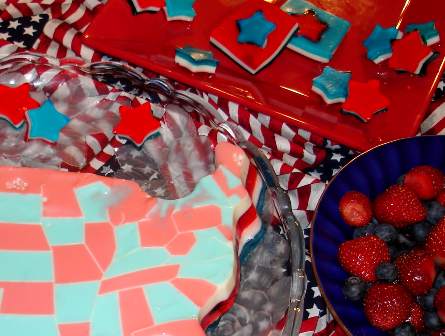 And then you can play around with it a little more and make the United States of America…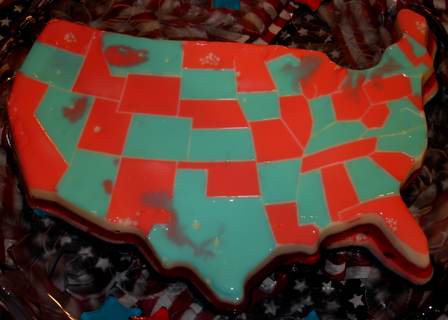 And, being in the spirit of things, this is what I was snacking on just now as I wrote this post…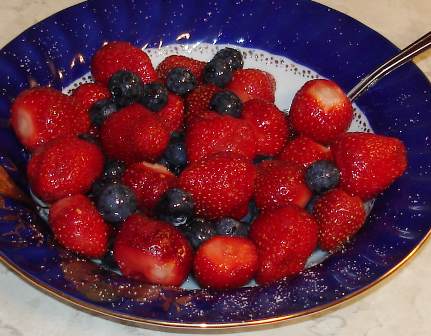 Red strawberries, white sugar, and blue blueberries.
Have a safe and happy holiday!
This is what we call Summer. We are now between the holidays of Memorial Day and Labor Day. Living in a vacation town that is beautifully perfect in the summer and an at-your-own-risk deep freeze in the winter, this is prime time here in the northwoods. The population in our town skyrockets with alot of people coming up to their lake cabins for the summer. For anyone who makes a living here, these next few months will be your best shot. I love going to town in the summer, even if I have to wait 2 light changes to get a green because of backed up traffic… people are in a happy vacation mood and there are people everywhere. I love 'tourist season'.
And another reason to love summer: Here are just a couple things we pulled off the grill this weekend…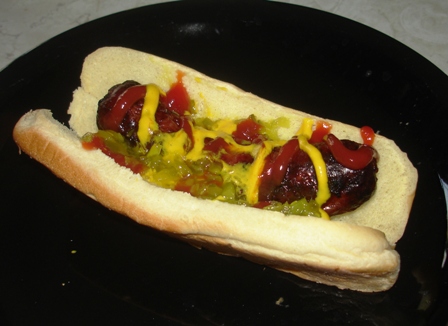 Johnsonville brats (pronounced 'brot', in case you're tempted to make jokes about mis-behaved children). You can't really see the brat itself because the toppings got a bit out of hand, but it is there.
AND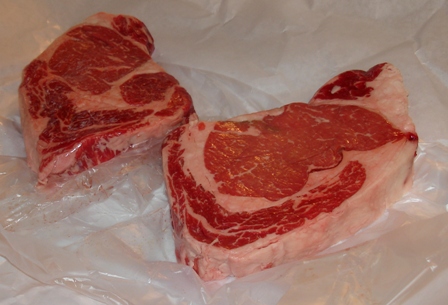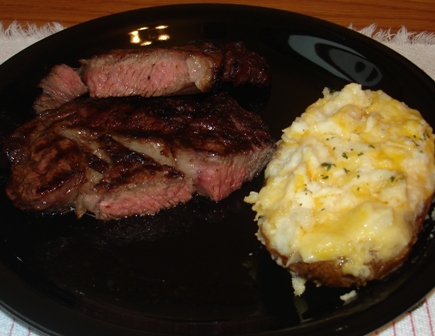 Rib-eye steaks, grilled to perfection. We like them done medium; pink in the middle, but the juices are brown. They were so tender and juicy that I could cut mine with a fork and they had so much flavor that we didn't even need the A1 sauce. In case you ask, yes, sometime this summer, we (as in mainly Shannon, but I do help, as in hand him a plate or utensil out the window occassionally), plan to do a "How to Grill the Perfect Steak" post. I just made that title up, I don't know what it'll be called, but something to that effect, with directions on how to get the different levels of doneness.
Our weekend was pretty relaxed, not alot going on. How was your weekend?