Is this recipe made up, you wonder?
Yep, it is.
All because I fell in love with some chipotle mayo from Yutzy's Farm Market and I use it on everything that I think it might possibly go with.
We had a fish fry last night. One of the couples from church (Jr. and Darla) go up to Lake Erie to fish every year. Then, they clean the fish. And then, they GENEROUSLY share them with us. I know. We're privileged. And we realize it and are very grateful.
They and their kitchen helpers fry/bake the fish (there's some of each) and make a big roasterful of scalloped potatoes and do pork chops for anyone who doesn't like fish. Then, the rest of us bring salads and desserts. It's quite a spread… the row of food tables is roughly the length of an airport runway (give or take a few hundred yards) and is lined down both sides with food food food. Good stuff! I'm wishing right now that I'd have taken my camera along to take a picture of it.
So, anyway, I was trying to decide what to make in the salad category. I just got a new Dessert Decorator, and it HAD to be something that I could use that for. The decorator was a just-for-anyhow gift from my husband, which are THE best kind of gifts.
So now, we're only eating soft foods that can fit thro the decorator… but hey, at least we're eating pretty stuff.

I made twice-baked potatoes a couple days ago and piped them into the shells with the decorator, but then I had a problem. I hadn't thought of the cheese. So it was forfeit cheese and see the beauty or have potatoes with yummy melty cheese on top. The cheese won. Oh well. I still had fun doing it.
Anyway, back to what to take to the fish fry, I thought of Deviled Eggs.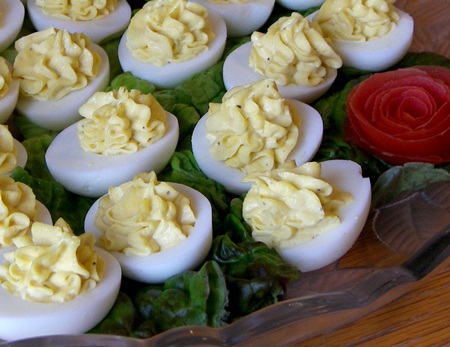 And while I was getting the yolks out of the whites, I thought of my beloved Chipotle mayo and decided to throw some of that in there. Next time, I'd add more… it adds a little kick and I didn't want to add too much kick for some unsuspecting person at a church fish fry who doesn't like kick.
Chipotle Deviled Eggs
12 eggs
3/4 cup mayo (use less if you prefer a stronger egg yolk taste)
2 tsp. Dijon mustard
1 Tbsp. Roasted Chipotle Mayonnaise (more would be better

)
1/4 tsp. salt
1/2 tsp. pepper
Hard boil the eggs. Peel and cut in half. Put yolks in a food processor; set whites on a serving tray.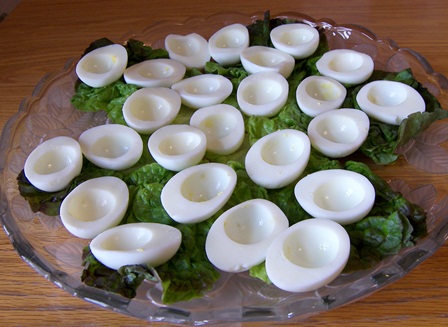 Running the yolks thro' the food processor makes for a creamier filling. After there are no chunks left, add the rest of the ingredients. Pipe the filling into the egg white shells. (Side note: sometime, try piping egg filling into an egg white with one hand WHILE holding still enough to take a picture with the other hand

)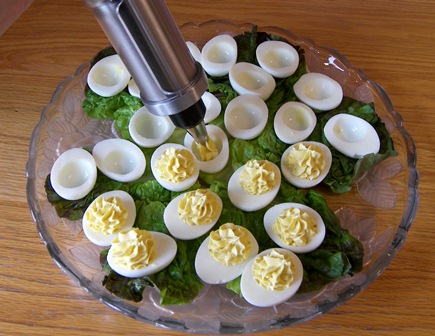 Here's a little tip: when you're getting the last of the filling out of the bowl, it's nice to have one hand to hold the bowl and one hand to use the scraper, putting the filling right into the decorator as you're scraping. This leaves no hand to hold the decorator so… prop it in a cup.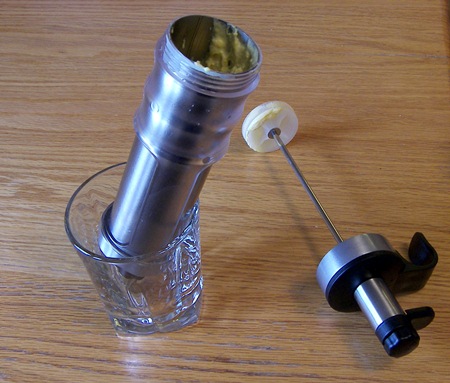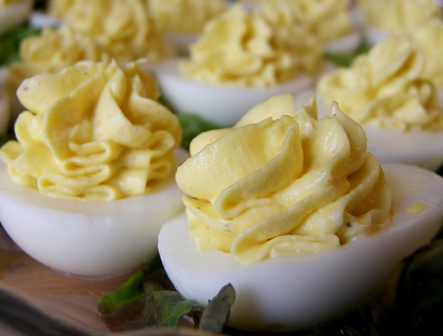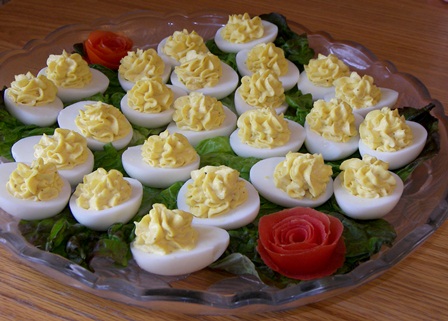 If you want to garnish the tray with tomato roses, but don't know how, this link is for you: How to Make Tomato Roses.
Coming up in the next few posts: Tiffany's ladybug birthday cake, Fun play-with-your-food Spring-themed stuff, and Donut Muffins.
Valentines Day… Chocolate. Roses. What a perfect time to merge the two and make Chocolate Roses! Actually, it isn't just a Valentines treat, it's timeless decor for any table or dessert year-round.
I've been wanting to try these for awhile. But they always looked so complicated. But they still intrigued me. So, I finally made some…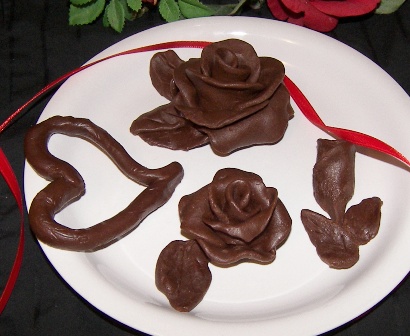 This is all you do:
Take about 2/3 cup of chocolate chips and melt them. Add about 3 Tbsp. light corn syrup.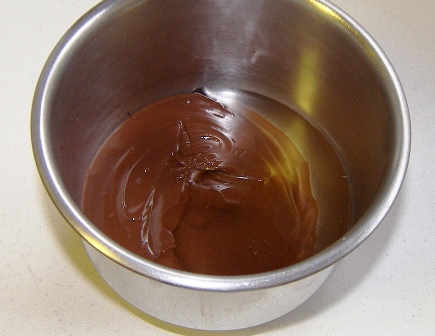 Stir until mixture starts pulling away from the sides of the bowl and starts balling up. It'll be kinda like taffy. Dump it out onto a piece of plastic wrap and flatten. Cover with more plasic wrap and refrigerate for a half hour or so.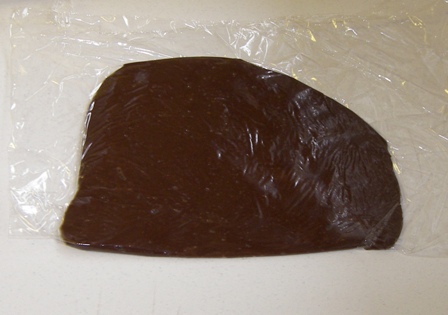 Get it out and pull a chunk off, about a tsp., and roll it around with your fingers till it's a smooth ball, then flatten it into a petal. Make 6 -10 petals, depending on how big you want your rose.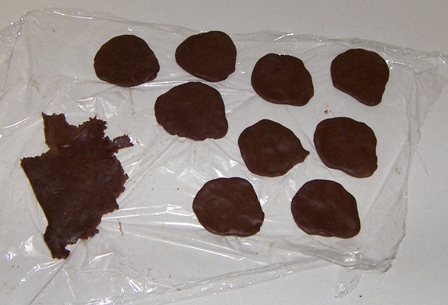 Take one of the petals and roll it up loosely. Use your finger to bend the top back just slightly.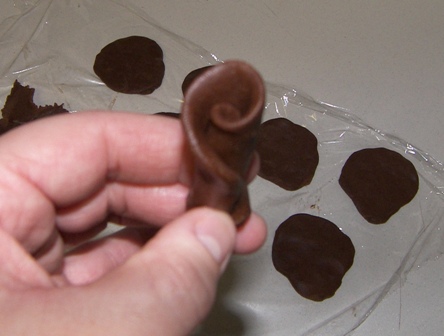 Take the next petal and start it just behind where the first petal ended.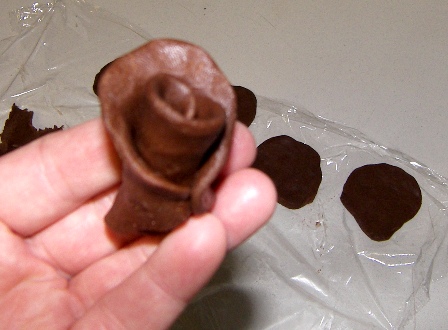 Continue like that until all the petals are used up, bending the tops back slightly as you go. When your rose is done, cut off the stem (which will have gotten quite chunky) so the rose can sit flat. Or, go ahead and try making it thin and having a long-stemmed rose! I might try that next time.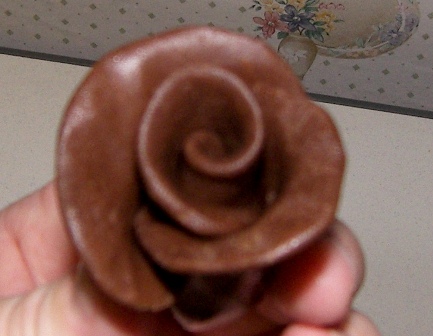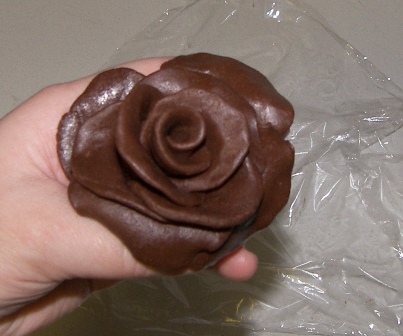 I tried a rosebud by using only 2 petals. After making 2 roses and 1 rosebud and the leaves, I had some chocolate left yet, so I just made a heart with it. So, what you see on this plate is how much 2/3 cup chocolate chips makes.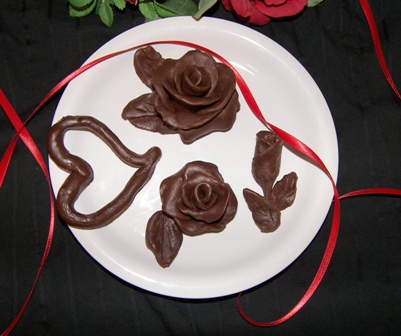 Now what I need is a nice dessert to put them on.

But, I don't have one, so I'm just gonna keep them in the freezer and whip 'em out sometime when I need some quick dessert decor!
So, what do you think? You gonna try them?

I've made these twice now… both times they were inhaled in a short amount of time. They are great with applesauce. Have you ever tried cookies with applesauce? I hadn't until my husband introduced me to that combo after we were married. The girls LOVE the frosting. When I saw that these cookies take caramel frosting, I thought 'No way. It's gotta be cream cheese frosting', but I decided to try them with caramel frosting after all and it turned out to be a good decision.
By the way, it's nearly Thanksgiving… are you cooking a Thanksgiving dinner at your house? I'm not. We're going away for dinner. I'm just planning to bring something to go with the meal, like a salad. I just went to put a link to the post with the recipe of one of my favorite salads and realized I have not featured it yet! It's the Robust Italian Salad pictured on this post. It's SO good and you DO need to have the recipe, so be looking for it within the next week or so! It's got homemade croutons, and just before serving, you toss it with Italian dressing. I'm also planning to make a pumpkin pie this week. I want to try a Custard Pumpkin Pie from a 'blank' cookbook that my grandma hand-wrote recipes in for me. This pumpkin pie recipe was given to her from my great grandma. Mixing my nostalgia with my cookbook collection, a couple of the cookbooks I own are PRICELESS. The pumpin pie recipe is in this cookbook next to the Brown Sugar Pie, which is also passed down from my great grandma. Mmmm, just seeing that brown sugar pie again makes me hungry for it!
Ok, back to the pumpkin cookies with caramel frosting…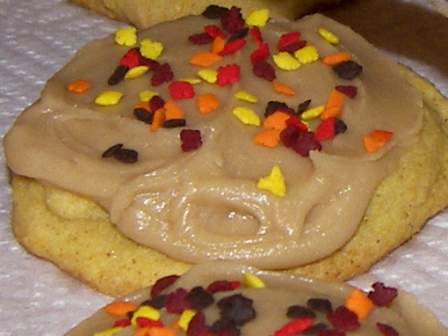 I got this recipe from my friend Freida… This recipe is 1 cup of this and 1 tsp. of that for most of the ingredients… if you ever want to memorize recipes, this would be a good one!

Is there any recipe that you make so much that you've got memorized (I don't mean made-up stuff, like you dump-and-bake cooks do

)? From age about 12-17, it was pancakes for me. Not sure if I was the chief pancake-maker or what, but I knew the recipe. Now, it's Raspberry Cream Cheese Cinnamon Rolls and Red Lobster Biscuits and maybe a couple others, but that's all I can think of right now.
Pumpkin Cookies
1 cup Crisco
1 cup sugar
1 cup pumpkin
1 egg
1 tsp. vanilla
2 cups flour
1 tsp. baking powder
1 tsp. baking soda
1 tsp. cinnamon
1/2 tsp. salt
Cream shortening and sugar. Add pumpkin, egg, and vanilla. Blend in dry ingredients.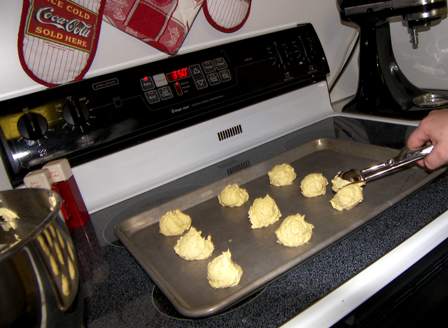 Bake at 350 for 15 minutes. (Freida said, "I only baked them for about 12 minutes and they were perfect." And now I add, "Me too.") Spread caramel frosting on top. Also good with cream cheese frosting.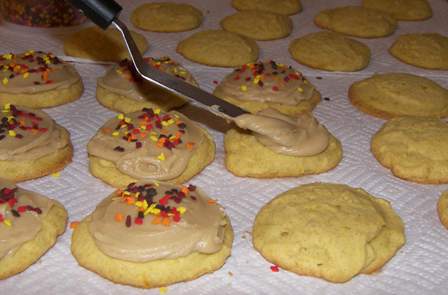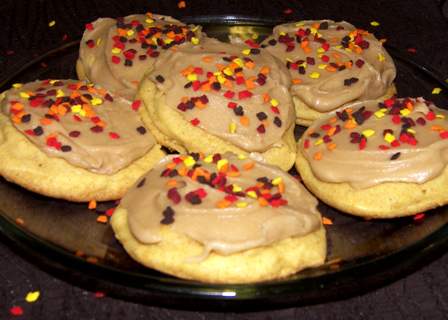 Caramel Frosting
1 cup brown sugar
1/2 cup butter
1/4 cup milk
1 tsp. vanilla
1 1/2 cups powdered sugar
Combine brown sugar, butter and milk and bring to a boil over medium heat. Cook and stir for 2 minutes.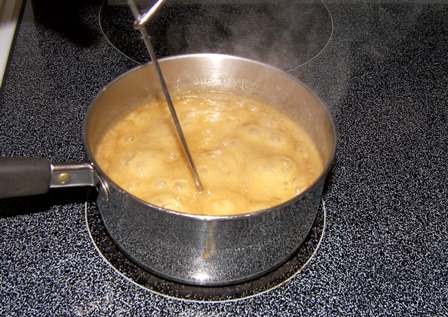 Remove from the heat and stir in vanilla. Cool to lukewarm, then gradually beat in the powdered sugar until frosting reaches spreading consistency.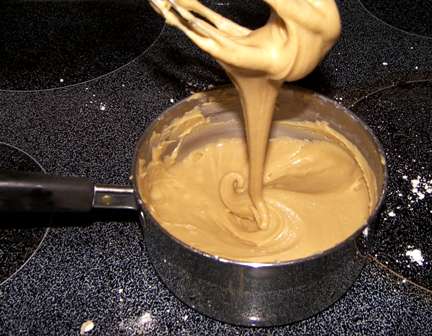 The more powdered sugar you add, the faster it will harden. I made the frosting while the first batch of cookies was in the oven. It took forever to cool to lukewarm… next time, I'll either make the frosting ahead of time or make the cookies while the girls aren't around! "Mom, is the frosting ready yet?… 20 seconds later… "Is it ready now?"…

My mom gave us some little leaf sprinkles, so we used them on the cookies for a bit of garnishing. We (er, they) sprinkled them on right away before the frosting hardened.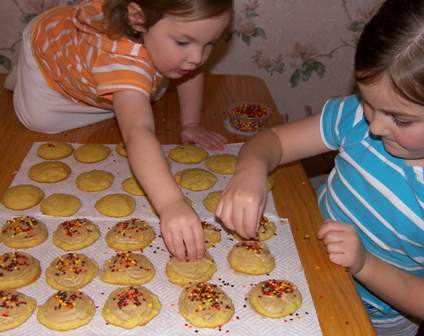 Lexi was explaining this picture to someone and here's what she said, "We were sprinkling sprinkles on pumpkin cookies with delicious frosting. At first, I sprinkled a little bit so I needed more and then Tiffany came and she wanted to sprinkle some on too. At first she was sprinkling on too many sprinkles, but then she got better at it. And then she patted it down and got her hands all messy." Yup. That's pretty much how it went. 
Silk is right. I wonder whoever came up with that term for pie. But it fits this one. Smooth as silk. And creamy and light. Light as in not heavy, not light as in diet. Far from it!
My grandma always said that she likes to make pies better than she likes to eat them. That doesn't mean that she doesn't like pie! Sometimes while I'm making pie, I wonder if I have reached that same status now. Then, I eat a piece and decide I'm not quite there yet. BUT, this pie may have been an exception. Not that the pie itself was so fun to make. The fun was in the garnishing… chocolate curls.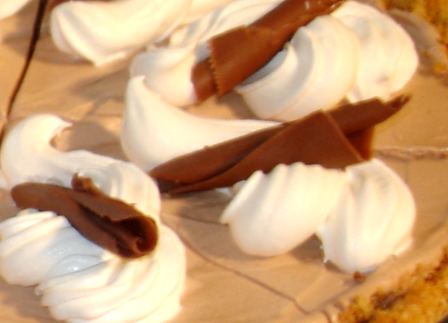 This recipe is taken from my newest cookbook… Simply with Taste. I got it about a week ago. I love it! Sometime, I'll tell you more about it and its nice features. This silk chocolate pie is the first recipe I tried from it.
Silk Chocolate Pie
1 pkg. (4 oz) Bakers German sweet chocolate
2 Tbsp. milk
6 oz. cream cheese, softened
1/4 cup milk
3 Tbsp. sugar
4 cups whipped topping
2 baked or graham cracker pie crusts
Microwave the chocolate along with the 2 Tbsp milk on high at 20-30 second intervals until chocolate is melted, stirring frequently. Beat the cream cheese, sugar, and 1/4 cup milk until smooth; add the chocolate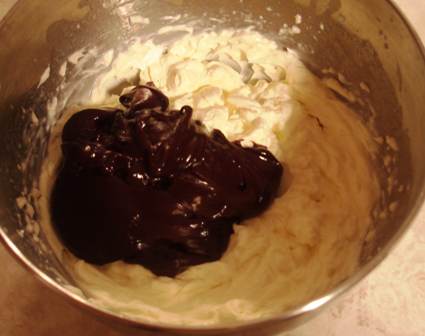 and mix until well blended.
Refrigerate for 10 minutes. Fold in the whipped topping.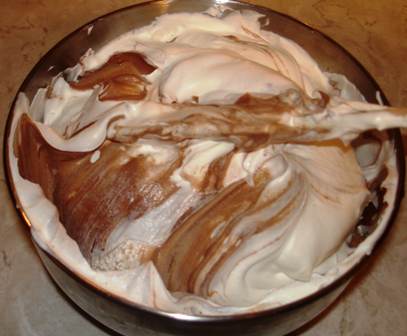 Spoon into the prepared crusts. May freeze if desired, or use within a day. Top with whipped topping and chocolate curls for garnish.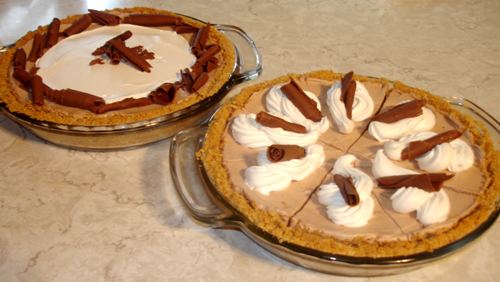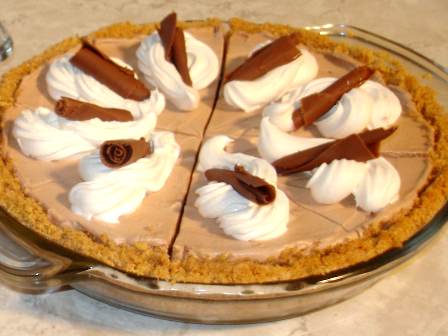 And now for the fun… How to Make Chocolate Curls
Melt about a 1/2 cup chocolate chips w\ about 1 Tbsp. of shortening.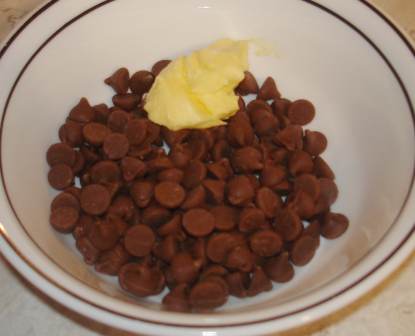 Spread into a thin layer on the back of a metal cookie sheet.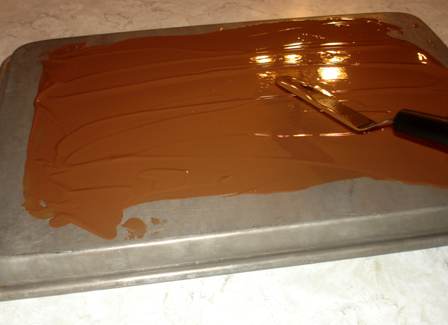 Put in the freezer for 3 minutes. Take it out of the freezer. Immediately, take a flat tool of some sort (I used my Pampered Chef little square scraper that's actually for cleaning stoneware, I use that little thing for alot of stuff!) and hold it at about 45 degrees and push down and across the baking sheet. The chocolate should curl right up.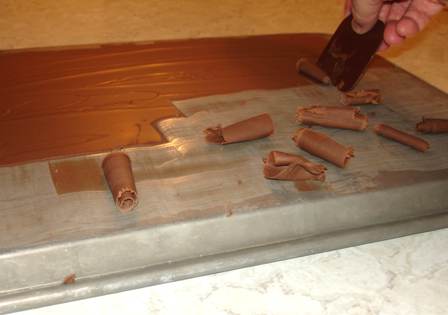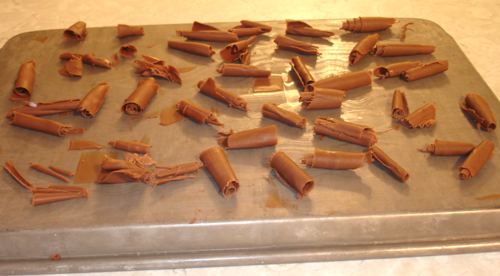 If it just breaks, wait a minute or 2 to let the chocolate soften, then try again. If it doesn't curl, put it back in the freezer for another minute or so. Depending how long it takes to curl all the chocolate, you may have to put it back in the freezer to harden up again before you're done. Use a toothpick or utensil of some sort to move the rolls to a plate and put them in the refrigerator. When they're good and hard again, you can put them in a plastic bag and store in the refrigerator. Or you can just put them on the pies like I did.
Featuring tomato roses, lemon roses, and orange roses
This is actually easier than it looks.
Starting at the end (whatever the opposite of the stem end is called), peel a tomato (or lemon or orange or whatever you feel like trying) in one long piece.


Lay the peeling out flat, skin side down. Now, as if you're rolling up some left-over ribbon, start rolling it, starting at the end you cut last (the part closest to the stem). 
It'll kind of slip around while you're rolling it, so it's helpful to keep a finger or 2 on each side. When you're at the end, tuck the wide end underneath and set your rose down. If it looks weird, flip it over. If it still looks weird, unwrap it and try again.

A couple tips:
— Use firm tomatoes; they cut smoother and the skins don't wrinkle as easily.  Note: The 2 roses above… the first one was a firmer tomato, the second one wasn't and kinda wrinkled as I was cutting it, making the edges less smooth.
— The thinner you peel them, the easier they are to work with because they curl around easier.
— For oranges and lemons, I've found it's easier to use a potato peeler than a knife… it gets it thin and doesn't break off as easy.
— If a peeling breaks off before you're done, just finish peeling, then overlap the pieces an inch or so when you roll it up.

Ideas:
Tomato roses
—Garnish a veggie tray


—Set a rose or 2 on fresh herbs on a flat tray or board for a table decoration
—Make a bouquet 

        
—Put on top of a salad (but you need to take them off before serving, or move them way over to the side)

Lemon and orange roses
—Garnish a fruit tray

         
—Put on the side of a serving platter of meat or fish
—Dress up a serving of dessert

Chocolate roses and butter roses coming later… it's a different technique to make them.