It was a wonderful trip. Lexi and Tiffany travelled well. And if it wouldn't've been for the gum episode (where Tiffany took it out of her mouth and was playing with it and it got on her carseat and the floor and on Shannon's computer case) and the cappuccino episode (where I actually dropped mine and caught it upside down and had to wash up part of the area in and around the cup holders), we'd have had an uneventful trip, disaster-wise.
The wedding was beautiful… have you ever seen one that wasn't?! It was pink and brown w\ aqua accents. Here are some food-related pictures from the reception…
The cake. Neat, huh?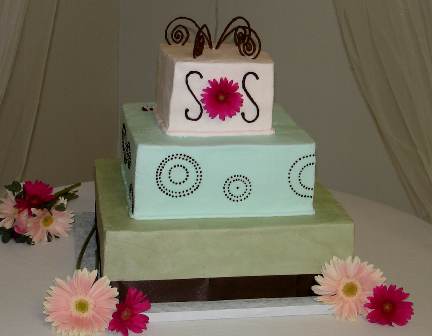 As we entered the reception hall, there was a table with a chocolate fountain and fruit and pretzels and marshmallows and also a punch table that we stopped at before being seated. I don't have a good picture of those tables, but here's my plate from it…

Decor on the guest tables was little cups filled with mini buckeyes and tied shut with tulle and ribbons and there were tea lights sitting on top of coffee bean filled votive candle holders. They looked really neat. Some people were actually munching on the coffee beans. I love the chocolate covered ones, but never ate one plain! 

The meal was chicken sandwiches, baked beans, chips, and macaroni salad (I think, for some reason I'm having a hard time remembering the salad and I don't have any pictures of the main meal part). Good food! My b-b-qued chicken sandwich was great!
The dessert area. Instead of the usual cake and ice cream, they had an impressive display of desserts. Cheesecakes, cookies, chocolate roll, trifles, bars, cakes, fruit pizza… Just delicious! It was so hard to choose from…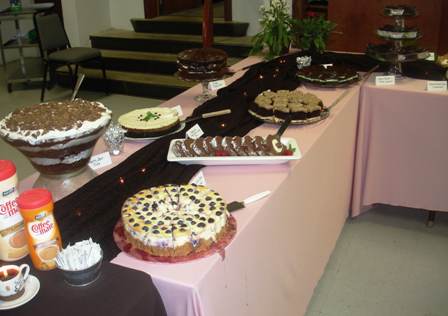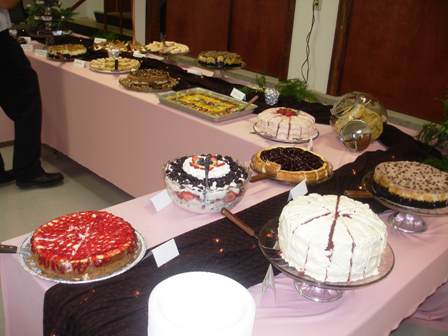 And the bridal table, beautifully decorated…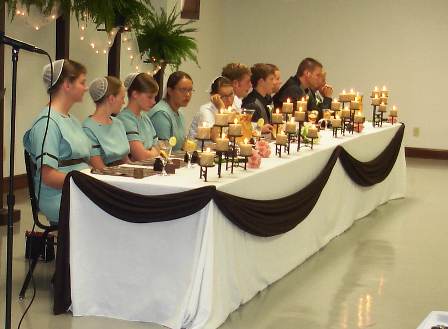 First off, about the USA jello. I used a jello mold that's the shape of the US.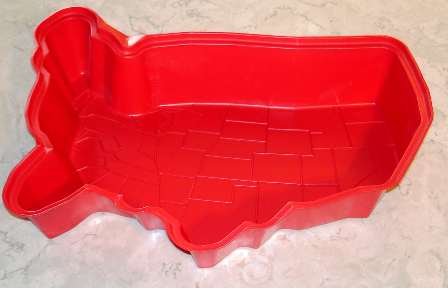 The mold has teeny shallow lines between each state, so to get the different colors effect, I mixed up the blue and red jello, then used a medicine dropper to drop it into the different sections. (I don't keep a medicine dropper around, I took a bottle of infant Tylenol out of the medicine cabinet, took out the dropper, washed it really good with hot water, used it to color the states, washed it good again, and put it back in the bottle.) In some states, there's a mixture of both blue and pink. That happened when the dropper dropped before I was over the state I wanted or when I got too much in the state and it went over the little 'walls' between each state. It was a little tedious, but I thought it would look a little blah with just all one color on top. After I got all the states filled in, I put 1/2 of the white mixture in, then layered red, white, and blue from there.
To cut the jello, I followed the lines and cut it apart into states (except some of the New England states!). It was kinda nice because then you could pick your size. Lexi was declaring that she was gonna get Florida and that she'd get Wisconsin out for Tiffany. But when I finally gave them the go-ahead to dig in, she saw the size of Texas and changed her mind about Florida. Then, Tiffany wanted the biggest one too, so to save a fight, we suggested California and she was happy with that. They each ate about 1/4 of their piece, then said it was too big. Sigh. I was thinking, "So, then WHY did you guys have to get the biggest pieces?!" but instead I said, "Just wrap them up in Saran wrap and put them in the fridge. You can finish them later."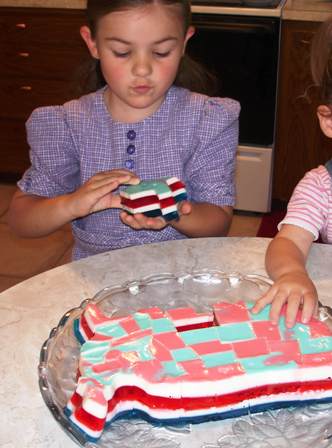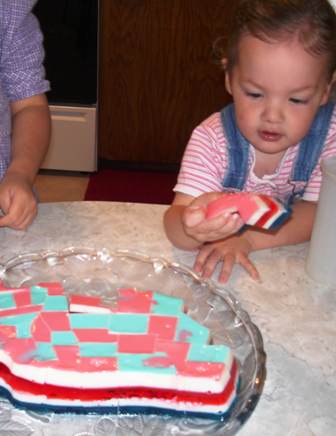 ——————————————————————————————————————————————————————————————————————————————————————————————————————————————————————————————————————————————————————————————————————————————————————————————————————
We got together with some friends Friday night and grilled burgers and hot dogs before the fireworks. I made a fruit pizza for dessert. It's this recipe, but I cut back on the amounts because it wasn't gonna fill up the whole pan since it was shaped into a rectangle, a flag. Oh, it was so good. I didn't count how many pieces I ate. Fruit pizza is one thing I crave, especially in the summer.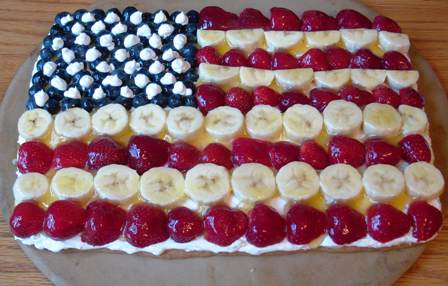 I have a few fireworks pictures, but other than that, nothing. I was lounging in my lawnchair thinking, 'I should go get my camera and take a picture of Shannon grilling and of the kids playing and of the adults talking and capture the party atmosphere around us' and then as I kept lounging, I lowered my standards and started thinking, "I should at least get my camera and take 4 pictures because that would make a pageful for when I scrapbook this event', but I just kept sitting there, living the moment instead of capturing it. I actually don't like taking pictures at social events. BUT the only thing I hate worse than taking pictures is not having pictures, so that's what drives me to take them. Except for this time.
And with that I leave you with a little fireworks show…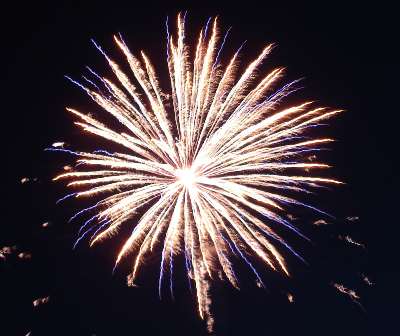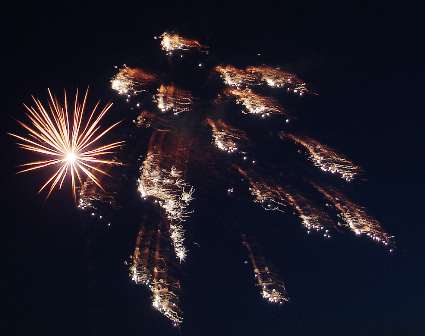 How are you spending the holiday? …Going out on the lake? …Firing up the grill? …Getting together with family and friends? …Going out to watch fireworks? I don't specifically remember not watching fireworks any year, but I'm sure there was a year or two missed in there somewhere. When we lived in town, we could see them from our house. Fireworks is what I think of first when I think '4th of July', then I think of my oldest brother (Happy Birthday, Tom!), then I think of grilling and burgers and brats. I know, with having a cooking blog, you'd think grilling and all would be first on my list.
Speaking of grilling, I'm sure we'll be doing some. Here are some of our favorites:
Hot dogs, our favorites are Ball Park beef franks…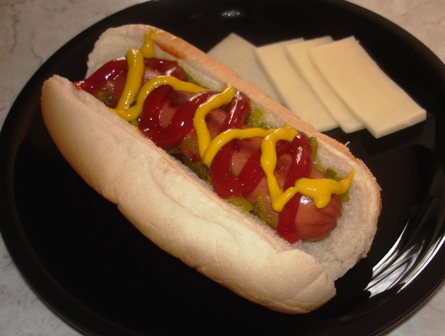 Brats, it's gotta be Johnsonville…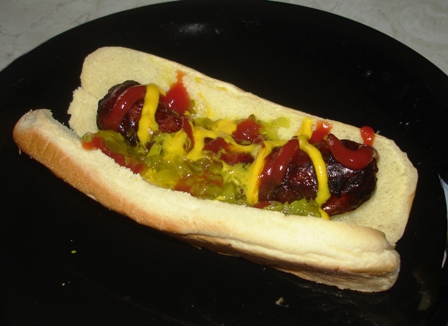 Cheeseburger, this has got to go on the menu this weekend! I'll have to talk to the guy in charge of grilling around here…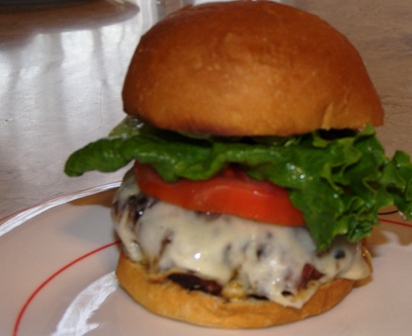 New York Strip Steak, and please don't forget the sauteed mushrooms! Mmmmm…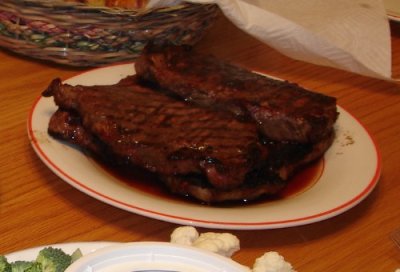 Rib-Eye Steak done medium, this was melt-in-your-mouth tender, didn't even need A1 sauce…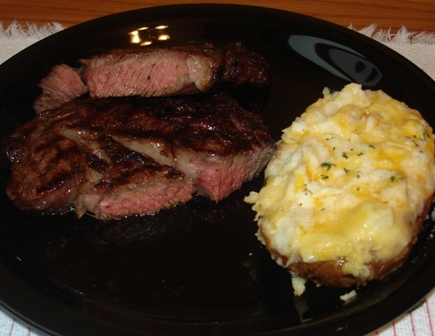 Shrimp and mushrooms grilled on skewers, a great appetizer…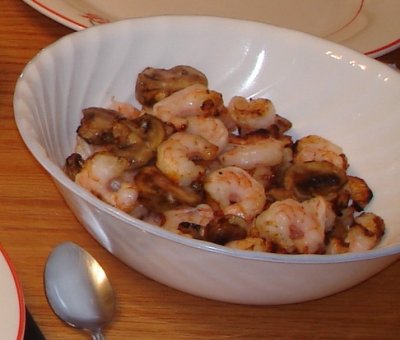 Pork chop sandwich, last but definitely not least! This is the thing out of this whole list that we grill the most. Yup, even more than throwing hot dogs and brats on the grill. Maybe next time we make them, I can remember to get a better picture! They're easy, at least for me, because all I do is set the table…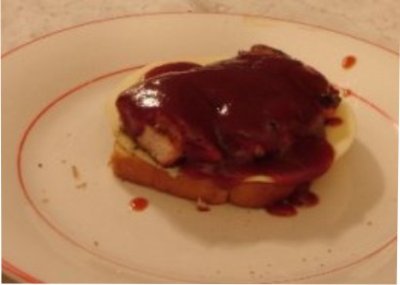 And then I couldn't let the holiday go by without playing around with my beloved for-any-occassion layered finger jello! It's a nice side benefit that it tastes good, too.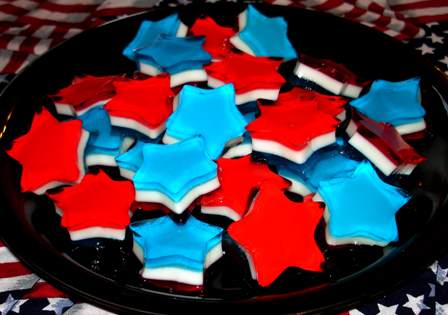 Instead of using a 9×13 pan for a batch, I used a large cookie sheet with sides so it wouldn't get so thick. The red and blue layers each have 2 batches of jello in them and the white layer is all of the white mixture (as opposed to dividing it in thirds). When I cut it into little shapes, it looks better if it's not so thick.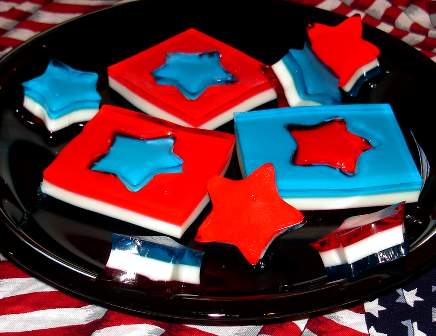 And then you can play around with it a little more and makes squares and cut a star out of the middle, flip it over, and put it back into the hole.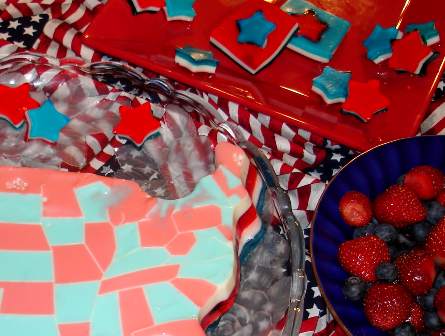 And then you can play around with it a little more and make the United States of America…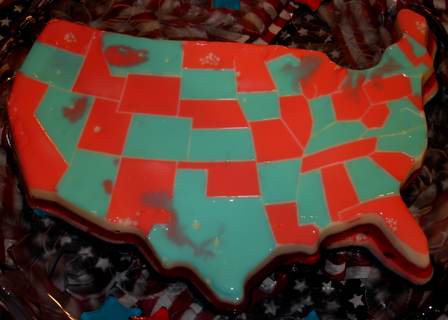 And, being in the spirit of things, this is what I was snacking on just now as I wrote this post…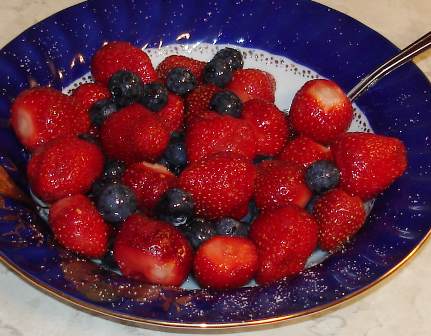 Red strawberries, white sugar, and blue blueberries.
Have a safe and happy holiday!
I just ran across some pictures of a baby shower that I was at recently. So, I'll post pictures of the food in case anyone needs any ideas if you're planning one. As I go to more baby showers, I'll be sure to take pictures of the food and post them. I'd love to post some other pictures too, like of the washline game we played, but I guess I'll just stick to the food.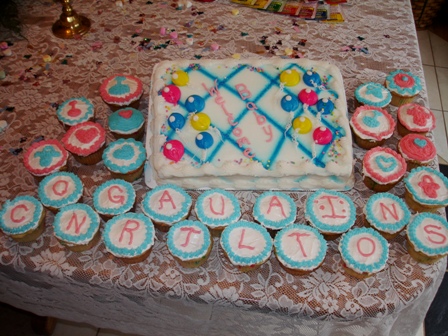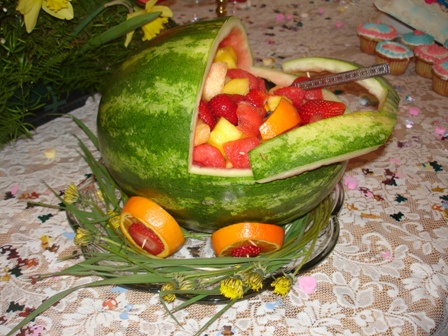 This baby carriage was so cute. Someone did a good job on it!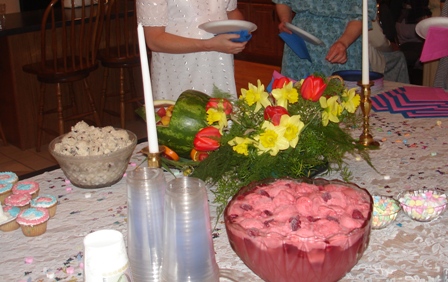 The girl in the white dress is the new mother-to-be… lookin' good for 8 months pg! We also had chips and dip, which you can't really see on any of the pictures.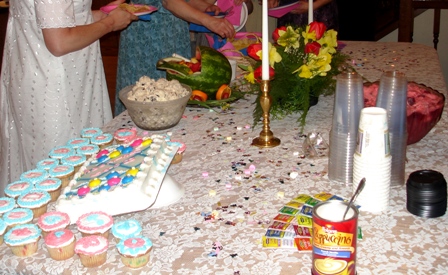 ——————————————————————————————————–
This shower was from a couple years ago. We had a baby boom at church and one of them was a first-time mom.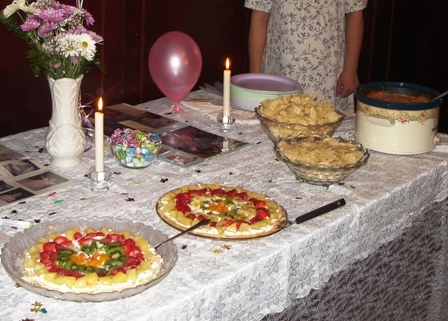 That fruit pizza was great!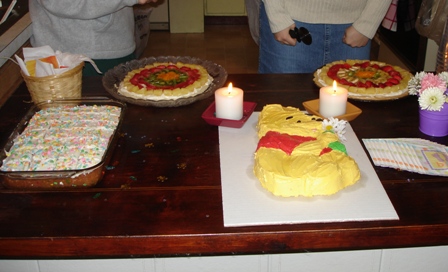 The ice cream wasn't out yet on this picture. We also had hot chocolate made with melted candy bars. It was SO good. I need to get that recipe from my friend who made it.
———————————————————————————————————
And I'm also adding a couple pictures of the baby shower that my friends did for me just before Lexi was born 5 1/2 years ago. I don't have digital pictures of it, I just scanned a page of Lexi's baby album, so the quality isn't as good.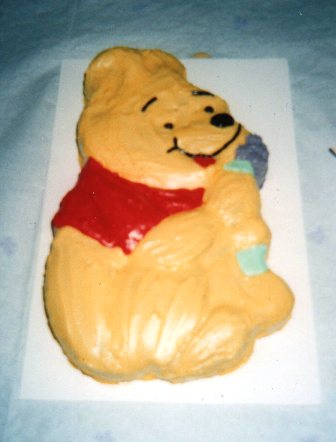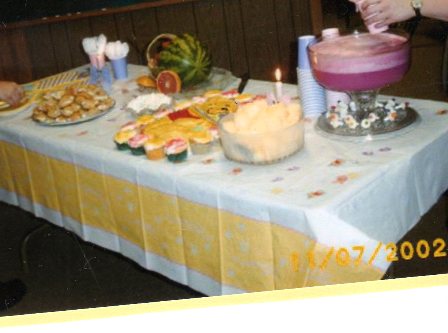 Notice there's another watermelon baby carriage. That must be THE thing!
What other foods have you seen at or made for baby showers?