These fresh fruit kabobs drizzled with chocolate are the perfect item for adding a bit of beauty and pizzazz to the table without a lot of time-consuming work. You can't beat that, right? So, keep it in mind next time you need to take food somewhere. It doesn't even require a fork so it works for "bring finger food" occasions. These particular ones were made for my husband Shannon to take to a company potluck at his office at Keller Williams Real Estate.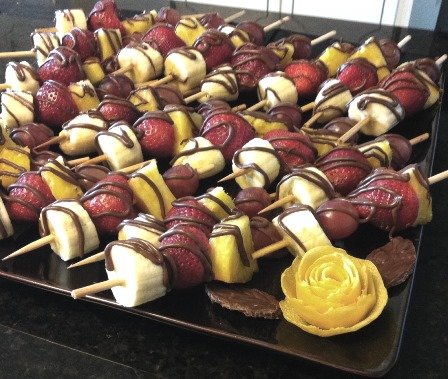 There is no recipe, just use any kind of fruit you want to… They all work great. Well, except apples. Apples sometimes split when you put them on the skewers. If you're using apples, the thinner the skewer the better. Just for the record, apples and chocolate go together awesomely! Is awesomely a word? I figure as long as you know what a word means, it doesn't really matter if it's technically not a word.

Chunk up/slice all the fruit that gets chunked or sliced. Take stems off of fruit that gets de-stemmed. Toss fruits that get brown with lemon juice (more on that later).
In other words, before I start threading them on skewers, I like to have them all ready to go.
Then, start poking fruit on until: 1. Fruit is gone, 2. Skewers are gone, or 3. You have the desired amount.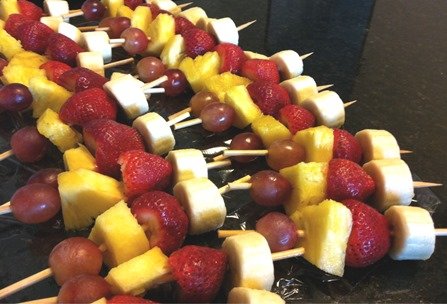 After the fruit is all on the skewers, put about a half cup of chocolate chips or candy melts in a sandwich bag, but don't seal shut. Put it in the microwave for 30 seconds. Flip it over and microwave it for 20 second. Work the bag with your hands and put them in for 10 seconds. Do this until all the chocolate feels smooth and no chunks are left.
I need to get back in my zone… that zone where I automatically remember to take pictures at each step! I was having too much fun and just kept rolling instead of stopping for pictures.
Now, you're ready to drizzle. Put the kabobs all really close together so less drizzle lands on the table. Snip a little corner off of the bag and just scribble back and forth over the fruit. Then immediately separate them or else the chocolate will harden and pull drizzles off of its neighbor.
Put them on a plate. Garnish if you want to.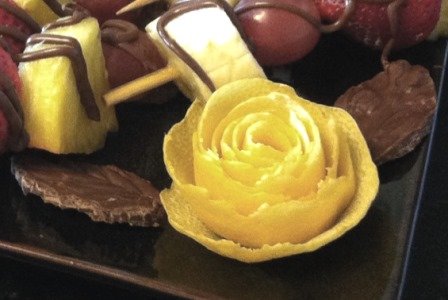 Here are tutorials on the rose and leaves, in case you want to make some:
Rose • Chocolate leaves
The rose tutorial is actually for making a tomato rose, but it's the same technique.
Now, about the bananas and keeping them from browning.
Lemon juice is the secret here. I did a little test where I checked them after 3 hours and after 6 hours. A little after the 6-hour mark, my girls came home from school and I let them eat my experiment for an after school snack… and then thought of it later that I should've tested the bananas longer, like 24 hours. But what I did learn is that lemon juice works its magic for at least 6 hours, and that was the info I needed because unless they have to set/freeze/marinate/etc, I rarely make things more than 6 hours ahead of time. Maybe that's because I'm a procrastinator.
So here we go, the experiment. The pictures above were taken right after I made it, where even a fresh banana would still be looking good. The pictures below were taken 3 and 6 hours afterwards.
3 hours after being tossed with lemon juice: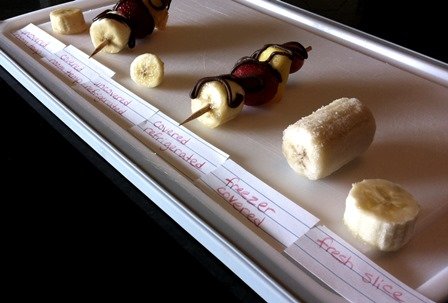 From left to right: uncovered room temp, covered room temp, uncovered refrigerated, covered refrigerated, covered frozen, and a fresh slice.
The fresh slice is NOT 3 hours old, it's just there for comparison. The frozen one is thrown in there for fun… it actually has no lemon juice on, it was peeled and put into the freezer right away and is probably more like 3 months old.
6 hours after being tossed with lemon juice:



The middles are starting to get a little brown, but are still fine.
What I was surprised was that between all the lemon-juiced ones, there was pretty much no difference! I'm glad about this tidbit because it gives flexibility. Here is a closer up. They all stayed firm too, no mushiness.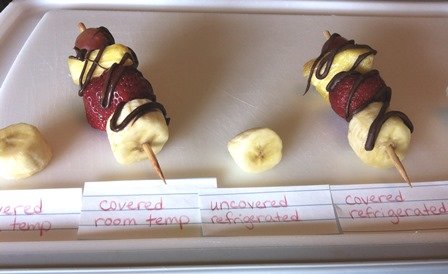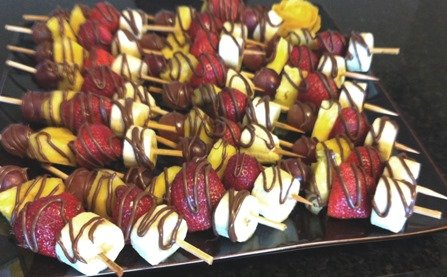 Here come the Holidays… make some of these pretty things!  It's a delicious, healthy snack to set out on the snack table (with the chocolate covered Ritz crackers, cookies, red-green-silver-foil-wrapped Hershey kisses, and party mix).
We have snow!! So I'm gonna post a snowman.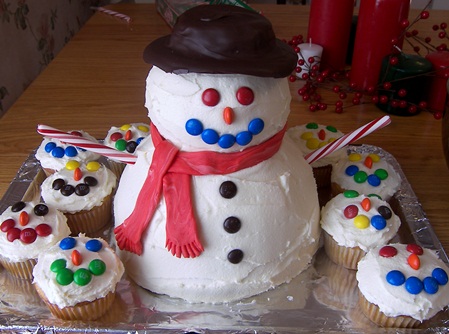 You know, I was just thinking… after I wrote those first 2 sentences, I looked out the window for awhile at the snow I was talking about… you know the snow that I used TWO exclamation marks after when I said we have snow, and I realized how my standards have changed. Do you know how much snow we have right now?
About 1/2 inch.
1 inch at the deep parts.
Wow.

I was born and raised in northern WI and moved to OH 3 years ago. If we'd get this much snow in WI and Shannon's dear grandpa from PA would call and say, "What's the weather like out there? Do you have snow?", same as he'd always start every call with between Sept and May, we'd say "No, not really, just a little dusting." I do really like the mild winters here though. I think it's pretty cool that in Ohio right now, it's mid-January and I still haven't gotten out my winter coat… my temp mark for bulk-of-winter-coat-is-worth-it-for-the-extra-warmth-over-light-coat is about 25 degrees, unless I'm going to be out for a long period of time.  I haven't gotten my boots out either because… I have none. I threw them away last year because they were so out of style and I was so in love with them… so when I was tempted to wear them, I'd weigh the pros (love them) and cons (out of style)… and love always won. So the only way to make myself stop wearing them was to throw them away.
All that to say that I'm in the market for boots. I love the style of boots right now… especially the sorta short ones with a heel and slouched and black and a bow-type thing on the side… so I'll probably be back in my out-of-style-but-love-em predicament again in 5 years.

Maybe I'll buy some boots tomorrow… we seriously need to get out of the house because we've been sick for nearly a week around here and I think we're all functioning at 85 – 100% power today now… so what better thing to do on a Saturday than to go out on the town.
Anyway… let's circle back around to where we started… "I'm gonna post a snowman".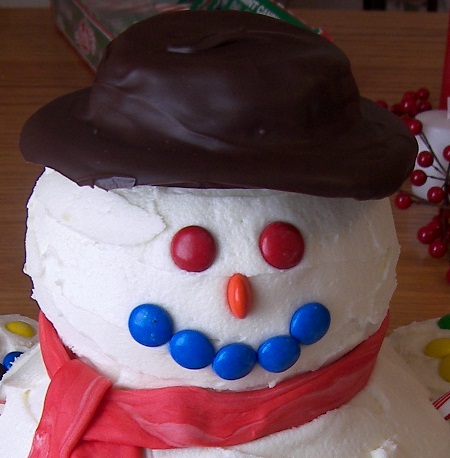 Isn't it crazy how M&Ms can almost seem to make something have a personality?

I feel like I need to talk really fast to interrupt any crazy "I'd never have time for that!" thoughts. It's simply 2 cake mixes… dump one in a mixing bowl instead of a 9×13, dump the other one in a small mixing bowl and the rest in cupcake liners. Bake. Frost… you don't even have to add food coloring because snow is conveniently white!

Press M&Ms on. Make a melty chocolate/peanut butter hat. Fruit roll-up scarf. Eat. There is no carving or shaping of cake going on here. I made this for dessert for hot lunch at school.
Get your 5-yr-old to decorate the cupcakes… Tiffany did all of them while I did the snowman. We used orange M&Ms for noses only and put them sideways so they stuck out a little more.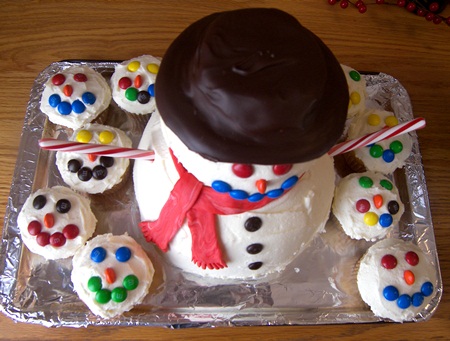 Keep the 18-month-old demolition-crew-of-one as far away as possible. Or do what I did and count one cupcake and a small handful of M&Ms as loss and set her up to destro—, I mean, decorate it.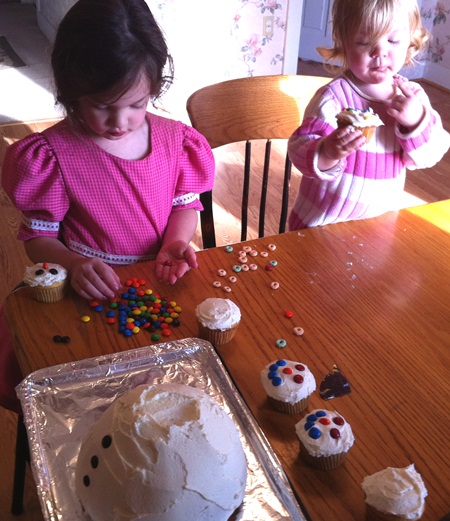 *cell phone pic alert* Yeah, we tried just giving Megan some Apple Jacks to munch on so she could happily watch while munching, but nope, no luck, she was more into M&Ms and gooey frosting.
One thing I should say about the baking… I was afraid the cake wouldn't get done in the middle, so I looked around the kitchen, saw a glass Coke bottle (filled it to make it heavier), covered it in tin foil, and put it in the middle, like it's sitting in the mixing bowl here… kind of an angel food cake pan effect. It worked perfect. I don't know if it would be necessary or not, though. I baked the cake for 1 hour.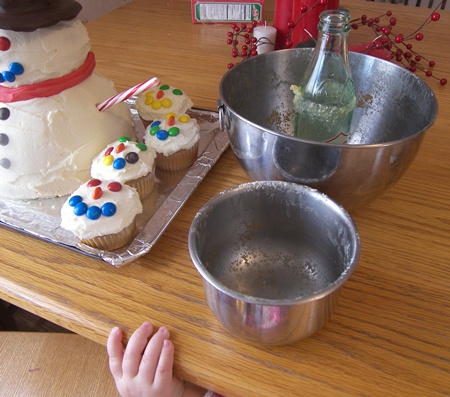 I used candy canes for the arms (broke off the curved part), but you could use pretzel rods or whatever. The hat is a chunk of leftover buckeye-type peanut butter filling dipped in melted chocolate with too much chocolate poured on top so it ran down beside it, making a hat brim. Then I put it in the fridge until it hardened. You could pretty much use anything… like a chocolate-dipped small cookie or whoopie pie or something.
*gasp* Did I just used the phrase "too much chocolate"?! Sorry, it should read "extra chocolate" instead… I'm more comfortable with that term.
Add a fruit roll-up or fondant the color of your choice for the scarf. Snip the ends with a scissors to give a tassle effect.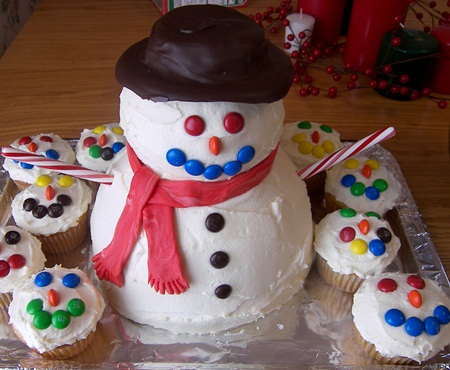 And there you go… celebrate winter with your kids! Whether you have 2 feet of snow, a 1/2 inch of snow, or only dream of snow.
Lexi (6) was all into Valentines all week. So often I heard "Hey, we should try making that into a heart shape because, you know, it IS Valentines!" And setting foot inside a store created alot of inhales and exclaiming from her (the V-tine displays were always right inside the door). And she has a stack of Valentines ready to go with her to church tomorrow for her little friends.
We had a bit of fun earlier this week. We took regular cookie recipes and made Valentine cookies out of them. We used the Smiling Sugar Cookie recipe featured here, only they cut heart shapes out of rolled out dough instead of forming balls and putting popsicle sticks in them. We also used my good ol' chocolate chip cookie recipe (which I don't think I ever featured) and left the chocolate chips out, then they put chocolate decor on top of the cookies.
First up is the sugar cookies…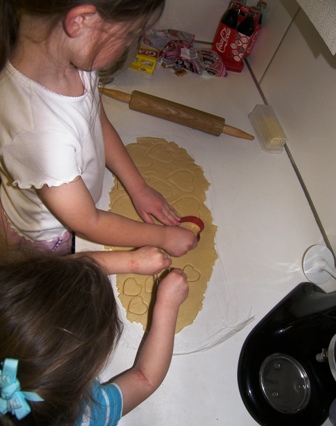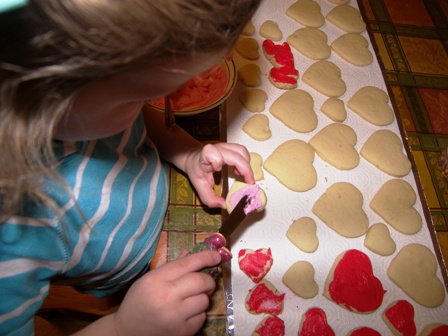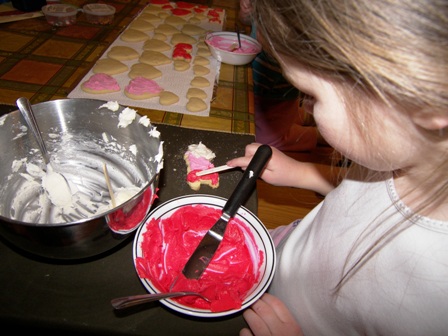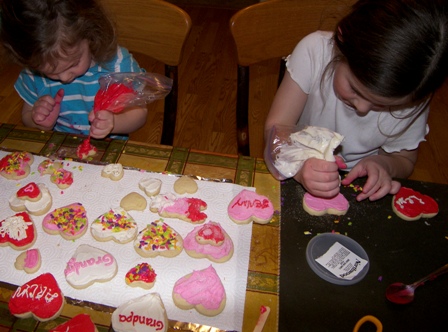 And then the chocolate chip cookies, with a bit of variation…
First, I melted chocolate and spread it out to harden, then they cut hearts out of it for on top of some of the cookies.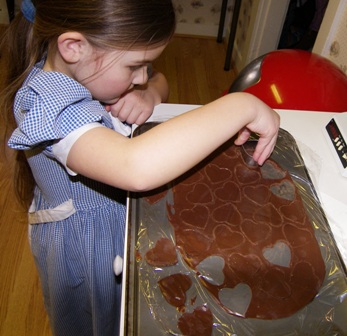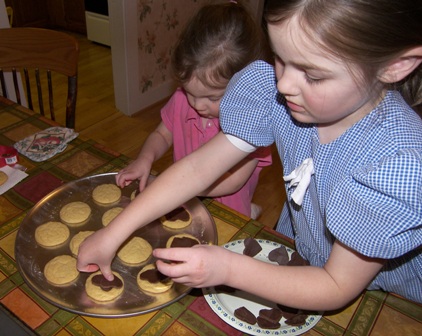 Then, they cut the rest of the cookies into heart shapes and decorated them with melted chocolate…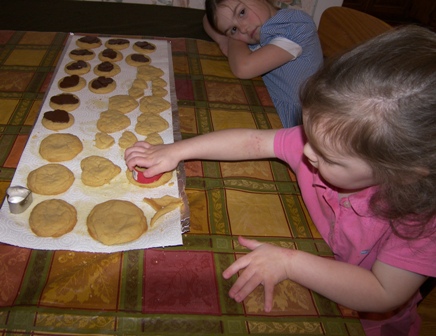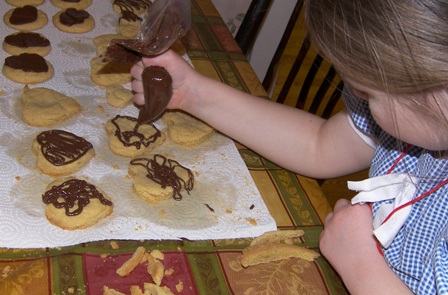 Now the cookies are all ready. We separated them out, one batch for each Grandma. Lexi scrapbooked cards for each one and we packed them in a box and UPSed them.


P.S. I did help some with these cookies so the process wouldn't drag on and on.

And now, we wish you a Happy Valentines Day, with our Valentines gifts from Husband/Dad.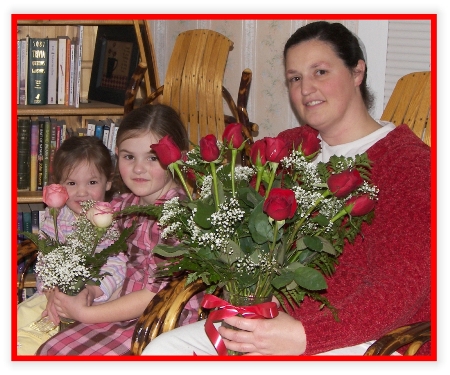 Valentines Day… Chocolate. Roses. What a perfect time to merge the two and make Chocolate Roses! Actually, it isn't just a Valentines treat, it's timeless decor for any table or dessert year-round.
I've been wanting to try these for awhile. But they always looked so complicated. But they still intrigued me. So, I finally made some…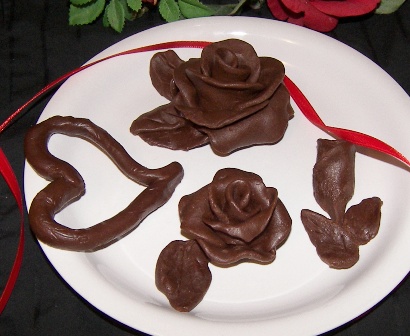 This is all you do:
Take about 2/3 cup of chocolate chips and melt them. Add about 3 Tbsp. light corn syrup.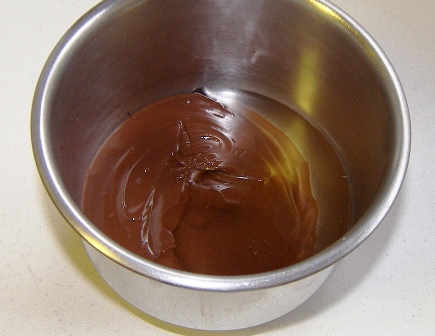 Stir until mixture starts pulling away from the sides of the bowl and starts balling up. It'll be kinda like taffy. Dump it out onto a piece of plastic wrap and flatten. Cover with more plasic wrap and refrigerate for a half hour or so.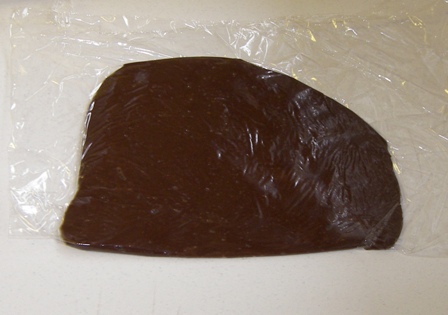 Get it out and pull a chunk off, about a tsp., and roll it around with your fingers till it's a smooth ball, then flatten it into a petal. Make 6 -10 petals, depending on how big you want your rose.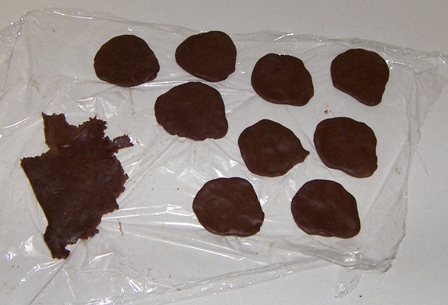 Take one of the petals and roll it up loosely. Use your finger to bend the top back just slightly.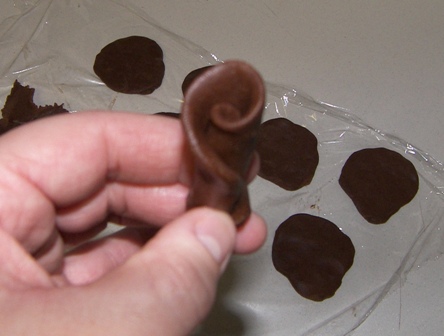 Take the next petal and start it just behind where the first petal ended.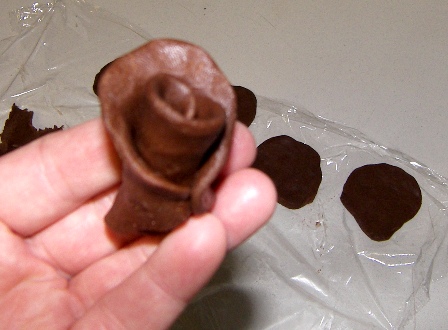 Continue like that until all the petals are used up, bending the tops back slightly as you go. When your rose is done, cut off the stem (which will have gotten quite chunky) so the rose can sit flat. Or, go ahead and try making it thin and having a long-stemmed rose! I might try that next time.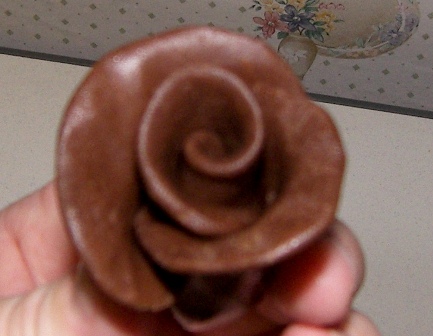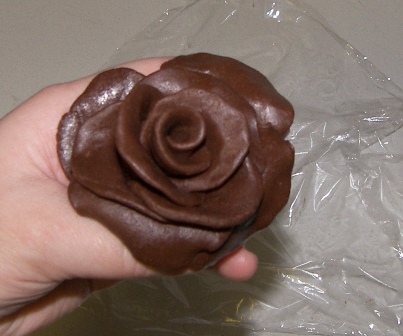 I tried a rosebud by using only 2 petals. After making 2 roses and 1 rosebud and the leaves, I had some chocolate left yet, so I just made a heart with it. So, what you see on this plate is how much 2/3 cup chocolate chips makes.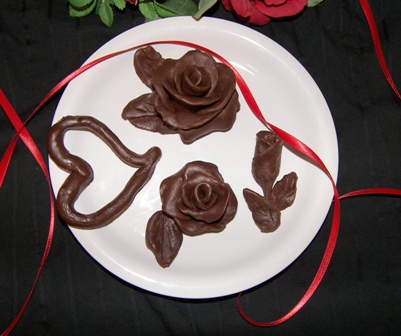 Now what I need is a nice dessert to put them on.

But, I don't have one, so I'm just gonna keep them in the freezer and whip 'em out sometime when I need some quick dessert decor!
So, what do you think? You gonna try them?

It was a wonderful trip. Lexi and Tiffany travelled well. And if it wouldn't've been for the gum episode (where Tiffany took it out of her mouth and was playing with it and it got on her carseat and the floor and on Shannon's computer case) and the cappuccino episode (where I actually dropped mine and caught it upside down and had to wash up part of the area in and around the cup holders), we'd have had an uneventful trip, disaster-wise.
The wedding was beautiful… have you ever seen one that wasn't?! It was pink and brown w\ aqua accents. Here are some food-related pictures from the reception…
The cake. Neat, huh?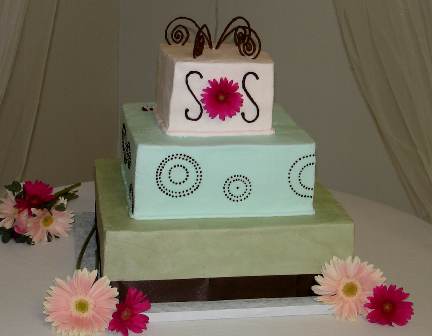 As we entered the reception hall, there was a table with a chocolate fountain and fruit and pretzels and marshmallows and also a punch table that we stopped at before being seated. I don't have a good picture of those tables, but here's my plate from it…

Decor on the guest tables was little cups filled with mini buckeyes and tied shut with tulle and ribbons and there were tea lights sitting on top of coffee bean filled votive candle holders. They looked really neat. Some people were actually munching on the coffee beans. I love the chocolate covered ones, but never ate one plain! 

The meal was chicken sandwiches, baked beans, chips, and macaroni salad (I think, for some reason I'm having a hard time remembering the salad and I don't have any pictures of the main meal part). Good food! My b-b-qued chicken sandwich was great!
The dessert area. Instead of the usual cake and ice cream, they had an impressive display of desserts. Cheesecakes, cookies, chocolate roll, trifles, bars, cakes, fruit pizza… Just delicious! It was so hard to choose from…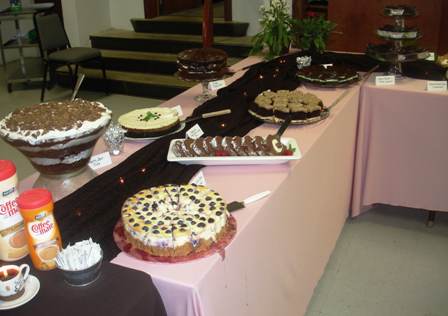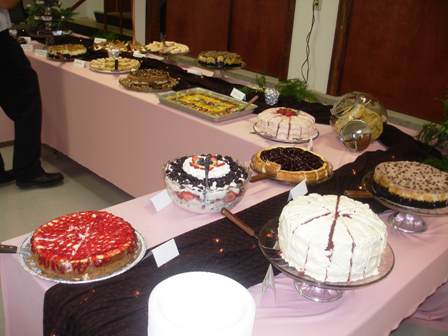 And the bridal table, beautifully decorated…