If you want quick-n-easy, here you go. These would honestly fit into a "30 minutes to mealtime" category. And 20 of those minutes is the potatoes cooking, so that's some free time to fry some chicken, make a salad, or whatever else is for dinner. All you do is peel a stripe around the potatoes, throw them in a kettle to cook, then 20 minutes later, toss them with a butter and herb mixture and put them on the table.
This is one of those recipes I clipped a long time ago. Well, I didn't technically clip it, I scribbled it down. When I have a clipped recipe, sometimes I can tell where they came from, but when I just wrote it, it's only a guess. Maybe it was out of a magazine in a doctor's office or somewhere (because, you know, I'd never rip a recipe out of someone else's magazine!). I've seen this potato recipe in my stash of clipped recipes pretty often, but never tried it… maybe because it's so hard and complicated. Just kidding.
Anyway, this recipe is definitely a keeper. It's simple enough for a regular weeknight meal, but dressy enough for Sunday company. As I wrote that part about being dressy, I wondered what I thought makes it dressy and I guess it's because of the peeled stripe around it and the parsley garnish. 😉  We ate these with sour cream, but I wish I'd have thought of Ranch dressing. I'll bet that would've been really good with them too!
And here's the recipe:
Herbed new Potatoes
12 small new potatoes
4 tsp. butter
1 1/3 tsp. dried parsley (or 1 1/3 Tbsp. chopped fresh parsley if you prefer)
1 1/3 tsp. chives
Fresh parsley for garnish
Peel 1/2″ strip around center of each potato. Place in cold water in saucepan. Boil potatoes about 20 minutes or till done. Don't overcook.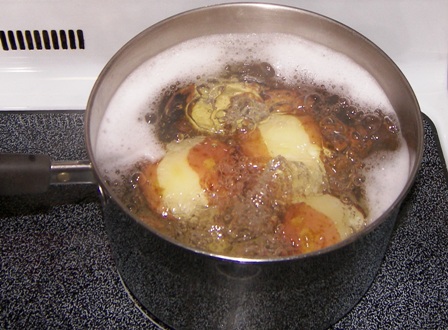 Drain and cover. Melt butter and stir in chives and parsley. Pour over potatoes and toss to coat. Spoon potatoes into bowl and garnish with parsley. Serve immediately. Serves 4. Variation: Can also sprinkle with bacon or finely minced greeen onions.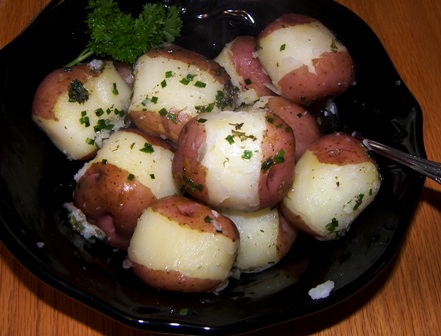 Oh, and about ripping a recipe out of someone's else's magazine… *ahem* … Confession: I did one time several years ago at an oil change place while waiting on my car to get done. But only that one time. Seriously. 😉 I forget, but I probably didn't have a pen and paper on me. It was a garlic biscuit recipe of some sort, but not these Red Lobster ones.
Change of subject now: This article hit the news last week. 😉 By Melissa Dutton for the Associated Press: http://www.wral.com/lifestyles/story/5579539/ I guess now you'll know what Lexi's 7th birthday cake will be.

Have you ever tried that? Yesterday, while we were making fry pies, Renita and I were talking about quick lunches or something (I forget exactly how we got on the subject) and she said that her son likes his pb&j sandwiches fried, like a grilled cheese sandwich. I had never heard of it, so I decided I'd have to try it.
Fast-forward to a couple hours later… I got home around 1:00 p.m. and hadn't had lunch yet, so I was staring in the fridge when suddenly I remembered the fried peanut butter and jelly sandwiches. So, I made 2, one for me and one for Tiffany (Lexi was at school). Then, after eating that one, I made another one for me. They are good! The peanut butter gets all warm and melty and gooey and the sandwich is crispy to bite into. It just kinda bumps plain ol' peanut butter and jelly sandwiches up a level. 😉
So, here you go, no recipe, just the process in pictures…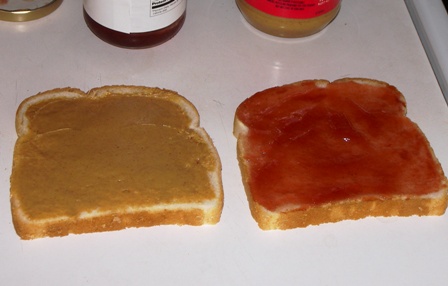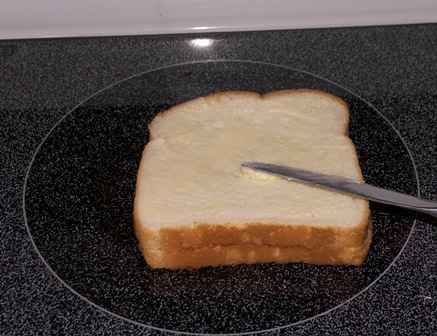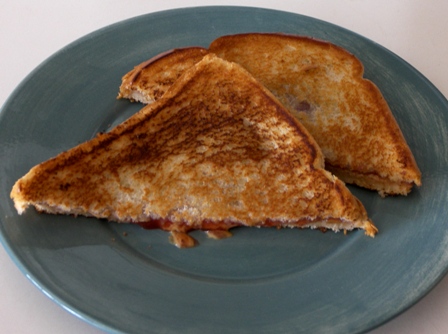 Peanut butter & Jelly…

Grilled cheese and tomato soup…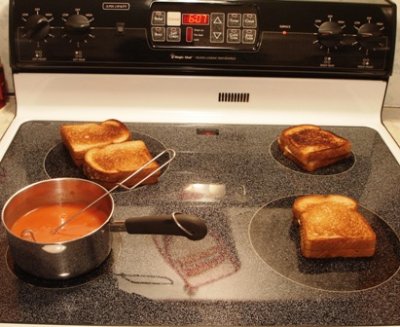 Yup, I don't use a frying pan for this type of thing, mostly which is grilled cheese sandwiches. And that reminds me of this post, which was written on my old blog before I started Kitchen Scrapbook. And when the posts were transferred to Kitchen Scrapbook, the comments didn't come with them, so here are a couple other ideas that people had for doing right on a smooth top burner and skipping the frying pan: warm tortillas up, make quesadillas, and someone knew of someone who fries onions and sausage right on the burner! I haven't tried that one! Someone also said this, "Something to try next time you have tomato soup.  Hard-boil 3 or 4 eggs, then grate or shred into soup just before serving.  Yummy!"
I LOVE my smooth top stove! Not just for this, but because it's easier to clean too.
The title actually sorta gives away what most of the ingredients are! Cheese (actually a can of cheese soup), chicken, and if it's quesadillas it's gotta have tortillas, and water. I got this recipe off of the soup can. Southwest Style Pepper Jack soup.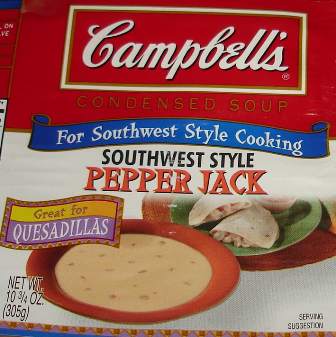 It was kind of hard to find… have you ever stared and stared at shelves, just knowing it was there, but you couldn't lay your eyes on it? I did that with this. I did it in the jello section looking for watermelon gelatin too just lately, but that's for another time and another post. There is a difference though… with the watermelon gelatin, I was only hoping it was there, with the soup, I knew it was there.
The reason I knew it was there is because my sister-in-law Liz makes these quesadillas and she said Marketplace has the soup, but Walmart doesn't. After I finally found the soup, I immediately looked on the label to see if the recipe was there and sure enough, it was. Then, I wondered HOW, out of all the soup can labels there, Liz found this soup and tried this recipe. And it was a hit with the family! Wonder how much more I'm missing out on by not trying other soup can label recipes.
There are 4 more recipes on the back (you have to cut the paper off of the can on the specified line and flip the paper over to see them, this is not something you should be doing in the store before purchasing). I think it's the manufacturer's trick to getting you to buy more… you can't see the other recipes till you get home and cut the paper off of the empty can before throwing it away. Then some of the recipes grab you and "Southwest Style Pepper Jack soup" goes right back on your shopping list. The other recipes are: Nachos Grande, Cheesy Pepper Jack Tacos, Mexican Meatloaf, and Cheesy Southwest Potatoes. I'll bet some of those would be good too. Especially the nachos, meatloaf, and potatoes. They all have 5-7 ingredients. The reason you don't need many ingredients is because this soup has got LOTS of flavor and kick.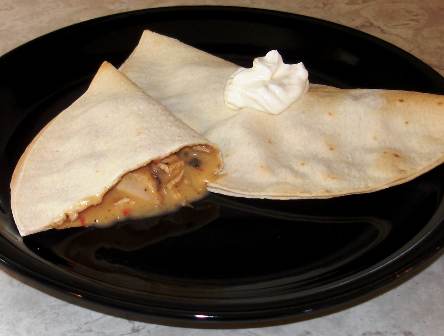 Cheesy Chicken Quesadillas
1 lb. boneless chicken breast halves, cubed
1 can Campbell's Southwest Style Pepper Jack soup
1/4 cup water
8 flour tortillas (8″), warmed (I used 9″ tortillas, and only 6 of them) 
Preheat oven to 325. Cook chicken in nonstick skillet until done and juices evaporate, stirring often. Add soup and water and heat through. Shannon grilled the chicken on the grill while I mixed and heated the soup and water. When the chicken was done, I chunked it up and mixed it into the soup.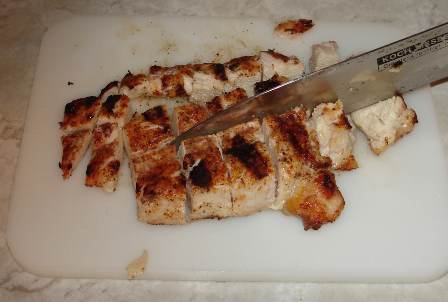 Spoon about 1/3 cup chicken mixture on half of each tortilla to within 1/2″ of the edge. Moisten edge with water.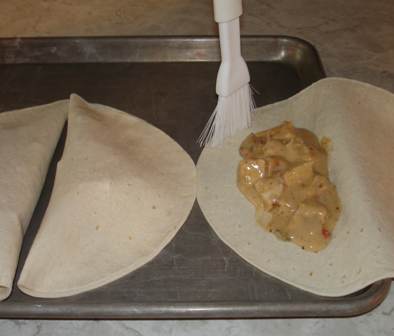 Fold over and seal. Place on 2 baking sheets (or 1, in this case). Bake 5 min. or until hot. I baked them for 7-8 minutes, until I saw a bit of browning.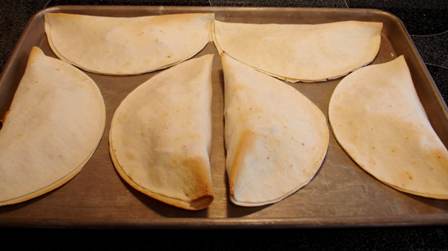 Cut into wedges and serve with salsa. And/or sour cream. I ate mine with sour cream. It was spicy enough without the salsa.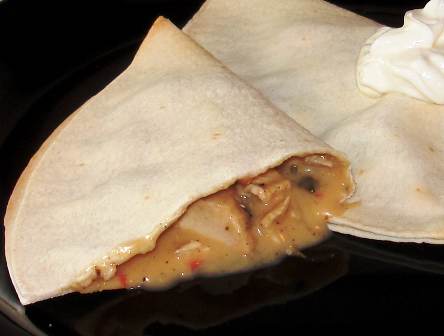 Just delicious for something so simple! If you have a full-time job and need to come home and make supper, this would be a good thing for the main dish! It takes about 20 minutes from start to finish. For a quick idea of something to serve with it, how about tortilla chips and applesauce. Or peanut butter pie (I'm so hungry for peanut butter pie!). Or ice cream. Or something else cold and creamy to cool the mouth. Tiffany's take on the quesadillas after a couple bites was, "I don't wike da spicy."
Do you ever feel like a broken record when it comes to meals? Whenever I try to think of something different for Sunday lunch (I mean something dressier than a frozen pizza), my great ideas are always weeded out by "Nah, I'd have to get up too early" or "No, that needs basted while baking and I won't be here" or "I'd never have time to make that AND get us out the door in time" etc. So, it often ends up being the good ol' roast, potato, veggies in a crockpot meal. Not that I'm complaining… we love that meal! I'm just sayin' I do feel like a broken record sometimes when I say, "I guess we'll do a roast in the crockpot for lunch tomorrow", even though I try to use a different voice inflection and wording than I did the week before.
One thing I LOVE about this meal is I don't make it. Who wouldn't love that?! Really, that's even better than that meal that I said, "Seriously, I spent no longer than 35 min on this meal!" Here's the secret: I have a husband who cooks better than I can.  (I am NOT kidding about that!!!!)  Anyway, he puts the frozen roast in the crockpot before we go to bed Sat night. He tries different things with seasonings and flavorings. Yesterday, it was Parmesan cheese, bay leaves, seasoning salt, and b-b-que sauce…


He puts water in with the roast and seasonings and onion wedges
and turns the crockpot on Low. 
 
In the morning, around 7:30 or 8:00, he put in potatoes, whole fresh mushrooms, and carrots.


When we get home from church, everything is perfectly done.


I usually put some crescent rolls from a popable can (speaking of a broken record, you may know by now that I'm a big fan of those too!) in the oven and set the table and dish everything and… lunch is served! 

Crazy thing is, as easy as that meal is, we still opt for a frozen pizza or grilled cheese and tomato soup lunch sometimes. Or something on the grill in the summer.
What do you usually do for Sunday lunch?
Note to Kitchen Scrapbook readers: There were some interesting comments on this post and I wish they would've copied over from my old site when I copied the posts onto Kitchen Scrapbook. It was surprising how many people have a roast on Sunday! Other common lunches were quick things, like leftovers or breakfast foods.
    ————————————————————————————————————–
     —————————————————————————————————————
  Valentine's Day is coming up!
 Stay tuned for a Valentine's meal post in a few days!
Here is what we're having this evening (my husband reads my blog, so now he'll know what to get in the mood to eat
 ):
 
Turkey loaf, steamed broccoli, baked potatoes, and crescent rolls
We eat at 6:30, so around 4:00, I'll get the meat in the oven (30 seconds). Around 5:00, I'll scrub the potatoes and wrap them in tin foil and put them in the oven (5 min). Then around 6:00, Lexi and I will set the table, Lexi will make the crescent rolls, I'll get the broccoli to cooking, and we'll get 'extras' on the table like butter, jelly, S&P, and sour cream. Around 6:15, I'll get the meat and potatoes out and put the rolls in, pour water, dish stuff out, and we're ready to eat!
This is one of the easiest meals there is! I'll get a picture of it on the table this evening, edit the post to add it in, and see if you think it looks like I fussed over it for longer than 35 min!
And, another good thing, cleanup is a snap because even with 4 things, I'll only have dirtied one baking sheet (rolls) and one kettle (broccoli). The potatoes will have tin foil and the meat has it's own disposable container…

Edit:
Here's my plate at mealtime…

And it actually didn't take 35 minutes. I had time to kill hit-n-miss between 6:00 and 6:30.