It's easier than you think. In fact, Tiffany did it because I had another project going. My project was in the kitchen, so I was right there the whole time and pretty much just talked dinner into existence.

That's a lot different than how it used to be. It used to be that I wouldn't let them cook unless I had my schedule cleared and plenty of time. And then my main job was damage control and cleaning up messes as fast as they made them. So, I'm here to say that there. is. hope. for little cooks to get trained.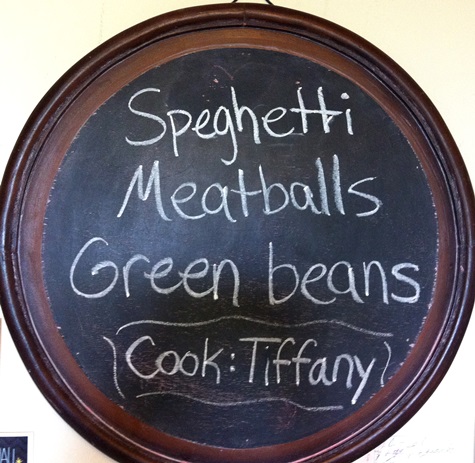 So, here we go, a spaghetti & meatballs meal. I only have 2 pictures because I was busy doing other stuff.
Step # 1. Lower your standards. This is going to be a simple meal. Nothing gets mixed into the meat, for example. And there's no garlic bread. She did want to get all fancy shmancy with the Parmesan cheese, though.
Step 2. Have a little lesson on how to turn the correct burners on on the stove (I actually thought Tiffany would know this, but she didn't! I guess either I did it for her before, or they're not born knowing this stuff.) So, we had a little lesson on how the "map" under each control matches the stovetop layout.
3. Have her get everything out: Spaghetti, kettle, frying pan, lb of burger, jar of pasta sauce, salt, Italian seasoning, canned green beans, bowl for green beans. That's it.
4. Tell her to fill the kettle half full of water, sprinkle in some salt, put it on the stove, and turn the burner on Hi.
5. Tell her to put the frying pan on the biggest burner, turn it to 5, then take the burger and shape little balls and put them in the pan.
I had her use the stovetop frying pan even though I like the electric better… here's why: the electric one has legs and a bit higher of sides, so it's several inches taller and I thought she'd have a hard time comfortably seeing into it.
And it's always good when a cook is able to see into her frying pan.
I had her fry instead of bake them because she hasn't mastered the thing of getting stuff in and out of the oven yet, without burning her arm somewhere between her wrist and her armpit. She wants a pair of mitten hot pads that go all the way up her arms. Seriously, she does.  
6. The water was boiling by the time she was done making the meatballs, so I told her to put the spaghetti in and stir it a bit. Then flip the meatballs and to just kind of keep flipping them until no more pink was showing.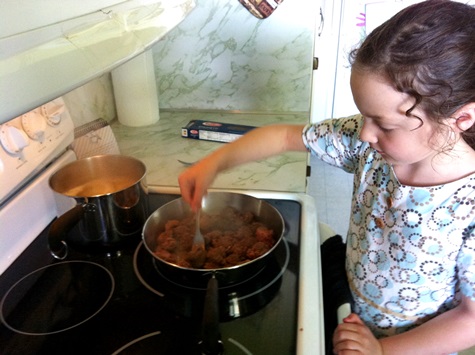 7. The meatballs and the pasta were done around the same time, so I told her to turn the burners off and I helped her drain the fat off the meatballs, and then she sprinkled them with salt and Italian seasoning, dumped the pasta sauce over them, and turned the burner to Low.
8. Time to dump the beans into the bowl and microwave them for 2 minutes.
9. So now the beans are heating, the spaghetti is holding, and the meat is simmering in spaghetti sauce. Time to set the table, including getting out her beloved Parmesan grater and a chunk of Parmesan, and pour water.
10. Now everything is done. She was able to drain the spaghetti herself by dumping it into the colander in the sink. Time to dish up. Aaaaand grate Parmesan over everything. And call everyone to the table.
Thank you for making dinner, Tiffany. It was good!!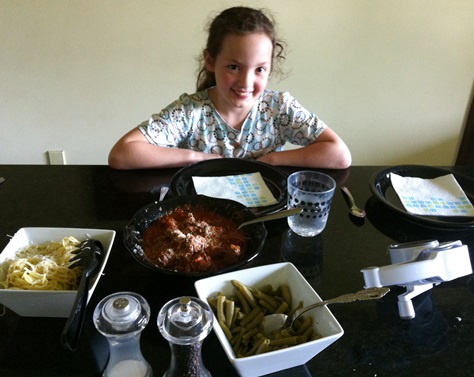 She held the Parmesan grater hostage and the minute we dished food onto our plates, she was magically standing beside us saying, in what we call 'the fancy lady voice', "Would you like some Parmesan cheese?" and then we'd answer, with exaggerated politeness, "yes, I would, please" and she'd reach in and grate.
Summer is coming to Ohio. We think. Today we're wearing jackets, but we've had a few warm days as teasers and the forecast looks promising.
These quesadillas are great for summer for 2 reasons: 1. They're quick (summers seem busier, less time cooking) 2. They don't use the oven.
These quesadillas are great year-round for 2 reasons too: 1. They're easy. 2. They're so good.
Sometimes when we have Grilled Chicken Breast Salad, I purposely have Shannon grill a couple more pieces of chicken than we'll need. When I'm cleaning up after the meal, I chunk up the leftover chicken and put it in the freezer for such a time as this: Chipotle Chicken Quesadilla night.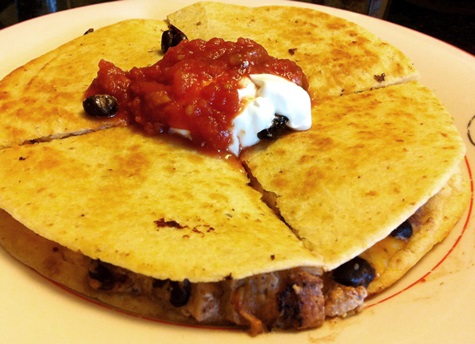 This is not a recipe from anywhere, it's just a thrown together dish.
This is a good walk-into-the-kitchen-30-minutes-before-mealtime-thinking-"what-can-I-make-QUICKLY" option.
So, get out your frying pan and start heating it up, I set mine to 300 degrees, which would probably be medium-low on a stovetop. Get out the sour cream, frozen chicken chunks, tortillas, can of black beans, and shredded cheese. Put the chicken in the microwave for 1 min to thaw. Put a bit of olive oil in the frying pan, add the chicken, and sprinkle with chipotle seasoning. Fry and stir a couple times.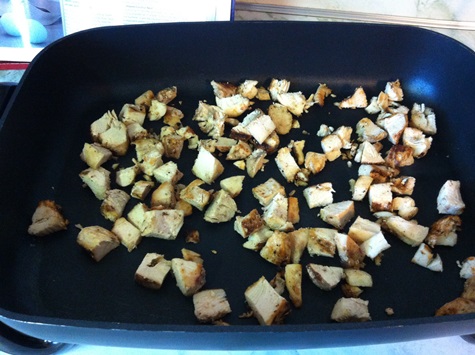 While that's frying, get the other stuff ready… Butter 1 side of each tortilla, drain the beans, open the sour cream and cheese.
Take the chicken out of the pan. Put 2 tortillas in the pan, butter side down. Smear with sour cream. Add chicken, beans, and cheese.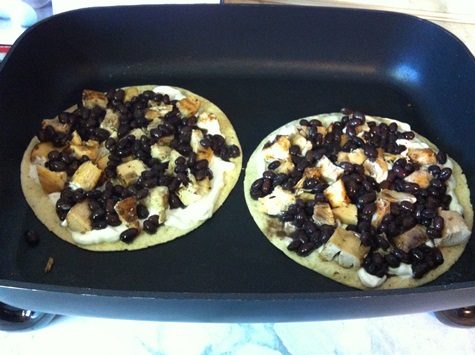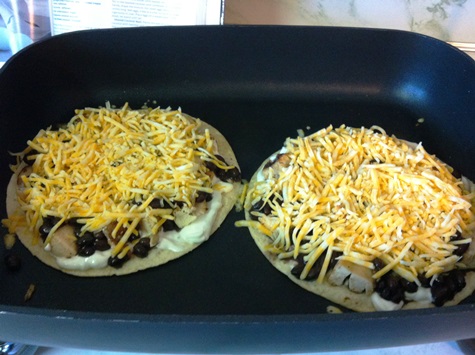 Put the other tortilla, butter side up, on top.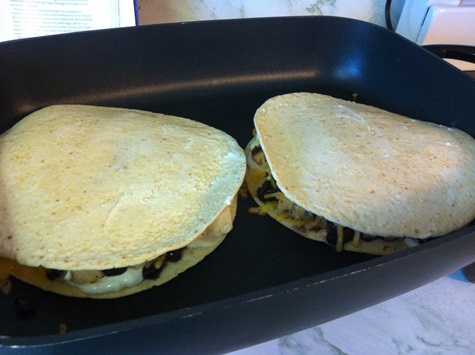 I didn't time how long to fry it before flipping, I just waited til the bottom tortilla was nicely browned and the cheese started melting a bit. Flip quickly, but gently, if that makes sense. If you flip quickly and wildly, you may have beans and chicken chunks hitting the ceiling.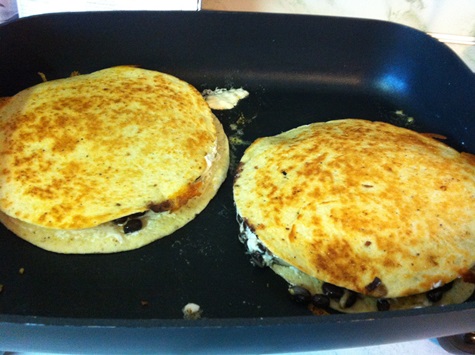 After the second side is fried, put on a plate and cut into fourths with a pizza cutter. Top with sour cream and salsa.
For sides, I serve extra tortilla chips & salsa and applesauce.
I make four quesadillas total (only 2 fit in the pan at a time) and I tried something different for the second batch… Instead of layering, mix the sour cream, chicken, beans, and cheese together. Put 2 tortillas in the pan, divide the mixture between them, spread it out, and put the other tortilla on top. Either way works great and tastes the same.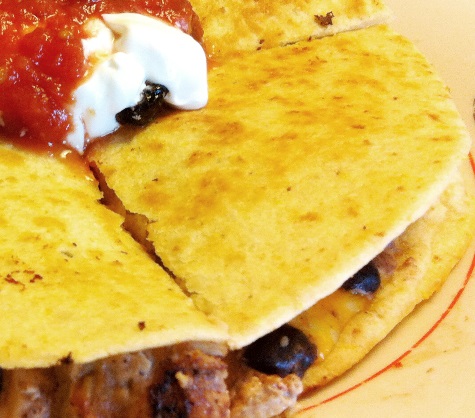 Now, for a bit of a concise recipe that doesn't have pictures mixed in, in case you want to copy and paste it somewhere. These measurements will be very estimated because I never measure them and the chicken amount varies with how much leftover there is at the moment.
Chipotle Chicken Quesadillas …add or subtract to your liking
2 cups of chicken, chunked
1 Tbsp. olive oil
2 tsp. chipotle seasoning
3/4 cup sour cream, plus extra for garnish
1 can black beans, drained
2 cups shredded cheese
8 tortillas, each buttered on one side
If chicken chunks are frozen, thaw in microwave for 1 min. Heat electric frying pan to 300 degrees or medium-low for stovetop. Sprinkle seasoning over chicken and fry in olive oil for several minutes, stirring now and then. Take chicken out and put 2 tortillas in, buttered side down. Put 1/4 of the sour cream, chicken, beans, and cheese on each tortilla OR mix those 4 ingredients together and spread 1/4 of the mixture on each tortilla. Fry for several minutes, flip gently, and fry the other side. Put on a plate, cut into fourths with pizza cutter, and garnish with sour cream and salsa. Round out the meal with tortilla chips, extra salsa, and applesauce. And dinner is served!
Summer, we love you and welcome you! Please come and stay for awhile!
I'm not sure who has more fun with this… me or the kids. The thing about kids is that they're so forgiving. For example, if your lion lunch looks more like a sun with whiskers, they'll love it anyway. And they'll even call it a lion, and they'll grrrr while they're eating it. Those of you reading this will probably fall into one of 3 categories:
1. Think "That's a waste of time."
2. Think "That would take too long, but I'd like a few easy ideas to do someday… maybe one day when I have nothing else to do *hahaha, laughing at your own joke of nothing to do*, or for a birthday party for one of the kids or something."
3. Think "I need to make lunch anyway, so instead of cutting a sandwich in half corner-to-corner and throwing it and chips on a plate, I might as well take a couple extra minutes and cut a roofline at the top of the sandwich and place some Doritos here and there to make it a house-on-fire lunch. Not saying I do it all the time… just hit n miss for fun. Because psssssst *whisper* Sometimes I fix lunch in 30 seconds flat and my kids' lunches look like this:"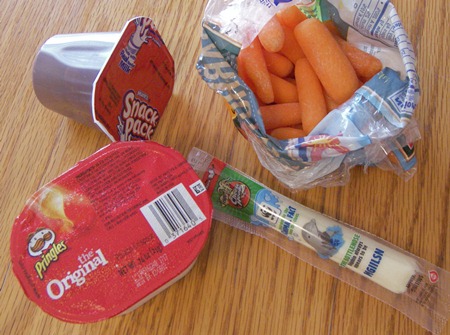 If you are person #1, I don't care, I won't try to change your mind… I'll just feel privileged that you're still putting up with me on here. 


If you are person #2, do it, find that 'someday', seriously, I can't tell you how much the kids will love it.
If you are person #3, ahhh, let's just remember that strengths and weaknesses lie side by side… because I'm pretty sure that spending time playing with food instead of folding laundry would be considered a weakness. 😉
You may notice that this is almost all grilled cheese sandwiches. Nothing fancy. No special recipes or anything.
I'm just going to put up 10 or so pictures here of ones I've remembered to take pictures of. Most of them were quickly snapped with my cell phone… without necessarily planning to post them, just more for my own interest. I thought of redoing them all and getting decent pictures, but you know what? I don't specialize in the photography line like a few of my talented friends do. (My talented friends' first piece of advice would probably be "use a camera, never a cell phone!")

I think the pictures are pretty self-explanatory, but I'll try to explain sorta what I did under each picture. I just used whatever I had on hand… nothing was planned ahead, so sometimes I had to improvise, like using melted chocolate on a ham and cheese sandwich… it wasn't very much though, I just needed something dark for eyebrows. I think you'll notice the improvising as you look at the pictures. 😉
1. Let's Go Fishing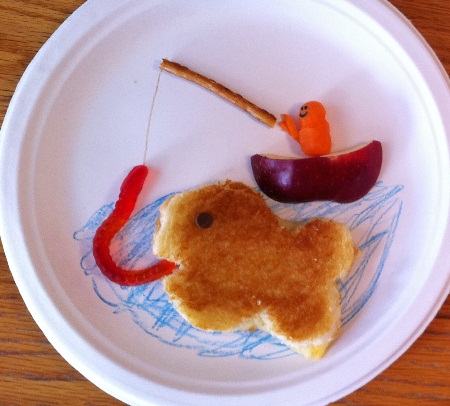 Apple boat, fish-shaped grilled cheese sandwich, carrot fisherman, gummy worm, pretzel fishing pole, brown crayon fishing line, blue crayon water, edible marker face (well, just the ink is edible, not the whole marker 😉 ), chocolate chip eye.
2. House on Fire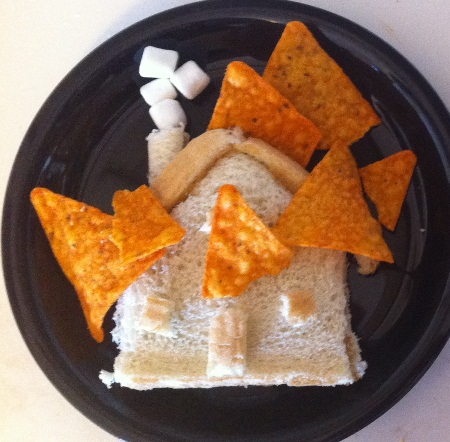 Sandwich cut into a house shape, windows doors and roof line out of crust, chimney cut from scraps, marshmallow smoke, Doritos fire.
3. Pig with Mudhole and Feeding Trough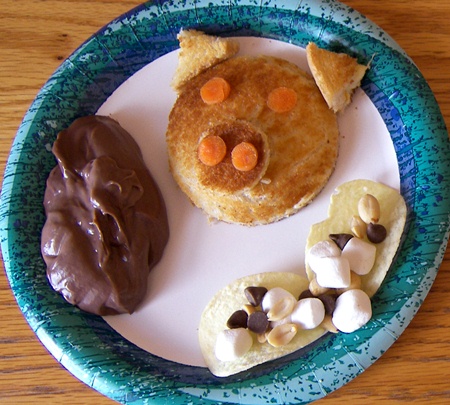 Grilled cheese pig with ears from scraps and snout from one side of another sandwich, carrot eyes and nostrils, Pringles trough with snack mix pig food, chocolate pudding mud.
4. Caterpillar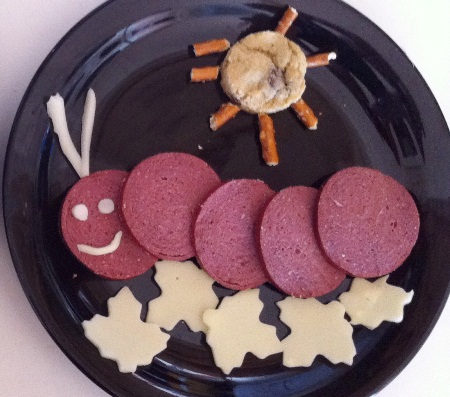 Trail bologna caterpillar with shredded cheese mouth and antennas, cheese eyes, cheese leaves, cookie & pretzel sun. I let them eat crackers with it, but I should've incorporated the crackers into the caterpillar to make it more interesting and varigated!
5. Butterfly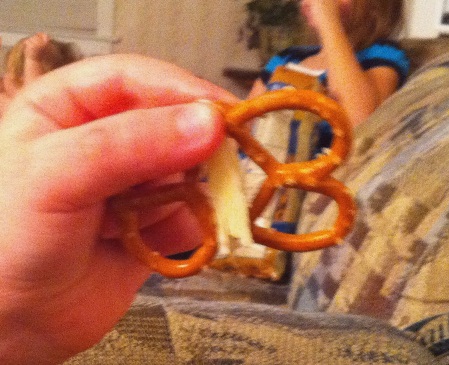 Snacking on cheese and pretzels on evening, Tiffany (5) suddenly came over to me and said "Look Mom! I made a butterfly with my cheese and pretzels!"
6. Sailboats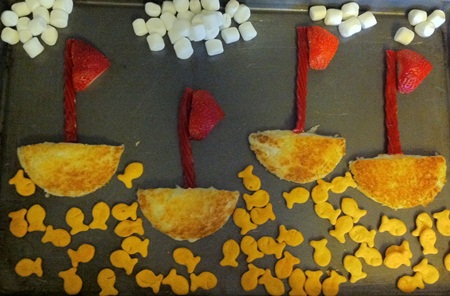 Grilled cheese boats, licorice masts, strawberry sails (it was this lunch that I realized "hey! It would be very easy to make hearts out of strawberry halves!"), Marshmallow clouds, cracker fish (swimming in invisible water, ha).
7. Semi and Car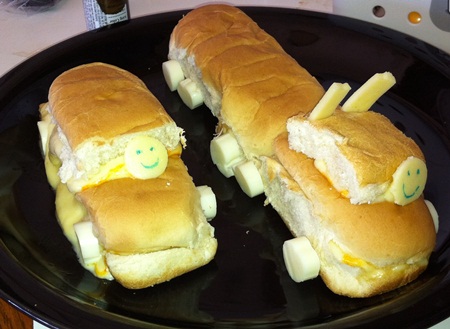 Bake ham n cheese sandwiches with hot dog bun instead of hamburger buns. Get them out of the oven and add unmelted cheese details: wheels, smoke stacks, driver with face drawn on. For the cabs, I added one layer from another sandwich. The kids drove these around a bit before eating them. The wheels are held on by toothpicks. A toothpick is the perfect length to span the width of a hot dog bun and have a bit left over on each side to press the cheese onto. The faces stayed on because I put them against the hot melted cheese and they stuck.
8. Lion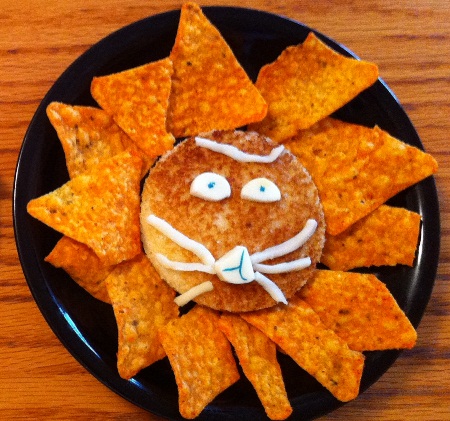 Yeah, you can laugh at these lunches, I don't care.

Grilled cheese head, shredded cheese and cheese chunk face, Doritos mane.
9. Spiral and a Scissors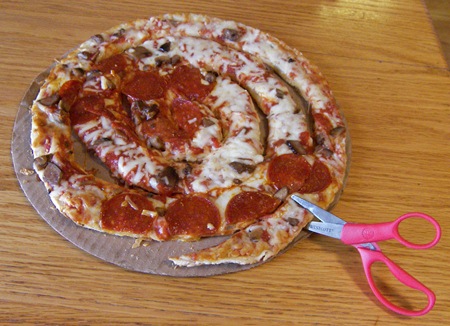 Cut-your-own-piece pizza. The girls cut small pieces so they could use the scissors more often.
10. Dog and Bone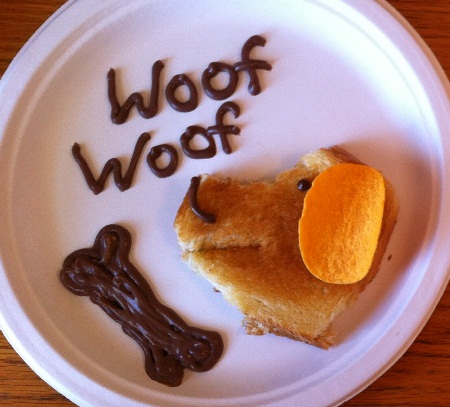 Grilled cheese dog, Pringles ear, piped chocolate pudding eye, nose, bone, and words.
11. Puzzle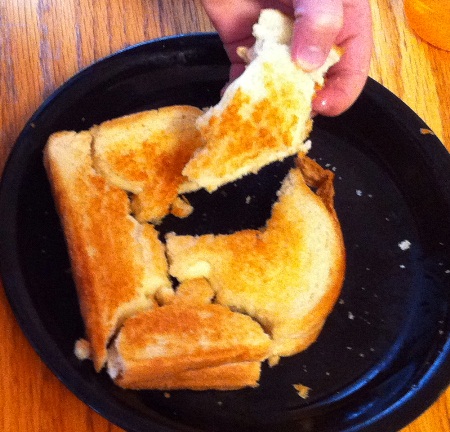 Grilled cheese puzzle pieces… very simple, but Tiffany had fun playing with it anyway.
12. Are You Ready for some Football?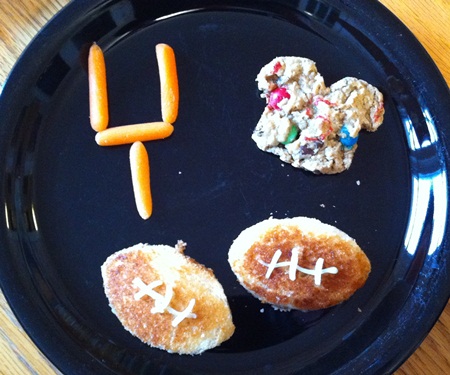 Grilled cheese footballs with shredded cheese laces, carrot goal posts (not fastened, just arranged there, and they roll while transporting the plate, then you have to fix them again 

), cookie jersey (you can't see it very well, but I used red edible ink to draw a 5 on it (because the tot eating it was 5) and drew lines at the end of the sleeves).
13. Angry Birds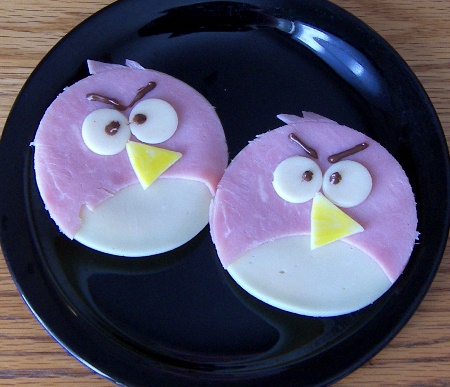 Head is round bread, round cheese, and crescent ham with 'tufts', cheese eyes and nose (I didn't have yellow cheese, so I colored white cheese with an edible ink marker), melted chocolate eyebrows and 'pupils'.
Ok, this ended up being 13… an unlucky number! I'm not superstitious, but maybe I should add another one that I just thought of that I made this week to go with a lunch, but didn't take a picture:
14. A carrot man. Think stick man with 5 baby carrots: 1 carrot was the torso, 2 were legs, 2 were arms. The head was a round piece of cheese with a smile drawn on with an edible ink marker. Then, I put a raspberry upside down on his head for a cap. One carrot man was sitting and one was standing (or laying, rather). Everything was held together with little pieces of toothpicks. Could even dress them up with fruit roll-ups or cheese/ham slices or something… didn't think of that till right now.
Have fun! We are! 

Being a mom and having guilt go together like pancakes and syrup. It just goes with the turf. You wake up in the morning and right away you can think of things to feel guilty about. I should spend more time… I should not have gotten upset when…  I shouldn't have let them… Maybe we should give them… I should be getting up, what with the baby yelling for me from her crib and all…
If you get that first paragraph, then you know what I mean when I say how it makes you feel when your children make good choices… despite all your mistakes, something is getting through.
Well, here's my little triumph in the food dept… my girls count Grilled Chicken Breast Salad as one of their favorite meals. We have it at least every other week. It's hard to get a healthier meal than this, really… fresh veggies, hard-boiled egg, lowfat mozzarella cheese, some croutons, and grilled (not breaded or deep-fried) chicken breast. In the tortured mental games that I sometimes put myself through, them liking salad seems like it, in some way, compensates for the times I say yes to ANOTHER piece of candy or that lazy Saturday when we had ice cream cones for breakfast (hypothetically speaking, of course, not like any responsible parent would ever actually allow that, or do it herself), or those times when I let the girls fend for themselves for lunch and it's anything but a square meal, a triangle meal at best.
Chicken Breast Salad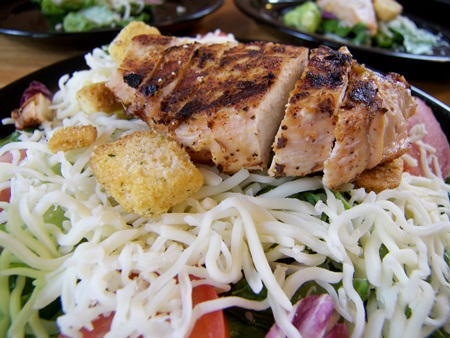 I'll show you how a meal that involves grilling is a joint effort for us… I'll color code it just to humor myself.
Shannon's 1st job: Starting the grill, either charcoal or gas. This particular time, he used gas because it gets ready faster.
My 1st job: Thawing the chicken breast. Here's how I do it. It goes from freezer to thawed in 5 minutes… which is good news to any of you who don't always plan ahead and don't get the meat out the night before to begin thawing!  
Take this out of the freezer: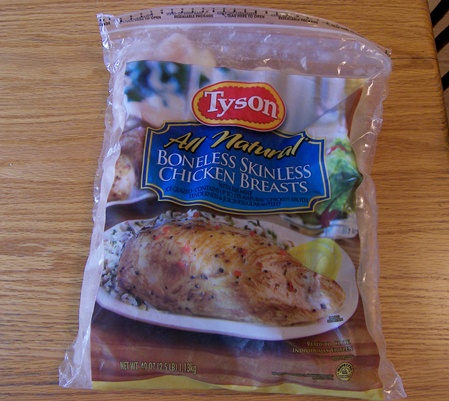 Put the frozen chicken pieces out on a dinner plate.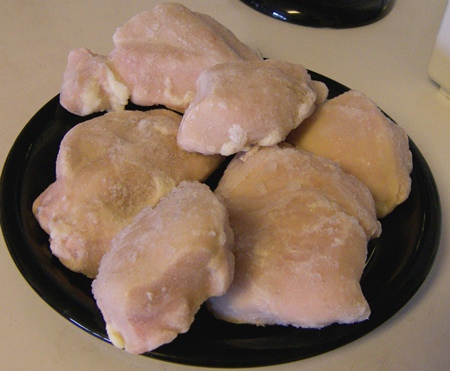 Put the plate in the microwave on High for 1 minute. Flip the pieces, reposition them so what was on the outside is now on the inside, and if one was on top, don't put it on top the next round… in general just move them around at random.
Repeat that step 4 more times. If we're having rolls or breadsticks to go with it, during those minute intervals is when I'd be getting them in the oven. Trim off some fat and drain off the juice. Your plate of chicken breasts should look like this, thawed and ready to hand over to the master of the grill.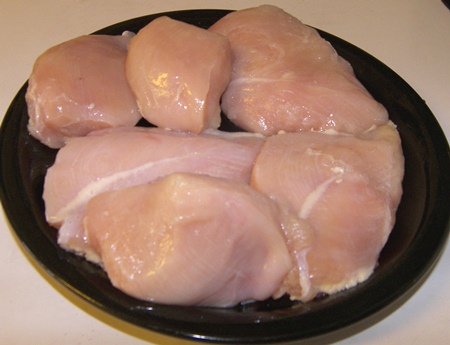 He seasons them with Chef Paul Prudhomme's Blackened Steak Magic seasoning. You can season more boldly when it's going on a salad than if you'd be eating the meat by itself. If you notice the 2 small ones with little seasoning, those are the ones the girls will eat. Their tastebuds seem to not be mature enough yet to handle the extra kick, so theirs get only Lawry's Seasoned Salt and I think Shannon might sprinkle some Lawry's on ours too. And then he puts them on the grill.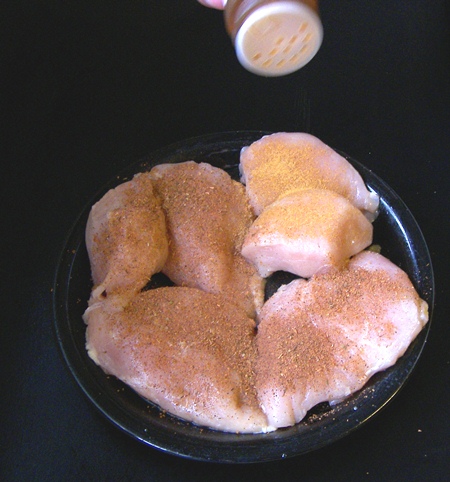 Meanwhile, I'm making salads…
Lettuce
Tomatoes
Mushrooms
Hard-boiled eggs
Shredded cheese
Croutons
Whatever else you want or have on hand like Carrots, Bacon, Italian seasoning, whatever. And they don't all need to be the same… personalize them to each person's taste.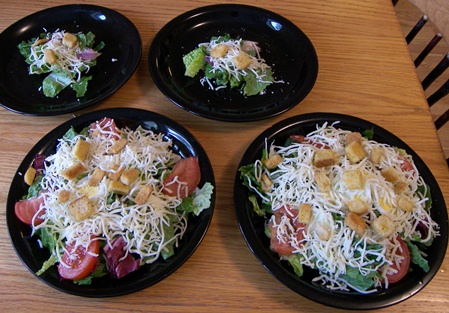 Looks kinda refreshing on a hot day, huh?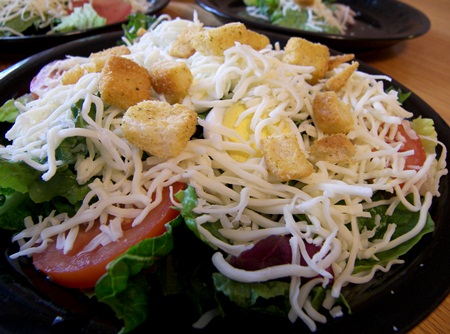 Meanwhile, the chicken is on the grill. I left my salad-making and followed Shannon out to the grill when he went out to flip them…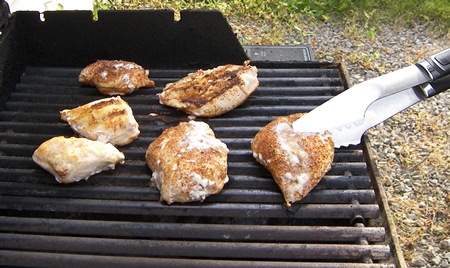 Those of you who want to make this salad, I hope you sorta know how to grill chicken breast because when I asked Shannon what he did and how and time on the grill and stuff, I got very sketchy details, but I also got some great tips.
For example, I asked how long they were on before he flipped them and he didn't know. He said you need to be on the edge of your comfort zone with it, though, and not overdo it. He said alot of people freak out about making sure chicken is done and then end up with dry rubbery chicken. You want it so it's just so done, not pink anymore, and juicy. So, of course, I asked how to know when that is and he said, "You just go by instinct."
So, yeah, good luck with that.
You could use a meat fork thermometer. Shannon used to have one, but hasn't for quite awhile because, uhhhh, one time yours truly immersed it in water because the handle was messy and, you know, of course one time of immersion wouldn't matter… famous last words. Yet, grilled chicken breast around here always ends up being perfect… done, but still juicy.
My only job left is to get out the cutting board and the knife… HIS knife, I should say. Yeah, we each have our own knife this size and we each think our own is THE best. Sometime, I should put them both on here and take a poll. I'll best mine would win because, if for no other reason… it has a case! 😉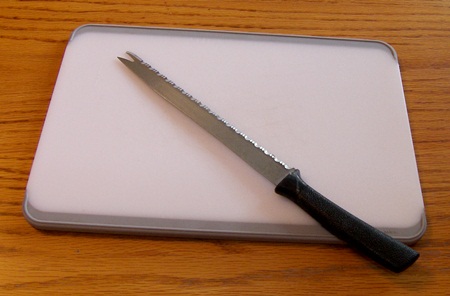 Soon, he brings the chicken in, slices it,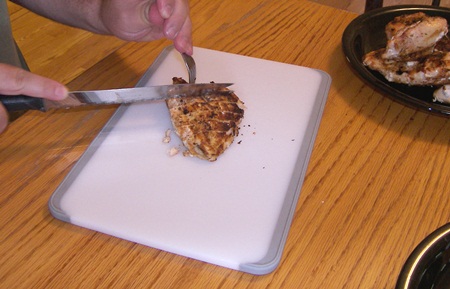 and places it on top of the salads.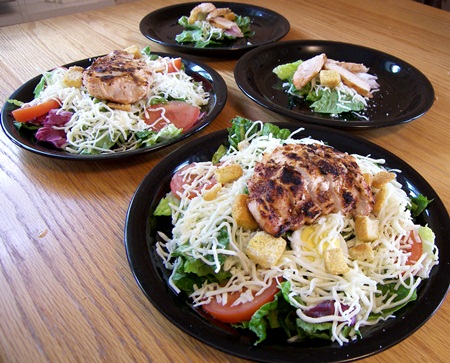 Zig-zag some Ranch dressing over it…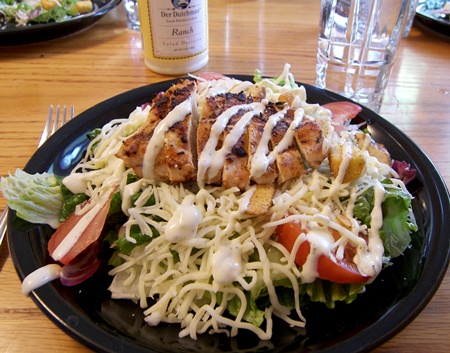 And dig in!
You don't think this salad is so healthy that it could actually take away those cavities caused by the extra pieces of candy, do you?
I've been hungry for haystacks since February. Yeah, I know. You'd think I'd have made them before now, what with being in charge of the food around here and all!
How I know it was February is because for a couple weeks in a row, the church bulletin had "Haystack Supper Fundraiser: Friday eve, Feb 25″ in the Upcoming Events section for this area. Seeing that every week got me more and more in the mood for them and THEN we ended up not going to the fundraiser! So, to make a long story short (after I already told the long story), last night was the night, and I finally got my haystacks craving satisfied. Man, I could dig my fork into this pile all over again!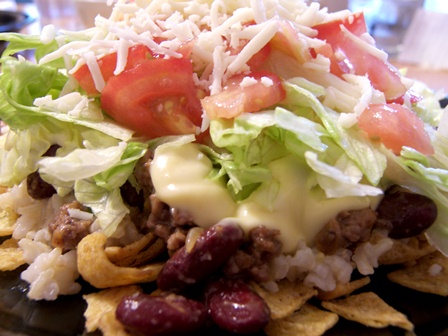 Haystacks are kind of a 'to each his own' thing, so there's not really a set way to do them… the components vary and the order of stacking varies. So, I'll just show you how we like them and you can tweak it from there. I use the term 'we' loosely because I'm the only one who likes rice on it and the tomatoes are not very popular among the little people around here.
Speaking of rice, the rice totally flopped last night. I mean really. Rice. How hard can it be… get it to boiling in a pan and then let it simmer for 45 min WITHOUT lifting the lid, then when time's up, you lift the lid and there is your rice, magically perfectly done, fluff it with a fork and put it on the table. Well, *ahem*. I now know what happens when you accidently put in too little water. The magic doesn't happen. Half of the grains are fluffily cooked and half of them look like you just dumped them out of the bag and half of them look partially cooked— ok, I think I got too many halves here, but you get the picture. I noticed it when I was about to dish everything up, so I put more water in, cranked the burner to High and cooked the rice like crazy for about 10 minutes. It worked ok and was soft enough to eat.
Here are the components to our haystacks. We thought of salsa later, so that's missed on the picture.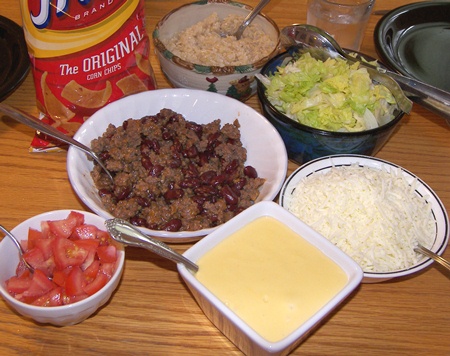 Here's the order I layer it in:
— Corn chips, slightly crushed (you can also use crackers, but I like the extra flavor and crunch of chips)
— Rice
— Meat mixture (brown hamburger with onion, then add a packet of taco seasoning and a can of kidney beans)
— Cheese sauce (1/4 cup melted butter, 2 Tbsp flour, 1 cup milk; bring to boil, then stir in 1 cup cheddar or Velveeta)
— Lettuce
— Diced tomatoes (can also open and drain a can of diced tomatoes, a handy time-saver tip from my friend Linda Y.)
— Shredded cheese
— Salsa
Maybe there is something I miss that would make haystacks even better, so if you make them different than this and if you feel like it, I'd love to hear what variations you do to haystacks!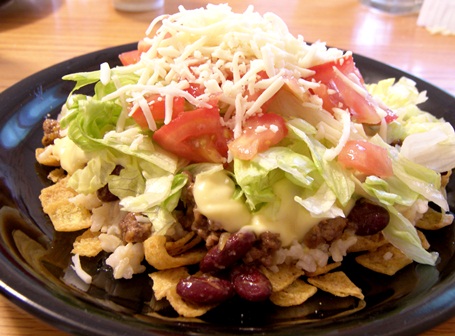 While I was making this, I was thinking that this would be a good meal option for those it's-4:30pm-and-I'm-staring-in-the-fridge/freezer/cupboards-for-a-menu-inspiration moments. Or maybe you guys never do that… I do it more often than I care to admit. Anyway, I think I'm going to keep this meal option on hand from now on… The rice takes very little time to get it to simmering, the meat would be fast (especially if it would be already browned in the freezer), cheese sauce takes very little time and the rest of the stuff is basically just putting it on the table… which the kids did last night. Actually, this meal isn't far away from the kids totally doing!
Speaking of which, my goal this summer after Lexi gets out of school is to perfect about 5 good, but easy enough, meals that the girls can do by themselves. Then, once in awhile, I can say, "Hey, you guys go make ____________ for supper, please." 😉 Haystacks may just be on that list.
Not sure what's up next, but it's seems like f.o.r.e.v.e.r since I've made or eaten sinful chocolatey richness, so I see that in my future for this weekend. And since I have to feature it on here in order to make it 'legal', that might just be coming up next……….