It's July. And it's blitzin' hot! Right now, mid-evening, the thermometer says 89 degrees. Perfect… it's July.
The girls and I had some red, white, and blue fun today. This is when we were ready to start. Excitement was high. I had a few ideas, but I didn't know what the end result would be… there was gonna be alot of experimenting going on…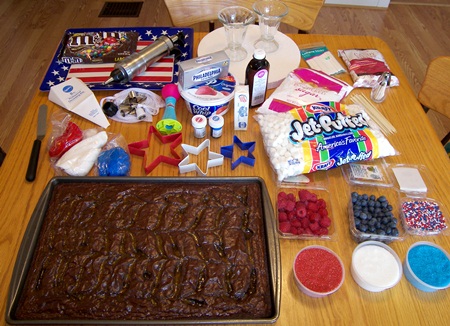 And here was the end result: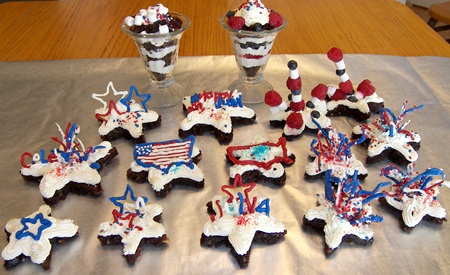 It's basically 4 different things… parfaits, berry shish-kabob decorations, fireworks, and randomly decorated brownies.
I made a big pan of brownies and then cut them out with star cookie cutters. I thought that would be faster because my star baking pan has only 6 wells and I'd have had to bake 3 or 4 batches. But, having it to do over, I'd use the star pan. You know how brownies kind of stick to the knife when you cut (unless you use a plastic knife)? Well, they stick to cookie cutters too. It wasn't too bad, though, and worked fine, but next time, I'll use my star pan.
Or, instead of brownies, it could be done just as easily on sugar cookies, cupcakes, or mini cupcakes.
The parfaits…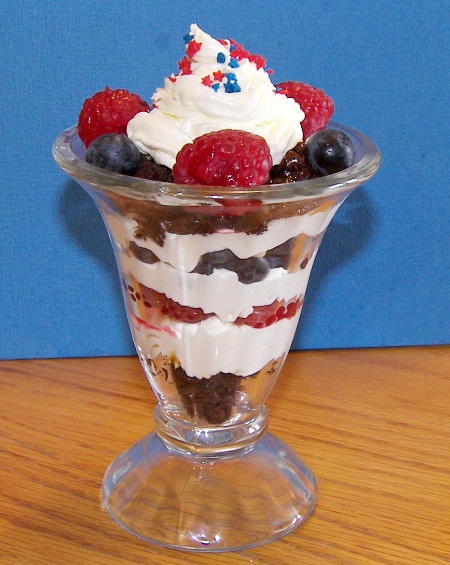 The parfaits tasted awesome and were easy and could be made in a large pedestal bowl instead of individual parfaits. This one is a layer of brownies, then cream cheese filling, then raspberries, filling, blueberries, filling, brownies, and then you can either put Cool Whip or filling on top and garnish with a bit of fruit and sprinkles. You could make a pan of brownies and cut them up into little squares to make this, or you could do what I did and use the brownie scraps left over from cutting out star brownies. 😉 The filling is: 8 oz cream cheese mixed with 1/4 cup powdered sugar, then that gets mixed with 8 oz Cool Whip.
The fruit shish-kabob decorations…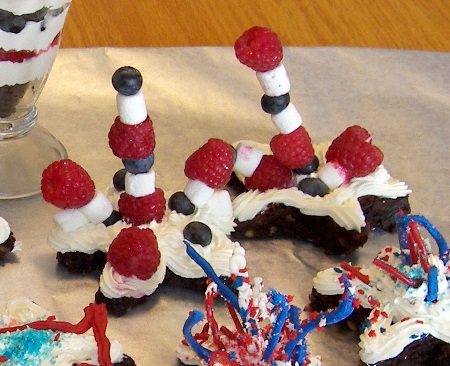 These shish-kabob things had serious issues… they kept falling over. We had to keep standing them up before each picture. We originally thought we'd try to make them look like fireworks, but we kept lowering our standards til our only requirement for them was to be red, white, and blue. We should've just skipped the sticks and made a mound of fruit on top. Oh well, the girls had fun stabbing the stuff on… and obsessing about making sure to get them in the right order of red-white-blue… but one time, one of them asked, "Mom, would blue-white-red be ok, as long as white is in the middle?" See? Obsessing. And you know what TOTALLY makes my day after all that fuss? I didn't notice it before, but just now I see that on the one tall one, it's red-white-blue-white-red-blue. 😉
The fireworks…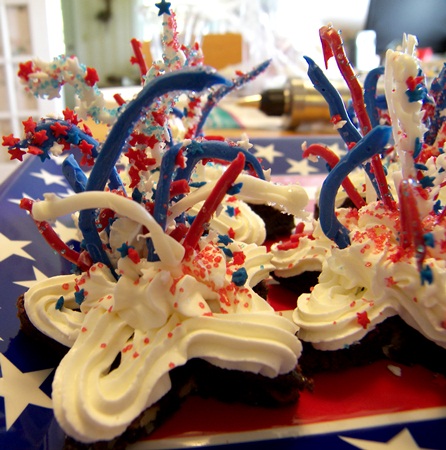 Oh, what fun! Didn't turn out quite like I had pictured, but that may be because the girls did most of it (also not what I had pictured) and I mostly just did damage control. We colored white chocolate blue and red and then piped the 3 colors on Saran wrap over a cutting board, then sprinkled on some colored sugar and star-shaped sprinkles, and put them in the fridge to harden.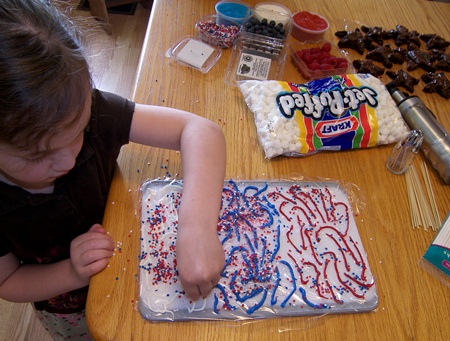 After 15 minutes or so, they were hardened and ready to assemble, which included jamming the sticks into the frosting on the brownies. Does 'jamming' sound a bit harsh for delicate little chocolate sticks? Yep. Harsh, but accurate. 😉 I really should've taken a video clip of that process… it was hilarious to watch and listen. 😆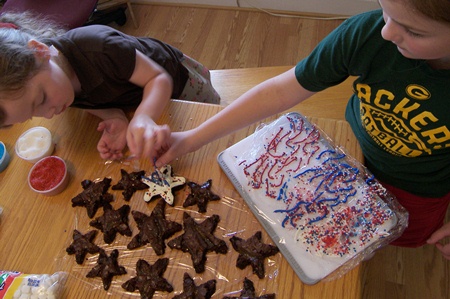 So, did it end up looking like fireworks? I don't know, but we at least have to give them credit for creating something that looks like some type of explosion…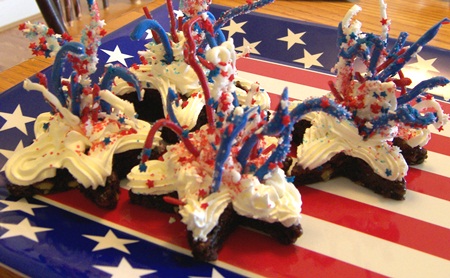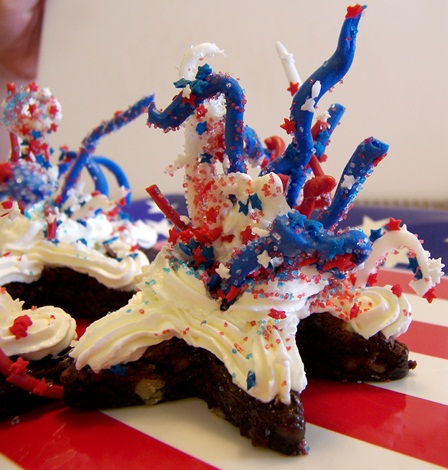 The randomly decorated brownies…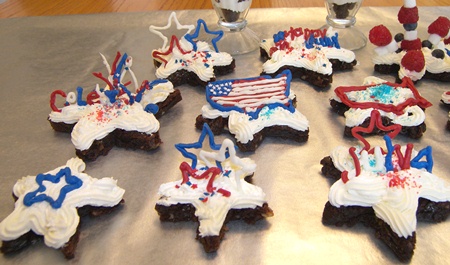 This was fun. I got an inspiration for this that I'll do more in the future for any occassion. Make a page on the computer of writing or shapes or outlines or whatever. Then, print it out and put it on a cutting board under a piece of Saran wrap. Then, pipe over it with chocolate. It'll make writing more even and shapes more accurate. Here is the Before/After…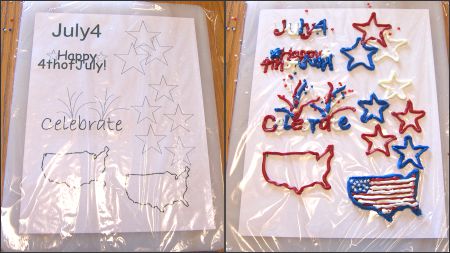 Then, put it in the fridge to harden. Peel off and garnish. The possibilities are endless with this print-out-and-pipe-chocolate thing! One tip is to make sure it's pretty thick. Another tip is don't hold it very long before putting it on because your warm fingers will start to soften it and it'll weaken and break.
Here are a couple of close-ups. Next time, I'd make an extra little thing sticking down to go into the frosting because, like July 4 down there, the Y looks like a V and the 4 looks like a triangle.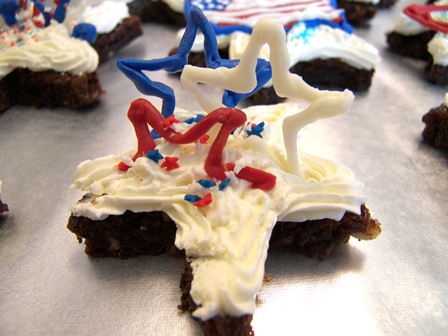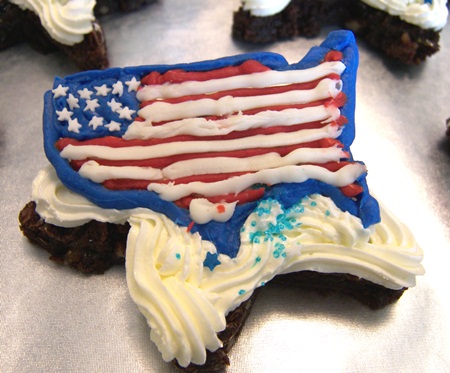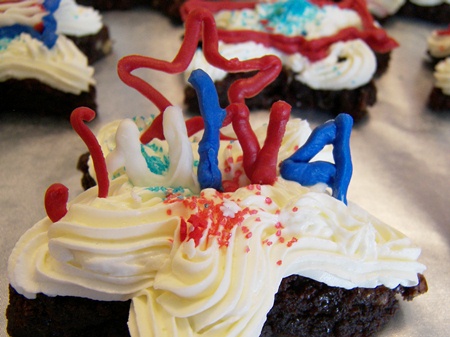 And, last but not least, United States rice crispy bars. After cutting it out, I put all the scraps together and re-flattened it out and cut out stars, then, sprinkled colored sugar on top. The flag is M&Ms… I had the kids separate out all the blue and red ones from a package.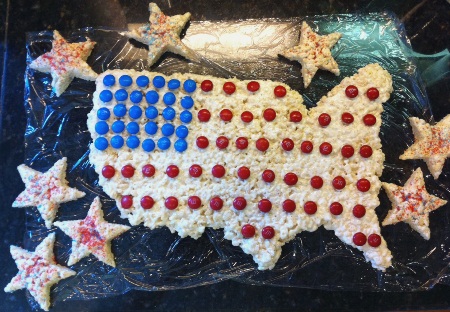 I used to have a plastic United States shaped mold. I had put it away for the year and when I went to get it out this year, something heavy was laying on it (a 15-lb dumbell, to be exact… yeah, don't ask, I have questions myself!) and it was hopelessly smashed. So, I just cut this freehand. The top does look a little odd from Michigan to Maine, but hey, you can at least tell what shape it's supposed to be, right?
Happy 4th of July from all of us! (even from Shannon, who was at work when we self-timered this picture)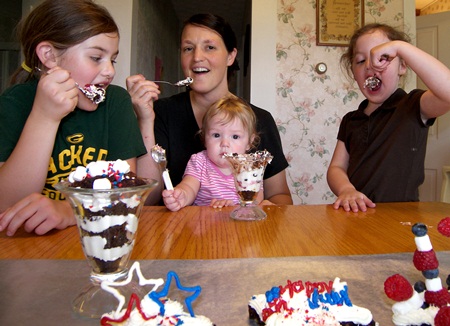 Excuse us for eating in front of you, but we couldn't help it when we saw that parfait sitting there. We're going to kick back and relax this weekend, maybe grill a burger or two and watch some fireworks. See ya next week! 
They're rich. They're cute. They're LOADED with chocolate. And mildly loaded with peanut butter. And sorta loaded with cream cheese. They're easy. They're irresistable. They're fun to make and fun to eat. They're sweet. They're yummy. They're a guilt-free size… so, go ahead, eat seven. 😆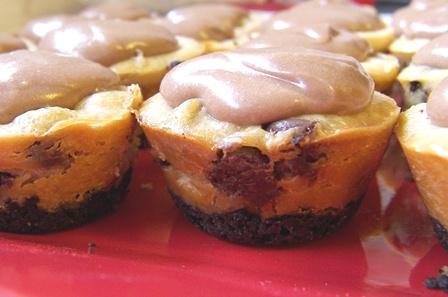 One thing I like about this is that it's a small recipe. Say you have a family of 2 adults and 3 children, one of which is less than a year old, and the one adult isn't addicted to all things chocolate/peanut butter/cream cheese, and the other adult isn't supposed to be eating more than one serving of such things. Well, this recipe doesn't make a whole big cheesecake. It makes 24 mini cheesecakes, plus a little more.
I originally saw these on Annie's Eats  and I'll admit that what grabbed me about them was exactly the part that ended up flopping on mine! It was the beautifully done ganache on top. Well, my ganache flopped (but I'm not giving up, I do want to make it successfully sometime), so mine have more like a puddle of chocolate instead of a twisty gourmet mound of chocolate. But I just switched my focus from beauty to taste and it all turned out great then! I wanted a bit more chocolate in them, so I added some chocolate chips to the batter (smart move! 😉 ). To make up for the added chocolate, I backed up the ingredient quantities for the batter, which worked out well because then I didn't have to break open a second package of cream cheese. So, for the original recipe and to see the gorgeous ganache, go to Annie's site (Thanks, Annie! You are very talented and you have a lot of awesome-lookin desserts on your website!).   
Little Chocolate Peanut Butter Cheesecakes
I'll post the recipe how I made them with my beloved extra chocolate. 😉
Crust:
1 cup Oreo crumbs
2 Tbsp. butter, melted
1 Tbsp. sugar
Preheat the oven to 350.  Spray a 24-well mini muffin pan with cooking spray.  Annie says that using a silicone pan works best for removing the baked cheesecakes. I don't have one, so I greased my pan well. It worked ok, but some of them got a bit messed up. Annie also said using mini cupcake liners would be another option. Combine the Oreo crumbs, melted butter, and sugar in a bowl. I know, the butter isn't melted on this pic. I put the whole works in the microwave for a bit to melt the butter.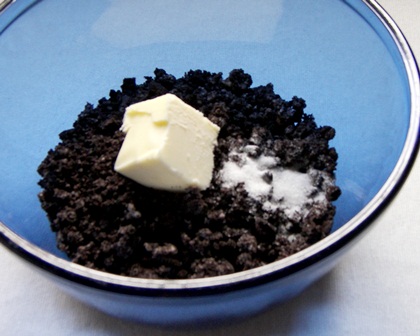 Mix with a fork until evenly blended.  Divide the crust mixture between the wells of the prepared pan, about 2-3 teaspoons in each.  Press the crumb mixture into a flat layer on the bottom of the well. I used a glass toothpick holder to press it down. Bake for 10 minutes.  Transfer the pan to a wire rack.
Cheesecake:
8 oz. cream cheese, softened
2 Tbsp. sour cream
½ cup peanut butter
1/2 cup sugar, scant
1 large egg
Dash vanilla extract
Pinch of salt
8 oz. chocolate chips
Reduce the oven temp to 300.  Combine the cream cheese, sour cream and peanut butter. Beat on medium-high speed until smooth and well blended.  Add in the sugar and mix about 1 minute more, scraping down the sides of the bowl as needed.  Blend in the egg, vanilla, and salt.  Continue to beat until the mixture is completely smooth.  Divide the mixture evenly over the cookie crumb crusts and smooth the tops slightly. Kinda looks like I didn't smooth the tops.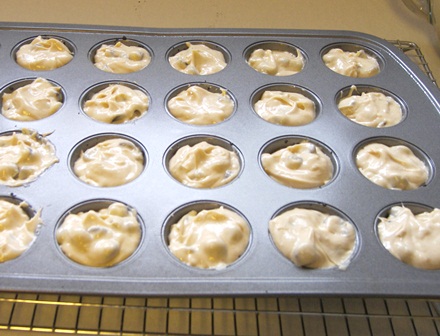 Bake for 22 minutes, rotating the pan halfway through baking.  Transfer to a wire rack and let cool to room temperature.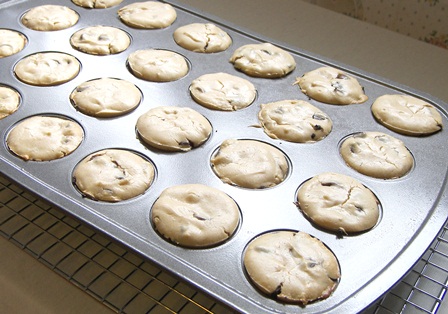 Once completely cool, transfer the pan to the refrigerator and chill thoroughly, at least 3 hours. Once the cheesecakes are chilled, carefully remove them from the pan.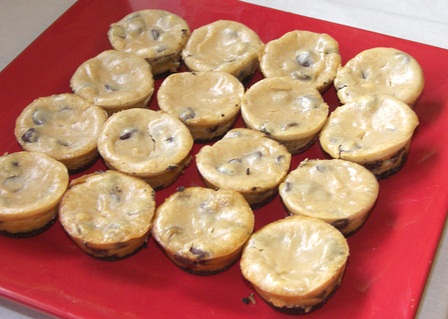 Ganache:
4 oz. chocolate
½ cup heavy cream
1 tbsp. butter, softened
Place the chocolate in a bowl.  In a small saucepan, bring the cream to a simmer over medium heat.  Once simmering, remove from the heat and immediately pour over the chocolate.  Let stand 1-2 minutes.  Whisk in small circular motions until a smooth ganache has formed.  Whisk in the butter until completely incorporated.  Let the mixture stand at room temperature until slightly thickened for piping onto the cheesecakes. In my case, it never got thick enough at room temperature for piping, maybe because I didn't use bittersweet chocolate, or maybe because I didn't have unsalted butter. I thought maybe I should've whipped the cream and then added melted chocolate.

After I spooned it onto the cheesecakes and chilled them, it got stiffer, so having it to do over, I would've chilled the ganache, then piped it on. But I wasn't about to scrape it all off just to do that.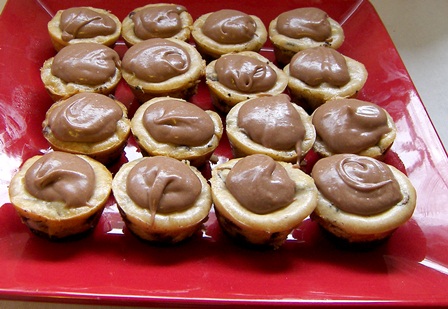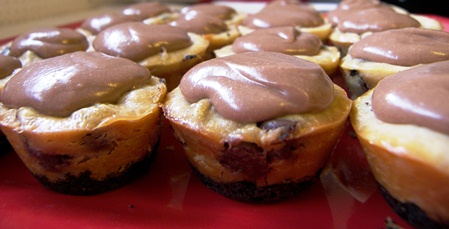 These work great frozen, too, like regular cheezecakes do. I froze a couple of them just to try it. They were good right out of the freezer, including the rock-hard chocolate chips 😉 , but the ganache wasn't hard. And after they thawed, they were just as creamy as before they were frozen. I don't know how long cheesecakes can be frozen for… and I probably never will, what with them always calling loudly from the freezer and all, if I would actually have some on hand in there!
There was a bit of leftover cheesecake batter. My chocolate addition vs. scaling down the recipe wasn't equal amounts. I didn't want to just pile it on the mini cups because I wasn't sure what would happen… I didn't want an overflowing cheesecake mess in my oven! So, I got Lexi's mini springform pan out. This pan, by the way, is about the size of my palm, just to give you an idea on the size. I didn't feel like crushing more Oreos, so I put whole Oreos in the bottom of it, cutting 2 of them down to fit in with the 2 whole ones. Whole Oreos are a bit too big to fit in a mini muffin cup, but that would sure be handy if they would! Maybe it would work to cut them smaller with a sharp round cookie cutter.???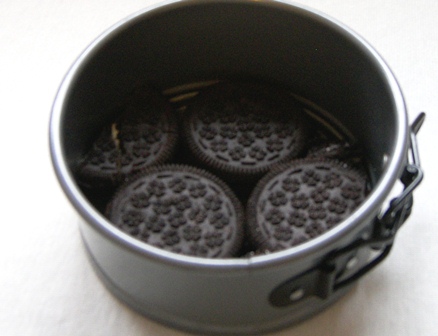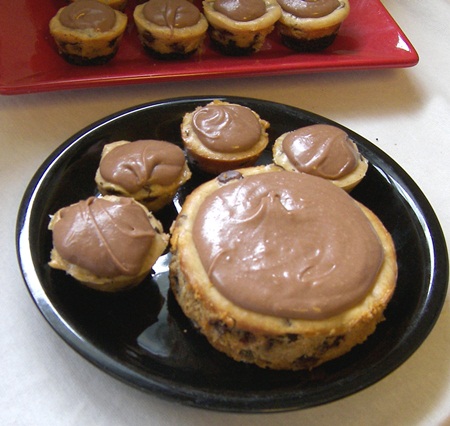 And here is the mini springform pan cheesecake. I just threw some of the little cheesecakes on the little dessert plate with it because they were extras just sitting around. Lexi came over to see what I was doing and exclaimed, "Mom! That is SO cute! You made a bear paw!"
So, there you go, bear paw cheesecake dessert.

Desserts should be:
… attractive
… easy to make
… made without dirtying alot of dishes/utensils/appliances
… able to tell what kind they are by looking at them
… quick to make
… yuuuuuuuuummy
Let's see how this Turtle Sundae Dessert measures up. (you know where this is going, don't you?) 😉
Attractive. I'd say it passes, especially with those maraschino cherries on dollops of whipped topping. And drizzled caramel and chocolate are always a nice touch too. 😉
Easy to make. Yep. No recipe needed. And there's no mixing, baking, cooling, flipping upside down, or rolling out. Just scoop ice cream into a cake pan, drizzle with caramel and chocolate ice cream toppings, sprinkle with pecans, dollop Cool Whip here and there, and put a cherry on top of each Cool Whip. Skill level for this would be about 2 on a scale of 1 to 10 where 1 is what your 4-yr-old could do and 10 is like Grandma baking brown sugar pies. 
Made without dirtying alot of dishes. I used 1 ice cream scoop, a couple of small spoons, and 1 cake pan. Not bad.
Able to tell what kind it is by looking at it. Definitely a 100% score on this one. Not only can you tell what kind it is, you can actually SEE all the ingredients! If you wonder why it's good to know what kind a dessert is before digging in because, you know, "all desserts are good", ask my husband about that one. *ahem* one word: rhubarb.

Quick to make. I made this in 15 minutes flat. Actually, I didn't time it, but it really doesn't take long to scoop, drizzle, sprinkle, and dollop because nothing is meticulous here, although you could get fancy with the Cool Whip and pipe it on with a flower tip.
Yuuuuuuuummy. This is, of course, a matter of opinion, but it passes with flying colors in my book. You know what, though, I think next time, I'll bake brownies in the pan and THEN put this turtle combo on top. Extra yummy and that would also make it more of a complete dessert, too. 
One more good point and then one bad point about this:
Good point: This is a great way to make turtle sundaes for a crowd, like if you don't have enough fancy little pedestal dessert cups for everyone. It would be perfect to whip out of the freezer while you're clearing away the main course. Another reason it would be great for a crowd is because if it's individual servings, 'Sally' might force the last of hers down while 'Joe' is wishing for another one. This way, they can take however much they want.
Bad point: While this works great for a crowd at your house, it doesn't works for all crowds. I took this exact dessert pictured here to a carry-in/potluck/whatever you call it. Well, at that type of meal, the people in charge of food set ALL the food out and people file through the line filling their plates. So, it was sitting out there for quite awhile and pure ice cream with nothing else mixed in does not take long at all to melt! Let's just say Lesson learned. When I went thro the line, about 3/4ths of the people had already gone through and there was a bottom-cover of melted ice cream and about 5 or 6 very very soft scoops swimming in it. From now on, I'll just make this for occasions when the dessert can be gotten out when it's time for dessert to be served.

And yeah, I want to try it with the brownies underneath too.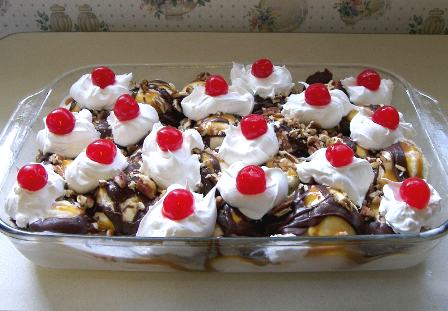 Lexi made supper tonight.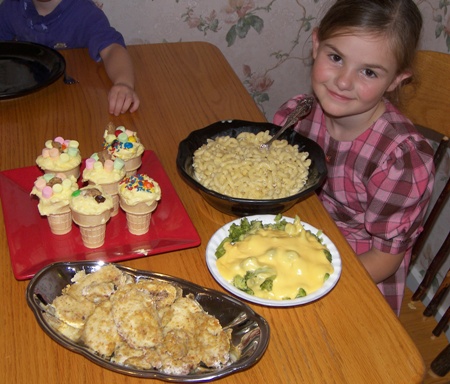 Her menu was:
Crunchy Chicken Tenders
Easy Mac n Cheese
Trees with Cheese
Puddin' Cones
There were only 4 ingredient spills. The only help Lexi accepted was finding some of the right ingredients and measuring cups/spoons and reading the recipe ("because it's faster if you do it and I don't know all the words") and a couple times, handling hot stuff. I did tell her when to do stuff so it would all get done at the same time. I also gave her lots of tips and how-to's, but she did the actual work. She did very well, actually better than I expected.
Now and then, Tiffany (3) crossed her arms, put on a scowl, and whined, "Mom, she won't let me dump that in. I don't have ANYTHING to do!"
I was planning to blog as it was going on, but I was kinda busy with damage control.

She loved doing this meal! I believe we have a cook in the making. 😉
Crunchy Chicken Tenders … recipe from Betty Crocker Kids Cook cookbook
3/4 cup cornflakes cereal
1/2 cup flour
3/4 tsp. salt
1/2 tsp. pepper
1/3 cup buttermilk or milk
1 pound uncooked chicken breast tenders, not breaded
Heat the oven to 400. Line a 9×13 pan with foil.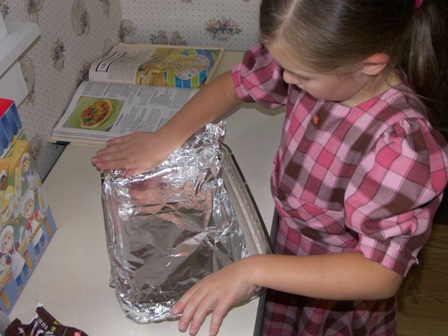 Spray the foil with cooking spray.
Put the cereal, flour, salt, and pepper in a plastic bag. Seal bag closed. Use a rolling pin to crush the cornflakes.
Pour the milk into a bowl. Dip chicken in milk.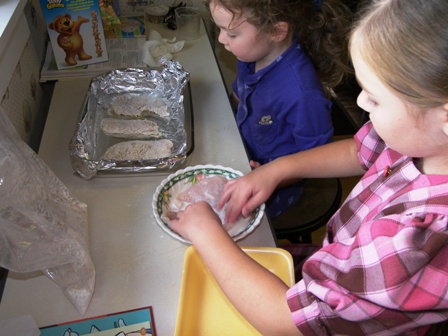 Drop milk-coated chicken, a few pieces at a time, into cereal mixture. Seal bag closed. Shake bag to coat chicken with cereal mixture. Put the coated chicken in the pan.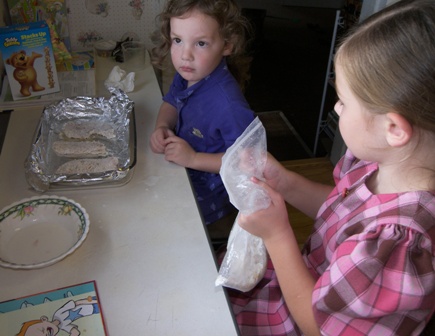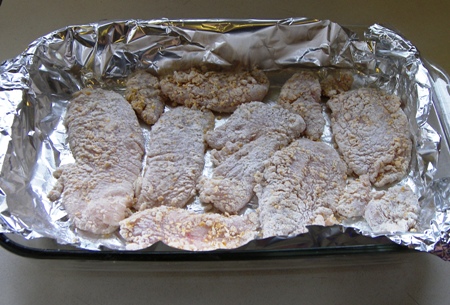 Spray chicken with cooking spray. Throw away any leftover cereal in the bag. Bake for 25-30 minutes or until coating is crisp and chicken is no longer pink in center. Makes 4 servings.
Dishing it up…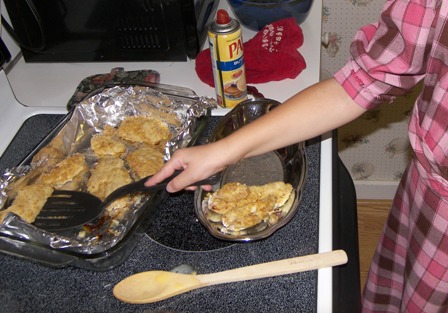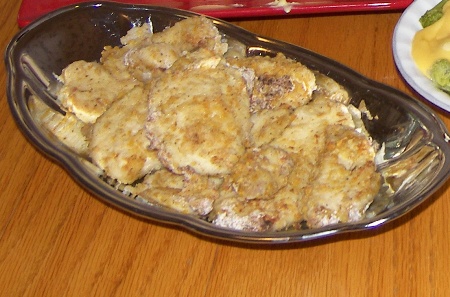 Good stuff! We ate them with bbq sauce. I realize I didn't get a picture of the rolling pin part… they had great fun with that!
Easy Mac and Cheese …recipe from Betty Crocker Kids Cook cookbook
Water
2 cups uncooked elbow macaroni or small pasta shells
1 Tbsp. butter or margarine
1 cup milk
1 1/2 cups shredded cheddar cheese or American cheese
1/2 tsp. salt
1/2 tsp. ground mustard (I had to talk her into putting mustard in!)
1/4 tsp. pepper
Fill a 3-qt saucepan about half full with water. Bring to a boil. Add pasta to water.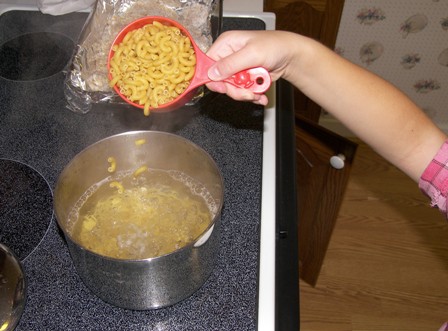 Heat to boiling again. Boil uncovered for 8-10 minutes, stirring often with a wooden spoon. Drain pasta (put a colander in the sink and pour the pasta into it). Put drained pasta back into saucepan. Add butter, milk, cheese, salt, mustard, and pepper to pasta.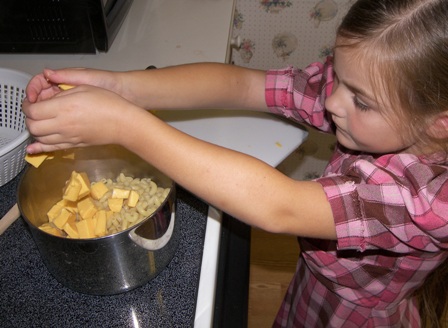 Stir with spoon until mixed. Cook over low heat for about 5 minutes, stirring a few times, until cheese is melted. Makes 4 servings.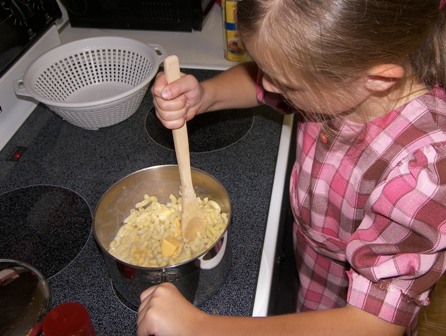 Dishing up. This was a bit wild! Whoosh! and it was all in the serving bowl in about 2 seconds. Pretty amazing that some didn't land on the floor!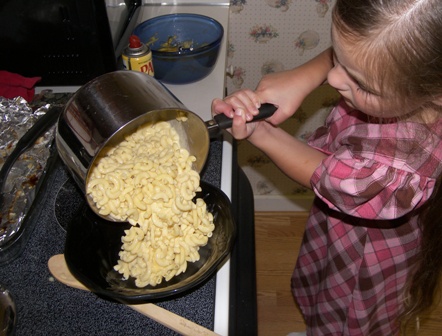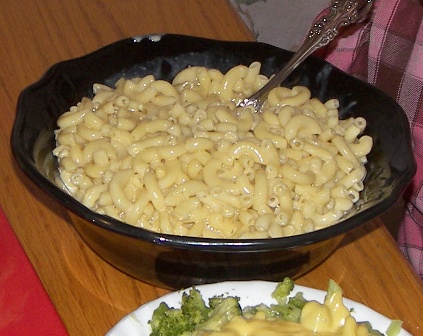 Trees with Trees … recipe from Betty Crocker Kids Cook cookbook
1 1/2 pounds fresh broccoli (I just had her use a bag of frozen broccoli florets.)
3 Tbsp. water
6 oz process American cheese loaf
1/3 cup milk
1/4 onion salt
1 drop red pepper sauce, if you like (she didn't like 😉 )
Microwave the broccoli and water till hot and crisp-tender. Melt the rest of the ingredients in a saucepan or microwave. Stir with a wooden spoon until the cheese is melted and mixture is smooth. Drain broccoli and put it into a serving bowl. Pour hot cheese over broccoli. Makes 6 servings. I didn't notice it at the time, but in all the photographing, I missed the broccoli, all except the dishing it up!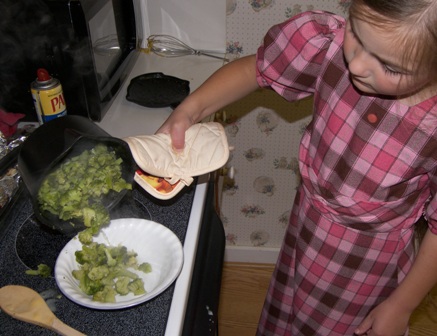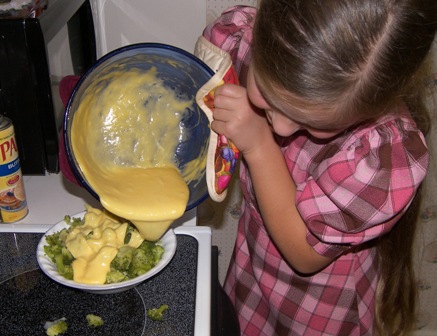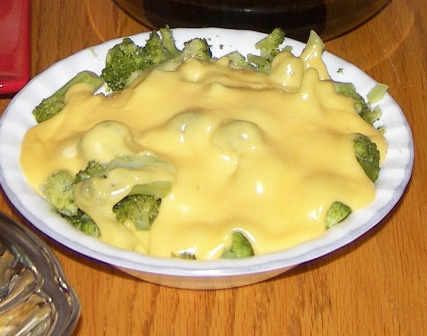 Puddin' Cones … recipe from the 2003 Quick Cooking annual cookbook
This is what sparked the whole idea of making supper. Her cousin Krista made these for dessert when she made supper one time and Lexi saw a picture and wanted to make them too. Krista, you're her hero!
1 1/2 cups cold milk
1 pkg. (3.4 oz.) instant vanilla pudding mix
3 envelopes whipped topping mix (when Lexi read this, she said "Envelopes?! What do envelopes have to do with cooking?")
8 cake ice cream cones (about 3 inches) She used only 6.
Chopped nuts, jimmies and miniature colored baking chips or topping of your choice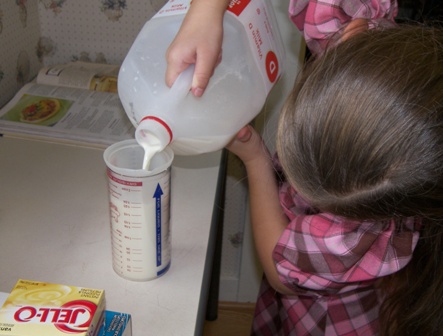 In a mixing bowl, beat milk and pudding mix on low speed for 2 minutes.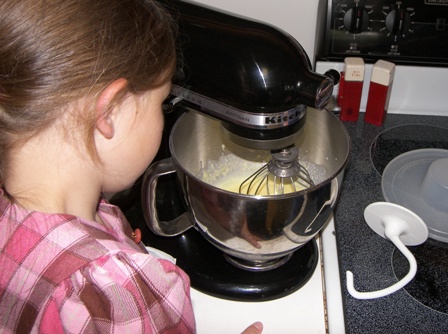 Blend in whipped topping mix; cover and refrigerate for at least 1 hour. Spoon 1/4 cup into each cone; sprinkle with toppings. Yield: 8 servings. I just told her to fill the cones, not to measure. When the pudding mixture was gone, there were only 6 cones used, which I think is better because they look more like ice cream cones if they're heaped a little.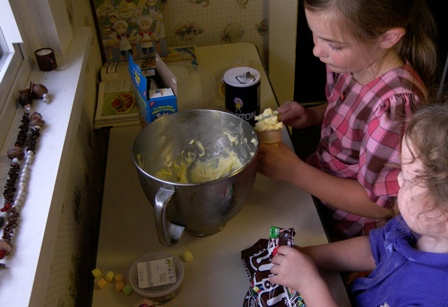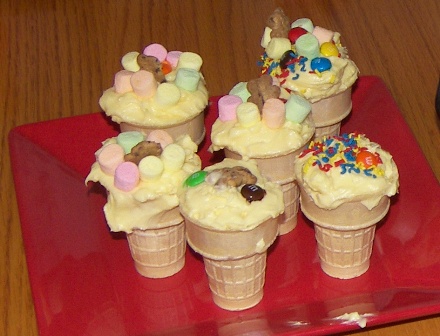 These were good, altho' not as good as real ice cream. She made them right before she dished up the food and till we got done eating and were ready for dessert, the cones were starting to get a little soft already. So, they should not be made too much in advance!
Pumpkin. Cream cheese. Chocolate. They make a fine trio.
This recipe comes from the Simply Wonderful cookbook compiled by the Honeybrook Community Church. I've only had this cookbook for several months and it's already a favorite! It's got lots of cheesecake recipes in it, a grilling section, and the salad department is outstanding! If I were to describe this cookbook in one phrase, it would be "good ol' Mennonite cooking with a bit of flair". My cookbook is dog-eared on pages with recipes I've gotta try.
Pumpkin Cream Cheese Squares
1 c. canned pumpkin
1 c. sugar
1 egg
1/3 c. oil
1 c. flour
1 tsp. cinnamon
1 tsp. baking powder
1/2 tsp. baking soda
1/2 tsp. salt
1/4 tsp. nutmeg
1/4 tsp. ginger
1/2 c. chocolate chips
4 oz. cream cheese
1/4 c. sugar
1 egg
Mix together pumpkin, sugar, egg, and oil. Sift together flour, cinnamon, baking powder, baking soda, salt, nutmeg, and ginger. Stir into pumpkin mixture. Pour into a greased 9×13 pan.

Beat together cream cheese, sugar, and egg. Drizzle mixture over batter.

Cut thro' batter with knife for marbled effect. I know, the whole marbling thing didn't get as pretty and marbled as I thought it should, either… too much white, not enough pumpkin showing on top.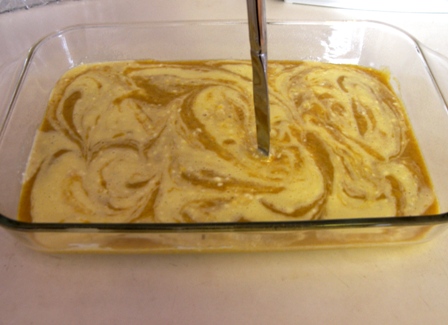 Sprinkle with chocolate chips. Shannon (H.), don't even THINK of leaving out the choc chips! 😉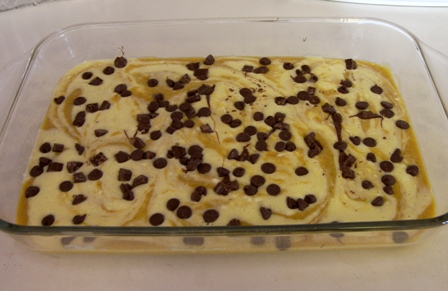 Bake at 375 for 25-30 minutes.

Mmmmmm! Make these at your own risk… they're dangerous to the waistline. And they loudly call your name every time you wander thro' the kitchen, even if you've hidden them out of sight.