Yeah, I know… as you scroll down this page, the posts look a little heavy to kid stuff. It wasn't planned, it kinda just happened, but how fitting… because that's pretty much my life. And I say that in a good way, I love my 2 little girls and I know they'll grow up way too fast. But until then, they'll be a part of my cooking blog.
Lexi is 6. She already loves doing stuff in the kitchen, especially if it involves using her mini cooking stuff. She has declared it her job to make the iced tea around here, if I just do the part of dumping the hot tea into the pitcher. And, on non-school days, she often makes lunch around here (nothing on the stove). I'd have her pack her own school lunch, except that it makes more sense for me to do it while she's eating breakfast or getting ready. She does have opinions though… the other day, she said, "Mom, next time you pack my lunch, do you think you could think of something healthy to put in it like an apple or something? I don't wanna get all weak and stuff." Thing is, it wasn't exactly unhealthy, it was a sandwich, chips, and grapes. 
Tiffany is 3. She loves doing stuff in the kitchen too. But WHY can't she dump a 2 1/2″ in diameter measuring cup full of flour into an 8″ in diameter mixing bowl without spilling it out over the side?!!!!! 😉
We've got a chocolate chip cookie recipe to feature today, from the Kid's Cook cookbook. Cute little chocolate chip cookies. I told them to make the dough into balls and (because of their little hands?) the balls ranged from the size of a marble to the size of a super ball. Instead of the usual 12 cookies that I bake on one sheet, we got almost twice that many on, no problem. I realized I kinda like little cookies… they're bite-sized and easy to pop in your mouth. This is not my usual chocolate chip cookie recipe, but it's actually pretty close. This recipe is a small recipe, which is nice because there's less chance of the mom having to finish the cookies when they get tired of making them and run off to play. I usually copy the directions word for word, but I'm just gonna paraphrase these because it's written kinda kid-like and detailed.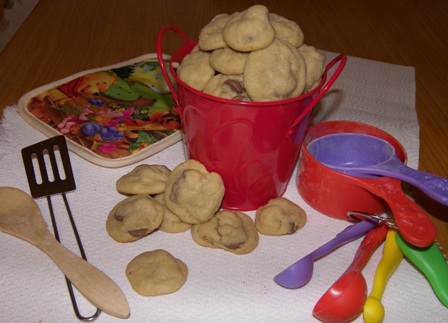 Chocolate Chip Cookies
1 egg
1/2 cup sugar
1/2 cup packed brown sugar
1/2 cup butter, softened
1 1/2 cups flour
1/2 tsp. baking soda
1/2 tsp. salt
1 cup chocolate chips
Heat oven to 375. Stir egg, sugars, and butter with wooden spoon until mixed.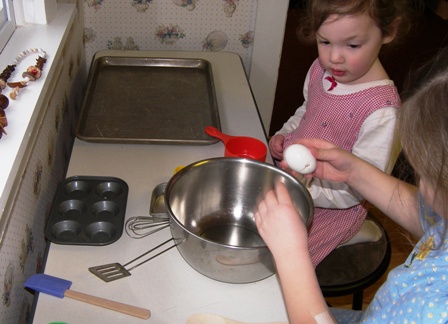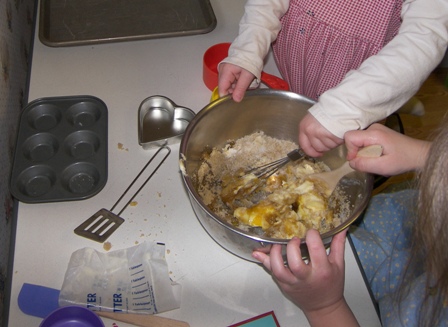 Add flour, soda, salt and stir with wooden spoon till mixed.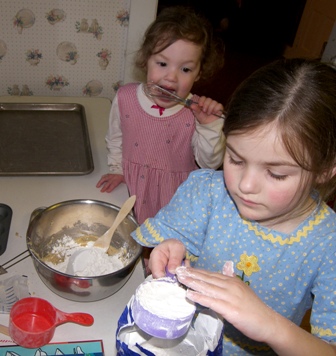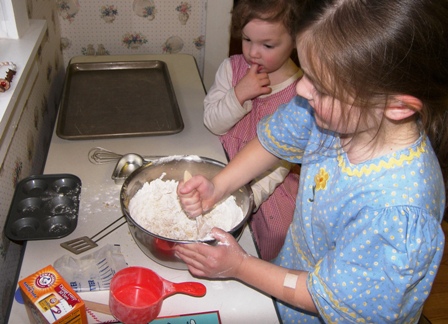 Stir in chocolate chips. Form into balls and put on cookie sheets.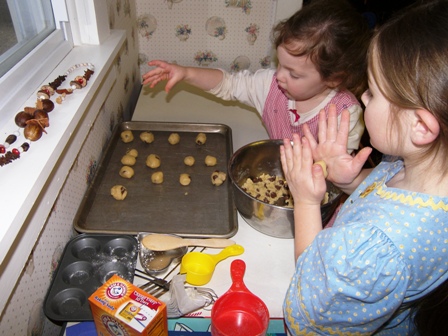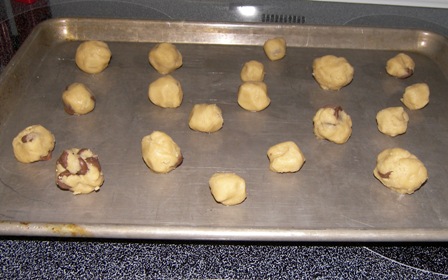 Could I please have the cookie in the front on the left up there?
Bake for 10-12 minutes.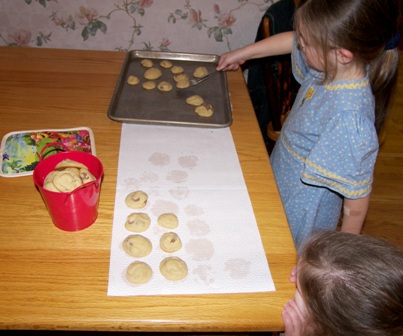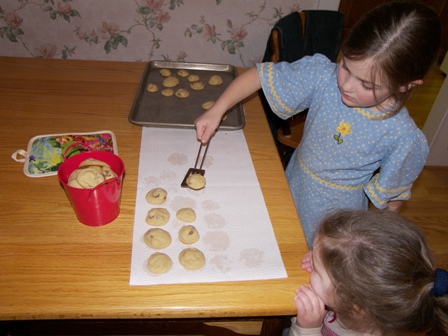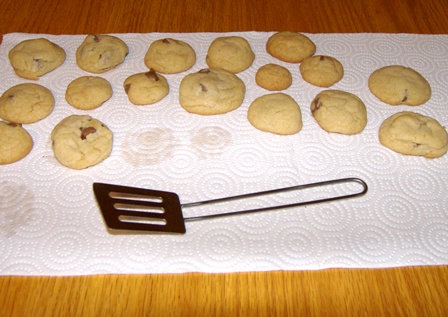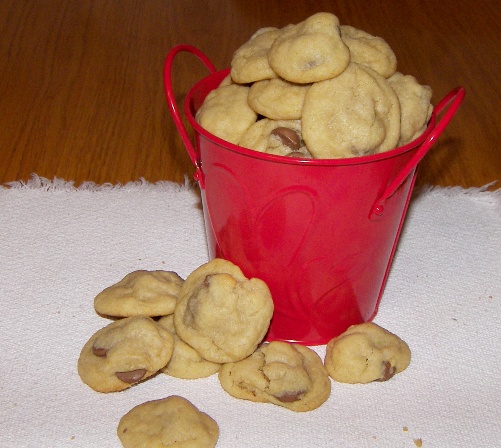 Ideally, I'd plan ahead and make Easter food to feature BEFORE Easter, huh? Well, sigh, that didn't really happen this time.
I forget where I saw these little rolls… it was online last year sometime. The reason these are called an Easter snack is because they're meant to symbolize the empty tomb. It's pretty neat how it works. You wrap a marshmallow inside a crescent roll and while it bakes, the marshmallow melts and lines the inside of the crescent roll, leaving it empty inside!
I don't have an actual recipe, but my little cooks will show you how it's done…
Unroll refrigerated crescent rolls and separate into triangles. Butter the trianges.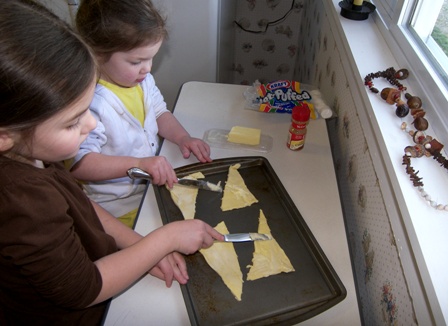 Put a marshmallow on each crescent roll and sprinkle with cinnamon.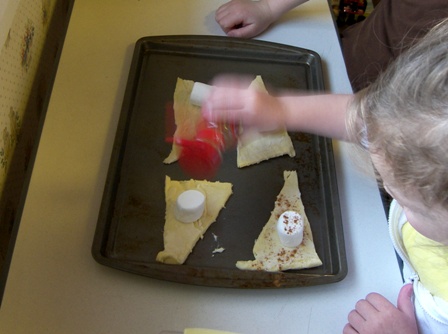 Fold the dough over and around till the marshmallow is all enclosed. Pinch seams to seal.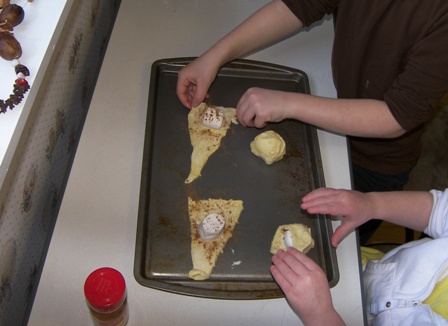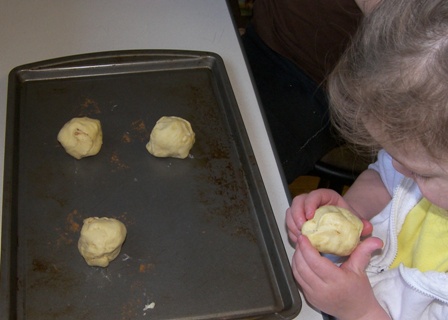 Bake at 375 for 12 minutes. And this is how they look! A couple of them were open, not sure if it was supposed to be like that or if the seams weren't pinched shut well enough.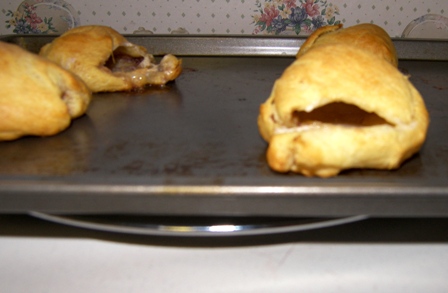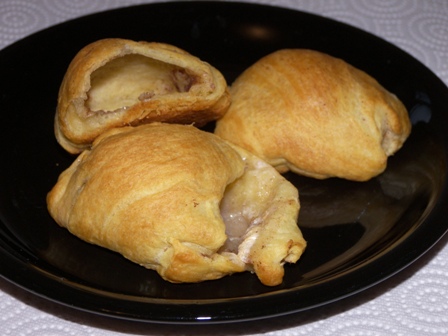 I hope you all had a happy Easter. We did. It started with an outdoor sunrise service at church. It was a perfect Easter morning… clear skies and a beautiful sunrise. The coffee, hot chocolate, donuts, and campfires were a nice addition too.

He is risen! Hallelujah!
Well, our little cooks are back! Actually, they never went anywhere and have been quite busy in the kitchen, it's just that they haven't been making recipes on their own lately. One reason I know they've been in the kitchen is because I'm often tripping over their little chairs that they stand on.
It seems like a hassle, the way they have to move their little chairs around while working in the kitchen… put them in front of the sink, climb up and wash their hands, get down, move the chair over to the cupboard, climb back up, etc. I do wonder how it would be to be working in the kitchen and the counter is at eye level though, so I guess it's worth all the moving around.
The food I'm featuring here barely merits calling it a recipe. But, we got it out of a cookbook and it was in recipe form, complete with amounts. We got a kid's cookbook (a Betty Crocker cookbook named Kids Cook!) for Lexi for Christmas. She loves it. She often gets it off of the cookbook shelf and sits around looking at it and saying, "Mom, we should try this!" So, one time I told her she could pick something to make sometime soon because we're going shopping and we should see first if we need any ingredients. And THIS is the recipe she picked. It is called:
Ants on a Log (Gag! Who ever named them that?!)
Celery
Peanut butter
Raisins
I'll spare you the recipe details and let the pictures and video show you how it's done. Or how it WAS done anyway, maybe not how it oughta be done (there was a bit of licking fingers by the 2-yr-old). One nice thing about the mini cooks making this is that it didn't involve the oven or stovetop or mixer. It did, however, involve a sharp knife for a little bit, but that was closely supervised, and when we were done with that step, everyone still had all fingers intact.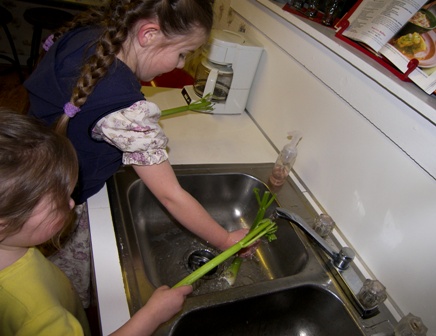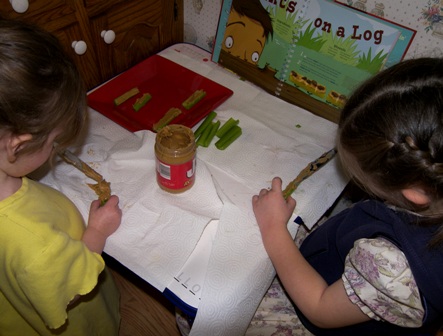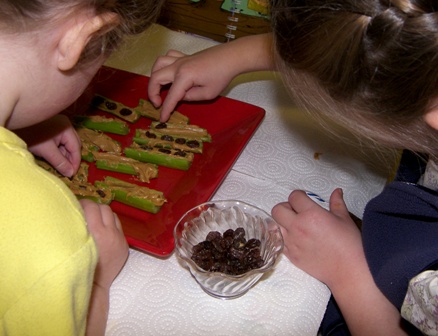 And here it is in action:


Whenever there's a microwave recipe, I usually shy away from it. Here's the reason. It's because of my microwave… sounds like a good reason, huh? My microwave is a half-pint. I can't fit a 9×13 pan in it and when my girls were babies on bottles, I always had to lay the 8-oz bottles down to warm up the milk because they wouldn't fit in there standing up. The size isn't the only reason. The other reason is that it takes SO long to cook stuff in it. We joke that the microwave has only one setting and that's DEFROST. True, it does have only 1 setting, but it is a bit hotter than defrost. It takes forever to boil water and it literally is faster to throw a pan of water on the stove rather than do it in the microwave, like when I make finger jello. But the microwave works great for warming up serving-sized portions and thawing meat, but other than that, I don't use it for general cooking. Oh, I guess I do cook half a bag of frozen veggies in there sometimes.
But, you can't beat the deal we got on it. We got married about 12 years ago (in fact our 12th anniversary is in a couple weeks) and a little bit after we got married, we realized we need a microwave, so we found one at a pawn shop for $25 and it's still the same one we use today. Not sure why it doesn't give out! Here it is: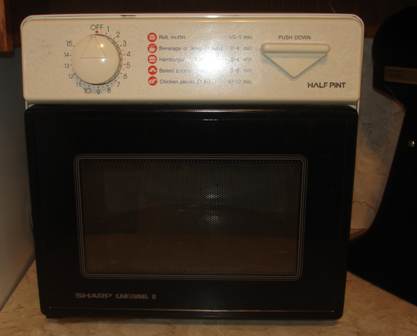 Anyway, having said all that, I decided to try a microwave dish. For the Cooks in Training foods, I don't like to use the stove because my little cooks might burn themselves, even with adult supervision, but the microwave is fine. So, here you go, a food that kids like… and made by them.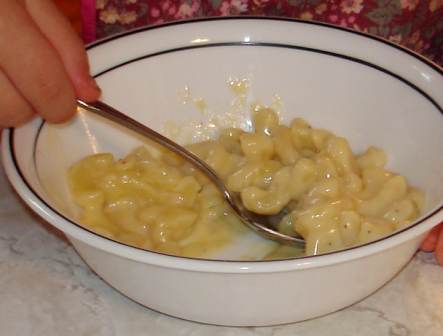 Microwave Mac 'n' Cheese  …taken from the 2000 Quick Cooking cookbook
2 cups uncooked elbow macaroni
2 cups hot water
1/3 cup butter or margarine
1/4 cup chopped onion (I had to do some fast talking to get that in there because I couldn't sneak it in! I said we wouldn't put in as much as it says, we only put in a couple tablespoons)
3/4 tsp. salt
1/4 tsp. pepper
1/4 tsp. ground mustard
1/3 cup flour
1 1/4 cups milk
8 oz. process American cheese, cubed (we used Velveeta)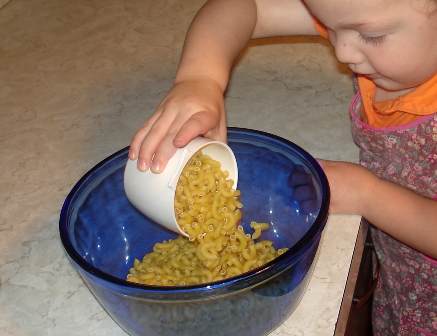 Hmmmm, I may have to outlaw the aprons! We don't really plan ahead and suddenly decide to cook or bake and away they dash for the aprons, putting them over whatever clothes they already have on! In this cooking session, Tiffany's combo clashes even more than usual.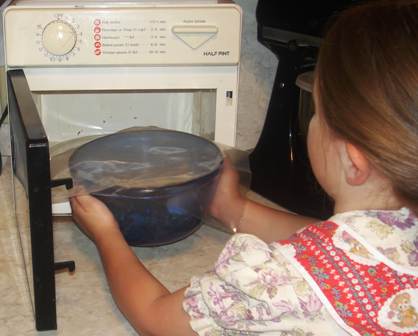 In a 2-qt microwave-safe dish, combine the first 7 ingredients. Cover and microwave on high for 3 1/2 minutes; stir. Cover and cook at 50% power for 4 minutes or until mixture comes to a boil, rotating a half turn once. (I didn't rotate at all because my fashionable microwave has a turntable, and it still works.)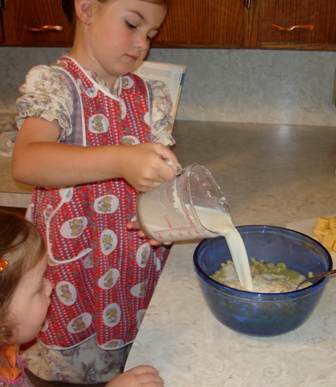 Combine flour and milk until smooth; stir into macaroni mixture.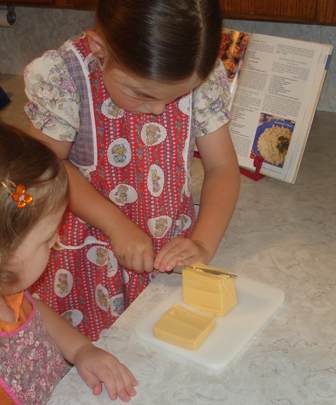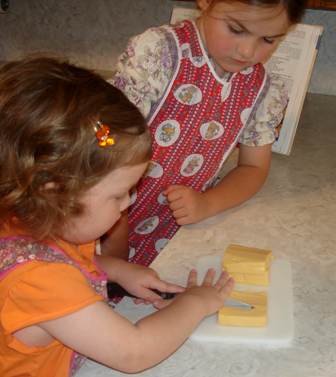 Yeah, I was watching this process very closely, and it was one of my duller knives. Velveeta is soft… a butter knife may have even worked.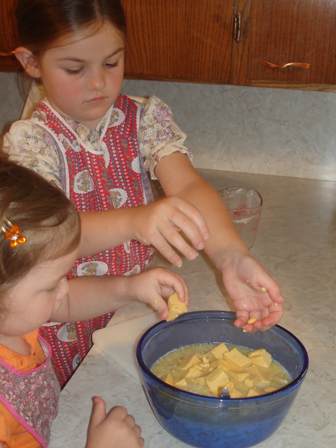 Add cheese. Cover and cook on high for 6-8 minutes or until the macaroni is tender and sauce is bubbly, rotating a half turn once and stirring every 3 minutes.  Yield: 4 servings.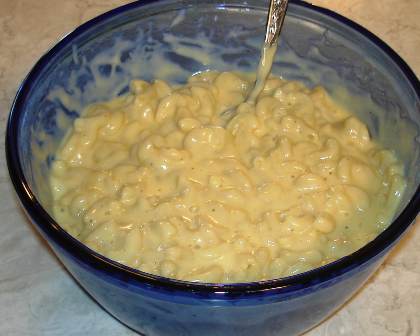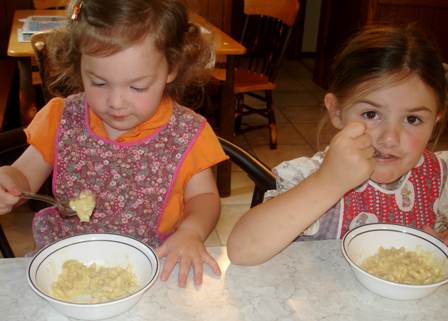 This was really good, although I've tasted better made-from-scratch macaroni and cheese. I missed the buttered crumbs that are usually on top of macaroni and cheese. This definitely beats the stuff from a box though and got rave reviews by the girls. Plus, Lexi thinks it's more fun to eat food that they made themselves.
I'm going to try to do this series without talking every time about big messes and me using a rag every 2 minutes before the mess takes over my kitchen. Hmmmm… now, I'm sitting here with nothing to say if I can't talk about that…
Just kidding. We had fun. And now Lexi can finally stop sharply inhaling and saying, "Mom, let's make these sometime!" whenever she sees these cookies in the 2004 Quick Cooking cookbook.
Smiling Sugar Cookies
1/2 cup butter (no substitutes), softened
1/2 cup sugar
1/2 cup packed brown sugar
1 egg
1/3 cup milk
2 tsp. vanilla extract
3 cups flour
2 tsp. cream of tartar
1 tsp. baking soda
1/2 tsp. salt
About 24 popsicle sticks
1 cup vanilla frosting
Food coloring
Assorted small candies (we used M&Ms)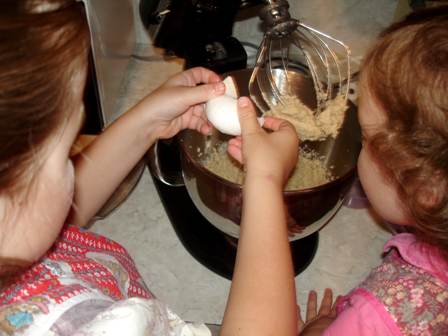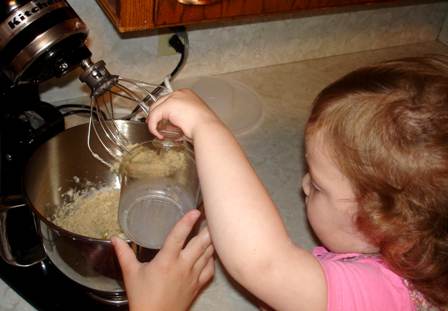 Cream the butter and sugars. Beat in egg, milk, and vanilla. Combine flour, cream of tartar, baking soda, and salt; gradually add to creamed mixture. Roll the dough into 1 1/2″ balls.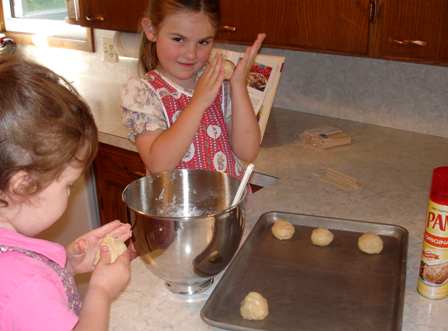 Insert stick into the center of each. Place 2″ apart on lightly greased baking sheets; flatten slightly.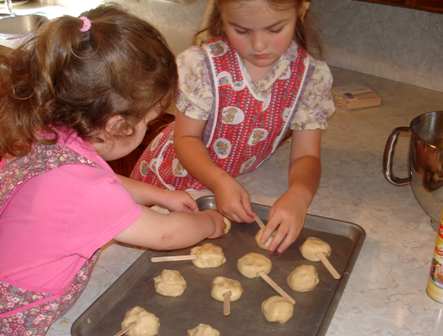 Bake at 375 for 8-10 minutes or until lightly browned.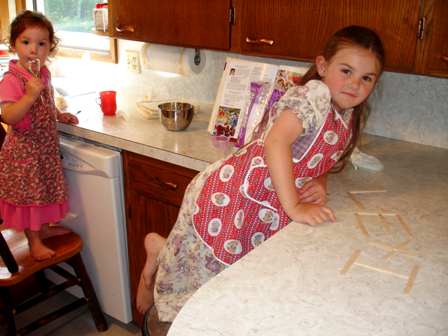 That baking time is a problem for 2 little energetic cooks. Tiffany and I made frosting and Tiffany licked the beater while Lexi wrote stuff with popsicle sticks to pass the time. And they still kept peeking in the oven and asking if the cookies were almost done.
Remove to wire racks to cool. Divide frosting between bowls and tint them to desired colors. Put each frosting in a plastic bag and snip off a small corner of the bag. Pipe hair and mouths onto cookies. Use a small dab of frosting to attach small candies for noses and eyes.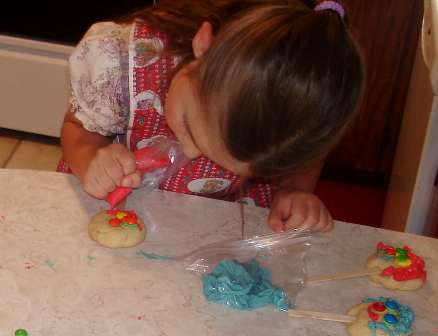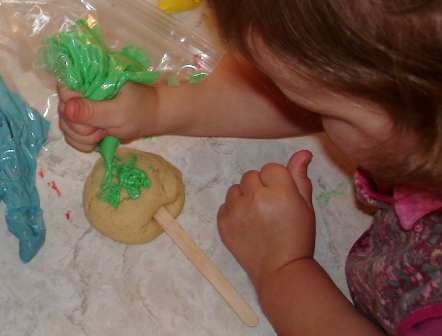 Ah, I just love that chubby little hand with a decorating bag. She actually didn't do too bad at decorating for a 2-yr-old.
Let dry for at least 30 minutes. Yield: about 2 dozen. 
And here's the finished product…

 They would've been kinda cute poked into something and standing up, but I couldn't think of anything around here that would work for that. 3 were eaten plain, we got 19 cookies out of the batch.
Here's the smiley section. Alot of the food I take pictures of (if it's for a meal) gets photographed while everyone is coming to the table or sitting down already and when I take more than 1 picture, there are jokes like, "Wasn't it smiling the first time?" With these, the joke was, "Oh, now the food actually does have to smile!"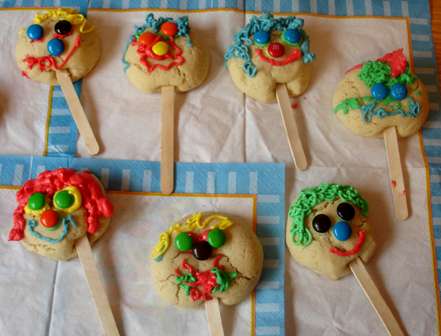 Yes, those are all smileys… use your imagination. Tiffany did that one by herself with the red mohawk. And the one with the yellow hair and green eyes has a beard… Lexi's creation (before we even started decorating, she said she's gonna make one with a beard, don't know why she thought of that, she's rarely around anyone with a beard). I made only one of these and I certainly hope you can tell which one.

Soon, Lexi got bored with smiley faces, so she switched to flowers and a butterfly…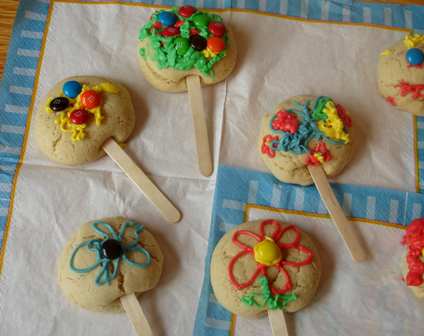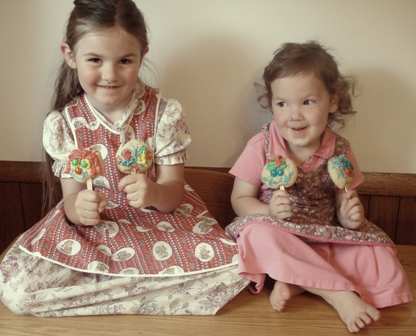 Now, about making these with your kids… I just went back to check the time on my camera. The very first picture (dumping ingredients into the bowl) was taken at 2:54 p.m. The last picture taken (them sitting there holding cookies) was taken at 4:30 p.m. 1 1/2 hours… not alot of time. Skip storytime and spend 1 hour less on the computer someday (ouch, less computer time? that hurt. Let's switch that one to 'skip scrubbing the kitchen floor and weed the flowerbed some other day'). They will have a ball of fun and it'll make memories for them. And hopefully not too bad of nightmares for you.
Oh, and by the way, this is actually a good sugar cookie recipe if you just want to make regular sugar cookies sometime. I don't like sugar cookies because they're always so dry and tasteless (that's my opinion, I live with a couple of people who really like them), but these are better than most of the sugar cookies I've had.