It's easier than you think. In fact, Tiffany did it because I had another project going. My project was in the kitchen, so I was right there the whole time and pretty much just talked dinner into existence.

That's a lot different than how it used to be. It used to be that I wouldn't let them cook unless I had my schedule cleared and plenty of time. And then my main job was damage control and cleaning up messes as fast as they made them. So, I'm here to say that there. is. hope. for little cooks to get trained.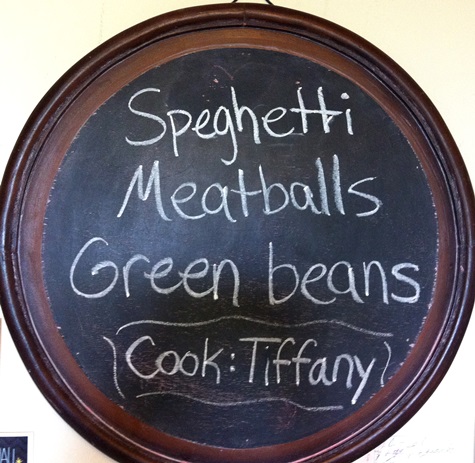 So, here we go, a spaghetti & meatballs meal. I only have 2 pictures because I was busy doing other stuff.
Step # 1. Lower your standards. This is going to be a simple meal. Nothing gets mixed into the meat, for example. And there's no garlic bread. She did want to get all fancy shmancy with the Parmesan cheese, though.
Step 2. Have a little lesson on how to turn the correct burners on on the stove (I actually thought Tiffany would know this, but she didn't! I guess either I did it for her before, or they're not born knowing this stuff.) So, we had a little lesson on how the "map" under each control matches the stovetop layout.
3. Have her get everything out: Spaghetti, kettle, frying pan, lb of burger, jar of pasta sauce, salt, Italian seasoning, canned green beans, bowl for green beans. That's it.
4. Tell her to fill the kettle half full of water, sprinkle in some salt, put it on the stove, and turn the burner on Hi.
5. Tell her to put the frying pan on the biggest burner, turn it to 5, then take the burger and shape little balls and put them in the pan.
I had her use the stovetop frying pan even though I like the electric better… here's why: the electric one has legs and a bit higher of sides, so it's several inches taller and I thought she'd have a hard time comfortably seeing into it.
And it's always good when a cook is able to see into her frying pan.
I had her fry instead of bake them because she hasn't mastered the thing of getting stuff in and out of the oven yet, without burning her arm somewhere between her wrist and her armpit. She wants a pair of mitten hot pads that go all the way up her arms. Seriously, she does.  
6. The water was boiling by the time she was done making the meatballs, so I told her to put the spaghetti in and stir it a bit. Then flip the meatballs and to just kind of keep flipping them until no more pink was showing.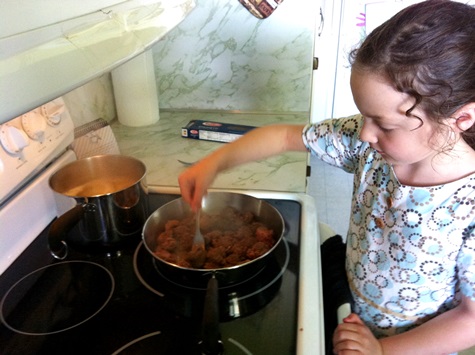 7. The meatballs and the pasta were done around the same time, so I told her to turn the burners off and I helped her drain the fat off the meatballs, and then she sprinkled them with salt and Italian seasoning, dumped the pasta sauce over them, and turned the burner to Low.
8. Time to dump the beans into the bowl and microwave them for 2 minutes.
9. So now the beans are heating, the spaghetti is holding, and the meat is simmering in spaghetti sauce. Time to set the table, including getting out her beloved Parmesan grater and a chunk of Parmesan, and pour water.
10. Now everything is done. She was able to drain the spaghetti herself by dumping it into the colander in the sink. Time to dish up. Aaaaand grate Parmesan over everything. And call everyone to the table.
Thank you for making dinner, Tiffany. It was good!!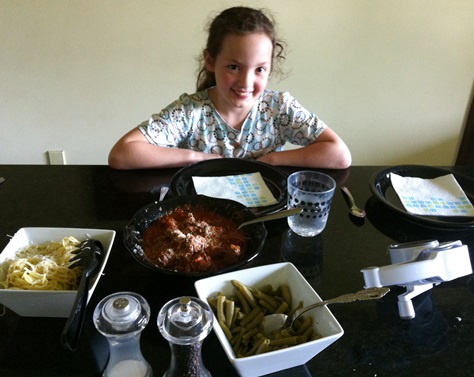 She held the Parmesan grater hostage and the minute we dished food onto our plates, she was magically standing beside us saying, in what we call 'the fancy lady voice', "Would you like some Parmesan cheese?" and then we'd answer, with exaggerated politeness, "yes, I would, please" and she'd reach in and grate.
I'm not sure who has more fun with this… me or the kids. The thing about kids is that they're so forgiving. For example, if your lion lunch looks more like a sun with whiskers, they'll love it anyway. And they'll even call it a lion, and they'll grrrr while they're eating it. Those of you reading this will probably fall into one of 3 categories:
1. Think "That's a waste of time."
2. Think "That would take too long, but I'd like a few easy ideas to do someday… maybe one day when I have nothing else to do *hahaha, laughing at your own joke of nothing to do*, or for a birthday party for one of the kids or something."
3. Think "I need to make lunch anyway, so instead of cutting a sandwich in half corner-to-corner and throwing it and chips on a plate, I might as well take a couple extra minutes and cut a roofline at the top of the sandwich and place some Doritos here and there to make it a house-on-fire lunch. Not saying I do it all the time… just hit n miss for fun. Because psssssst *whisper* Sometimes I fix lunch in 30 seconds flat and my kids' lunches look like this:"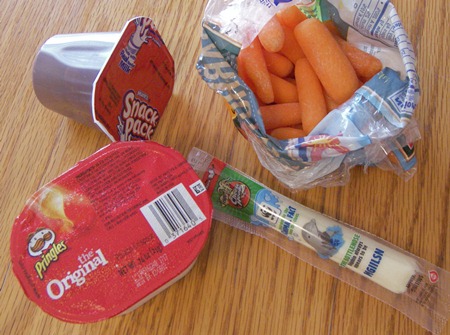 If you are person #1, I don't care, I won't try to change your mind… I'll just feel privileged that you're still putting up with me on here. 


If you are person #2, do it, find that 'someday', seriously, I can't tell you how much the kids will love it.
If you are person #3, ahhh, let's just remember that strengths and weaknesses lie side by side… because I'm pretty sure that spending time playing with food instead of folding laundry would be considered a weakness. 😉
You may notice that this is almost all grilled cheese sandwiches. Nothing fancy. No special recipes or anything.
I'm just going to put up 10 or so pictures here of ones I've remembered to take pictures of. Most of them were quickly snapped with my cell phone… without necessarily planning to post them, just more for my own interest. I thought of redoing them all and getting decent pictures, but you know what? I don't specialize in the photography line like a few of my talented friends do. (My talented friends' first piece of advice would probably be "use a camera, never a cell phone!")

I think the pictures are pretty self-explanatory, but I'll try to explain sorta what I did under each picture. I just used whatever I had on hand… nothing was planned ahead, so sometimes I had to improvise, like using melted chocolate on a ham and cheese sandwich… it wasn't very much though, I just needed something dark for eyebrows. I think you'll notice the improvising as you look at the pictures. 😉
1. Let's Go Fishing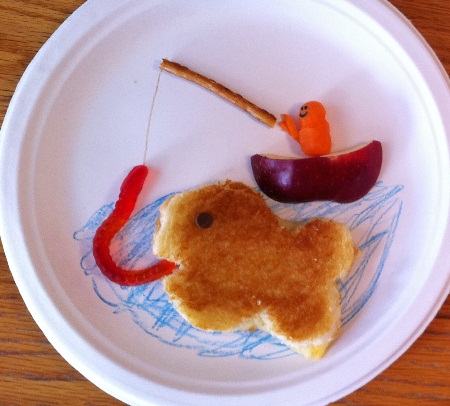 Apple boat, fish-shaped grilled cheese sandwich, carrot fisherman, gummy worm, pretzel fishing pole, brown crayon fishing line, blue crayon water, edible marker face (well, just the ink is edible, not the whole marker 😉 ), chocolate chip eye.
2. House on Fire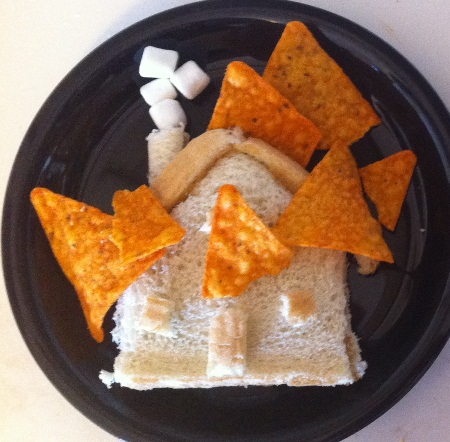 Sandwich cut into a house shape, windows doors and roof line out of crust, chimney cut from scraps, marshmallow smoke, Doritos fire.
3. Pig with Mudhole and Feeding Trough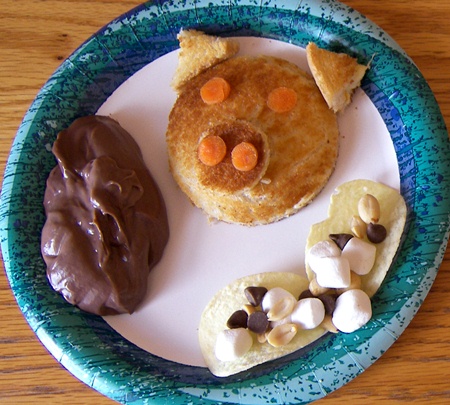 Grilled cheese pig with ears from scraps and snout from one side of another sandwich, carrot eyes and nostrils, Pringles trough with snack mix pig food, chocolate pudding mud.
4. Caterpillar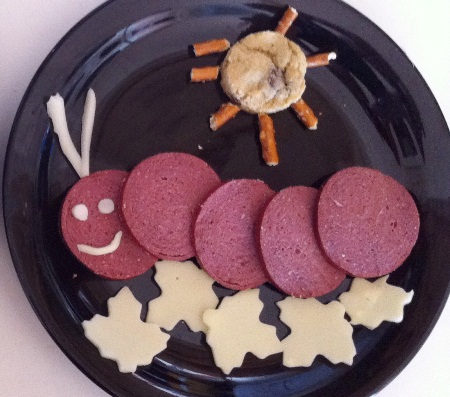 Trail bologna caterpillar with shredded cheese mouth and antennas, cheese eyes, cheese leaves, cookie & pretzel sun. I let them eat crackers with it, but I should've incorporated the crackers into the caterpillar to make it more interesting and varigated!
5. Butterfly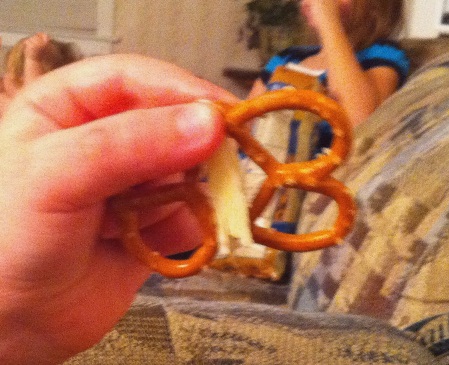 Snacking on cheese and pretzels on evening, Tiffany (5) suddenly came over to me and said "Look Mom! I made a butterfly with my cheese and pretzels!"
6. Sailboats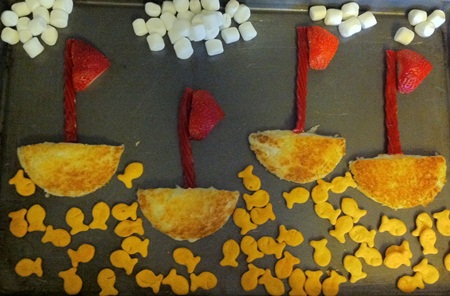 Grilled cheese boats, licorice masts, strawberry sails (it was this lunch that I realized "hey! It would be very easy to make hearts out of strawberry halves!"), Marshmallow clouds, cracker fish (swimming in invisible water, ha).
7. Semi and Car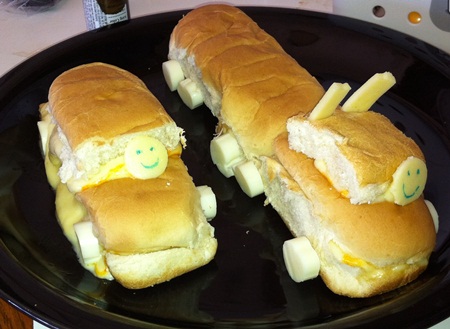 Bake ham n cheese sandwiches with hot dog bun instead of hamburger buns. Get them out of the oven and add unmelted cheese details: wheels, smoke stacks, driver with face drawn on. For the cabs, I added one layer from another sandwich. The kids drove these around a bit before eating them. The wheels are held on by toothpicks. A toothpick is the perfect length to span the width of a hot dog bun and have a bit left over on each side to press the cheese onto. The faces stayed on because I put them against the hot melted cheese and they stuck.
8. Lion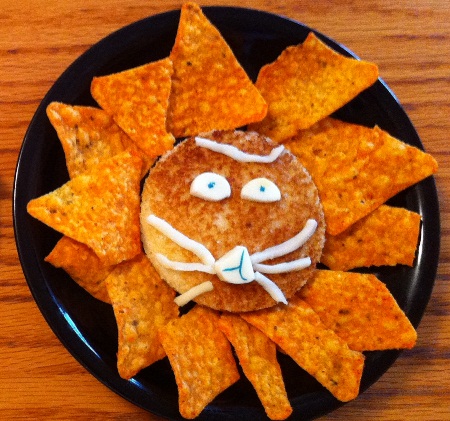 Yeah, you can laugh at these lunches, I don't care.

Grilled cheese head, shredded cheese and cheese chunk face, Doritos mane.
9. Spiral and a Scissors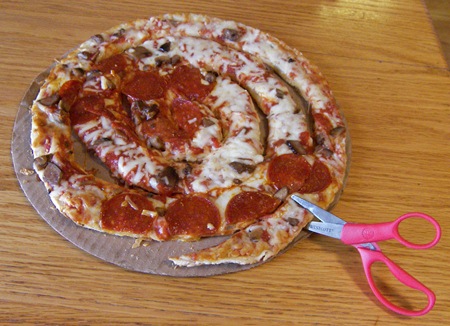 Cut-your-own-piece pizza. The girls cut small pieces so they could use the scissors more often.
10. Dog and Bone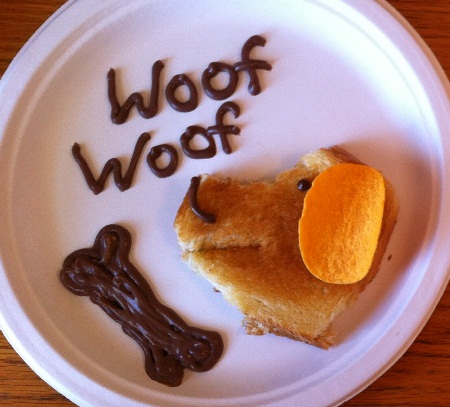 Grilled cheese dog, Pringles ear, piped chocolate pudding eye, nose, bone, and words.
11. Puzzle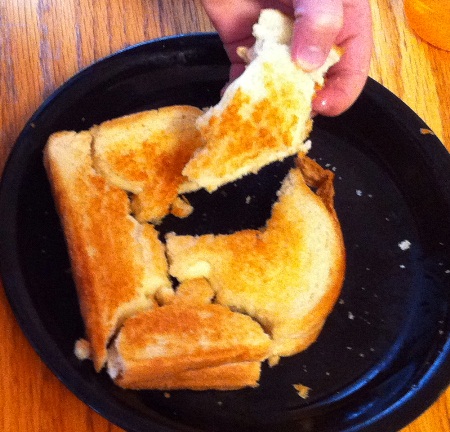 Grilled cheese puzzle pieces… very simple, but Tiffany had fun playing with it anyway.
12. Are You Ready for some Football?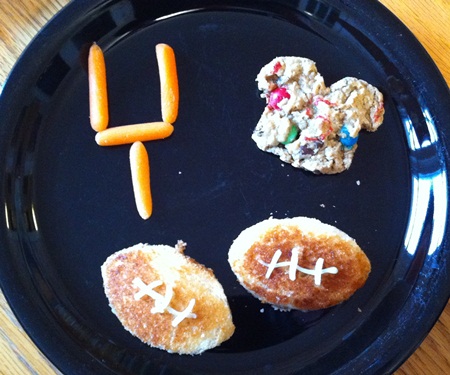 Grilled cheese footballs with shredded cheese laces, carrot goal posts (not fastened, just arranged there, and they roll while transporting the plate, then you have to fix them again 

), cookie jersey (you can't see it very well, but I used red edible ink to draw a 5 on it (because the tot eating it was 5) and drew lines at the end of the sleeves).
13. Angry Birds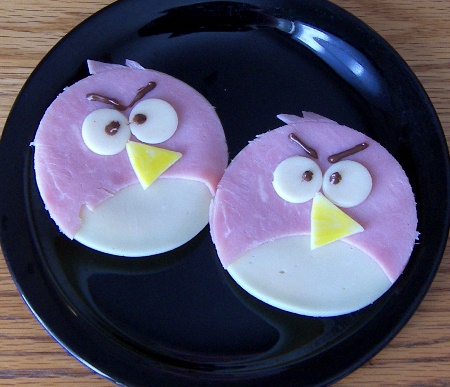 Head is round bread, round cheese, and crescent ham with 'tufts', cheese eyes and nose (I didn't have yellow cheese, so I colored white cheese with an edible ink marker), melted chocolate eyebrows and 'pupils'.
Ok, this ended up being 13… an unlucky number! I'm not superstitious, but maybe I should add another one that I just thought of that I made this week to go with a lunch, but didn't take a picture:
14. A carrot man. Think stick man with 5 baby carrots: 1 carrot was the torso, 2 were legs, 2 were arms. The head was a round piece of cheese with a smile drawn on with an edible ink marker. Then, I put a raspberry upside down on his head for a cap. One carrot man was sitting and one was standing (or laying, rather). Everything was held together with little pieces of toothpicks. Could even dress them up with fruit roll-ups or cheese/ham slices or something… didn't think of that till right now.
Have fun! We are! 

You can do so much more with food than just eating it. I mean, yeah, eating is usually the end result, but how about having a little fun first? 😉 It comes naturally, really. Kids do it without being taught… I remember using Bugles for fingernails, biting eyes and a mouth out of a round slice of bologna and using it for a mask, making roads with stirred up ice cream, shooting baskets with popcorn or M&Ms (in which the basketball net is your or your sibling's mouth), and best of all was peanut butter playdoh… you could form a bowl and spoon and peas in the bowl, and then actually eat the 'peas', and well, eat the spoon and the bowl, too.
Now, I play with food in a more grown-up way. So does my mom. She made garden meatloaf a couple weeks ago for a group of school children.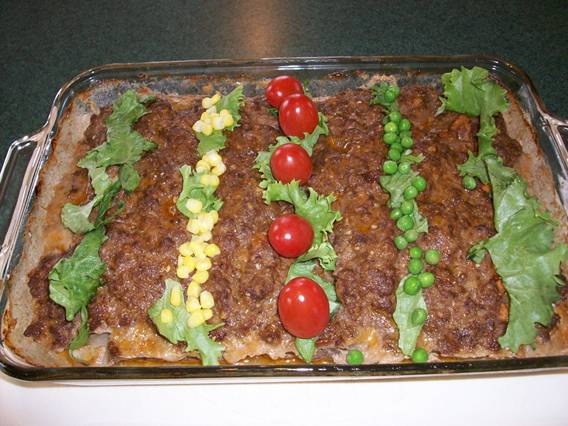 The middle 3 rows are obviously corn, tomatoes, and peas. The 2 end rows are potatoes and carrots, which are there, but underground, of course.

She made sure to put a potato and a carrot against the edge of the pan so you could see it from the outside. And that's not all… she put in mushroom pieces and the white ends of green onions and told the kids to look for slugs and worms. They had a heyday, digging through their meatloaf.
She also made bird-shaped dinner rolls, which were also a real hit.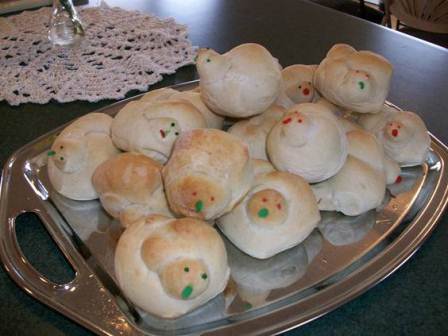 When Mom emailed these pictures to us girls, my sister Jan wondered if she had taken progress pictures. I thought that was a bit strange that Jan would need progress pictures because she has proven herself quite capable of creating in the kitchen with no directions (more on that later). Mom didn't have progress pictures, so, Jan, this portion of the post is just for you. Awww. 

Roll a rope about 7″ long. Tie it in a knot. Fan out one end and make little snips for tail feathers. Put a sliver of almond in the head for the beak and cookies decorations or bits of raisins or something for the eyes… I used cloves.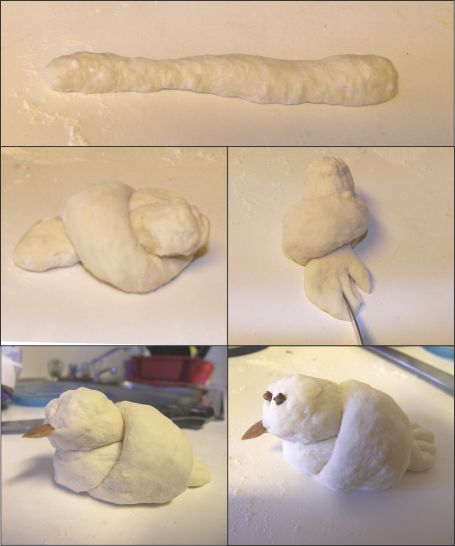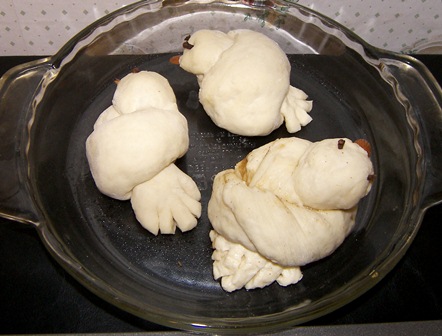 Let them rise and bake them. And TA-DA! fat little birds awaiting butter and jelly. Ok, that may be an unappetizing choice of words.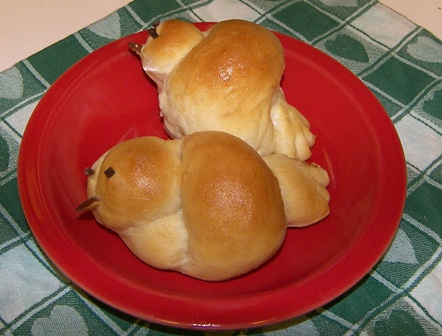 If you notice that the one bird (lower right in the picture with 3 unbaked in a pan up there) has some brown on it… I was making mini cinnamon rolls with this same bread dough, so I made a cinnamon roll bird by rolling the dough extra thin and into about a 4″ wide strip, spreading on butter, brown sugar, and cinnamon, rolling it up, cutting about 7″ off, and knotting it the same as the rolls above. Then, glaze it.
———————————————————————————————————-
Another Spring thing we did was Bird Nests. This portion should be a Cooks in Training post, since my little cooks did these. Melt 1 cup of chocolate chips with about 1/2 cup of peanut butter and mix it with 2 cups chow mein noodles. You can either spoon them onto a plate of some sort and then make a little indent for the eggs to go in, or you can do it like the girls did and put them in little containers to keep them round. They put them in the freezer for about 10 minutes to harden the chocolate, then popped them out of the container with a spoon, put eggs in and put a chic— oops, I mean, a BIRD on top. Really, who ever heard of a little yellow chick sitting on a nest… of COURSE that's a canary!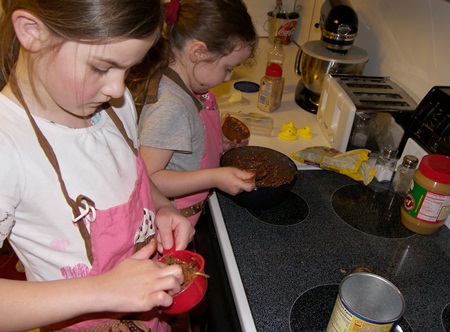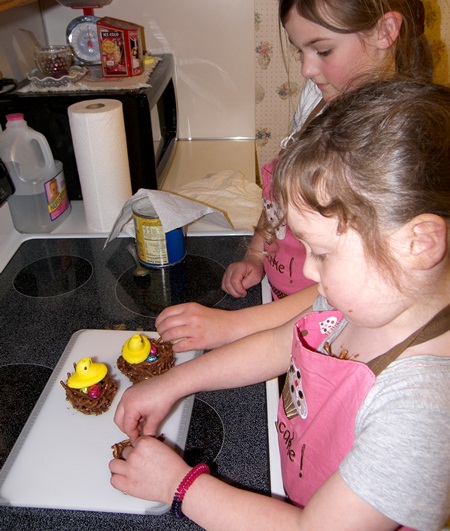 Uhhhh, is that what I think it is in Tiffany's apron? How did part of her nest get there?!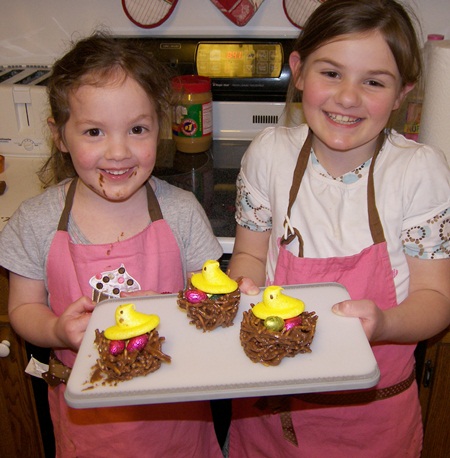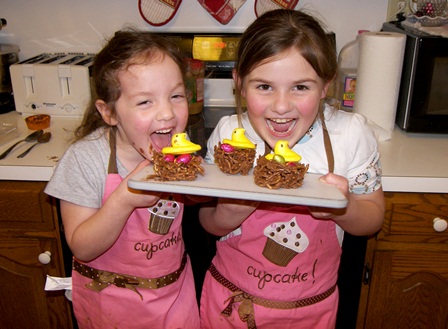 Then, they took them in the dining room to eat some and Lexi in a very excited voice said, "Mom! Come look! If you'd ever make a river cake with beavers, this would make a PERFECT dam! See? Doesn't that look just like a dam? All I did was flipped my nest upside down!" So, there you go… an idea for all those of you out there who are planning beaver cakes.

 Then, Tiffany flipped hers upside down on her chic-, uh, canary, and said, "Or, it would make a good hat too." I think it looks more like a turtle shell, considering the size ratio of hat to bird. Wow, the possibilities are endless with this chocolate chow mein noodle combo! Ha.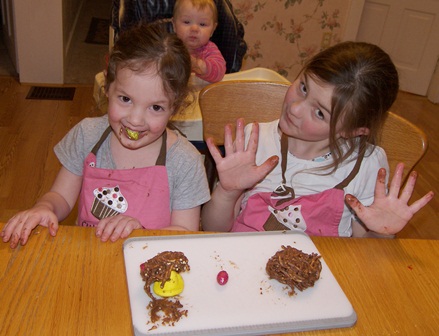 It tastes really good too. Could forget about the whole nest thing and just make these things and drop them on wax paper until they harden and you'd have a yummy snack. I'd double the amount of chocolate and peanut butter for that though. Meanwhile, Megan sits in her highchair, healthily eating peeled apple chunks.
—————————————————————————————————————–
Now, I want to add one more thing yet, even though it has nothing to do with Spring. It does, however, have to do with my sister Jan (who I mentioned up there) and playing with food (which I mentioned up there).  
Once upon a time, Jan won a contest. It was a Make Real Food Look Like Something Else contest from a few years ago on my cooking blog. If you feel like checking out the entries, here's the link: Contest
Jan won it fair and square, I might add… no rigging of votes by her big sister.
Here was her entry: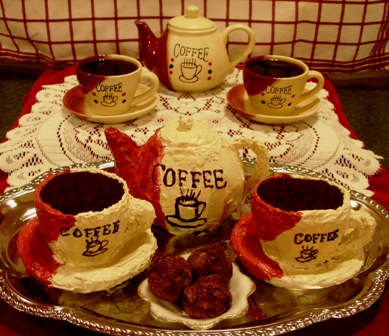 She has that miniature tea set  (in the back) as decor in her kitchen and made a little knock-off set from it. It's all cake and frosting except the 'coffee' is chocolate syrup and the cup/pot  handles are piped chocolate covered with frosting. She had some truffles on hand, so she put 3 on a plate to go with the coffee. So, this lovely detailed 5-piece tea set coming from a lady who sees bird-shaped rolls and asks for progress pictures?! C'mon, Jan!

As I was looking at these contest pictures again, I saw this, so I'll throw it in here because it DOES actually have to do with Spring. You could serve this for dessert at your garden-themed party…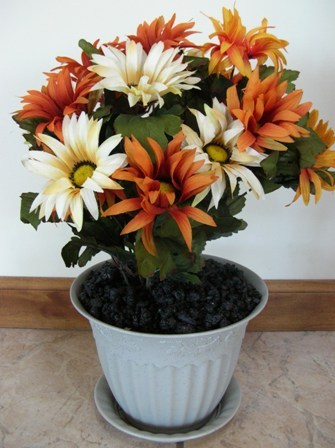 Dirt pudding, in which one of the ingredients is crushed Oreo cookies. I think this entry was submitted by Lavonne.
———————————————————————————————————————————————————————————————————————————————————————————————————————————————————————————————————————————————————————————————–
In other news, not really related to anything, but just something I'm excited about… I get to make a Lightning McQueen birthday cake tomorrow afternoon! I found this post with directions how to do it. 😉 The one tomorrow will have cake under the racetrack and maybe a couple other differences. We'll see how it all turns out, but the thing with having made it before is that I can learn from my mistakes.

Lexi made supper tonight.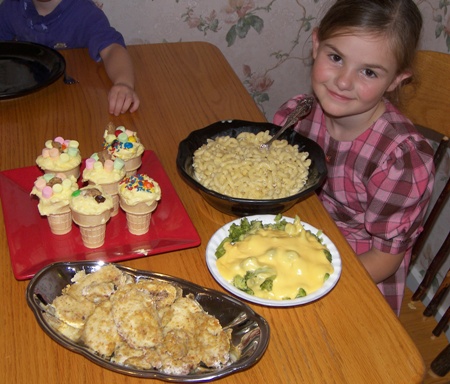 Her menu was:
Crunchy Chicken Tenders
Easy Mac n Cheese
Trees with Cheese
Puddin' Cones
There were only 4 ingredient spills. The only help Lexi accepted was finding some of the right ingredients and measuring cups/spoons and reading the recipe ("because it's faster if you do it and I don't know all the words") and a couple times, handling hot stuff. I did tell her when to do stuff so it would all get done at the same time. I also gave her lots of tips and how-to's, but she did the actual work. She did very well, actually better than I expected.
Now and then, Tiffany (3) crossed her arms, put on a scowl, and whined, "Mom, she won't let me dump that in. I don't have ANYTHING to do!"
I was planning to blog as it was going on, but I was kinda busy with damage control.

She loved doing this meal! I believe we have a cook in the making. 😉
Crunchy Chicken Tenders … recipe from Betty Crocker Kids Cook cookbook
3/4 cup cornflakes cereal
1/2 cup flour
3/4 tsp. salt
1/2 tsp. pepper
1/3 cup buttermilk or milk
1 pound uncooked chicken breast tenders, not breaded
Heat the oven to 400. Line a 9×13 pan with foil.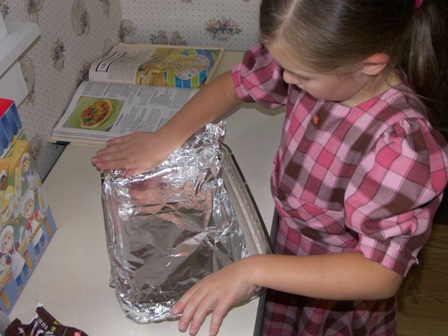 Spray the foil with cooking spray.
Put the cereal, flour, salt, and pepper in a plastic bag. Seal bag closed. Use a rolling pin to crush the cornflakes.
Pour the milk into a bowl. Dip chicken in milk.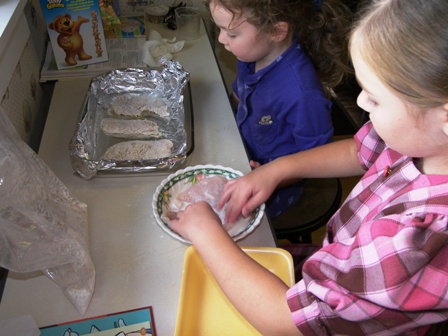 Drop milk-coated chicken, a few pieces at a time, into cereal mixture. Seal bag closed. Shake bag to coat chicken with cereal mixture. Put the coated chicken in the pan.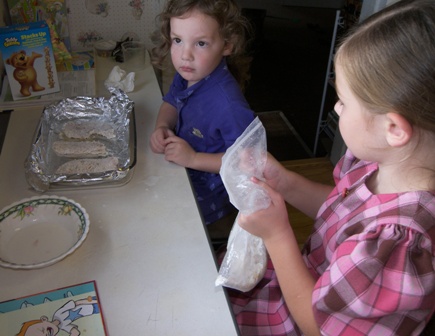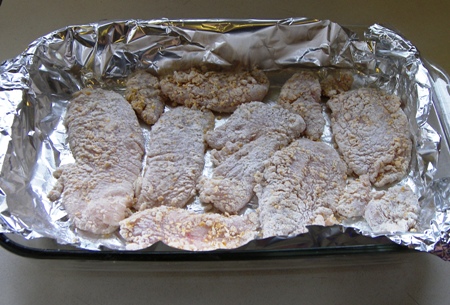 Spray chicken with cooking spray. Throw away any leftover cereal in the bag. Bake for 25-30 minutes or until coating is crisp and chicken is no longer pink in center. Makes 4 servings.
Dishing it up…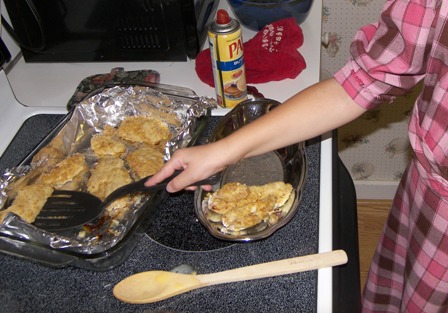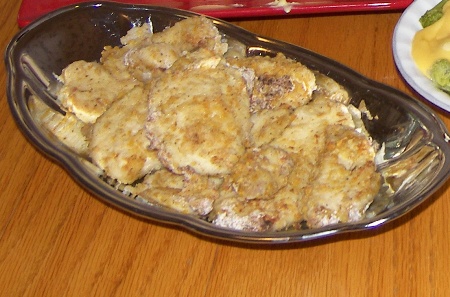 Good stuff! We ate them with bbq sauce. I realize I didn't get a picture of the rolling pin part… they had great fun with that!
Easy Mac and Cheese …recipe from Betty Crocker Kids Cook cookbook
Water
2 cups uncooked elbow macaroni or small pasta shells
1 Tbsp. butter or margarine
1 cup milk
1 1/2 cups shredded cheddar cheese or American cheese
1/2 tsp. salt
1/2 tsp. ground mustard (I had to talk her into putting mustard in!)
1/4 tsp. pepper
Fill a 3-qt saucepan about half full with water. Bring to a boil. Add pasta to water.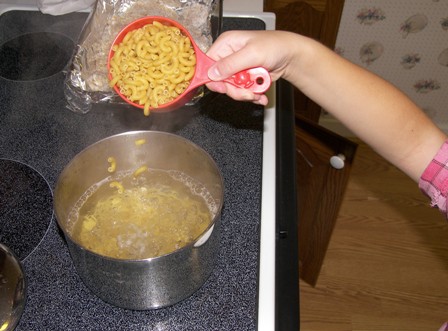 Heat to boiling again. Boil uncovered for 8-10 minutes, stirring often with a wooden spoon. Drain pasta (put a colander in the sink and pour the pasta into it). Put drained pasta back into saucepan. Add butter, milk, cheese, salt, mustard, and pepper to pasta.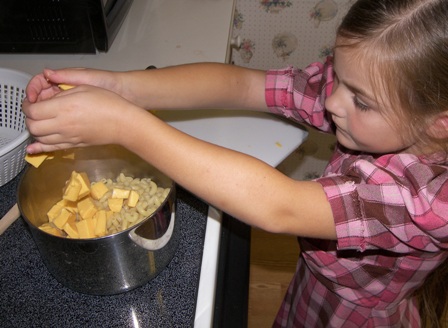 Stir with spoon until mixed. Cook over low heat for about 5 minutes, stirring a few times, until cheese is melted. Makes 4 servings.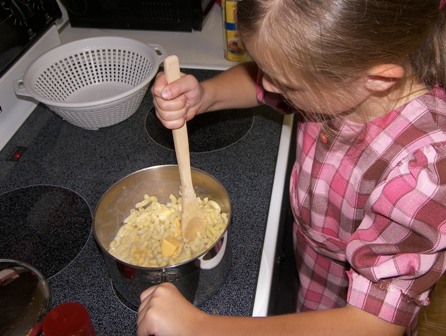 Dishing up. This was a bit wild! Whoosh! and it was all in the serving bowl in about 2 seconds. Pretty amazing that some didn't land on the floor!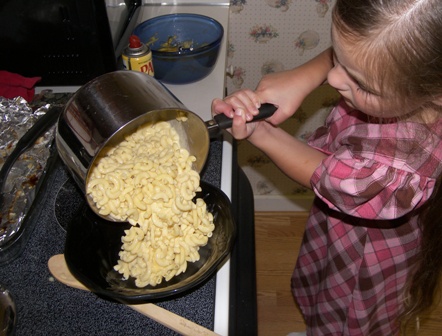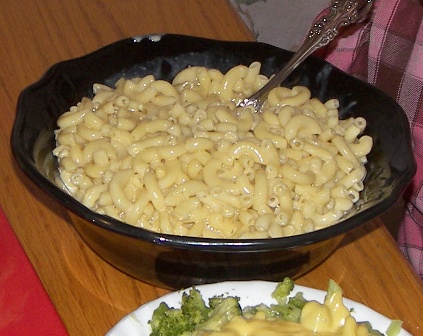 Trees with Trees … recipe from Betty Crocker Kids Cook cookbook
1 1/2 pounds fresh broccoli (I just had her use a bag of frozen broccoli florets.)
3 Tbsp. water
6 oz process American cheese loaf
1/3 cup milk
1/4 onion salt
1 drop red pepper sauce, if you like (she didn't like 😉 )
Microwave the broccoli and water till hot and crisp-tender. Melt the rest of the ingredients in a saucepan or microwave. Stir with a wooden spoon until the cheese is melted and mixture is smooth. Drain broccoli and put it into a serving bowl. Pour hot cheese over broccoli. Makes 6 servings. I didn't notice it at the time, but in all the photographing, I missed the broccoli, all except the dishing it up!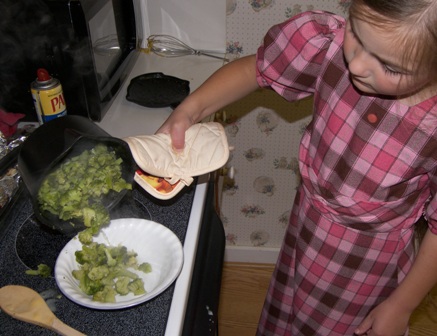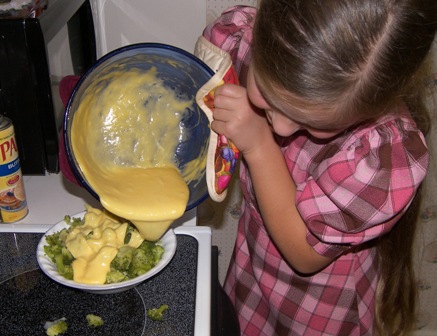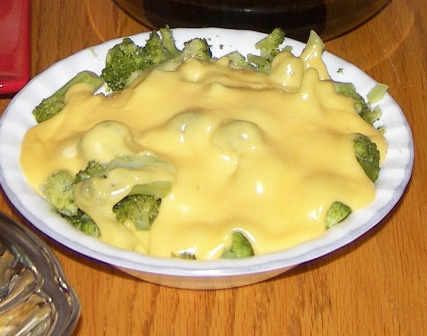 Puddin' Cones … recipe from the 2003 Quick Cooking annual cookbook
This is what sparked the whole idea of making supper. Her cousin Krista made these for dessert when she made supper one time and Lexi saw a picture and wanted to make them too. Krista, you're her hero!
1 1/2 cups cold milk
1 pkg. (3.4 oz.) instant vanilla pudding mix
3 envelopes whipped topping mix (when Lexi read this, she said "Envelopes?! What do envelopes have to do with cooking?")
8 cake ice cream cones (about 3 inches) She used only 6.
Chopped nuts, jimmies and miniature colored baking chips or topping of your choice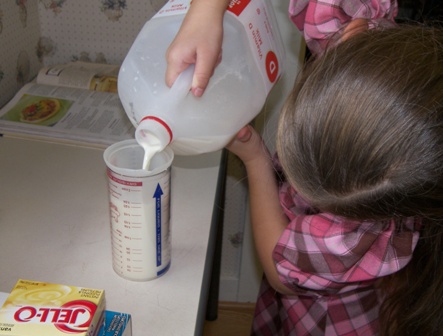 In a mixing bowl, beat milk and pudding mix on low speed for 2 minutes.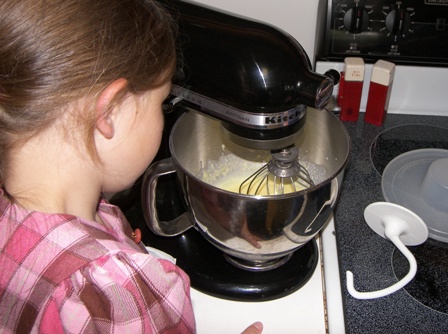 Blend in whipped topping mix; cover and refrigerate for at least 1 hour. Spoon 1/4 cup into each cone; sprinkle with toppings. Yield: 8 servings. I just told her to fill the cones, not to measure. When the pudding mixture was gone, there were only 6 cones used, which I think is better because they look more like ice cream cones if they're heaped a little.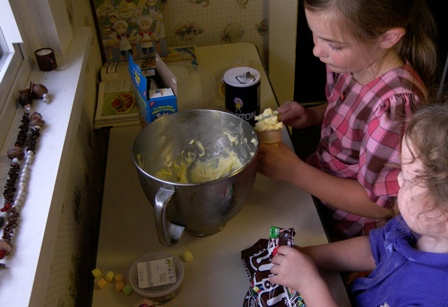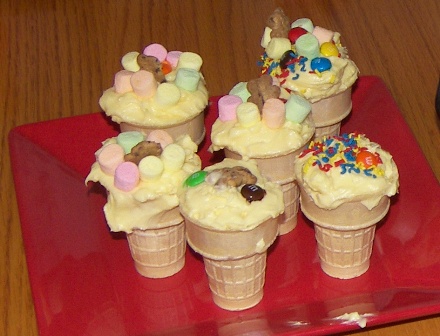 These were good, altho' not as good as real ice cream. She made them right before she dished up the food and till we got done eating and were ready for dessert, the cones were starting to get a little soft already. So, they should not be made too much in advance!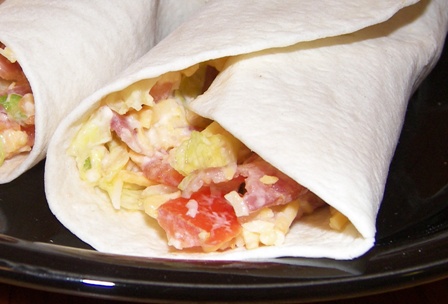 I'm trying to decide if this should even be a Cooks in Training post.
Reasons it should be:
1. Lexi and Tiffany made them.
2. The recipe comes from the Kids Cook! cookbook.
3. There is no kettle or baking involved.
Reasons it should not be:
1. What. a. mess!!!!!!
2. There is a sharp knife involved.
3. Next time we have these, I'll make them myself.
I don't want to give the impression that the Cooks in Training posts aren't usually messy. 😉 It's just that this one struck me as extra messy. Maybe it was because the floor around their chairs looked confetti-covered. Maybe it was because they were handling bacon (read: grease) twice. Maybe it was because when they wrapped their wraps up, the tortillas ripped and the filling was falling out and trying to fix the problem only made it worse.

Oh well, we all have our bad days in the kitchen. And these little cooks are no exception. The wraps tasted great, which is what matters. And it was a nice variation from a regular BLT sandwich. Which is not a bad thing either: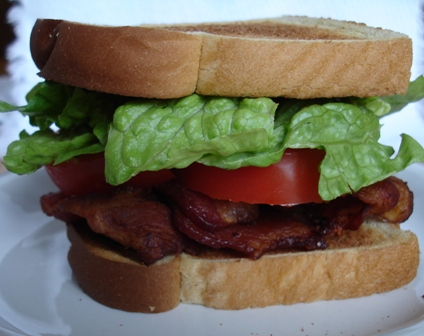 Mmmmmmmm! Yum.
This recipe has everything all diced up and mixed together, but it would probably be easier and quicker to just leave the ingredients whole and layer them in the tortilla.
Burrito BLT Wraps …from Betty Crocker's Kids Cook! cookbook
8 slices bacon
1 large tomato
2 cups shredded lettuce
1 1/2 cups shredded cheddar cheese (6 oz)
1/3 cup mayo or salad dressing
6 flour tortillas (8″-10″ across)
Put a paper towel on a microwavable plate. Put 4 bacon slices on top of paper towel. Add another paper towel and put on 4 more bacon slices. Put another paper towel on top of bacon. Microwave on High for 4 – 6 minutes or until bacon is crisp. Break it into pieces (after it cools, of course).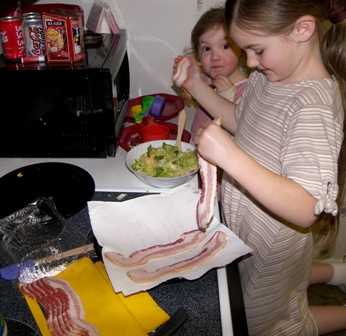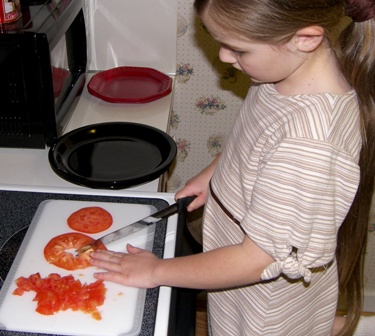 Chop the tomato into small pieces.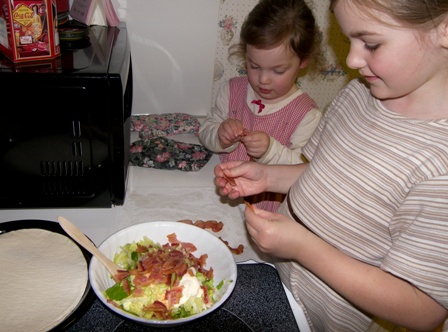 Put the bacon, tomato, lettuce, cheese, and mayo in a bowl. Toss together. Spread the BLT mixture evenly over the tortillas.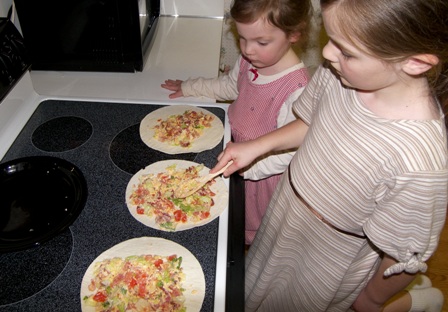 Fold up the bottom 1/3 of each tortilla, then roll it up.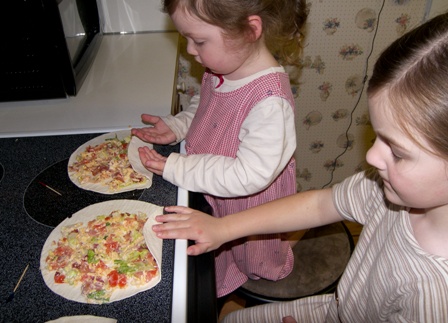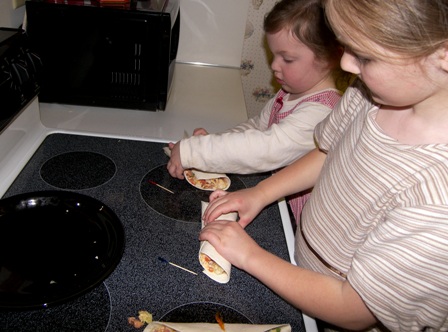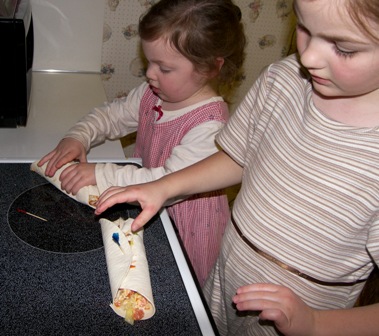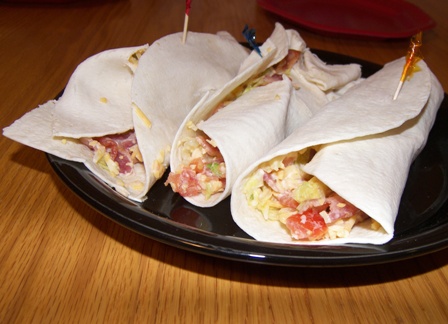 And here they are! In all their messy beauty. The pretty toothpicks were a bit hit. 😉
Whenever I think of BLT wraps, I think of one time when one of my friends said that one day, the whole family was working outside and suppertime rolled around and she made BLT wraps and cut up some watermelon and took it out to the picnic table for them to come and get it whenever. I just thought that sounded so summer-y.