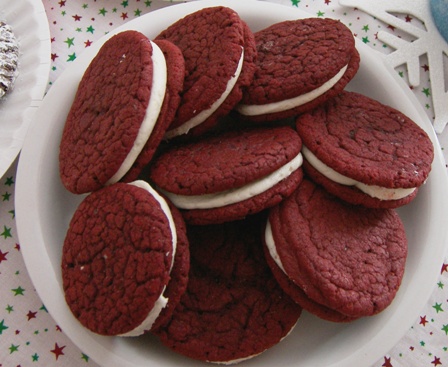 I was trying to picture a festive cookie plate to take to the cookie exchange. For awhile, I was waffling between White Chocolate Craisin Cookies and these. I ended up with these. I kinda got hung up on the white chocolate in the others, wondering if I wanted to 'waste' a couple batches of cookies on white chocolate… Shannon, maybe you should try them.

(Side note: This might be confusing to some of you because I have 2 Shannons in my life (my husband and one of my friends), both of which I refer to on here hit n miss, but if you know there are 2, you can usually tell which one I mean by the context. ;)) Back to these craisin cookies, I am planning to make a batch, and add the chocolate last, dividing the dough in half and adding white to one half and milk choc to the other.
 Wow, I just spent a whole paragraph writing about something that has nothing to do with what this post is about. Good grief.
First, before the recipes, I'll give amounts: I used 5 cake mixes, which made 9 1/2 dozen filled cookies, so I actually baked 19 dozen individual cookies. Me and baking 19 dozen cookies goes great together, I loved it… if it wouldn't make me gain 100 pounds, I'd bake every day. On the other hand, Megan (my 6-month old) and baking 19 dozen cookies does NOT go great together. Let's just say her naptime was blissful. Although, she thought it was bliss sitting back in a corner up on the counter playing with everything within reach (except toys). It's amazing how far a 6-month-old can reach, I found out! Anyway, I made the frosting recipe 3 times and had about 1 cup left over. So, I'll break this down for you to save you having to get out the calculator… 2 cake mixes would make approx 46 finished cookies (mine were anywhere from 2″ – 2 1/2″ across) and one batch of frosting would do approx 38 cookies… could become one of those deals where you make more frosting to use up the rest of the cookies, then you have too much, so you make more cookies to use up the rest of the frosting, then you have cookies left, so you make more frosting…… and so on.

Red Velvet Sandwich Cookies
1 red velvet cake mix
2/3 cup shortening
2 eggs
Mix. Shape into balls.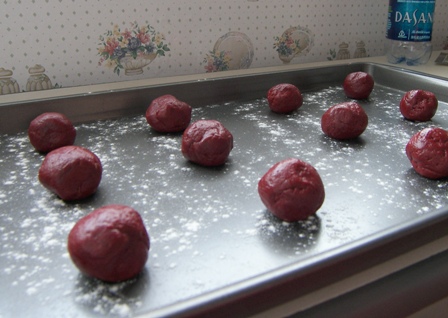 Bake at 375 for 7 minutes.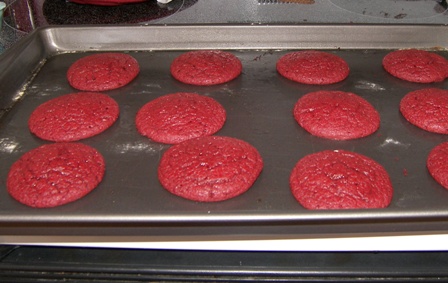 Meanwhile, this was going on…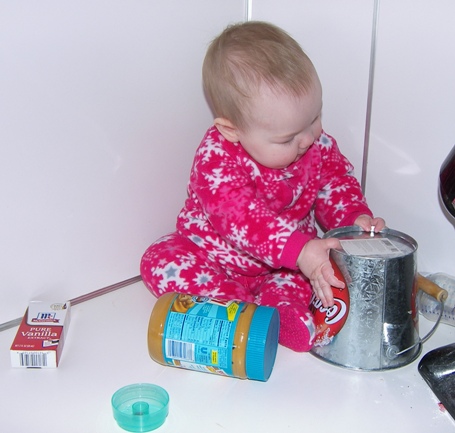 Marshmallow Creme Filling
2 sticks (1 cup) butter
1 7oz. jar marshmallow creme
3 cups powdered sugar
1 tsp. vanilla
Beat til creamy. Spread it on however you want, but I put it in a bag and piped it on. Easy and less mess!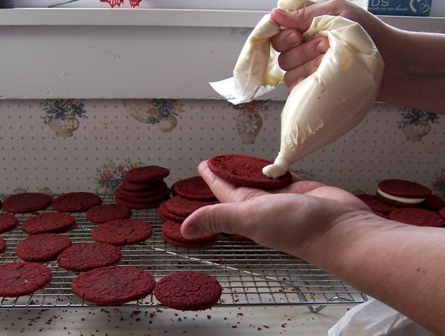 Put another cookie on top and you've got yourself a yummy little red velvet sandwich cookie!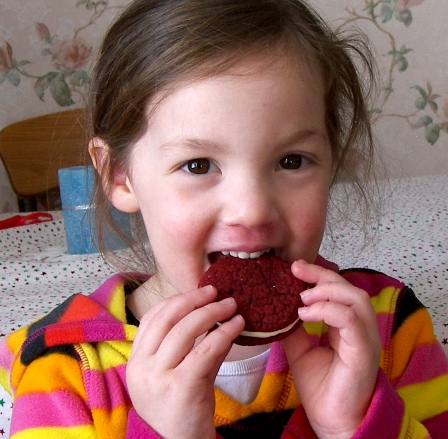 You know, I was just thinking, we could do all sorts of stuff with this because there are all sorts of cake mixes out there… use a white cake mix and put in green food coloring and have green sandwich cookies, make any kind of cake mix cookies and tint the frosting red or green, roll the assembled cookie in crushed red & white candy canes so it sticks to the frosting, dip half of a red velvet sandwich cookie in chocolate, mix up a white cake mix and a red velvet one and then fold them together til it's red & white swirled… any other ideas?
It's that time of year when I need to unlock my extra reservoir of willpower. Here is what's sitting on my table RIGHT NOW…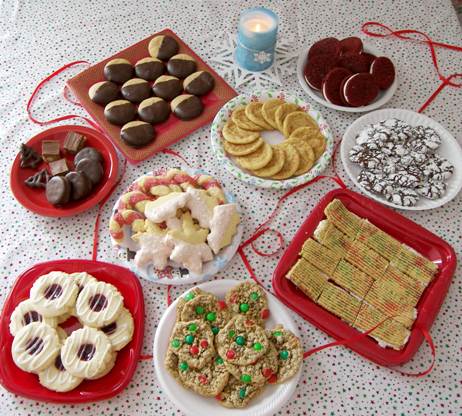 Seriously, the table these are on is 5′ away. I could stand up, take 3 steps, reach out and grab a handful. Or 2 handfuls (I have 2 hands). They are even all still uncovered from taking the picture. Thing is, I'm not even tempted. Nope. Huh-uh. Not me. Not at all. 😉
I'm not even sure what they're all called, so I'll just make up a name for them if I don't know. Oh, and hey, I'm really curious. What's your favorite of all those cookies? If they were, say, sitting on a table 5′ away from you and you could only pick one, which one would you pick?
First, we have Monster Cookies made by Carla. Monster cookies are my all-time favorite… I'd better hide them, the others would never know.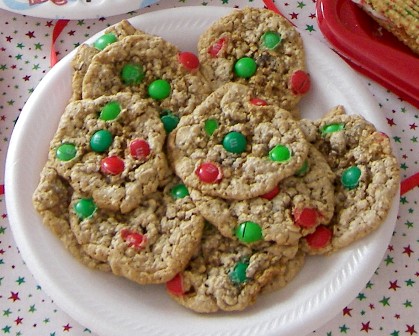 Next is Thumbprint Jam Cookies made by Julie. So pretty.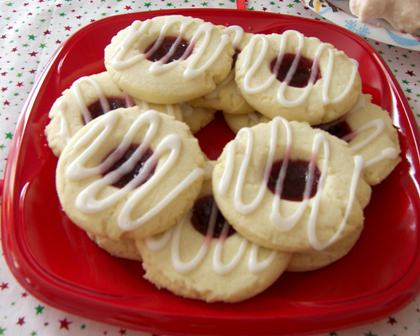 Here are Christmas Cutouts and Candy Cane Cookies made by Janae. Way too cute.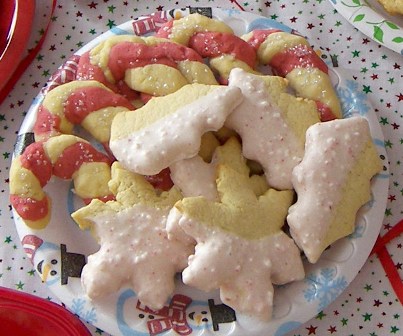 Then, we have Peanut Butter Cookies Dipped in Chocolate made by Linda. These call to me almost as loud as the monster cookies.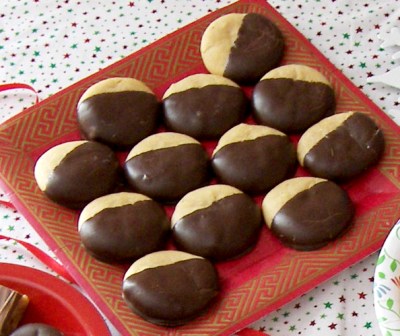 Next is Snickerdoodles made by Deb. Shannon will claim this plate.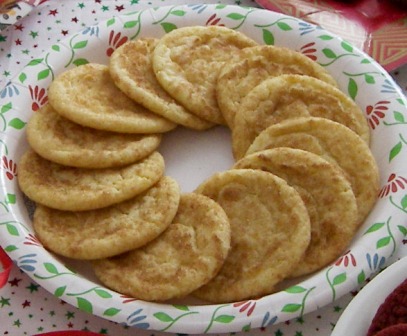 Here are Cream Wafers made by Renita. So beautifully Christmas-y.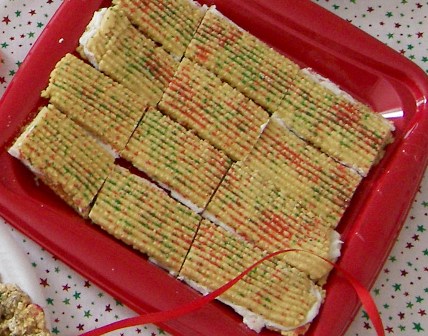 Next is Chocolate Crinkles made by Mary. Ohhhhh, yum!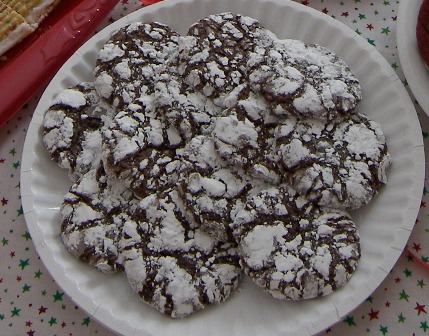 There are 2 plates left, one cookies and one candy. I made those. Here are Red Velvet Sandwich Cookies.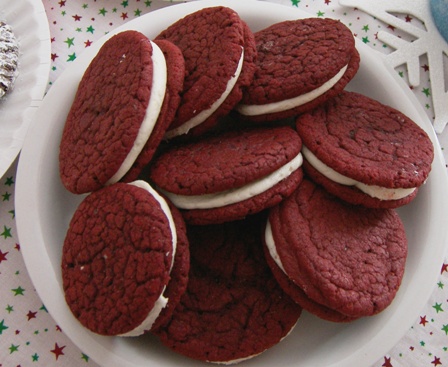 And this plate is Chocolate-covered Tree-shaped Pretzels, Chocolate-covered Ritz crackers filled with Peanut Butter, and O'Henry bars. The O'Henry bars recipe came from Lisa @ The Cutting Edge of Ordinary. Thanks, Lisa! They are awesome!!!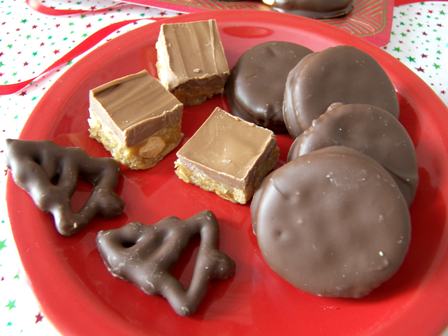 Oh, and I need to point out my candle and snowflake holder… don't you just love it? Julie (the one up there who made the jam cookies) gave it to me for my birthday this year. I LOVE it!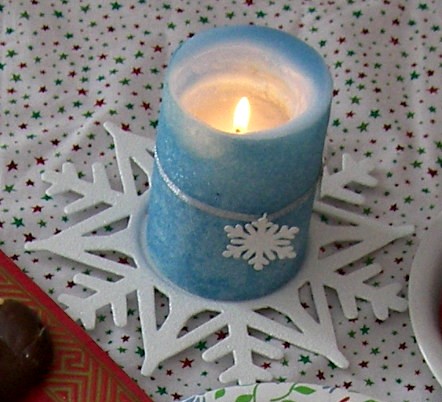 Ok, now I know I haven't been posting on here very much and I don't want anybody to faint, but I have some recipes to get in before Christmas, so I'm going to post one about every day for awhile. *thud* You fainted, didn't you?! Here are the planned upcoming posts, not necessarily in this order:
— Red Velvet Sandwich Cookies
— O'Henry bars (I know, you can get the recipe on Lisa's site, but I want it on mine, too

)
— Teacup Chocolates (excited about this one, this one happened only in my head so far, so hopefully they'll turn out!… I'm making them Thurs for another cookie/candy exchange on Friday)
— Chocolate-covered Ritz Filled with Peanut Butter (I know, you know how to do that already, just by the title, but I want to show you a trick that made the process faster and funner… more fun, whatever)
— Lexi's 8th birthday cake (it was a snicker bar with a fondant wrapper)
Don't forget to humor me with what kind of cookie up there you'd like best!

Other than listening to some Christmas music, this is the first thing "Christmas-y" thing I've done this year… Christmas cookies. (Decorating my house will hopefully happen this week yet.) These were for a cookie exchange, so I *ahem* didn't let my eager little helpers in on the fun because I have to say "No licking!" about 273 times in the course of the project and that just sorta wrecks the Christmas spirit. So, I got up early and made & frosted them myself. 
I'm not a fan of sugar cookies, butter cookies, or any frosted cookies like that because I think they're rather dry and messy and not very tasty. Having said that, these would be about at the top of the list of good frosted cookies that I've had. The only better ones I can think of were some that my friend Kim made one time. They had cream cheese in them.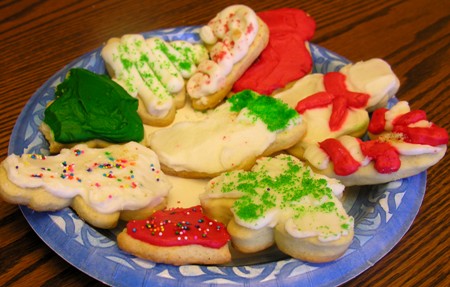 Sour Cream Cutouts … recipe taken from the Christmas Cookies & Candies cookbook
1 cup butter, softened
2 cups sugar
3 eggs
6 cups flour
2 tsp. baking soda
1/2 tsp. salt
1 cup sour cream
FROSTING:
1/2 cup butter, softened
4 cups powdered sugar
3 Tbsp. milk (I added more so it would be faster/easier spreading)
Food coloring, optional
In a mixing bowl, cream butter and sugar. Add eggs, one at a time, beating well after each addition. Combine dry ingredients; add to the creamed mixture alternately with sour cream (dough will be sticky). Cover and refrigerate for 2 hours or until easy to handle. (It's not kidding about this… impatient me tried it without chilling. Bad idea. So, I chilled it for about an hour and the process went MUCH better!) On a floured surface, roll out dough to 1/4″ thickness. Cut into desired shapes with cookie cutters dipped in flour. Place 1″ apart on greased baking sheets. Bake at 375 for 8-12 minutes or until lightly browned. (I set the timer for 10 min and they were perfect.) For frosting, beat the butter, powdered sugar, and milk until smooth. Add food coloring if desired. Frost cookies. Yield: about 9 dozen.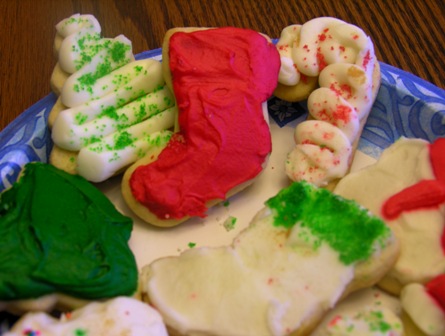 Up next: Lexi's 7th birthday cake. Her birthday was actually today, the party is tomorrow… 7 of her friends are coming after school.
V-A-R-I-E-T-Y!!!! That's what's so fun about these cookies! You know in the grocery store, in the baking aisle, how there are several shelves full of cake mixes? Red ones, yellow ones, white ones, brown ones, confetti ones, pink ones, orange ones, blue ones… are there blue ones? Not sure about that now that I think of it.
And you can make even more variety! You can mix the colors too… make brown and pink (chocolate and strawberry) for your daughter's slumber party… when you're rolling the dough into balls, make them half the size they should be, then smash a brown and pink one together and put it on the cookie sheet.
I should've made a bunch of different kinds and then featured them all. But, I guess I'll just feature them using one kind. The best flavor ever in the world of food.
Chocolate.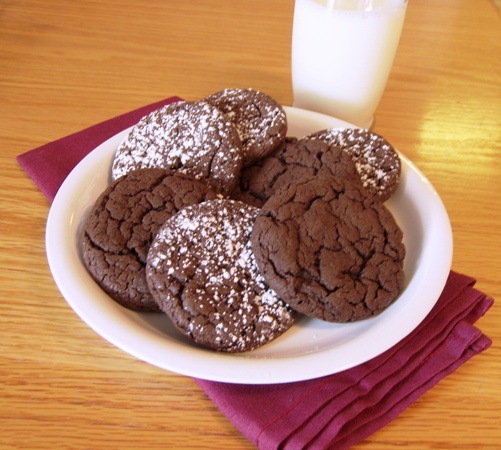 This recipe is adapted from the Tasteful Delights cookbook.
Cake Mix Cookies
1 cake mix
2 eggs
1/2 cup oil
1 Tbsp. flour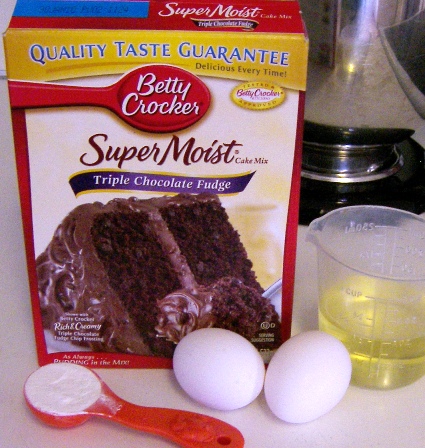 Don't you just wonder what magic that little tablespoon of flour does? Seems like it wouldn't make enough difference for the bother. Next time, I should be really daring and omit it, and see what happens.

Beat all the ingredients together. Roll into balls and put on cookie sheets.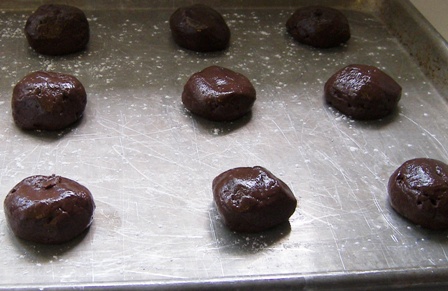 Bake at 350 for 11 minutes.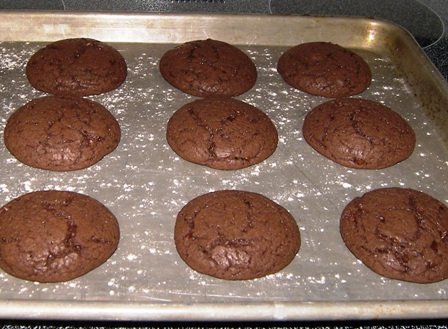 Yum. They have cracks in them. I like when cookies have cracks like that. Makes them look soft and chewy.
Sprinkle with sugar. I used powdered sugar. I just sprinkled some of them because I think I like the looks of them better without.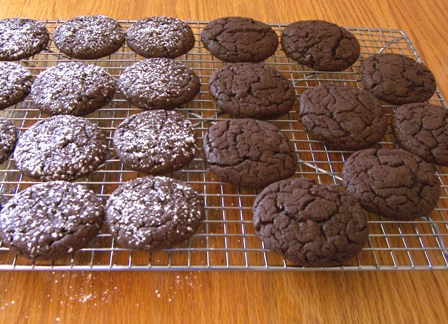 Actually, I think I like them best some with and some without. You know, variety.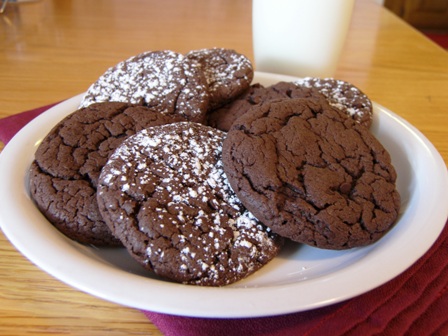 You get these cookies. Not bad, huh?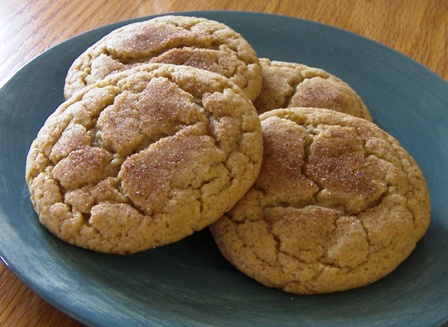 Ok, time to dust off this site again. For those of you who have come back over the last 2 weeks to check if there's anything new, do you sorta feel like you're getting to know Trevor?

And don't you want one of his cookies?
We got a serious cookie craving awhile ago… Lexi said, "Mom, can we make cookies?" and I said "Sure!" and without another word, we both stopped what we were doing, headed for the kitchen and I went for the cookbooks and she pulled the flour out of the cupboard. That's when you know it's a serious cookie craving. If it wouldn't have been, we would've just acted like that would be a good idea and say how we'd "sure like some cookies" and "maybe this evening we could make some" and then just went on with what we were doing.
The first problem was that we had no chocolate chips. The second problem was more serious… no eggs. There are LOTS of cookie recipes with no choc chips, but very few with no eggs. I thought of making Mary's Cream Cheese Cookies. (The reason I thought of making those is because this exact thing had happened and after searching cookbook after cookbook, I had fiiiiiiiiiiiiinally found one without eggs.) I'll bet you anything when Shannon reads this, he'll wonder why I didn't Google 'cookie recipe no eggs' or something like that. His brother Wendell will probably wonder that too. Now that I think of it, I kinda wonder too.  
Anyway.
What ended up happening is that we have a brand new made-up recipe. Not usually what I have in mind when I say I'm gonna try a new recipe. I looked at the cream cheese cookie recipe this time and noticed there were no secret ingredients taking place of the eggs and I had sour cream in the fridge, so I combined and deleted some ingredients and changed a few amounts on a snickerdoodle and sour cream cookie recipe and here it is:
2 cups brown sugar
1 cup shortening
1 1/4 cups sour cream
4 cups flour
2 tsp. soda
1 tsp. salt
1 tsp. vanilla
Cream sugar and shortening. Add dry ingredients alternately with sour cream. Add vanilla. Roll into balls. Flatten a bit. Sprinkle generously with cinnamon sugar. Lexi was in charge of putting on the cinnamon sugar and when she started loading it on, I almost said "Not so much!", but just in time, I thought, 'You know, that looks kinda good!' And it was!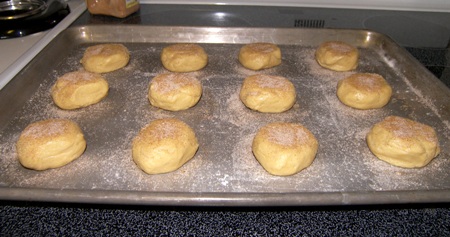 Bake for 12 minutes at 375.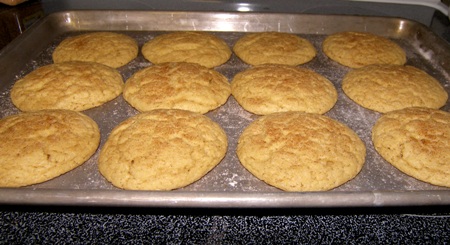 Well, they look pretty normal, don't they?
And they tasted great! Seriously! Sometime, I want to try them with chocolate chips and omit the cinnamon sugar. Or would cinnamon be good with chocolate chips?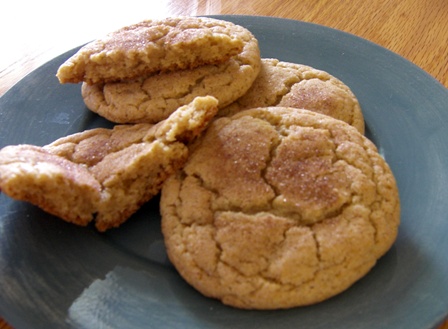 Look how soft they are. They're nice and chewy, not crunchy.
Now I hope that I'm not out of eggs AND sour cream AND cream cheese when the next cookie craving hits. If so, we'll have to settle for No Bake Cookies, which isn't a bad choice. At all.
Ok, I'm off to Google 'Why do cookie recipes have eggs in them?' Or maybe I'll Bing it. Just this week, I learned there's such a thing as Bing.