It's July. And it's blitzin' hot! Right now, mid-evening, the thermometer says 89 degrees. Perfect… it's July.
The girls and I had some red, white, and blue fun today. This is when we were ready to start. Excitement was high. I had a few ideas, but I didn't know what the end result would be… there was gonna be alot of experimenting going on…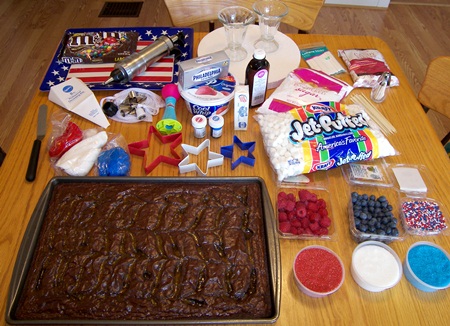 And here was the end result: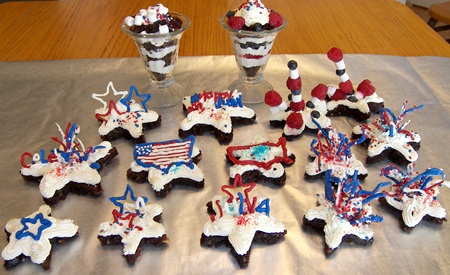 It's basically 4 different things… parfaits, berry shish-kabob decorations, fireworks, and randomly decorated brownies.
I made a big pan of brownies and then cut them out with star cookie cutters. I thought that would be faster because my star baking pan has only 6 wells and I'd have had to bake 3 or 4 batches. But, having it to do over, I'd use the star pan. You know how brownies kind of stick to the knife when you cut (unless you use a plastic knife)? Well, they stick to cookie cutters too. It wasn't too bad, though, and worked fine, but next time, I'll use my star pan.
Or, instead of brownies, it could be done just as easily on sugar cookies, cupcakes, or mini cupcakes.
The parfaits…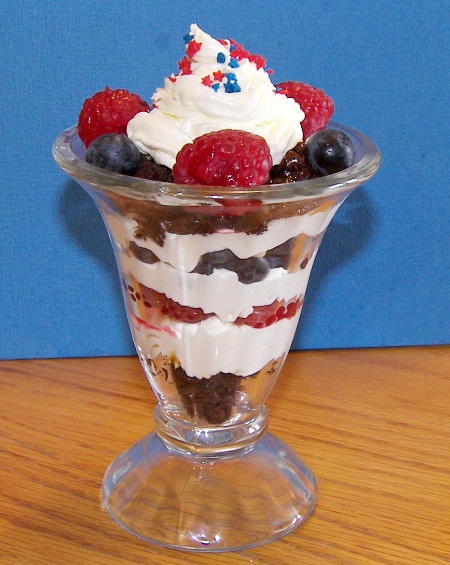 The parfaits tasted awesome and were easy and could be made in a large pedestal bowl instead of individual parfaits. This one is a layer of brownies, then cream cheese filling, then raspberries, filling, blueberries, filling, brownies, and then you can either put Cool Whip or filling on top and garnish with a bit of fruit and sprinkles. You could make a pan of brownies and cut them up into little squares to make this, or you could do what I did and use the brownie scraps left over from cutting out star brownies.

The filling is: 8 oz cream cheese mixed with 1/4 cup powdered sugar, then that gets mixed with 8 oz Cool Whip.
The fruit shish-kabob decorations…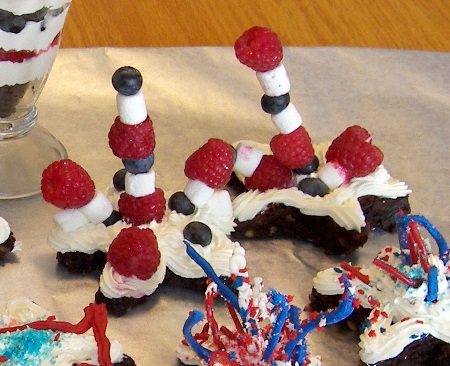 These shish-kabob things had serious issues… they kept falling over. We had to keep standing them up before each picture. We originally thought we'd try to make them look like fireworks, but we kept lowering our standards til our only requirement for them was to be red, white, and blue. We should've just skipped the sticks and made a mound of fruit on top. Oh well, the girls had fun stabbing the stuff on… and obsessing about making sure to get them in the right order of red-white-blue… but one time, one of them asked, "Mom, would blue-white-red be ok, as long as white is in the middle?" See? Obsessing. And you know what TOTALLY makes my day after all that fuss? I didn't notice it before, but just now I see that on the one tall one, it's red-white-blue-white-red-blue.

The fireworks…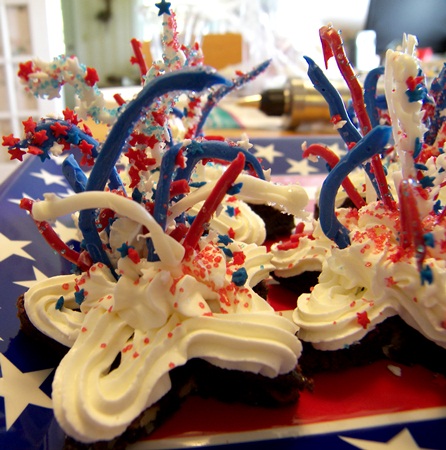 Oh, what fun! Didn't turn out quite like I had pictured, but that may be because the girls did most of it (also not what I had pictured) and I mostly just did damage control. We colored white chocolate blue and red and then piped the 3 colors on Saran wrap over a cutting board, then sprinkled on some colored sugar and star-shaped sprinkles, and put them in the fridge to harden.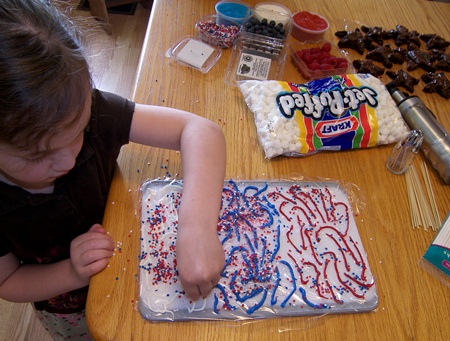 After 15 minutes or so, they were hardened and ready to assemble, which included jamming the sticks into the frosting on the brownies. Does 'jamming' sound a bit harsh for delicate little chocolate sticks? Yep. Harsh, but accurate.

I really should've taken a video clip of that process… it was hilarious to watch and listen.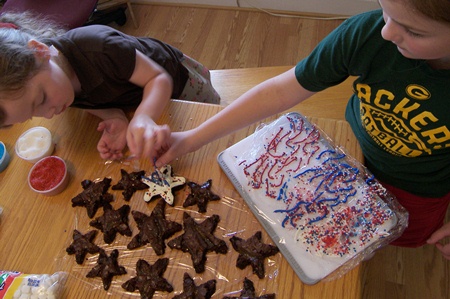 So, did it end up looking like fireworks? I don't know, but we at least have to give them credit for creating something that looks like some type of explosion…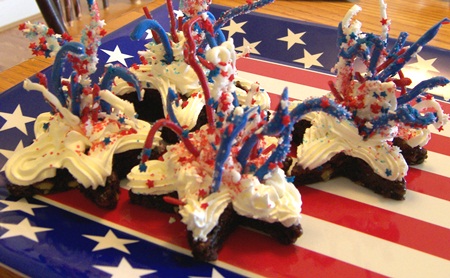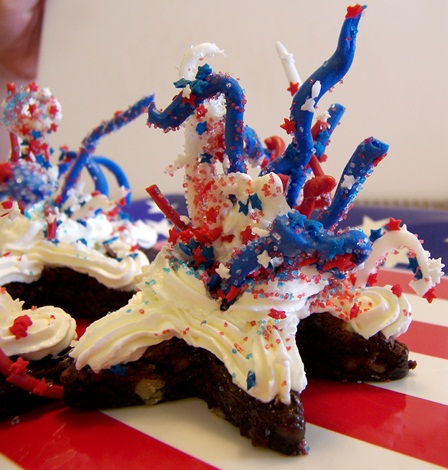 The randomly decorated brownies…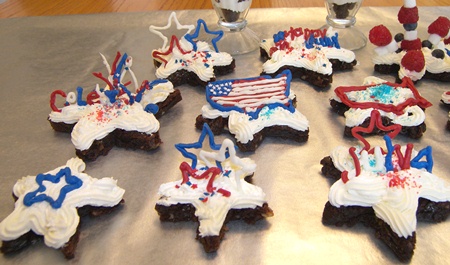 This was fun. I got an inspiration for this that I'll do more in the future for any occassion. Make a page on the computer of writing or shapes or outlines or whatever. Then, print it out and put it on a cutting board under a piece of Saran wrap. Then, pipe over it with chocolate. It'll make writing more even and shapes more accurate. Here is the Before/After…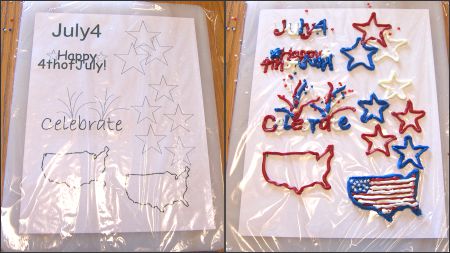 Then, put it in the fridge to harden. Peel off and garnish. The possibilities are endless with this print-out-and-pipe-chocolate thing! One tip is to make sure it's pretty thick. Another tip is don't hold it very long before putting it on because your warm fingers will start to soften it and it'll weaken and break.
Here are a couple of close-ups. Next time, I'd make an extra little thing sticking down to go into the frosting because, like July 4 down there, the Y looks like a V and the 4 looks like a triangle.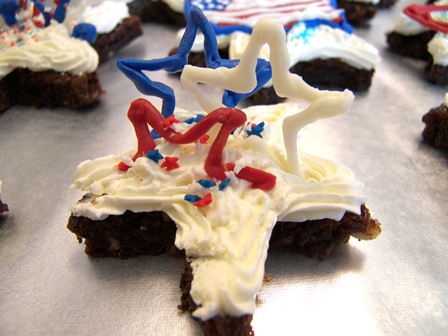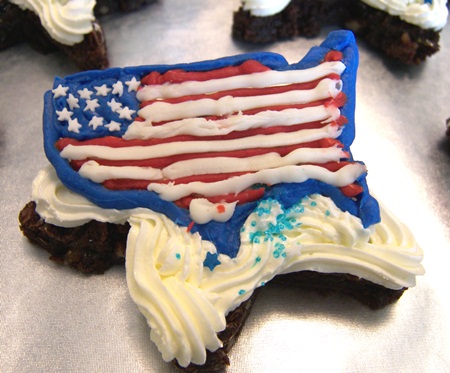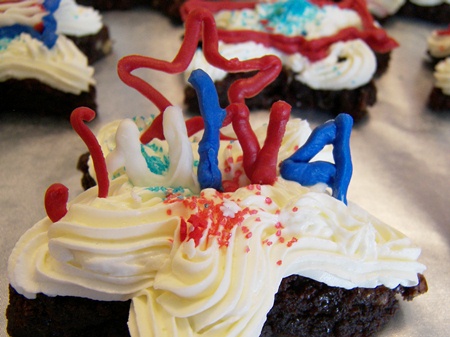 And, last but not least, United States rice crispy bars. After cutting it out, I put all the scraps together and re-flattened it out and cut out stars, then, sprinkled colored sugar on top. The flag is M&Ms… I had the kids separate out all the blue and red ones from a package.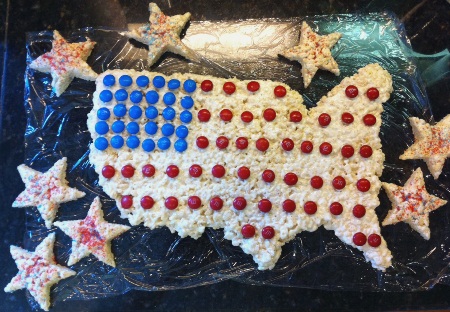 I used to have a plastic United States shaped mold. I had put it away for the year and when I went to get it out this year, something heavy was laying on it (a 15-lb dumbell, to be exact… yeah, don't ask, I have questions myself!) and it was hopelessly smashed. So, I just cut this freehand. The top does look a little odd from Michigan to Maine, but hey, you can at least tell what shape it's supposed to be, right?
Happy 4th of July from all of us! (even from Shannon, who was at work when we self-timered this picture)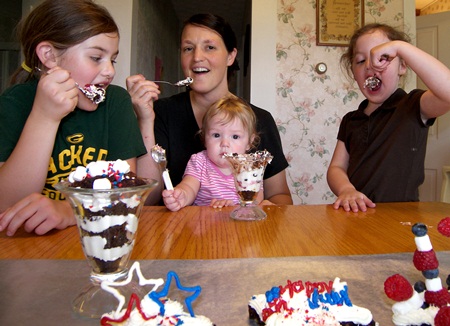 Excuse us for eating in front of you, but we couldn't help it when we saw that parfait sitting there. We're going to kick back and relax this weekend, maybe grill a burger or two and watch some fireworks. See ya next week! 
Nothing says summer like watermelon cookies. Just kidding. I was only trying to sound cliche. There are probably 50 things that could go in this blank: Nothing says summer like ________ . Flip flops, burgers on the grill, buzz haircuts, sticky roasted marshmallows, sun-kissed cheeks, fresh strawberry pie, laying in the hammock, picnics, etc. etc. Oh! and watermelon. Watermelon anything.
Before we get to the cookies, I want to throw this in here. Watermelon cake. I made it a couple years ago, but you can make it this year!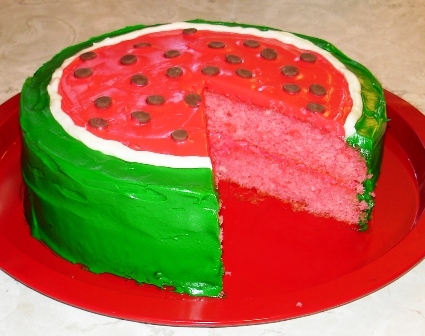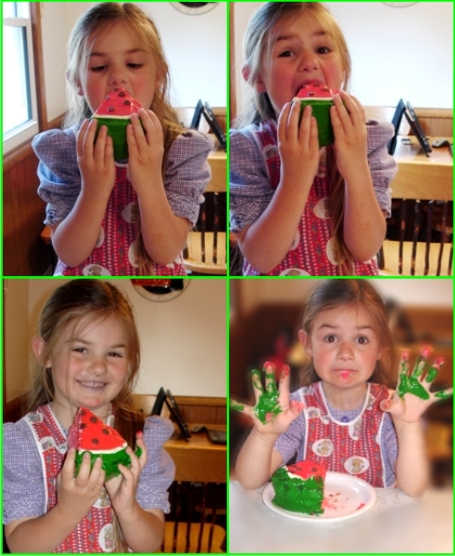 And now, onto the cookies…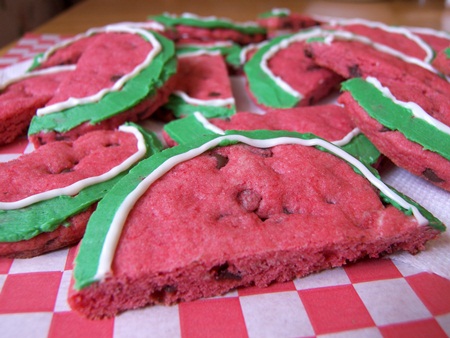 What these cookies lacked in taste, they made up for in cuteness and fun. But, when it comes to eating sugar cookies, you can't go by me because I'm not a sugar cookie fan. I like them ok if they're loaded with frosting, and these cookies weren't loaded with frosting. The girls liked them though, and that's what counts, I guess. These particular cookies did have chocolate chips in them too, which is good, what with sugar cookies needing all the help they can get.
I didn't know how I was going to get the cookie dough red, other than just using food coloring. So, I came up with a brilliant plan (sorta kidding about the brilliant part). I mixed up sugar cookie dough (this recipe) and cake mix cookie dough (this recipe, but I used a red velvet cake mix, and I skipped the silly Tbsp of flour). Then, I took about 1/3 of the sugar cookie dough and mixed it with a dollop of the red velvet dough. (Thought of it later that I could've tried simply dumping a pkg of red jello in the dough and see how that works, instead of messing with red velvet). Then I mixed in some chocolate chips. I rolled it out and cut circles, baked them, put a rind on, and cut them in half.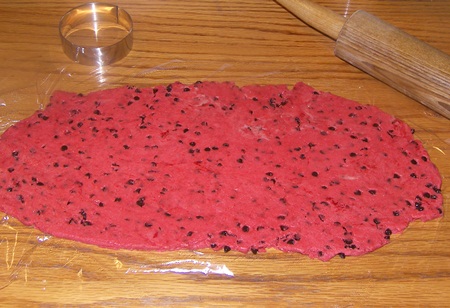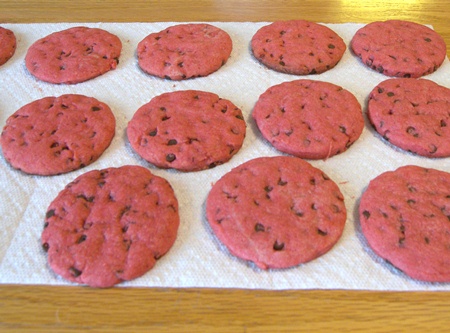 Btw, to do the green, I just piped a fat line around the edge, then spread it out.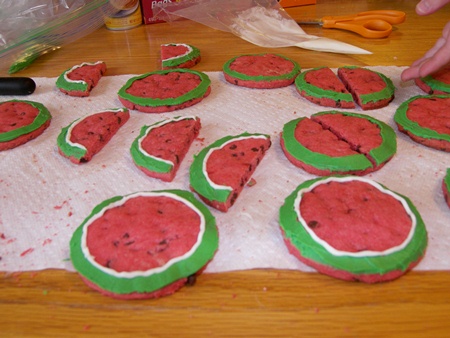 And ta-da! Watermelon-lookin' slices!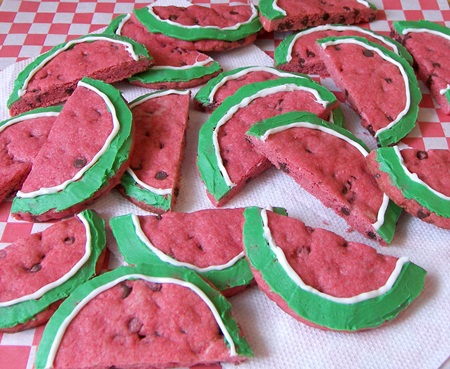 You know what I just thought of now? WHY did I not think to make some wedges and make some look half-eaten, like just the rind with a bit of red left on it or use a small flower cookie cutter and cut a 'bite' or two out of some of the slices?! So, there's an idea for you if you make watermelon cookies… I can't do it anymore with these because I made them last week and they are LONG gone. Oh, and another way to make watermelon cookies would be to make regular sugar cookies (not colored dough) and then frost them red, white, and green and press mini chocolate chips into the red frosting.
So, that's the end of the watermelon cookies. But if you were paying attention up there, you know that I have most of two batches of cookie dough left. What should we do with all of it? 
Mix them together and you'll have a bunch of red cookie dough. Then, make star sandwich cookies for the 4th of July, which is just around the corner!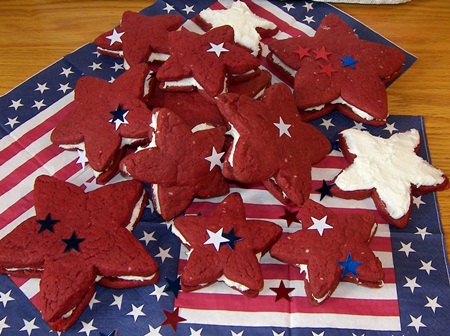 Speaking of the 4th of July, I'm going to 'play' a little this afternoon and make some fireworks out of white chocolate with the help of blue and red food coloring. Then, tomorrow sometime, I'll do a 4th of July post with those (whether they end up actually looking like fireworks or not

), USA/flag/stars rice crispies, and maybe another red, white, and blue thing or two.  
You bake cookies. You could do it on autopilot. Your kids even know the drill… one time, Tiffany came out to the kitchen as I was starting cookie baking and said, "Can I help you bake cookies?"
"How did you know I'm gonna bake cookies?", I asked.
"Because I saw you open the mixer and get that *pointing to the shortening* and the sugar out of the cupboard, and that's how you always start baking cookies.", she confidently said.
Sometimes I feel in such a rut with cooking and baking. When we have cookies around, 90% of the time they're either monster or chocolate chip. When we have cake around, 90% of the time, it's chocolate with peanut butter icing. When we have pie around, 90% of the time it's either peanut butter or lemon meringue. And it looks like when I get into a percentage rut, it's usually 90%. Seriously, though, if I make something other than the things listed above, you pretty much always see it on here. Sometimes I feel too predictable and want to change things up a bit…
We can still have our favorites, but in a different way.
Take chocolate chip cookies, for example. I was making some for an after school snack, so you know, for kids. Instead of using the same ol' Pampered Chef cookie scoop, I just used a spoon and made teeny little scoops. The teeny little scoops turned into adorable 1-and-a-half-inch-in-diameter cookies. The adorable cookies, placed in a little bucket, turned into an after school snack that was a huge hit… little cookies, huge hit. They thought it was great that they could have TEN cookies for after school snack!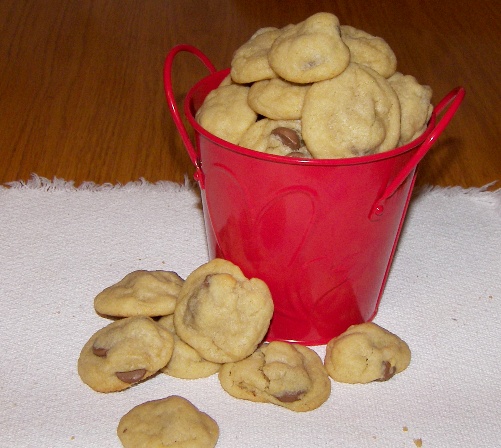 Awwwwwww.
And now, not to wreck the fun I'm-SOOOOOO-gonna-bake-cookies-this-afternoon-and-do-that-cuz-the-kids'll-love-it mood or anything, but just let me warn you: the dough goes down v.e.r.y slowly, it takes way longer to put them on and get them off the cookie sheet, and the yield is dozens and dozens, do not even try to count.
*WHIPLASH ALERT*
We're now going to switch from baking dozens of little time-consuming mini cookies to 1 pan of bars. 
Let's say you're baking cookies and you mix the dough up and while the first panful is in the oven, you realize you're not really in the mood to bake cookies after all… not in the mood to drop them onto the cookie sheet every 10 minutes, not in the mood to be setting your laptop down and jumping up 5 times an hour.
But, you've got a batch of dough sitting there.
No problem. Just spread the dough in a sheet cake pan and bake it for 25 minutes… and ta-da, bars made from your favorite cookie recipe. I just tried this for the first time about 3 weeks ago and thought it was really great that I thought to do this on my own UNTIL some of my friends said, "Oh, yeah, I do that all the time."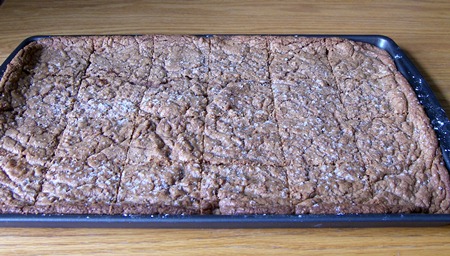 Side note here: that's my chocolate chip cookie recipe, except that I substituted FUDGE + 1 cup of flour for the chocolate chips. I had about 5 cups of fudge on hand from when I made this cake.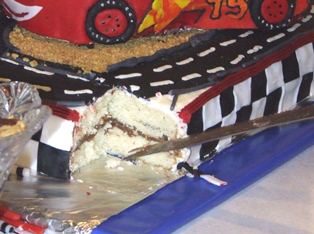 I was going to use the fudge in the middle layer between the 2 cakes, but then when I started spreading it on, I was afraid it would be too soft and squish out from the weight of the cake plus car on top of it (I used melted-then-hardened chocolate instead). So, I used the fudge up in those cooki— uh, I mean bars.
Another way to change up chocolate chip cookies is to mix them up and bake them, leaving out the chocolate chips. Then, melt the chocolate chips, spread them on something metal to harden and make cutouts. Or just drizzle the melted chocolate over the cookies. After they're baked, you can cut out some of the baked cookies into heart shapes… the girls (and I) did these 2 years ago for Valentines Day and we shipped them to WI to their 2 grandmas.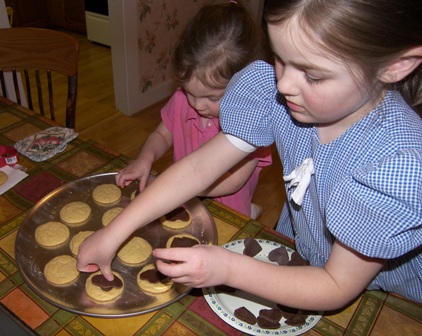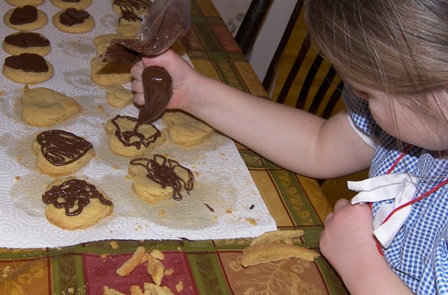 For cake: sometimes I do chocolate cake with peanut butter icing in a 9×13, sometimes I do it in a sheet cake pan, and once in a great while, into cupcakes. I know, exciting.

Next time, I'm going to do mini ones. I made mini cupcakes for the first time last week. If you ever want to do this, one cake mix made exactly 6 dozen… I filled the wells about 3/4 full with batter. And it takes double the frosting.

Pile it up even more than this… it's part of what makes minis fun. I only made a single batch, so I couldn't put as much on as I wanted to AND I ran out.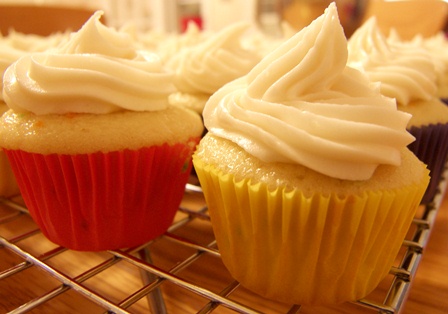 For pie… if you want lemon meringue pie, but not in big piece form, do this: make pie crust, cut 3″ circles, press them into mini muffin pans, and bake. Make your regular lemon pie filling and fill the crusts. Make regular meringue and pipe or dollop it on, brown it in the oven, and you've got these sweet li'l thangs…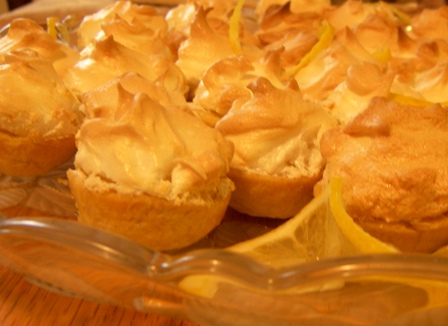 You could do that with probably any kind of pie. It's great for potlucks or snacks.
And now, still on the pie subject, the grand finale to this whole 'switching things up' thing… how about calorie-free…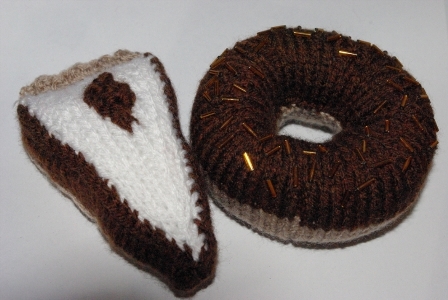 I ran across this website (April Cottage Ramblings) one day as I was surfing and immediately saved the link. Absolutely amazing!!! Seriously, this lady is talented… she KNITTED a piece of pie and a donut!!! She knits and crochets other stuff too… I fell in love with a little short-sleeved ruffly purple sweater that she made for her granddaughter. I don't know her, and I don't knit, but I'm very impressed. And it sounds like she's going to knit more cakes, so I'm going to stay tuned.

Coming up next… Lately, I've been hungry for lettuce salad with craisins and pecans in it, so I'm going to look for a recipe like that. I don't have one in mind, so if you have a slam good one that you're bursting to share, let me know!

Ok, people, take note. I am about to write a phrase that I have NEVER written before and that I will probably never write again. Ever.
White chocolate was better than milk chocolate. Oh, that sounds weird. Seems wrong. I feel like a traitor to milk chocolate.
But I made this cookie dough, split it in half, and added milk chocolate to one half and white to the other. When they were baked and cooled, I tasted them. In all my die-hard loyalty and love for milk chocolate, I'll have to admit that white chocolate just plain goes better with craisins.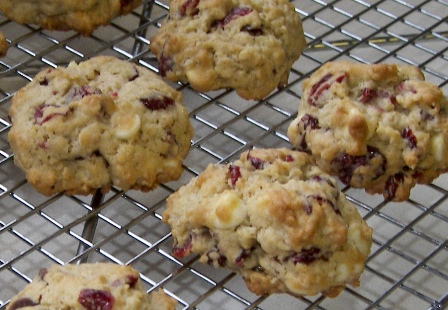 This all reminds me of a little conversation Shannon and I have had now and then about the museum at Lambeau field. I know, it might seem strange that chocolate reminded me of that conversation, but I have always loved analogies. Analogies help me understand things, see them in a different perspective. And this is an analogy… in which I am the milk chocolate, Shannon's brother Preston is the white chocolate, the Packer museum is the cookies, and Shannon is the taste-tester. In this conversation, we talk about his dream of some day going to Lambeau field and spending a day there going thro the museum, reading every piece of info and history, and when he does, it's not me (you know, ME, his favorite person ever) that he wants along …the person he wants to go with is his brother. Evidently, strolling thro' a football museum is not date material, holding hands as you go from one display to the next.?????

I do totally get it, though… I wouldn't want to browse Hobby Lobby and Michaels with him for a day. Things are always the most enjoyable when you get the right combo.
Like craisin cookies and white chocolate.
White Chocolate Craisin Cookies …recipe ripped out of either Taste of Home or Country Woman magazine, I forget which one
2/3 cup butter, softened
2/3 cup brown sugar
2 eggs
1 1/2 cups oatmeal
1 1/2 cups flour
1 tsp. baking soda
1/2 tsp. salt
1 6oz. package craisins
2/3 cup white chocolate chunks or chips
Preheat oven to 375. Beat butter and sugar together until light and fluffy. Add eggs, mixing well. Combine oats, flour, baking soda and salt. Add to butter mixture in several additions, mixing well after each addition. Stir in dried cranberries and white chocolate. Or do the taste-test for yourself and split the dough and try dark or milk chocolate.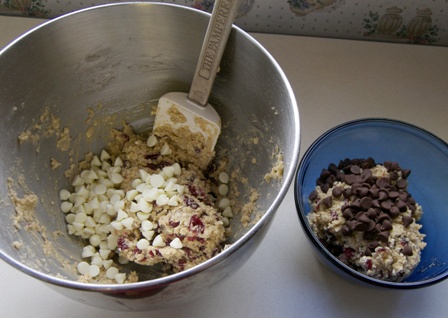 Drop by rounded spoonfuls onto ungreased cookie sheets. Bake for 10-12 minutes or until golden brown.

This made 28 cookies.
These are wonderful for Christmas! Or for any time of the year, since Christmas is about 11 1/2 months away… (read: didn't get it posted in time for Christmas).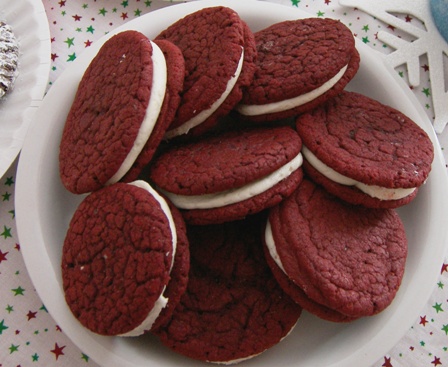 I was trying to picture a festive cookie plate to take to the cookie exchange. For awhile, I was waffling between White Chocolate Craisin Cookies and these. I ended up with these. I kinda got hung up on the white chocolate in the others, wondering if I wanted to 'waste' a couple batches of cookies on white chocolate… Shannon, maybe you should try them.

(Side note: This might be confusing to some of you because I have 2 Shannons in my life (my husband and one of my friends), both of which I refer to on here hit n miss, but if you know there are 2, you can usually tell which one I mean by the context.

) Back to these craisin cookies, I am planning to make a batch, and add the chocolate last, dividing the dough in half and adding white to one half and milk choc to the other.
 Wow, I just spent a whole paragraph writing about something that has nothing to do with what this post is about. Good grief.
First, before the recipes, I'll give amounts: I used 5 cake mixes, which made 9 1/2 dozen filled cookies, so I actually baked 19 dozen individual cookies. Me and baking 19 dozen cookies goes great together, I loved it… if it wouldn't make me gain 100 pounds, I'd bake every day. On the other hand, Megan (my 6-month old) and baking 19 dozen cookies does NOT go great together. Let's just say her naptime was blissful. Although, she thought it was bliss sitting back in a corner up on the counter playing with everything within reach (except toys). It's amazing how far a 6-month-old can reach, I found out! Anyway, I made the frosting recipe 3 times and had about 1 cup left over. So, I'll break this down for you to save you having to get out the calculator… 2 cake mixes would make approx 46 finished cookies (mine were anywhere from 2″ – 2 1/2″ across) and one batch of frosting would do approx 38 cookies… could become one of those deals where you make more frosting to use up the rest of the cookies, then you have too much, so you make more cookies to use up the rest of the frosting, then you have cookies left, so you make more frosting…… and so on.

Red Velvet Sandwich Cookies
1 red velvet cake mix
2/3 cup shortening
2 eggs
Mix. Shape into balls.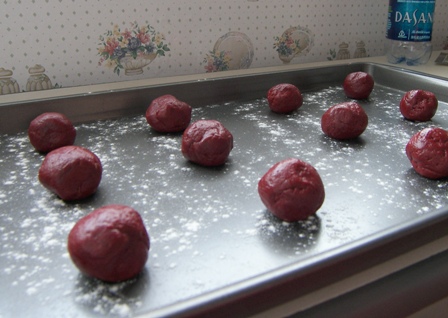 Bake at 375 for 7 minutes.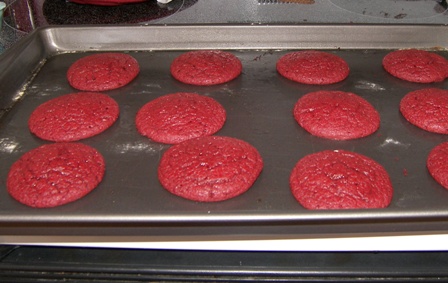 Meanwhile, this was going on…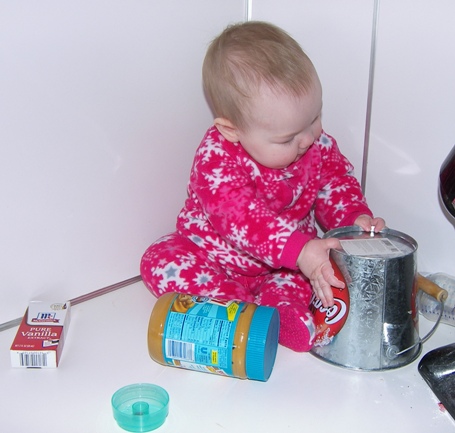 Marshmallow Creme Filling
2 sticks (1 cup) butter
1 7oz. jar marshmallow creme
3 cups powdered sugar
1 tsp. vanilla
Beat til creamy. Spread it on however you want, but I put it in a bag and piped it on. Easy and less mess!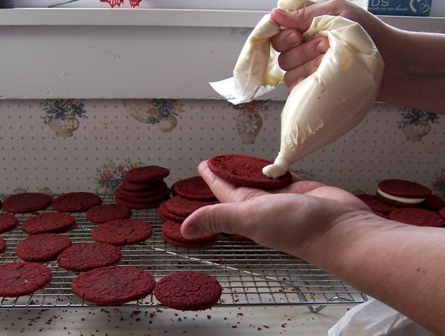 Put another cookie on top and you've got yourself a yummy little red velvet sandwich cookie!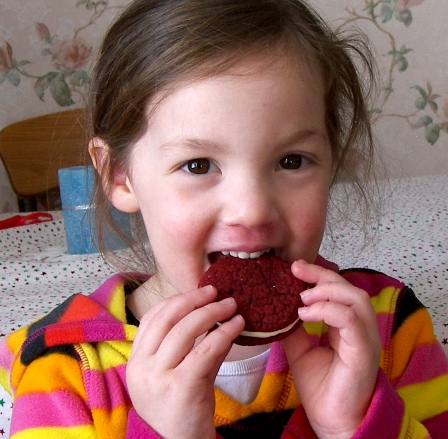 You know, I was just thinking, we could do all sorts of stuff with this because there are all sorts of cake mixes out there… use a white cake mix and put in green food coloring and have green sandwich cookies, make any kind of cake mix cookies and tint the frosting red or green, roll the assembled cookie in crushed red & white candy canes so it sticks to the frosting, dip half of a red velvet sandwich cookie in chocolate, mix up a white cake mix and a red velvet one and then fold them together til it's red & white swirled… any other ideas?