Lexi made supper tonight.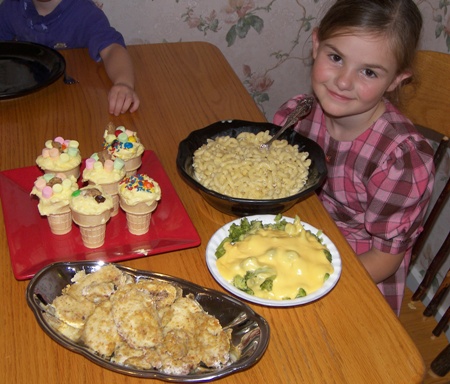 Her menu was:
Crunchy Chicken Tenders
Easy Mac n Cheese
Trees with Cheese
Puddin' Cones
There were only 4 ingredient spills. The only help Lexi accepted was finding some of the right ingredients and measuring cups/spoons and reading the recipe ("because it's faster if you do it and I don't know all the words") and a couple times, handling hot stuff. I did tell her when to do stuff so it would all get done at the same time. I also gave her lots of tips and how-to's, but she did the actual work. She did very well, actually better than I expected.
Now and then, Tiffany (3) crossed her arms, put on a scowl, and whined, "Mom, she won't let me dump that in. I don't have ANYTHING to do!"
I was planning to blog as it was going on, but I was kinda busy with damage control.

She loved doing this meal! I believe we have a cook in the making. 😉
Crunchy Chicken Tenders … recipe from Betty Crocker Kids Cook cookbook
3/4 cup cornflakes cereal
1/2 cup flour
3/4 tsp. salt
1/2 tsp. pepper
1/3 cup buttermilk or milk
1 pound uncooked chicken breast tenders, not breaded
Heat the oven to 400. Line a 9×13 pan with foil.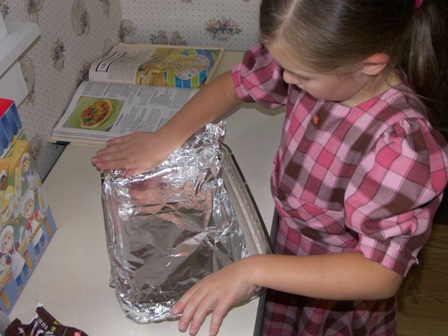 Spray the foil with cooking spray.
Put the cereal, flour, salt, and pepper in a plastic bag. Seal bag closed. Use a rolling pin to crush the cornflakes.
Pour the milk into a bowl. Dip chicken in milk.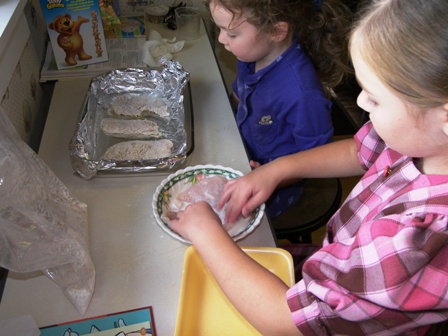 Drop milk-coated chicken, a few pieces at a time, into cereal mixture. Seal bag closed. Shake bag to coat chicken with cereal mixture. Put the coated chicken in the pan.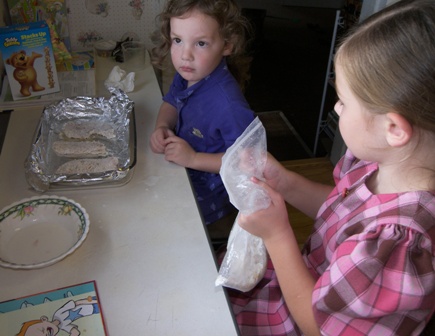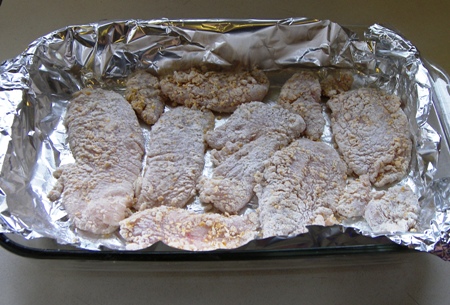 Spray chicken with cooking spray. Throw away any leftover cereal in the bag. Bake for 25-30 minutes or until coating is crisp and chicken is no longer pink in center. Makes 4 servings.
Dishing it up…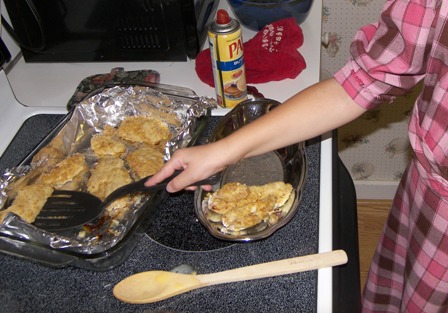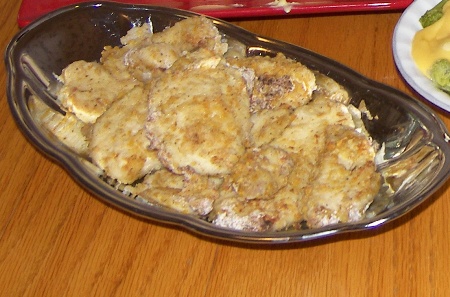 Good stuff! We ate them with bbq sauce. I realize I didn't get a picture of the rolling pin part… they had great fun with that!
Easy Mac and Cheese …recipe from Betty Crocker Kids Cook cookbook
Water
2 cups uncooked elbow macaroni or small pasta shells
1 Tbsp. butter or margarine
1 cup milk
1 1/2 cups shredded cheddar cheese or American cheese
1/2 tsp. salt
1/2 tsp. ground mustard (I had to talk her into putting mustard in!)
1/4 tsp. pepper
Fill a 3-qt saucepan about half full with water. Bring to a boil. Add pasta to water.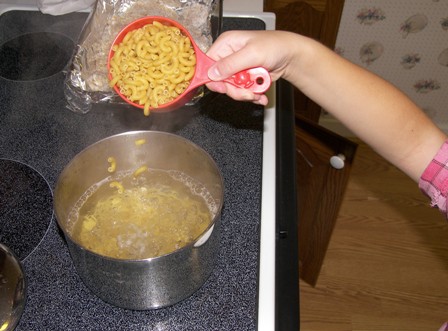 Heat to boiling again. Boil uncovered for 8-10 minutes, stirring often with a wooden spoon. Drain pasta (put a colander in the sink and pour the pasta into it). Put drained pasta back into saucepan. Add butter, milk, cheese, salt, mustard, and pepper to pasta.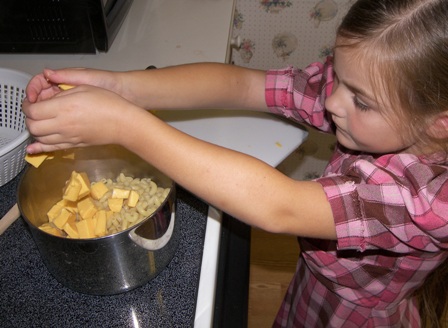 Stir with spoon until mixed. Cook over low heat for about 5 minutes, stirring a few times, until cheese is melted. Makes 4 servings.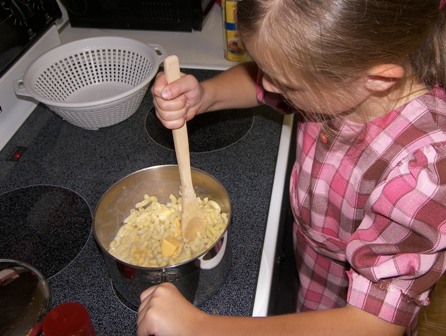 Dishing up. This was a bit wild! Whoosh! and it was all in the serving bowl in about 2 seconds. Pretty amazing that some didn't land on the floor!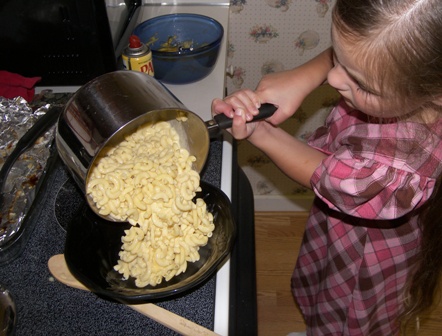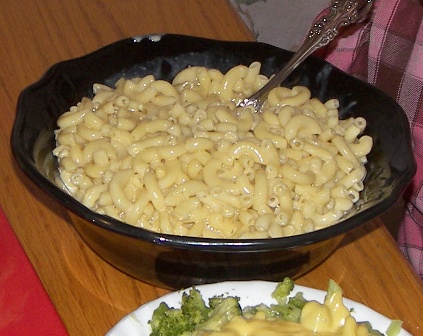 Trees with Trees … recipe from Betty Crocker Kids Cook cookbook
1 1/2 pounds fresh broccoli (I just had her use a bag of frozen broccoli florets.)
3 Tbsp. water
6 oz process American cheese loaf
1/3 cup milk
1/4 onion salt
1 drop red pepper sauce, if you like (she didn't like 😉 )
Microwave the broccoli and water till hot and crisp-tender. Melt the rest of the ingredients in a saucepan or microwave. Stir with a wooden spoon until the cheese is melted and mixture is smooth. Drain broccoli and put it into a serving bowl. Pour hot cheese over broccoli. Makes 6 servings. I didn't notice it at the time, but in all the photographing, I missed the broccoli, all except the dishing it up!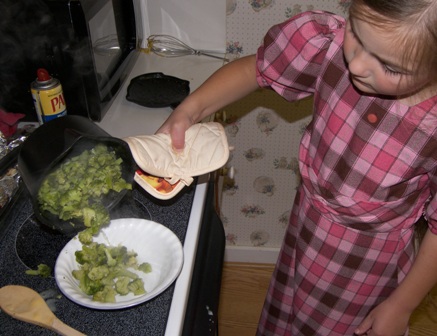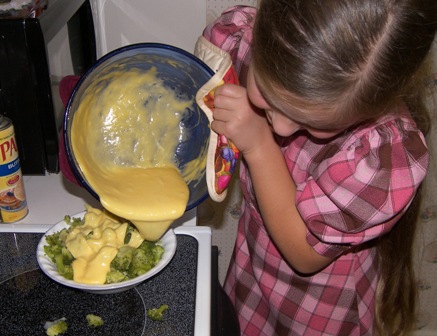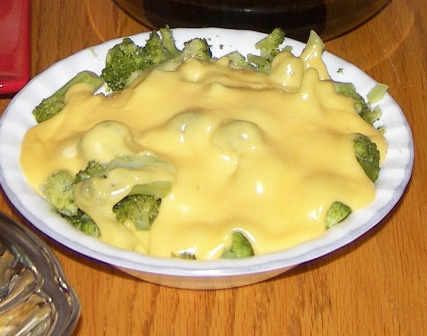 Puddin' Cones … recipe from the 2003 Quick Cooking annual cookbook
This is what sparked the whole idea of making supper. Her cousin Krista made these for dessert when she made supper one time and Lexi saw a picture and wanted to make them too. Krista, you're her hero!
1 1/2 cups cold milk
1 pkg. (3.4 oz.) instant vanilla pudding mix
3 envelopes whipped topping mix (when Lexi read this, she said "Envelopes?! What do envelopes have to do with cooking?")
8 cake ice cream cones (about 3 inches) She used only 6.
Chopped nuts, jimmies and miniature colored baking chips or topping of your choice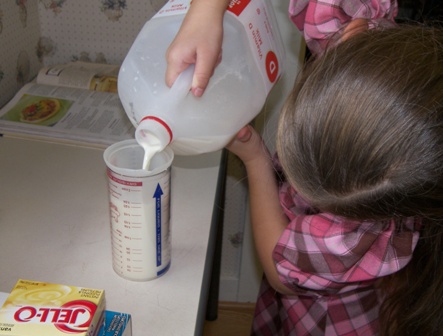 In a mixing bowl, beat milk and pudding mix on low speed for 2 minutes.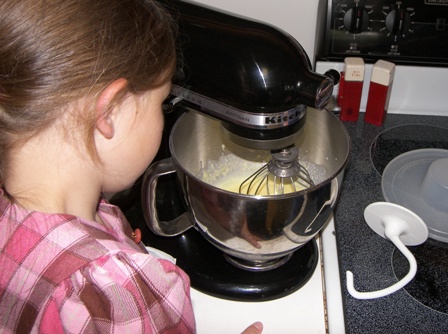 Blend in whipped topping mix; cover and refrigerate for at least 1 hour. Spoon 1/4 cup into each cone; sprinkle with toppings. Yield: 8 servings. I just told her to fill the cones, not to measure. When the pudding mixture was gone, there were only 6 cones used, which I think is better because they look more like ice cream cones if they're heaped a little.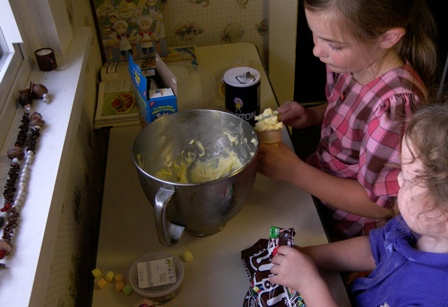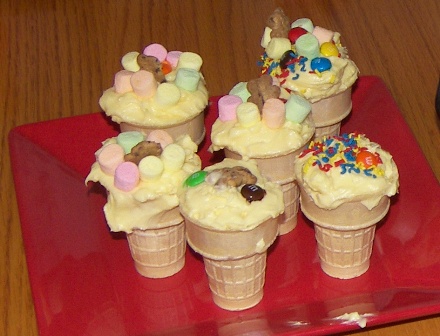 These were good, altho' not as good as real ice cream. She made them right before she dished up the food and till we got done eating and were ready for dessert, the cones were starting to get a little soft already. So, they should not be made too much in advance!
Sometimes I feel stuck. In a rut. With cooking, that is. Well, other things too, but we'll just stick with cooking. 😉 
I have a certain style of cooking and I don't deviate from it much. I want to change that. Maybe doing some more 'Out of my Comfort Zone' foods would be a good idea. I don't make stir-able casseroles. Pretty much the only all-in-one casserole type things I make are wet burritos and lasagna. Other than that, it's sandwich-type things (like these melts) and most of the time it's meat, potatoes/pasta, veggies, and rolls. And I pretty much use the same seasonings too. So, this evening for supper, I was browsing a cookbook for new recipes and passed up the Chinese Beef and the Sirloin Squash Shish Kabobs and landed on something 'safer' like Chicken Cheese Melts. I use way more chicken breast than any other meat and I never buy the dark meat unless I get a whole rotisserie chicken. Other meats I keep on hand and regularily use are ham, ground beef, beef roasts, and bacon. And that's pretty much it. Other kinds of meat are very rare. Over the summer (think, more grilling), I buy pork chops, brats, and steaks.  
Do you think I need a bit of help here with diversity?

  What's your style of cooking? I'd love to hear it! Tell us in the comment section!
Meanwhile, here is a recipe using exotic ingredients like chicken breast, butter, cheese, and bread. Just kidding about the exotic part. This recipe comes from my newest cookbook, which I've owned for a little over 48 hours now… What's Cookin', compiled by the Schlabach family. Makes it more fun because I'm good friends with some of these Schlabachs. And I like seeing their names under a recipe now and then.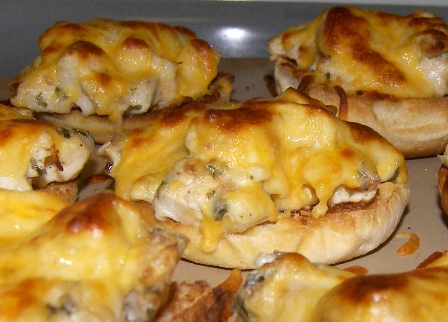 Chicken Cheese Melts
1 cup chicken, cooked and chunked (I used more like 1 1/2 cups, you can never go wrong with more meat 😉 )
1/4 cup margarine, melted (I used butter)
1/4 cup sour cream
2 Tbsp. onion, chopped
1 Tbsp. parsley flakes
Shredded cheese
Saute onions in margarine briefly.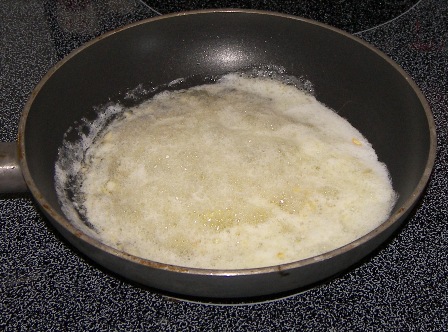 Mix together all ingredients.

Put on slices of French bread or any other bread. I used hamburger buns. And toasted them first. 

Top with cheese.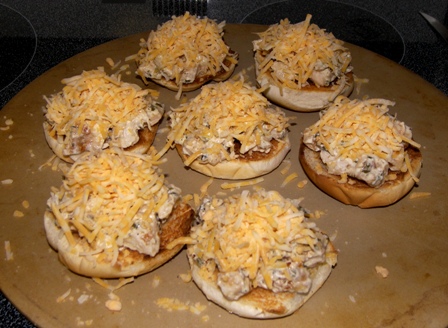 Bake at 350 until cheese is melted. The cheese was melted after about 5 minutes, but then I turned on the broiler because I like cheese to have a bit of browning on top.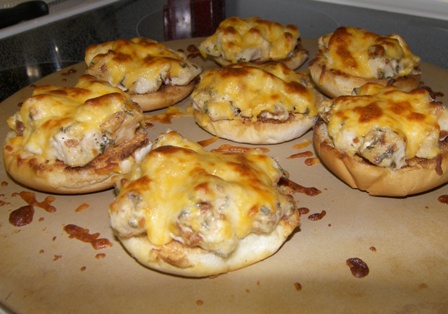 These, by the way, got rave reviews and were thrown into the 'Yum! Make again!' category. And they were easy and fast too, esp since I pulled chunked up fried chicken breast out of the freezer.
Now, I wanna hear about your this-is-the-norm-for-me cooking. Also, do you plan menus? I've seriously thought of doing that. Seems like that would eliminate the 4:00 p.m. staring in the fridge/freezer/cupboards/cookbooks for a supper idea!
This is one of those recipe names that you pretty much know what the dish is… the 3 main ingredients in this dish are mushrooms, muenster cheese, and chicken. And a good combo that is!!! Really, how could you go wrong with those ingredients.
This recipe was in my pile of loose recipes. It's clipped out of a Country Woman magazine, I don't know what year or month. It was on page 51… I guess you don't need to know that, unless you want to go thro' your stack of Country Woman magazines and look up all the page 51s. 😉 In the italic print with the recipe, it says it won 1st place in a festival contest.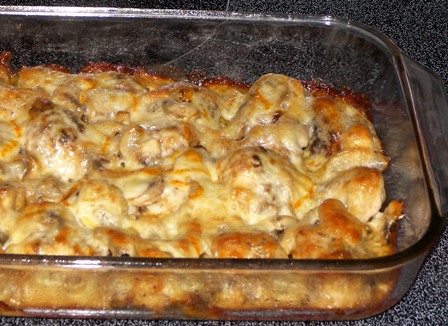 Mushroom Muenster Chicken
2 eggs
1 cup seasoned bread crumbs (I used crushed Town House crackers and mixed in a bit of Italian seasoning and seasoned salt.) 
1 lb. boneless skinless chicken breasts, cut into 1″ cubes
2 Tbsp. vegetable oil
1/2 tsp. Cajun seasoning
1/2 lb. sliced fresh mushrooms
10 oz. Muenster cheese (I have a little scale, so I dutifully weighed the cheese and guess what! 10 oz was exactly 10 slices!)
In a shallow bowl, beat eggs. Place breadcrumbs in a large resealable plastic bag. Dip chicken in eggs, then place in bag and shake to coat.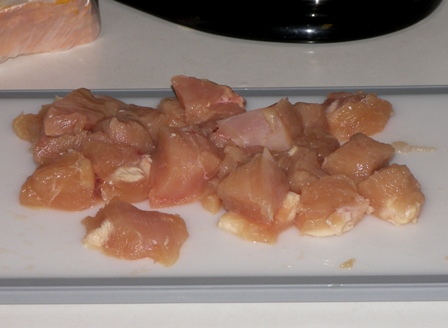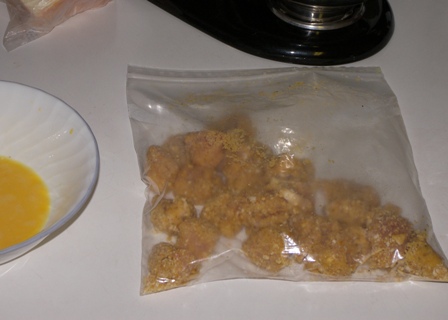 In a large skillet, cook chicken in oil over medium heat for 4 minutes, stirring occasionally.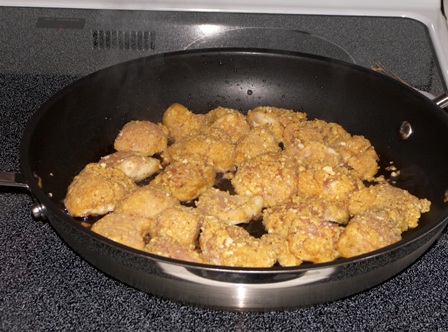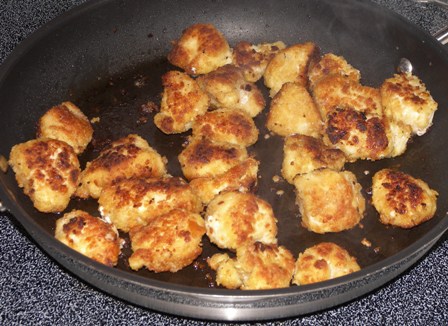 Transfer chicken to a greased 9×13 baking dish. Sprinkle with Cajun seasoning.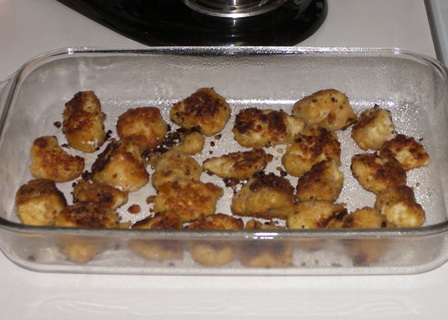 Top with mushrooms and cheese.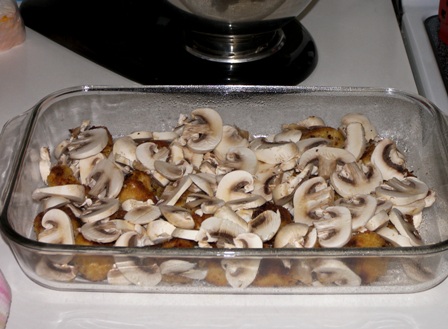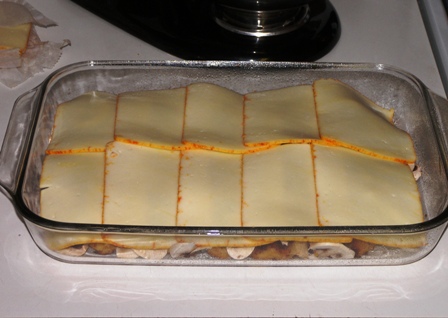 Cover and bake at 350 for 30-35 minutes or until chicken juices run clear.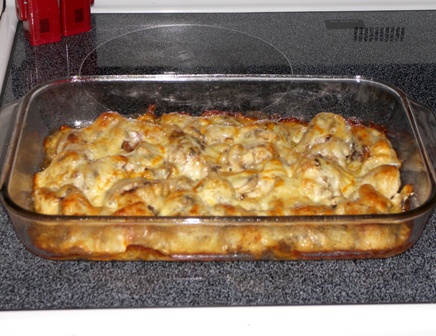 Yield: 6 servings. Serve with a mixed green salad or steamed fresh green beans. I served it with California blend veggies (cauliflower, broccoli, and carrots) and crescent rolls. And to serve the chicken, I just put a serving spoon in it and we dished it out like you would a casserole.
This tastes great and is easy to throw together, but we thought it was a little greasy. I want to try it with grilled chicken to see if the greasiness was from frying the chicken in oil. If it's still greasy w\ grilled chicken, I'll assume it's because of the muenster cheese and try mozzarella or provolone instead.
Hi again! It's been awhile! The 'famine' on here doesn't mean we haven't been eating! It means that the last 2 weeks have been abnormal weeks as far as cooking goes, with company and then being busy with a booth at a Home and Garden show. Not a cooking show booth, by the way. 😉
We were selling these: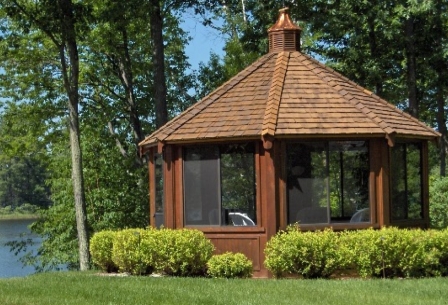 Anybody need a beautiful cedar gazebo in your yard?
I do love those little cooking show booths at shows though, even though the chefs always use the same lines and the same jokes. It just amazes me how they can talk AND cook at the same time! I think I'm a bit too absent-minded for that. And the cookware that cooks stuff without water… Wow! And the food doesn't burn… Wow! I have a hard enough time WITH water! Tonight while we were making supper, I even burned a piece of toast (not in water though… see, that's what happens when I cook without water)! Yeah, WE were making supper, not ME… because it involved grilling and that is my husband's territory.
Here, I'll show you what we ate tonight: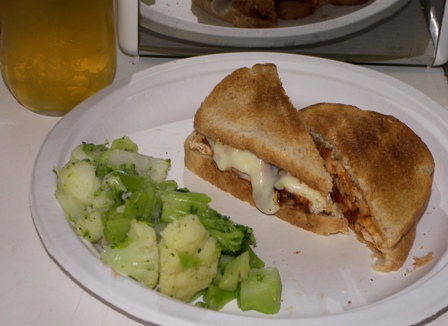 We're always trying to think of new things to do with grilled chicken breast besides chicken breast salad, shishkabobs, or just eating it plain w\ bbq sauce. This sandwich is actually along the lines of the Open-faced Pork Chop Sandwich that is a specialty around here.
Grilled Chicken Sandwich
Bread
Chicken breast
Provolone cheese (or cheese of choice)
Barbeque sauce OR dijon mustard
Toast the bread. Season and grill the chicken, then chunk it up.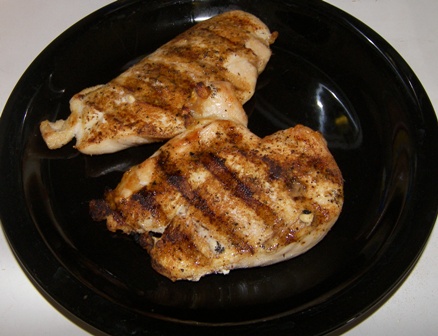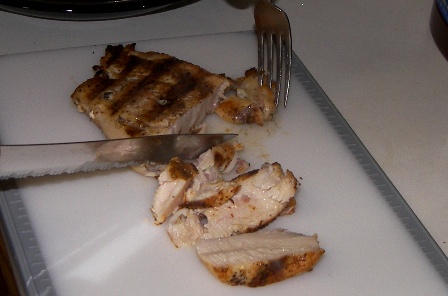 Assemble in this order: Toast, chicken, bbq sauce or dijon mustard, cheese, toast.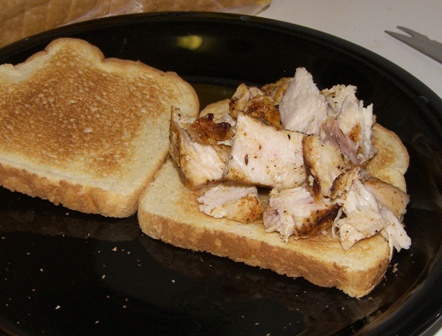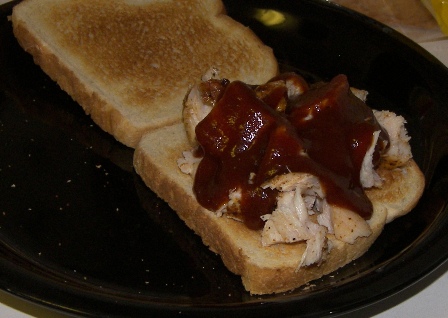 OR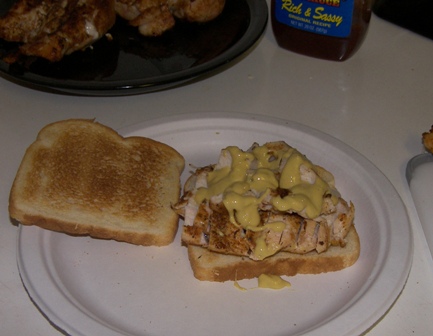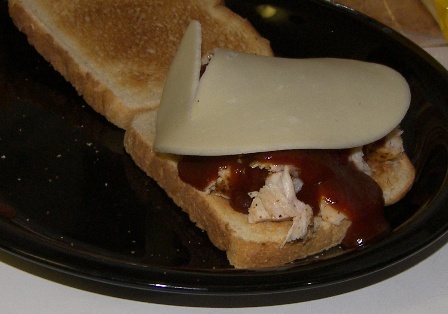 Microwave for about 1 minute, 2 min if you're doing 2 sandwiches.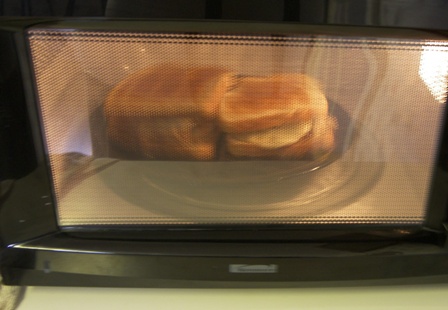 And… enjoy!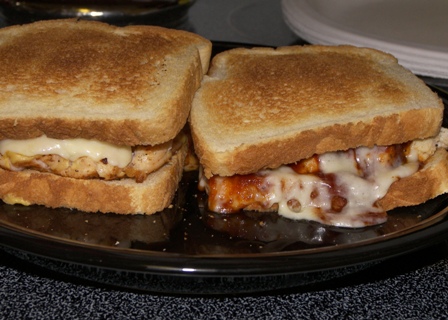 Mmmm, so good and so easy and so quick and not much cleanup!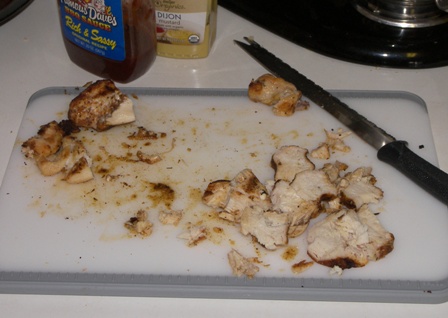 Wouldn't you just like to snitch a piece? It's flavored SO good and is nice and juicy! Not sure what seasonings he used.  Edit: He just said he used Cajun Black'n seasoning from the Bayfield Spice Company in Rhinelander, WI.
The title actually sorta gives away what most of the ingredients are! Cheese (actually a can of cheese soup), chicken, and if it's quesadillas it's gotta have tortillas, and water. I got this recipe off of the soup can. Southwest Style Pepper Jack soup.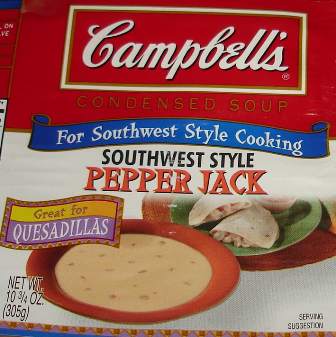 It was kind of hard to find… have you ever stared and stared at shelves, just knowing it was there, but you couldn't lay your eyes on it? I did that with this. I did it in the jello section looking for watermelon gelatin too just lately, but that's for another time and another post. There is a difference though… with the watermelon gelatin, I was only hoping it was there, with the soup, I knew it was there.
The reason I knew it was there is because my sister-in-law Liz makes these quesadillas and she said Marketplace has the soup, but Walmart doesn't. After I finally found the soup, I immediately looked on the label to see if the recipe was there and sure enough, it was. Then, I wondered HOW, out of all the soup can labels there, Liz found this soup and tried this recipe. And it was a hit with the family! Wonder how much more I'm missing out on by not trying other soup can label recipes.
There are 4 more recipes on the back (you have to cut the paper off of the can on the specified line and flip the paper over to see them, this is not something you should be doing in the store before purchasing). I think it's the manufacturer's trick to getting you to buy more… you can't see the other recipes till you get home and cut the paper off of the empty can before throwing it away. Then some of the recipes grab you and "Southwest Style Pepper Jack soup" goes right back on your shopping list. The other recipes are: Nachos Grande, Cheesy Pepper Jack Tacos, Mexican Meatloaf, and Cheesy Southwest Potatoes. I'll bet some of those would be good too. Especially the nachos, meatloaf, and potatoes. They all have 5-7 ingredients. The reason you don't need many ingredients is because this soup has got LOTS of flavor and kick.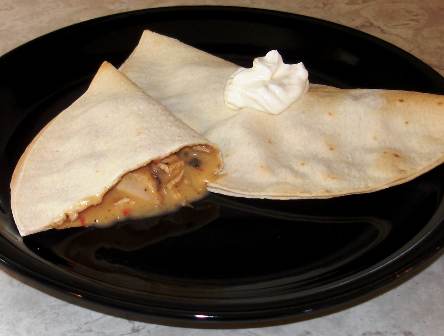 Cheesy Chicken Quesadillas
1 lb. boneless chicken breast halves, cubed
1 can Campbell's Southwest Style Pepper Jack soup
1/4 cup water
8 flour tortillas (8″), warmed (I used 9″ tortillas, and only 6 of them) 
Preheat oven to 325. Cook chicken in nonstick skillet until done and juices evaporate, stirring often. Add soup and water and heat through. Shannon grilled the chicken on the grill while I mixed and heated the soup and water. When the chicken was done, I chunked it up and mixed it into the soup.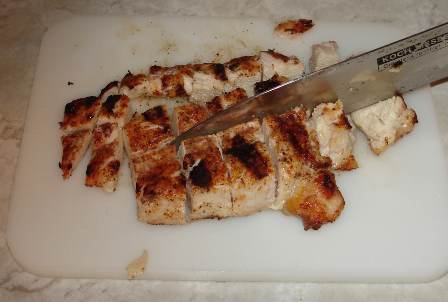 Spoon about 1/3 cup chicken mixture on half of each tortilla to within 1/2″ of the edge. Moisten edge with water.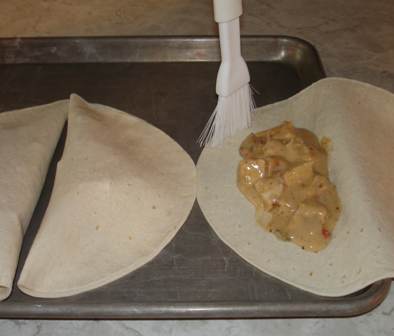 Fold over and seal. Place on 2 baking sheets (or 1, in this case). Bake 5 min. or until hot. I baked them for 7-8 minutes, until I saw a bit of browning.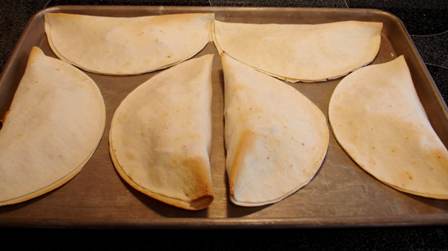 Cut into wedges and serve with salsa. And/or sour cream. I ate mine with sour cream. It was spicy enough without the salsa.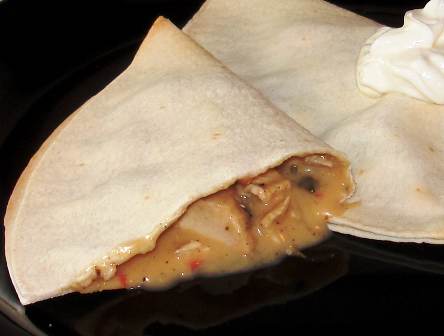 Just delicious for something so simple! If you have a full-time job and need to come home and make supper, this would be a good thing for the main dish! It takes about 20 minutes from start to finish. For a quick idea of something to serve with it, how about tortilla chips and applesauce. Or peanut butter pie (I'm so hungry for peanut butter pie!). Or ice cream. Or something else cold and creamy to cool the mouth. Tiffany's take on the quesadillas after a couple bites was, "I don't wike da spicy."