So, what happened then is that Kitchen Scrapbook ended up totally missing Christmas! I was living the moment, er, moments, surrounded by family and making food and snacks without blogging about it.
You know how when you get a whole bunch of Christmas cards in a row, 4 one day and 5 the next, and then it tapers off towards the end of December and then no more cards and then the 2nd week of January, you get another Christmas card? Well, that's how this post is… the other blogs you read have posted Christmas now and are switching from red & green colors to January blue and New Year's resolutions, but here, we're pulling you back to Christmas…
First, we have Pretzel Turtles


I got this idea from Judy on a message board that I frequent. Take small pretzels and put a Rolo candy on top of each one. Then, put them in the oven for a couple minutes at 350. When you get them out, immediately press a pecan half on top of each Rolo. Yum! They went over very well here!
We also had monster cookies, party mix, and gingerbreadmen: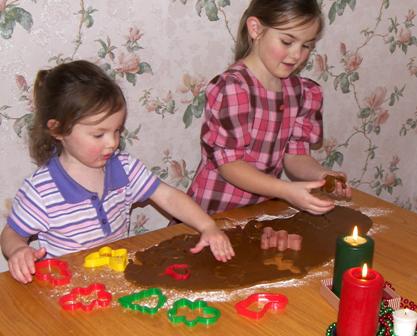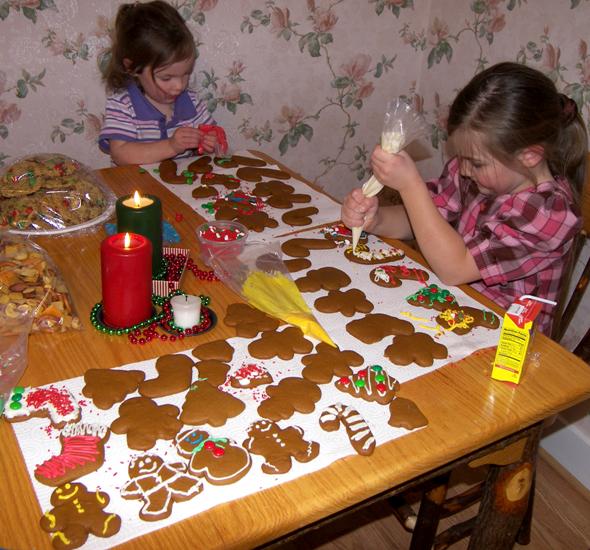 Lexi said, "Mom, look! I made twins!"…

Hmmm, someone samples cookies as she decorates…

And then onto our Christmas meal…
Here was our menu:
–Mashed potatoes and gravy
—Ham, rotisserie on the grill
–Noodles
–Baked corn
–Candied sweet potatoes
–Corn chip salad
–Rolls
–Jellied cranberry sauce
–Pies (pumpkin, lemon meringue, and peanut butter)
This is my husband, making some awesome ham…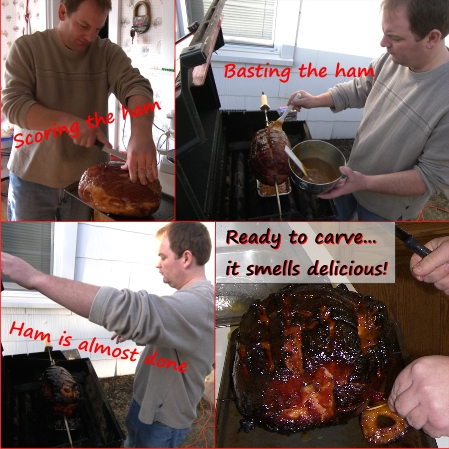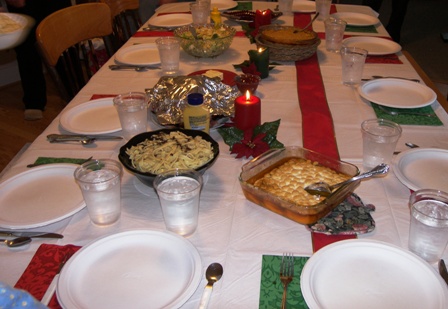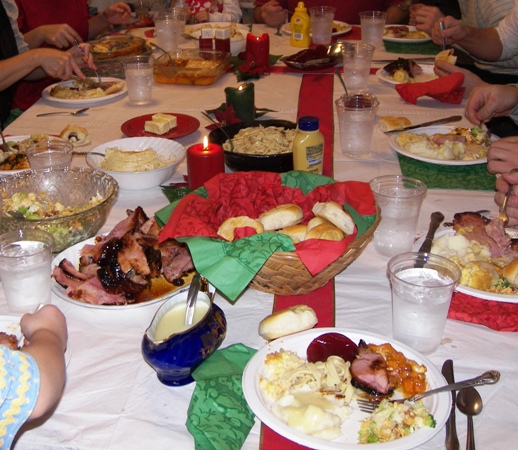 Missed the pies before they were eaten…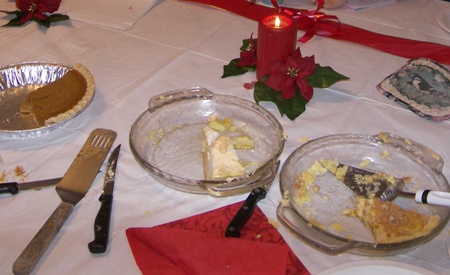 Pictured in the picture right under the ham collage is the candied sweet potatoes. I was trying to make a knock-off of Texas Roadhouse's loaded sweet potato. I baked 3 sweet potatoes, peeled them and put them in an 8×8 pan and mashed them with a fork. Then, melted a stick of butter and stirred in some cinnamon and about 1/2 cup of brown sugar, poured it over the potatoes, put a layer of marshmallows on top, then baked it at 350 until the marshmallows were browned. It was GOOD!!!
In addition to food, our Christmas consisted of gift opening, football throwing, baby holding, and much more…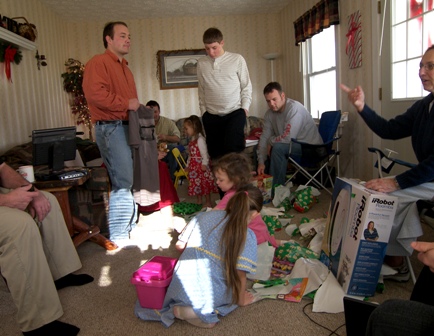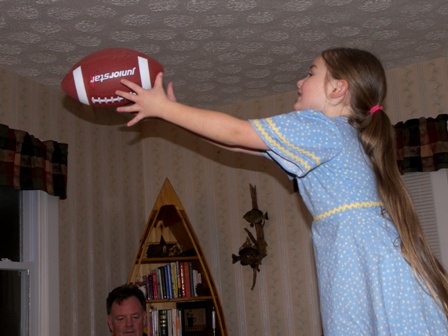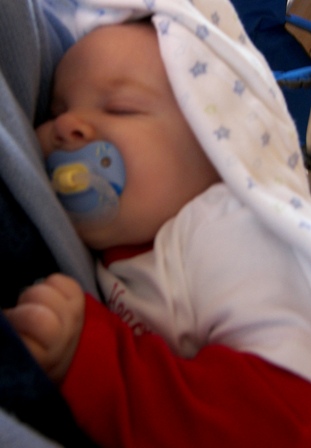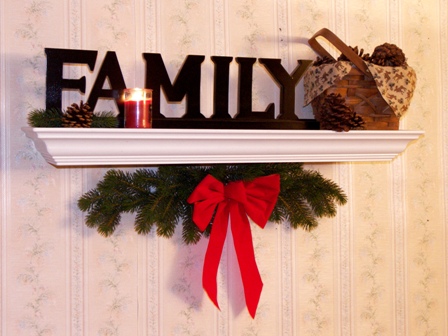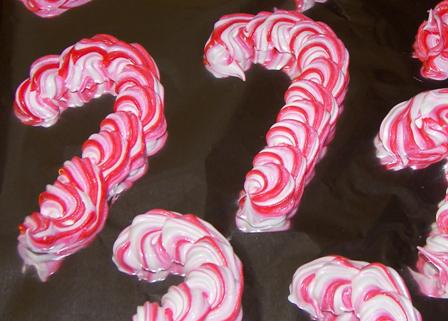 Mostly when we talk about food, we think of taste. Well, not this time… the strong point of these candy canes is the looks, not the taste. Aren't they pretty? I think they'd technically be called a candy… they have no substances like a cookie does. Speaking of substance, they might even be calorie-free because when you take a bite of one, within seconds, that bite dissolves into nothing inside your mouth, so the calories must dissolve into nothing too, right? 😉 Lexi says they taste like dried out frosting.
They were fun to make… you get to make swirls with a decorating bag. I actually did something I've never done before in featuring cooking and took a video. It's a very poor video, but my standards have gone from no videos to poor videos, so gradually, I'll up my standards to good videos. Part of the problem may be that my lighting was bad or that I saved it in low resolution or that I was piping the meringue with one hand while holding the camera and videoing with the other hand. Not a good idea. Live and learn.
By the way, if someone would just out of the blue ask you, "How do you spell meringue?", could you spell it? It has gotta be one of the weirdest-spelled words in the English language! 
Meringue Candy Canes …from the Taste of Home Christmas Cookies and Candies cookbook
3 egg whites
1/2 tsp. cream of tartar
3/4 cup sugar
1/4 tsp. peppermint extract
Red paste food coloring
In a mixing bowl, beat egg whites until foamy. Add cream of tartar; beat on medium speed until soft peaks form. Gradually add sugar, 1 Tablespoon at a time, beating on High until stiff peaks form and sugar is dissolved, about 6 minutes. Beat in peppermint extract.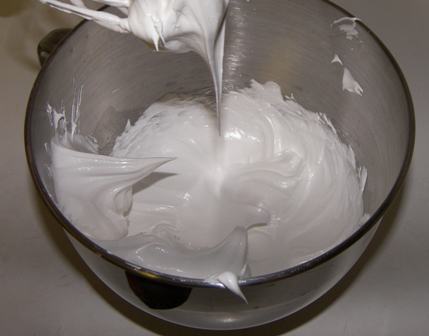 Cut a small hole in the corner of a pastry bag; insert star tip #21. On the inside of the bag, brush 3 evenly spaced 1/4″ strips of red food coloring from the tip to 3/4 of the way to the top of the bag. Carefully fill bag with meringue. Pipe 3″ candy canes onto parchment-lined baking sheets. I didn't have parchment paper, so I used tin foil. Worked great and they didn't stick to it.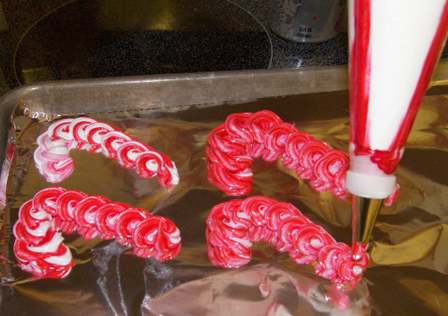 And now for the video: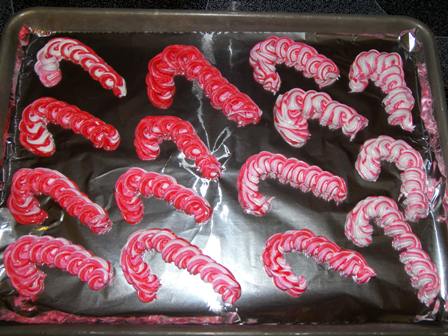 See the difference in redness here in these 2 panfuls? The top ones on the left were made first. I guess the food coloring got less concentrated as the meringue slid past.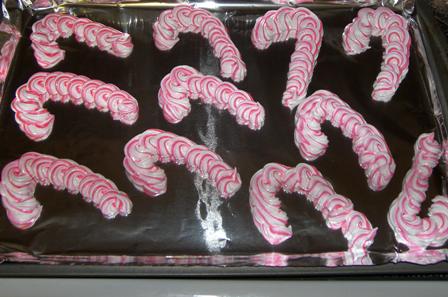 Bake at 225 for 25 min; rotate baking sheets to a different oven rack. Bake 25 min longer or until firm to the touch. Turn oven off; leave canes in oven with door ajar for at least 1 hour or until cool. Yield: 4 dozen. I must've made them bigger because I got only about 2 1/2 dozen, but I did use the #21 tip.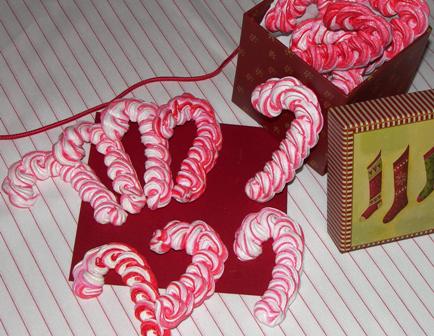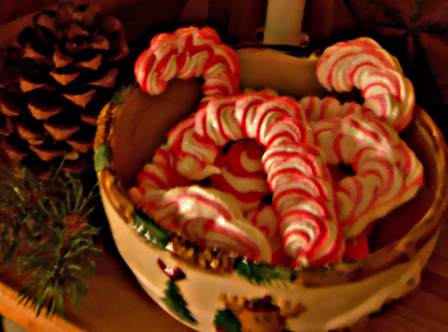 Put these festive candy canes on an assorted cookie plate for your mailman this Christmas! Or take a plate to your local fire dept. Or to your neighbors. Or eat all your Christmas cookies yourself.
Liz, Lin, Ruthie, Sandra, Lourdes, and I all got together for a cookie/candy exchange. Ah, so fun!!!! All that good stuff sitting there. And it's fun to see what everyone is making. And you take home a nice assortment of stuff for no more effort than you put into it.
I don't even know what everything was called, but it's all on the picture up there. There were 2 kinds of fudge (peppermint and chocolate). The chocolate fudge didn't last long around here.
 It was my top pick of everything! I think Linda made it. There were several different kinds of cookies, some buttermints, choc covered Ritz sandwiches, caramel/chocolate candy, mice
, and choc dipped pretzels.
Lourdes and Liz making buttermints…

The best part… dividing it all up. Lourdes, Liz, and Sandra.

In the afternoon, Sandra and Ruthie made blended coffees for us all. I shared mine with Tiffany and then she didn't want to give it up…

I'll feature my 3 contributions to the cookie/candy exchange…
They are all taken from Taste of Home Christmas Cookies and Candies.
Envelopes of Fudge
1/2 cup butter, softened
1 pkg (3 oz) cream cheese, softened
1 1/4 cups flour
FILLING:
1/2 cup sugar
1/3 cup baking cocoa
1/4 cup butter, softened
1 egg yolk
1/2 tsp vanilla
1/8 tsp salt
1/2 cup chopped walnuts
In a mixing bowl, cream butter and cream cheese. Gradually add the flour. On a lightly floured surface, knead until smooth, about 3 minutes. Cover and refrigerate for 1-2 hours or until easy to handle. For filling, combine the sugar, cocoa, butter, vanilla and salt. Stir in walnuts, set aside. On a lightly floured surface, roll dough into a 12 1/2″ square; cut into 2 1/2″ squares. 


Place a rounded teaspoonful of filling in center of each square (I piped the filling on). Bring 2 opposite corners to center. Moisten the edges with water and pinch together. 


Place 1″ apart on lightly greased baking sheets. Bake at 350 for 18-22 minutes or until lightly browned. Remove to wire racks to cool. Yield: 25 cookies.

  Yeah, there were a few flops! It works better to pinch the corners together, then fold them down and pinch again.
Christmas Eve Mice
24 Oreos
1 cup choc chips
1 tsp shortening
24 maraschino cherries with stems, well drained
24 chocolate kisses
48 sliced almonds
green decorating gel
red decorating gel
Everyone else was done, so they helped me do these. They were kinda fun to do and we got some laughs out of the deformities, but it does look easier than it is! Here are Lin and Ruthie working on them…

Carefully twist cookies apart; set aside the halves with cream filling. Save plain halves for another use. In a microwave, melt choc chips and shortening; stir until smooth. Holding each cherry by the stem, dip in melted chocolate, then press onto the bottom of a kiss. Place on the cream filling of cookie, with cherry stem extending beyond cookie edge. For ears, place slivered almonds between the cherry and kiss. Refrigerate until set. With green gel, pipe holly leaves on the cream. With red gel, pipe berries between leaves and pipe eyes on each chocolate kiss.

Store in an airtight container at room temp. Yield: 2 dozen.
Ice Cream Sundae Caramels
2 cups sugar
2 cups (16 oz) dark corn syrup
2 cups (1 pint) vanilla ice cream, melted, divided
1 cup butter
8 oz choc candy coating
1/2 cup peanuts, finely chopped
In a heavy 4-qt saucepan, combine sugar, corn syrup, 1 cup ice cream and butter. Cook and stir over low heat until mixture boils. Increase heat to medium; cook and stir until candy thermometer reads 242 (nearly firm-ball stage).

Remove from heat; gradually stir in remaining ice cream. Return to heat; cook without stirring to 244 (firm-ball stage). Immediately pour, without stirring, into a buttered 9×13 pan. Let cool until firm. Invert candy onto a baking sheet. Melt candy coating; spread over candy. Sprinkle with nuts. Cut into 1″ squares. Yield: About 3 1/2 pounds.

I want to open a bakery! I'm only half kidding. I would do the night shift of baking, then sleep during the day while someone else sells the stuff. Anyone want to fill out a job application? …Either for baking with me during the night or selling stuff during the day.  Ah, would be so fun! Everyone was in bed by 11:00 last night and I started in the kitchen. The house was quiet (well, quiet except when I'd accidently BOING!BONG! a pan and cringe for the sleeping people!) and I had no interruptions and I dumped the ingredients in the mixing bowl by myself and there was nobody standing beside me hollering, "Up! Up!". I could just bake to my heart's content! It was very therapeudic!  At 4:30, the birds started singing. It's been awhile since I've seen the crack of dawn! At 5:30, I went to bed for a couple hours. Then, took the stuff to the garage sale/bake sale, then came home and took a 2-hr nap. I might do that more often because I'd like to put out some baked stuff at the end of the driveway this summer. Some of it, I'll bake ahead and put in the freezer, but being able to tag stuff with "Fresh-baked this morning" has its advantages!
The 4 different things pictured above are:
Monster cookies… featured here
Apple pie… featured here
Rice crispie roll… featured here
And last, but not least, FUDGE     …recipe invented by yours truly

Melt 4 T. butter, 2 12 oz bags milk chocolate chips, and 1/2 c. peanut butter. 

You could use the microwave, too.  

Stir in half a 16 oz bag of marshmallows until melted, then stir in some walnuts (I used a little over a cup). If you want a swirled effect, stir in the mmallows and nuts at the same time, but stop stirring when the mmallows are melting and streaked through, but not totally mixed in. Lightly grease a 9×13 pan and pour in.


Refrigerate until firm. Cut into squares.

It's easy, creamy, and delicious!!!
Now, back to the bake sale… Everything sold very well!!!!! Didn't have anything to bring home. 

  …on second thought…
We made cookies and candy, then divided it all out between us. This is the rich assortment I brought home.

 Same assortment. Different angle.
If you wonder what a specific kind is or what it's made of or want the recipe, just ask. I don't know the names of everything, but I'll find out if you want to know.
         So far, Shannon's favorites are the snickerdoodles and peanut butter balls, my favorites are the turtles and those pretzel chocolate pecan things, and Lexi's favorites are the choc covered Ritz & peanut butter sandwiches and the frosted sugar cookies. We didn't all taste everything yet.
Cooking, baking, melting, coating, measuring, stirring, cutting, icing, snitching …

 Linda stirring away at something. She had to cook that stuff for 5 min and when Izzy cried, the deal was that one of us either had to take care of the baby or keep stirring her stuff while she took the baby… going by the picture, guess which was picked.
  There's Linda again, front and center… sorry, didn't try that! Looks like Sandra is dying laughing about something at the sink… can tell it even more on my bigger original picture.
 Getting things done and we've got something to show for it!
  Ruthie Sue making frosting… her own special wouldn't-want-to-eat-it-anymore recipe. She is 7 (right, Rufusannie? it's her dau) and looked for work in the kitchen several times throughout the day… a budding cook!
I think I got warped because on my way home, I glanced at the clock in my car and did a double-take and it took me a couple seconds to clear my head and realize that no, an oven wasn't on… the clock said 3:50.
               ——————————————————————————
Now, I'm going to feature the 3 things I made that day…
Candy Cane Cookies
Peanut Butter Balls
Rice Crispy Roll
Candy Cane Cookies     …recipe from the 2006 Quick Cooking Annual Recipes cookbook
1/2 tube refrigerated sugar cookie dough, softened
2 Tablespoons flour
1/2 teaspoon peppermint extract
1/2 teaspoon red food coloring
In a large mixing bowl, beat the cookie dough, flour, and extract until smooth. Divide dough in half; mix food coloring into one portion. Shape one teaspoon of white dough into a 6″ rope. Shape 1 teaspoon of red dough into a 6″ rope. I rolled them with my hands. Next time, I want to try piping them with a cake decorating bag… I think that would be easier and they'd get more even. Place ropes side by side; press together lightly and twist.
Place on an ungreased baking sheet; curve one end of cookie to form handle of cane. Repeat with remaining dough, placing 2″ apart on baking sheets. Bake at 350 for 8-10 minutes or until set. Cool for 2 min before carefully removing to wire racks. Yield: 3 dozen.
  I forgot to take progress pictures of these. I'll make a batch every year and maybe get better with time! Mine didn't get very even and I got so tired of making those crazy little ropes!!! But they are very festive-looking and they taste great too!
The next 2 recipes I found on vernam06's site . You'll love her site… she posts LOTS of pictures… in my opinion, that makes the best kind of site! There are pics of their Christmas baking day, of her sweet funny busy grandchildren, and more pics of this and that. Always interesting!
Peanut Butter Balls
1 1/2 lbs powered sugar
1 lb peanut butter
1/2 lb butter
Mix all together and dip in chocolate.
  Here's kind of a progress all-in-one picture. The light balls are ready to be dipped, the dark ones are done. This recipe was easy and fun and so good! I think I'll make more before Christmas! They're not sticking around here too well!
Rice Crispy Roll
1 bag of lg marshmallows
1/4 c. butter
1/4 c. peanut butter
5 1/2 c. rice crispy cereal
Melt together first 3 ingredients,

 
mix in rice crispies. Press in jelly roll pan. Melt together 1 1/3 c. chocolate chips and 3/4 c. butterscotch chips. Spread on rice crispie mixture.

Roll up as jelly roll and cool at least 1 hour.

  These are just tops! I still enjoy rice crispie candy every bit as much as I did as a kid. This roll adds a different twist to them, esp with the filling! YUM!!!