You know how when you have a problem, you try to find a solution? And then sometimes the solution doesn't work because it hinges on another problem? And then you have to back up and fix that problem before you can fix the initial problem?
Is anyone still with me? If you didn't follow, I'll explain it using a few more words… I know I was kind of concise in that first paragraph. Ok, just kidding.
Well, here's my problem: I miss this cooking site. And having fun in the kitchen. And trying new stuff, making tried-and-true stuff, playing with food, etc.
Solution: Ok, duh, so start cooking, making, playing, and updating!
Problem hinging on that solution: I'm on a South Beach diet, and I couldn't eat 90% of the stuff I'd make. And if I can't taste it, how would I rate it? Plus, it would take ALOT of the fun of cooking away. I started posting alot around Christmas time and was planning to keep it up, then one day in January, I looked in the mirror, and decided to go on a diet, and well, you know the rest of the story (see above).
So, I found a solution: Make a diet exception. So, I did that. I decided that I can have 1 serving of anything I put on here. It'll just be, you know, a cross I have to bear, you know, because I really DO actually want to stay on my diet, you know.
Anyway.
I hope you won't get tired of me posting cheesecakes ALL. THE. TIME! 😉
When I was thinking out loud, rambling to Shannon about my problem/solution/problem/solution and told him how I'm solving it all, his comment was (as if he was saying this one day after my blog was up and going regularly again), "37 posts on Kitchen Scrapbook today?! and 24 yesterday?!!!"

Here's where the out-of-my-comfort-zone tidbit comes in… I'm putting on a Before/After picture of myself. WAY out of my comfort zone…even if I keep the pictures small …and even if the pictures are in poor lighting. But by posting this, it'll give me some accountability to keep on and get to the Final picture. So, here you go, this is what the halfway mark looks like, I just passed it a few days ago…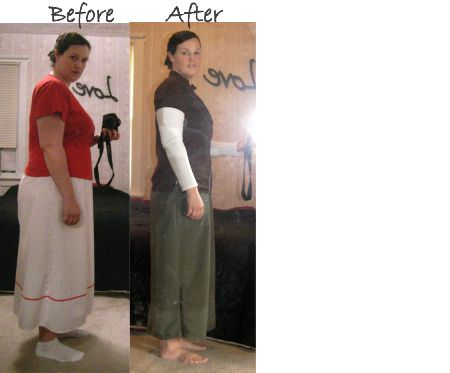 Now, onto the mints. Not sure if you can trust my judgement on these… of course they were good! Hello… it's CARBS!!
Ahhh, carbs. How I love thee.
Maybe if I was eating normally, they'd get a good/average rating instead of a 'they were absolutely awesome' rating. I don't know. So, just make them yourself… they're easy enough!
This recipe was not taken from a cookbook. It was taken from the book The Hand that Rocks the Cradle. The book title doesn't even have to finish that sentence …we all already know that we rule the world.

If you're a mom and don't have that book, you should. It's great. Every 2-page spread is loaded with inspiration, Bible verses, real life experiences, and here's my favorite: little sayings/quick quips/advice. A few pages have some fun little recipes on them, like page 145 with Mint Patties.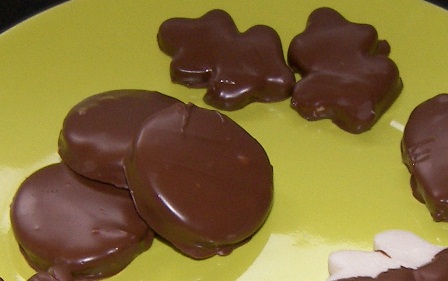 Mint Patties
1 lb. powdered sugar (I'll save you some research… that's 3 3/4 cups)
2 tsp. cream
1 Tbsp. soft butter
1 egg white (unbeaten)
1 tsp. vanilla
Mix together and shape into patties. Dip in chocolate.
And there you have it, simple as that. I got done putting all the ingredients in and then thought "Uhhhh, MINT patties? It must mean mint patties in looks only, because there's no mint in the recipe." So, I added about 1/2 tsp. of peppermint extract.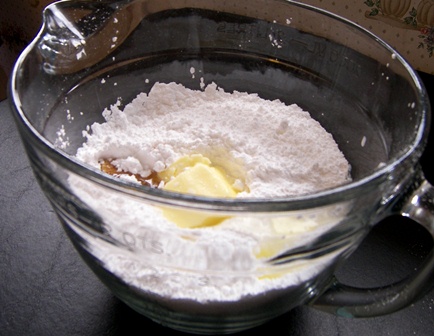 I just threw everything into a bowl and mixed it, but it made little pea-sized balls, so I added a bit more cream and then it all blended together like a dough.
Instead of shaping the patties (which I thought would be too time-consuming), I rolled the 'dough' out and used cookie cutters. Got a variety of shapes that way too, which inspired me to make a mental note that these could go with any theme or holiday… just make it in whatever shape is right for the occasion!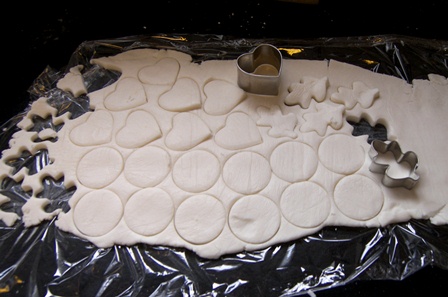 I chilled the patties in the fridge for about a 1/2 hour before dipping them. I dipped some, half-dipped some, and 'scribbled' on some. You could even leave some plain, or add a tint of green food coloring.
This recipe made about 6 dozen mint patties.
So, I can only have 1 serving… how many patties is 1 serving? Just wondering, because the recipe doesn't say. Oh well, I'll just assume the whole batch is 1 serving. 😉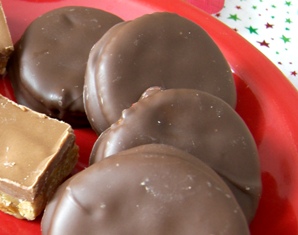 This is the first year that I've done so much chocolate dipping. Kinda fun. I was looking around for more stuff to dip… did you know mini marshmallows dipped in chocolate are good? And peanuts, of course.
I just wanted to put these dipped Ritz cracker things on here because I learned something with them.
First step is to put peanut butter on one side of a cracker. So, I got a knife, the pack of crackers, and the jar of peanut butter and went to work, spreading crackers with peanut butter. You wanna talk about tedious and hard to get the peanut butter even along the edges, plus not be messy with it!
I was about to stop the project when a lightbulb went on… I could pipe it on! So, I got a plastic bag, filled a corner with peanut butter, snipped of a little corner and started coiling it on till the cracker was covered. It really worked, but it took too long.
Then, the lightbulb got brighter and I snipped the corner off bigger and made a pile in the middle of the cracker, got another cracker, and pressed it down on top till the peanut butter was evenly to the edge of the cookie. Fast. Easy. Fun.
So, I started mass producing… laid a bunch of crackers out on the table, squirted piles of peanut butter on them all, then went through and pressed all the top crackers on. The whole batch was done in no time. Maybe you all already do it like that, but just in case there's someone out there going crazy, still spreading peanut butter with a knife and getting your hands messy, here you go.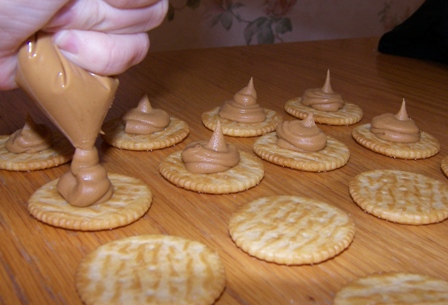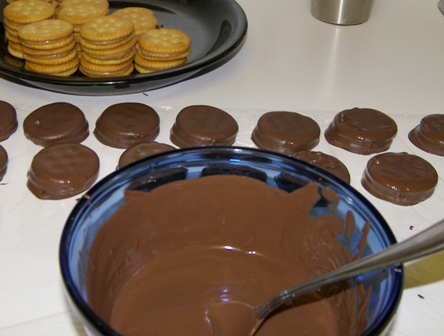 Before dipping, I put the filled crackers in the fridge because chocolate hardens faster when whatever it's about to cover is chilled. I don't know any secrets to dipping… I just dip them one at a time, dig them out with a spoon, shake of the excess, and put them on Saran wrap/wax paper to dry. I've thought of using a cooling rack and pouring melted chocolate over them, flipping them, and pouring more over, then catching what runs off and re-using it, but that just seems a bit too messy and I'd have to wash the rack and what if it wouldn't cover the sides right.
I want to make one more thing yet, then I think my Christmas cookie/candy making is done for this year… the first part of next week, I want to make Chocolate Chip Craisin Cookies… half of the batch white chocolate and half milk chocolate, and compare them. 😉 I decided to wait till after Christmas to post Lexi's birthday cake because I'm kind of in Christmas food mode, and her birthday cake has nothing to do with Christmas.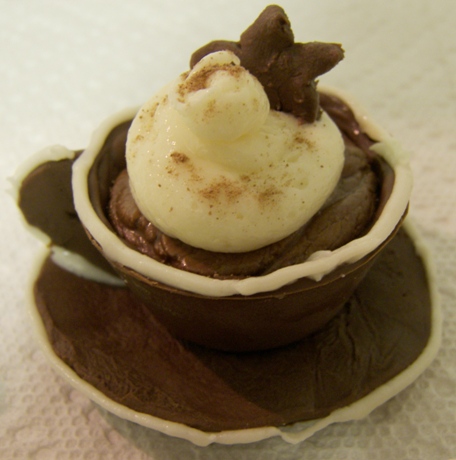 My sister-in-law Sheila had a birthday last month and her mom got her some teacup truffles from a local bakery. She was showing them off …notice I said SHOWING, not SHARING! 😉  
Here is a picture of them…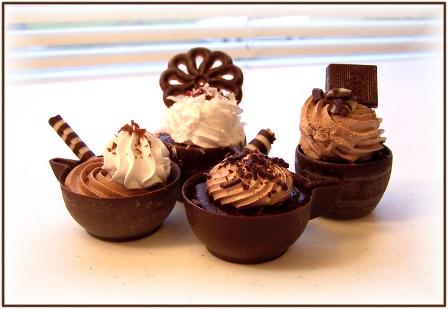 Aren't they adorable? As soon as I saw them, they went into my oughta-try-them-sometime cooking folder in my OneNote. By the way, Sheila took that picture. One of my Kitchen Scrapbook New Years Resolutions is to research food photography (lighting/props/angles/how to make it look good/etc) and practice and get to know my camera and aperture and focus and settings on it to up the photo quality a bit on here. I was planning to go online for that education, but it looks like I don't need to go any farther than our family gathering over the holidays to get tips… I love this picture! Looks like it came out of a magazine. Of course, the truffles look like they came out of a magazine, too!
I was at a cookie exchange today and I took a plate of candy instead of a dozen cookies. WAY more fun to make and nobody seemed to mind.

I decided this was my chance to try the teacups, thought it would be a cute touch to a candy plate.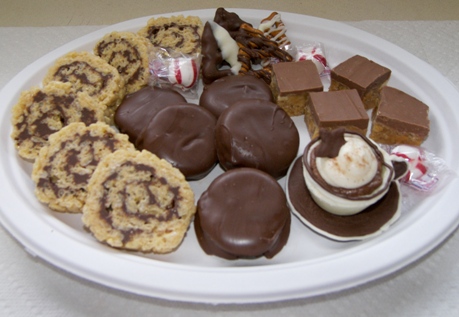 On the candy plate is:
— Rice crispy rolls
— Chocolate-covered Ritz crackers filled with peanut butter (to be featured tomorrow)
— Misc chocolate-coated/drizzled tree-shaped pretzels 
— O'Henry bars
— Chocolate teacup
— Store-bought peppermint candies
These teacups are not as hard and time-consuming as they may look. I want to make some more and next time, I'm not gonna go as crazy with piping trim on! Actually, I think I'll skip the piping altogether. I wanted them all coordinating with white and brown chocolate and I think it ended up looking too busy or messy or something. I think next time, I'd make the cup and saucer both the same monotone color. So, minus all that piping, these teacups were done in 7 steps, mostly easy steps:
1. Line the cups  of a mini muffin pan with white or dark or milk chocolate to form the cup part.
2. Make a saucer out of partially hardened chocolate.
3. Form a handle out of partially hardened chocolate and 'glue' it on with melted chocolate.
4. Fill the cup with fudge (that's what I did here) or truffles or mousse or whatever.
5. Pipe white frosting on top to look like whipped cream (remember that cup of frosting I had left over from the red velvet sandwich cookies? It came in handy here! 😉 )
6. Sprinkle the whipped cream with a bit of Nestles Quik powder.
7. Form a little decoration out of partially hardened chocolate or make a chocolate curl or use some other decoration for garnish.
Here are pictures and "What I learned" tips with each step…
Step #1.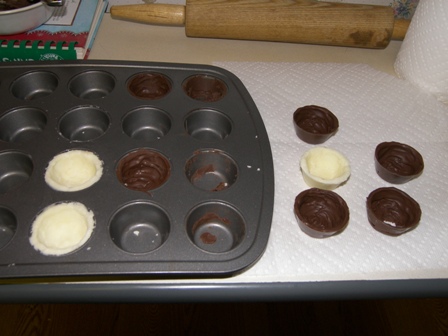 What I learned:
Grease the cups WELL.
The thicker the chocolate, the better… if it's too thin, the cups might break as you get them out (see the one in the front right has a hole in the bottom).
Chill before getting them out.
Best way to get them out is to push against the inside of the cup and turn it, when it comes loose, pull it out.
Step #2: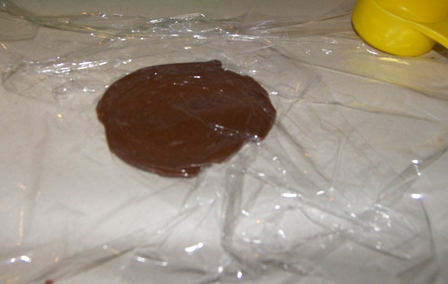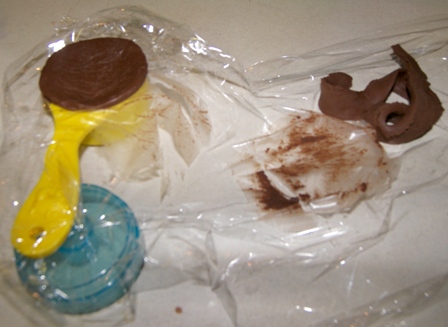 What I learned:
Use utensils/Saran wrap to do the work… using fingers melts the chocolate and creates a sticky mess.
Cut a perfect circle by using a round cutter… a drinking glass works great.
Lay the saucer on a measuring cup… it will sink down just a little in the middle to create a 'saucer' look.
The fridge was my friend. Chocolate hardens faster in the fridge. 😉
Step #3: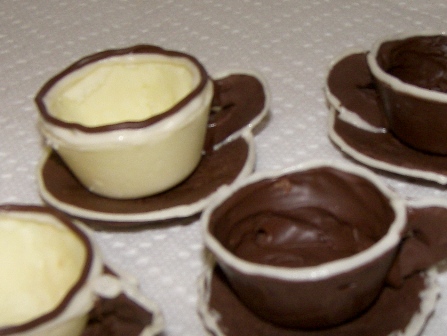 What I learned:
If the cups are chilled before putting the handles on, they adhere faster.
You need to hold the handle against the cup until the melted chocolate between them has hardened… otherwise the handle might fall off when you set it down. *rolleyes*
The rest of the steps don't have 'what I learned' tips because there were no issues/problems/lessons learned. That's a good thing. 

Step #4: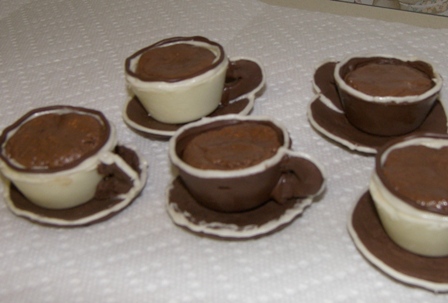 Step #5: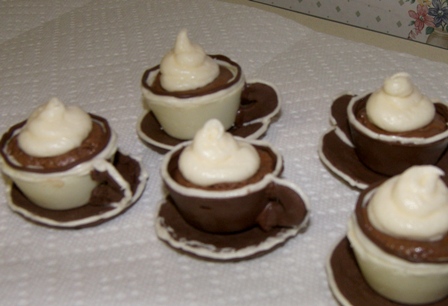 Steps #6 & 7: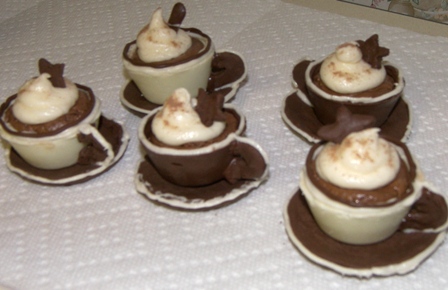 I made stars because, you know, Christmas. I thought stars would be easier than holly or trees or a wreath or a gift or a manger scene. 😉 I just made a ball, then flattened it, then pinched it in 5 places, then perfected the points. Haha, perfected the points? Then why aren't they perfect?! :p I guess I should've said I just made a ball, then flattened it, then pinched it in 5 places, then messed around with it till it looked more or less like a star.

Oh, and the one doesn't have a star, in case anyone noticed. It was the last one and REFUSED to turn out, so I ate it and just stuck in a random dripping from where I had drizzled the pretzels.
Oh, and here are the 5 plates of cookies that I came home with… Peanut Butter Kiss cookies from Rosalyn, Frosted Sugar cookies from Beth, Monster cookies from Sherri, Pumpkin cookies with caramel frosting from Rita, and White Chocolate Chip cookies and some coated party mix and chocolate-covered peanut butter crackers from Mary Esther. I love love love cookie exchanges!!! When else can you mass produce one thing and end up with a fun variety?!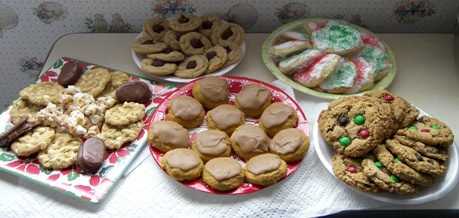 Every year, there are some cookies/candy that are a MUST, but I also like to find a couple of new recipes too. This is one of them. A few weeks ago, I was trying to catch up on my way-behind Google Reader (I won't tell you how many unread items there are because Shannon gives me a hard enough time about it, I don't need you all to, too 😉 … I know he's right when he says, "You oughta just mark them all 'Read' and start over!" but instead I say, "No! What if there's a post or two in there that I FOR SURE don't want to miss?!") and anyway, I clicked on The Cutting Edge of Ordinary and Lisa had just posted these bars. I knew right then and there that they had to be on my new-things-to-try-this-Christmas list. And they didn't disappoint me. They are just as good as they sound and look! And a few people that I gave some to let me know they were a hit at their house, too.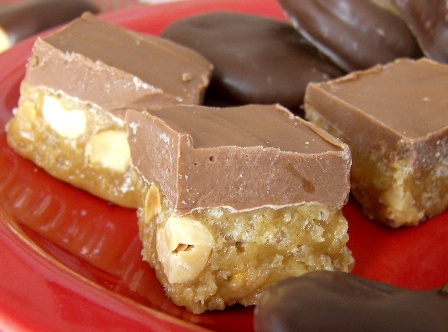 O'Henry Bars
1 cup Karo syrup
1 cup sugar
1 cup peanuts (unsalted, do not chop) I didn't notice this before I got ingredients and I bought salted peanuts, oops, but they turned out great anyway!
1 cup peanut butter
3 cups rice krispies
12 oz package chocolate chips
12 oz package butterscotch chips
Stir together the syrup and the sugar. Microwave for 2 minutes. Add the peanuts and the peanut butter to the Karo mixture. Microwave again for 1 minute.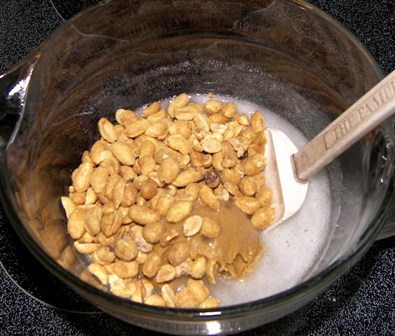 Add 3 cups of rice krispies.

Spread into a greased 9×13 pan.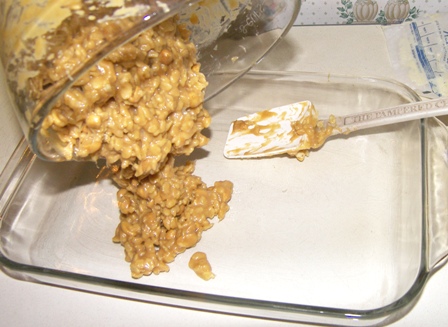 I pressed them into the pan with a buttered plastic bag.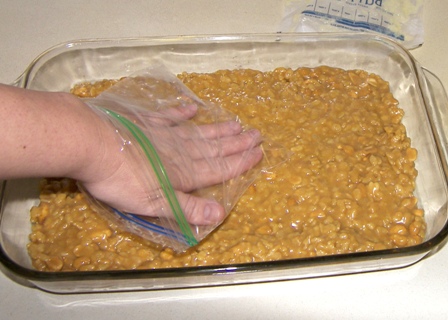 Combine the chips in a bowl and microwave for 2 minutes. Stir until smooth. Spread over the rice krispie mixture and cool in the fridge. Cut into 1 inch squares to serve.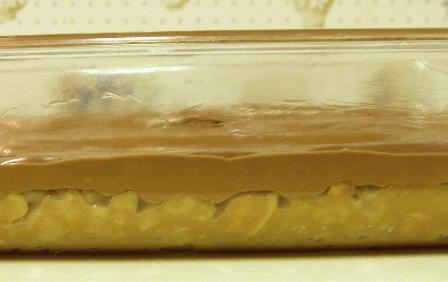 I should've taken a picture of them cut in the pan, but I think I cut them 6 across the short way and 10 the long way, so 60 little bars. What they lacked in size, they made up for in taste.

I think I might make some more of these and try something different… make the bottom part and cool it til it's firm enough to handle, then shaped them into little logs, chill them, then melt the chips and dip them. Maybe twice. 😉 The end result would be like a fun size candy bar!
Fudge. Yum. It's one of my areas of weakness.
Louise, one of my message board buddies, posted this recipe. I made it before Christmas, so it is LONG gone, but you should have the recipe anyway. I do still prefer the melted chocolate chips, butter, peanut butter, and marshmallow combo, but will definitely keep this recipe on hand for when I need a fudge fix and am out of chocolate chips and marshmallows… two things that I don't always keep on hand.
Peanut Butter Fudge
3 1/2 cups powdered sugar
1/2 cup cocoa
1/2 cup peanut butter
1 cup melted butter
1 tsp. vanilla
pinch of salt

Mix all ingredients together, and blend until smooth. Press into a 8 or 9 inch square pan, and chill. Louise says, "I like to line my pan with waxed paper so I can easily flip the hardened square out to cut later on. This stuff tastes sinfully delicious, and melts in your mouth!" She is so right on that last sentence! 😉

This was Christmas, remember? Where the fudge went was on a plate to take to the 1st & 2nd grade room for after the Christmas program… rice crispy bars cut into Christmas-y shapes, fudge, and Resees cups.
Side note: The picture doesn't show the shapes too good, but rice crispy bars can be made to fit about any occasion… just make them a bit thinner than usual and sprinkle them with colors and cut them in shapes to fit the ocassion. Kinda like this layered finger jello.