I'm in the mood to feature a cake. I have a bunch that I've never put on here. Sometime, I'm going to make a separate cake section on this site. I think at some point, it could merit its own section because that's what I picture doing in 5 years or so… cakes. Between now and then, I plan to have fun doing a few hit n miss and taking classes and tripling my cake-decorating tools/gadgets/pans supply. I want to take classes so I can prevent mistakes instead of learn from my mistakes.

Right now cake-making is pretty much a "wing it" deal, and while that's worked out pretty well so far, there's also been a lot of wincing-then-sighs-of-relief involved too. And well, yeah, some wincing-then-starting-over moments, too.
This particular cake was quite an honor. It was the FIRST wedding cake I've ever done. The bride-to-be knew I'm not a pro, but she trusted me anyway… uhhhh, in case you wonder, that spells p-r-e-s-s-u-r-e!!!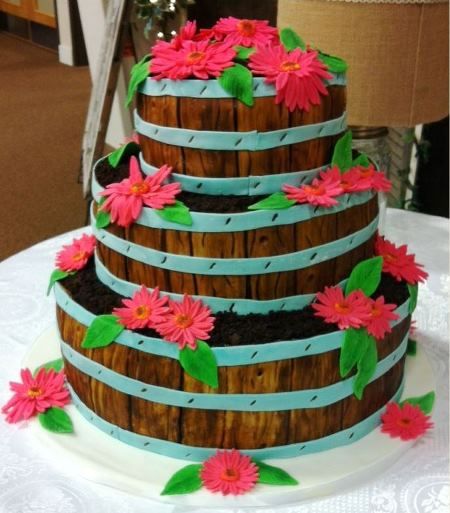 You know that whole "wing it" thing I was talking about earlier? Well, I had never done wood grain before. Nor had I ever made a cake this big (the biggest pan size I owned up to this point was a 12″ and I had to go get a 16″ pan for this cake). The bottom layer is 16″, middle layer is 12″, top layer is 8″, and each layer is roughly 6″ tall.
I didn't take very many step-by-step pictures because I was in the cake-decorating zone and well, simply forgot. But in case you're interested, here is the construction, then I'll get to the fun part… the wood and flowers.

The bottom layer is a 3″ chocolate cake with chocolate buttercream and a 3″ vanilla cake with vanilla buttercream, each split with frosting between. When they were frosted, I put the chocolate layer on the cake board and put four 3″ dowels in it so the weight of the rest of the cake wouldn't be on it, then set the white layer (which was on cardboard) on top. Here is a (very bad) picture of that, quickly taken before all the fondant was on.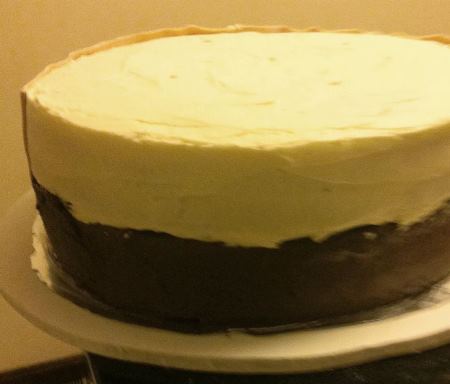 Then I put four 3″ dowels thro' the white cake and one sharpened 6″ dowel down thro' both cakes and the cardboard layer between them.
The middle basket is all chocolate with chocolate buttercream and is on cardboard. No cardboard between the layers, but the cake does have dowels in it for holding the weight of the top basket.
The top basket is all vanilla with vanilla buttercream and is on cardboard. No cardboard between layers and no dowels.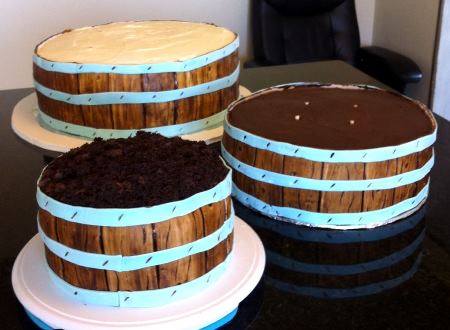 Now for the fun part!

First is the wood grain. The slats may look like individual pieces, but it's actually larger sections with multiple slats per sections. I started with white fondant and mixed in some cocoa powder to make it a light tan. In hindsight, I don't think I would've had to do that step though because the "stain" would've covered it fine without leaving white spots when wiping it off.
Roll out fondant. Cut it to a rectangle… length doesn't matter, but try to get the height as close to correct as possible. Take something about 1/8″ wide and indent lines from top to bottom, these are the slats. I said "take something 1/8″ wide" so you know you can make wood grain without a well-I-don't-have-a-decorating-tool-set excuse.

You can use the handle end of a small paintbrush or whatever. Next, beat it up. Give it some character. Make dents, make lines, make knots. And yes, there is powdered sugar all over the place… it keeps the fondant from sticking to the counter.


Then, mix vodka with brown food coloring paste to make "stain" to stain the wood. If you're concerned about the alcoholic aspect, the alcohol evaporates. Plus, you don't use much at all, so the teeny bit that would be on one piece of cake wouldn't affect anyone if it wouldn't evaporate. (Do NOT use water or you'll have a mess on your hands because water becomes like glue when it touches fondant.) Get a clean paintbrush and brush the stain on. Wipe it off immediately with a clean cloth. And THAT is when the magic happens. It doesn't look like much up to that point, in fact it looks like quite a mess. But as soon as you wipe the excess stain away, a beautiful realistic-looking-wood piece of fondant appears!


If the icing on the cake is a crusting kind, run a knife or something over it to un-crust it so the fondant will stick to it. Carefully pick up the fondant and place it around the cake. If you wait several minutes until the alcohol has evaporated, it doesn't stick to your hands while you're placing it on the cake and you can also loosely roll it up without it sticking together to transfer it to the cake.
After all the wood was on, I made the bands. This beautiful blue was one of the wedding colors, which is why the bands were this color… if I'm making a basket case for just anyhow, I'd probably make the bands tan. This was simply coloring the fondant, rolling it out, cutting it into strips, wetting the back of the strips with water, and placing them around the cake. After putting each band on the cake, I did the staples. If I'd have waited to do the staples until all the bands on all the cakes were done, it wouldn't have worked as well because the fondant on the first bands would've started drying out and it wouldn't have been as easy to make an indentation. After making the indentations, I took a tiny paintbrush and painted brown food coloring inside them. Some of them got a little messy and I was sighing about it to Shannon and he said, "No, it's great. It makes them just look rusty." Ah, way to make lemonaide out of a lemon.
Next, I covered the visible part of the cake board with white fondant and put a white ribbon around the edge. Then, I crumbled up some leftover chocolate cake for the "dirt" and put it around the rims of the 2 lower baskets and over the top of the top basket. It looked good, but next time, I'd use Oreo crumbs… I think they'd look more like dirt, but I didn't think of it at the time.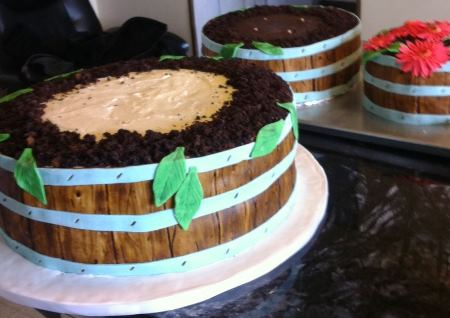 Then, it was time to add COLOR. Fondant daisies. Hot pink was the other wedding color, so that's what the daisies were. Here are some of the daisies and leaves drying ahead of time. I put them on crumpled tin foil so they wouldn't dry flat and boring.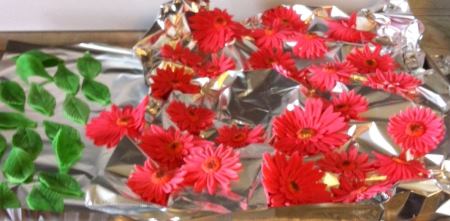 In case these look hard, they're not. I have a flower/leaf cutter and impression set that I used… one of my happy purchases from Michaels with a 40% off coupon. I also added a bit of petal dust for a more realist look.
So, there you have it, a wooden basket daisy cake. It was challenging and a whole lot of FUN!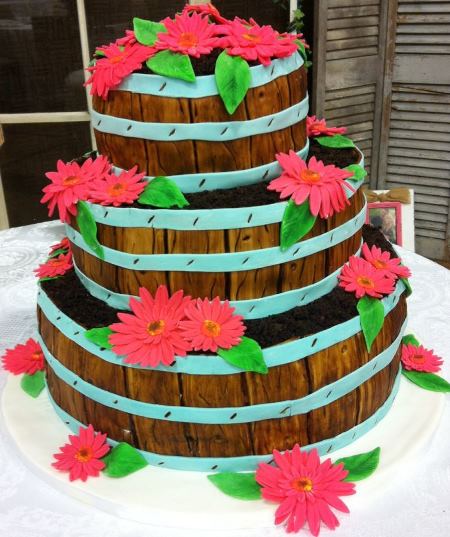 How can it be 2014 already?! It doesn't seem that long ago that we brought in the 2000s on the beach in FL. This year was brought in by tucking my girls and their cousins in bed and the cutest conversation in which their grandma (Shannon's mom) was explaining what new year's resolutions are and helping them make one. I was glad she vetoed and explained to my 11-yr-old how "Getting Mom and Dad to buy me an iPhone" is not a valid new year's resolution.

And the funniest one was when Chad (5) made one for his toddler sister… "I know what Tianna would say. She'd say to make the whole world into nippys".
So, I started the year out laughing… here's to a good one! And wishing you and yours a good year too! May you have plenty of cake.
We have snow!! So I'm gonna post a snowman.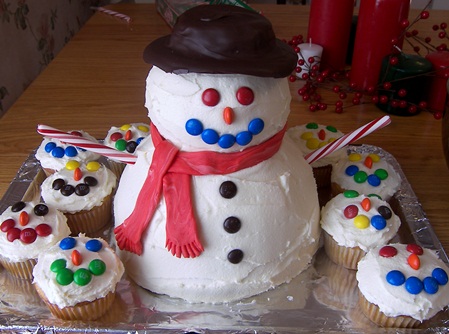 You know, I was just thinking… after I wrote those first 2 sentences, I looked out the window for awhile at the snow I was talking about… you know the snow that I used TWO exclamation marks after when I said we have snow, and I realized how my standards have changed. Do you know how much snow we have right now?
About 1/2 inch.
1 inch at the deep parts.
Wow.

I was born and raised in northern WI and moved to OH 3 years ago. If we'd get this much snow in WI and Shannon's dear grandpa from PA would call and say, "What's the weather like out there? Do you have snow?", same as he'd always start every call with between Sept and May, we'd say "No, not really, just a little dusting." I do really like the mild winters here though. I think it's pretty cool that in Ohio right now, it's mid-January and I still haven't gotten out my winter coat… my temp mark for bulk-of-winter-coat-is-worth-it-for-the-extra-warmth-over-light-coat is about 25 degrees, unless I'm going to be out for a long period of time.  I haven't gotten my boots out either because… I have none. I threw them away last year because they were so out of style and I was so in love with them… so when I was tempted to wear them, I'd weigh the pros (love them) and cons (out of style)… and love always won. So the only way to make myself stop wearing them was to throw them away.
All that to say that I'm in the market for boots. I love the style of boots right now… especially the sorta short ones with a heel and slouched and black and a bow-type thing on the side… so I'll probably be back in my out-of-style-but-love-em predicament again in 5 years.

Maybe I'll buy some boots tomorrow… we seriously need to get out of the house because we've been sick for nearly a week around here and I think we're all functioning at 85 – 100% power today now… so what better thing to do on a Saturday than to go out on the town.
Anyway… let's circle back around to where we started… "I'm gonna post a snowman".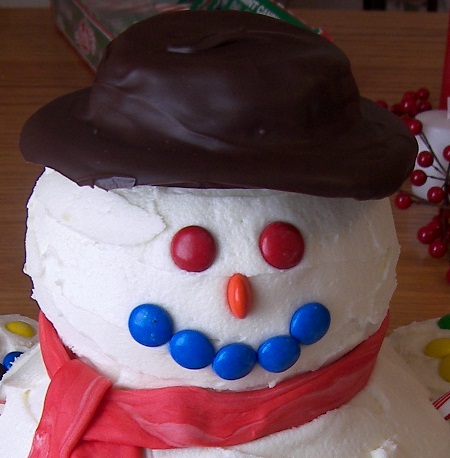 Isn't it crazy how M&Ms can almost seem to make something have a personality?

I feel like I need to talk really fast to interrupt any crazy "I'd never have time for that!" thoughts. It's simply 2 cake mixes… dump one in a mixing bowl instead of a 9×13, dump the other one in a small mixing bowl and the rest in cupcake liners. Bake. Frost… you don't even have to add food coloring because snow is conveniently white!

Press M&Ms on. Make a melty chocolate/peanut butter hat. Fruit roll-up scarf. Eat. There is no carving or shaping of cake going on here. I made this for dessert for hot lunch at school.
Get your 5-yr-old to decorate the cupcakes… Tiffany did all of them while I did the snowman. We used orange M&Ms for noses only and put them sideways so they stuck out a little more.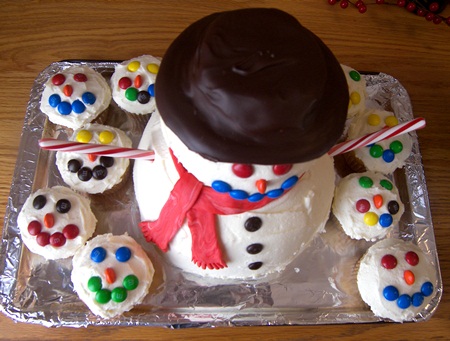 Keep the 18-month-old demolition-crew-of-one as far away as possible. Or do what I did and count one cupcake and a small handful of M&Ms as loss and set her up to destro—, I mean, decorate it.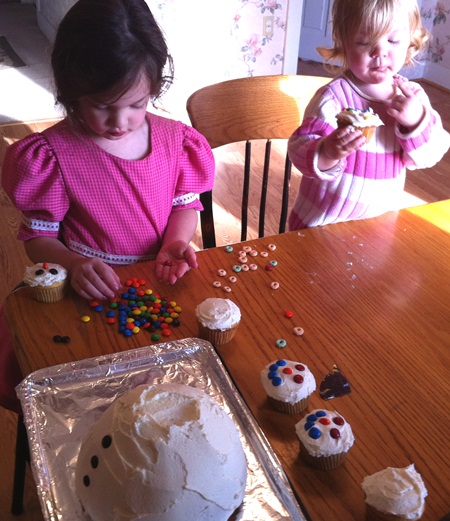 *cell phone pic alert* Yeah, we tried just giving Megan some Apple Jacks to munch on so she could happily watch while munching, but nope, no luck, she was more into M&Ms and gooey frosting.
One thing I should say about the baking… I was afraid the cake wouldn't get done in the middle, so I looked around the kitchen, saw a glass Coke bottle (filled it to make it heavier), covered it in tin foil, and put it in the middle, like it's sitting in the mixing bowl here… kind of an angel food cake pan effect. It worked perfect. I don't know if it would be necessary or not, though. I baked the cake for 1 hour.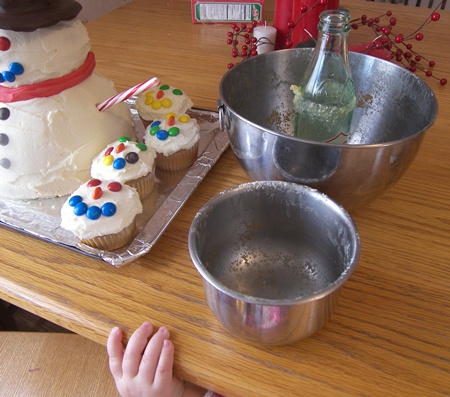 I used candy canes for the arms (broke off the curved part), but you could use pretzel rods or whatever. The hat is a chunk of leftover buckeye-type peanut butter filling dipped in melted chocolate with too much chocolate poured on top so it ran down beside it, making a hat brim. Then I put it in the fridge until it hardened. You could pretty much use anything… like a chocolate-dipped small cookie or whoopie pie or something.
*gasp* Did I just used the phrase "too much chocolate"?! Sorry, it should read "extra chocolate" instead… I'm more comfortable with that term.
Add a fruit roll-up or fondant the color of your choice for the scarf. Snip the ends with a scissors to give a tassle effect.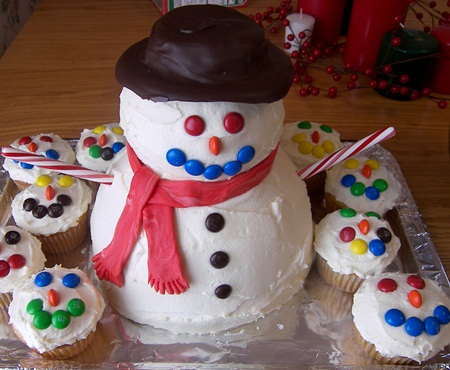 And there you go… celebrate winter with your kids! Whether you have 2 feet of snow, a 1/2 inch of snow, or only dream of snow.
There. I did 2 posts with meat in, so let's get back to the fun stuff!

No, really, I am planning to keep it a little more balanced… I think anyway. Sometimes I think I should've named this site something like "Chocolate Dipped Tidbits" or "Living for Chocolate, Dying for Some More" and do sweets only, what with that being my passion and all.
Speaking of which, I totally get Tiffany (my 5-yr-old) in this little conversation that happened one day last week:
Her: "May I have an ice cream cone?"
Me: "No, you already had one today."
Her: "Pleeeeeeeeeeeeease? I REALLY need one."
Me, feeling sorry for her, but sticking to my guns: "No."
Her, pulling out the trump card in desperation: "I'll give you all my money if you let me have one."  
If we run out of cones and ice cream around here, my girls think it's a real crisis. Currently, we have sugar cones (the pointy ones that sorta look like waffle cones) and regular cones in 2 sizes (the ones that are flat on the bottom and taste like newspaper just plain). These cone cake pops use the mini size of the regular cones.
Awwww, aren't they adorable?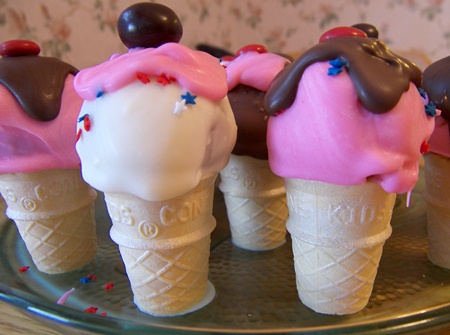 You really do need to see these in real life. The cuteness factor doubles from a picture to real life.
I know you can't really tell the exact size because there's nothing to compare it to. So, here's one in a 13-month-old pudgy hand, if you know what size they are in real life. This is a real ice cream cone, but the same size cone.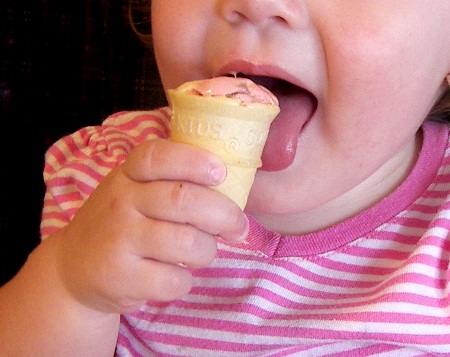 Yeah, we're getting Megan hooked on ice cream cones already. This size is so perfect for her because she's done eating it by the time it starts melting and dripping.
I got this Ice Cream Cone Cake Pops idea from Bakerella's website and her Cake Pops cookbook (which my friend Ruthie gave to me for my birthday last year… it was on my wish list, and I never told her, how cool is that?!) Bakerella used sawed-off sugar cones, but I decided to just use mini regular cones so I wouldn't have to do all that cutting.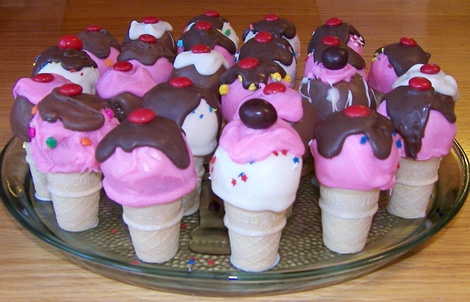 So here's what you do. Take a baked cake and crumble it up and add a bought can of frosting and mix it together.
Or…
Get the leftover cake out of the freezer from a graduation cake you made earlier, thaw it, crumble it, mix up some frosting and mix a few dollops into the cake crumbs. That's what I did. So, these cake pops were white cake mixed with cinnamon cake.
By the way, next time you're buying cake mixes and you're undecided on the kind, please buy a cinnamon one. This is the first time I tried it and it was SO good! You'd think I would've already thought to try that, what with having married into a we-love-cinnamon family. I want to make one sometime with cream cheese frosting. Mmmm mmmm mmm!!! You can use cream cheese frosting in these cake pops, but then you should refrigerate them, which is why I used regular frosting.
Here are the cake crumbs and dollops of frosting. I forgot to take a picture after it was mixed…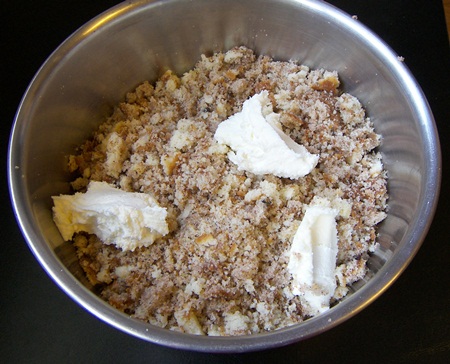 Roll the cake mixture into balls about the size of a golf ball, maybe a little smaller. Don't make all those little dents in it like a golf ball has, though. Put the cake balls in the freezer for 15 minutes, then transfer them to the fridge if you're not ready to dip yet. They should be chilled, but not frozen.
Here is when I was just ready to start. Those bowls are both melted white chocolate, but the one has pink food coloring in it. The melted milk chocolate is missed on the picture. I put some M&Ms in the bottom of the cones just for a fun surprise.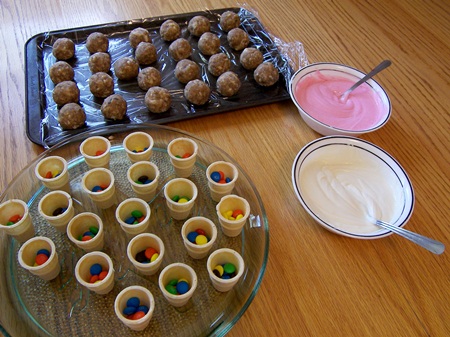 Dip a skewer in the melted chocolate, then into a cake ball. You can take a spoon and spoon some chocolate over to get it fully covered if the chocolate isn't deep enough to fully immerse the cake ball, but don't spin or stir or twist it around in the chocolate because crumbs may fall off or it might come apart. Then, put the drippy chocolate covered cake ball on one of these mini cones and pull the skewer out. It will kind of start to drip over the sides to make a melty look. That is a good thing.
This is after the process is underway…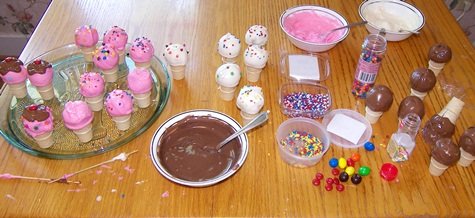 After the cake pops are dipped and put on the cones, take another color of melted chocolate and put on top, letting it start going down the sides a bit. Put on sprinkles if you want to. Put a red M&M or peanut M&M on top for a cherry.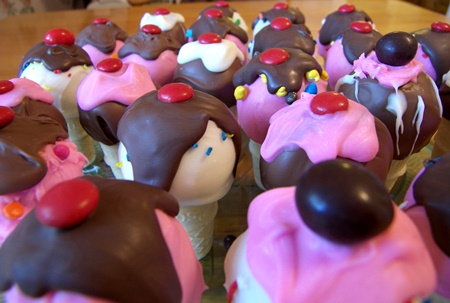 To make tipped over ones, put the cake ball on a flat surface instead of on a cone, then put the cone slanted on top of it. Bakerella calls this a "happy accident on purpose". I love that term! :)
 Now, we leave Bakerella and go on to an extra tip and idea for these from me:
1. These little things are top-heavy. So if you're taking them somewhere, put a little bit of melted white chocolate on the bottom of the cone, then set it on the plate. In no time, it is hardened and you can move the plate around at will… without ice cream cones landing on the floor.
2. Pipe thick chocolate letters on plastic wrap or wax paper, put them in the fridge till they're hard, and stick them to the top with a dollop or two of melted chocolate… and you've just personalized your cake pops to the season/event/occasion!

Here are some specific ideas:
– Write "Welcome Home" on them and put them on the counter, ready for someone coming home. That's actually the very thing that made me think of putting letters on top of these… around the time I was making these for a church picnic, some friends of ours were coming home from a trip and I had intentions of doing that with the extra ones, but with a combo of a change of plans in my day and procrastination, they got home before I got it done. But at least I'm glad for the idea now, to use in other ways. 
– Use them for the cake at a birthday party and write "Happy Birthday (insert birthday person's name)" 
– Write your kids' names.
– Make the entire alphabet, with extra A's, E's, T's, M's, S's, and whatever other letters are used more often. Then, let your kids play with them, writing words and phrases or even complete sentences.
And last but not least, if you love someone, do this…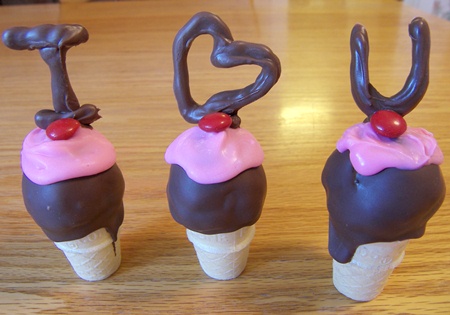 You bake cookies. You could do it on autopilot. Your kids even know the drill… one time, Tiffany came out to the kitchen as I was starting cookie baking and said, "Can I help you bake cookies?"
"How did you know I'm gonna bake cookies?", I asked.
"Because I saw you open the mixer and get that *pointing to the shortening* and the sugar out of the cupboard, and that's how you always start baking cookies.", she confidently said.
Sometimes I feel in such a rut with cooking and baking. When we have cookies around, 90% of the time they're either monster or chocolate chip. When we have cake around, 90% of the time, it's chocolate with peanut butter icing. When we have pie around, 90% of the time it's either peanut butter or lemon meringue. And it looks like when I get into a percentage rut, it's usually 90%. Seriously, though, if I make something other than the things listed above, you pretty much always see it on here. Sometimes I feel too predictable and want to change things up a bit…
We can still have our favorites, but in a different way.
Take chocolate chip cookies, for example. I was making some for an after school snack, so you know, for kids. Instead of using the same ol' Pampered Chef cookie scoop, I just used a spoon and made teeny little scoops. The teeny little scoops turned into adorable 1-and-a-half-inch-in-diameter cookies. The adorable cookies, placed in a little bucket, turned into an after school snack that was a huge hit… little cookies, huge hit. They thought it was great that they could have TEN cookies for after school snack!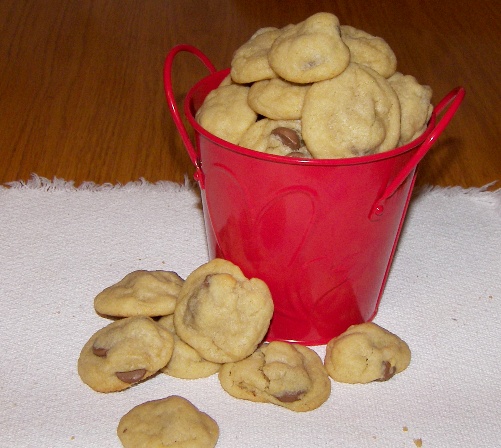 Awwwwwww.
And now, not to wreck the fun I'm-SOOOOOO-gonna-bake-cookies-this-afternoon-and-do-that-cuz-the-kids'll-love-it mood or anything, but just let me warn you: the dough goes down v.e.r.y slowly, it takes way longer to put them on and get them off the cookie sheet, and the yield is dozens and dozens, do not even try to count.
*WHIPLASH ALERT*
We're now going to switch from baking dozens of little time-consuming mini cookies to 1 pan of bars. 
Let's say you're baking cookies and you mix the dough up and while the first panful is in the oven, you realize you're not really in the mood to bake cookies after all… not in the mood to drop them onto the cookie sheet every 10 minutes, not in the mood to be setting your laptop down and jumping up 5 times an hour.
But, you've got a batch of dough sitting there.
No problem. Just spread the dough in a sheet cake pan and bake it for 25 minutes… and ta-da, bars made from your favorite cookie recipe. I just tried this for the first time about 3 weeks ago and thought it was really great that I thought to do this on my own UNTIL some of my friends said, "Oh, yeah, I do that all the time."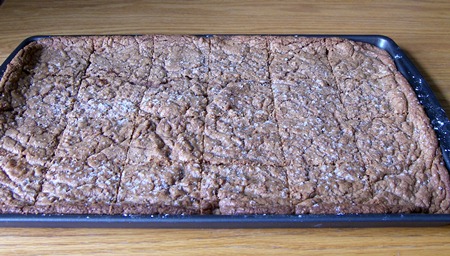 Side note here: that's my chocolate chip cookie recipe, except that I substituted FUDGE + 1 cup of flour for the chocolate chips. I had about 5 cups of fudge on hand from when I made this cake.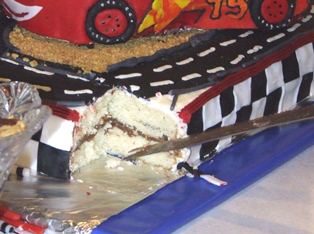 I was going to use the fudge in the middle layer between the 2 cakes, but then when I started spreading it on, I was afraid it would be too soft and squish out from the weight of the cake plus car on top of it (I used melted-then-hardened chocolate instead). So, I used the fudge up in those cooki— uh, I mean bars.
Another way to change up chocolate chip cookies is to mix them up and bake them, leaving out the chocolate chips. Then, melt the chocolate chips, spread them on something metal to harden and make cutouts. Or just drizzle the melted chocolate over the cookies. After they're baked, you can cut out some of the baked cookies into heart shapes… the girls (and I) did these 2 years ago for Valentines Day and we shipped them to WI to their 2 grandmas.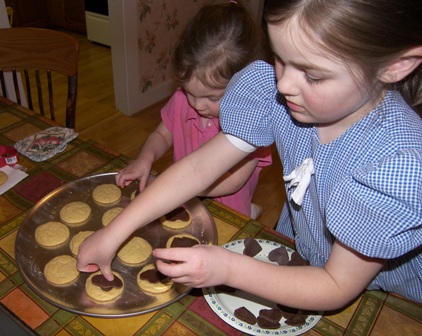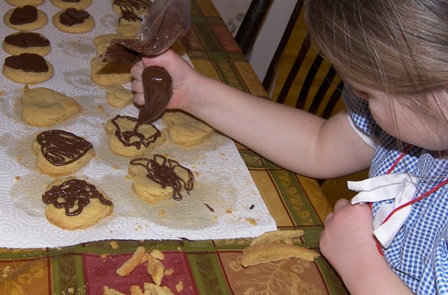 For cake: sometimes I do chocolate cake with peanut butter icing in a 9×13, sometimes I do it in a sheet cake pan, and once in a great while, into cupcakes. I know, exciting.

Next time, I'm going to do mini ones. I made mini cupcakes for the first time last week. If you ever want to do this, one cake mix made exactly 6 dozen… I filled the wells about 3/4 full with batter. And it takes double the frosting.

Pile it up even more than this… it's part of what makes minis fun. I only made a single batch, so I couldn't put as much on as I wanted to AND I ran out.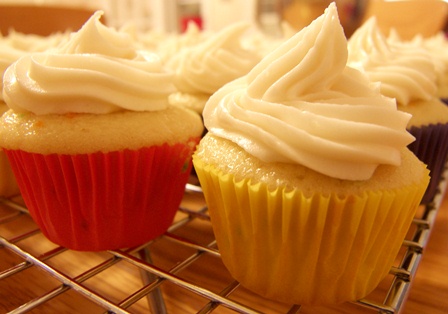 For pie… if you want lemon meringue pie, but not in big piece form, do this: make pie crust, cut 3″ circles, press them into mini muffin pans, and bake. Make your regular lemon pie filling and fill the crusts. Make regular meringue and pipe or dollop it on, brown it in the oven, and you've got these sweet li'l thangs…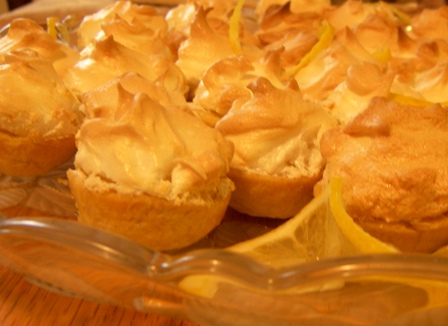 You could do that with probably any kind of pie. It's great for potlucks or snacks.
And now, still on the pie subject, the grand finale to this whole 'switching things up' thing… how about calorie-free…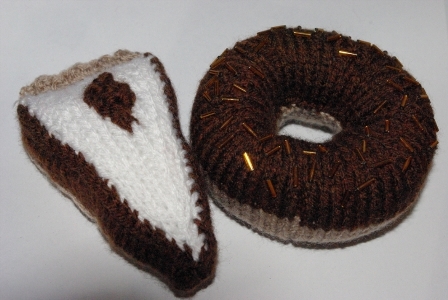 I ran across this website (April Cottage Ramblings) one day as I was surfing and immediately saved the link. Absolutely amazing!!! Seriously, this lady is talented… she KNITTED a piece of pie and a donut!!! She knits and crochets other stuff too… I fell in love with a little short-sleeved ruffly purple sweater that she made for her granddaughter. I don't know her, and I don't knit, but I'm very impressed. And it sounds like she's going to knit more cakes, so I'm going to stay tuned.

Coming up next… Lately, I've been hungry for lettuce salad with craisins and pecans in it, so I'm going to look for a recipe like that. I don't have one in mind, so if you have a slam good one that you're bursting to share, let me know!