REESES PUFFS! Any 'amen!'s to that?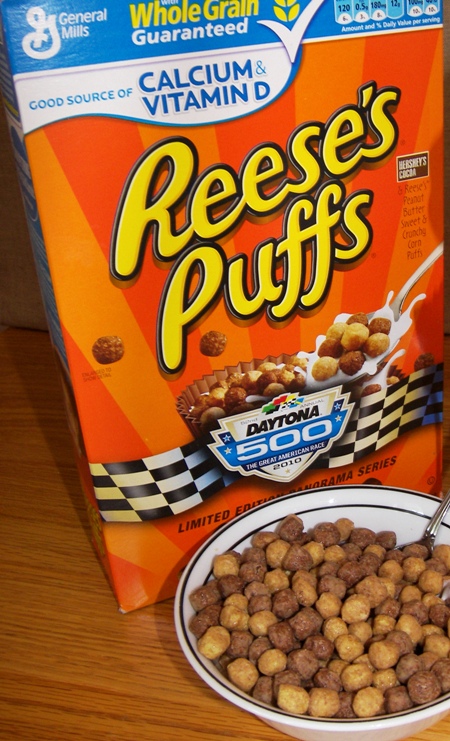 Whoever invented cold cereal with milk was brilliant. It's quick. It's good. It's healthy.
This post isn't going to have a recipe to make your own cold cereal, it's just a post about cold cereal. BUT, if you do want to make something as good as cold cereal to eat with milk, make this granola.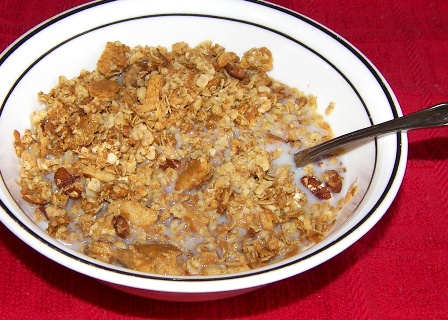 Hands down, the best granola I've ever had. Maybe it's because it has chocolate chips in it. Or maybe it's because it has all regular ingredients in it.
Anyway, back to rambling about cold cereal. I think cold cereal actually started with Mr. Kellogg and Mr. Post, but whoever is behind General Mills came up with the kinds that are the biggest hit in our family. A couple weeks ago, Kelloggs was on sale AND I had Kelloggs coupons, so I bought a bunch of Kelloggs cereal. Well, big mistake. EVERY single day, Tiffany asked for "Yucky Charms" (she can't say her L's) and Lexi asked for Reeses Puffs or Cinnamon Toast Crunch. We were all glad when it was time to get cereal again… welcome to our cupboards again, General Mills! Especially Reeses Puffs!
 We do also like Post Honeycomb, Kelloggs Fruit Loops and Big-bite Mini Wheats, Quaker Life and Cap'n Crunch, but not enough for them to be 'regulars' in our cereal cupboard. Give us Golden Grahams, Cinnamon Toast Crunch, Lucky Charms, and Resees puffs any day! Tiffany would eat cold cereal 3 meals a day plus snacks if I'd let her. And it really does make a great bedtime snack!
Anyway, I'm just curious… what kind of cereals are regulars in your cupboard? What do your kids like?
I've never made granola before. Or granola bars. They always call for bran or wheat germ and those are 2 ingredients that keep me flipping thro' the cookbook and thinking, "Well, I guess I won't make granola this time".  (*whisper* I've never even seen bran and wheat germ or know what they are.) So, I buy my granola at the bulk foods store (only on rare occassions because it's pricey) and buy my granola bars at the grocery store.
Then, just lately a few of my friends started raving about this granola and when I looked at the recipe, I was glad to see that it took 'normal' ingredients! So, I made some. It is SO good! Like one of my friends said, it's good at any stage of the making process… you can't help but sampling it here and there while mixing, baking, and stirring it.
Eat it with milk in it, put it on top of yogurt, eat it plain as a snack, or sprinkle it on top of a dessert.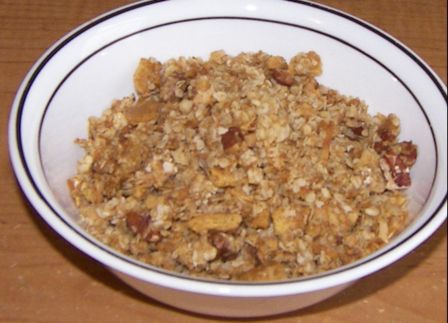 Granola
10 cups quick oats
3 cups graham cracker pieces (this was 1 1/2 packs of Honey Maid)
1 cup brown sugar
2 cups coconut
2 tsp. soda
1 tsp. salt
1 cup chopped pecans
3 sticks of butter (1 1/2 cups)
1 cup peanut butter chips (I tried some with chocolate chips… it was better

)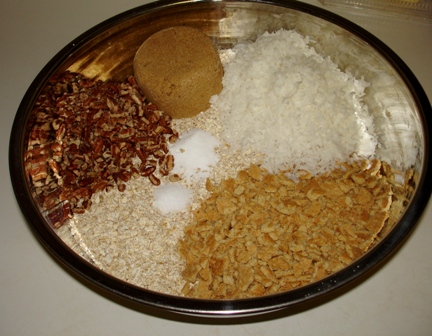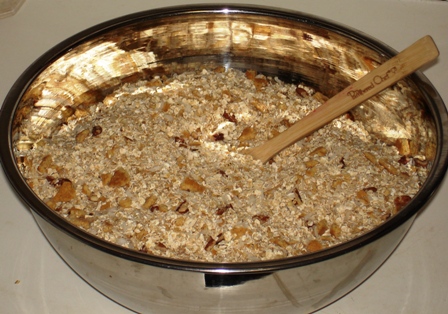 Melt the butter and mix with dry ingredients.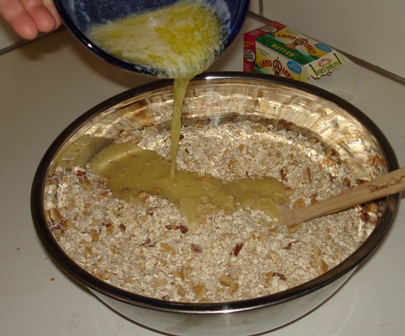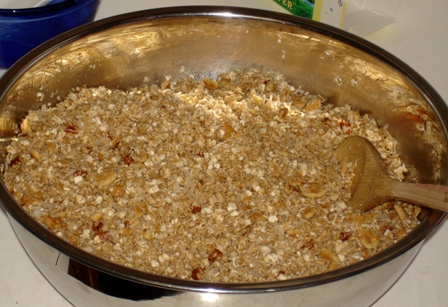 Divide between 2 large baking sheets. I did it on 3 baking sheets… the vertical one is chocolate chips and peanut butter chips mixed, the horizontal one in the back is peanut butter chips and the one in front is chocolate chips.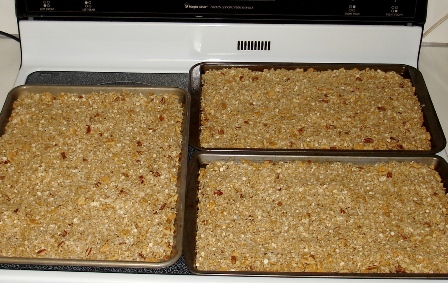 Bake at 300 for 40 min or until golden brown. Stir every 15 min the 1st 30 min, then every 5 min. Add peanut butter chips in the last few minutes of baking time.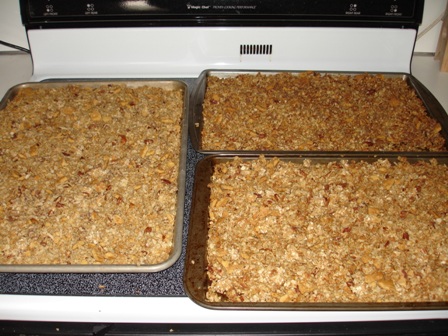 I sampled all 3 varieties and liked the one with just chocolate chips the best. I thought the next best was the one with chocolate and peanut butter chips mixed. The one with peanut butter chips was good too, but I will from now on just use chocolate chips and maybe put some peanut butter chips in too if I have some on hand.
And this is how I like to eat it the best: with milk and a spoon…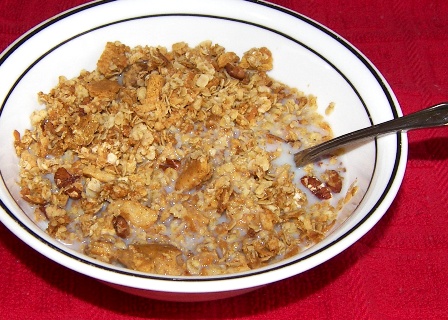 Other than the desserts and cookies, THIS recipe would have to be one of the best dishes on this site. And it's easy to make it a nice presentation too.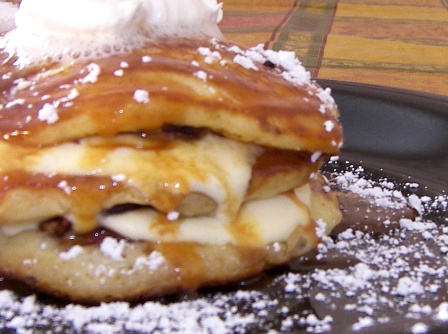 The last time I was at a Bob Evans restaurant for breakfast, I was looking at the menu and, as usual, everything was grabbing me. I always have that problem at restaurants. Sometimes it's so bad that after we've ordered and are waiting for our food, I forget which one of the 5 things I couldn't decide between that I actually ended up ordering. Anyway, when I saw these pancakes on the menu, the decision-making was OVER.
To make a long story short, I got hungry for these and decided to do a search to see if there was a recipe online. I found one at Meemo's Kitchen …this cooking blog has alot of recipes from restaurants on it! 
I didn't do any short cuts, in fact there are 3 recipes within this recipe! So, this is REALLY from scratch!

Caramel Pecan Banana Cream Cheese Pancakes …I think Bob Evans' and Meemo's name for them was a little different, but mine aren't EXACTLY the same, so I'll name them this.
Printable recipe for now.
2 cups vanilla pudding
2 cups (or 2 8 oz pkgs) cream cheese
Pancake batter
2 Tbsp. honey-roasted pecans
1 banana, sliced (So far, in talking about this recipe to my friends, there's been some opposition to the bananas… you know who you are! ;) They (the bananas) could easily be left out and it would not take away from the quality at all.) 
Caramel sauce
Powdered sugar
Whipped topping
I very seldom use instant vanilla pudding. Instead, I use the filling recipe that I use in peanut butter pie. I grew up with homemade pudding like that and there is just no other pudding that compares to it. So, I made this pudding, measured out 1 cup, added an 8 oz block of softened cream cheese, and whisked the mixture till smooth.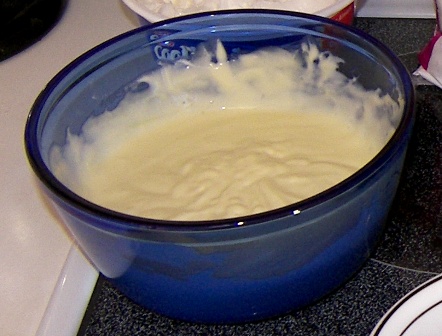 For the pancake batter, I used my regular pancake recipe here.
For the honey-roasted pecans, I took regular pecans, tossed them with some honey (approx 1/2 cup pecans w\ 1 Tbsp. of honey) and baked them at 350 for about 15 min.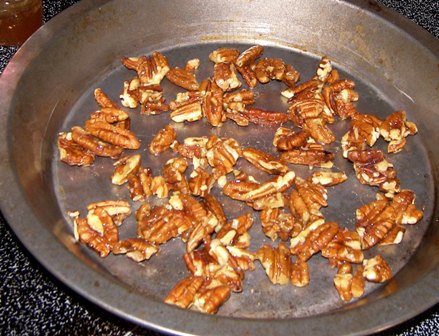 For the caramel sauce, I put 1 cup of sugar in a kettle (dry). Stir over medium heat and eventually it turns to a tan liquid! I should've timed it, I'd say it took maybe 7-10 minutes. After it's all liquid, add 6 Tbsp. butter and stir.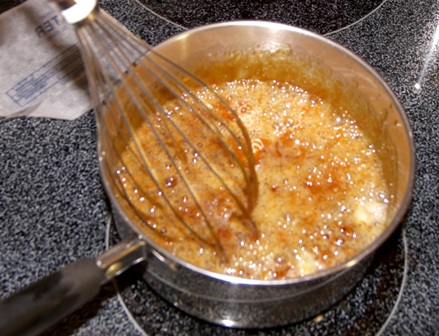 Remove from the heat and slowly stir in 1/2 cup heavy whipping cream. Whisk till smooth. Pour into a different container to cool. Note: That sugar is easy to burn! I made the caramel sauce twice because the first time, I stirred it intermittently while doing other stuff and burned it a little. I didn't know it was burned till I tasted it, it wasn't bad, it just had a tiny bit of a burnt flavor. The second time, it turned out perfect and was actually a shade lighter in color.
Now, the fun part… we've got it all ready to go here: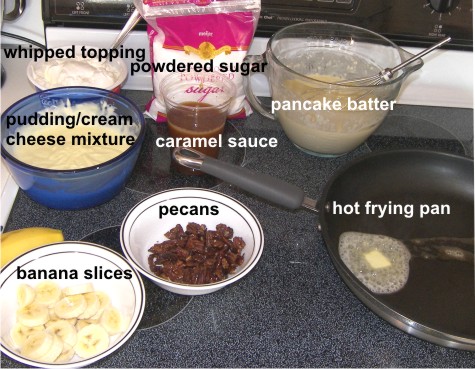 Pour batter into the frying pan like usual. I always do 3 pancakes in my frying pan because that's what fits the best. So, instead of a stack of 2 big ones like Bob Evans does, I made a stack of 3 smaller ones. And yeah, sometimes they get too big and run together, so my pancakes don't always turn out round. Put a few banana slices and some pecans on top.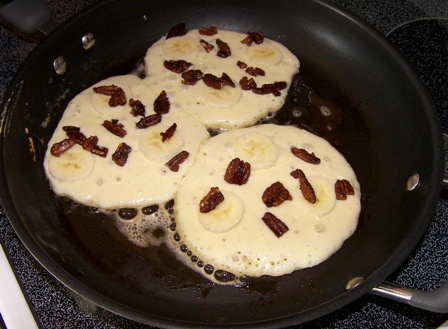 Flip pancakes as usual (and sometimes a banana slice may go flying off).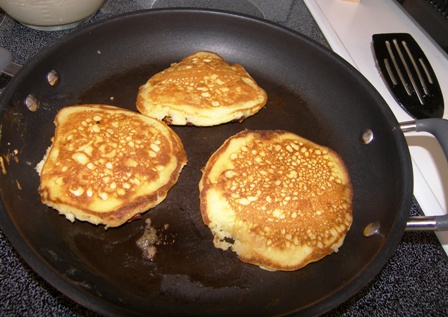 When done, put a pancake, bottom side up, onto a plate.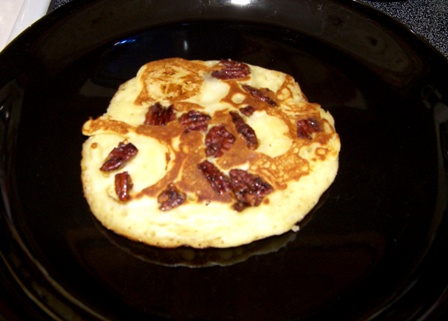 Spread a couple spoonfuls of the pudding mixture on top.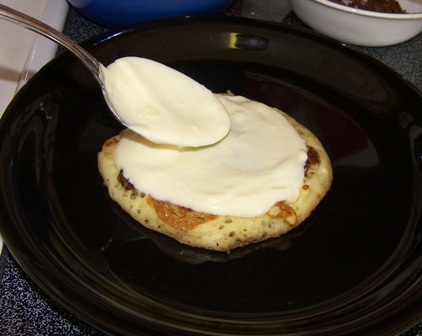 Put another pancake on top.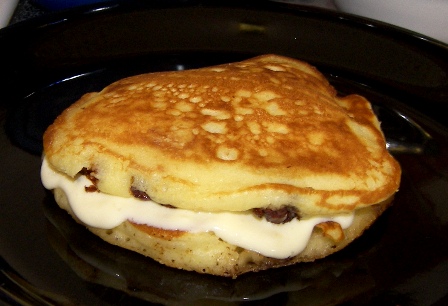 Spread some more pudding mixture on and drizzle with caramel.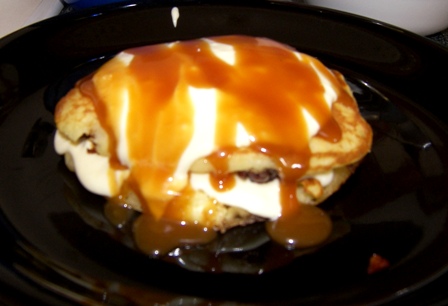 Put the 3rd pancake on top, drizzle with more caramel, sprinkle with powdered sugar,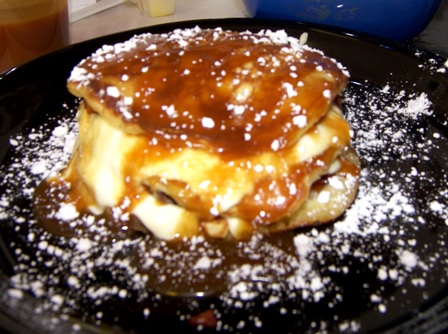 …and add a dollop of whipped topping.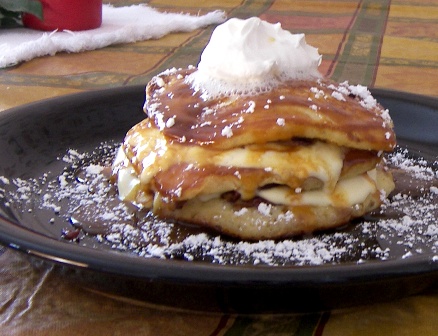 Mmmmm, I can't tell you how good this is! And it's very filling too! I didn't even eat lunch.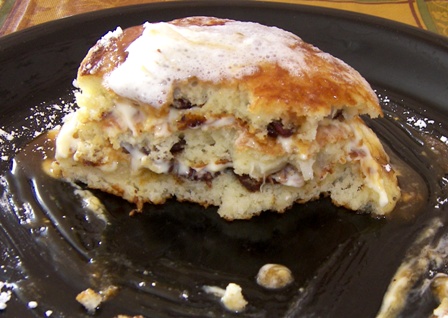 You've gotta try this! If it looks too complicated, you could buy caramel sauce, use regular pecans, and use instant pudding. But, it's so worth it to do it from scratch, especially the pudding!!!! (In my mind, I'm adding about 20 more exclamation marks about the pudding.)
I love hot breakfast foods. Sometimes when we go out to eat to we-serve-breakfast-all-day restaurants, I never get past the breakfast section of the menu. So, there I am, eating an omelet or stuffed French toast while everyone else is eating a cheeseburger and fries. But I'm fine with that. I don't get hot breakfasts enough. And now that I think of it, I guess that's nobody's fault but mine, what with me being the cook around here.
I oughta start doing what my mom does… I grew up with having one evening meal a week a breakfast foods meal. With school and Dad going to work early, it didn't work out in the morning to have breakfast as a family, so that is how we got those good hot breakfast meals in… have them for supper. I know quite a few of my friends do that now and then too.
This baked omelet is what we had for a Saturday brunch recently. Mmmmmm, it was good! And quite easy too! It comes from the 2001 Quick Cooking annual cookbook. By the way, if you're keeping track of how often I've used this cookbook lately, awhile ago I sat down with it and whenever a recipe grabbed me, I wrote the recipe name and the page # on a separate piece of paper. Till I got to the end of the cookbook, I had 25 recipe names written down. So, little by little, I'm making them.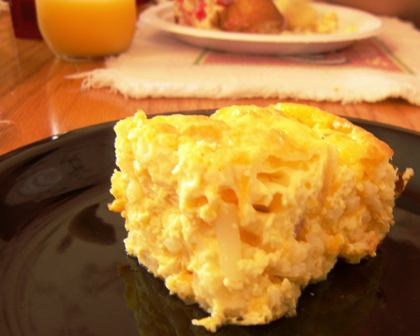 Oven Denver Omelet
8 eggs
1 cup milk
1/2 tsp. seasoned salt
2 cups frozen shredded hashbrown potatoes
1 cup diced fully cooked ham
1 cup (4 oz) shredded cheddar cheese
1 Tbsp. dried minced onion
In a large bowl, beat the eggs, milk, and seasoned salt.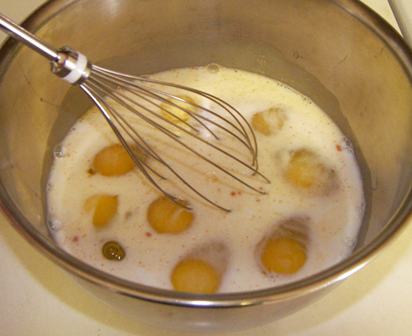 Stir in the remaining ingredients.

Pour into a greased 8″ square baking dish.

Bake, uncovered, at 350 for 45-50 minutes or until a knife inserted near the center comes out clean.
Yield: 6-8 servings.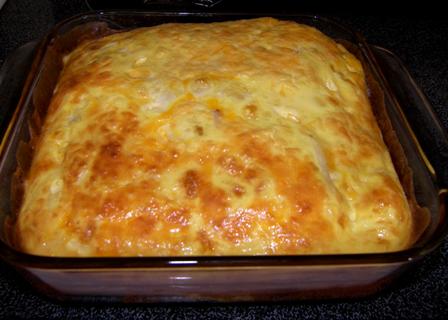 I'm going to have you all start helping me a little with serving ideas. I find a recipe I want to make and then get stuck on the 'What shall I serve with it?' question. I like to have a minimum of 3 things at each meal. What would you serve with the Oven Denver Omelet?
I know, it won't help for this time because I already served this omelet, but I want your suggestions anyway for future reference, in case I make this again or something like it. By the way, I served this with Raspberry Cream Cheese Cinnamon Rolls, fruit, and orange juice.
 I've never made baked oatmeal. I think I've had it before (Mom might have even made it at home), but I don't really remember when. The only oatmeal I really liked (before this) is the stuff in packets, the maple & brown sugar flavor. I just saw this recipe while looking for something else and it kind of grabbed me, so I decided to try it. And, it was GOOD!!! It's filling too! (with seconds, that is)

It's easy and quick too… you can get out of bed, make it in your pjs, put it in the oven and by the time you're dressed and combed and have the bowls, spoons, and milk around, it's ready to pull out of the oven. Make it tomorrow morning!
Baked Oatmeal    … recipe taken from the Simply with Taste cookbook
1 cup brown sugar
1/2 cup butter, softened
2 eggs, beaten
3 cups quick oats
2 tsp. baking powder
1 cup milk
1/4 tsp. salt
Cream sugar and butter together until light. Then add the eggs and mix well.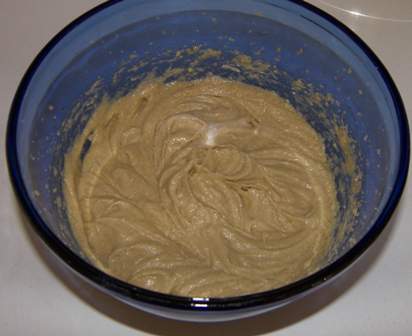 Add the baking powder and salt, then alternately add the oats and milk, mixing just until well blended. Pour into a greased 9×9 baking dish.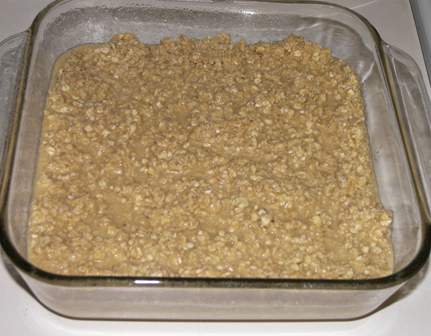 Bake at 350 for 30 minutes.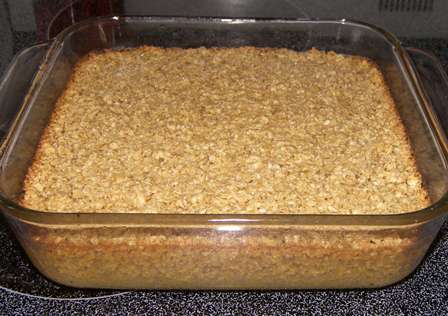 Serve this warm with milk for a breakfast dish or with ice cream for a dessert. When I got this out of the oven, Lexi thought I had made bars! We all really liked it, even the girls had seconds, which by the way is quite something… usually at mealtime we deal with "Do I have to eat all this?" instead of "Can I have more of that stuff?"
Up next on Kitchen Scrapbook: Super Pizza Subs (from the 2001 Quick Cooking annual cookbook, if you have it and want a sneak peek)