There was a time when the term "school morning" was a negative thought in my mind, mostly it was rushing sleepy kids through their morning routine. What changed was simple. I started getting them up 45 minutes earlier. Now, we have all the time in the world and it's so relaxing and peaceful. And here's another thing I love about that. Instead of deleting those 45 minutes out of their night, we tacked it on the other end. I love that hour or two at night when I still have kids, but am basically off duty.

Back to those extra 45 morning minutes… I don't use the extra time to feed them a full course breakfast. We do quick breakfasts. I'm going to make a list of what a common school morning breakfast would be around here, from most frequent to seldom.
– Toasted bagel with cinnamon sugar
– Toast, either with cinnamon sugar, honey, or jam on it
– Cold cereal with milk
– Banana with peanut butter
– Cuties oranges
– Baked oatmeal
– Yogurt
– Regular oatmeal with brown sugar & cinnamon
– Cinnamon rolls
– Pancakes thawed from the freezer
– Pop tarts
– Toaster strudels
– Cookies with milk
Now that I think of it, eggs & toast would be a quick breakfast too, but that's pretty much just a weekend thing for some reason for us. I mostly don't make their breakfasts, they usually get it themselves. I made it this morning though… Baked Oatmeal. They love baked oatmeal. I posted baked oatmeal back in 2008 and someone said in the comments that she microwaves it for a quicker breakfast. I tried it and it doesn't have the crunch, but tastes just as good. And it cuts 30 – 40 minutes down to 7 or 8 minutes. And that's why it made the "quick breakfasts" list.
I just switched to using the recipe below instead of the one from 2008 because I like this one better. They're very close, the only differences are that this one has cinnamon and a different salt quantity.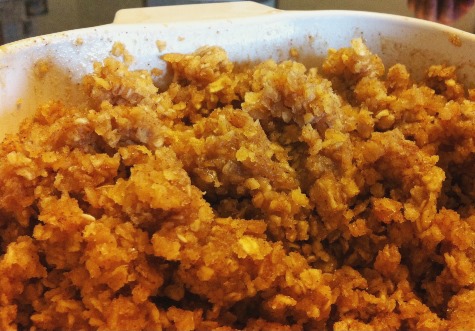 Baked Oatmeal …recipe from the Simply Wonderful cookbook
3 cups quick oats
1 cup brown sugar
2 tsp. baking powder
1 tsp. cinnamon
1 tsp. salt
1 cup milk
1/2 cup butter, melted
2 eggs, beaten
In a mixing bowl, combine all the ingredients. Spoon into a greased 9″ square baking pan. Bake at 350 for 40 – 45 minutes. Or microwave 7 – 8 minutes, stirring every 3 minutes. Serve warm with milk. Yield: 6 – 8 servings. You can also add fruit to it… apples are my favorite.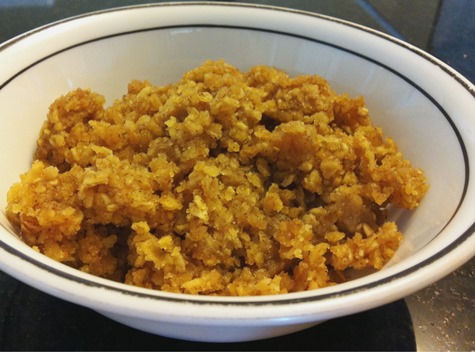 What do you serve for breakfasts? Do you have quick ideas that I missed up there?
And if you usually cook full course breakfasts, I'm impressed! I remember one time in my teen years, I stayed with my friends Sheila and Heidi overnight. Her mom cooked a big breakfast and then they had cold cereal as dessert… they didn't call it dessert, she just served it like you would dessert (cleared some main dishes and plates away and put cereal and bowls on the table). I still vividly remember how floored I was when the cold cereal appeared. I was so stuffed after that meal! My friend said that was a normal breakfast, but breakfast was the biggest meal of the day at their house. They were farmers.
These fresh fruit kabobs drizzled with chocolate are the perfect item for adding a bit of beauty and pizzazz to the table without a lot of time-consuming work. You can't beat that, right? So, keep it in mind next time you need to take food somewhere. It doesn't even require a fork so it works for "bring finger food" occasions. These particular ones were made for my husband Shannon to take to a company potluck at his office at Keller Williams Real Estate.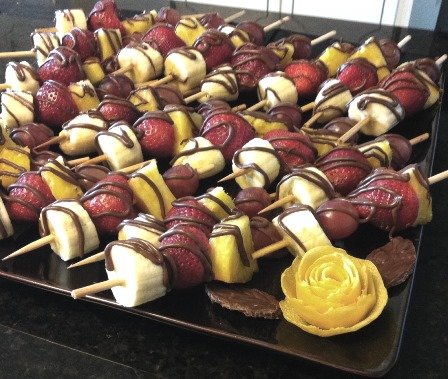 There is no recipe, just use any kind of fruit you want to… They all work great. Well, except apples. Apples sometimes split when you put them on the skewers. If you're using apples, the thinner the skewer the better. Just for the record, apples and chocolate go together awesomely! Is awesomely a word? I figure as long as you know what a word means, it doesn't really matter if it's technically not a word.

Chunk up/slice all the fruit that gets chunked or sliced. Take stems off of fruit that gets de-stemmed. Toss fruits that get brown with lemon juice (more on that later).
In other words, before I start threading them on skewers, I like to have them all ready to go.
Then, start poking fruit on until: 1. Fruit is gone, 2. Skewers are gone, or 3. You have the desired amount.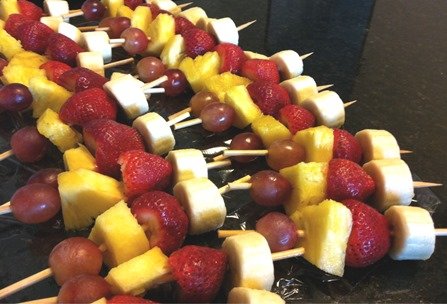 After the fruit is all on the skewers, put about a half cup of chocolate chips or candy melts in a sandwich bag, but don't seal shut. Put it in the microwave for 30 seconds. Flip it over and microwave it for 20 second. Work the bag with your hands and put them in for 10 seconds. Do this until all the chocolate feels smooth and no chunks are left.
I need to get back in my zone… that zone where I automatically remember to take pictures at each step! I was having too much fun and just kept rolling instead of stopping for pictures.
Now, you're ready to drizzle. Put the kabobs all really close together so less drizzle lands on the table. Snip a little corner off of the bag and just scribble back and forth over the fruit. Then immediately separate them or else the chocolate will harden and pull drizzles off of its neighbor.
Put them on a plate. Garnish if you want to.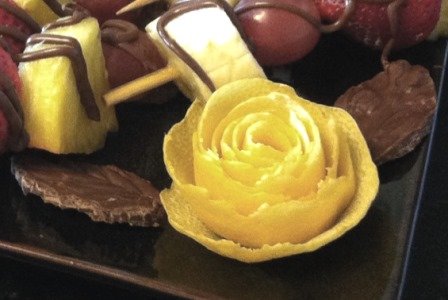 Here are tutorials on the rose and leaves, in case you want to make some:
Rose • Chocolate leaves
The rose tutorial is actually for making a tomato rose, but it's the same technique.
Now, about the bananas and keeping them from browning.
Lemon juice is the secret here. I did a little test where I checked them after 3 hours and after 6 hours. A little after the 6-hour mark, my girls came home from school and I let them eat my experiment for an after school snack… and then thought of it later that I should've tested the bananas longer, like 24 hours. But what I did learn is that lemon juice works its magic for at least 6 hours, and that was the info I needed because unless they have to set/freeze/marinate/etc, I rarely make things more than 6 hours ahead of time. Maybe that's because I'm a procrastinator.
So here we go, the experiment. The pictures above were taken right after I made it, where even a fresh banana would still be looking good. The pictures below were taken 3 and 6 hours afterwards.
3 hours after being tossed with lemon juice: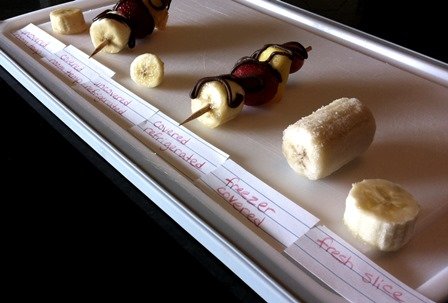 From left to right: uncovered room temp, covered room temp, uncovered refrigerated, covered refrigerated, covered frozen, and a fresh slice.
The fresh slice is NOT 3 hours old, it's just there for comparison. The frozen one is thrown in there for fun… it actually has no lemon juice on, it was peeled and put into the freezer right away and is probably more like 3 months old.
6 hours after being tossed with lemon juice:



The middles are starting to get a little brown, but are still fine.
What I was surprised was that between all the lemon-juiced ones, there was pretty much no difference! I'm glad about this tidbit because it gives flexibility. Here is a closer up. They all stayed firm too, no mushiness.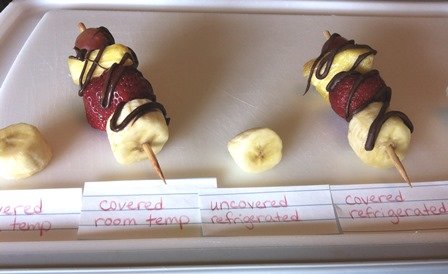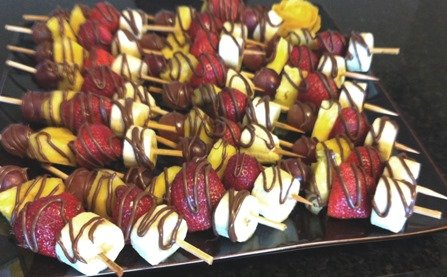 Here come the Holidays… make some of these pretty things!  It's a delicious, healthy snack to set out on the snack table (with the chocolate covered Ritz crackers, cookies, red-green-silver-foil-wrapped Hershey kisses, and party mix).
REESES PUFFS! Any 'amen!'s to that?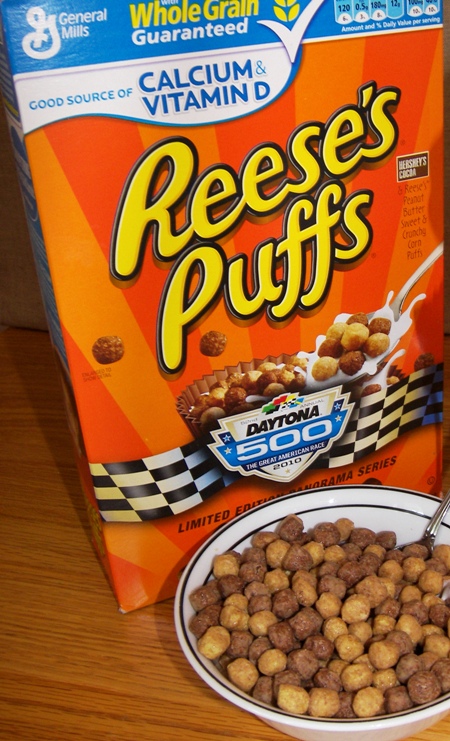 Whoever invented cold cereal with milk was brilliant. It's quick. It's good. It's healthy.
This post isn't going to have a recipe to make your own cold cereal, it's just a post about cold cereal. BUT, if you do want to make something as good as cold cereal to eat with milk, make this granola.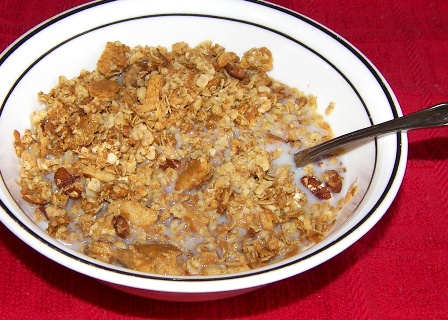 Hands down, the best granola I've ever had. Maybe it's because it has chocolate chips in it. Or maybe it's because it has all regular ingredients in it.
Anyway, back to rambling about cold cereal. I think cold cereal actually started with Mr. Kellogg and Mr. Post, but whoever is behind General Mills came up with the kinds that are the biggest hit in our family. A couple weeks ago, Kelloggs was on sale AND I had Kelloggs coupons, so I bought a bunch of Kelloggs cereal. Well, big mistake. EVERY single day, Tiffany asked for "Yucky Charms" (she can't say her L's) and Lexi asked for Reeses Puffs or Cinnamon Toast Crunch. We were all glad when it was time to get cereal again… welcome to our cupboards again, General Mills! Especially Reeses Puffs!
 We do also like Post Honeycomb, Kelloggs Fruit Loops and Big-bite Mini Wheats, Quaker Life and Cap'n Crunch, but not enough for them to be 'regulars' in our cereal cupboard. Give us Golden Grahams, Cinnamon Toast Crunch, Lucky Charms, and Resees puffs any day! Tiffany would eat cold cereal 3 meals a day plus snacks if I'd let her. And it really does make a great bedtime snack!
Anyway, I'm just curious… what kind of cereals are regulars in your cupboard? What do your kids like?
I've never made granola before. Or granola bars. They always call for bran or wheat germ and those are 2 ingredients that keep me flipping thro' the cookbook and thinking, "Well, I guess I won't make granola this time".  (*whisper* I've never even seen bran and wheat germ or know what they are.) So, I buy my granola at the bulk foods store (only on rare occassions because it's pricey) and buy my granola bars at the grocery store.
Then, just lately a few of my friends started raving about this granola and when I looked at the recipe, I was glad to see that it took 'normal' ingredients! So, I made some. It is SO good! Like one of my friends said, it's good at any stage of the making process… you can't help but sampling it here and there while mixing, baking, and stirring it.
Eat it with milk in it, put it on top of yogurt, eat it plain as a snack, or sprinkle it on top of a dessert.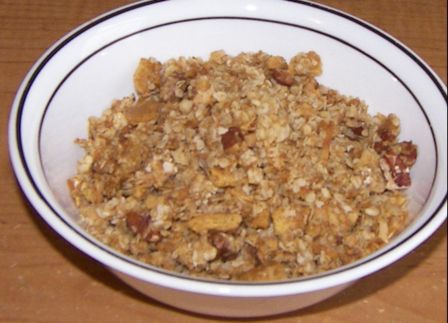 Granola
10 cups quick oats
3 cups graham cracker pieces (this was 1 1/2 packs of Honey Maid)
1 cup brown sugar
2 cups coconut
2 tsp. soda
1 tsp. salt
1 cup chopped pecans
3 sticks of butter (1 1/2 cups)
1 cup peanut butter chips (I tried some with chocolate chips… it was better

)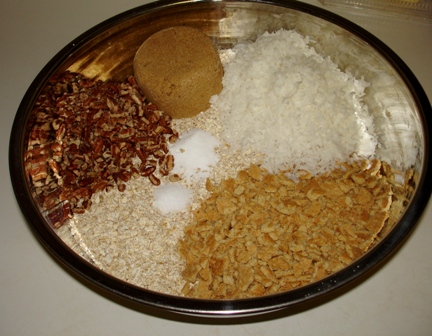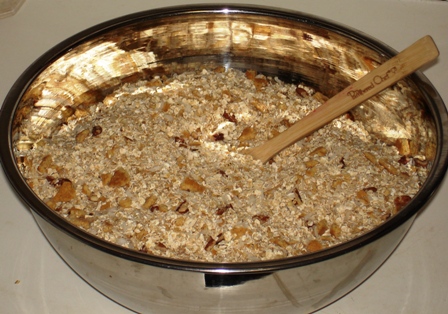 Melt the butter and mix with dry ingredients.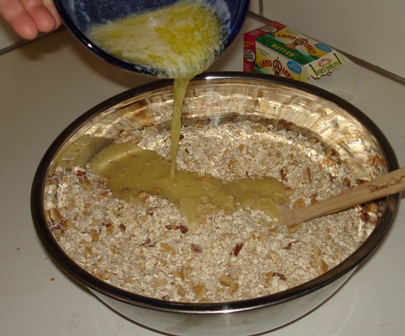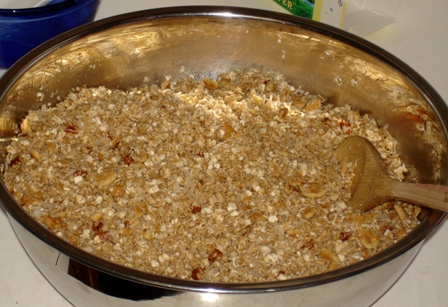 Divide between 2 large baking sheets. I did it on 3 baking sheets… the vertical one is chocolate chips and peanut butter chips mixed, the horizontal one in the back is peanut butter chips and the one in front is chocolate chips.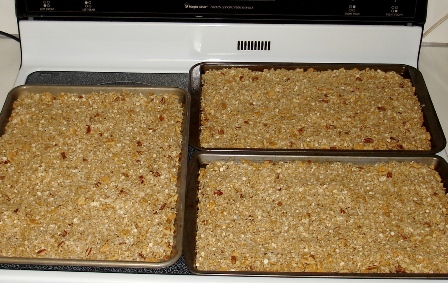 Bake at 300 for 40 min or until golden brown. Stir every 15 min the 1st 30 min, then every 5 min. Add peanut butter chips in the last few minutes of baking time.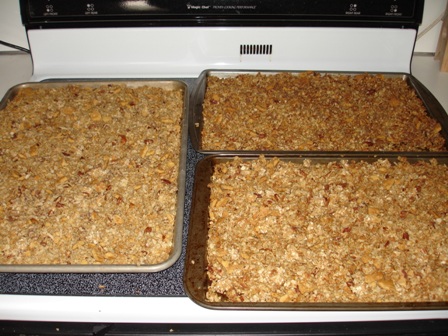 I sampled all 3 varieties and liked the one with just chocolate chips the best. I thought the next best was the one with chocolate and peanut butter chips mixed. The one with peanut butter chips was good too, but I will from now on just use chocolate chips and maybe put some peanut butter chips in too if I have some on hand.
And this is how I like to eat it the best: with milk and a spoon…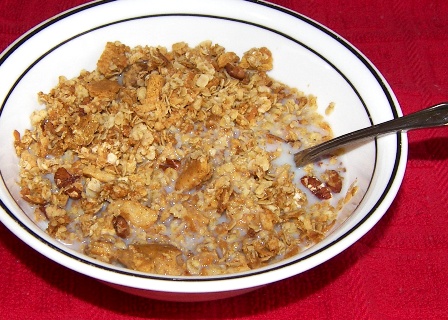 Other than the desserts and cookies, THIS recipe would have to be one of the best dishes on this site. And it's easy to make it a nice presentation too.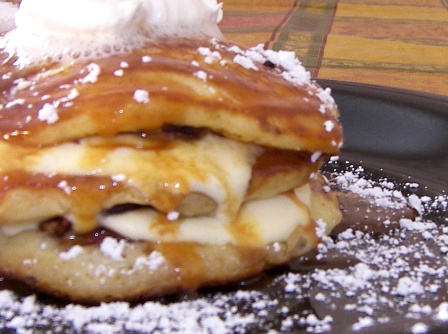 The last time I was at a Bob Evans restaurant for breakfast, I was looking at the menu and, as usual, everything was grabbing me. I always have that problem at restaurants. Sometimes it's so bad that after we've ordered and are waiting for our food, I forget which one of the 5 things I couldn't decide between that I actually ended up ordering. Anyway, when I saw these pancakes on the menu, the decision-making was OVER.
To make a long story short, I got hungry for these and decided to do a search to see if there was a recipe online. I found one at Meemo's Kitchen …this cooking blog has alot of recipes from restaurants on it! 
I didn't do any short cuts, in fact there are 3 recipes within this recipe! So, this is REALLY from scratch!

Caramel Pecan Banana Cream Cheese Pancakes …I think Bob Evans' and Meemo's name for them was a little different, but mine aren't EXACTLY the same, so I'll name them this.
Printable recipe for now.
2 cups vanilla pudding
2 cups (or 2 8 oz pkgs) cream cheese
Pancake batter
2 Tbsp. honey-roasted pecans
1 banana, sliced (So far, in talking about this recipe to my friends, there's been some opposition to the bananas… you know who you are! ;) They (the bananas) could easily be left out and it would not take away from the quality at all.) 
Caramel sauce
Powdered sugar
Whipped topping
I very seldom use instant vanilla pudding. Instead, I use the filling recipe that I use in peanut butter pie. I grew up with homemade pudding like that and there is just no other pudding that compares to it. So, I made this pudding, measured out 1 cup, added an 8 oz block of softened cream cheese, and whisked the mixture till smooth.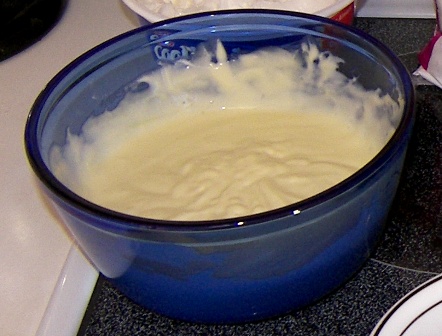 For the pancake batter, I used my regular pancake recipe here.
For the honey-roasted pecans, I took regular pecans, tossed them with some honey (approx 1/2 cup pecans w\ 1 Tbsp. of honey) and baked them at 350 for about 15 min.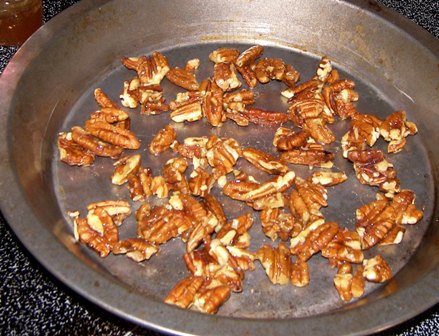 For the caramel sauce, I put 1 cup of sugar in a kettle (dry). Stir over medium heat and eventually it turns to a tan liquid! I should've timed it, I'd say it took maybe 7-10 minutes. After it's all liquid, add 6 Tbsp. butter and stir.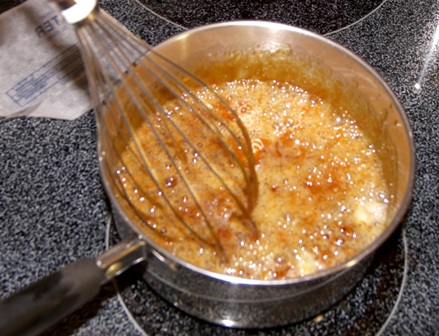 Remove from the heat and slowly stir in 1/2 cup heavy whipping cream. Whisk till smooth. Pour into a different container to cool. Note: That sugar is easy to burn! I made the caramel sauce twice because the first time, I stirred it intermittently while doing other stuff and burned it a little. I didn't know it was burned till I tasted it, it wasn't bad, it just had a tiny bit of a burnt flavor. The second time, it turned out perfect and was actually a shade lighter in color.
Now, the fun part… we've got it all ready to go here: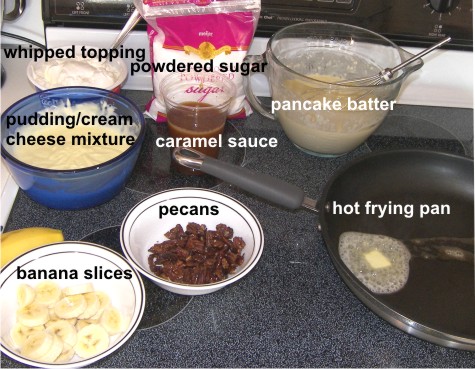 Pour batter into the frying pan like usual. I always do 3 pancakes in my frying pan because that's what fits the best. So, instead of a stack of 2 big ones like Bob Evans does, I made a stack of 3 smaller ones. And yeah, sometimes they get too big and run together, so my pancakes don't always turn out round. Put a few banana slices and some pecans on top.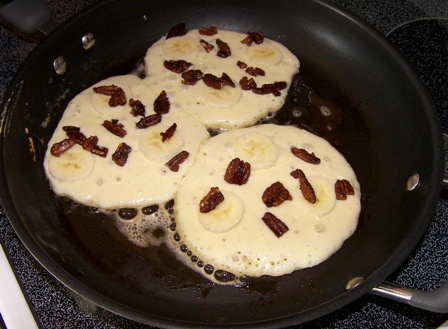 Flip pancakes as usual (and sometimes a banana slice may go flying off).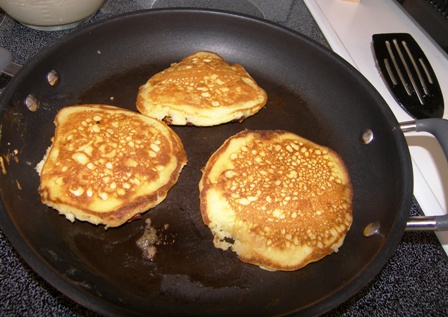 When done, put a pancake, bottom side up, onto a plate.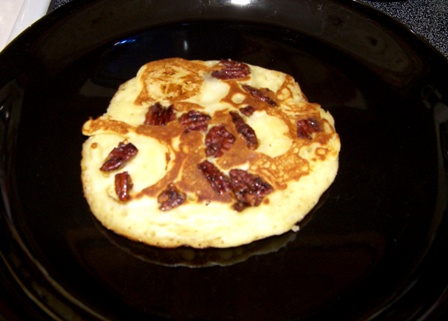 Spread a couple spoonfuls of the pudding mixture on top.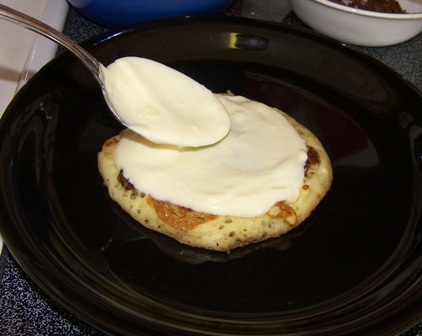 Put another pancake on top.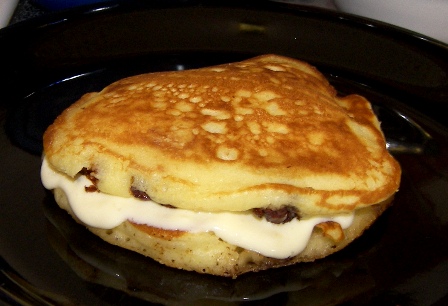 Spread some more pudding mixture on and drizzle with caramel.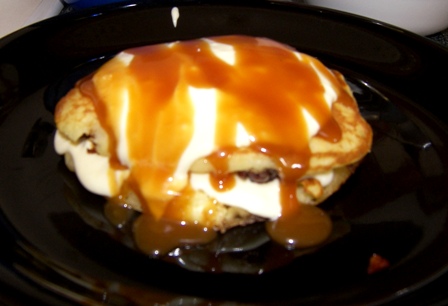 Put the 3rd pancake on top, drizzle with more caramel, sprinkle with powdered sugar,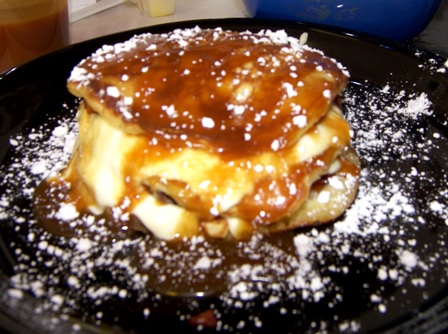 …and add a dollop of whipped topping.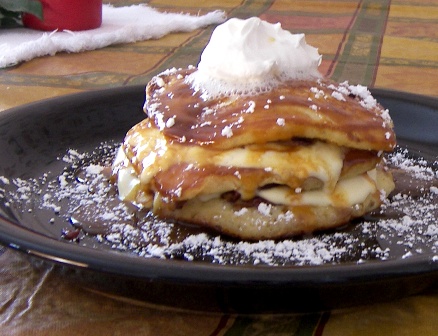 Mmmmm, I can't tell you how good this is! And it's very filling too! I didn't even eat lunch.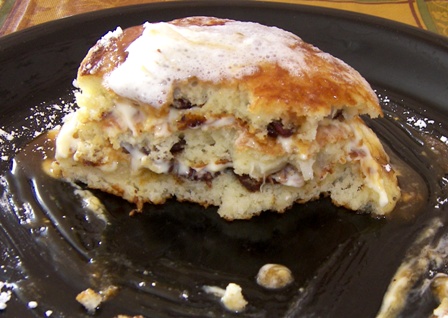 You've gotta try this! If it looks too complicated, you could buy caramel sauce, use regular pecans, and use instant pudding. But, it's so worth it to do it from scratch, especially the pudding!!!! (In my mind, I'm adding about 20 more exclamation marks about the pudding.)