Are Mondays crazy for you, too? They always are for me and I'm not sure why. Extra cleaning up from the weekend, more laundry, lack of energy? Anyway, today was one of them days and so the post I wanted to post this morning is happening now instead.
Speaking of Mondays, my family rarely gets anything special for supper on Monday evenings. In fact, I almost always make the same thing… fried chicken breasts and veggies and bread to go with it. That meal can be made from chicken-still-in-the-freezer to eating in under a half hour. That timing fits in well with my Monday schedule. Or lack of schedule… I don't want to give the wrong impression here.
Last Friday evening, we tried something new. My sister was here and my mom and dad were coming for supper, so we decided to get fancy with the rolls. And if they didn't turn out, it didn't really matter because our extra people for supper were comfy guests. And my mom always likes kitchen experiments anyway. I took 2 loaves of thawed frozen bread dough (does 'thawed frozen' make sense?) and split each loaf in half, making 4 equal 4ths (I think my English is having a Monday, too. 4 equal 4ths sounds weird).
4th #1: Divide it into 4ths. Divide each 4th into 3rds. Put 3 3rds each into 4 'holes' of a muffin tin. Did you at all get that? It should look like this:

 Should've rolled each ball a bit longer to get them more smooth, but they looked better in real life. At least I didn't notice the roughness. 
4th #2: This was the easiest one. Divide it into 4 balls. They seemed too big, so I pinched some off of each ball and gave it to Lexi to play with. So, now that the 4 balls are the right size, put them in the muffin tin. Then take a scissors and snip it almost the whole way thro', first one way, then the other way. It should look like this: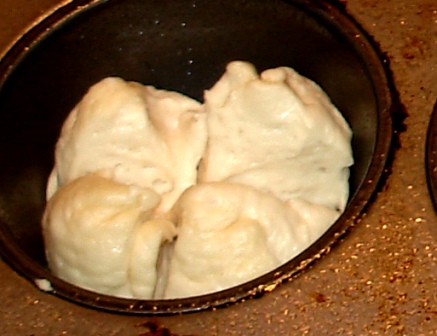 4th #3: You'll need a bit of help from 4th #4 for this one, so don't save it till last! Put the 2 together and roll into a 12″ circle. With a pizza cutter, cut it in half. Cut the one half into 4 or 6 triangles, then roll each one up starting at the wide end. Should look like this:

4th #4: Roll it out into a rectangle about 6″ x 6″ and butter it. With a pizza cutter, cut it into 4 strips. Then stack the strips on top of each other and cut the other way, making 4 square stacks. Lay each stack sideways into a muffin cup. Should look like this:

And now, you should have a total of something like this:

Then, let them raise for about 45 min…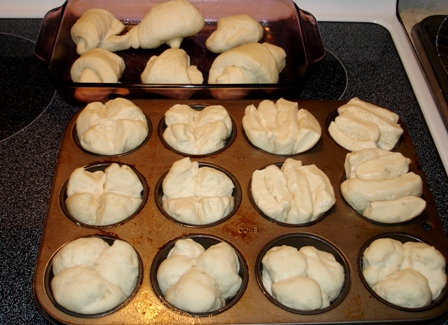 Bake them for 25 min at 350.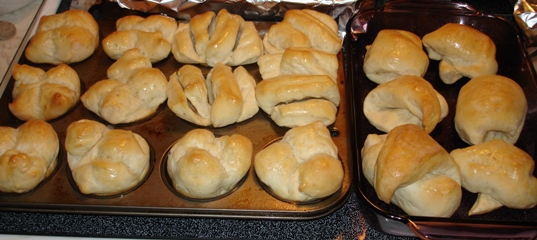 And you've got yourselves a fine assortment of rolls to pick from! Those stacked ones separated while baking, must've been because of the butter. Next time I'd skip the buttering. Lexi and Tiffany made the crescent rolls. The reason there are 6 crescent rolls and only 4 of the other kinds is not a thought-thro' culinary reason. It's simply because I'd have run out of room in the muffin tin and I only have one. They would've been a better size divided into 6ths instead of 4ths though. Some of them got pretty big.
They were fun to make. And it added more character to the meal. Ok, that may have bumped it up a level, saying a meal had character. The rest of the meal was glazed meatloaf, twice-baked potatoes in a casserole dish (instead of putting the potato mixture back into the shells), and peas. Our dessert was chocolate peanut butter milkshakes later in the evening.
Off-the-subject tidbits:
I'm still going to do 'Out of my Comfort Zone' posts, but they'll be more hit-n-miss now instead of weekly. Also, I figured out a way (um, after talking to my tech support husband… maybe that should say 'we' instead of 'I') to do printable recipes now, so one of these days, I'll start adding one to each post. And eventually making one for each recipe all the way back to the beginning. That last sentence makes me want to run and hide. Just kidding. It's fun.
I faithfully serve French bread of some sort whenever we have an Italian meal. The reason for that is because I serve hot bread or rolls or biscuits at every meal and that goes the best with an Italian meal.
Hmmm, that's weird, I just skimmed what I wrote and it's Italian and French and I'm saying it goes great together! I wonder what the French and Italian people would say about that theory! I've never been outside the US, except for Canada, so I don't know that much about other countries, except from what I've read or heard. My dream is to someday fly over to Europe and spend 2 or 3 weeks there, just seeing the sites and hearing the people talk (I love the sound of French, the little bit I've heard) and eat a REAL authentic Italian pizza and see the Swiss Alps and then sail back to America on the Queen Elizabeth or Queen Mary. I think about that dream every time I think about anything Europe.
Anyway, this has nothing to do with France and Italy! We're talking American-baked French bread from a grocery store bakery. Or worse yet, a popable can of French bread or Italian bread! I usually either do the popable can thing or take a bought loaf of French bread, cut it into diagonal slices, butter both sides and sprinkle garlic on one side, then broil both sides till they're toasted. I've been dodging around a recipe I'd had for awhile, scribbled in my own handwriting, not sure where it came from. I was always afraid it would be too soggy and then I finally made it Tues evening to go with our meal of tortellini and Italian mix vegetables.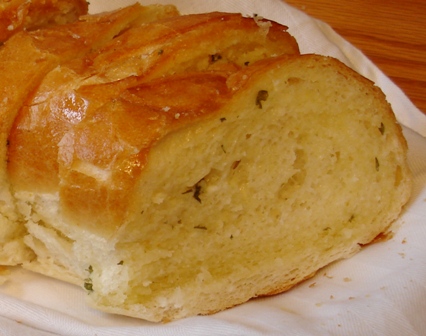 It was wonderful. And now I regret the last couple years of thinking about making it but saying "No, not this time."
Garlic Bread
1 loaf French bread
1/4 cup butter
1/4 tsp. garlic powder
1/2 tsp. parsley flakes
1/4 cup grated Parmesan cheese
Cut bread diagonally into 1/2″ slices, but not quite the whole way through.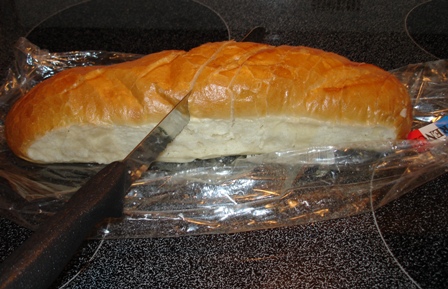 Soften butter and mix it with the garlic powder, parsley and parmesan cheese.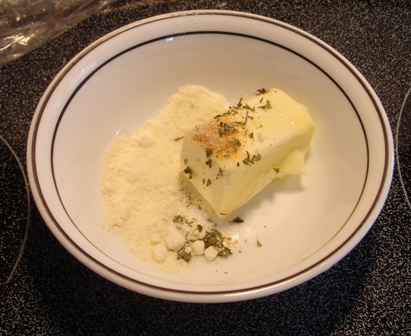 Spread on both sides of each slice of bread.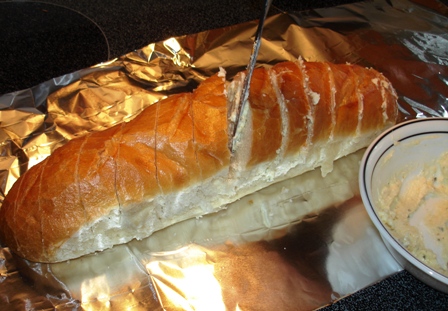 Wrap in foil.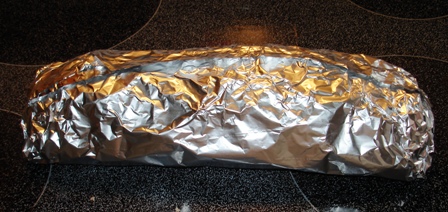 Bake at 350 for 15 minutes.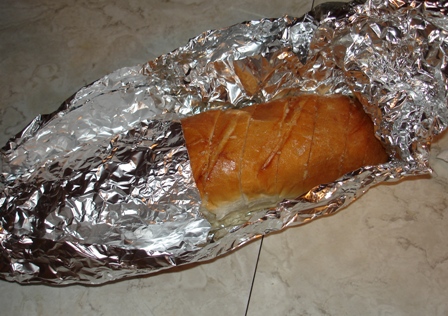 Unwrap and cut the pieces the rest of the way apart. Serve immediately.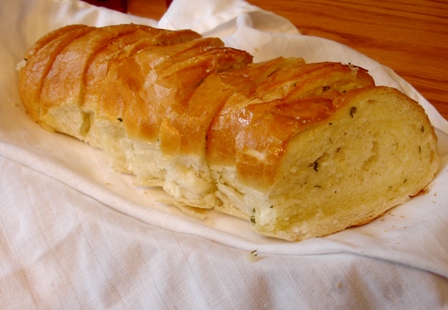 Man, that was so good! I could eat a piece or two right now! It was soft and buttery and chewy and looked good too. Sometimes I'll still broil individual pieces of garlic bread, but this will definitely be on the menu more often! It's so easy too! You don't have to remember to watch it like you do when it's under the broiler. I've wrecked many garlic bread pieces that way, or salvaged them by scraping off the burnt part. When I made this garlic bread, I made it a bit ahead of time and then threw it in the oven 15 min before mealtime.
I don't know who Katie is, but her scones are GREAT!!!! This was one of those recipes that I saw and right away knew I had to make. I got the recipe off of a new cooking blog I found last week: Kelly Cooks…and Other Amazing Feats. I had fun browsing thro' her other recipes too.
One thing that grabbed me about these scones was that they take fresh strawberries. We don't have fresh strawberries around here yet, but I've still been getting them regularly because they're perpetually on sale at the grocery store. And that has got to be one of my favorite fruits, especially cut up and mixed with sugar. As the season wears on and I've had lots of strawberries and foods with strawberries in them, I get over my craving, but for now, strawberries it is. Second to chocolate… which of course is a helpless non-stop year-round craving.
Katie's Strawberry Scones
2 1/4 – 2 1/2 cups all-purpose flour (depending on how ripe your strawberries are) I used 2 1/4 cups.
1/4 cup granulated sugar, plus extra for sprinkling
1 Tbsp. baking powder
1/4 tsp. salt
1 stick (8 Tbsp.) butter, chilled and cut into small pieces
1 egg
1/4 cup yogurt (I used strawberry yogurt.)
1/4 cup milk
2 tsp. orange zest  (I didn't have oranges on hand, so I skipped this.)
1 cup fresh strawberries, diced
Preheat the oven to 350 degrees and line a baking sheet with parchment paper. In a small bowl, combine egg, yogurt, milk, zest; whisk to combine thoroughly and set aside. In large bowl, combine flour, sugar, powder, salt, and whisk to combine. Using pastry cutter and two knives, cut butter into flour until all pieces are smaller than pea-sized. Add strawberries, and toss to coat.

Add wet ingredients to dry and mix in lightly with fork until dough just comes together. Turn dough out onto well-floured work surface and pat into large ball. Cut the dough ball in half.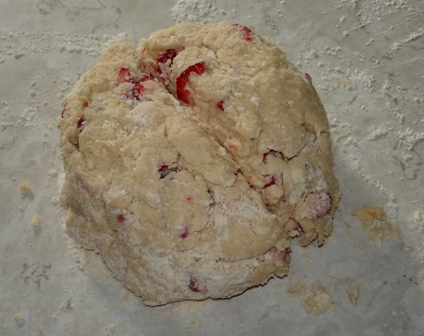 Shape half of the dough into a flat disk shape and cut into 8 slices. Place on baking sheet and repeat with other half of dough. Sprinkle tops of scones with sugar. I shaped the disks right on the baking sheet. One thing I wasn't sure about is if the wedges were supposed to be separate or still in a circle for baking. But it turned out great like this!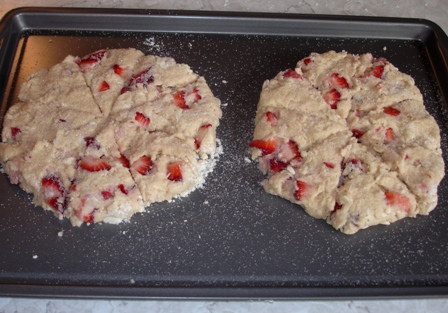 Place in the oven. Bake until slightly brown, about 25 minutes. Remove from oven and let cool on a baking sheet for 10 minutes.

Transfer to a wire rack and let cool.
I think they're best if you eat them while they're still warm. To serve, I cut one in half and spread butter inside, then put a dollop of whipped topping on top. Just delicious!!!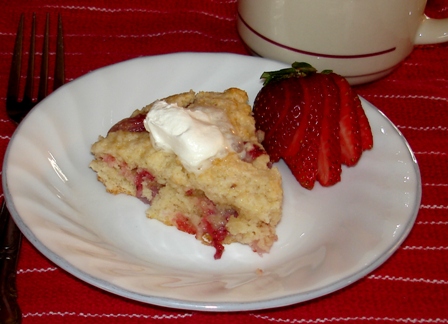 These got rave reviews around here from all of us! I'd like to experiment a little with using different yogurt flavors and maybe even different fruits, in addition to or instead of the strawberries. Also, I'll bet the orange zest really adds something too. I want to be sure and have that on hand next time.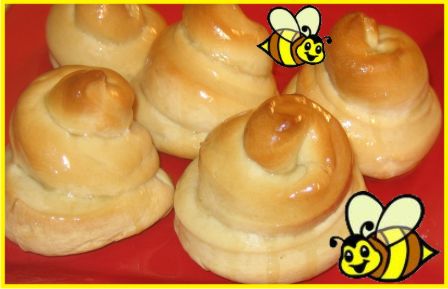 These buns have tempted me for awhile now and this afternoon, I finally gave in and made them. And it was just as fun as I thought it would be, they turned out just as cute as I expected they would be, and they tasted just as good as I hoped they would be! Things don't always go that well in my kitchen! With things that have no chocolate involved anyway.
I just realized that I LOVE honey. Almost every evening for supper, we have hot fresh rolls or bread of some sort and it's always good ol' strawberry jam that goes on the table. Well, these rolls are loaded with honey inside and out and they were so good! We may just deviate from the jam now and then. That reminds me of apple butter. We love apple butter too, my husband especially does. I'd like to find a good recipe and make it sometime, but I'm afraid it just couldn't measure up to the stuff we had at Der Dutchman's in Sarasota, FL. That's what I always think of when I think of apple butter. Actually, I also remember my mom making it when I was young, I should ask her for her recipe.
 Anyway, why am I talking about apple butter?! Back to the beehives…
Beehive Buns …taken from an Easy to Bake Easy to Make recipe card
1 envelope (.25 oz) active dry yeast
1/4 cup warm water (105F – 115F)
2/3 cup warm milk (105F – 115F)
1/2 cup honey, divided
1/4 cup (1/2 stick) plus 2 Tbsp butter, softened, divided
1/2 tsp. salt
3 1/2 -3 3/4 cups flour (I ended up using only about 3 cups because the dough seemed plenty stiff)
Dissolve yeast in warm water in a large bowl; let stand 5 min. Stir in milk, 1/4 cup honey, and 1/4 cup butter. Stir in salt and enough flour to form a soft dough. Knead dough on lightly floured surface until smooth and elastic, 6-8 min. Place dough in greased bowl, turning to grease top. Cover; let rise in a warm place until almost double in size, about 1 hour. Lightly grease baking sheets. Punch dough down; divide in half. Roll each half into a 6″x12″ rectangle. Cut 1″ strips from long edge of each rectangle.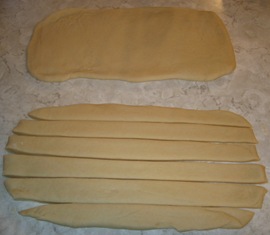 Curl each strip into beehive shape with a wide base and narrow top onto prepared baking sheet.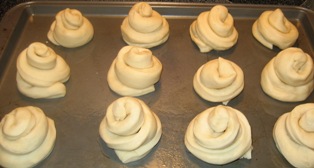 Cover lightly; let rise until almost double in size, about 15 min. Preheat oven to 375. Bake buns until golden, 15-20 min.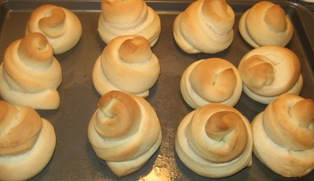 Combine remaining honey and butter in a small saucepan. Heat until butter melts. Brush warm glaze over buns. Remove from baking sheet; place on wire racks. Yield: 1 dozen.

These seriously are SO good! And it was nice to have a variation in shape and taste.
The rest of our meal was a rotisserie chicken (done at the local grocery store), carrots and dip, and oven-crisp potato wedges. The potatoes were also a new recipe, so I'll add them here too.
Oven-Crisp Potato Wedges …from a misc recipe card in my stash of loose recipes
1 1/2 lbs small red potatoes
1 Tbsp olive oil
4 tsp. finely minced garlic
3/4 tsp. coarse salt
1/2 tsp. paprika
1/4 tsp. freshly ground pepper
Preheat oven to 525. Quarter potatoes and place in large bowl.Drizzle olive oil over potatoes and toss. Sprinkle seasonings over potatoes; toss to coat well. Line a baking sheet with foil and lightly spray with vegetable cooking spray. Arrange potatoes on prepared baking sheet.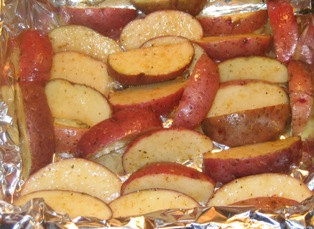 Roast for 20 min, stirring once or twice during cooking. Raise heat to broil. Broil potatoes until crisp, watching closely not to over-brown, about 1-2 min. Serves 4.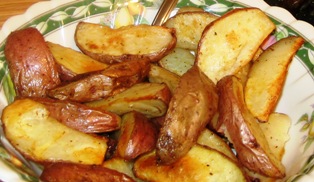 I made a half batch and I also baked them at a different temp because I needed the oven for the beehive buns too. I baked them at 375 for about 40 min, then broiled them while glazing the buns. Worked great.
We liked these potatoes ok, but they were nothing special. We ate them with ketchup. I'll probably make them again sometime, but they won't be on the 'definitely make again' list like the glazed meatloaf is… that meatloaf is probably the new recipe on this site that I make the most often. It is hands down the BEST meatloaf I have ever had… without the carrots, that is!
Talking about the Red Lobster biscuits here. I tried the recipe from Heidi and it beat the other one! Those were EXACTLY like the ones at Red Lobster. It does have twice the butter though too, so I'm sure that helps! Freida, you've gotta try these sometime. I think the secret is (besides the extra butter!) beating the dough with a wooden spoon for 30 seconds. Let me tell you, that's HARD work! But I could notice a big difference after I did that… it was much fluffier.
So, here it is, the biscuits that make you think you've got a seafood dinner coming up next. But then you're glad after all that you are in the comfort of your own home when you jerk back to reality as your 22-month-old spills soup on her lap.
Red Lobster Biscuits
2 cups Bisquick
1/2 cup shredded cheddar cheese
2/3 cups milk
1/4 cup melted butter
1/4 tsp garlic powder
Mix Bisquick, cheddar and milk into soft dough. Beat w/ a wooden spoon for about 30 seconds. Add melted butter and garlic powder. Spoon onto greased cookie sheet. Smooth down tops. Bake for 8 to 10 min at 450 degrees.
While baking, melt butter in pan and stir in garlic powder. When done, brush butter on top and serve hot.
Heidi adds "This is how I have it written out, so I'm guessing you do the butter and garlic powder twice. I don't know, its been so long since I have made them. I'm going to try them again and see, but I guess if you think that sounds like a lot of garlic, I would leave it out when I brush the butter on." I did both the butter and garlic twice (once mixed in the dough and once brushed on top).

Thanks Heidi! And Freida!