You can do so much more with food than just eating it. I mean, yeah, eating is usually the end result, but how about having a little fun first? 😉 It comes naturally, really. Kids do it without being taught… I remember using Bugles for fingernails, biting eyes and a mouth out of a round slice of bologna and using it for a mask, making roads with stirred up ice cream, shooting baskets with popcorn or M&Ms (in which the basketball net is your or your sibling's mouth), and best of all was peanut butter playdoh… you could form a bowl and spoon and peas in the bowl, and then actually eat the 'peas', and well, eat the spoon and the bowl, too.
Now, I play with food in a more grown-up way. So does my mom. She made garden meatloaf a couple weeks ago for a group of school children.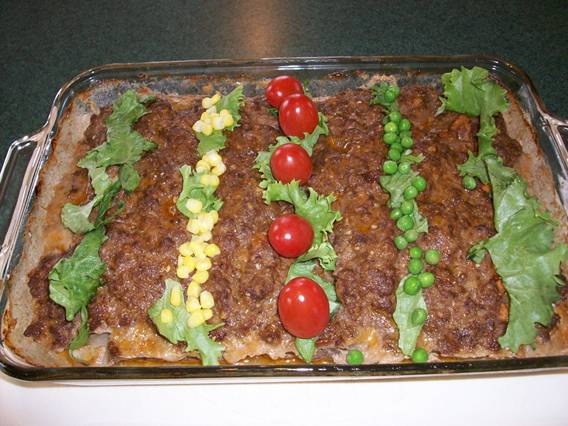 The middle 3 rows are obviously corn, tomatoes, and peas. The 2 end rows are potatoes and carrots, which are there, but underground, of course.

She made sure to put a potato and a carrot against the edge of the pan so you could see it from the outside. And that's not all… she put in mushroom pieces and the white ends of green onions and told the kids to look for slugs and worms. They had a heyday, digging through their meatloaf.
She also made bird-shaped dinner rolls, which were also a real hit.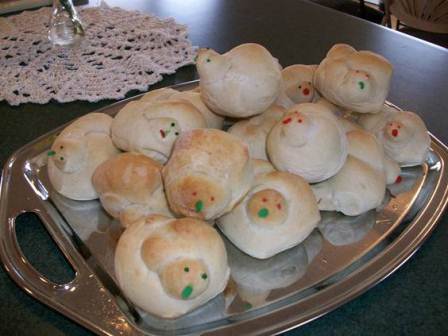 When Mom emailed these pictures to us girls, my sister Jan wondered if she had taken progress pictures. I thought that was a bit strange that Jan would need progress pictures because she has proven herself quite capable of creating in the kitchen with no directions (more on that later). Mom didn't have progress pictures, so, Jan, this portion of the post is just for you. Awww. 

Roll a rope about 7″ long. Tie it in a knot. Fan out one end and make little snips for tail feathers. Put a sliver of almond in the head for the beak and cookies decorations or bits of raisins or something for the eyes… I used cloves.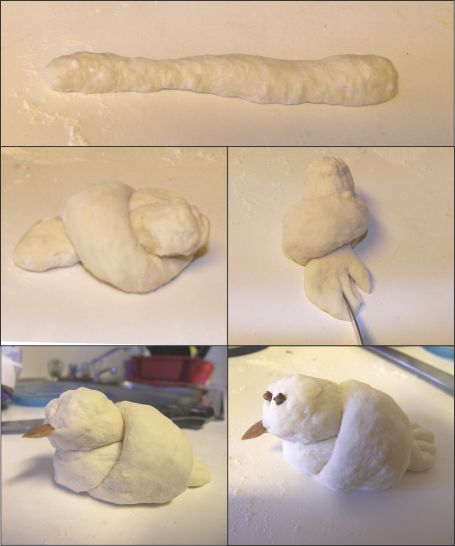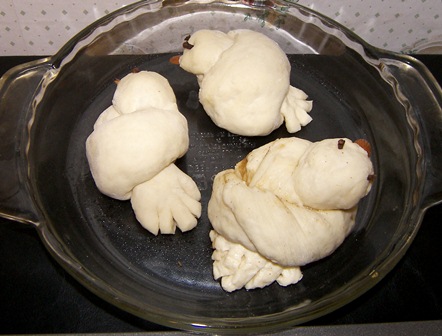 Let them rise and bake them. And TA-DA! fat little birds awaiting butter and jelly. Ok, that may be an unappetizing choice of words.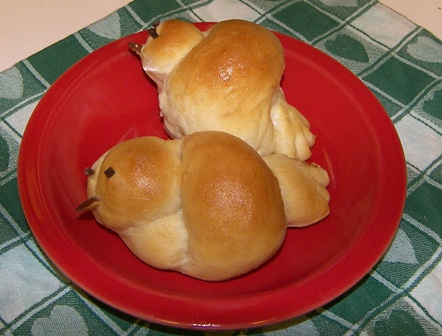 If you notice that the one bird (lower right in the picture with 3 unbaked in a pan up there) has some brown on it… I was making mini cinnamon rolls with this same bread dough, so I made a cinnamon roll bird by rolling the dough extra thin and into about a 4″ wide strip, spreading on butter, brown sugar, and cinnamon, rolling it up, cutting about 7″ off, and knotting it the same as the rolls above. Then, glaze it.
———————————————————————————————————-
Another Spring thing we did was Bird Nests. This portion should be a Cooks in Training post, since my little cooks did these. Melt 1 cup of chocolate chips with about 1/2 cup of peanut butter and mix it with 2 cups chow mein noodles. You can either spoon them onto a plate of some sort and then make a little indent for the eggs to go in, or you can do it like the girls did and put them in little containers to keep them round. They put them in the freezer for about 10 minutes to harden the chocolate, then popped them out of the container with a spoon, put eggs in and put a chic— oops, I mean, a BIRD on top. Really, who ever heard of a little yellow chick sitting on a nest… of COURSE that's a canary!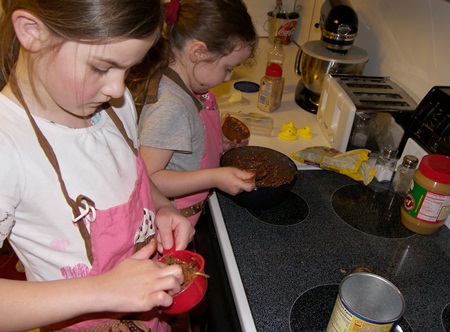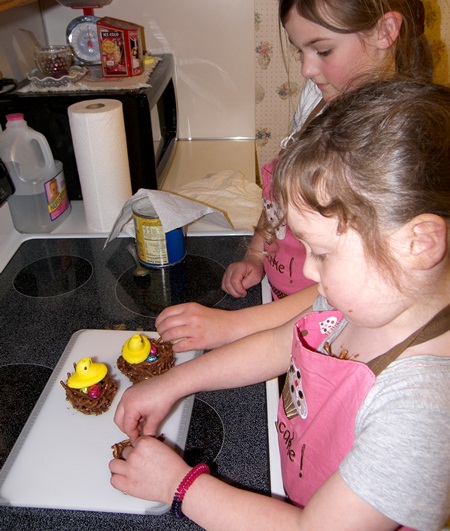 Uhhhh, is that what I think it is in Tiffany's apron? How did part of her nest get there?!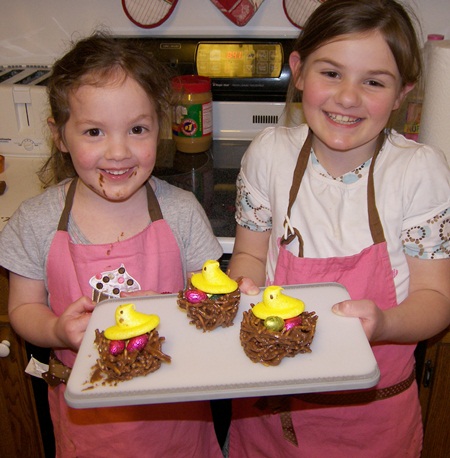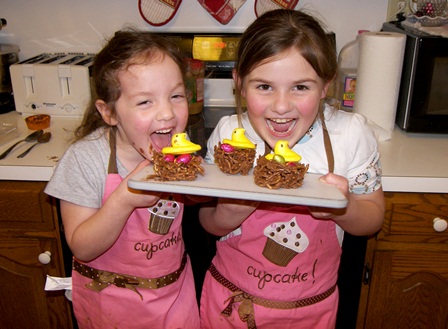 Then, they took them in the dining room to eat some and Lexi in a very excited voice said, "Mom! Come look! If you'd ever make a river cake with beavers, this would make a PERFECT dam! See? Doesn't that look just like a dam? All I did was flipped my nest upside down!" So, there you go… an idea for all those of you out there who are planning beaver cakes.

 Then, Tiffany flipped hers upside down on her chic-, uh, canary, and said, "Or, it would make a good hat too." I think it looks more like a turtle shell, considering the size ratio of hat to bird. Wow, the possibilities are endless with this chocolate chow mein noodle combo! Ha.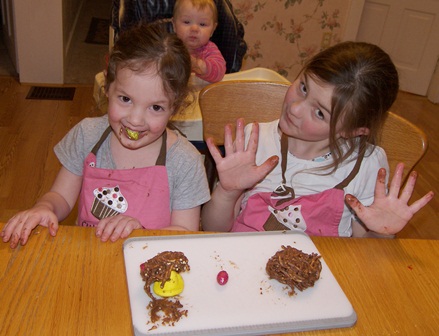 It tastes really good too. Could forget about the whole nest thing and just make these things and drop them on wax paper until they harden and you'd have a yummy snack. I'd double the amount of chocolate and peanut butter for that though. Meanwhile, Megan sits in her highchair, healthily eating peeled apple chunks.
—————————————————————————————————————–
Now, I want to add one more thing yet, even though it has nothing to do with Spring. It does, however, have to do with my sister Jan (who I mentioned up there) and playing with food (which I mentioned up there).  
Once upon a time, Jan won a contest. It was a Make Real Food Look Like Something Else contest from a few years ago on my cooking blog. If you feel like checking out the entries, here's the link: Contest
Jan won it fair and square, I might add… no rigging of votes by her big sister.
Here was her entry: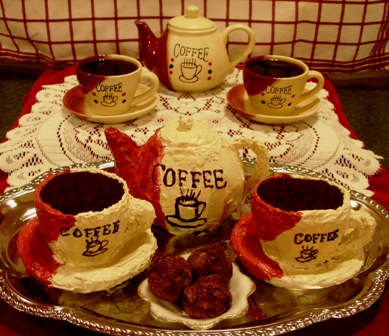 She has that miniature tea set  (in the back) as decor in her kitchen and made a little knock-off set from it. It's all cake and frosting except the 'coffee' is chocolate syrup and the cup/pot  handles are piped chocolate covered with frosting. She had some truffles on hand, so she put 3 on a plate to go with the coffee. So, this lovely detailed 5-piece tea set coming from a lady who sees bird-shaped rolls and asks for progress pictures?! C'mon, Jan!

As I was looking at these contest pictures again, I saw this, so I'll throw it in here because it DOES actually have to do with Spring. You could serve this for dessert at your garden-themed party…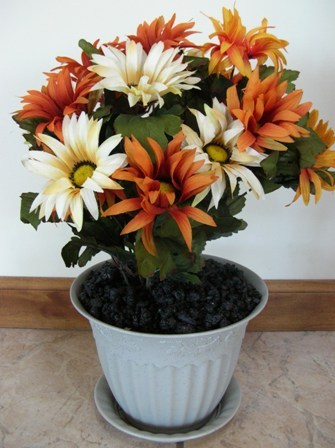 Dirt pudding, in which one of the ingredients is crushed Oreo cookies. I think this entry was submitted by Lavonne.
———————————————————————————————————————————————————————————————————————————————————————————————————————————————————————————————————————————————————————————————–
In other news, not really related to anything, but just something I'm excited about… I get to make a Lightning McQueen birthday cake tomorrow afternoon! I found this post with directions how to do it. 😉 The one tomorrow will have cake under the racetrack and maybe a couple other differences. We'll see how it all turns out, but the thing with having made it before is that I can learn from my mistakes.

Ideally, I'd plan ahead and make Easter food to feature BEFORE Easter, huh? Well, sigh, that didn't really happen this time.
I forget where I saw these little rolls… it was online last year sometime. The reason these are called an Easter snack is because they're meant to symbolize the empty tomb. It's pretty neat how it works. You wrap a marshmallow inside a crescent roll and while it bakes, the marshmallow melts and lines the inside of the crescent roll, leaving it empty inside!
I don't have an actual recipe, but my little cooks will show you how it's done…
Unroll refrigerated crescent rolls and separate into triangles. Butter the trianges.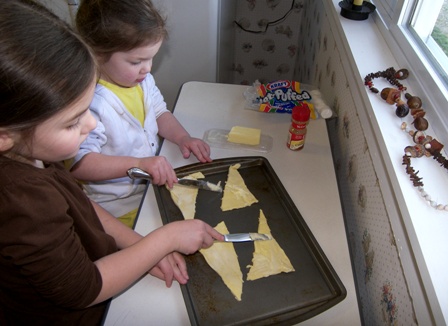 Put a marshmallow on each crescent roll and sprinkle with cinnamon.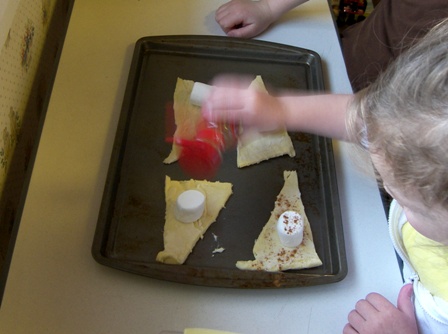 Fold the dough over and around till the marshmallow is all enclosed. Pinch seams to seal.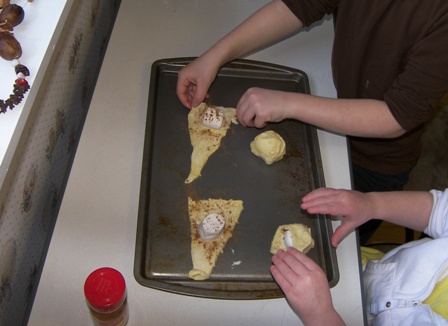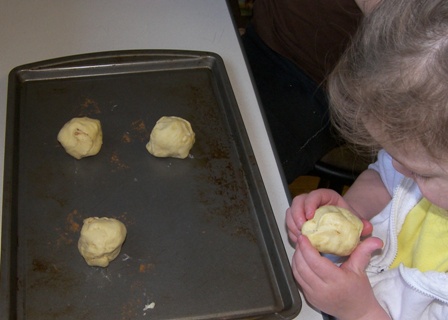 Bake at 375 for 12 minutes. And this is how they look! A couple of them were open, not sure if it was supposed to be like that or if the seams weren't pinched shut well enough.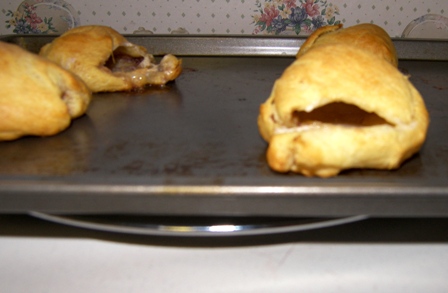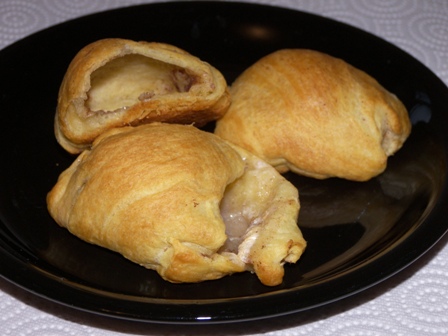 I hope you all had a happy Easter. We did. It started with an outdoor sunrise service at church. It was a perfect Easter morning… clear skies and a beautiful sunrise. The coffee, hot chocolate, donuts, and campfires were a nice addition too.

He is risen! Hallelujah!
When it looks like this outside,

it oughta look like this inside: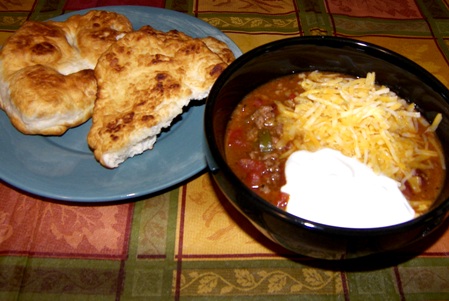 "Huh?! Shouldn't it be chili soup and cornbread?" you say.
Nope.
I do like chili soup with cornbread too. But not nearly as good as chili soup with fry bread!
I grew up with that combo. 'Chili soup and fry bread' was like 'peanut butter and jelly' or 'cake and ice cream' or 'donuts and coffee'… where one was, it was a given that the other would probably be there too. I wonder if my mom grew up with the chili-soup-and-fry-bread combo too. The reason I wonder that is because my fry bread recipe comes from my aunt Dar. She gave me a little collection of recipes when I got married and this was one of them. Aunt Dar and my mom are twins, complete with rhyming names… Darlene Fay and Marlene Kay (just a little tidbit from my family tree).
Navajo Indian Fry Bread …I'll bet you've got all the ingredients on hand for this.

Printable recipe coming soon
4 cups flour
2 tsp. salt
2 tsp. baking powder
1 1/2 cups warm water
Mix by hand. Set aside in a covered bowl for a few hours. Take out small bowl of soft dough and, with hands, stretch and flatten into shape of a pancake, round and flat. Melt 1 cup of shortening in frying pan. Deep fry at 375 degrees.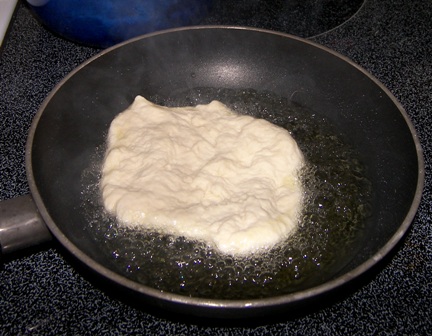 When it looks likes this,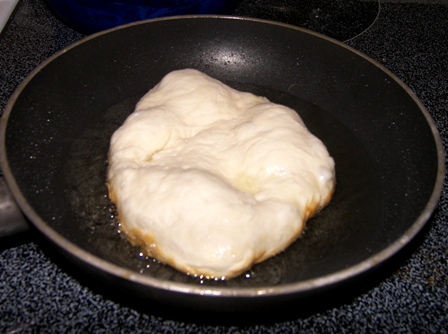 flip it over, browning on both sides.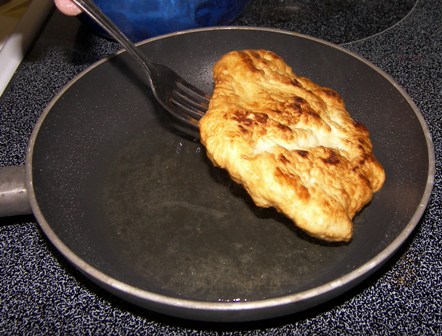 Makes 8 pieces, about 4″ in diameter. This, by the way, is a little saute pan. I only made a half batch of fry bread because they don't make good leftovers, so I just used a little pan. Another really good thing to do with this fry bread is to coat it with cinnamon sugar as soon as you get it out of the frying pan. Would make a good breakfast side dish or an after school snack. Yum!
HOT Chili Soup …as in spicy. This recipe did not come from a cookbook. This is from my kitchen, exactly how I like chili soup… 
Printable recipe coming soon
1 lb. ground beef
1/2 of an onion, chopped
1 28 oz. can diced tomatoes
1/2 cup water
1 Tbsp. flour
2 Tbsp. brown sugar
1/4 cup ketchup
1 16 oz can hot chili beans, juice and all, do not drain
2 tsp. chili powder
1/4 cup canned hot jalepenos, chopped
several shakes of Tabasco sauce
Brown beef with onion. Stir in rest of ingredients.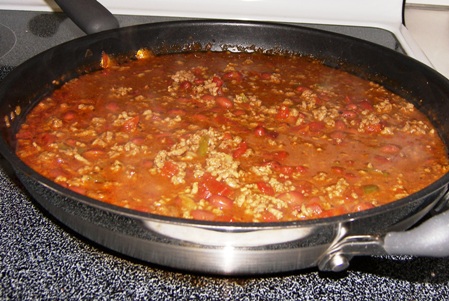 Simmer, covered, for 30 min. Serve with sour cream, shredded cheese, and FRY BREAD.

You could adjust the spiciness of this to your liking, maybe you don't like your nose to run while you're eating. This isn't very juicy. Or brothy. Or whatever you call it when it's chili soup. That's how I like it. You could always add more diced tomatoes or tomato juice.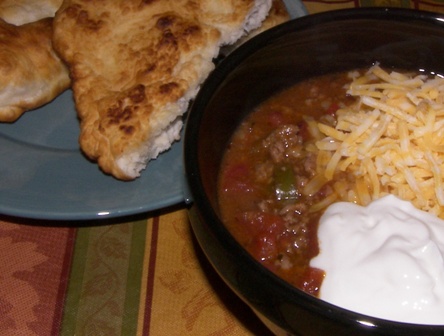 As I was saying in the last post, we had breadsticks with our ham meal that was featured and they went into the 'don't make again' department.
And as I've said hit-n-miss in previous posts, me and making yeast breads from scratch don't go together too well.
I don't know, do you think those 2 facts had anything to do with each other?
Parmesan Breadsticks …recipe from an Easy to Bake Easy to Make recipe card
Printable recipe
3 cups all-purpose flour
1 envelope (.25 oz) quick-rising yeast
3/4 tsp. salt
1 cup warm water (120F – 130F)
2 Tbsp. olive oil
1 large egg white, lightly beaten
2 Tbsp. grated Parmesan cheese
Combine 1 1/2 cups flour, yeast, and salt in a large bowl. Mix water and olive oil in a small bowl; add to flour mixture. Beat w\ an electric mixer on low speed until moistened. Beat on medium speed until well blended, about 2 minutes. Gradually add remaining flour until a soft dough forms. Turn dough onto floured work surface. Knead until smooth and elastic, about 6 minutes.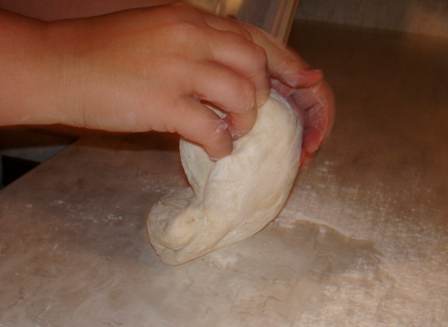 Cover; let rest 10 minutes. Coat 2 large baking sheets with cooking spray. Divide dough into 16 equal pieces. Roll each piece into a 12″ rope. Place on prepared baking sheets.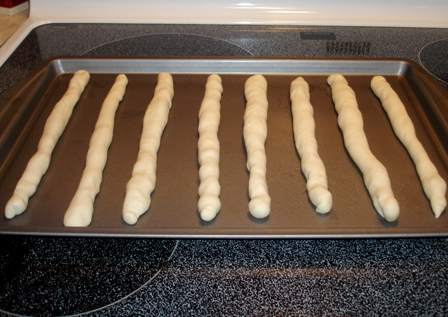 Cover; let rise until almost double in size, about 20 minutes. Lightly brush breadsticks with egg white.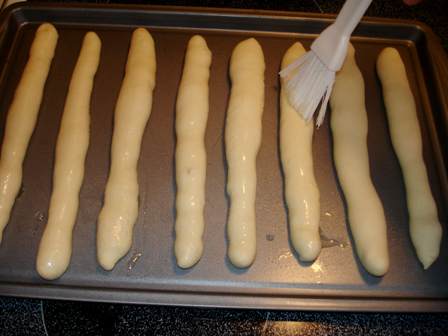 Sprinkle with Parmesan cheese.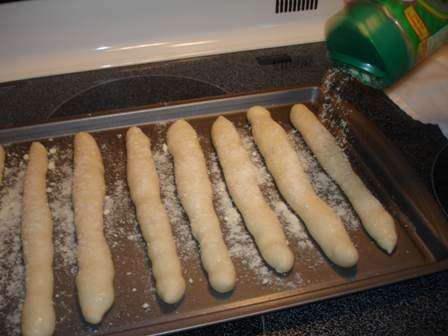 Bake at 400 until lightly browned, about 15 minutes. Transfer to wire racks to cool completely. Makes 16 breadsticks. I made an entire batch of 16 breadsticks and put the other half (unbaked) in the freezer to see if it works to get them out, thaw them, let them rise, put egg white and Parmesan on them and bake them for fresh breadsticks at another meal.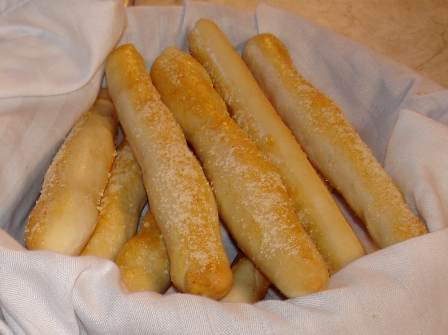 Ah, don't they look just delicious?! Well, they're not. They were dry and not very flavorful and you could smell the olive oil.
Soooooo…
After we were done eating, while I was cleaning up, I made the rest into croutons. I think there were 4 or 5 left over out of 8. I cut them up into chunks with a scissors…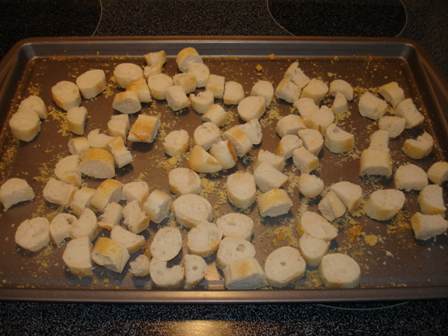 then added about 1/2 tsp. of Italian seasoning and a couple shakes of salt to 1/4 cup melted butter and poured it over the bread pieces and tossed it till they were all coated.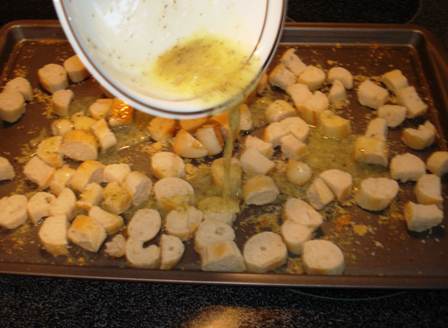 Then I baked them at 400 for 10 minutes, turning them over once during baking.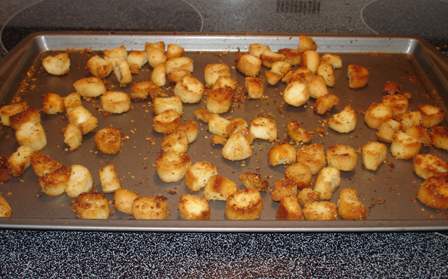 Mmmmm! They were great! Probably the BEST croutons I've ever had! Kind of a roundabout way of making them though. Maybe they were so good because I may have gone a little overboard on the butter. And what isn't good, laden with butter?!
Oh, and by the way, those extra breadsticks I put in the freezer, you know, the other half of the batch? Someday, I'll get them out, thaw them, let them rise, put egg white and Parmesan cheese on them, bake them, chunk them up, drown them in butter and Italian sesoning, and eat them on a salad or in soup. Or just plain.
I keep up with about 45 blogs via my Google Reader, but I'm slipping behind now and there are 73 unread posts. They keep faithfully updating (as opposed to me) and I only check them now and then. I do keep up with Pioneer Woman though, no matter how busy I am. And no, it's not just so I don't miss when she's giving away a big beautiful KitchenAid mixer in the Cooking part of her blog!
Thanks for all your tips on the whoopie pie filling and I'm glad to know that a few others make more filling than the recipe calls for.

I wasn't sure if you'd agree when I said that's what I'm going to do from now on or if you'd have fits at all the extra fattening unnecessary filling that would make.
Also, Lorinda (Hi!, by the way. Glad to see you on here!), you said you're experimenting with homemade pizza and wondered if I have any recipes on here. I do have one recipe on here: Saturday Night Pizza. The crust is homemade and is just tops! One thing I don't do (yet) is make my own pizza sauce. I have a friend Linda who is known for her good pizza sauce, so maybe I'll ask her for her recipe and start with that one, then try a few others. So far, I'm just buying Ragu pizza sauce from the grocery store.
Now, for the breadsticks. This is one of those recipes that I made awhile ago, featured here, and didn't like it how it was and said, "Next time, I'm going to…". So, here is 'next time' and the breadsticks were much better AND easier and faster! These are the breadsticks I had pictured with the glazed baby carrots and the zesty mozzarella chicken.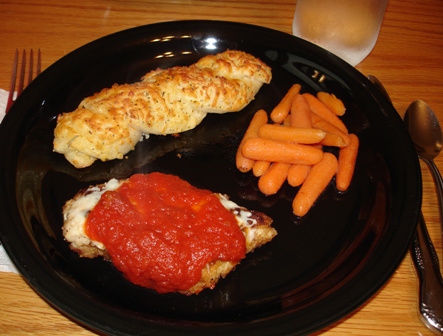 Italian Breadsticks
1/2 cup shredded mozzarella or Italian blend cheese
Italian seasoning
1 can (11 oz) refrigerated breadstick dough
1 egg
1 Tbsp. water
Preheat oven to 375. Spray baking sheet with cooking spray. Unroll dough; separate breadsticks. Cut each strip in half crosswise. On a lightly floured surface, with floured fingertips, twist the 2 halves together. Put the breadsticks on the baking sheet and press down on the ends to prevent unraveling.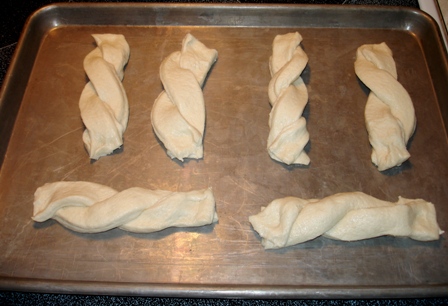 Beat egg w\ water. Lightly brush tops of breadsticks with egg mixture.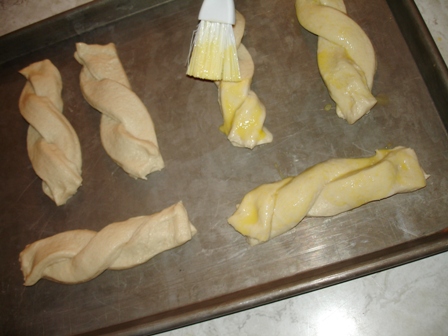 Yeah, I know, the picture is crooked. That's because I was holding the camera with one hand and brushing with the other hand.
Sprinkle with cheese and Italian seasoning.

Bake until golden brown, about 15 minutes. Serve warm.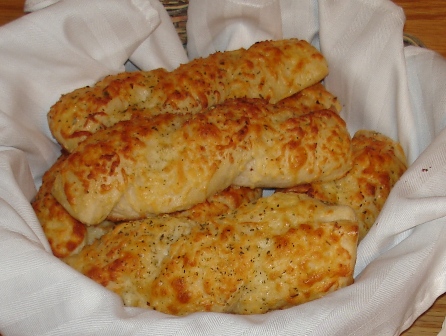 I was just thinking, I wonder how it would work to put melted butter on in place of the egg and water. Would be easier and seems like it would taste at least as good. I'll have to try some of each like that next time and compare them.