Her name is:

She's not sugar-free… she's full and overflowing with sweetness.
Here she is…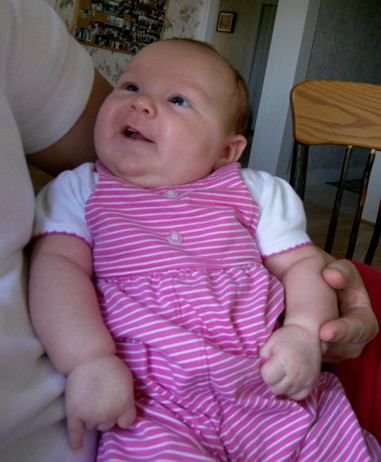 She's a bundle of pudge and coos and smiles and wiggles… well, ok, and some crying and blowouts too.
Lexi & Tiffany adore her. Here they are when she was brand new…

And here they are just recently…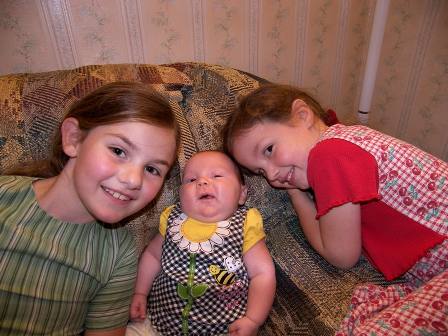 Megan's middle name is Lydia. Megan Lydia. One reason we wanted to use it is for a namesake of a dear grandmother… Shannon's grandma's name was Lydia. Another reason we wanted to use it is because on the day we found out that we were expecting Megan, we also got the news of Grandma passing away. It was a life and a death notice all in one day. Bittersweet.
Speaking of Grandma Lydia, the ABC blanket under these cupcakes was hand-quilted by her for Lexi (who is now 7). Someday, I'll probably have trouble deciding whether to pass it on to Lexi who it was made for or Megan who is her namesake.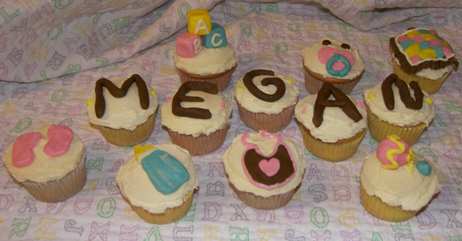 Sleeping… she goes 5-hour stretches at night and a few times has slept ALL night! Not bad for 2 1/2 months! I'm quite proud of her!
I wish somehow I could put a cyber-squish on here so you could hold her for a minute, especially for my mom who lives miles away and hasn't gotten to cuddle her for awhile. 😉
She weighed 7 lbs 12 oz at birth and tipped the scales to 13 1/2 lbs at her 2-month check-up… no wonder she grew out of some of those adorable little clothes before I got to wear them on her enough!
And that's our Little Cupcake. A Little Cupcake that is to blame for my blog suffering over the last year. A Little Cupcake that's pretty much the boss around here, but we're fine with that because we think she's the darlingest thing around.
Speaking of cupcakes, here are the real ones up close… decorated with fondant and frosting. My little Cooks in Training helped make the stuff on top. We sat down and had what Lexi called a "girl's meeting" to discuss what to put on top of the 12 cupcakes and the name and these 7 things is what we came up with. As we were making the things, Tiffany (4) kept calling the fondant Play-doh. And when she wasn't calling the fondant Play-doh, she was asking if she could eat some more frosting. 
Hopefully, you can tell what they all are, but just in case you can't, they are: a bib, a blanket, a bottle, baby feet, baby face with a pacifier, rattle, and baby blocks.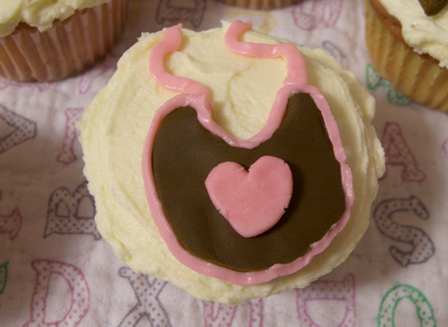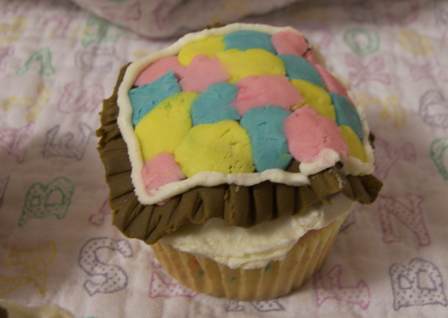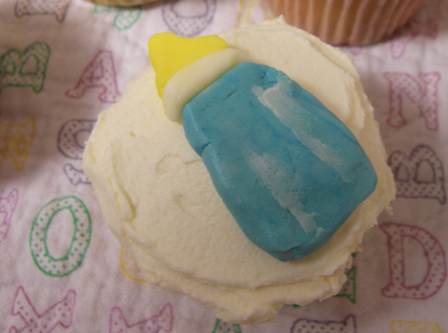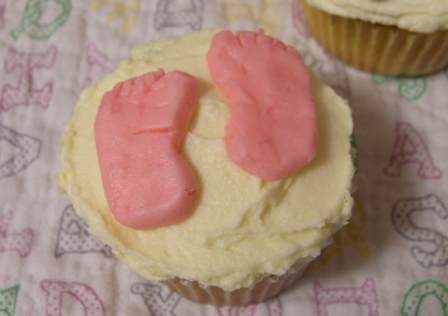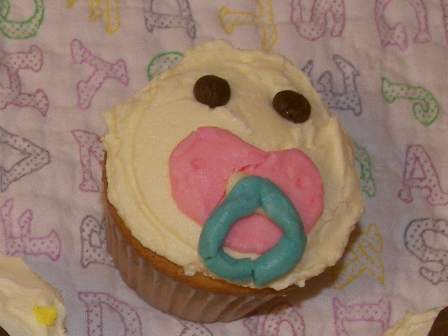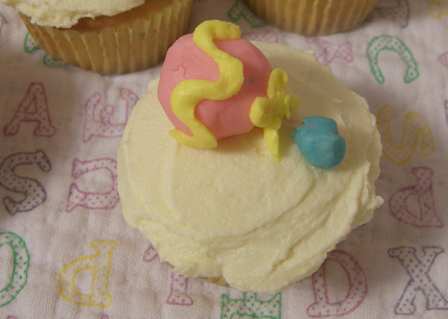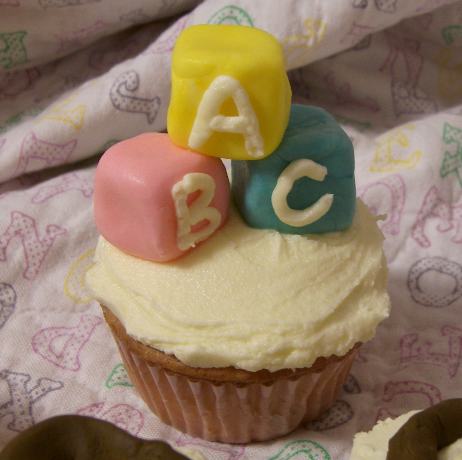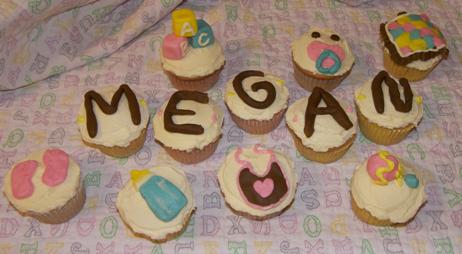 Some of you may have already seen this on my Facebook, so excuse the repeat!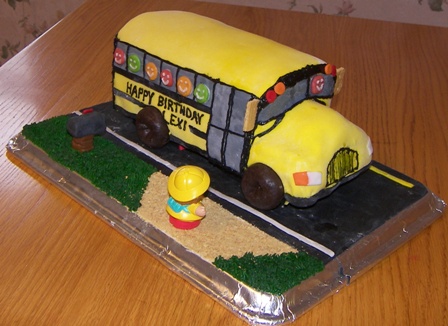 When Lexi started Kindergarten last Spring, she decided that she wanted a school bus cake for her next birthday. She had also made a bunch of new friends and wanted them all to come for a REAL party instead of the low key family parties she's had so far. So, unlike all her other birthdays, this one was planned well in advance. That doesn't mean I didn't go party shopping earlier than the day before or finish the cake earlier than an hour before the guests arrived!
Sigh. Oh well, it all worked out great and the party was a success and was a lot of fun for all involved… well, maybe my husband wants to speak for himself on that one.

Anyway, the birthday cake. There was a bit of an issue getting started. I decided I wanted the bus elevated a bit to look more realistic and my problem was HOW to do that! So, I looked around the house for something to use. I found these 2 square lids and put them down first. Tiffany saw this and said, "So, you're using my candy box lid, huh?" I confidently said, "Yup." and she didn't protest. Whew!

They were red though, so I taped strips of black paper around the edges. Then I cut a piece of cardboard the size I wanted the bus to be, cut notches for the wheels and put it on top of the lids. I know, not professional, but it worked great!

Then, I took the lids off again and made part of the bus on 'ground level' (on the foil-covered cardboard though).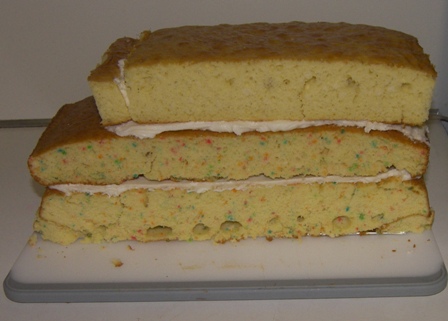 The first 2 layers are the full length of a 9×13 cake. It's 5 or 6 inches wide. I used 3 cake mixes for this. The top layer… there's no reason for that extra little piece on there except that after I cut and stacked it, it looked like the nose of the bus (is 'nose' what that part is called?) would be a little too long. Also, it looked a little too tall, so I ended up cutting about a half inch off of the bottom (shown on the next picture). I was glad to get rid of those crazy big holes down there too! Not sure why that happened!
The 'nose' is carved (maybe that called a 'hood'?), and the top of the bus is slightly rounded. Doesn't look too promising, huh? This is where I felt like dumping it in the trash and running to the local bakery.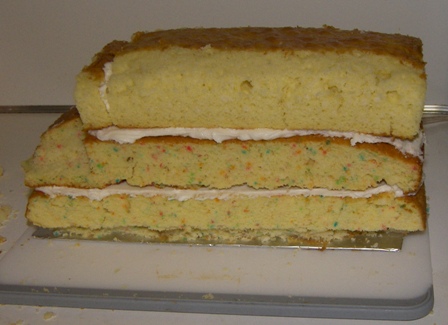 It's times like this when I love frosting! Now it's looking more promising!

Now the yellow fondant gets rolled out… think that's big enough?

 Sprinkle plenty of powdered sugar on the table/counter and on top of the fondant. Roll it out. Then roll it up around the rolling pin, take it over to the cake and starting at one end, unroll it off of the rolling pin onto the cake. By the way, to get yellow fondant, I bought white ready-to-use fondant and put yellow paste (NOT liquid food coloring) on it, then mixed it in by hand… you'll see the messy process of doing the black soon.
Ah, it IS big enough! Tuck it in and cut off the excess.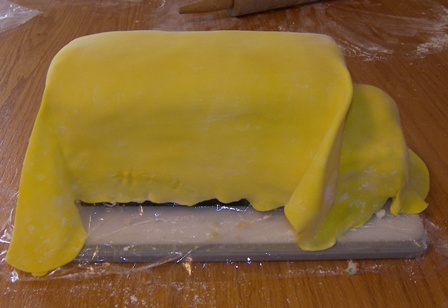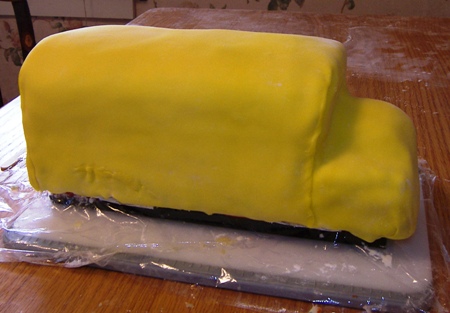 Now, I'm going to leave you hanging with this picture and flip to something else… the setting for the bus, which is, of course either a highway or a school. I chose the highway. And it's stopping to pick up Lexi.
First step was to make the road. Here's the tar. I know, gag. But this technically is edible. Nobody tasted the road though. That stuff actually does wash off, but I think next time, I'll put plastic gloves on my birthday party shopping list!

Next I rolled it out onto the 'cake board', which was actually an upside down baking sheet with tin foil on it.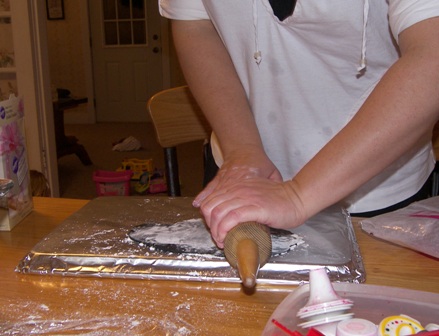 And now, we have a BIG jump in the progress because I either I was so entralled with my project that I forgot to take pictures or I didn't feel like stopping to wash up to photograph each little step. And the setting is done.


It's all made out of fondant (road and white & yellow lines and mailbox), graham crackers (driveway), frosting (grass, plus some under the driveway to hold the graham crumbs in place), and a tootsie roll (mailbox post).
And now back to the bus again, which is another big jump in progress. The reason for the big jump here is because the clock was galloping and party time was drawing near and I was in a hurry.

The wheels aren't on yet (chocolate covered mini donuts). The black and gray are fondant. The letters are frosting piped on. The 'people' are flavored tootsie rolls cut into 4ths, then smashed, then stuck on with frosting and a face piped on. The 'mirrors' are pieces of graham crackers.
And the cake is now DONE! 45 minutes till party time and my kitchen looks like a tornado hit! Don't even ask questions like what I'd have done if it would've totally flopped because the answer is that I don't know and that I'm just SO thankful it turned out ok.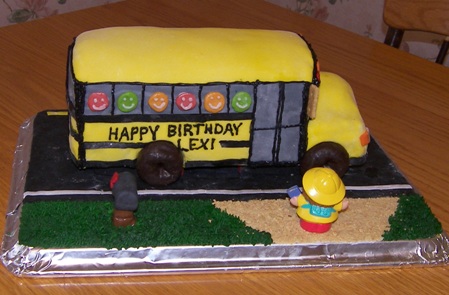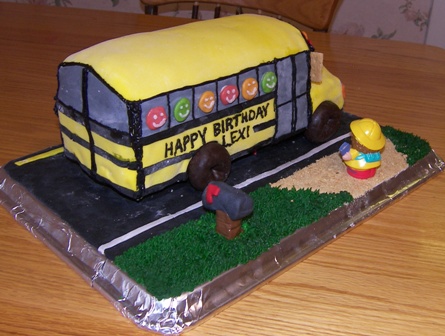 Yeah, so I forgot the lights on the back!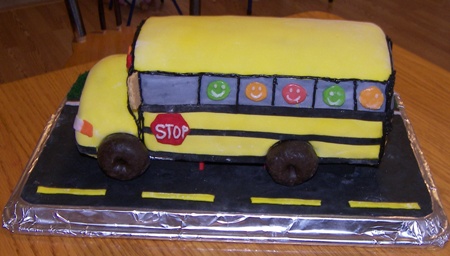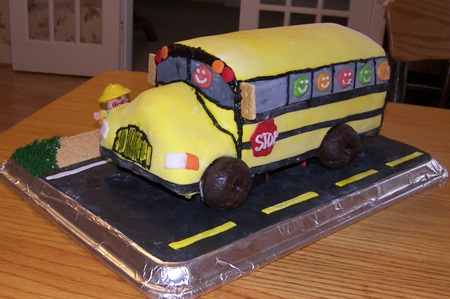 Lexi had her seven 1st grade friends over. Supper was pigs in blankets, Pringles, cheese slices, and layered finger jello. I was in the kitchen and heard a bunch of quacking coming from the dining room. Here, they were making duck bills with their Pringles!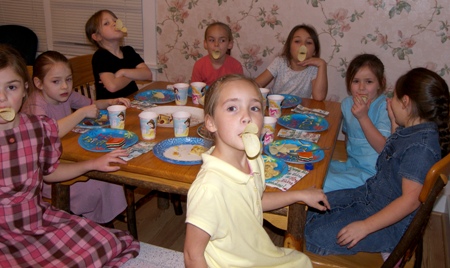 And here they all are with the cake.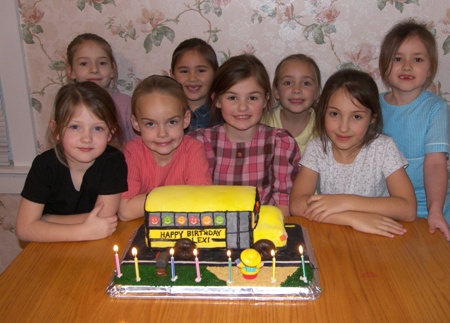 Back row, left to right: Emily, Victoria, Kaitlyn, Samara
Front row, left to right: Alexis, Candace, Lexi, Sarah
And here's the aftermath: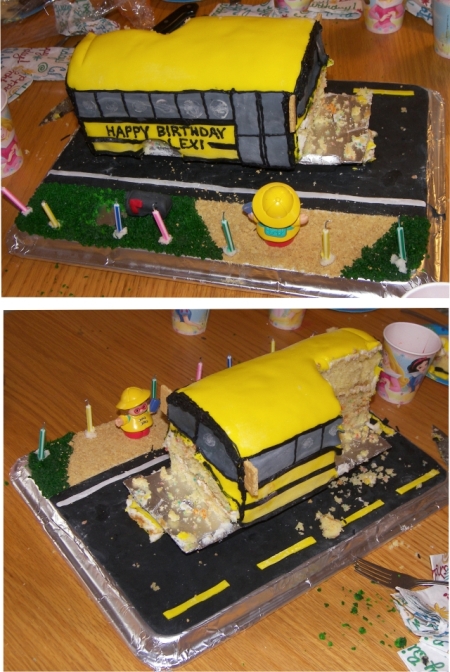 First thing to go was the donut wheels, then they picked off the people in the windows and ate them, then had cake and ice cream.
This bus was pretty easy… very little carving. It was just rounding the top a little and shaping the nose/hood/whatever it is. I only bought one box of fondant (I forget the oz, but it was the smallest of the 2 sizes that were there). Oh, and by the way, the girls standing there is just a toy… not edible! Let me know if you try this!

Look at this cake! Does it look familiar?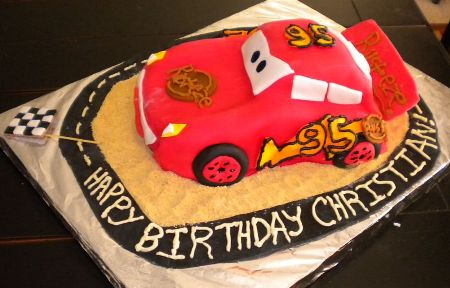 But… the one I made says Happy Birthday Jordan and this one says Happy Birthday Christian.
It totally made my day over the weekend when I got an email from Theresa with pictures attached. This is the very reason that I like to post birthday cakes from start to finish, including the pictures where it looks hopeless of ever turning into something recognizable: so you all can see there are no tricks and you can see how to do it yourself! I don't personally know Theresa, and it was just so refreshing to hear a confident 'I could do that." And it turned out GREAT!!!
Here are a few things about Theresa:
— She is a mom of 3.
— She has never made a birthday cake (before last week).
— She has an 8-wk-old baby.
— She saw the Lightning McQueen cake post and instead of thinking "I've never made a cake. I couldn't do this.", she thought, "My little guy has a birthday soon. I'm gonna try this."
Did I mention she has an 8-wk-old?! She didn't say, but I'll just bet that some of this was done one-handed while holding a baby! 😉 And if not that, then imagine all the interruptions!
And another thing I wanted to stress is that this was Theresa's first cake ever! Talk about a crash course in fondant and cake decorating! In her email, Theresa said, "Trust me, while I was sculpting the cake, I said to myself (and my husband) …"I can't do this!" I just had to laugh when I read that because I know the feeling! I don't think there's been a cake yet that I haven't thought, "What did I get myself into here?!"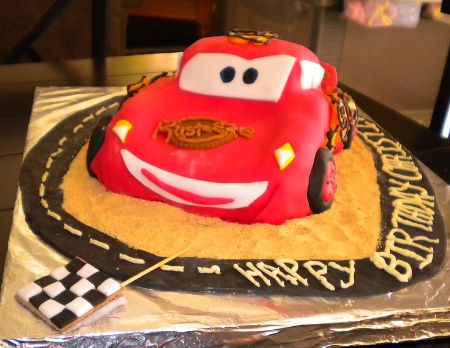 I think we should give Theresa a round of applause for her awesome cake! What do you say?…
____________________________________________________________________
Editted Sept 28 to add another cake! Yvonne made this cake.
You did an awesome job, Yvonne! Turned out great!
Look how she personalized it! I think Adam is turning 3, what do you think? 😉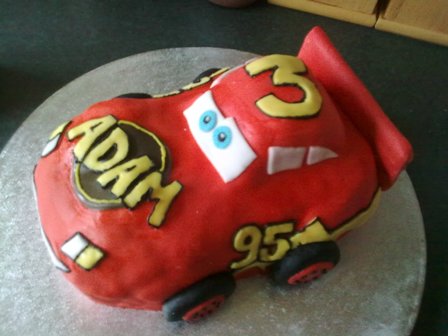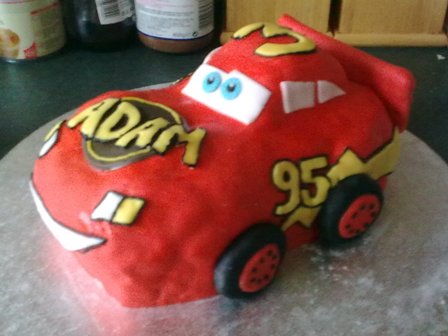 —————————————————————————————————
August 9, 2010… This is Jen's cake for her son's 3rd birthday!
Jen has a couple good tips for us… she bought pre-colored fondant (with her Michaels 40% off coupon, hooray for those! 😉 ) and pre-cut letters and shapes and a squeeze tube of black icing. That all would really cut down on time!
Here are the pictures she sent. GREAT job, Jen!!!!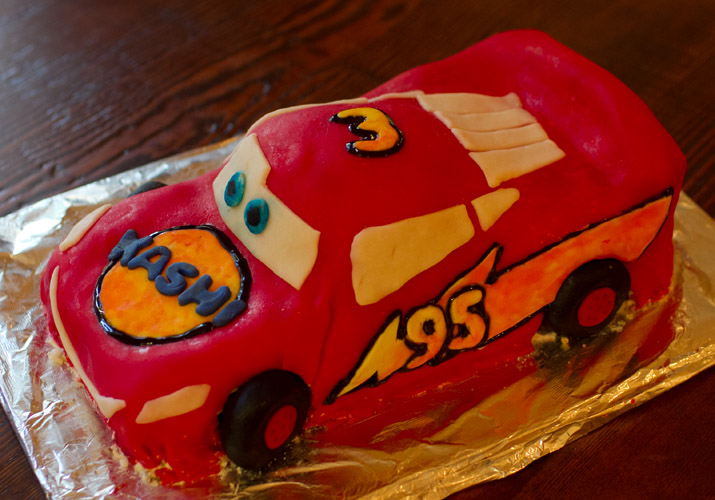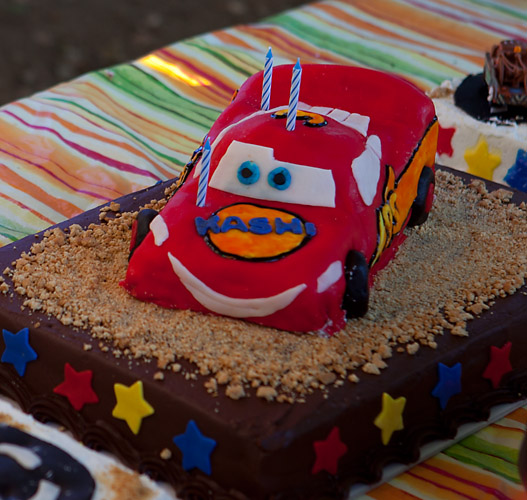 ——————————————————————————————————-
December 6, 2010 …this cake was made by Jo from England for her twin boys turning 3.
Well, actually, she said it was a joint effort. Grandma and her daughter and the neighbor and her daughter helped out. Sounds like fun! You guys did super!!!
Here is the cake…
—————————————————————————————————————
March 31, 2011 …this is Nazy's cake she made for her 4-yr-old son. He loved it and wanted to eat it right away.

Nazy never did anything like this before and she didn't have many tools. But she tackled it anyway! You did a great job, Nazy!!!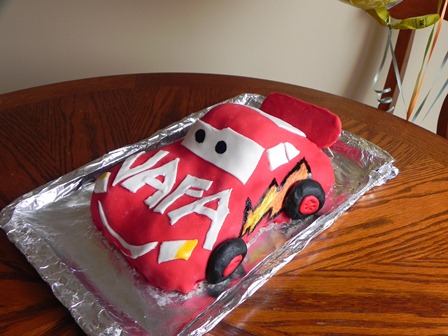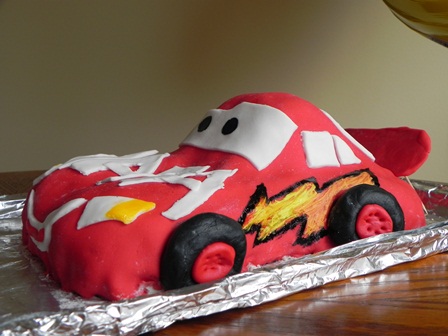 —————————————————————————————————————–
April 21, 2011 …Fiona from Malta (Europe) made this cake for her 2-yr-old son.
There are 3 things that Fiona mentioned in her email that I could SO identify with… she wasn't sure about making a cake with an active 2-yr-old running around (yep, I know all about that, little fingers trying to get at the cake or Mom's hands messy from mixing fondant when the 2-yr-old decides to spread powdered sugar on the floor or getting bumped during a delicate part of the decorating).


And another thing was that after spending all that time on the cake, she couldn't cut it, so her dad did it for her (do I ever know what that's like! Cutting is THE worst! I wince every time and sometimes I hold the knife over the cake, then start chatting with the kids a little so I can put it off a leeeeeetle bit longer.).
And the other thing is that it looked difficult, but she decided to give it a try anyway, thinking oh well if it doesn't turn out, she'll make something else. Love that attitude!

 And look what it got her… a cute Lightning McQueen cake, exactly what she set out to do! Nice job, Fiona!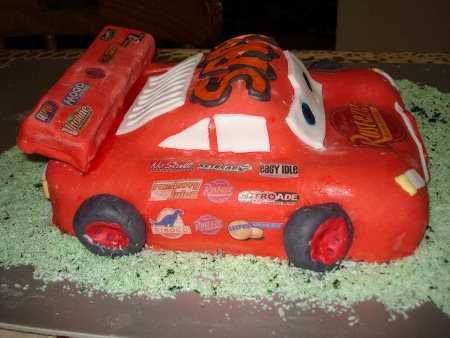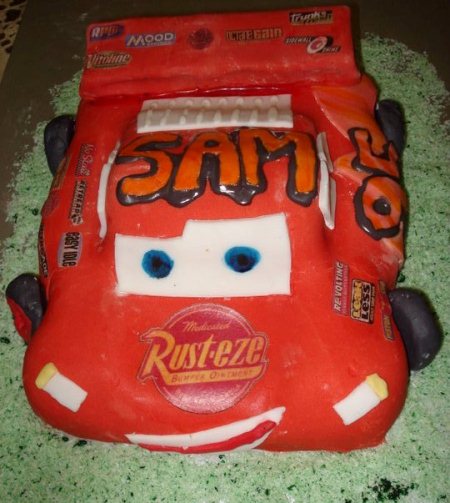 —————————————————————————————————————
June 5, 2011 …Donna made this cake for her sister-in-law's sister's son's 1st birthday. Donna is probably being modest by not saying this, but I'll bet she rocks cake decorating because if SIL's sisters are coming to her, well, that doesn't just happen out of the blue. 😉 Another clue might be because this cake looks a.w.e.s.o.m.e!!!!! And I love all the bling around it. *tucking away the 'celebration spirals' idea for the future*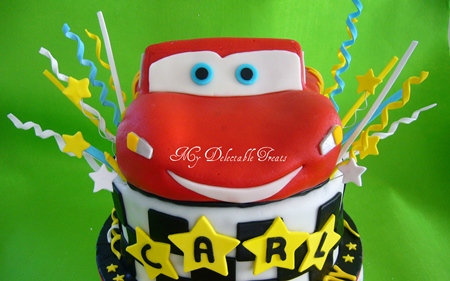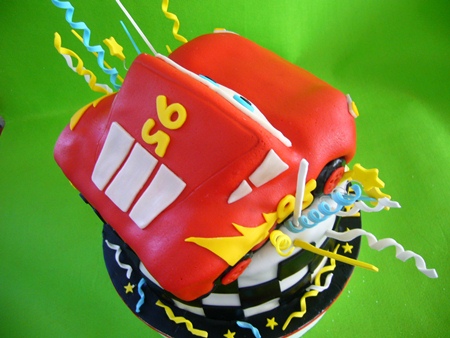 —————————————————————————————————————
June 20, 2011 …Niccy from Canada made this cake for her daughter. She used frosting instead of fondant and it is absolutely amazing how smooth it got. Her secret? Hot wet knives. Very creative, Niccy! And I'm lovin' the tire idea… she took Oreos and iced over the white cream filling with black frosting! She also personalized it, instead of the regular logo and #. Thanks for the great ideas, Niccy, and you did great on the cake!!!!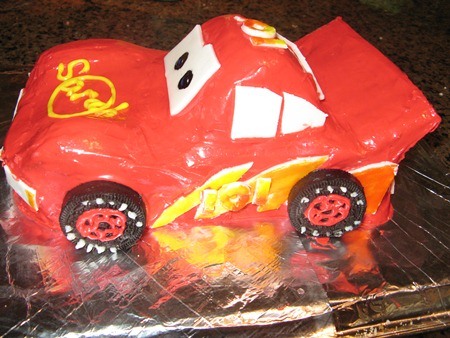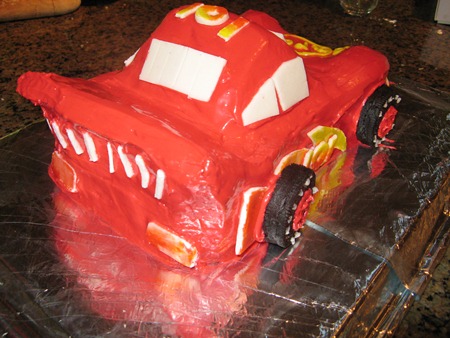 —————————————————————————————————————
June 29, 2011 …Tanisha made this cake for a Cars 2 party, complete with watching the movie. Does it have real working LIGHTS, Tanisha?! Wow!! That really ups it a notch!

Super job on the cake! I love the license plate… great idea! And the cake board is just way too cool!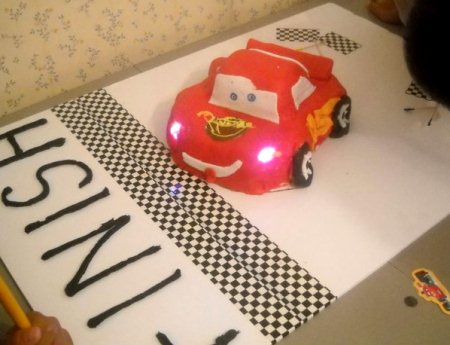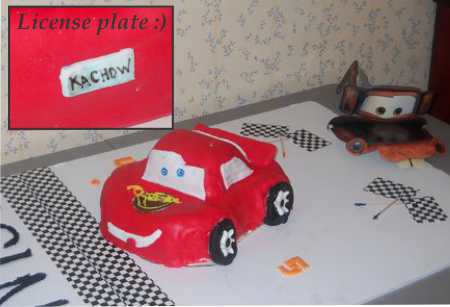 —————————————————————————————————————
January 20,2012 … Kate and her sister made this cake for Kate's son Levi's 2nd birthday. This is my favorite kind of reader who looks at the tutorial and says, "I could rock that cake", which is what these girls thought… and then they did just that! Kate told me a couple little tidbits that I could relate to… they didn't have a clue what they were doing and there were little kids running around eating cake crumbs and fondant pieces in the middle of it all and it was so fun. Yep, that's pretty much me when I'm making a cake too. 😉 Oh! And I forgot to mention along with that "we could rock this" thought… they had not worked with fondant or made a 3-D cake before! Kate, you guys did an AMAZING job!! And I like how you personalized it to Levi and wrote actual readable letters on the tires!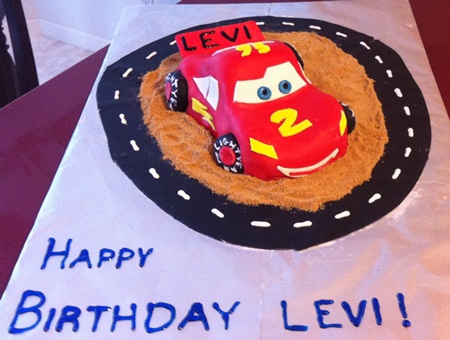 —————————————————————————————————————
February 1, 2012 …Joyce made this cake for her son Ethan's 6th birthday. She made it a Cars 2 Lightning McQueen. I totally get what she said about what the hardest part is… it's NOT the baking, decorating & details, or the sacrificed sleep… it's the 'wrecking' it… like throwing it away or cutting it up. Yep, that's me too, very much! Awesome job on the cake, Joyce! And I like how you put cake under the racetrack, too!

Visit Joyce's blog… she blogged the making of this cake! Read more details and see her progress pictures: Joyce's Lightning Mcqueen Cake
—————————————————————————————————————
February 6, 2012  …Diana made this cake for her son's 4th birthday last year. I like how she made the racetrack… just a partial one under it, not getting the whole racetrack on. She also sent me a darling little tidbit: After the party, she asked her son what his favorite part of his birthday was and he said "the back". The back?! She asked more questions and figured out he was talking about the cake and his piece of the cake was the spoiler.

Then, a couple months later, as they were driving, just out of the blue he said, "Mommy, thank you for making me my Lightning McQueen cake."…what a sweetie. You did a GREAT job, Diana! It's looks like a real toy!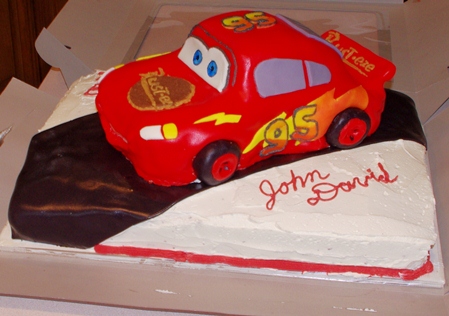 —————————————————————————————————————
April 27, 2012 …Deborah from FL sent me this cake that she made for her Cars-lovin' son's birthday. She never decorated a 3D cake before! And wow! It turned out amazing! My favorite part is the smile… looks like he actually has cheeks.

She got some of her inspiration from Donna's cake above. I still want to try that party bling sometime. So festive! Good work, Deborah, and thanks for sending me pictures!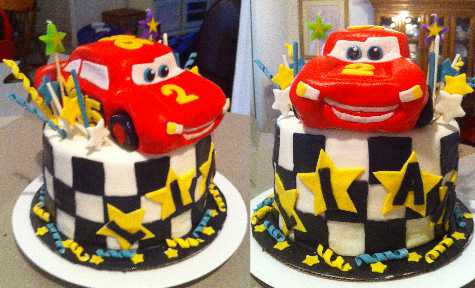 —————————————————————————————————————-
Anybody else make a Lightning McQueen cake from the step-by-step instructions? Email me a picture (kay@kitchenscrapbook.com)! I'll add it here!

And please let me know if you emailed a picture and I missed putting it on here! Or if you blogged about it, I'd love to put your link on here.
I made a birthday cake last evening for my friend Renita's 6-yr-old son, Jordan. His birthday is TODAY! The cake is a Lightning McQueen cake. I was thinking of updating as I make it, but decided not to this time. (That way, I don't get icing all over my mouse and keyboard. 😉 Just kidding, I have to wash my hands to handle my camera anyway.)
Here's a list of what all I used:
–chocolate cake mix
–store-bought white fondant ($6 at Walmart)
–red, black, yellow, and blue food coloring paste
–buttercream icing (recipe featured in this post, you'll need to scroll down a little)
–graham cracker crumbs
–small piece of thin cardboard
–small bamboo skewer
–2 toothpicks
–6 candles
It's all very common/inexpensive things, no molds or anything, so I hope that after you see this cake being made, you can see how easy it is to do one yourself.

I started by baking a 9×13 chocolate cake, cooled it and froze it (easier to carve that way), then cut out a section about 11×7 and placed it on the cake board. By the way, the cake board is a piece of foam board cut in half, stacked, and covered with tin foil. Renita gave me that little car to look off of. Very helpful!!!!
It took awhile to get the fondant red. See that little can of red paste? It was brand new and I used at least 3/4 of it! This is when I was starting to mix it…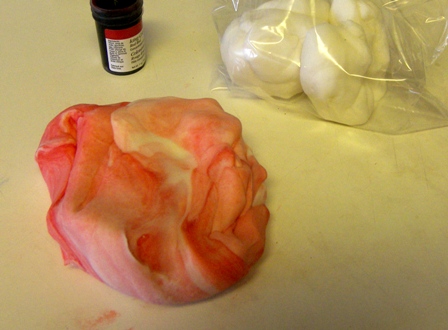 And then I never got a picture of it after it was red. *rolleyes* The way to mix it is to pull it, twist it, knead it, and whatever till it's all uniformly colored. It's easy to do swirly designs with fondant too!
Ok, now the carving starts. I took another smaller piece and stacked it on top for the cab. Is it called a cab when it's a race car? I can't think of what else to call it. Anyway, the part inside where you sit. This doesn't look too promising so far, does it?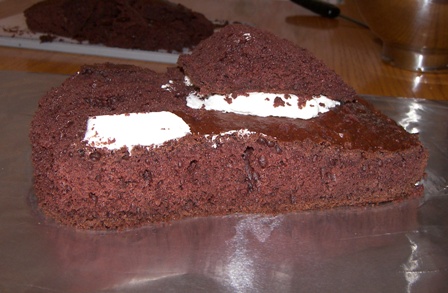 Ah, but frosting helps SO much and covers lots of imperfections! Not to imply that there are no imperfections here!!! But at least it looks like now it actually has a chance of becoming a race car.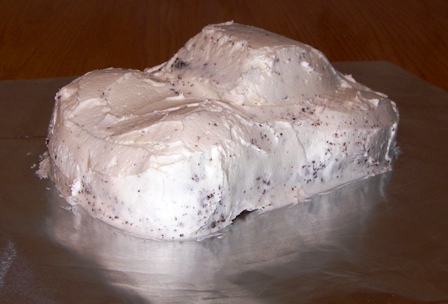 Now we roll out the red fondant. By the way, whenever you do cakes, please use concentrated paste, NOT liquid food coloring. Concentrated paste makes the end result such true vivid colors. Sprinkle the table with plenty of powdered sugar. Flatten the fondant a bit and sprinkle powdered sugar on it too, then simply roll it out like you would a pie crust.

To pick up the fondant, I rolled it around the rolling pin, then unrolled it off of the rolling pin over the car.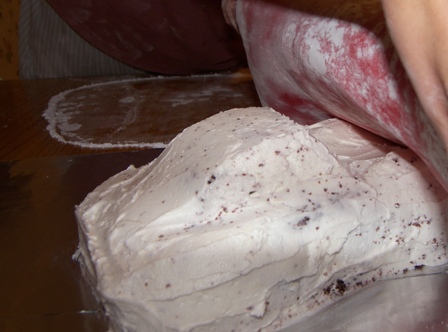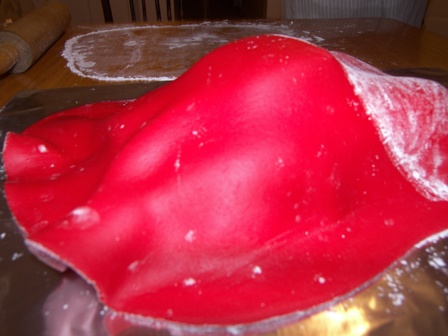 Kinda blurry, but you get the idea. There was a powdered sugar issue because it was really sugary on the bottom and then when I rolled it up onto the rolling pin, it got sugary on part of the top. I thought, "Oh no! Now what?!" because when I tried to brush it off, it didn't want to come off!
By patting and tucking, fit the fondant to the shape of the cake. Then, trim off the excess.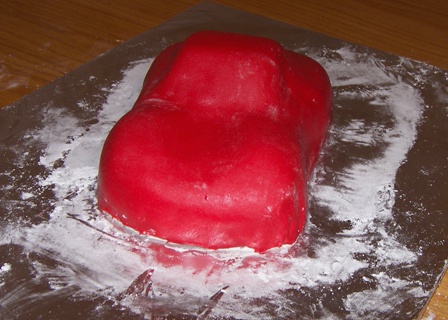 Roll out some white fondant and cut out the windows and the smile. To cut the fondant, I used either a sharp knife, a scissors, or a pastry cutter, whichever seemed like it would work the best for what I was cutting. Pieces of fondant don't automatically stick… you need to wet the back with water a little bit first, then they'll stick.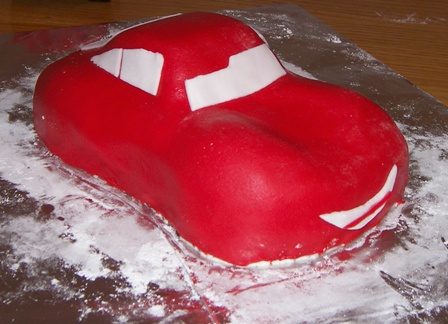 By the way, remember all that powdered sugar that was on the red when I first put the fondant over the car? The problem took care of itself… the sugar melted or something and dissolved into the fondant. I love when problems take care of themselves like that. 
Now we've got eyes. I know, one is bigger than the other. Oh well. To make the eyes, I used a small (clean) painbrush and black and blue coloring paste and painted them on.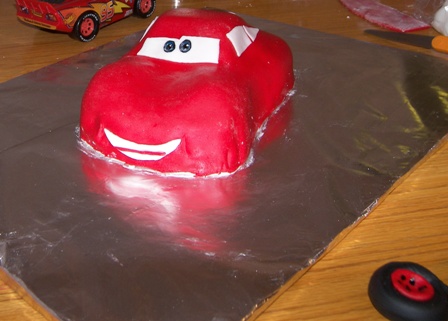 Now we've got wheels. They are made out of  black and red fondant. To put them on, I cut into the fondant, icing, and cake, making a wheel-shaped hole, then tucked the wheels in. I thought it might add a little character to turn the front wheels to give it a 'rarin-to-go' look. 😉

Now we have decals, 'lettering' on the tires, and headlights.

Now with the Rust-eze logo, the spoiler, a flag, and a racetrack, Lightning McQueen is DONE!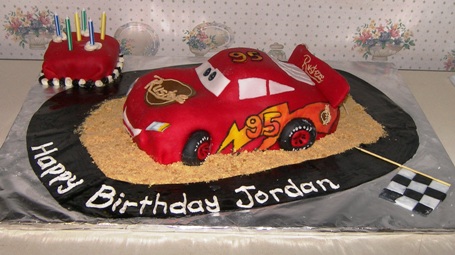 The track is rolled out black fondant. Everything here is completely edible except the bamboo skewer on the flag, a thin piece of cardboard inside the spoiler, the 2 toothpicks under the spoiler, and of course the candles. (The spoiler kept settling instead of staying at the proper angle, so I had to prop it up with toothpicks.)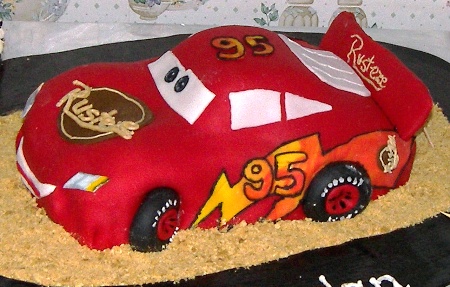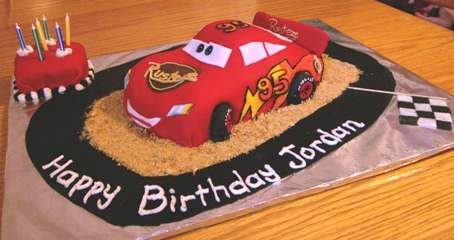 Happy birthday, Jordan! Have fun being 6! 
Edited to add: Several readers have been inspired to use these instructions and make a Lightning McQueen cake themselves! See their cakes here: Lightning McQueen cakes that readers have made They all did an awesome job! If you want to do it, I'd love to see your cake!

Email it to kay@kitchenscrapbook.com and I'll add it to that post!!

Edited April 25, 2011: I just made another Lightning McQueen birthday cake last week. It's posted here: Regan's Lightning McQueen birthday cake.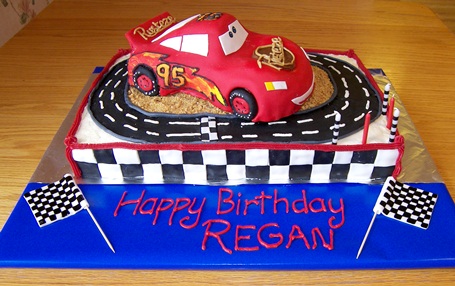 var _gaq = _gaq || []; _gaq.push(['_setAccount', 'UA-24111174-1']); _gaq.push(['_trackPageview']);
(function() { var ga = document.createElement('script'); ga.type = 'text/javascript'; ga.async = true; ga.src = ('https:' == document.location.protocol ? 'https://ssl' : 'http://www') + '.google-analytics.com/ga.js'; var s = document.getElementsByTagName('script')[0]; s.parentNode.insertBefore(ga, s); })();
I am planning to make a Thomas the Tank Engine birthday cake for Trevor this afternoon. Here he is:

He's my friend Beth's little boy and he's turning a big whoppin' 3 years old! The party is tomorrow.
I'll be taking progress pictures and hopefully this pile of miscellaneous stuff will have turned into a Thomas the Tank Engine cake by this evening.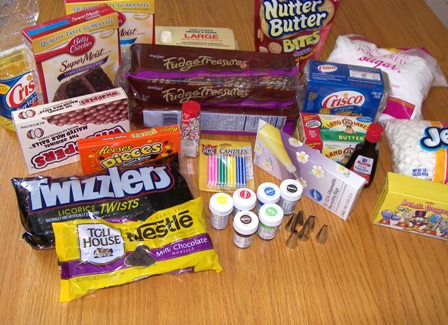 (Hopefully, the upside-down Whoppers don't bug any perfectionists out there… just noticed it now and I don't feel like taking another picture.)
Next step is to bake the cake. Or cakes. I'm actually not sure if it'll take one or two, so I'll probably make 2 right away so I for sure have enough. I'm planning to make the engine, a caboose, and 4 cars in between.
I'll be back after the cakes are baked and cooled…
– – – – – – – – – – – – – – – – – – – – – – – – – – – – – – – – – – – – – – –
 Back again, but not with cake yet. For anyone who thinks I have my act together here, I'll admit a little tidbit that I could easily hide. And the only one who would've discovered it is Beth, after they've eaten the last of the cake and she's throwing away the thing it was on.
I was about to start and then thought, "Oh! What am I gonna put this train on?!" Usually, I buy those little cake board things or cover my cutting board with something, but a train requires something strong and long. So, I wandered thro' my house looking for something. In the storage room, I saw a sturdy Dewalt cardboard box. So I cut it up till I had 6 rectangles, stacked them in 2 stacks of 3, and covered them with aluminum foil. Sounds crazy, I know. But the result is a sturdy cake board that's the right size (but doesn't all fit on my 4′ dining table!)…



By the way, those pieces of cardboard on there are just for an idea of how the train will fit on. Who knows what it'll actually end up looking like or what size the cars will be, but that's just something to go by. I'm going to leave the cake board in 2 pieces for easier moving around and transporting to the party. Ideally, when they're pushed up against each other, it won't be too noticeable where the crack is.
You know, I was just thinking… I don't think I've EVER used the word Dewalt before in a birthday cake post! Or in a cooking post of any sort.
Now, I'm gonna go make some frosting…
Here is the frosting recipe that I always use:
Wilton Buttercream Icing
1/2 cup solid vegetable shortening
1/2 cup (1 stick) butter or margarine, softened
1 tsp. vanilla extract
4 cups sifted confectioners' sugar (approximately 1 lb.)
2 Tbsp. milk
In large bowl, cream shortening and butter with electric mixer. Add vanilla. Gradually add sugar, one cup at a time, beating well on medium speed. Scrape sides and bottom of bowl often. When all sugar has been mixed in, icing will appear dry. Add milk and beat at medium speed until light and fluffy. Keep bowl covered with a damp cloth until ready to use.
For best results, keep icing bowl in refrigerator when not in use. Refrigerated in an airtight container, this icing can be stored 2 weeks. Rewhip before using.
For thin (spreading) consistency icing, add 2 tablespoons light corn syrup, water or milk. I do this step for the frosting I use to frost the cake. Then for decorating, I either save some frosting out before adding these 2 extra Tbsp. of milk or add some powdered sugar.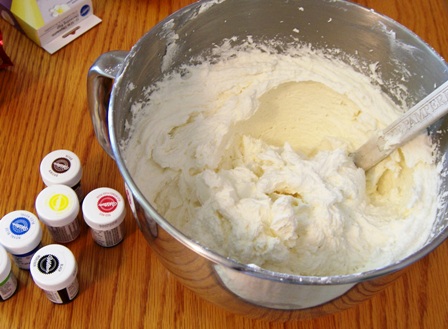 After a bit of stacking cake and carving, meet Thomas: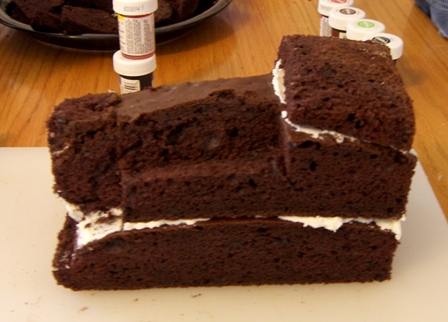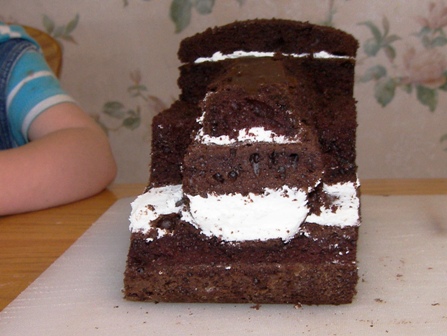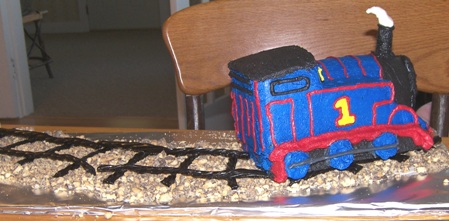 Thomas the Tank Engine is done. I don't like the face. I messed around with it for quite awhile, trying to texture it (as in 3D), but just couldn't get it to look right, so I just made it flat and piped a face on.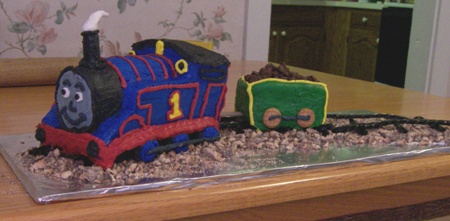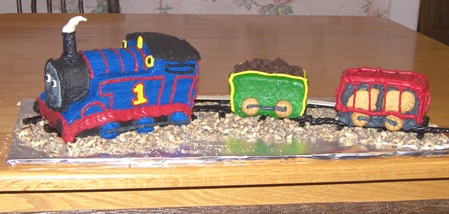 Thomas, coal car, circus car…
I'll post the rest in the morning.
Good morning!


Thomas the Tank Engine, coal car, circus car, tanker, boxcar, caboose.
And now for some close-ups (you can see all the flaws better, but I'm fine with that)…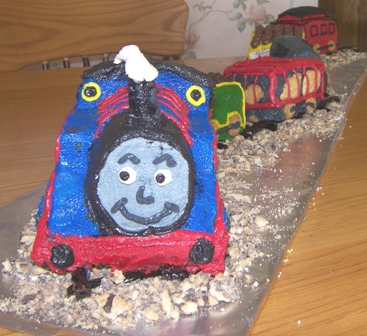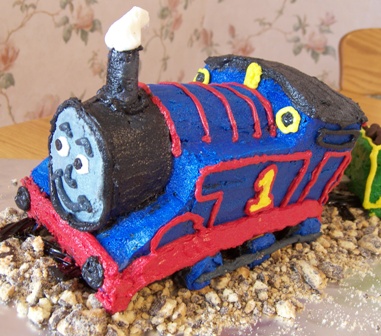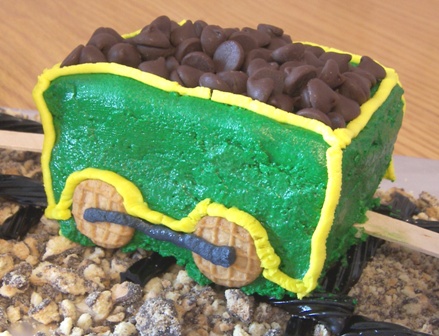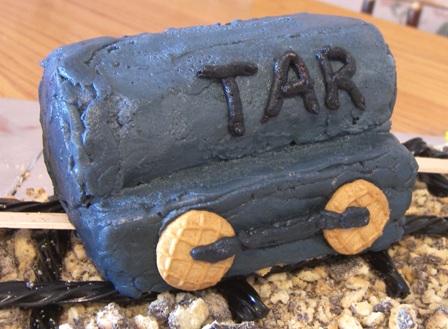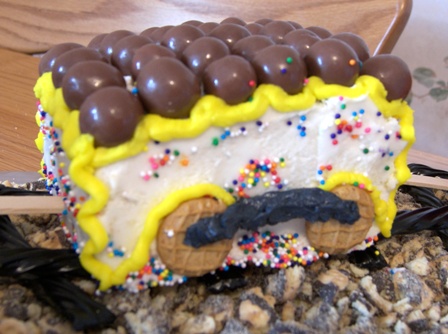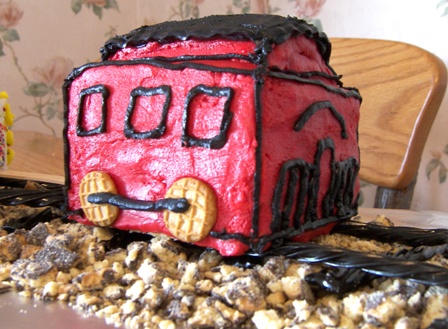 You know that pile of misc stuff up there? Well, some of that was a total guess of what I'd need. I didn't use all the stuff, but I used some stuff that wasn't on the pile. Like, speghetti, a carrot, and popsicle sticks. 😉
Ah, what fun this was to make! Hope Trevor likes it! Happy birthday, Trevor!