Just recently, Shannon said, "You oughta put some meat on Kitchen Scrapbook again." As I thought about it, it did seem like it had been awhile, so just for kicks, I checked… and was surprised… in the last 27 posts, the only thing with meat in it on here was Haystacks! And that's not a dish where the meat is really monopolized on. So, here we go, something with meat… a main dish, for something different. I know it's not a CHUNK of meat, but hey, there IS meat here.
One main dish in 27 posts shows you a bit where my interests lie. I don't churn out full course meals as often as you might think. I like cooking meals, I really do. But you know what I LOVE? Baking, desserts, decorating cakes, and playing around with food. It's hard to do fun stuff with main course dishes. And main course dishes are necessary… the sweet things aren't… and we all know that somehow there's always more fun and passion in unecessary things. I should add in a clause here about meat… I've heard and seen enough from the guys I'm around that I DO understand that there is fun and passion in smoking and grilling chunks of meat… but I don't know a flippin' thing about doing it, so I'm quite happy to stay on the eating end of it rather than on the fire end of it.

This is the first time I'm posting one of Pioneer Woman's recipes on my site, even though I've made quite a few of them. One I still need to try is the cinnamon rolls. I just need to see for myself that it's just as good or better to sprinkle on white sugar instead of brown sugar just before rolling them up. When I do try them, I think I'll do some with white and some with brown… and compare. The best part of all that is that it entitles me to TWO cinnamon rolls.

Anyway… why am I talking about cinnamon rolls?! Back to the thing of posting a Pioneer Woman recipe on my site… It's sorta like what's the point because it's already posted in much more finery and humor already on her site. It's not that I feel threatened by her… because you can only feel threatened by people or things that are in your league.

So, here is the link to the recipe on her site: Pioneer Woman's Sloppy Joes. And in case you don't feel like clicking to go over there, I'll post it here, too.
I actually just grabbed my cell phone to take pictures of these because, well, my camera battery needed charged.

Also, I made a half batch, in case the quantity in the frying pan looks small to you… you know what I thought of right now, I should've made a full batch and put half of in it the freezer for another meal!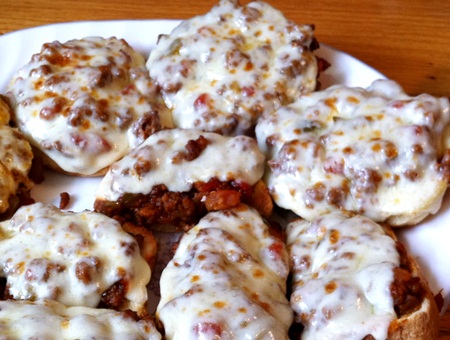 Pioneer Woman's Sloppy Joes
2 Tbsp. butter
2 1/2 lbs ground beef
1/2 onion, diced
1 green bell pepper, diced
5 cloves garlic, minced
1 1/2 cups ketchup
1 cup water
2 Tbsp. brown sugar
2 tsp. chili powder (more to taste) I actually cut back on this because I wasn't sure how much kick it would give it.
1 tsp. dry mustard
1/2 tsp. red pepper flakes (more to taste)
Worcestershire sauce, to taste
2 Tbsp. tomato paste (optional)
Tabasco sauce (optional; to taste)
Salt; to taste
Black pepper, to taste
Kaiser rolls
Butter
Add butter to a large skillet or dutch oven over medium high heat. Add ground beef and cook until brown. Drain most of the fat and discard. Add onions, green pepper, and garlic. Cook for a few minutes, or until vegetables begin to get soft. Add ketchup, brown sugar, chili pepper, dry mustard, and water. Stir to combine and simmer for 15 minutes, adding salt and pepper to taste.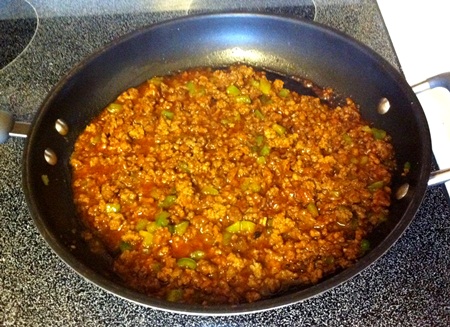 Also add tomato paste, Worcestershire, and Tabasco if desired. Taste and adjust seasonings as needed. Spread rolls with butter and brown on a griddle or skillet. Spoon meat mixture over the rolls. And then I added a slice of provolone cheese and put it under the broiler for a few minutes.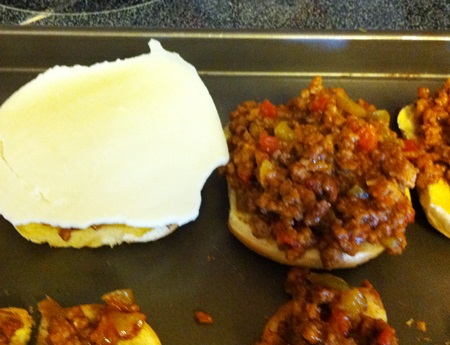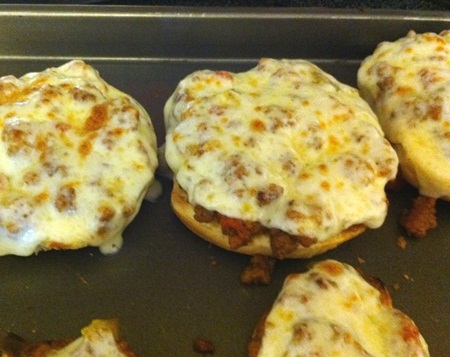 These are hands down THE BEST sloppy joes I've ever made or eaten! Dancing with flavor. I backed up the spicyness a little and I think it was just right… in my world, sloppy joes aren't supposed to be spicy. But a little zing was perfect. So, anyway, this will now be my sloppy joe recipe unless I find another one to kick it out of 1st place.
In other news, we're grilling tonight. Not sure what we'll grill, but I think I'll feature it in the next post, whatever it ends up being. The meats we have on hand to choose from are: burger, chicken breast, fish, and a 1.14-lb sirloin steak. Oh, and when I say "we're grilling", I am, as usual, using the term 'we' very loosely.
What are you grilling tonight? And feel free to use the term 'you' very loosely.

Hey! We've got a guest writer! Since I am not the griller around here (thankfully!), it seems fitting that I also shouldn't be the writer of the grilling posts, right? So, here is my husband Shannon:  
Did you read in the news this week about the restaurant on Wall Street in New York that serves a $175.00 cheeseburger? Yup, you read right, $175.00! It is Kobe beef topped with foie gras, exotic mushrooms and golden truffle mayonnaise. Golden truffle mayonnaise is made from chopped black truffles, truffle oil, and gold flakes. Gold as in "silver and gold".  So let me get this straight… Some chef in New York decided it would be a good idea to make his gold watch into Miracle Whip? Wow. Remind me not to leave the Midwest.
This is not that burger.
Memorial Day weekend is the unofficial line between spring and summer (or if you are from up here in Wisconsin, the line between winter and summer).
Cheeseburgers sizzling on the grill… What could be a more sure sign of summer than that?
Cheeseburgers are such a basic food that you don't even need a recipe. But here is my recipe, just the same.
Ingredients:
2 pounds fresh ground beef. Not too lean, 80/20 would be good. I used 85/15 this time. If they don't have enough fat, they will fall apart on the grill.
1/4th cup chopped onion.
1 chopped jalepeno. Use as much as you like. We like a bit of kick.
BBQ sauce. Your favorite brand.
Lawry's seasoned salt. Put in as much as you prefer, but don't be scared to use quite a bit. I use about 2 teaspoons (that is completely a guess, I have never measured).

1/4th teaspoon coarse ground pepper.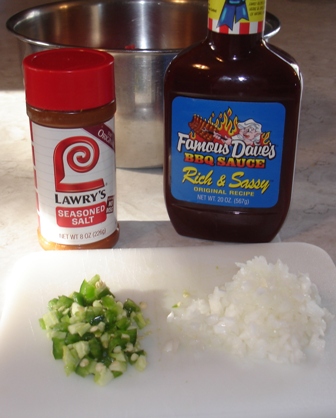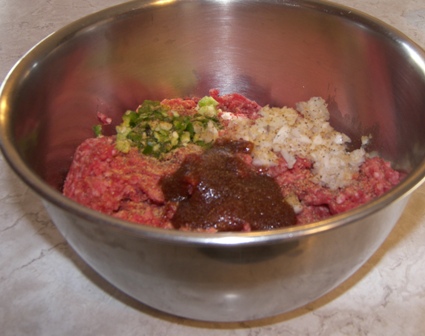 Combine the ground beef, onion, jalapeno, 2 tablespoons BBQ sauce, Lawry's, and pepper in a mixing bowl.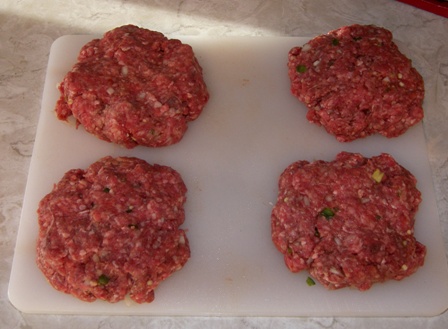 Shape into patties. This is hand work, no Pampered Chef burger shooter or other cheating! This is a cheeseburger, keep it simple. I made 4 patties this time, but that makes pretty big burgers. Depending on your group, you may want to make them smaller.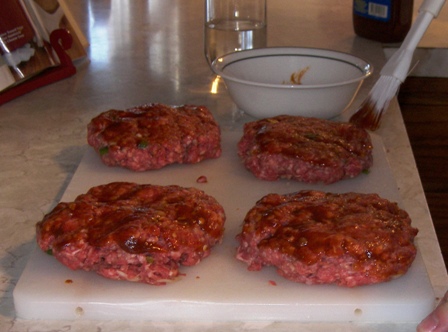 Using a brush, brush a light coat of BBQ sauce on the patties. This is not for flavor as much as to carmelize the suger in the BBQ sauce for a nice "crust". It may actually work better to do this step just a minute before they come off the grill.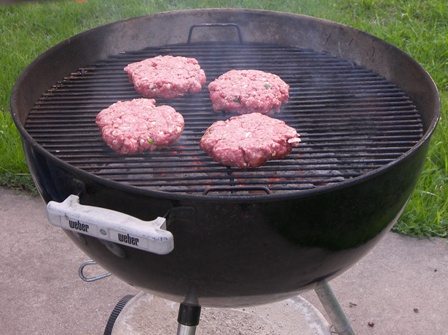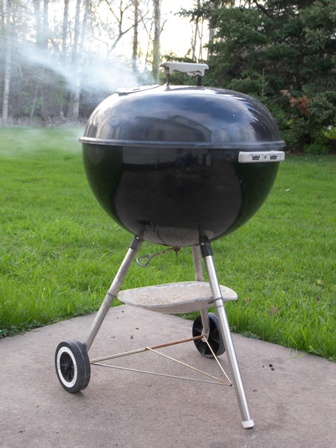 Grill on a charcoal grill. I almost don't want to put times here because each grill will differ in temp. I grilled them for about 6 minutes on each side. DONT LEAVE THEM ON TOO LONG! Seriously, the most common way to ruin a good burger is to overdo it. A little pink in the middle is perfect.
Put cheese on. Leave on grill for an extra minute to melt the cheese. I used provolone cheese. The buns must be grilled.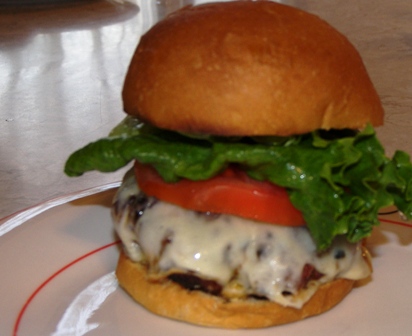 Dress to taste. I like tomato, lettuce, Bread and Butter pickles, ketchup, and mustard.
Ah, now that's a "God bless America" cheeseburger! Serve with extra napkins. 
While you are enjoying your good honest cheeseburger this weekend, remember to feel sorry for some guy out in New York whose self esteem is so low that he needs to eat a $175.00 cheeseburger with jewelry in it, just to prove he can.
Me again: Well, after a grilling post like this, I'm going to close my kitchen for the weekend and be outside. Have a wonderful Memorial Day weekend! See ya Tuesday!
This is one of those things that you CAN'T do last minute because it takes the crockpot, yet it doesn't take much of your time and you CAN do it on a busy day. Or on a day where you'll be gone all day… say, if you'd go scrapbooking about every Tuesday or something. And it would also work great for a crowd. And they are just tops!
Hey! Wait! Did someone say scrapbooking? How about we skip the beef sandwiches and just talk about scrapbooking. I love scrapbooking! And someday, I'm going to start putting scrapbooking on here now and then. Scrapbooking recipes, that is. This is, after all, Kitchen Scrapbook. To me, the definition of Kitchen Scrapbook is: The best of both worlds. I have done a few recipes and it's actually a bit harder than scrapbooking people because there isn't alot of personality going on, but it's still a load of fun. But, since I wasn't actually serious about skipping the beef sandwiches and talking about scrapbooking instead, let's get on with them…
There is no recipe, but the ingredients are:
Beef roast
About 1/2 cup of water
Salt & pepper
Chef Paul Prudhomme's Meat Magic seasoning (or seasoning of your choice)
2 bay leaves
Half of an onion, sliced
Barbeque sauce
Hamburger buns
Shredded cheese
Here's what I did for a 6:00 supper. Around noon, I put the roast, water, seasonings, onions, and bay leaves in the crockpot and turned it on High. It wasn't frozen. If you're using a frozen roast, you may want to start it a couple hours earlier. It was also only about a pound of meat. We have my husband, a 5-yr-old, a 2-yr-old, and me, around here for diners and since I don't like leftovers, I usually cook small.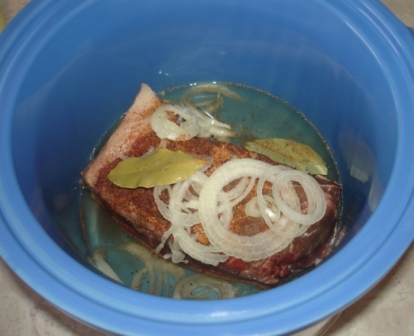 Let it go all afternoon and around 5:00, take the bay leaves out, trim off the fat, and shred the beef. As you shed it, most of the liquid will 'disappear'.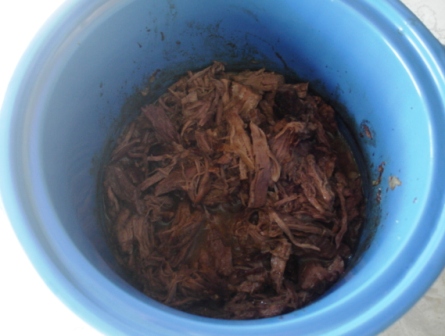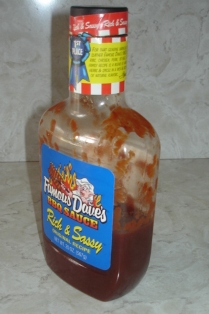 This is how much barbeque sauce I used. I dumped it in, then put a little water in to rinse out the bottle (I know, so thrifty… I'll bet I kept from throwing away a whole Tablespoon of sauce!) and dumped that in too. A little more barbeque sauce and a little less water would've been ideal for more flavor, but I guess that's the thing of always just doing it without a recipe… it'll always get a little different. Plus, to do that, I'd have had to break open a new bottle of sauce, just to get a little more. Oh, what a bother.

Cover and turn the crockpot to Low.
Around 5:50, toast the buns (I used the toaster). I did not take a bit out of that one piece, part of it stayed with the bun beside it in the bag.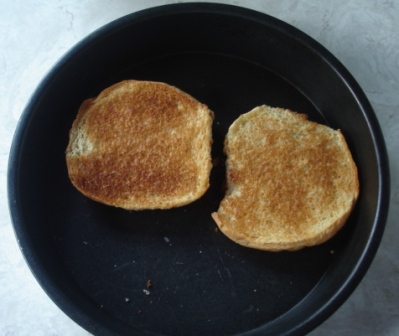 Oh, now would be a good time to turn the broiler on High.
Top bun halves with some beef.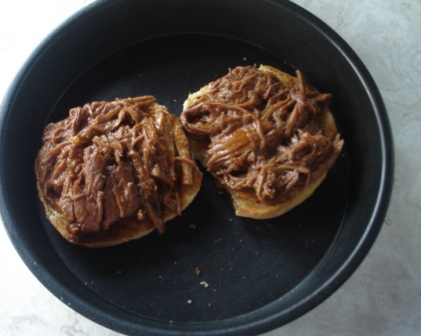 Then the cheese.

Then put them on the top oven rack under the broiler (which has already been turned on High). Let them in there for 1 minute and 20 seconds, then take them out.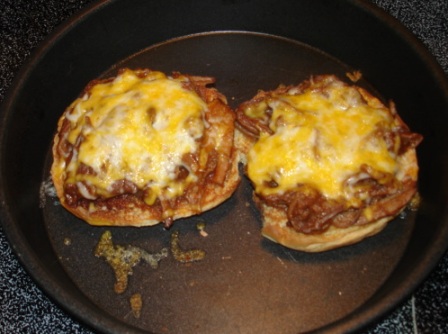 Perfection! Now eat them with a fork.
You could also top it with another toasted bun half if you'd prefer a regular sandwich, as opposed to open-faced. These are really good and very little effort! And it's a hit around here… both with the cook and the diners.
This was the first time that I've ever bought cube steaks. Maybe I'm kind of a creature of habit, but I don't really venture away from my 'norm' too much. In fact, I didn't even realize until I found this recipe that cube steaks were just thinner steaks run thro' a tenderizer… at least that's what they look like.
I should know these things because I used to work at a butcher shop with a meat case/deli out front. But, that was 13 years ago, 2 or 3 days a week, for 4 months, in MS. We ran stuff thro' the tenderizer, but I don't remember calling anything cube steaks. Anyway, what still makes my toes curl is thinking about that meat slicer and how we cleaned it. I don't know how you're supposed to clean the meat slicer blade, but we'd take a bucket of hot soapy water and a rag, turn it on, and hold the rag against it as it's spinning around. First on one side, then the other. Any little slip and you'd have had a finger chopped off. I hated cleaning the thing and cringed every time I did. And to this day, 13 years later, I still shivver when I think of it. Oh, we had LOTS of fun working there though… assembly lines of packing meat, getting good at knowing how much burger a pound is, frying thick bacon in the microwave, and Leroy keeping things lively and fun. Ah, good memories! And I still know that when I'm holding raw hamburger, 1 pound is when both hands are around it, but the fingers of the one hand can't quite touch the other hand.
Pizza Steak Bake …taken from an Easy to Bake, Easy to Make recipe card
1/2 cup flour
1/4 tsp. salt
4 beef cube steaks (4-6 oz each)
2 Tbsp. vegetable oil
2 cups (6 oz) sliced fresh mushrooms
1 cup sliced onion (1 medium)
1 can (15 oz) pizza sauce
1 cup shredded mozzarella cheese (I used pizza cheese because I didn't have mozzarella on hand)
Preheat oven to 350. Combine flour and salt in a shallow dish.

 Dip cube steaks into flour mixture, coating well. Heat oil in a 12″ skillet over med-high heat until hot.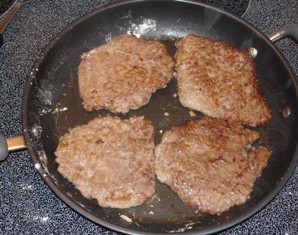 Add cube steaks, reduce heat to medium. Cook until browned on both sides, 4-6 minutes.

 Place browned cube steaks in a 3-qt baking dish (9×13 pan worked great).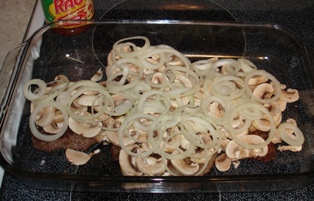 Top with mushrooms and onion.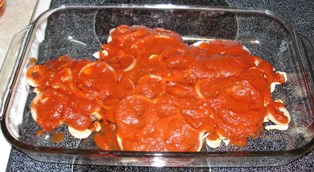 Spoon pizza sauce over top.

 Cover tightly with aluminum foil. Bake steaks 30 min.

 Uncover; sprinkle with cheese. Continue baking, uncovered, until steaks are fork-tender and sauce thickens, about 30 min. Yield: 4 servings.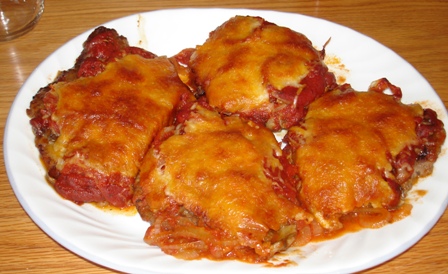 These were tender, we didn't need knives to cut it. They were really good and I'll probably make them again, but next time, I'd add some seasoning in with the flour mixture. Not sure what, maybe some Chef Paul Prudhomme's Meat Magic.
Do you ever feel like a broken record when it comes to meals? Whenever I try to think of something different for Sunday lunch (I mean something dressier than a frozen pizza), my great ideas are always weeded out by "Nah, I'd have to get up too early" or "No, that needs basted while baking and I won't be here" or "I'd never have time to make that AND get us out the door in time" etc. So, it often ends up being the good ol' roast, potato, veggies in a crockpot meal. Not that I'm complaining… we love that meal! I'm just sayin' I do feel like a broken record sometimes when I say, "I guess we'll do a roast in the crockpot for lunch tomorrow", even though I try to use a different voice inflection and wording than I did the week before.
One thing I LOVE about this meal is I don't make it. Who wouldn't love that?! Really, that's even better than that meal that I said, "Seriously, I spent no longer than 35 min on this meal!" Here's the secret: I have a husband who cooks better than I can.  (I am NOT kidding about that!!!!)  Anyway, he puts the frozen roast in the crockpot before we go to bed Sat night. He tries different things with seasonings and flavorings. Yesterday, it was Parmesan cheese, bay leaves, seasoning salt, and b-b-que sauce…


He puts water in with the roast and seasonings and onion wedges
and turns the crockpot on Low. 
 
In the morning, around 7:30 or 8:00, he put in potatoes, whole fresh mushrooms, and carrots.


When we get home from church, everything is perfectly done.


I usually put some crescent rolls from a popable can (speaking of a broken record, you may know by now that I'm a big fan of those too!) in the oven and set the table and dish everything and… lunch is served! 

Crazy thing is, as easy as that meal is, we still opt for a frozen pizza or grilled cheese and tomato soup lunch sometimes. Or something on the grill in the summer.
What do you usually do for Sunday lunch?
Note to Kitchen Scrapbook readers: There were some interesting comments on this post and I wish they would've copied over from my old site when I copied the posts onto Kitchen Scrapbook. It was surprising how many people have a roast on Sunday! Other common lunches were quick things, like leftovers or breakfast foods.
    ————————————————————————————————————–
     —————————————————————————————————————
  Valentine's Day is coming up!
 Stay tuned for a Valentine's meal post in a few days!