In the world of baking, here is what I bake the most. Snickerdoodle Bars.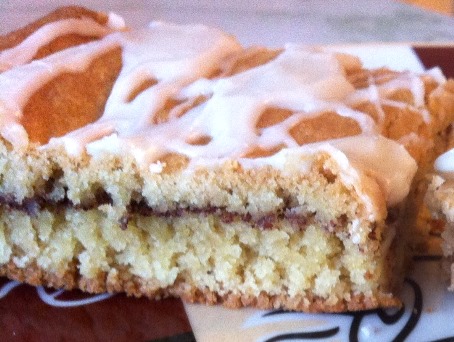 Out of the 5 people in this house, 4 of us are crazy about them. I won't let out any secrets how long (or should I say how short) a pan of these lasts around here. I'll give you a hint though… you might not want to blink or you could miss them. Ok, not quite.
In case you're wondering who's the one not crazy about them, it's me. I really like them, but they don't have chocolate in them. Give me monster cookies instead. That's my all-time favorite ever.  Monster cookies is the second most common thing that gets baked in my kitchen. Why is it that I often think of my sister-in-law Liz when I write baking posts? Our friendship does go deeper than food, honestly! But I thought of her again when I wrote about monster cookies… she loves them, too. And one time, when they were here and we were going shopping, she asked me if I'd please make some monster cookies if she buys the ingredients. That was such a huge compliment and I'll never forget it. But anyway, this post isn't about monster cookies, it's supposed to be about snickerdoodle bars! For a monster cookies post, go here.
One nice thing about these snickerdoodle bars is that they take only staple ingredients. So 95% of the time, they can be made at a moment's notice. They take a whole Tablespoon of cinnamon, so another nice thing about them is that they have a bold cinnamon flavor.
Snickerdoodle Bars …recipe from my friend Shannon, and then she also put it in the Simple & Satisfying cookbook
3/4 cup butter, softened
1 1/4 cups sugar
1/2 cup brown sugar
3 eggs
1 tsp. vanilla
2 1/3 cups flour
1 1/4 tsp. baking powder
1/2 tsp. salt
1 Tbsp. cinnamon
1 Tbsp. sugar
Glaze:
1 cup powdered sugar
1-2 Tbsp. milk (1 1/2 Tbsp is perfect)
1/4 tsp. vanilla
Cream together butter and sugars. Add eggs and vanilla. Mix well.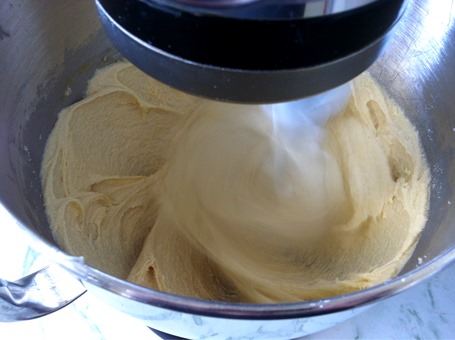 Add dry ingredients. Pour 3/4 of the batter into a greased 9×13 pan. (It doesn't actually pour, more like scoop it into the pan and then spread it out.)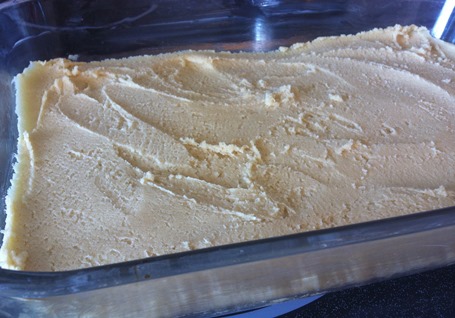 Mix Tbsp of cinnamon and sugar together and sprinkle over layer. Put remaining batter on top.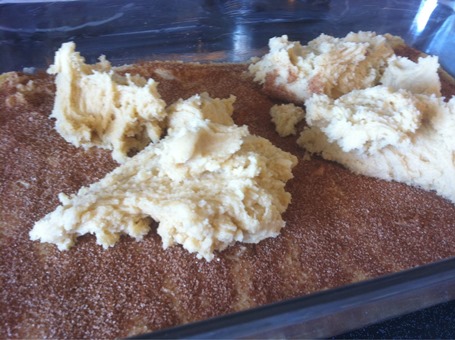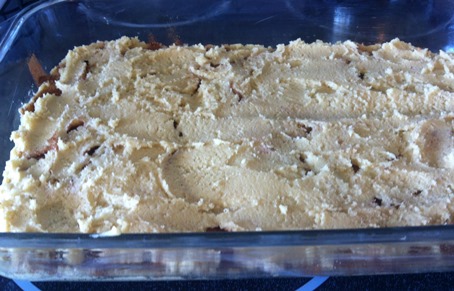 Bake at 350 for 25 min. (The recipe actually says 30 min, but we think they're softer and better at 25 min.)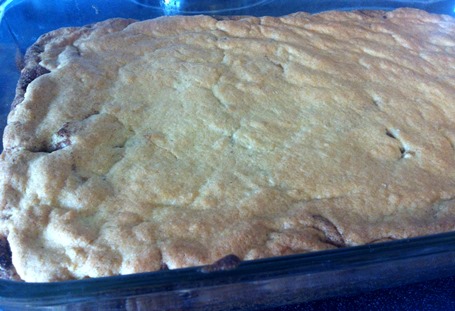 Cool slightly. Drizzle with glaze.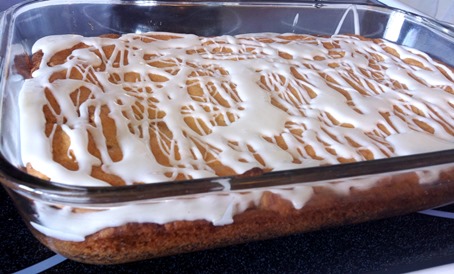 Now. A variation.
Lexi (11) makes these bars, but she kind of has a hard time with spreading the remaining dough on the cinnamon layer. And it is hard… the dough is sticky and firm and the cinnamon layer offers no traction. It even takes me 4-5 minutes just to spread that layer on. So, we tried something and it worked! We mixed the Tbsp of cinnamon right into the dough. The 2 bars taste the same and it's so much easier to spread all the dough in the pan and pop it into the oven instead of the 3 layers.
The bars look different, though.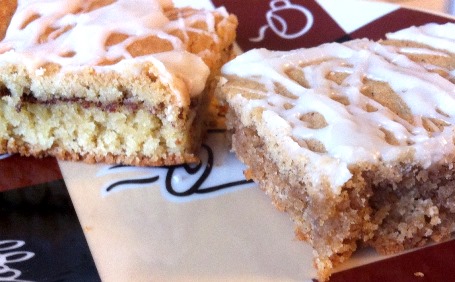 I like the looks of the 3-layered ones better, so I might do those for social occasions, but here at home, the all-in-one bars win most of the time. Especially if Lexi is baking.
And since we're talking variations, if you prefer cookie form, here is our favorite recipe for Snickerdoodles.
So, there you have it. The most popular baked goods at our house. What do you bake the most?
I'm in the mood to feature a cake. I have a bunch that I've never put on here. Sometime, I'm going to make a separate cake section on this site. I think at some point, it could merit its own section because that's what I picture doing in 5 years or so… cakes. Between now and then, I plan to have fun doing a few hit n miss and taking classes and tripling my cake-decorating tools/gadgets/pans supply. I want to take classes so I can prevent mistakes instead of learn from my mistakes. 😉 Right now cake-making is pretty much a "wing it" deal, and while that's worked out pretty well so far, there's also been a lot of wincing-then-sighs-of-relief involved too. And well, yeah, some wincing-then-starting-over moments, too.
This particular cake was quite an honor. It was the FIRST wedding cake I've ever done. The bride-to-be knew I'm not a pro, but she trusted me anyway… uhhhh, in case you wonder, that spells p-r-e-s-s-u-r-e!!!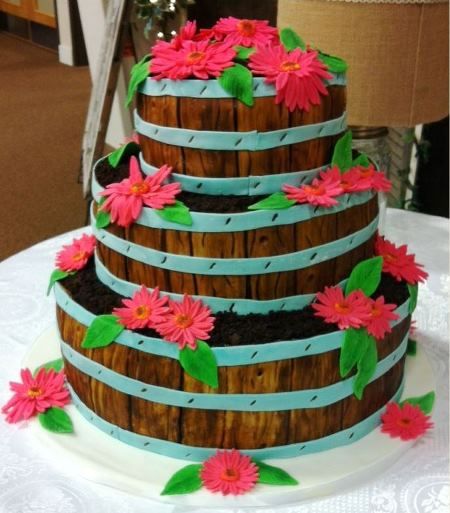 You know that whole "wing it" thing I was talking about earlier? Well, I had never done wood grain before. Nor had I ever made a cake this big (the biggest pan size I owned up to this point was a 12″ and I had to go get a 16″ pan for this cake). The bottom layer is 16″, middle layer is 12″, top layer is 8″, and each layer is roughly 6″ tall.
I didn't take very many step-by-step pictures because I was in the cake-decorating zone and well, simply forgot. But in case you're interested, here is the construction, then I'll get to the fun part… the wood and flowers. 😉
The bottom layer is a 3″ chocolate cake with chocolate buttercream and a 3″ vanilla cake with vanilla buttercream, each split with frosting between. When they were frosted, I put the chocolate layer on the cake board and put four 3″ dowels in it so the weight of the rest of the cake wouldn't be on it, then set the white layer (which was on cardboard) on top. Here is a (very bad) picture of that, quickly taken before all the fondant was on.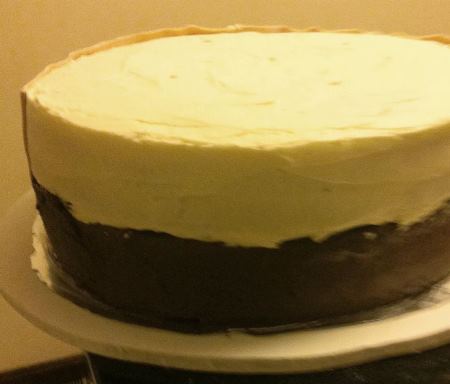 Then I put four 3″ dowels thro' the white cake and one sharpened 6″ dowel down thro' both cakes and the cardboard layer between them.
The middle basket is all chocolate with chocolate buttercream and is on cardboard. No cardboard between the layers, but the cake does have dowels in it for holding the weight of the top basket.
The top basket is all vanilla with vanilla buttercream and is on cardboard. No cardboard between layers and no dowels.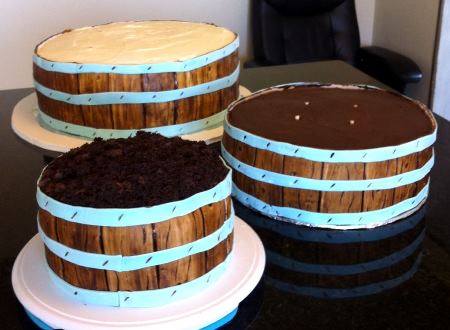 Now for the fun part!

First is the wood grain. The slats may look like individual pieces, but it's actually larger sections with multiple slats per sections. I started with white fondant and mixed in some cocoa powder to make it a light tan. In hindsight, I don't think I would've had to do that step though because the "stain" would've covered it fine without leaving white spots when wiping it off.
Roll out fondant. Cut it to a rectangle… length doesn't matter, but try to get the height as close to correct as possible. Take something about 1/8″ wide and indent lines from top to bottom, these are the slats. I said "take something 1/8″ wide" so you know you can make wood grain without a well-I-don't-have-a-decorating-tool-set excuse. 😉 You can use the handle end of a small paintbrush or whatever. Next, beat it up. Give it some character. Make dents, make lines, make knots. And yes, there is powdered sugar all over the place… it keeps the fondant from sticking to the counter.


Then, mix vodka with brown food coloring paste to make "stain" to stain the wood. If you're concerned about the alcoholic aspect, the alcohol evaporates. Plus, you don't use much at all, so the teeny bit that would be on one piece of cake wouldn't affect anyone if it wouldn't evaporate. (Do NOT use water or you'll have a mess on your hands because water becomes like glue when it touches fondant.) Get a clean paintbrush and brush the stain on. Wipe it off immediately with a clean cloth. And THAT is when the magic happens. It doesn't look like much up to that point, in fact it looks like quite a mess. But as soon as you wipe the excess stain away, a beautiful realistic-looking-wood piece of fondant appears!


If the icing on the cake is a crusting kind, run a knife or something over it to un-crust it so the fondant will stick to it. Carefully pick up the fondant and place it around the cake. If you wait several minutes until the alcohol has evaporated, it doesn't stick to your hands while you're placing it on the cake and you can also loosely roll it up without it sticking together to transfer it to the cake.
After all the wood was on, I made the bands. This beautiful blue was one of the wedding colors, which is why the bands were this color… if I'm making a basket case for just anyhow, I'd probably make the bands tan. This was simply coloring the fondant, rolling it out, cutting it into strips, wetting the back of the strips with water, and placing them around the cake. After putting each band on the cake, I did the staples. If I'd have waited to do the staples until all the bands on all the cakes were done, it wouldn't have worked as well because the fondant on the first bands would've started drying out and it wouldn't have been as easy to make an indentation. After making the indentations, I took a tiny paintbrush and painted brown food coloring inside them. Some of them got a little messy and I was sighing about it to Shannon and he said, "No, it's great. It makes them just look rusty." Ah, way to make lemonaide out of a lemon.
Next, I covered the visible part of the cake board with white fondant and put a white ribbon around the edge. Then, I crumbled up some leftover chocolate cake for the "dirt" and put it around the rims of the 2 lower baskets and over the top of the top basket. It looked good, but next time, I'd use Oreo crumbs… I think they'd look more like dirt, but I didn't think of it at the time.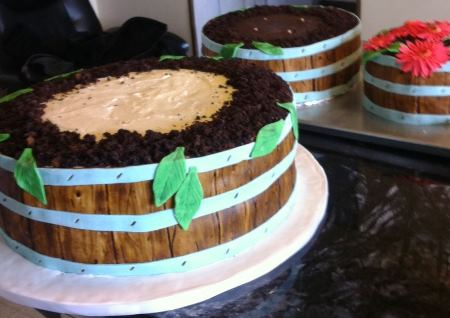 Then, it was time to add COLOR. Fondant daisies. Hot pink was the other wedding color, so that's what the daisies were. Here are some of the daisies and leaves drying ahead of time. I put them on crumpled tin foil so they wouldn't dry flat and boring.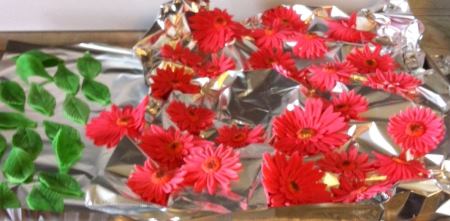 In case these look hard, they're not. I have a flower/leaf cutter and impression set that I used… one of my happy purchases from Michaels with a 40% off coupon. I also added a bit of petal dust for a more realist look.
So, there you have it, a wooden basket daisy cake. It was challenging and a whole lot of FUN!