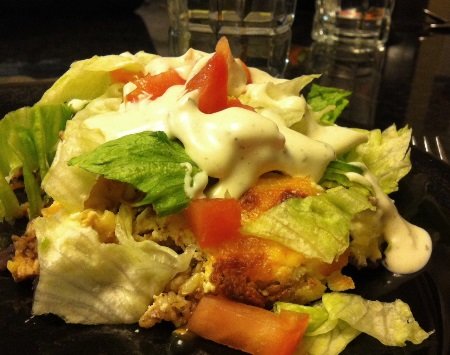 This is one of my favorite foods at the moment. I'm not even sure why I like it so good. I mean, it's basically just rice, beans, and chicken, which doesn't sound all that exciting. But man, it is so GOOD!!! It must be the cumin. Or cilantro. I don't know, but I just had it yesterday and I'm craving it again. I wonder how many days in a row I could eat it before I'd get tired of it.
So, please make it.
Don't let the list of spices, herbs and steps make it look daunting.
I'll be honest, it is kind of time-consuming to make. But all casseroles and soups are. ……..When I say that sentence in a conversation, it's like I want to ask myself "Did I yell that? Or why did everyone perk up and half the people are wildly talking over each other disagreeing with me?" Every time I say that, people come up for air defending it because "casseroles are so quick" and "just throw together a soup". It will forever be a mystery to me why I seem to always be standing alone on the casseroles-and-soups-are-more-time-consuming island. I just realized that I'm off on a bunny trail here, but I'll follow it a bit more and tell you why I feel the way I do… in case you're coming up for air too. 😉
There are so many steps to all-in-one dishes… you fry the meat, you cook the noodles, you chop the veggies, you sauté them, you make and thicken sauce. You mix it together, add more things, and then you still have to bake it, stir it, or cook it.
When it's all separate, you bake/fry/cook it, and then it's done and ready to put on the table.
Maybe I'm a bit biased because I prefer to cook the "separate" way, partly because that's how I grew up, partly because Shannon often grills the meat if it's separate, partly because I'm always stumped about what to put on for side dishes because all the food groups are in the main dish, and partly because you can taste each food better. Ok, let's bring this bunny trail back over to the main trail again.
I'm just sitting here wondering why I'm putting a plug in for "meat & potatoes" meals when what I'm posting is an all-in-one meal! Ha.
Yesterday when I made Chipotle in a Bowl, it seemed to go extra fast because… 4 of my friends were sitting on bar stools around my island (the one in my kitchen, not the opinion one up there that I stand alone on

) and we were all chatting the morning away with cups of coffee. I wish they'd come sit around my island every time I'm cooking. It takes something already enjoyable… cooking … and makes it even more enjoyable… cooking with friends and coffee! 😉
Chipotle in a Bowl …from the cookbook Simple & Satisfying
CHICKEN:
1 1/2 lbs chicken breast, cut into bite-sized pieces
2 Tbsp. lemon juice
1 1/2 tsp. seasoned salt
1 1/2 tsp. oregano
1 1/2 tsp. cumin
1 tsp. garlic salt
1/2 tsp. chili powder
1/2 tsp. paprika
Marinade chicken in seasonings for at least 4 hours. Fry in oil until done.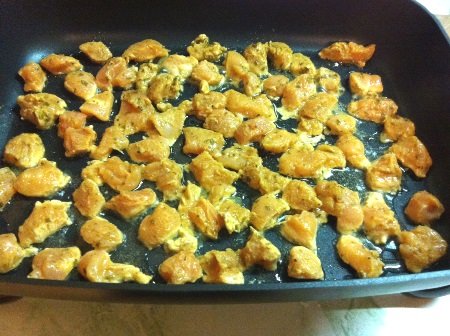 RICE:
2 Tbsp. oil
2 cups rice
1 c. chopped onion ( I go a little easy on this.)
1/2 tsp. pepper
1 tsp. salt
1 Tbsp. plus 1 tsp. chicken soup base
1 tsp. cumin
1 tsp. oregano
1 tsp. garlic powder
1 – 2 Tbsp. cilantro, fresh is best
4 cups water
Fry rice and onion in oil, then add remaining ingredients. Simmer until rice is soft. I've never timed this, I'd say it's about 1/2 hour. I just go by when the water is gone.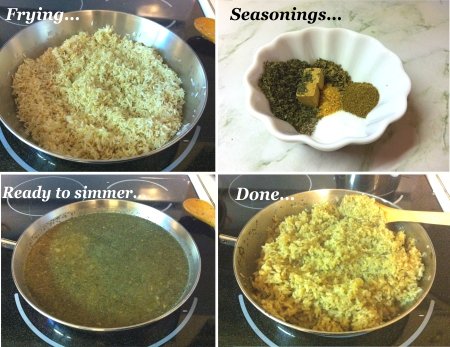 BEANS:
2 cups cooked black beans (I use canned. A couple of my friends say dry ones that you soak yourself are better. I want to try that next time.)
1/2 tsp. cumin
1/2 Tbsp. chili powder
3/4 tsp. lemon pepper
1/2 tsp. salt
1 – 2 Tbsp. cilantro
Simmer bean ingredients together for 10 minutes.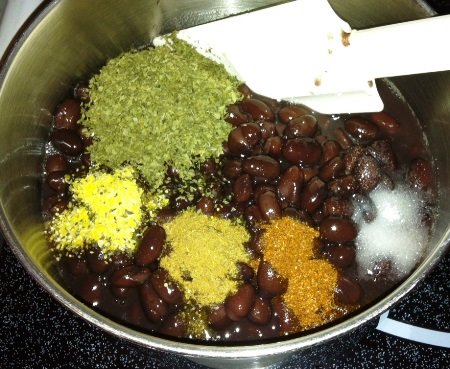 TOPPINGS:
2 cups sour cream
2 cups shredded cheddar cheese (I use Mexican blend.)
Lettuce
Tomatoes or salsa
Ranch dressing
Put rice in a greased casserole dish, then top with black beans and chicken. Spread sour cream over chicken and top with cheese. Bake at 350 for 30 minutes. Serve with remaining toppings.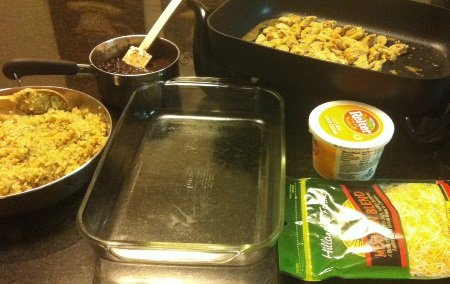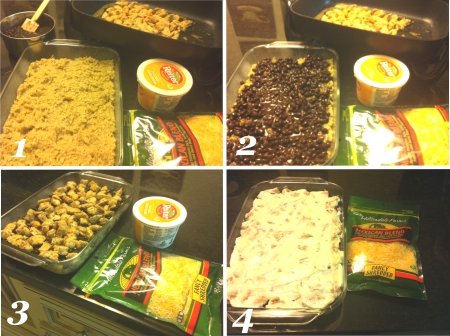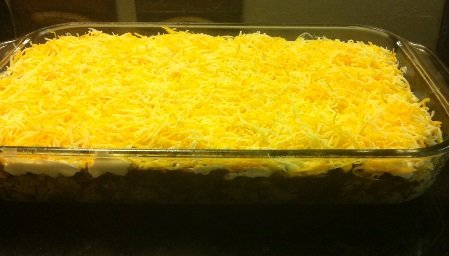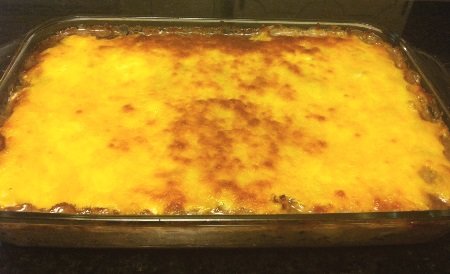 This recipe is great as is. The only thing I'm going to try changing sometime is using only half the rice. I think it's a bit of an overkill for how little chicken is in the recipe, even though I really like rice.
We all love this. It's just bursting with flavor and it's not too spicy for the kids.
It's all the same thing… which do you call it? When I was a kid, we called it puppy chow. So, it will always be puppy chow to me. My kids seem to have heard it called monkey munch somewhere, in addition to me calling it puppy chow, because they call it monkey chow. Sometimes I wonder how foods get their names. This fun make-in-15-minutes-or-less snack has nothing to do with monkeys or puppies. Or buddies.
I'm going to post the regular recipe, but I'm also going to post a variation. It all ends up tasting pretty much the same. I tried it one time when we needed a puppy chow fix and we were out of chocolate chips. And it worked! Improvising when you need a chocolate fix and you're out of chocolate chips reminds me of no bake cookies. Been there done that. I have a confession to make… I often don't keep chocolate chips on hand for the sole purpose of not having to exercise as much self control. If it wouldn't be for chocolate in my life, I fully believe I wouldn't struggle with weight. Milk chocolate, that is. Why did they ever have to invent milk chocolate anyway? *she said, secretly thankful that they did because of the amazingness it has added to her life*. Dark or semi-sweet is about as tempting to me as, say, apples or something. Liz, I just now thought of you, my dark-chocolate-lovin' sister-in-law. So anyway, having milk chocolate chips in my cupboard are as tempting as having a stash of candy bars in there. I've tried to switch to baking with dark chocolate chips, but my girls happen to not like dark chocolate very well. Hmmm, I wonder why.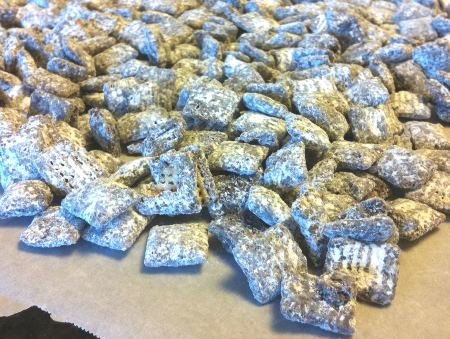 Puppy Chow
9 cups Chex cereal
1 cup chocolate chips (variation: melt 6 T butter and stir in 1/2 cup cocoa powder and 1/2 cup sugar)
1/2 cup peanut butter
1/4 cup butter
1 tsp. vanilla
1 1/2 cups powdered sugar
Put chocolate chips, peanut butter, and butter in a bowl and microwave for 1 minute. Stir. If it's not all melted, put it back in the microwave for 30 seconds until it can be stirred smooth. Stir in vanilla.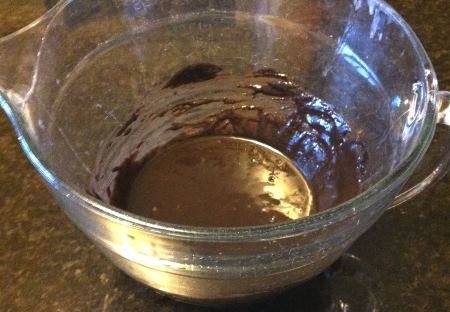 Dump Chex in and stir until coated.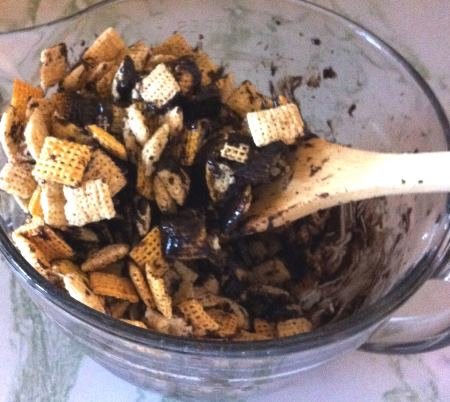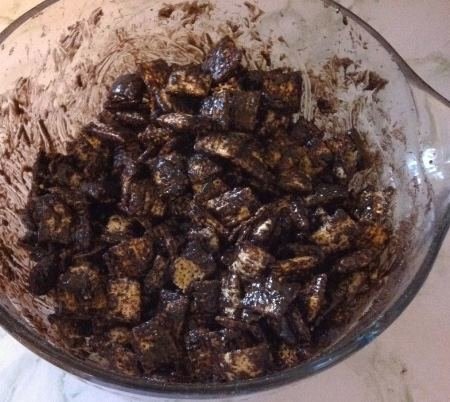 Pour into large ziplock bag, add powdered sugar, and shake to coat.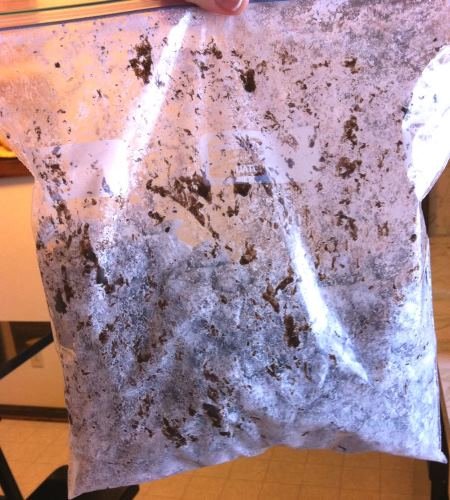 Spread on waxed paper to cool.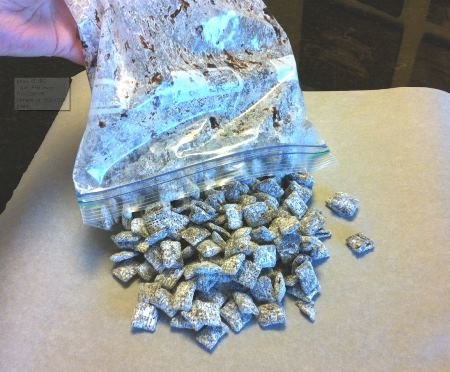 At this point, the puppy chow is dangerously vulnerable to kids, who magically appear in the kitchen while it's cooling.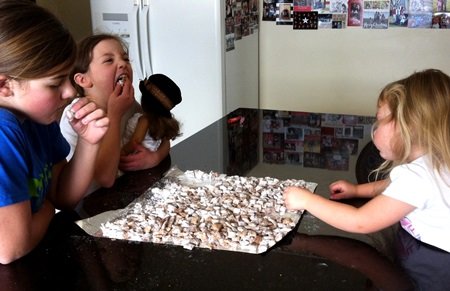 Liz and I were talking about puppy chow over the holidays because I was going to make it when she and a bunch of other family were here (but then didn't because there were SO many snacks already sitting around) and she said she stores it in the freezer because it gives it extra crunch. Crunch is a good thing. So now I store mine in the freezer too.
If it makes it to the freezer, that is. (Refer to cooling picture above.)
How can it be 2014 already?! It doesn't seem that long ago that we brought in the 2000s on the beach in FL. This year was brought in by tucking my girls and their cousins in bed and the cutest conversation in which their grandma (Shannon's mom) was explaining what new year's resolutions are and helping them make one. I was glad she vetoed and explained to my 11-yr-old how "Getting Mom and Dad to buy me an iPhone" is not a valid new year's resolution.

And the funniest one was when Chad (5) made one for his toddler sister… "I know what Tianna would say. She'd say to make the whole world into nippys".
So, I started the year out laughing… here's to a good one! And wishing you and yours a good year too! May you have plenty of cake.