These fresh fruit kabobs drizzled with chocolate are the perfect item for adding a bit of beauty and pizzazz to the table without a lot of time-consuming work. You can't beat that, right? So, keep it in mind next time you need to take food somewhere. It doesn't even require a fork so it works for "bring finger food" occasions. These particular ones were made for my husband Shannon to take to a company potluck at his office at Keller Williams Real Estate.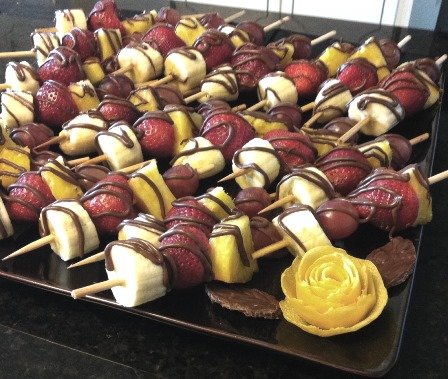 There is no recipe, just use any kind of fruit you want to… They all work great. Well, except apples. Apples sometimes split when you put them on the skewers. If you're using apples, the thinner the skewer the better. Just for the record, apples and chocolate go together awesomely! Is awesomely a word? I figure as long as you know what a word means, it doesn't really matter if it's technically not a word. 😉
Chunk up/slice all the fruit that gets chunked or sliced. Take stems off of fruit that gets de-stemmed. Toss fruits that get brown with lemon juice (more on that later).
In other words, before I start threading them on skewers, I like to have them all ready to go.
Then, start poking fruit on until: 1. Fruit is gone, 2. Skewers are gone, or 3. You have the desired amount.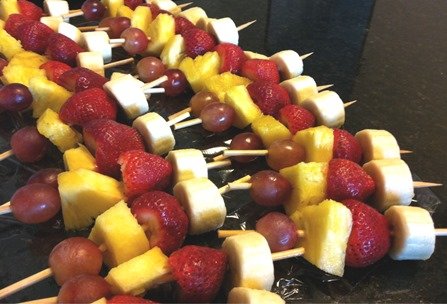 After the fruit is all on the skewers, put about a half cup of chocolate chips or candy melts in a sandwich bag, but don't seal shut. Put it in the microwave for 30 seconds. Flip it over and microwave it for 20 second. Work the bag with your hands and put them in for 10 seconds. Do this until all the chocolate feels smooth and no chunks are left.
I need to get back in my zone… that zone where I automatically remember to take pictures at each step! I was having too much fun and just kept rolling instead of stopping for pictures.
Now, you're ready to drizzle. Put the kabobs all really close together so less drizzle lands on the table. Snip a little corner off of the bag and just scribble back and forth over the fruit. Then immediately separate them or else the chocolate will harden and pull drizzles off of its neighbor.
Put them on a plate. Garnish if you want to.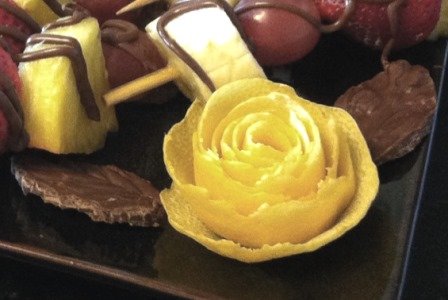 Here are tutorials on the rose and leaves, in case you want to make some:
Rose • Chocolate leaves
The rose tutorial is actually for making a tomato rose, but it's the same technique.
Now, about the bananas and keeping them from browning.
Lemon juice is the secret here. I did a little test where I checked them after 3 hours and after 6 hours. A little after the 6-hour mark, my girls came home from school and I let them eat my experiment for an after school snack… and then thought of it later that I should've tested the bananas longer, like 24 hours. But what I did learn is that lemon juice works its magic for at least 6 hours, and that was the info I needed because unless they have to set/freeze/marinate/etc, I rarely make things more than 6 hours ahead of time. Maybe that's because I'm a procrastinator.
So here we go, the experiment. The pictures above were taken right after I made it, where even a fresh banana would still be looking good. The pictures below were taken 3 and 6 hours afterwards.
3 hours after being tossed with lemon juice: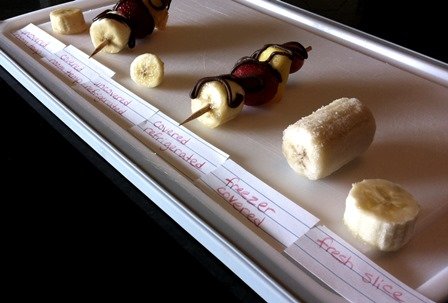 From left to right: uncovered room temp, covered room temp, uncovered refrigerated, covered refrigerated, covered frozen, and a fresh slice.
The fresh slice is NOT 3 hours old, it's just there for comparison. The frozen one is thrown in there for fun… it actually has no lemon juice on, it was peeled and put into the freezer right away and is probably more like 3 months old.
6 hours after being tossed with lemon juice:



The middles are starting to get a little brown, but are still fine.
What I was surprised was that between all the lemon-juiced ones, there was pretty much no difference! I'm glad about this tidbit because it gives flexibility. Here is a closer up. They all stayed firm too, no mushiness.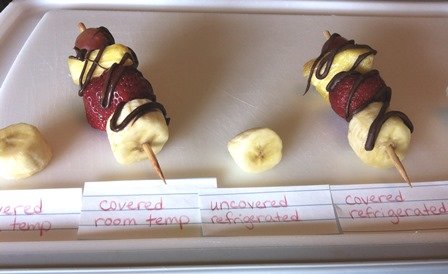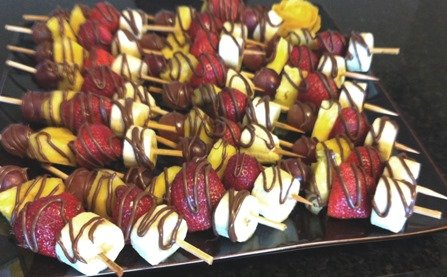 Here come the Holidays… make some of these pretty things!  It's a delicious, healthy snack to set out on the snack table (with the chocolate covered Ritz crackers, cookies, red-green-silver-foil-wrapped Hershey kisses, and party mix).
You know how certain words make your mind immediately go somewhere? Well, Southern Fried Chicken does that to me. I picture a diner in the south with a comfy waitress who reminds me of Grandma and calls all her customers "Honey" and has a smile that warms the entire place and makes you want to come back again. Right after that, I think of my friends in Macon, MS. Yep, I think of you guys instead of FL or anywhere else in the south.
Here was our menu for supper.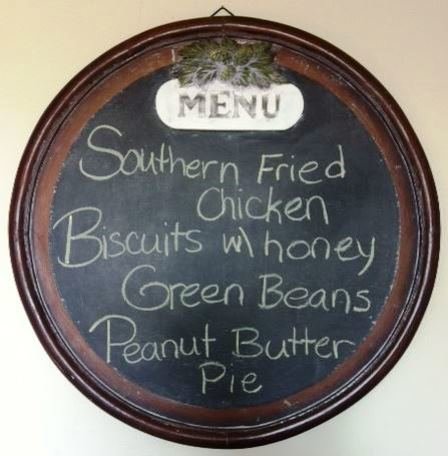 This chicken recipe is kind of a concoction of different recipes and things I've heard/learned. So, I'll just write it all in one concise recipe and you can change it up even more if you want. 

Southern Fried Chicken
2 lbs chicken breast cut into strips (they fry faster if you cut em up, I cut each piece into about 3 pieces)
1 cup buttermilk
1 cup flour
1 tsp. salt
1 tsp. pepper
1/2 tsp. paprika
Light olive oil …Yeah, I'm serious, olive oil. It's healthier and it keeps the chicken from being too greasy. Just make sure it says light-tasting on it.
A few hours before supper, put the chicken breast and buttermilk in a big Ziploc bag. Mix it around a bit to make sure all sides of all the pieces have been coated in the buttermilk. Put the bag in the fridge.
Dump oil in an electric skillet and turn to 350 to get it to heating. Mix the flour and seasonings in a bowl. Take the pieces out of the buttermilk bag and coat them in the flour mixture.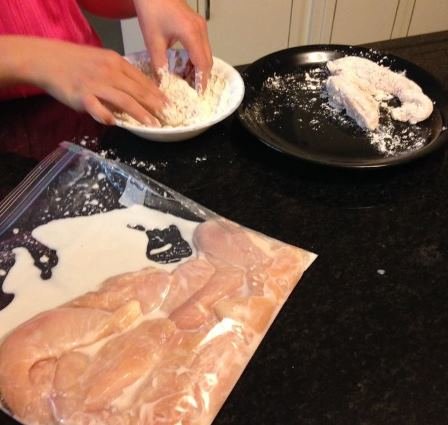 When the light goes off on the skillet, put in a few pieces. Don't put too many in at a time or the temperature of the oil will go down too low and oil will soak into the chicken. Fry 4 minutes on each side or until the internal temp is 170.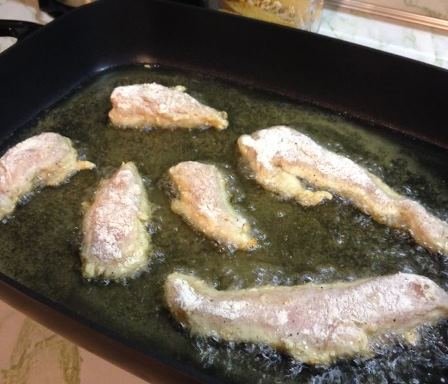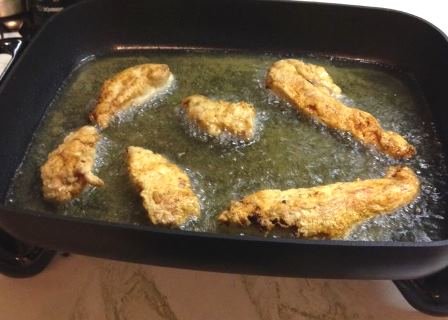 Transfer them to a paper-towel-covered plate to drain. To keep the first batch(es) hot while you're finishing frying, you can put them in a warm oven. I only had 2 batches, so I just stacked them together after they had drained and then covered them. They stayed nice and hot.
We ate them with BBQ sauce and Ranch dressing… not at the same time. But just now that I'm thinking about it, I think I've heard that those 2 mixed makes a really good sauce. I'll have to remember that next time. Honey mustard is another good option.
This meal was on the table in about 1/2 hour from walking into the kitchen. Well, the pie was made ahead of time. Lexi (she's 10 now) started on the chicken flouring while I mixed up the biscuits. Then I started frying while the girls (yes, all 3) cut the biscuits… can you say "flour on the ceiling"? Just kidding, but there was definitely some on the floor. And the green beans were easy, just cooked and seasoned.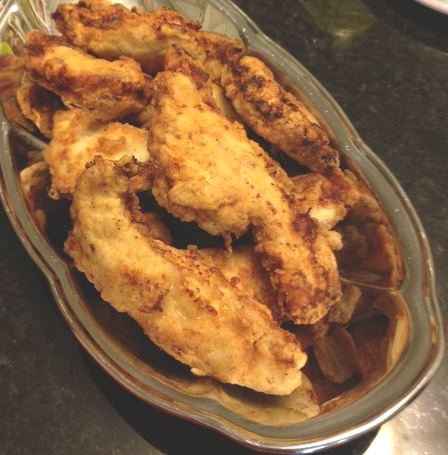 Finger lickin' good!! I know, I know, that's so cliché. Here's something not cliché: Go make 'em! 😉
Wow, my backspace key is smoking. It's like I don't know how to write anymore. It all sounds weird, so I keep starting over. So, I'm just going to write, even if it sounds rusty. I missed this site. And my mom and my sister Jan say they're tired of looking at the kid lunches now. Time to dust it off and start posting again.
My afternoon was spent cooking yesterday. And thinking. And not thinking about taking pictures of what I was cooking! I need to get into the habit again! What I was thinking about is how working in the kitchen is what I want to do with my life in the future. I think I could probably find people who'd take a meal or birthday cake or bucket of cookies now and then. 😉 Problem is, the ladies who are the age that I picture being when that happens in the future are still so crazy busy. They're not exactly sitting around knitting. If that's me at that age, I guess I'll just have to hire a maid.
I was going thro' some pictures a bit ago to find a recipe to feature or at least pictures of some sort. What I found was miscellaneous pictures.
First, we have an unidentified cheesecake. I have no idea where this recipe comes from, which is sad because it looks so sinfully good. It's layered and swirled and chocolate chippy. And it's in my kitchen and I vaguely remember making it. Oh, if I'd only know where I got the recipe! Any ideas?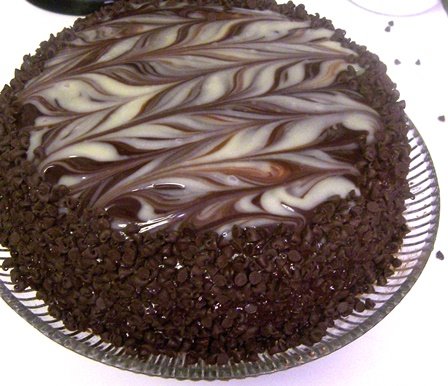 Here is a slice so you can see the layers.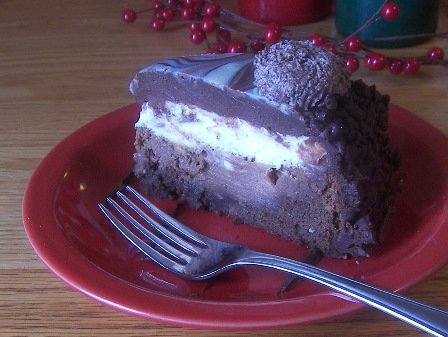 Next, is another mysterious recipeless dish. This might be a bit easier to identify, so let me know if you know what it is!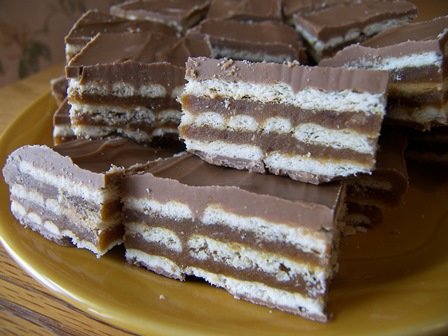 Here is a progress picture. The light layers are crackers. The other layers look carmelly and then chocolate on top. Mmmmm!!! You can bet I'll make these again if I figure out what recipe it is!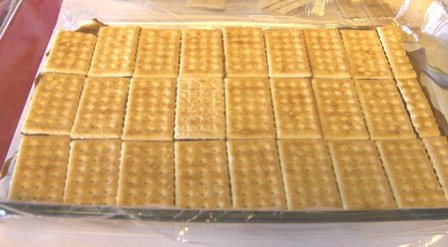 Here is just a way to change up peanut butter pie. Like, for example, if you don't like to make pie crusts. The directions are very complicated, so pay attention: crumbs, pudding, crumbs, pudding, crumbs, pudding, crumbs.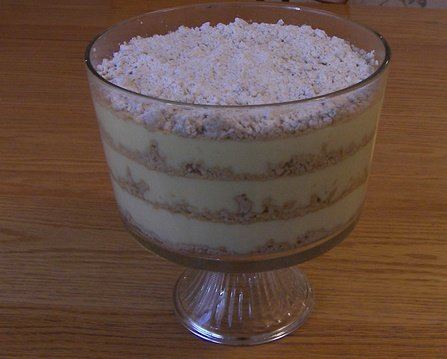 I'm not saying the OSU fans in this Kroger grocery store are crazy about their football team or anything, they're just selling pop.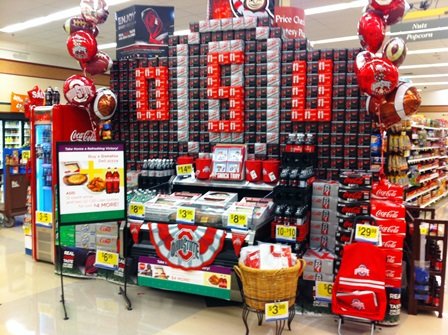 This next picture says more than just cookie baking going on.
One thing it says is that we moved to a different house. My kitchen quadrupled in size. So did the cupboard space and the countertop space. I'm fine with that.


Another thing it says is that there is someone in the picture who hasn't been in my blog before. That is Bonnie. Bonnie and Tommy are special and live in an attached apartment here. They are a part of our life. It hadn't really crossed our minds before that someday we'd become houseparents to mentally handicapped adults, but an opportunity came up and here we are. They are pretty independent and like to do a lot of things for themselves like cleaning and simple cooking and laundry. Then, they do other things on the farm like chores (raising calves, chickens, rabbits), cleaning a rental cabin, and mowing. Their mode of transportation is a golf cart and do they ever put on the miles in the summer!

Transportation around the farm, that is. Their mode of transportation off the farm is us. They also work a couple afternoons a week at a local thrift store. They love it… it helps them feel useful and needed.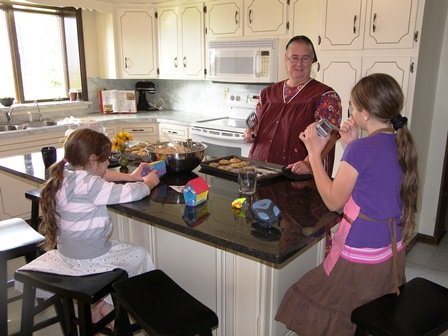 Fall is in the air. I love this time of year.
And I leave you with a reminder to always add lots of whipped cream to your hot chocolate…