There. I did 2 posts with meat in, so let's get back to the fun stuff! 😉 No, really, I am planning to keep it a little more balanced… I think anyway. Sometimes I think I should've named this site something like "Chocolate Dipped Tidbits" or "Living for Chocolate, Dying for Some More" and do sweets only, what with that being my passion and all.
Speaking of which, I totally get Tiffany (my 5-yr-old) in this little conversation that happened one day last week:
Her: "May I have an ice cream cone?"
Me: "No, you already had one today."
Her: "Pleeeeeeeeeeeeease? I REALLY need one."
Me, feeling sorry for her, but sticking to my guns: "No."
Her, pulling out the trump card in desperation: "I'll give you all my money if you let me have one."  
If we run out of cones and ice cream around here, my girls think it's a real crisis. Currently, we have sugar cones (the pointy ones that sorta look like waffle cones) and regular cones in 2 sizes (the ones that are flat on the bottom and taste like newspaper just plain). These cone cake pops use the mini size of the regular cones.
Awwww, aren't they adorable?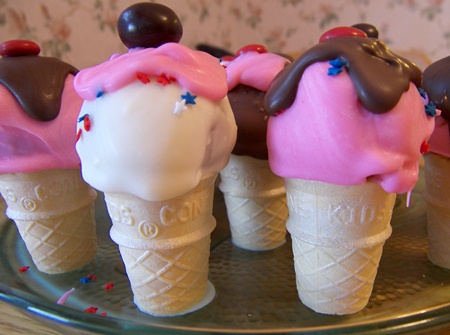 You really do need to see these in real life. The cuteness factor doubles from a picture to real life.
I know you can't really tell the exact size because there's nothing to compare it to. So, here's one in a 13-month-old pudgy hand, if you know what size they are in real life. This is a real ice cream cone, but the same size cone.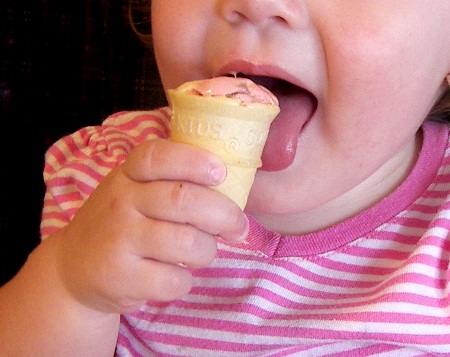 Yeah, we're getting Megan hooked on ice cream cones already. This size is so perfect for her because she's done eating it by the time it starts melting and dripping.
I got this Ice Cream Cone Cake Pops idea from Bakerella's website and her Cake Pops cookbook (which my friend Ruthie gave to me for my birthday last year… it was on my wish list, and I never told her, how cool is that?!) Bakerella used sawed-off sugar cones, but I decided to just use mini regular cones so I wouldn't have to do all that cutting.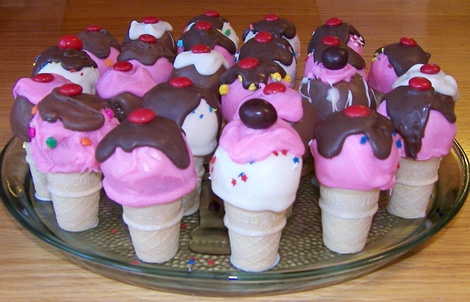 So here's what you do. Take a baked cake and crumble it up and add a bought can of frosting and mix it together.
Or…
Get the leftover cake out of the freezer from a graduation cake you made earlier, thaw it, crumble it, mix up some frosting and mix a few dollops into the cake crumbs. That's what I did. So, these cake pops were white cake mixed with cinnamon cake.
By the way, next time you're buying cake mixes and you're undecided on the kind, please buy a cinnamon one. This is the first time I tried it and it was SO good! You'd think I would've already thought to try that, what with having married into a we-love-cinnamon family. I want to make one sometime with cream cheese frosting. Mmmm mmmm mmm!!! You can use cream cheese frosting in these cake pops, but then you should refrigerate them, which is why I used regular frosting.
Here are the cake crumbs and dollops of frosting. I forgot to take a picture after it was mixed…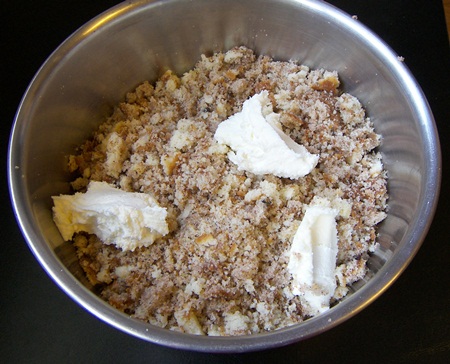 Roll the cake mixture into balls about the size of a golf ball, maybe a little smaller. Don't make all those little dents in it like a golf ball has, though. Put the cake balls in the freezer for 15 minutes, then transfer them to the fridge if you're not ready to dip yet. They should be chilled, but not frozen.
Here is when I was just ready to start. Those bowls are both melted white chocolate, but the one has pink food coloring in it. The melted milk chocolate is missed on the picture. I put some M&Ms in the bottom of the cones just for a fun surprise.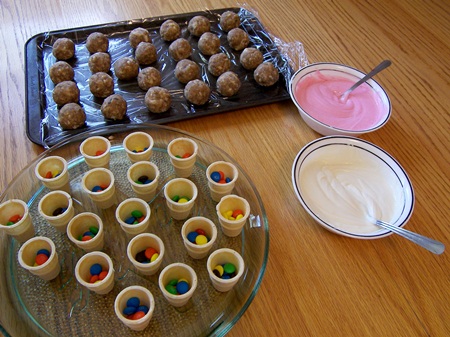 Dip a skewer in the melted chocolate, then into a cake ball. You can take a spoon and spoon some chocolate over to get it fully covered if the chocolate isn't deep enough to fully immerse the cake ball, but don't spin or stir or twist it around in the chocolate because crumbs may fall off or it might come apart. Then, put the drippy chocolate covered cake ball on one of these mini cones and pull the skewer out. It will kind of start to drip over the sides to make a melty look. That is a good thing.
This is after the process is underway…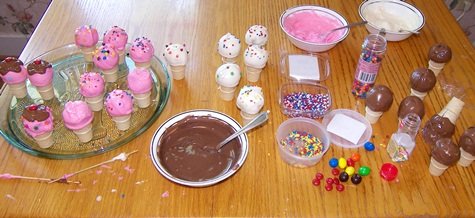 After the cake pops are dipped and put on the cones, take another color of melted chocolate and put on top, letting it start going down the sides a bit. Put on sprinkles if you want to. Put a red M&M or peanut M&M on top for a cherry.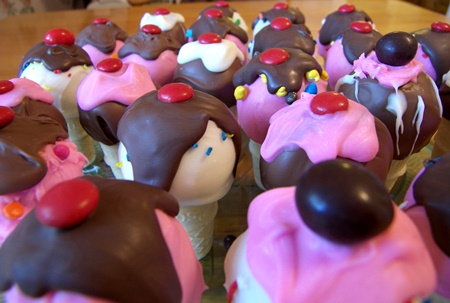 To make tipped over ones, put the cake ball on a flat surface instead of on a cone, then put the cone slanted on top of it. Bakerella calls this a "happy accident on purpose". I love that term! 

 Now, we leave Bakerella and go on to an extra tip and idea for these from me:
1. These little things are top-heavy. So if you're taking them somewhere, put a little bit of melted white chocolate on the bottom of the cone, then set it on the plate. In no time, it is hardened and you can move the plate around at will… without ice cream cones landing on the floor.
2. Pipe thick chocolate letters on plastic wrap or wax paper, put them in the fridge till they're hard, and stick them to the top with a dollop or two of melted chocolate… and you've just personalized your cake pops to the season/event/occasion!

Here are some specific ideas:
— Write "Welcome Home" on them and put them on the counter, ready for someone coming home. That's actually the very thing that made me think of putting letters on top of these… around the time I was making these for a church picnic, some friends of ours were coming home from a trip and I had intentions of doing that with the extra ones, but with a combo of a change of plans in my day and procrastination, they got home before I got it done. But at least I'm glad for the idea now, to use in other ways. 
— Use them for the cake at a birthday party and write "Happy Birthday (insert birthday person's name)" 
— Write your kids' names.
— Make the entire alphabet, with extra A's, E's, T's, M's, S's, and whatever other letters are used more often. Then, let your kids play with them, writing words and phrases or even complete sentences.
And last but not least, if you love someone, do this…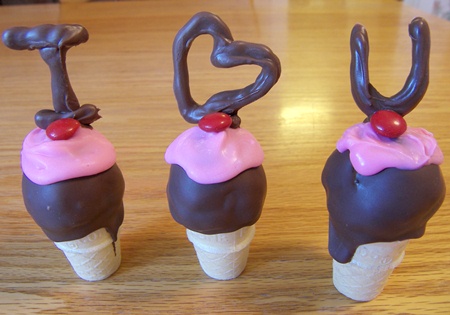 Being a mom and having guilt go together like pancakes and syrup. It just goes with the turf. You wake up in the morning and right away you can think of things to feel guilty about. I should spend more time… I should not have gotten upset when…  I shouldn't have let them… Maybe we should give them… I should be getting up, what with the baby yelling for me from her crib and all…
If you get that first paragraph, then you know what I mean when I say how it makes you feel when your children make good choices… despite all your mistakes, something is getting through.
Well, here's my little triumph in the food dept… my girls count Grilled Chicken Breast Salad as one of their favorite meals. We have it at least every other week. It's hard to get a healthier meal than this, really… fresh veggies, hard-boiled egg, lowfat mozzarella cheese, some croutons, and grilled (not breaded or deep-fried) chicken breast. In the tortured mental games that I sometimes put myself through, them liking salad seems like it, in some way, compensates for the times I say yes to ANOTHER piece of candy or that lazy Saturday when we had ice cream cones for breakfast (hypothetically speaking, of course, not like any responsible parent would ever actually allow that, or do it herself), or those times when I let the girls fend for themselves for lunch and it's anything but a square meal, a triangle meal at best.
Chicken Breast Salad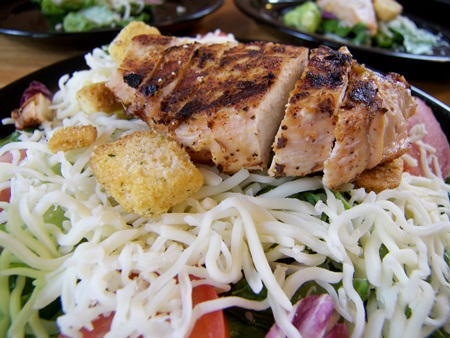 I'll show you how a meal that involves grilling is a joint effort for us… I'll color code it just to humor myself.
Shannon's 1st job: Starting the grill, either charcoal or gas. This particular time, he used gas because it gets ready faster.
My 1st job: Thawing the chicken breast. Here's how I do it. It goes from freezer to thawed in 5 minutes… which is good news to any of you who don't always plan ahead and don't get the meat out the night before to begin thawing!  
Take this out of the freezer: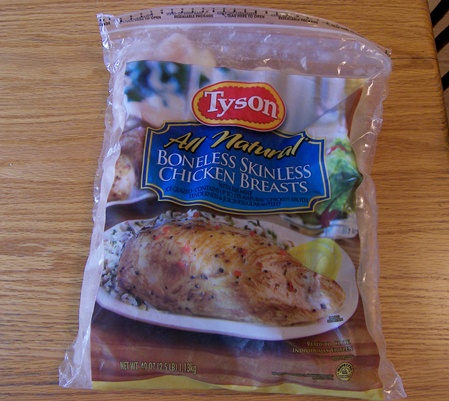 Put the frozen chicken pieces out on a dinner plate.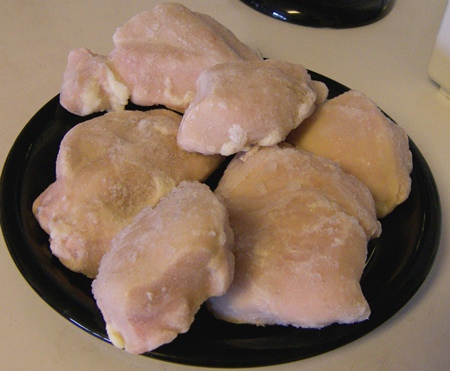 Put the plate in the microwave on High for 1 minute. Flip the pieces, reposition them so what was on the outside is now on the inside, and if one was on top, don't put it on top the next round… in general just move them around at random.
Repeat that step 4 more times. If we're having rolls or breadsticks to go with it, during those minute intervals is when I'd be getting them in the oven. Trim off some fat and drain off the juice. Your plate of chicken breasts should look like this, thawed and ready to hand over to the master of the grill.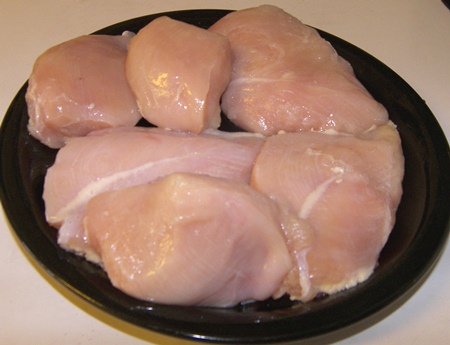 He seasons them with Chef Paul Prudhomme's Blackened Steak Magic seasoning. You can season more boldly when it's going on a salad than if you'd be eating the meat by itself. If you notice the 2 small ones with little seasoning, those are the ones the girls will eat. Their tastebuds seem to not be mature enough yet to handle the extra kick, so theirs get only Lawry's Seasoned Salt and I think Shannon might sprinkle some Lawry's on ours too. And then he puts them on the grill.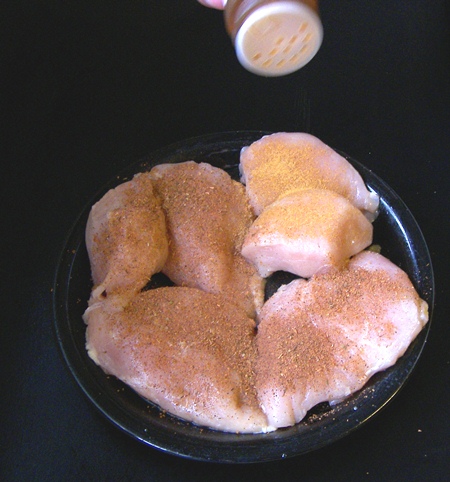 Meanwhile, I'm making salads…
Lettuce
Tomatoes
Mushrooms
Hard-boiled eggs
Shredded cheese
Croutons
Whatever else you want or have on hand like Carrots, Bacon, Italian seasoning, whatever. And they don't all need to be the same… personalize them to each person's taste.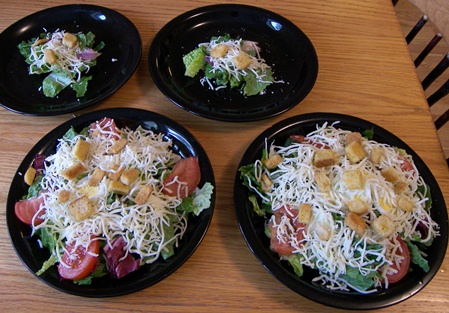 Looks kinda refreshing on a hot day, huh?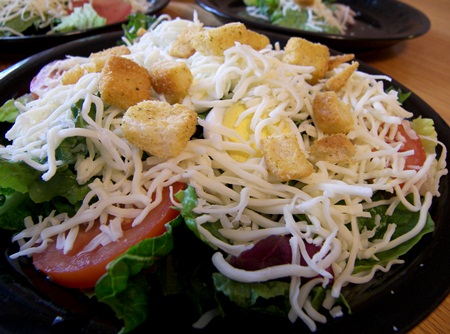 Meanwhile, the chicken is on the grill. I left my salad-making and followed Shannon out to the grill when he went out to flip them…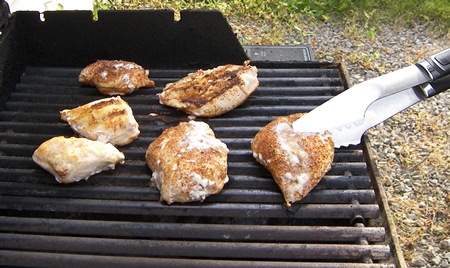 Those of you who want to make this salad, I hope you sorta know how to grill chicken breast because when I asked Shannon what he did and how and time on the grill and stuff, I got very sketchy details, but I also got some great tips.
For example, I asked how long they were on before he flipped them and he didn't know. He said you need to be on the edge of your comfort zone with it, though, and not overdo it. He said alot of people freak out about making sure chicken is done and then end up with dry rubbery chicken. You want it so it's just so done, not pink anymore, and juicy. So, of course, I asked how to know when that is and he said, "You just go by instinct."
So, yeah, good luck with that.
You could use a meat fork thermometer. Shannon used to have one, but hasn't for quite awhile because, uhhhh, one time yours truly immersed it in water because the handle was messy and, you know, of course one time of immersion wouldn't matter… famous last words. Yet, grilled chicken breast around here always ends up being perfect… done, but still juicy.
My only job left is to get out the cutting board and the knife… HIS knife, I should say. Yeah, we each have our own knife this size and we each think our own is THE best. Sometime, I should put them both on here and take a poll. I'll best mine would win because, if for no other reason… it has a case! 😉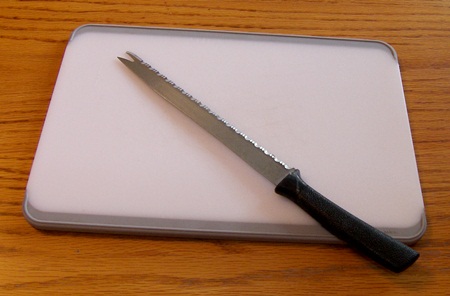 Soon, he brings the chicken in, slices it,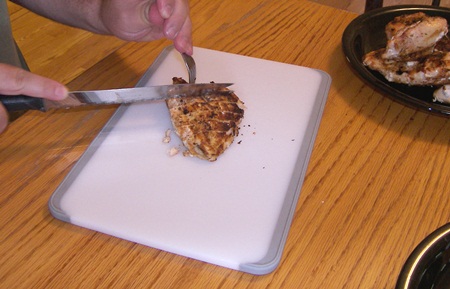 and places it on top of the salads.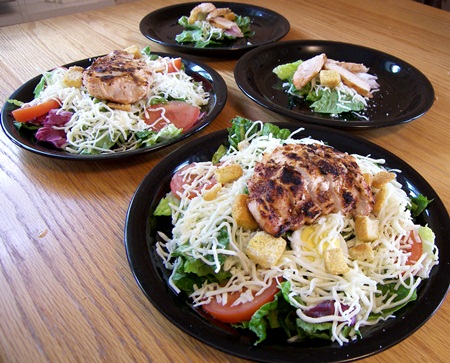 Zig-zag some Ranch dressing over it…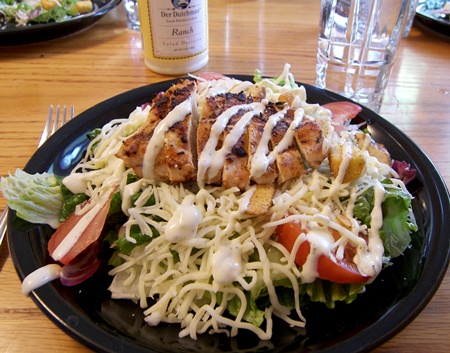 And dig in!
You don't think this salad is so healthy that it could actually take away those cavities caused by the extra pieces of candy, do you?
Just recently, Shannon said, "You oughta put some meat on Kitchen Scrapbook again." As I thought about it, it did seem like it had been awhile, so just for kicks, I checked… and was surprised… in the last 27 posts, the only thing with meat in it on here was Haystacks! And that's not a dish where the meat is really monopolized on. So, here we go, something with meat… a main dish, for something different. I know it's not a CHUNK of meat, but hey, there IS meat here.
One main dish in 27 posts shows you a bit where my interests lie. I don't churn out full course meals as often as you might think. I like cooking meals, I really do. But you know what I LOVE? Baking, desserts, decorating cakes, and playing around with food. It's hard to do fun stuff with main course dishes. And main course dishes are necessary… the sweet things aren't… and we all know that somehow there's always more fun and passion in unecessary things. I should add in a clause here about meat… I've heard and seen enough from the guys I'm around that I DO understand that there is fun and passion in smoking and grilling chunks of meat… but I don't know a flippin' thing about doing it, so I'm quite happy to stay on the eating end of it rather than on the fire end of it.

This is the first time I'm posting one of Pioneer Woman's recipes on my site, even though I've made quite a few of them. One I still need to try is the cinnamon rolls. I just need to see for myself that it's just as good or better to sprinkle on white sugar instead of brown sugar just before rolling them up. When I do try them, I think I'll do some with white and some with brown… and compare. The best part of all that is that it entitles me to TWO cinnamon rolls. 😉 Anyway… why am I talking about cinnamon rolls?! Back to the thing of posting a Pioneer Woman recipe on my site… It's sorta like what's the point because it's already posted in much more finery and humor already on her site. It's not that I feel threatened by her… because you can only feel threatened by people or things that are in your league. 😉 So, here is the link to the recipe on her site: Pioneer Woman's Sloppy Joes. And in case you don't feel like clicking to go over there, I'll post it here, too.
I actually just grabbed my cell phone to take pictures of these because, well, my camera battery needed charged.
Also, I made a half batch, in case the quantity in the frying pan looks small to you… you know what I thought of right now, I should've made a full batch and put half of in it the freezer for another meal!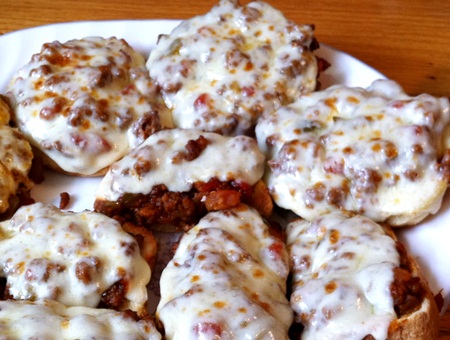 Pioneer Woman's Sloppy Joes
2 Tbsp. butter
2 1/2 lbs ground beef
1/2 onion, diced
1 green bell pepper, diced
5 cloves garlic, minced
1 1/2 cups ketchup
1 cup water
2 Tbsp. brown sugar
2 tsp. chili powder (more to taste) I actually cut back on this because I wasn't sure how much kick it would give it.
1 tsp. dry mustard
1/2 tsp. red pepper flakes (more to taste)
Worcestershire sauce, to taste
2 Tbsp. tomato paste (optional)
Tabasco sauce (optional; to taste)
Salt; to taste
Black pepper, to taste
Kaiser rolls
Butter
Add butter to a large skillet or dutch oven over medium high heat. Add ground beef and cook until brown. Drain most of the fat and discard. Add onions, green pepper, and garlic. Cook for a few minutes, or until vegetables begin to get soft. Add ketchup, brown sugar, chili pepper, dry mustard, and water. Stir to combine and simmer for 15 minutes, adding salt and pepper to taste.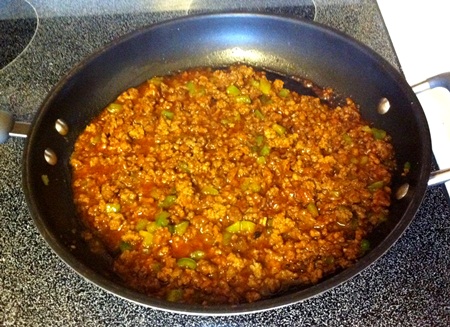 Also add tomato paste, Worcestershire, and Tabasco if desired. Taste and adjust seasonings as needed. Spread rolls with butter and brown on a griddle or skillet. Spoon meat mixture over the rolls. And then I added a slice of provolone cheese and put it under the broiler for a few minutes.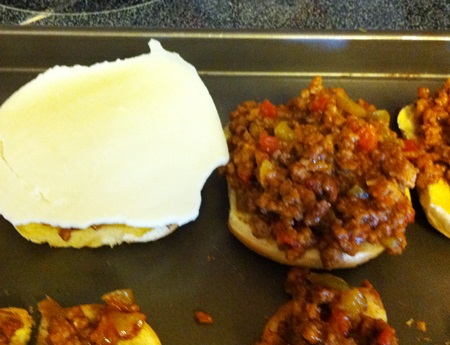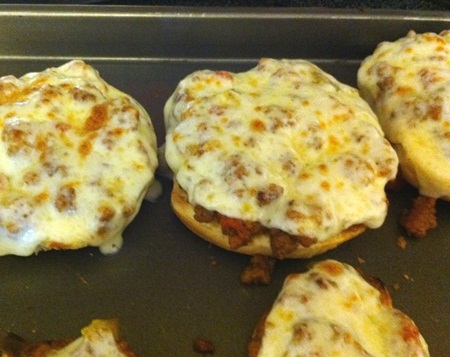 These are hands down THE BEST sloppy joes I've ever made or eaten! Dancing with flavor. I backed up the spicyness a little and I think it was just right… in my world, sloppy joes aren't supposed to be spicy. But a little zing was perfect. So, anyway, this will now be my sloppy joe recipe unless I find another one to kick it out of 1st place.
In other news, we're grilling tonight. Not sure what we'll grill, but I think I'll feature it in the next post, whatever it ends up being. The meats we have on hand to choose from are: burger, chicken breast, fish, and a 1.14-lb sirloin steak. Oh, and when I say "we're grilling", I am, as usual, using the term 'we' very loosely.
What are you grilling tonight? And feel free to use the term 'you' very loosely. 😉
It's July. And it's blitzin' hot! Right now, mid-evening, the thermometer says 89 degrees. Perfect… it's July.
The girls and I had some red, white, and blue fun today. This is when we were ready to start. Excitement was high. I had a few ideas, but I didn't know what the end result would be… there was gonna be alot of experimenting going on…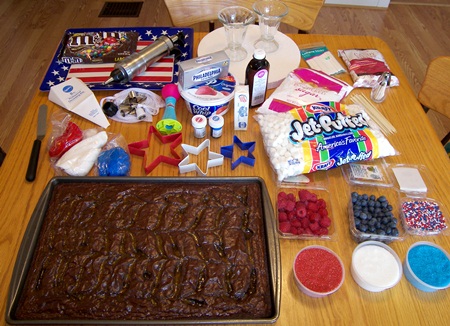 And here was the end result: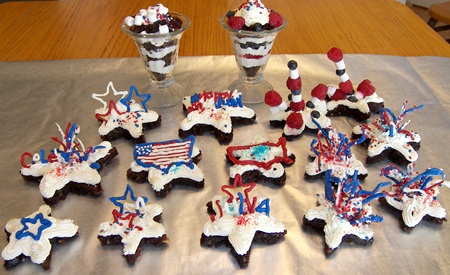 It's basically 4 different things… parfaits, berry shish-kabob decorations, fireworks, and randomly decorated brownies.
I made a big pan of brownies and then cut them out with star cookie cutters. I thought that would be faster because my star baking pan has only 6 wells and I'd have had to bake 3 or 4 batches. But, having it to do over, I'd use the star pan. You know how brownies kind of stick to the knife when you cut (unless you use a plastic knife)? Well, they stick to cookie cutters too. It wasn't too bad, though, and worked fine, but next time, I'll use my star pan.
Or, instead of brownies, it could be done just as easily on sugar cookies, cupcakes, or mini cupcakes.
The parfaits…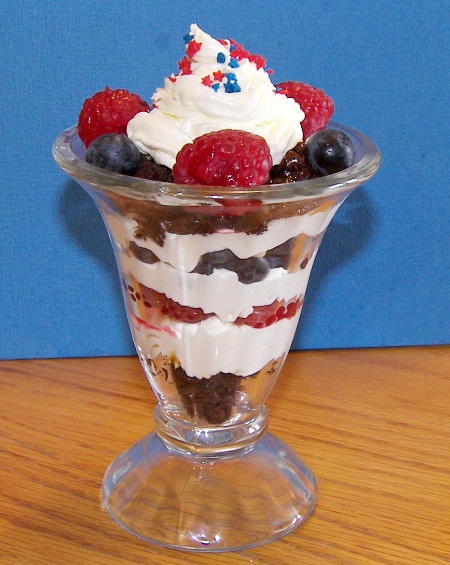 The parfaits tasted awesome and were easy and could be made in a large pedestal bowl instead of individual parfaits. This one is a layer of brownies, then cream cheese filling, then raspberries, filling, blueberries, filling, brownies, and then you can either put Cool Whip or filling on top and garnish with a bit of fruit and sprinkles. You could make a pan of brownies and cut them up into little squares to make this, or you could do what I did and use the brownie scraps left over from cutting out star brownies. 😉 The filling is: 8 oz cream cheese mixed with 1/4 cup powdered sugar, then that gets mixed with 8 oz Cool Whip.
The fruit shish-kabob decorations…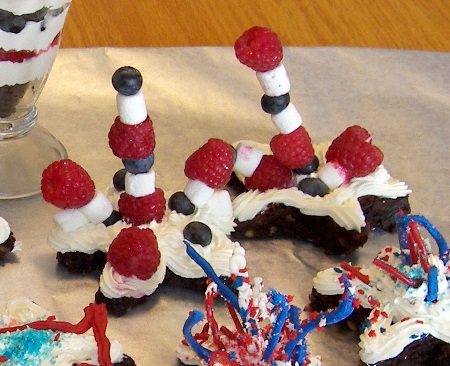 These shish-kabob things had serious issues… they kept falling over. We had to keep standing them up before each picture. We originally thought we'd try to make them look like fireworks, but we kept lowering our standards til our only requirement for them was to be red, white, and blue. We should've just skipped the sticks and made a mound of fruit on top. Oh well, the girls had fun stabbing the stuff on… and obsessing about making sure to get them in the right order of red-white-blue… but one time, one of them asked, "Mom, would blue-white-red be ok, as long as white is in the middle?" See? Obsessing. And you know what TOTALLY makes my day after all that fuss? I didn't notice it before, but just now I see that on the one tall one, it's red-white-blue-white-red-blue. 😉
The fireworks…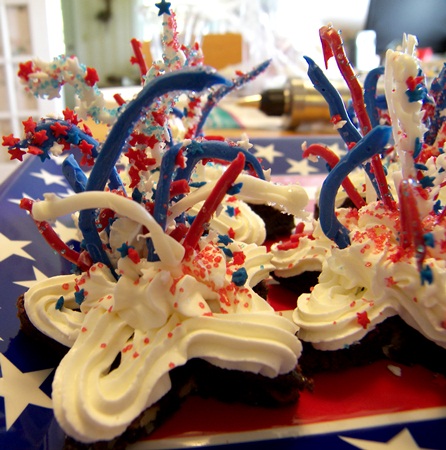 Oh, what fun! Didn't turn out quite like I had pictured, but that may be because the girls did most of it (also not what I had pictured) and I mostly just did damage control. We colored white chocolate blue and red and then piped the 3 colors on Saran wrap over a cutting board, then sprinkled on some colored sugar and star-shaped sprinkles, and put them in the fridge to harden.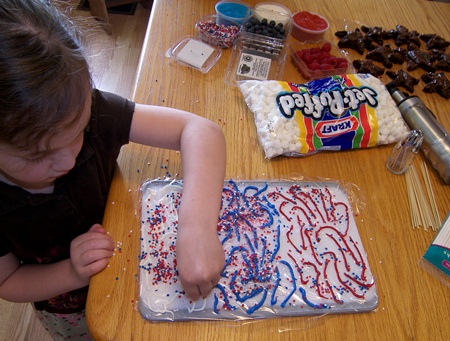 After 15 minutes or so, they were hardened and ready to assemble, which included jamming the sticks into the frosting on the brownies. Does 'jamming' sound a bit harsh for delicate little chocolate sticks? Yep. Harsh, but accurate. 😉 I really should've taken a video clip of that process… it was hilarious to watch and listen. 😆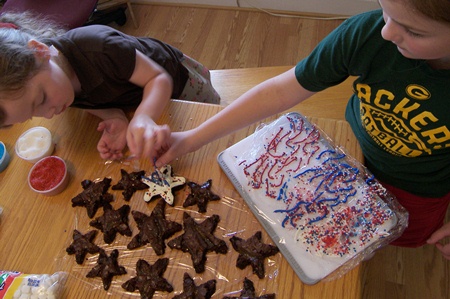 So, did it end up looking like fireworks? I don't know, but we at least have to give them credit for creating something that looks like some type of explosion…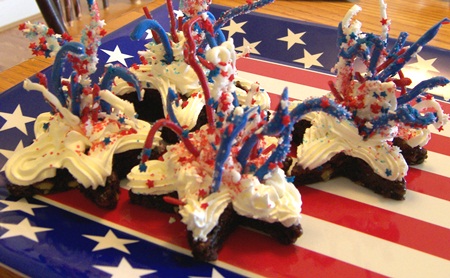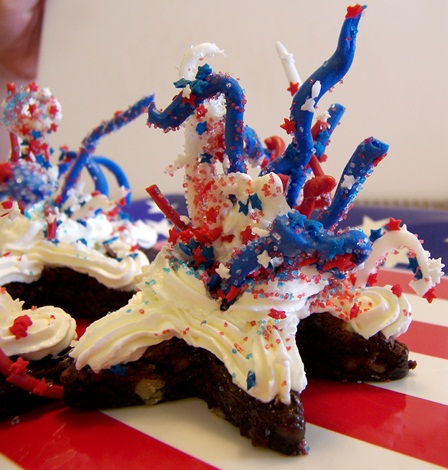 The randomly decorated brownies…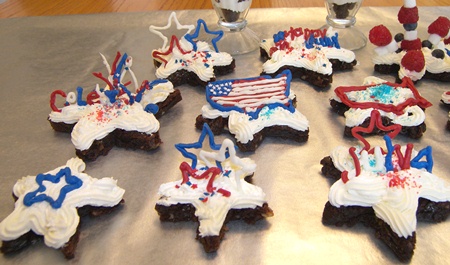 This was fun. I got an inspiration for this that I'll do more in the future for any occassion. Make a page on the computer of writing or shapes or outlines or whatever. Then, print it out and put it on a cutting board under a piece of Saran wrap. Then, pipe over it with chocolate. It'll make writing more even and shapes more accurate. Here is the Before/After…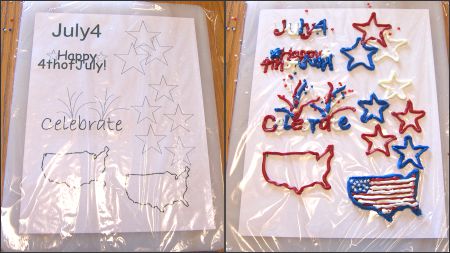 Then, put it in the fridge to harden. Peel off and garnish. The possibilities are endless with this print-out-and-pipe-chocolate thing! One tip is to make sure it's pretty thick. Another tip is don't hold it very long before putting it on because your warm fingers will start to soften it and it'll weaken and break.
Here are a couple of close-ups. Next time, I'd make an extra little thing sticking down to go into the frosting because, like July 4 down there, the Y looks like a V and the 4 looks like a triangle.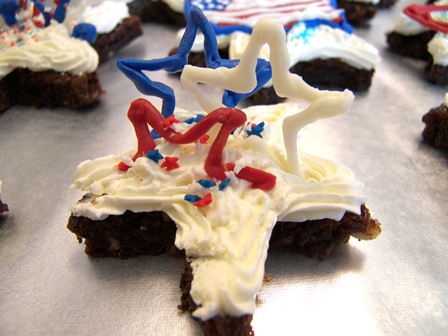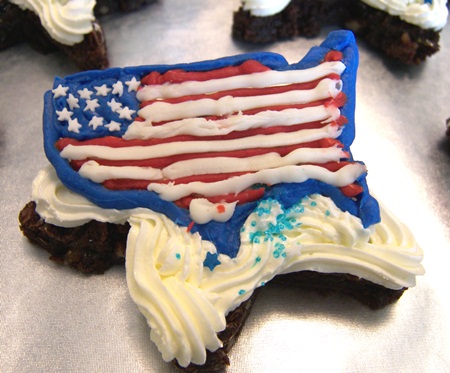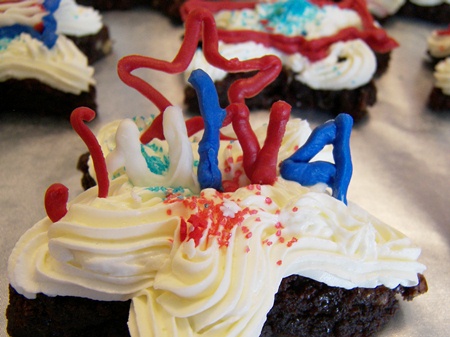 And, last but not least, United States rice crispy bars. After cutting it out, I put all the scraps together and re-flattened it out and cut out stars, then, sprinkled colored sugar on top. The flag is M&Ms… I had the kids separate out all the blue and red ones from a package.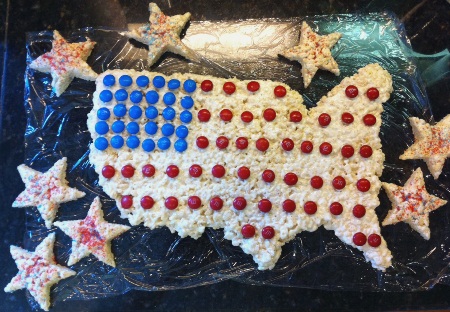 I used to have a plastic United States shaped mold. I had put it away for the year and when I went to get it out this year, something heavy was laying on it (a 15-lb dumbell, to be exact… yeah, don't ask, I have questions myself!) and it was hopelessly smashed. So, I just cut this freehand. The top does look a little odd from Michigan to Maine, but hey, you can at least tell what shape it's supposed to be, right?
Happy 4th of July from all of us! (even from Shannon, who was at work when we self-timered this picture)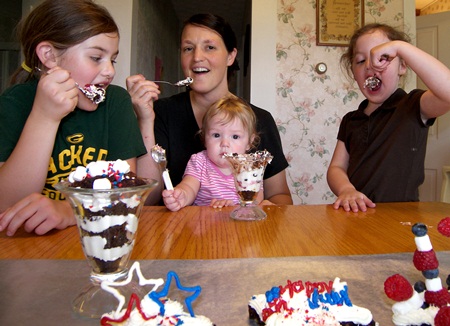 Excuse us for eating in front of you, but we couldn't help it when we saw that parfait sitting there. We're going to kick back and relax this weekend, maybe grill a burger or two and watch some fireworks. See ya next week!