Nothing says summer like watermelon cookies. Just kidding. I was only trying to sound cliche. There are probably 50 things that could go in this blank: Nothing says summer like ________ . Flip flops, burgers on the grill, buzz haircuts, sticky roasted marshmallows, sun-kissed cheeks, fresh strawberry pie, laying in the hammock, picnics, etc. etc. Oh! and watermelon. Watermelon anything.
Before we get to the cookies, I want to throw this in here. Watermelon cake. I made it a couple years ago, but you can make it this year!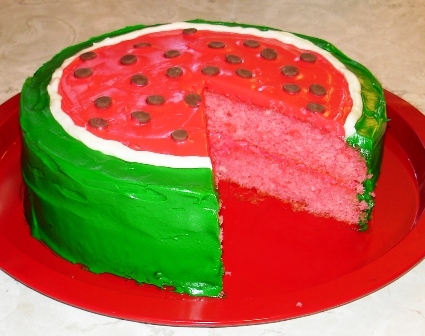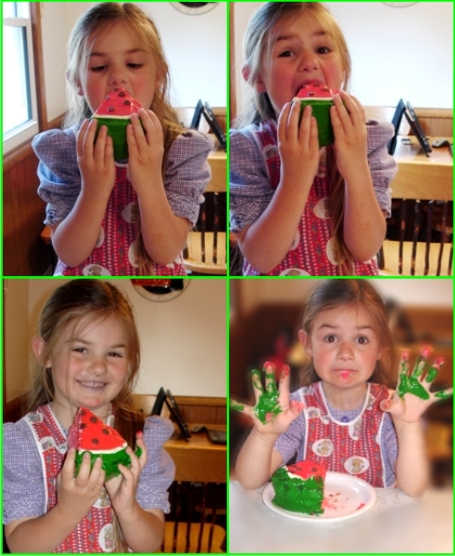 And now, onto the cookies…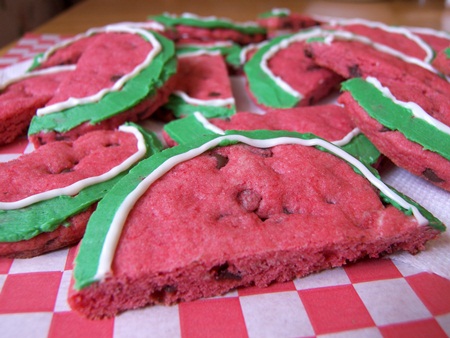 What these cookies lacked in taste, they made up for in cuteness and fun. But, when it comes to eating sugar cookies, you can't go by me because I'm not a sugar cookie fan. I like them ok if they're loaded with frosting, and these cookies weren't loaded with frosting. The girls liked them though, and that's what counts, I guess. These particular cookies did have chocolate chips in them too, which is good, what with sugar cookies needing all the help they can get.
I didn't know how I was going to get the cookie dough red, other than just using food coloring. So, I came up with a brilliant plan (sorta kidding about the brilliant part). I mixed up sugar cookie dough (this recipe) and cake mix cookie dough (this recipe, but I used a red velvet cake mix, and I skipped the silly Tbsp of flour). Then, I took about 1/3 of the sugar cookie dough and mixed it with a dollop of the red velvet dough. (Thought of it later that I could've tried simply dumping a pkg of red jello in the dough and see how that works, instead of messing with red velvet). Then I mixed in some chocolate chips. I rolled it out and cut circles, baked them, put a rind on, and cut them in half.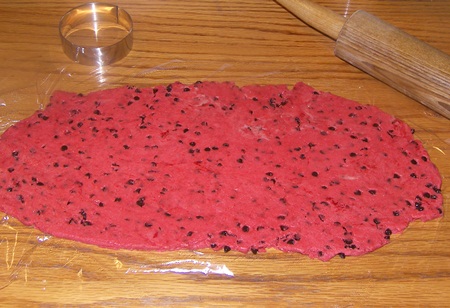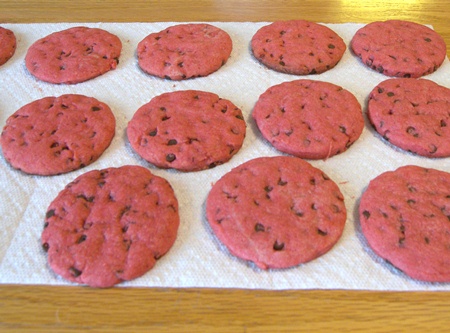 Btw, to do the green, I just piped a fat line around the edge, then spread it out.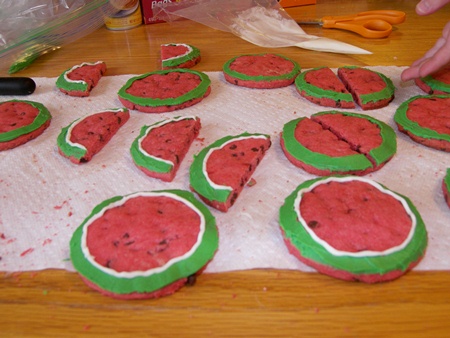 And ta-da! Watermelon-lookin' slices!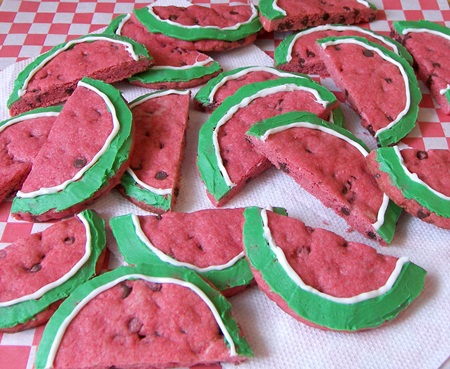 You know what I just thought of now? WHY did I not think to make some wedges and make some look half-eaten, like just the rind with a bit of red left on it or use a small flower cookie cutter and cut a 'bite' or two out of some of the slices?! So, there's an idea for you if you make watermelon cookies… I can't do it anymore with these because I made them last week and they are LONG gone. Oh, and another way to make watermelon cookies would be to make regular sugar cookies (not colored dough) and then frost them red, white, and green and press mini chocolate chips into the red frosting.
So, that's the end of the watermelon cookies. But if you were paying attention up there, you know that I have most of two batches of cookie dough left. What should we do with all of it? 
Mix them together and you'll have a bunch of red cookie dough. Then, make star sandwich cookies for the 4th of July, which is just around the corner!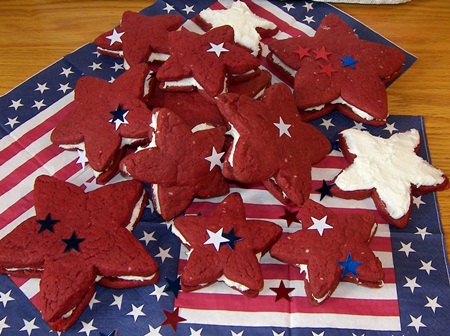 Speaking of the 4th of July, I'm going to 'play' a little this afternoon and make some fireworks out of white chocolate with the help of blue and red food coloring. Then, tomorrow sometime, I'll do a 4th of July post with those (whether they end up actually looking like fireworks or not 😉 ), USA/flag/stars rice crispies, and maybe another red, white, and blue thing or two.  
This is a perfect summer snack. It's easy to throw together and it's cool. Perfect summer snack, as in, if you're going to make it, summer would be the perfect time to do it. Not everything about the snack is perfect…. the taste and flavor combo is just amazing, BUT the. kids. had. sticky. e.v.e.r.y.w.h.e.r.e. I mean, when you're talking melted caramels and marshmallows, it's pretty much a given that it's gonna be sticky.
And it's also pretty much a given that it's gonna be yummy. 😉
So, consider the 'sticky' a warning and the 'yummy' a recommendation, and then you decide from there.

Maybe the time to serve it would be while the kids are out running thro' the sprinkler or on the Slip 'n Slide… think all mess outside and then getting washed off. Now we're talkin'!
The main thing is that we all kept coming back for more, and they are SO good… which is why I'm posting them and will definitely make them again!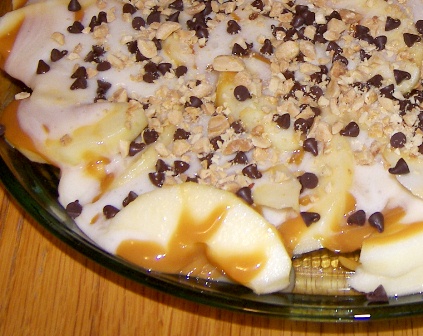 Apple Nachos …recipe taken from Taste of Home Oct/Nov 2010 magazine (and going by the picture they have with it, they only put on about an 1/8 of the topping quantities and their apples aren't peeled)
36 caramels
1 Tbsp. water
30 large mashmallows
1/3 cup butter, cubed
4 medium tart apples, peeled and cut into 1/4″ slices
1/3 cup chopped dry roasted peanuts
1/3 cup miniature semisweet chocolate chips
3 Tbsp. Halloween sprinkles (I skipped this)
In a microwave-safe bowl, melt caramels with water; stir until smooth. You could probably use caramel ice cream topping, but I think melted caramels would taste way better. 😉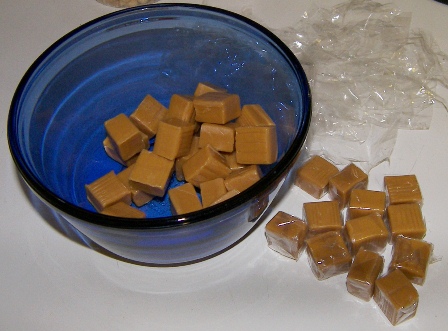 Meanwhile, in a large saucepan, melt marshmallows and butter. I think next time I'll do these in the microwave too… I do it in the microwave when I make rice crispy treats, so why not for this? I also want to try just putting a a jar of marshmallow creme in the microwave and see if it melts and becomes pourable.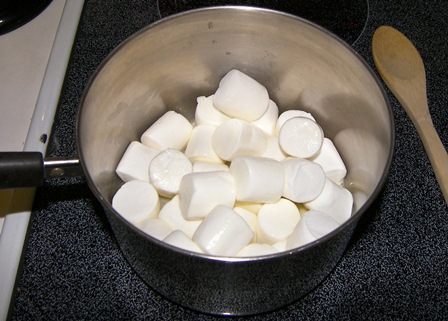 Arrange apple slices on a large platter.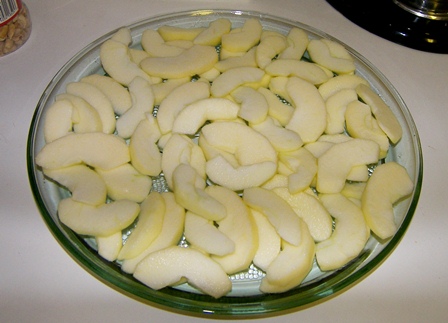 Drizzle with caramel. Love that phrase, the word 'drizzle' bumps it up a level. "Put the caramel on" just wouldn't have the same ring to it.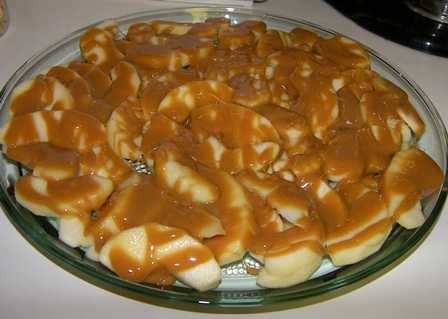 Top with marshmallow mixture.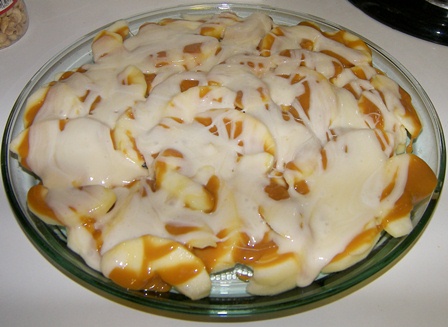 Sprinkle with peanuts, chocolate chips, and sprinkles.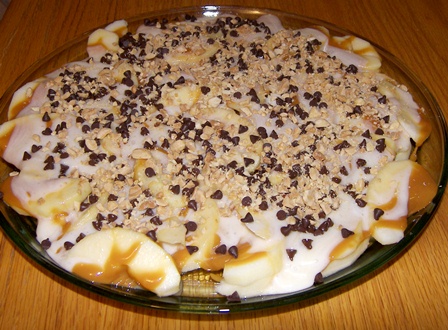 Serve immediately. Not kidding about serve immediately… we didn't eat the entire thing and a couple hours later, it was kind of milky and liquidy between the apples and caramel and the marshmallow stuff firmed up. It was fine, just not as easy to eat because huge chunks of toppings wanted to come along with each bite. Still tasted great, though! 😉
A year ago, I was memorizing the feel of a newborn in my arms; today I have to curl her legs up so she fits between the arms of the rocker.
A year ago, she couldn't even hold her own head steady; today she WALKS up to me and raises chubby little arms, asking to be held.
A year ago, she wiggled her little self into my mommy heart; today she is wiggled in even deeper. 
A year ago, I'd lay her on the couch and go do some work, knowing she'd stay there; today if I'd do that, I'd probably find her 3 minutes later in the bathroom pulling TP off the roll.
A year ago, I had to guess what she needed when she cried; today I still have to guess some, but she can get her point across very well when she needs/wants something. 
A year ago: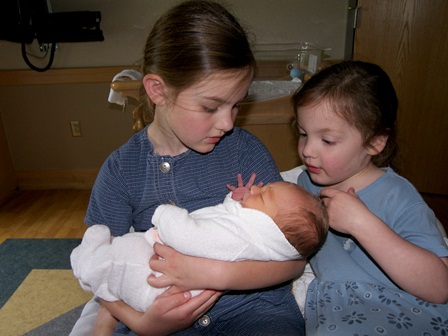 3 months old. I saw this 4-generation picture in the 3-months-old category of pictures and decided to put it on here, for a few reasons… because I'm proud of my dad and yesterday was Father's Day, because my grandma is very special to me and I'm so thankful I still have her, because some of you who know them might be interested in this picture, and because I love seeing 4-generation pictures.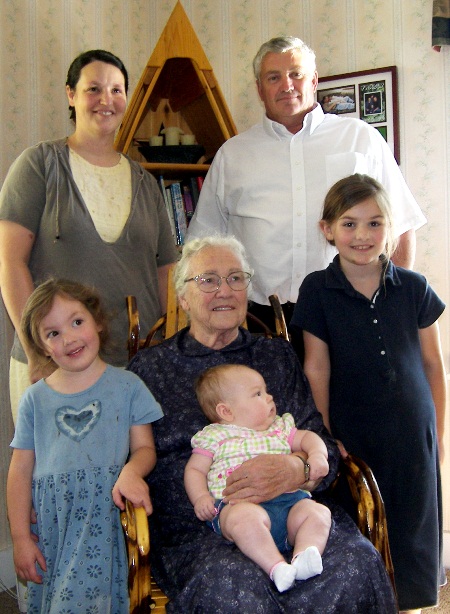 And we'll zoom in so you can see that at 3 months, Megan had some chubbies going on…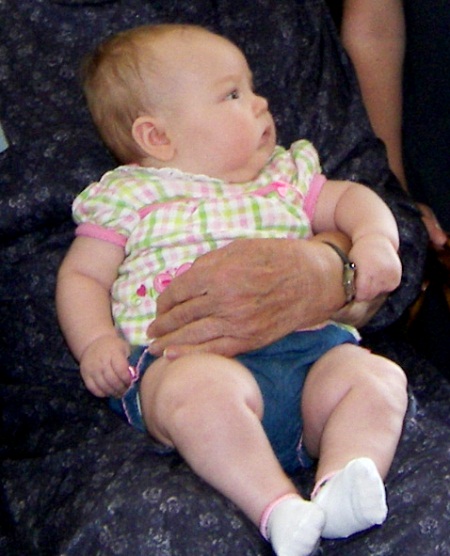 I'm just noticing that this picture is really neat… young baby skin against her great-grandmother's aging hand.
6 months. All smiles, which was/is very typical of her…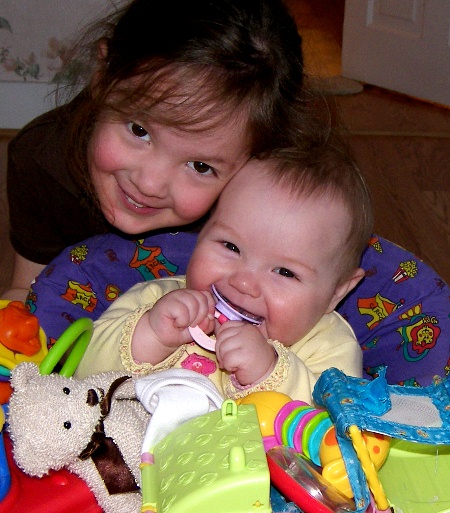 9 months. Wanna pinch those cheeks?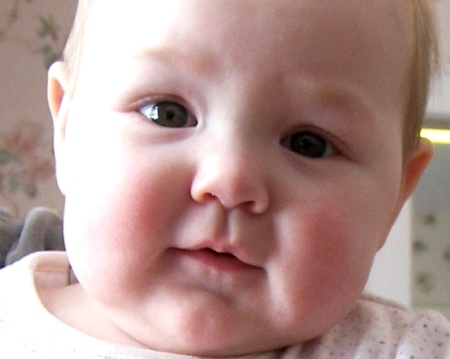 1 year. And yes, she feels as sturdy as she looks.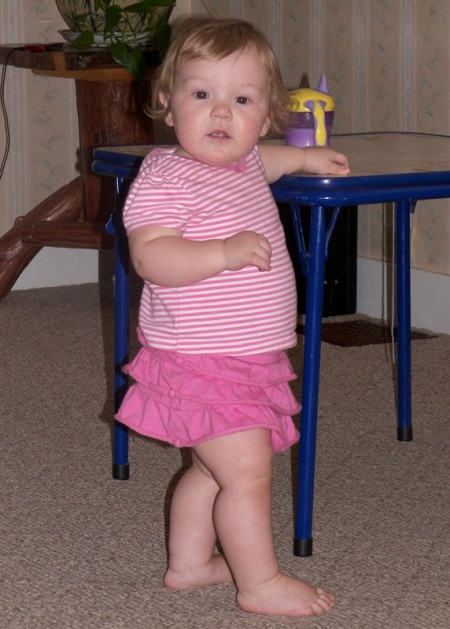 My little Megan. Easy-going. Happy. Charming. Friendly. Chunky. And surrounded by love. Thank-You, God, for her.  
And now for the cake. It was a puppy cake.
Here is the cake sitting beside the inspiration for the cake.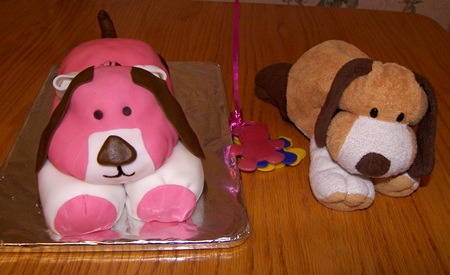 I know, so classy… dig thro' the toybox for birthday cake ideas. Well, ok, that's not actually what happened. First, I decided to make a puppy cake. Then, I needed a puppy to look off of. Then, I said, "Tiffany, could you please go find Sammy?"
My friend Kristen helped me with this. She brainstormed with me and we decided to make it pink and brown instead of tan and brown, so if you look closely, or more like just look… it's not hard to see… you'll see that everywhere that Sammy is tan, Birthday Puppy is pink, and the dark brown and white are the same on both. And then we added a bow. Kristen kneaded some fondant and made the button on the bow, the nose, and the eyes. She is 13 and she is confident and creative… two things which are very helpful when putting details on a cake!
I only have one progress picture of this cake. It's one when it was mostly frosted and the legs are already covered with fondant.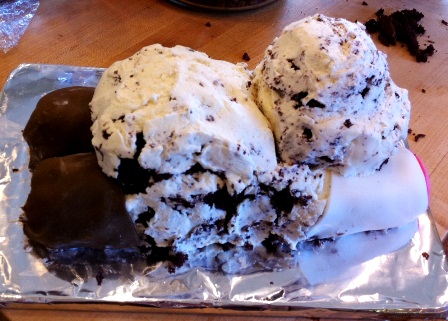 The way to spell magic is f-o-n-d-a-n-t. 😉 Doesn't look like much, does it?
But put some fondant on and look what happens…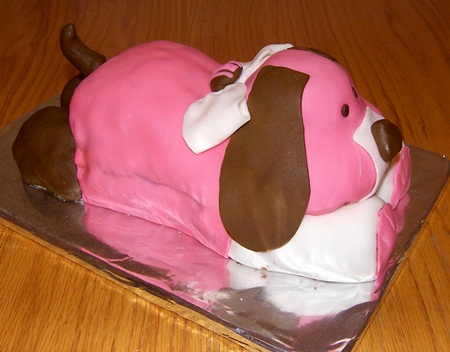 Yeah, I did smooth the frosting out some, but for some reason a crease showed up where the layers meet. I wanted sort of a lumpy loosely-stuffed look, but not necessarily a crease look! Oh well.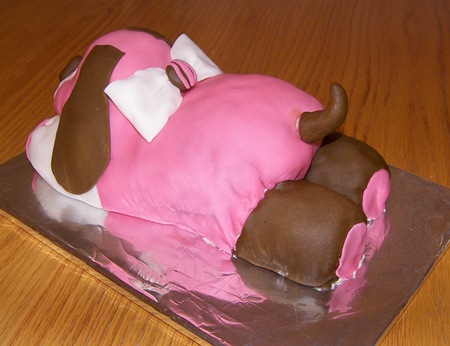 Here is a close-up of the bow.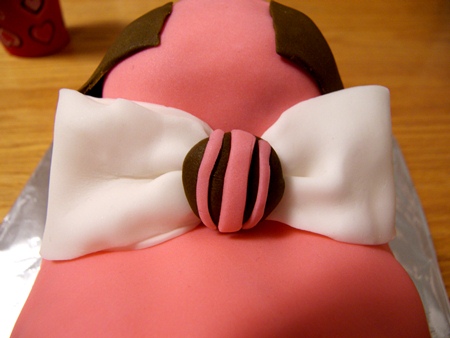 As I was making the white part of the bow, I told Kristen we'll need something for the middle of it and right away she started rattling off ideas, so I told her to have at it and here's the little button she came up with. Cute!

The cake was sitting out on the table and one time when I walked through the dining room, this is what I saw… it was Shannon's doings. 😆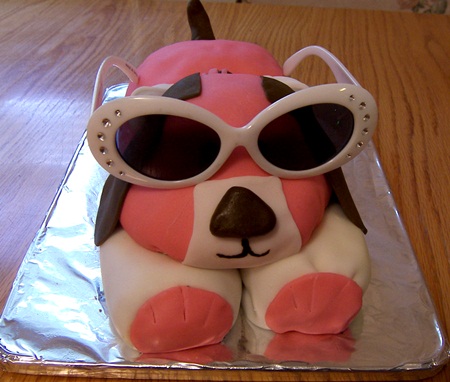 Ok… we have some kids around here somewhere. Let's add them to the cake pictures…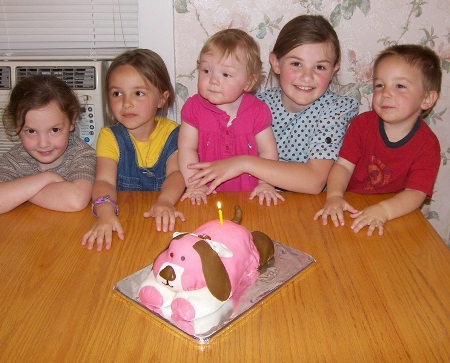 Yay! It's cousins from WI!
Tiffany, Kaitlyn, Megan, Lexi, Chad
I was planning to make a bone to give to Megan to dig in, but then that didn't really happen, so she just got a leg of the puppy. First, she broke off a piece and tried to give it to Kara. Such a thoughtful giving person at such a young age, making sure other people get cake before allowing herself to indulge.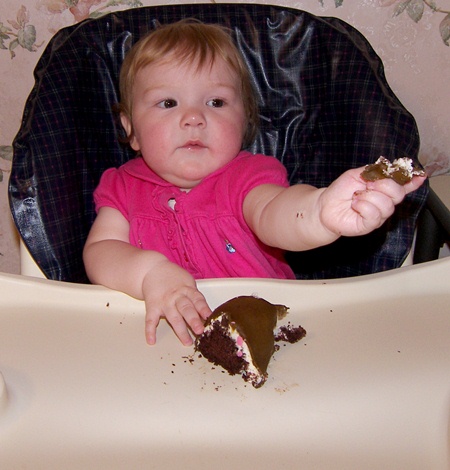 Then, she dug in herself…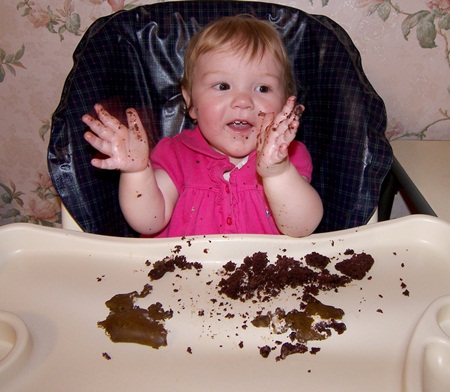 Happy birthday, Megan. I hope you stay this sweet and good-natured forever!
It appears that the cook around here is on strike, doesn't it? I think it's more a thing of needing to hire a scribe because I currently have pictures for 4 posts. I've made supper the last 2 evenings, and for some crazy reason, I can't remember back farther than that. Probably several snacky fend-for-yourself meals in there somewhere. Yeah, we do have those weekly, and then some more on the weekend… that's why I try to keep frozen pizzas, hot dogs, nacho stuff, cheese & pretzels, and cold cereal on hand. Anyway, the last 2 evenings, we've had grilled chicken salad and wet burritos, respectively. I like the grilled chicken salad because all I have to do is throw a couple salads together and possibly pop some refrigerated Pillsbury breadsticks in the oven… the rest is on the grill, which, if you've been reading Kitchen Scrapbook for any length of time, you'll know I don't touch the grill. I have the 4 plates of salad sitting out on the counter and Shannon brings the chicken in AND cuts it up and puts it on top of the salads. On the wet burritos, I read my post on that last night and thought it was strange that I served crescent rolls and salad with it. Huh? That sounds more like lasagna sides! I don't even remember serving that with it; now I serve tortilla chips salsa with it. And sometimes applesauce, just because I have a thing aboout that there's gotta be at least 3 different things on the table, not counting condiments, otherwise it looks skimpy. 
I finally made my salad that I'd been craving a couple weeks ago. So, what does the word 'colorific' mean? I decided it must be a made up combo, merging colorful and terrific. And that would fit this salad. I got this recipe from Jolene. Thanks, Jolene, it's a keeper! Connie, thanks for your recipe too, I'd like to try it sometime… I don't go for feta cheese, but I'll bet that could be substituted for mozzarella.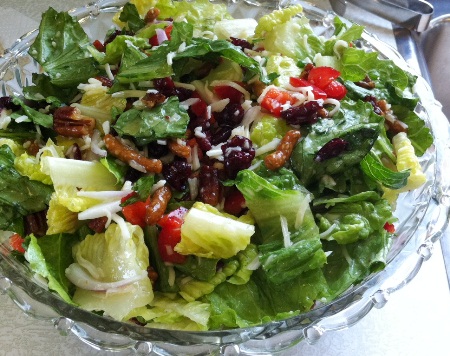 Colorific Salad
1 c. craisins
1 c. red peppers
1 c. honey roasted sesame sticks
1 c. pecans
2 c. shredded cheese
1/2 of a purple onion
1 head of romaine lettuce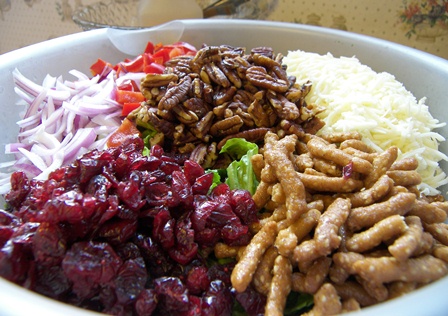 Mmmmm… you know it's gonna be a good salad when you have to say "Where's the lettuce?" 😉
Oh, one little tidbit… I took the idea from Connie's recipe to saute the pecans… yum! I didn't sugar them though.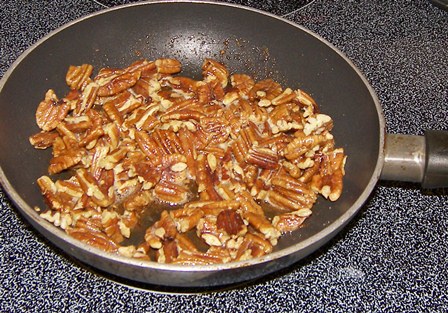 Dressing:
1 T. mustard
1 c. sugar
1/2 c. oil
1/3 c. vinegar
1/4 c. water
1 tsp. salt
1 Tbls. minced onion Blend dressing in blender. I put this picture on here so you can see what color the dressing is…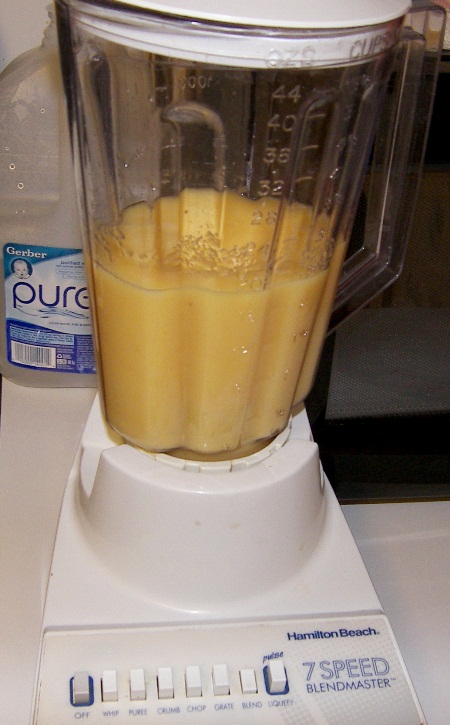 Toss with salad ingredients.
I was taking this to a carry-in meal at church, so I took it in this big bowl with a lid (more room for tossing) and put the dressing in a separate container… you can see it all in the background here.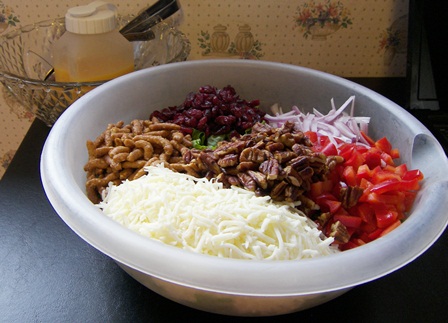 And then, instead of letting the kitchen help take care of tossing my salad, I went out when church was almost over to do it myself so I could get a 'done' picture. 😉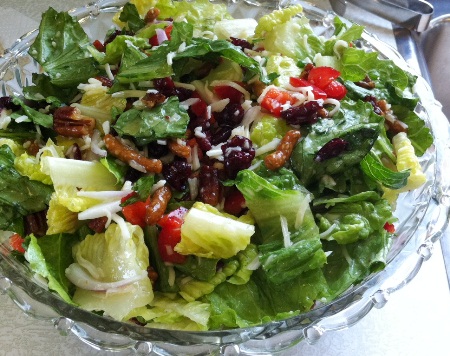 Next up… Megan's puppy birthday cake. How did my baby turn 1 already?!
And this afternoon, I'm planning to bake monster cookies. Yay! I just did last week, but who cares. In a perfect world, I'd bake 'em every week.