You bake cookies. You could do it on autopilot. Your kids even know the drill… one time, Tiffany came out to the kitchen as I was starting cookie baking and said, "Can I help you bake cookies?"
"How did you know I'm gonna bake cookies?", I asked.
"Because I saw you open the mixer and get that *pointing to the shortening* and the sugar out of the cupboard, and that's how you always start baking cookies.", she confidently said.
Sometimes I feel in such a rut with cooking and baking. When we have cookies around, 90% of the time they're either monster or chocolate chip. When we have cake around, 90% of the time, it's chocolate with peanut butter icing. When we have pie around, 90% of the time it's either peanut butter or lemon meringue. And it looks like when I get into a percentage rut, it's usually 90%. Seriously, though, if I make something other than the things listed above, you pretty much always see it on here. Sometimes I feel too predictable and want to change things up a bit…
We can still have our favorites, but in a different way.
Take chocolate chip cookies, for example. I was making some for an after school snack, so you know, for kids. Instead of using the same ol' Pampered Chef cookie scoop, I just used a spoon and made teeny little scoops. The teeny little scoops turned into adorable 1-and-a-half-inch-in-diameter cookies. The adorable cookies, placed in a little bucket, turned into an after school snack that was a huge hit… little cookies, huge hit. They thought it was great that they could have TEN cookies for after school snack! 😉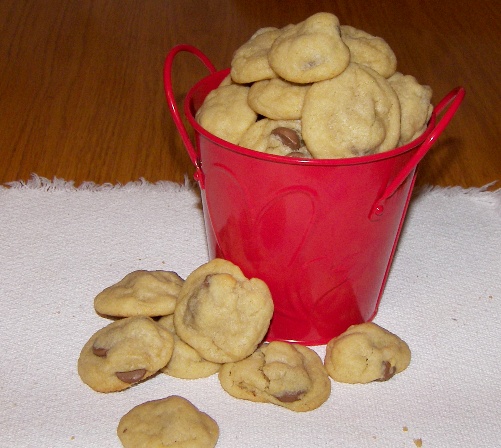 Awwwwwww.
And now, not to wreck the fun I'm-SOOOOOO-gonna-bake-cookies-this-afternoon-and-do-that-cuz-the-kids'll-love-it mood or anything, but just let me warn you: the dough goes down v.e.r.y slowly, it takes way longer to put them on and get them off the cookie sheet, and the yield is dozens and dozens, do not even try to count.
*WHIPLASH ALERT*
We're now going to switch from baking dozens of little time-consuming mini cookies to 1 pan of bars. 
Let's say you're baking cookies and you mix the dough up and while the first panful is in the oven, you realize you're not really in the mood to bake cookies after all… not in the mood to drop them onto the cookie sheet every 10 minutes, not in the mood to be setting your laptop down and jumping up 5 times an hour.
But, you've got a batch of dough sitting there.
No problem. Just spread the dough in a sheet cake pan and bake it for 25 minutes… and ta-da, bars made from your favorite cookie recipe. I just tried this for the first time about 3 weeks ago and thought it was really great that I thought to do this on my own UNTIL some of my friends said, "Oh, yeah, I do that all the time."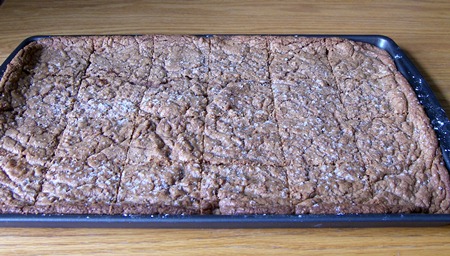 Side note here: that's my chocolate chip cookie recipe, except that I substituted FUDGE + 1 cup of flour for the chocolate chips. I had about 5 cups of fudge on hand from when I made this cake.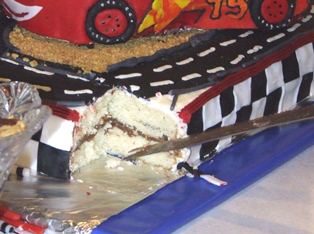 I was going to use the fudge in the middle layer between the 2 cakes, but then when I started spreading it on, I was afraid it would be too soft and squish out from the weight of the cake plus car on top of it (I used melted-then-hardened chocolate instead). So, I used the fudge up in those cooki— uh, I mean bars.
Another way to change up chocolate chip cookies is to mix them up and bake them, leaving out the chocolate chips. Then, melt the chocolate chips, spread them on something metal to harden and make cutouts. Or just drizzle the melted chocolate over the cookies. After they're baked, you can cut out some of the baked cookies into heart shapes… the girls (and I) did these 2 years ago for Valentines Day and we shipped them to WI to their 2 grandmas.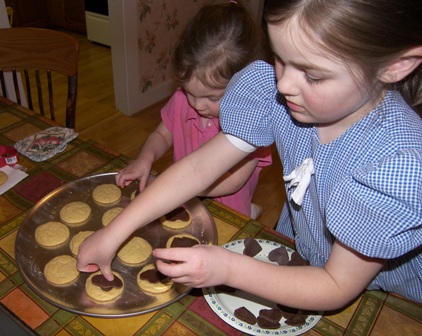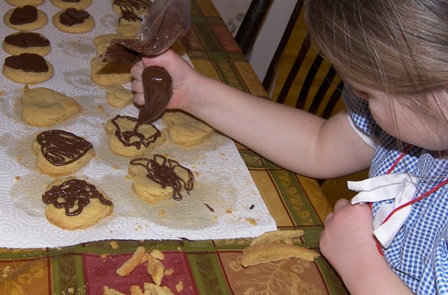 For cake: sometimes I do chocolate cake with peanut butter icing in a 9×13, sometimes I do it in a sheet cake pan, and once in a great while, into cupcakes. I know, exciting. 😆 Next time, I'm going to do mini ones. I made mini cupcakes for the first time last week. If you ever want to do this, one cake mix made exactly 6 dozen… I filled the wells about 3/4 full with batter. And it takes double the frosting. 😉 Pile it up even more than this… it's part of what makes minis fun. I only made a single batch, so I couldn't put as much on as I wanted to AND I ran out.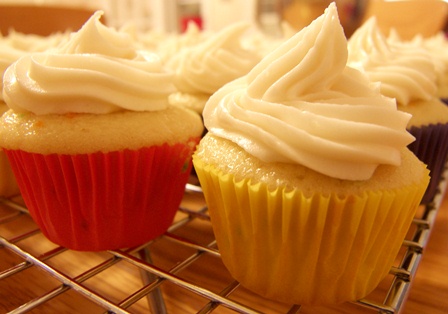 For pie… if you want lemon meringue pie, but not in big piece form, do this: make pie crust, cut 3″ circles, press them into mini muffin pans, and bake. Make your regular lemon pie filling and fill the crusts. Make regular meringue and pipe or dollop it on, brown it in the oven, and you've got these sweet li'l thangs…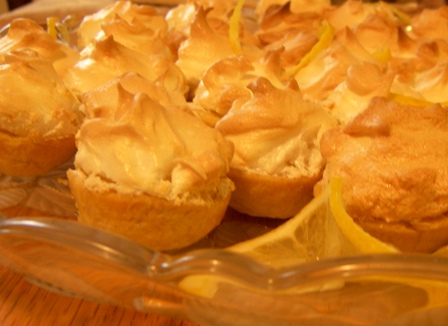 You could do that with probably any kind of pie. It's great for potlucks or snacks.
And now, still on the pie subject, the grand finale to this whole 'switching things up' thing… how about calorie-free… 😉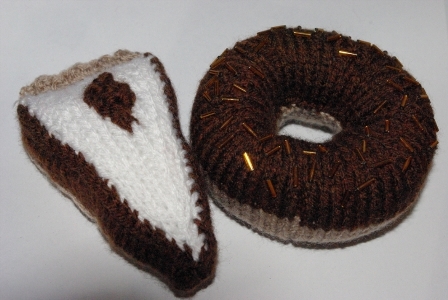 I ran across this website (April Cottage Ramblings) one day as I was surfing and immediately saved the link. Absolutely amazing!!! Seriously, this lady is talented… she KNITTED a piece of pie and a donut!!! She knits and crochets other stuff too… I fell in love with a little short-sleeved ruffly purple sweater that she made for her granddaughter. I don't know her, and I don't knit, but I'm very impressed. And it sounds like she's going to knit more cakes, so I'm going to stay tuned.

Coming up next… Lately, I've been hungry for lettuce salad with craisins and pecans in it, so I'm going to look for a recipe like that. I don't have one in mind, so if you have a slam good one that you're bursting to share, let me know!

They're rich. They're cute. They're LOADED with chocolate. And mildly loaded with peanut butter. And sorta loaded with cream cheese. They're easy. They're irresistable. They're fun to make and fun to eat. They're sweet. They're yummy. They're a guilt-free size… so, go ahead, eat seven. 😆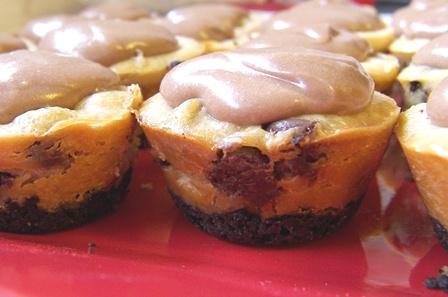 One thing I like about this is that it's a small recipe. Say you have a family of 2 adults and 3 children, one of which is less than a year old, and the one adult isn't addicted to all things chocolate/peanut butter/cream cheese, and the other adult isn't supposed to be eating more than one serving of such things. Well, this recipe doesn't make a whole big cheesecake. It makes 24 mini cheesecakes, plus a little more.
I originally saw these on Annie's Eats  and I'll admit that what grabbed me about them was exactly the part that ended up flopping on mine! It was the beautifully done ganache on top. Well, my ganache flopped (but I'm not giving up, I do want to make it successfully sometime), so mine have more like a puddle of chocolate instead of a twisty gourmet mound of chocolate. But I just switched my focus from beauty to taste and it all turned out great then! I wanted a bit more chocolate in them, so I added some chocolate chips to the batter (smart move! 😉 ). To make up for the added chocolate, I backed up the ingredient quantities for the batter, which worked out well because then I didn't have to break open a second package of cream cheese. So, for the original recipe and to see the gorgeous ganache, go to Annie's site (Thanks, Annie! You are very talented and you have a lot of awesome-lookin desserts on your website!).   
Little Chocolate Peanut Butter Cheesecakes
I'll post the recipe how I made them with my beloved extra chocolate. 😉
Crust:
1 cup Oreo crumbs
2 Tbsp. butter, melted
1 Tbsp. sugar
Preheat the oven to 350.  Spray a 24-well mini muffin pan with cooking spray.  Annie says that using a silicone pan works best for removing the baked cheesecakes. I don't have one, so I greased my pan well. It worked ok, but some of them got a bit messed up. Annie also said using mini cupcake liners would be another option. Combine the Oreo crumbs, melted butter, and sugar in a bowl. I know, the butter isn't melted on this pic. I put the whole works in the microwave for a bit to melt the butter.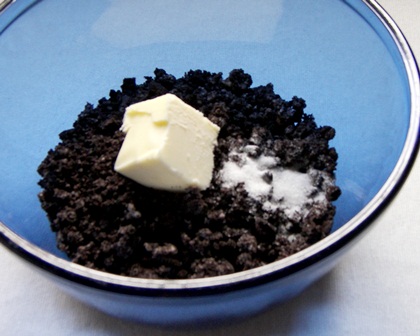 Mix with a fork until evenly blended.  Divide the crust mixture between the wells of the prepared pan, about 2-3 teaspoons in each.  Press the crumb mixture into a flat layer on the bottom of the well. I used a glass toothpick holder to press it down. Bake for 10 minutes.  Transfer the pan to a wire rack.
Cheesecake:
8 oz. cream cheese, softened
2 Tbsp. sour cream
½ cup peanut butter
1/2 cup sugar, scant
1 large egg
Dash vanilla extract
Pinch of salt
8 oz. chocolate chips
Reduce the oven temp to 300.  Combine the cream cheese, sour cream and peanut butter. Beat on medium-high speed until smooth and well blended.  Add in the sugar and mix about 1 minute more, scraping down the sides of the bowl as needed.  Blend in the egg, vanilla, and salt.  Continue to beat until the mixture is completely smooth.  Divide the mixture evenly over the cookie crumb crusts and smooth the tops slightly. Kinda looks like I didn't smooth the tops.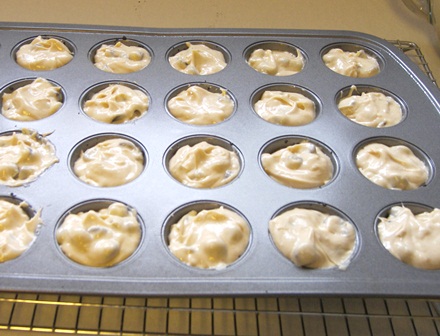 Bake for 22 minutes, rotating the pan halfway through baking.  Transfer to a wire rack and let cool to room temperature.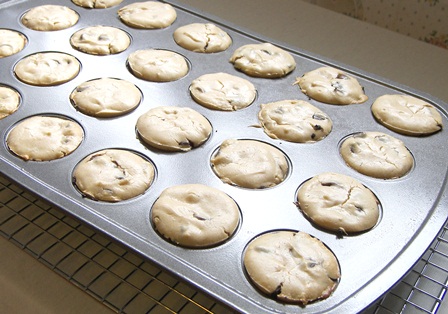 Once completely cool, transfer the pan to the refrigerator and chill thoroughly, at least 3 hours. Once the cheesecakes are chilled, carefully remove them from the pan.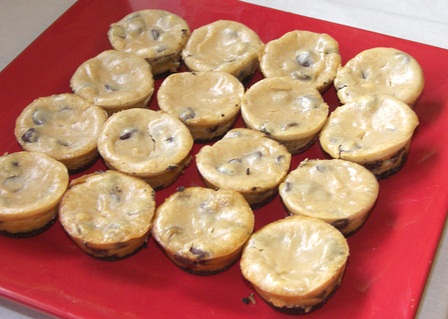 Ganache:
4 oz. chocolate
½ cup heavy cream
1 tbsp. butter, softened
Place the chocolate in a bowl.  In a small saucepan, bring the cream to a simmer over medium heat.  Once simmering, remove from the heat and immediately pour over the chocolate.  Let stand 1-2 minutes.  Whisk in small circular motions until a smooth ganache has formed.  Whisk in the butter until completely incorporated.  Let the mixture stand at room temperature until slightly thickened for piping onto the cheesecakes. In my case, it never got thick enough at room temperature for piping, maybe because I didn't use bittersweet chocolate, or maybe because I didn't have unsalted butter. I thought maybe I should've whipped the cream and then added melted chocolate.

After I spooned it onto the cheesecakes and chilled them, it got stiffer, so having it to do over, I would've chilled the ganache, then piped it on. But I wasn't about to scrape it all off just to do that.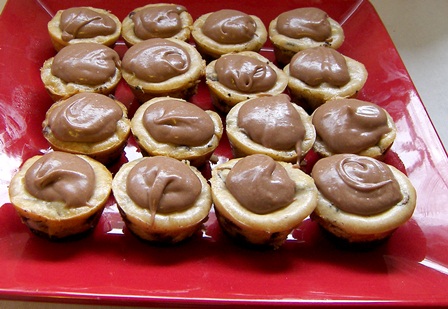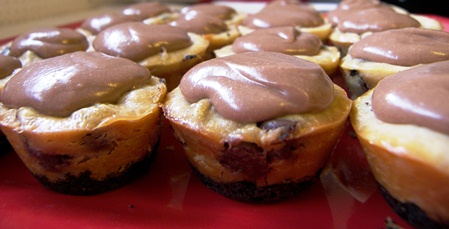 These work great frozen, too, like regular cheezecakes do. I froze a couple of them just to try it. They were good right out of the freezer, including the rock-hard chocolate chips 😉 , but the ganache wasn't hard. And after they thawed, they were just as creamy as before they were frozen. I don't know how long cheesecakes can be frozen for… and I probably never will, what with them always calling loudly from the freezer and all, if I would actually have some on hand in there!
There was a bit of leftover cheesecake batter. My chocolate addition vs. scaling down the recipe wasn't equal amounts. I didn't want to just pile it on the mini cups because I wasn't sure what would happen… I didn't want an overflowing cheesecake mess in my oven! So, I got Lexi's mini springform pan out. This pan, by the way, is about the size of my palm, just to give you an idea on the size. I didn't feel like crushing more Oreos, so I put whole Oreos in the bottom of it, cutting 2 of them down to fit in with the 2 whole ones. Whole Oreos are a bit too big to fit in a mini muffin cup, but that would sure be handy if they would! Maybe it would work to cut them smaller with a sharp round cookie cutter.???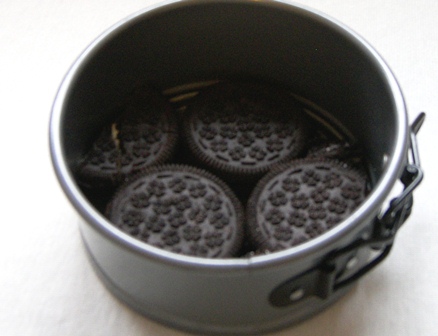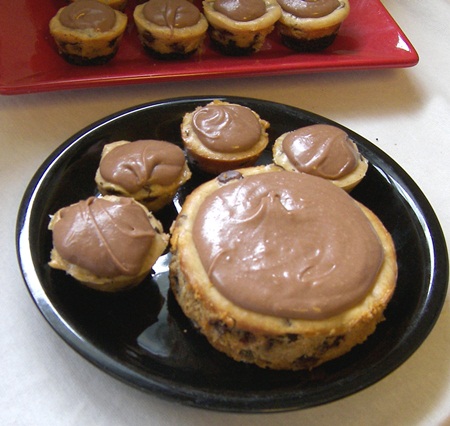 And here is the mini springform pan cheesecake. I just threw some of the little cheesecakes on the little dessert plate with it because they were extras just sitting around. Lexi came over to see what I was doing and exclaimed, "Mom! That is SO cute! You made a bear paw!"
So, there you go, bear paw cheesecake dessert.