I've been hungry for haystacks since February. Yeah, I know. You'd think I'd have made them before now, what with being in charge of the food around here and all!
How I know it was February is because for a couple weeks in a row, the church bulletin had "Haystack Supper Fundraiser: Friday eve, Feb 25″ in the Upcoming Events section for this area. Seeing that every week got me more and more in the mood for them and THEN we ended up not going to the fundraiser! So, to make a long story short (after I already told the long story), last night was the night, and I finally got my haystacks craving satisfied. Man, I could dig my fork into this pile all over again!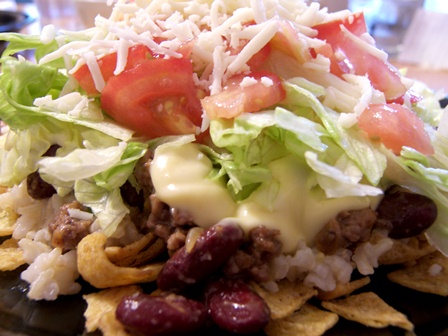 Haystacks are kind of a 'to each his own' thing, so there's not really a set way to do them… the components vary and the order of stacking varies. So, I'll just show you how we like them and you can tweak it from there. I use the term 'we' loosely because I'm the only one who likes rice on it and the tomatoes are not very popular among the little people around here.
Speaking of rice, the rice totally flopped last night. I mean really. Rice. How hard can it be… get it to boiling in a pan and then let it simmer for 45 min WITHOUT lifting the lid, then when time's up, you lift the lid and there is your rice, magically perfectly done, fluff it with a fork and put it on the table. Well, *ahem*. I now know what happens when you accidently put in too little water. The magic doesn't happen. Half of the grains are fluffily cooked and half of them look like you just dumped them out of the bag and half of them look partially cooked— ok, I think I got too many halves here, but you get the picture. I noticed it when I was about to dish everything up, so I put more water in, cranked the burner to High and cooked the rice like crazy for about 10 minutes. It worked ok and was soft enough to eat.
Here are the components to our haystacks. We thought of salsa later, so that's missed on the picture.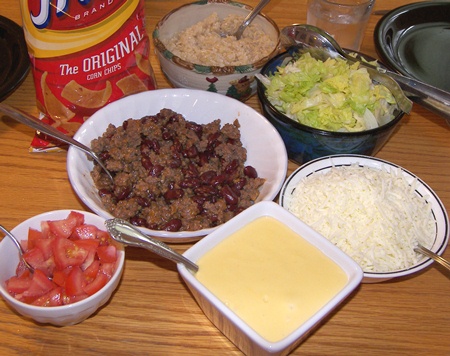 Here's the order I layer it in:
— Corn chips, slightly crushed (you can also use crackers, but I like the extra flavor and crunch of chips)
— Rice
— Meat mixture (brown hamburger with onion, then add a packet of taco seasoning and a can of kidney beans)
— Cheese sauce (1/4 cup melted butter, 2 Tbsp flour, 1 cup milk; bring to boil, then stir in 1 cup cheddar or Velveeta)
— Lettuce
— Diced tomatoes (can also open and drain a can of diced tomatoes, a handy time-saver tip from my friend Linda Y.)
— Shredded cheese
— Salsa
Maybe there is something I miss that would make haystacks even better, so if you make them different than this and if you feel like it, I'd love to hear what variations you do to haystacks!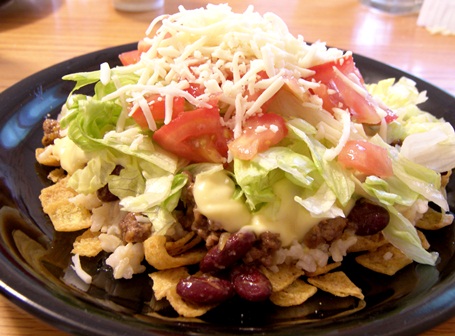 While I was making this, I was thinking that this would be a good meal option for those it's-4:30pm-and-I'm-staring-in-the-fridge/freezer/cupboards-for-a-menu-inspiration moments. Or maybe you guys never do that… I do it more often than I care to admit. Anyway, I think I'm going to keep this meal option on hand from now on… The rice takes very little time to get it to simmering, the meat would be fast (especially if it would be already browned in the freezer), cheese sauce takes very little time and the rest of the stuff is basically just putting it on the table… which the kids did last night. Actually, this meal isn't far away from the kids totally doing!
Speaking of which, my goal this summer after Lexi gets out of school is to perfect about 5 good, but easy enough, meals that the girls can do by themselves. Then, once in awhile, I can say, "Hey, you guys go make ____________ for supper, please." 😉 Haystacks may just be on that list.
Not sure what's up next, but it's seems like f.o.r.e.v.e.r since I've made or eaten sinful chocolatey richness, so I see that in my future for this weekend. And since I have to feature it on here in order to make it 'legal', that might just be coming up next……….  
I'm really glad I have friends who have boys. And that they let me make birthday cakes for them. Otherwise, when would I get a chance to make boy cakes, what with having only girls? I know girls love Lightning McQueen and Thomas the Tank Engine too, but when it comes to birthday cakes, a zoomin' car or train isn't the first thing they'd usually pick… although, while I was making this cake, Lexi said, "Mom, I know I'm not a boy, but I WOULD really love a Lightning McQueen cake next time." I'll bet she'll change her mind before December 7.

This Lightning McQueen cake was for my friend Joe's son, Regan. Regan turned the big 5 this past week. Here he is. Cute little guy!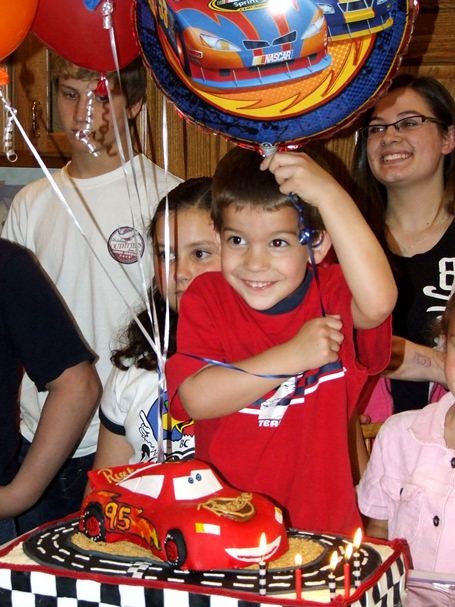 And a brave little guy. He's all smiles… on the picture, anyway.
This is the first time that I've ever written a Kitchen Scrapbook post that I felt like just closing my laptop and crying.
There was pain behind the smiles at the party and there is pain woven throughout this post. There was a mama-shaped hole the size of Texas at this birthday party. Regan suddenly lost his dear mama this past January. It just breaks my heart. And no 5-yr-old should have to celebrate a birthday without a mama. Thus, a little extra love was built into this cake because that thought was in the front of my mind the entire time I was making it. Deb was a dear friend and I feel very honored to have had the privilege of making a birthday cake for her son.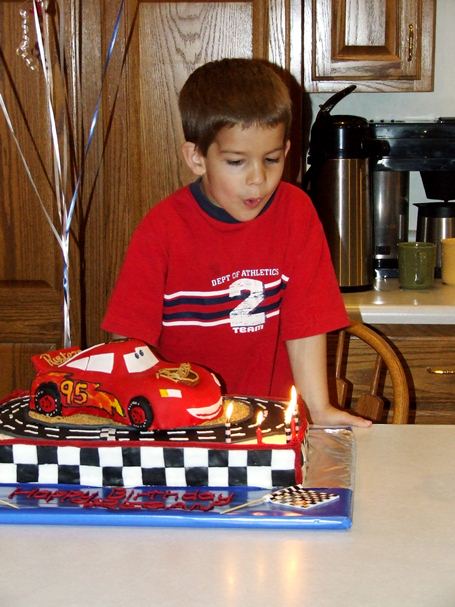 1-2-3 BLOW, Regan!!!!!
I didn't ask Regan what type of cake he wanted… I was just going to do something in the cowboy/horse dept because that's a significant part of his surroundings. But… Lexi is in 2nd grade with Regan's older brother Riley, and she came home from school one day and said, "Riley said Regan wants a race car cake." So, I asked Joe and he said Regan would love that, either Lightning McQueen or Dale Earnhardt Jr. By the way, did you know that Dale Earnhardt Jr and I have the same birthday? He's 2 years older, though. Brett Favre and I have the same birthday, too… only he's 7 years older. Anyway, that's my claim to fame… being in the October 10 Birthday Club with them… we get together every year on our birthday and split the time in 3rds, talking about Nascar, NFL, and birthday cakes. I could be wrong on some of these details. But even though Dale Jr and I have the same birthday, we decided on Lightning McQueen because Missy was going to get party decor to go with whatever the cake is and there's anything and everything you could ever want for a Lightning McQueen party.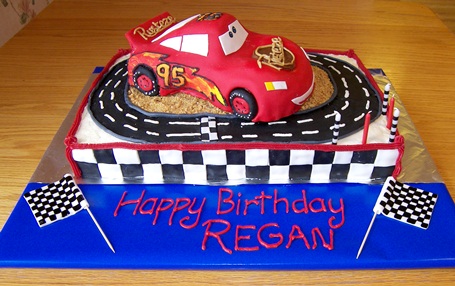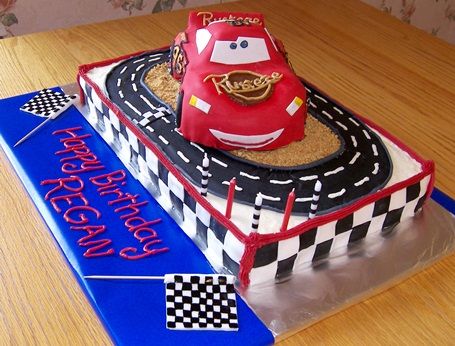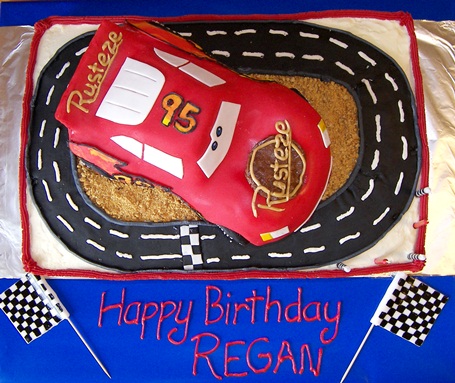 I didn't take progress pictures of making this cake because it's made pretty much the same as the Lightning McQueen I made a couple years ago (I'll post a link at the end of this post).
I did do something different with this one for the spoiler because the spoiler of the other one had issues and had to be propped up with toothpicks… and toothpicks propping stuff up sort of takes away from the coolness of a 3-D cake. With this one, I cut a slit in the cake and put a graham cracker in it, then covered the whole works with fondant. Here it is before it's covered with fondant…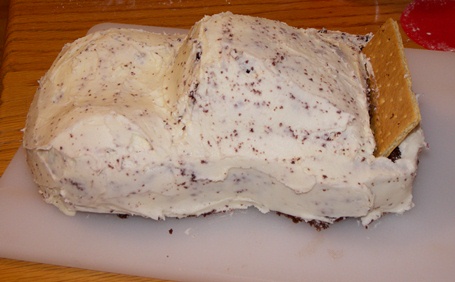 I think the graham cracker eventually took on the moisture from the cake and broke because at first, it was solidly in place, but after a couple hours, I could easily wiggle it. It didn't matter though because by that time, the fondant had dried enough to hold it firmly at the proper angle.
In case you wonder what something is or how it's done, I'll just make a list here, hopefully answering some questions before you need to ask them. 😉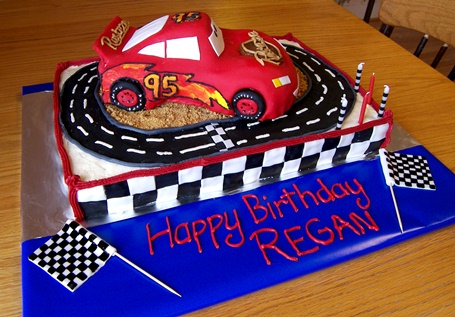 Cake board – flat cardboard box, covered with wrapping paper and a strip of tin foil for the cake to go on.
Flags – wooden skewer with white fondant square, I took a paintbrush and painted little black squares on it (my 'paint' was food coloring paste)
Birthday wish – piped on with red frosting, the moisture from the frosting soaked into the wrapping paper a bit… it worked fine, but you wouldn't want to do it too far in advance because it gets worse and worse and looks like dark shadowing around the writing.
Base under racetrack – 2 white sheet cakes with a layer of melted-chocolate-chips-mixed-with-peanut-butter between… because just plain ol' white cake is booooooooooooooooooring (that's a fact, but you can consider it an opinion if you prefer to 😉 ). The cakes are covered with a layer of white frosting. Here is a cut view…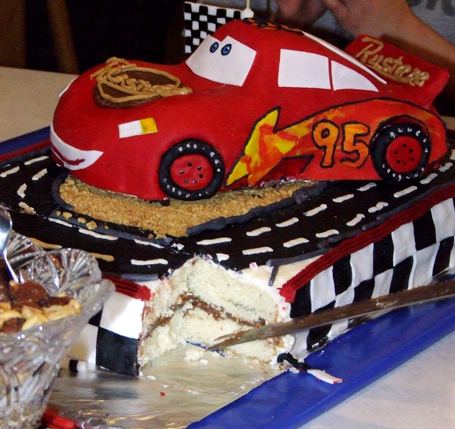 Checkered squares around base – I love this look, but I'd do it different next time. How I did it was very time-consuming. I cut a bunch of little fondant squares, then fit them all in on all 4 sides of the cake. Next time, I'd put a black strip the entire way around the cake and then cut little white squares and put them on, spaced appropriately to get the checkered look. Or I'd put a white strip all the way around and paint black squares on like I did the flags.
Race track – black fondant with piped frosting accents, graham cracker crumbs for dirt in the middle
Car – chocolate cake carved into a car shape and covered in frosting, then in fondant. I was afraid the weight of the car would make it sink down into the frosting of the base, so I cut a piece of cardboard roughly the footprint of the car, covered it in tin foil, put the car on it, and then set it on top of the base where I had spaced and poked 5 skewers down thro' and cut them off about even with the top of the cake.
Details on car – it's all fondant with frosting accents except the Rusteze logo and the eyes. The brown circle on the logo is… ahhhhhh… FUDGE! and the writing is peanut butter. The eyes are painted on with a paintbrush and blue and black food coloring paste. 
And you've gotta notice the candles! I was so tickled to find them! They fit in SO perfectly!!! 

Now… I KNOW you're itching to make your own Lightning McQueen birthday cake for that sweet little guy in your life 😉 , so here is the post with step by step directions with progress pictures: Lightning McQueen step-by-step
And for those of you who are thinking "Oh, I could never do that!", this post is for you: Pictures of Lightning McQueen cakes that readers have made and emailed to me. So proud of them for taking on the challenge! And a couple of them said, "It was easier than I thought it would be." 😉
Have fun being 5, Regan!
If cooking was basketball, this would be a slam dunk! Seriously, these little things are aWeSOmE!!! (I only put 3 exclamation marks there because I know some people get annoyed when bloggers go wild with exclamation marks, but in my mind, I'm adding about 30 more.) You've gotta try them… your taste buds will love you. They won't take much of your time… 40 min from walking into the kitchen to popping one in your mouth.
STOP.
What was it that you could be doing 40 minutes from now?
Ok, just wanted to be sure you caught that.
Here's a little unnecessary tidbit… I made these with one hand. I was going to quickly get them into the oven before putting Megan down for a nap. Well, just as I was ready to start, she got crabby and clingy, it was over, naptime was NOW.
Unless I was holding her.
So, I thought 'oh well, no age is too young to start training a little cook'. Actually, I didn't think that, I just thought it right now, but it would've been a cool reason to hold her while making these! So, yeah, from measuring the first ingredient to spooning the batter into the pan (including taking pictures), I had a 24-lb 10-month-old on my hip. She was tired enough to just lazily watch and not grab stuff. Then, while they were baking, I put her to sleep. Yep, I rock my babies to sleep. My babies were never trained to just lay down and go to sleep on their own. Not saying it's for everyone, but it's definitely for me. It's 18 months out of each of their little lives that I rock them to sleep and that's some cozy little moments that I'll never regret. And it gives me plenty of time to try to memorize the feel of them in my arms in hopes that when they're all grown up, I can reach in and grab those memories again… and remember.
Ok, where was I? (Yeah, I know this is a cooking blog, but I don't do a personal blog, so I like to (and my mom likes me to) stir bits of life into here sometimes.)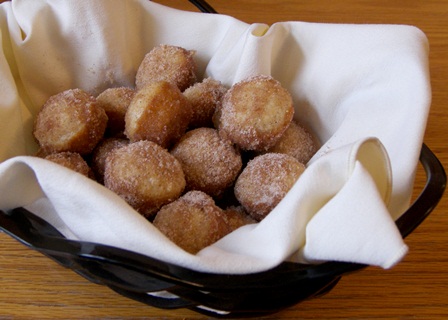 Donut Muffins …taken from here, but I'd have probably never found and tried them if my friend Diane hadn't alerted us to them on a message board I frequent. So, Diane, if you're reading this, thanks a ton!

1/2 cup white sugar
1/4 cup margarine, melted (I used butter)
3/4 tsp. ground nutmeg
1/2 cup milk
1 tsp. baking powder
1 cup flour
1/4 cup margarine, melted (it's up to you… you can either add a few Tbsp more right away or you can melt more butter when you're running out halfway through dipping them 😉 )
1/2 cup white sugar
1 teaspoon ground cinnamon
Preheat oven to 375. Grease 24 mini-muffin cups. Mix 1/2 cup sugar, 1/4 cup margarine, and nutmeg in a bowl.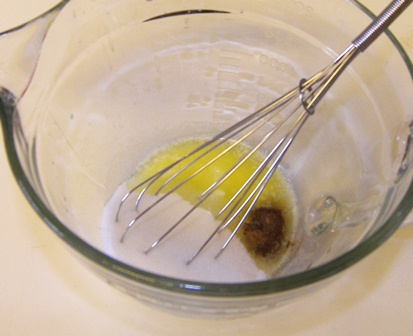 Stir in the milk, then mix in the baking powder and flour until just combined.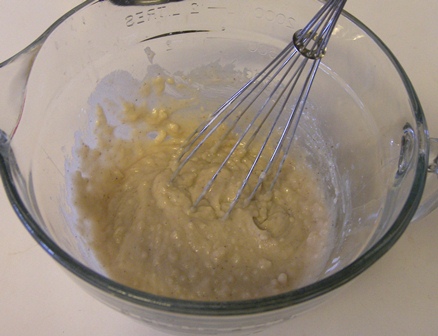 Fill the prepared mini muffin cups about half full. Yeah, I know these aren't all evenly filled, but I was never a perfectionist, and probably never will be. Plus, I was holding a baby and by this time, my left arm was starting to kill me.

Bake until the tops are lightly golden, 15 to 20 minutes. During this time, a mouth-watering nutmeggy smell will be wafting throughout your house. While muffins are baking, place 1/4 cup of melted margarine in a bowl. In a separate bowl, mix together 1/2 cup of sugar with the cinnamon. Remove muffins from their cups, dip each muffin in the melted margarine, and roll in the sugar-cinnamon mixture.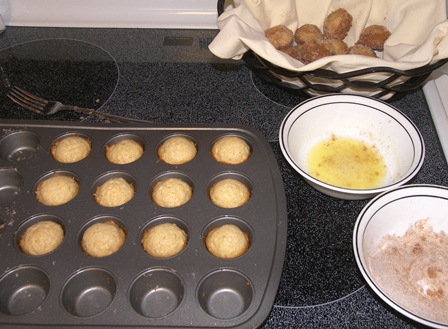 Let cool and serve. I don't know WHY it says 'cool and serve'! I say 'serve warm'! I only had one and that was a warm one and it was such incredible melt-in-your-mouth awesomeness that I'd try to serve them warm on purpose, if possible.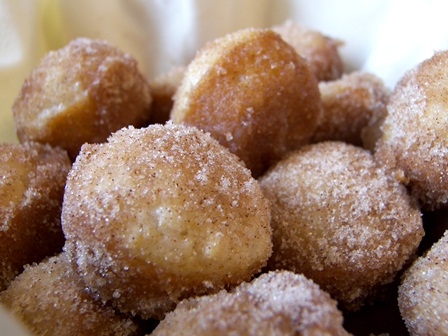 I don't know what category to put these in. They're so versatile.
— Make them for an after school snack.
— Take them to a 'bring food' church function.
— Make them for brunch.
— Serve them for dessert.
— Make them this evening for a bedtime snack.
Coming up next… a Lightning McQueen cake. 😉
You can do so much more with food than just eating it. I mean, yeah, eating is usually the end result, but how about having a little fun first? 😉 It comes naturally, really. Kids do it without being taught… I remember using Bugles for fingernails, biting eyes and a mouth out of a round slice of bologna and using it for a mask, making roads with stirred up ice cream, shooting baskets with popcorn or M&Ms (in which the basketball net is your or your sibling's mouth), and best of all was peanut butter playdoh… you could form a bowl and spoon and peas in the bowl, and then actually eat the 'peas', and well, eat the spoon and the bowl, too.
Now, I play with food in a more grown-up way. So does my mom. She made garden meatloaf a couple weeks ago for a group of school children.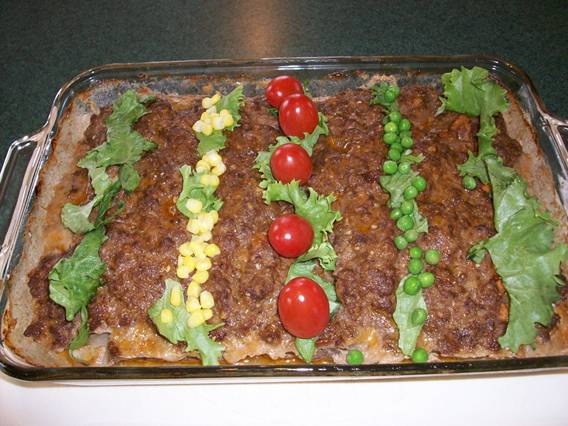 The middle 3 rows are obviously corn, tomatoes, and peas. The 2 end rows are potatoes and carrots, which are there, but underground, of course.

She made sure to put a potato and a carrot against the edge of the pan so you could see it from the outside. And that's not all… she put in mushroom pieces and the white ends of green onions and told the kids to look for slugs and worms. They had a heyday, digging through their meatloaf.
She also made bird-shaped dinner rolls, which were also a real hit.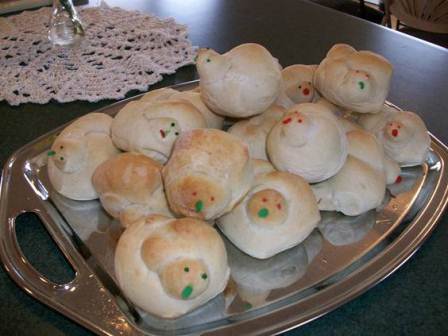 When Mom emailed these pictures to us girls, my sister Jan wondered if she had taken progress pictures. I thought that was a bit strange that Jan would need progress pictures because she has proven herself quite capable of creating in the kitchen with no directions (more on that later). Mom didn't have progress pictures, so, Jan, this portion of the post is just for you. Awww. 

Roll a rope about 7″ long. Tie it in a knot. Fan out one end and make little snips for tail feathers. Put a sliver of almond in the head for the beak and cookies decorations or bits of raisins or something for the eyes… I used cloves.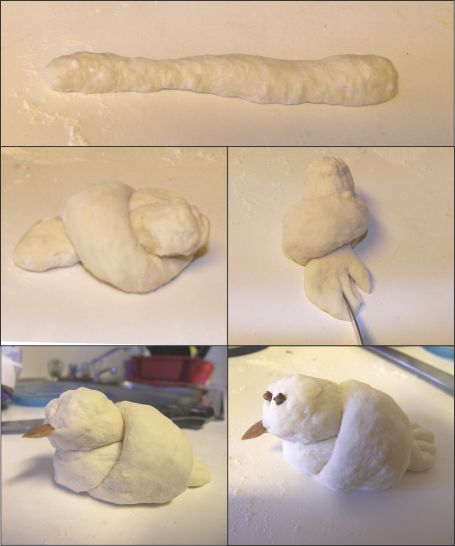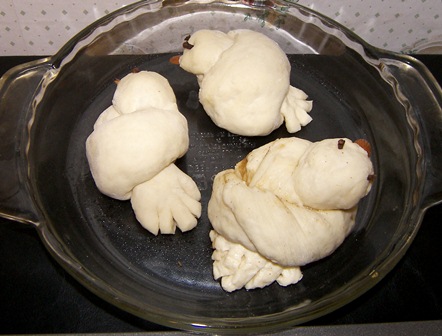 Let them rise and bake them. And TA-DA! fat little birds awaiting butter and jelly. Ok, that may be an unappetizing choice of words.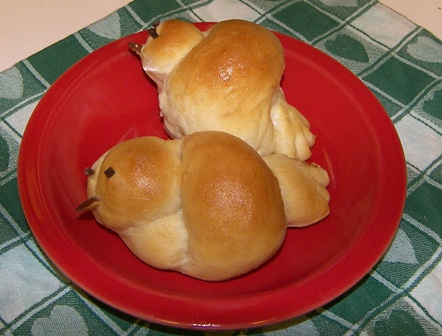 If you notice that the one bird (lower right in the picture with 3 unbaked in a pan up there) has some brown on it… I was making mini cinnamon rolls with this same bread dough, so I made a cinnamon roll bird by rolling the dough extra thin and into about a 4″ wide strip, spreading on butter, brown sugar, and cinnamon, rolling it up, cutting about 7″ off, and knotting it the same as the rolls above. Then, glaze it.
———————————————————————————————————-
Another Spring thing we did was Bird Nests. This portion should be a Cooks in Training post, since my little cooks did these. Melt 1 cup of chocolate chips with about 1/2 cup of peanut butter and mix it with 2 cups chow mein noodles. You can either spoon them onto a plate of some sort and then make a little indent for the eggs to go in, or you can do it like the girls did and put them in little containers to keep them round. They put them in the freezer for about 10 minutes to harden the chocolate, then popped them out of the container with a spoon, put eggs in and put a chic— oops, I mean, a BIRD on top. Really, who ever heard of a little yellow chick sitting on a nest… of COURSE that's a canary!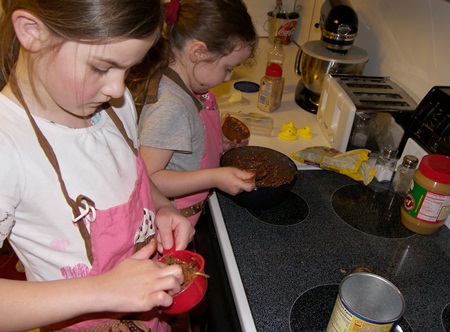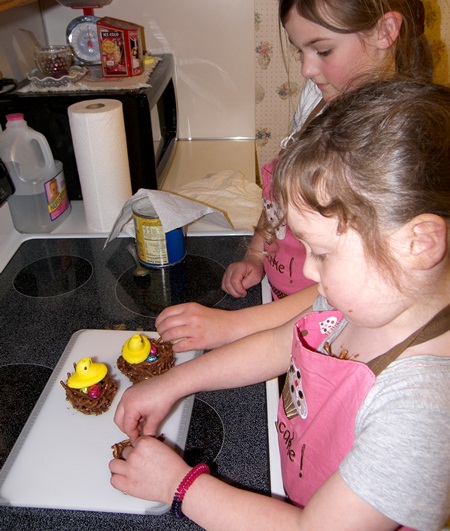 Uhhhh, is that what I think it is in Tiffany's apron? How did part of her nest get there?!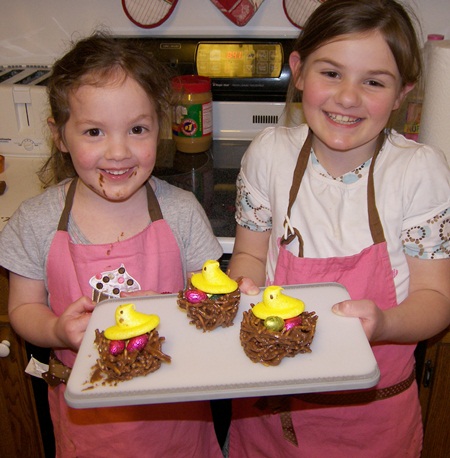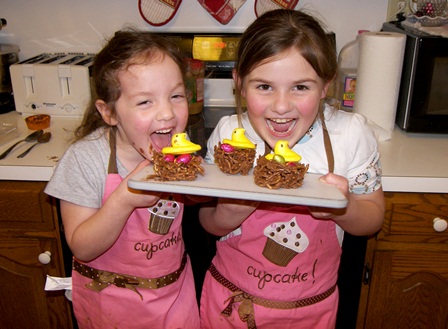 Then, they took them in the dining room to eat some and Lexi in a very excited voice said, "Mom! Come look! If you'd ever make a river cake with beavers, this would make a PERFECT dam! See? Doesn't that look just like a dam? All I did was flipped my nest upside down!" So, there you go… an idea for all those of you out there who are planning beaver cakes.

 Then, Tiffany flipped hers upside down on her chic-, uh, canary, and said, "Or, it would make a good hat too." I think it looks more like a turtle shell, considering the size ratio of hat to bird. Wow, the possibilities are endless with this chocolate chow mein noodle combo! Ha.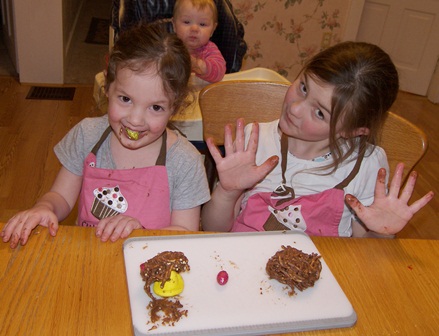 It tastes really good too. Could forget about the whole nest thing and just make these things and drop them on wax paper until they harden and you'd have a yummy snack. I'd double the amount of chocolate and peanut butter for that though. Meanwhile, Megan sits in her highchair, healthily eating peeled apple chunks.
—————————————————————————————————————–
Now, I want to add one more thing yet, even though it has nothing to do with Spring. It does, however, have to do with my sister Jan (who I mentioned up there) and playing with food (which I mentioned up there).  
Once upon a time, Jan won a contest. It was a Make Real Food Look Like Something Else contest from a few years ago on my cooking blog. If you feel like checking out the entries, here's the link: Contest
Jan won it fair and square, I might add… no rigging of votes by her big sister.
Here was her entry: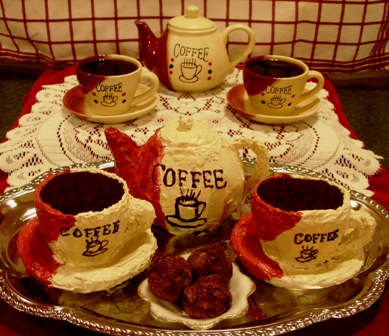 She has that miniature tea set  (in the back) as decor in her kitchen and made a little knock-off set from it. It's all cake and frosting except the 'coffee' is chocolate syrup and the cup/pot  handles are piped chocolate covered with frosting. She had some truffles on hand, so she put 3 on a plate to go with the coffee. So, this lovely detailed 5-piece tea set coming from a lady who sees bird-shaped rolls and asks for progress pictures?! C'mon, Jan!

As I was looking at these contest pictures again, I saw this, so I'll throw it in here because it DOES actually have to do with Spring. You could serve this for dessert at your garden-themed party…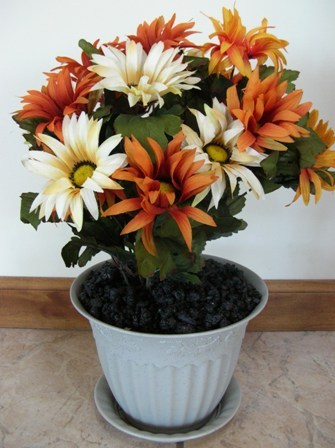 Dirt pudding, in which one of the ingredients is crushed Oreo cookies. I think this entry was submitted by Lavonne.
———————————————————————————————————————————————————————————————————————————————————————————————————————————————————————————————————————————————————————————————–
In other news, not really related to anything, but just something I'm excited about… I get to make a Lightning McQueen birthday cake tomorrow afternoon! I found this post with directions how to do it. 😉 The one tomorrow will have cake under the racetrack and maybe a couple other differences. We'll see how it all turns out, but the thing with having made it before is that I can learn from my mistakes.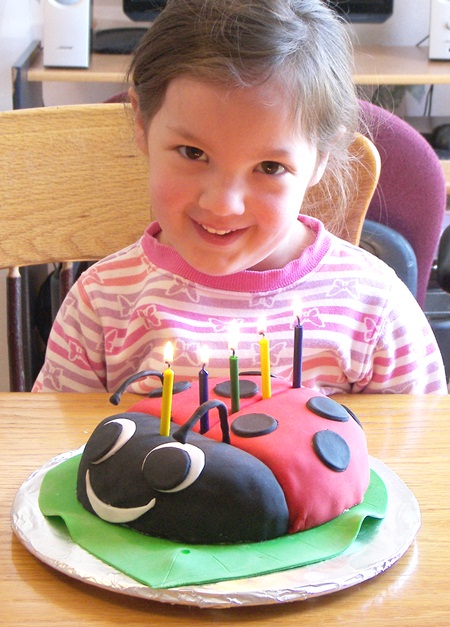 Yeah, I know… you're thinking "Ewww, a ladybug."
Me too.
But hey, I'm just the cake-maker, not the cake-decider.
Tiffany isn't really a cake-decider either… she had THE hardest time nailing down what cake she wanted. For awhile, it was a big huge whoopie pie cake. Then, for awhile it was a gazebo. (The difference between those 2 cakes in time and skill is like night and day!) Then, about a week before her birthday, she started switching daily… seriously, we were all over the place… castle, house, ballerina, heart, ladybug, bird nest, space shuttle, garden…
The morning of her birthday, I was ready to bake the cake. Once I bake the cake, it's pretty much no-turning-back because depending what it is depends what I bake it in. At the moment, we were on a bird's nest with eggs in it and a bird sitting on top (and the bird sitting on top would be sturdy and removeable so it could be played with beforehand… we weren't planning to have a cake party, so I didn't care if the girls played with the cake before eating it). I got the cake mix out of the cupboard, then said, "So, we're doing a bird-on-a-nest cake, right?" She said, "No, I was just thinking… I'd rather have a ladybug."
Oh. Ok. Uhhh. Yeah. Sure. No problem.

Turns out a ladybug is a VERY simple cake to make. There are 2 things I'd have done different, though.
1. I baked it in a mixing bowl and I wish I'd have picked a mixing bowl that was a little deeper, that curved more at the bottom. I thought this ladybug got too flat and wide. But, on the other hand, maybe looking LESS life-like is a good thing!

 
2. I cut about a third of the circle off for the head… should've cut off more like a fourth. I thought the head looked too big.
But anyway, here it is in pictures. You'll see that it is easy… no carving involved. And you could just use black and red frosting instead of the fondant.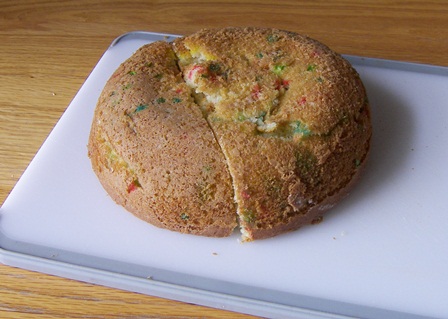 Cutting off excess red fondant. The other part is frosted and ready for black.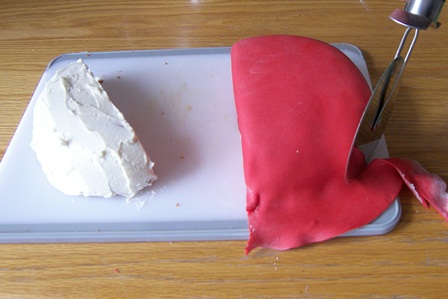 Making the line down the back where the wings separate…

Starting to look a bit more ladybug-ish. You can see the leaf on the right… I rolled out green fondant, cut out a leaf shape, and made a few indents for veins. Then, I put wads of tin foil hit-n-miss around underneath it until it dried… that way, the leaf has a bit of character to it instead of just laying totally flat.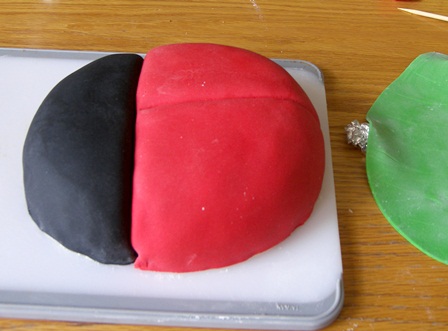 Looked around in my cupboards for something the perfect size to cut out circles for spots. Found a water bottle lid. 😉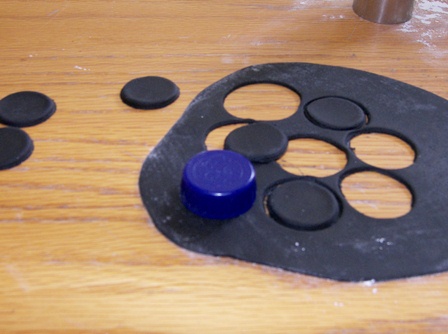 The antennas are made out of fondant wrapped around a twist-tie… not kidding about that! I got to that part and hunted around for something to use. My first thought was to use little pretzel sticks, but we didn't have any. Everything else is either cake, fondant, frosting, or covered cake board.
"Done, Tiffany. Here's your ladybug."
"Mooooooooommmmm! You forgot the mouth!"
Oops!
(That did actually happen… I didn't make up that little exchange just because the pictures look like it.)
NOW we're done…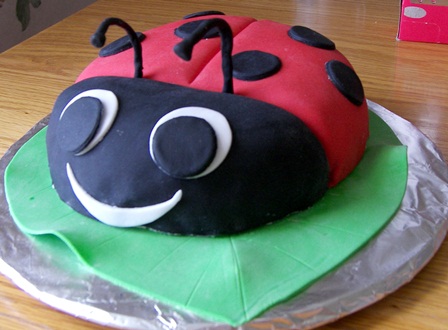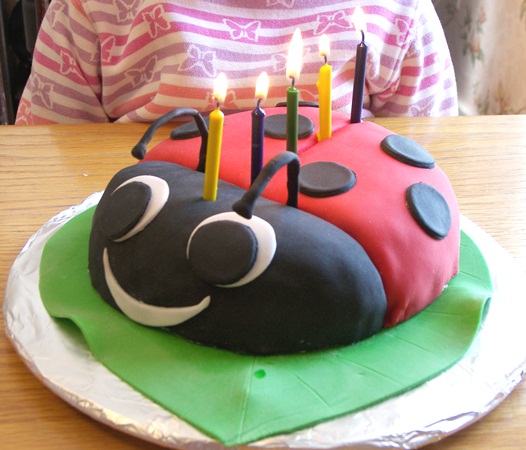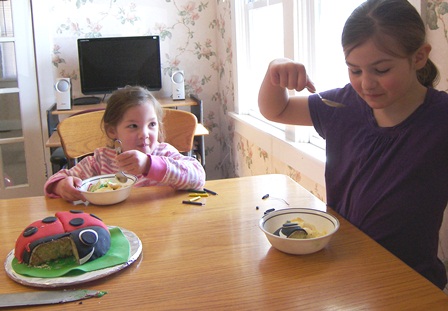 Tiffany's birthday wasn't totally party-less. She woke up to a little ribbon & balloon canopy, complete with her name and a couple of gifts. For her birthday meal in the evening, she opted to go to a restaurant with Preston and Kara (and us, of course), where the waiters and waitresses gave her a birthday wish. As we were walking out, a couple of the waitresses wished her a happy birthday again. She was surprised that they remembered it was her birthday.