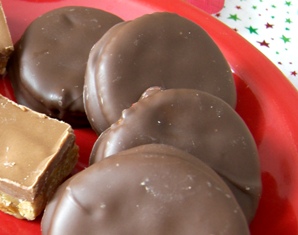 This is the first year that I've done so much chocolate dipping. Kinda fun. I was looking around for more stuff to dip… did you know mini marshmallows dipped in chocolate are good? And peanuts, of course.
I just wanted to put these dipped Ritz cracker things on here because I learned something with them.
First step is to put peanut butter on one side of a cracker. So, I got a knife, the pack of crackers, and the jar of peanut butter and went to work, spreading crackers with peanut butter. You wanna talk about tedious and hard to get the peanut butter even along the edges, plus not be messy with it!
I was about to stop the project when a lightbulb went on… I could pipe it on! So, I got a plastic bag, filled a corner with peanut butter, snipped of a little corner and started coiling it on till the cracker was covered. It really worked, but it took too long.
Then, the lightbulb got brighter and I snipped the corner off bigger and made a pile in the middle of the cracker, got another cracker, and pressed it down on top till the peanut butter was evenly to the edge of the cookie. Fast. Easy. Fun.
So, I started mass producing… laid a bunch of crackers out on the table, squirted piles of peanut butter on them all, then went through and pressed all the top crackers on. The whole batch was done in no time. Maybe you all already do it like that, but just in case there's someone out there going crazy, still spreading peanut butter with a knife and getting your hands messy, here you go.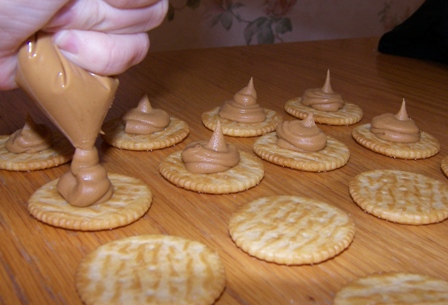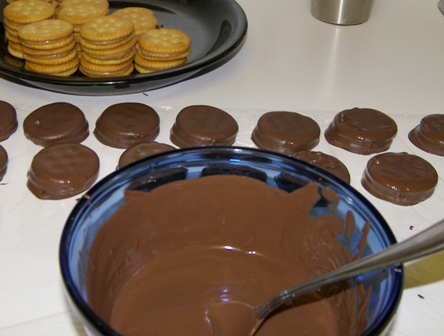 Before dipping, I put the filled crackers in the fridge because chocolate hardens faster when whatever it's about to cover is chilled. I don't know any secrets to dipping… I just dip them one at a time, dig them out with a spoon, shake of the excess, and put them on Saran wrap/wax paper to dry. I've thought of using a cooling rack and pouring melted chocolate over them, flipping them, and pouring more over, then catching what runs off and re-using it, but that just seems a bit too messy and I'd have to wash the rack and what if it wouldn't cover the sides right.
I want to make one more thing yet, then I think my Christmas cookie/candy making is done for this year… the first part of next week, I want to make Chocolate Chip Craisin Cookies… half of the batch white chocolate and half milk chocolate, and compare them. 😉 I decided to wait till after Christmas to post Lexi's birthday cake because I'm kind of in Christmas food mode, and her birthday cake has nothing to do with Christmas.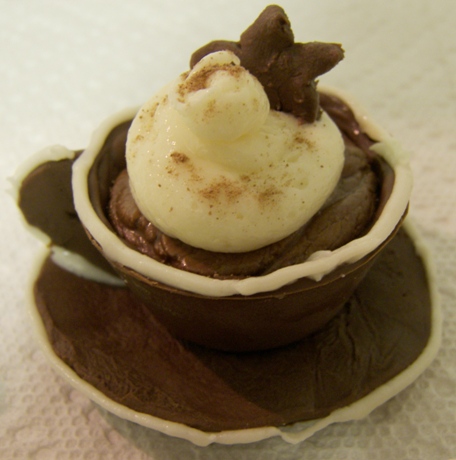 My sister-in-law Sheila had a birthday last month and her mom got her some teacup truffles from a local bakery. She was showing them off …notice I said SHOWING, not SHARING! 😉  
Here is a picture of them…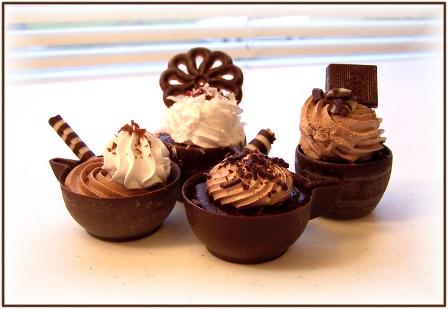 Aren't they adorable? As soon as I saw them, they went into my oughta-try-them-sometime cooking folder in my OneNote. By the way, Sheila took that picture. One of my Kitchen Scrapbook New Years Resolutions is to research food photography (lighting/props/angles/how to make it look good/etc) and practice and get to know my camera and aperture and focus and settings on it to up the photo quality a bit on here. I was planning to go online for that education, but it looks like I don't need to go any farther than our family gathering over the holidays to get tips… I love this picture! Looks like it came out of a magazine. Of course, the truffles look like they came out of a magazine, too!
I was at a cookie exchange today and I took a plate of candy instead of a dozen cookies. WAY more fun to make and nobody seemed to mind.

I decided this was my chance to try the teacups, thought it would be a cute touch to a candy plate.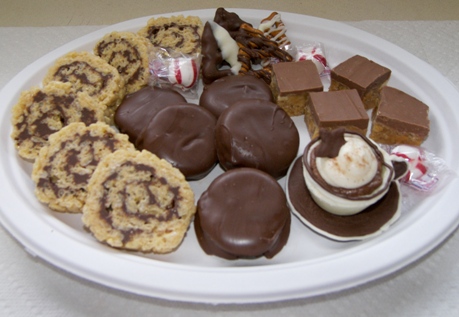 On the candy plate is:
— Rice crispy rolls
— Chocolate-covered Ritz crackers filled with peanut butter (to be featured tomorrow)
— Misc chocolate-coated/drizzled tree-shaped pretzels 
— O'Henry bars
— Chocolate teacup
— Store-bought peppermint candies
These teacups are not as hard and time-consuming as they may look. I want to make some more and next time, I'm not gonna go as crazy with piping trim on! Actually, I think I'll skip the piping altogether. I wanted them all coordinating with white and brown chocolate and I think it ended up looking too busy or messy or something. I think next time, I'd make the cup and saucer both the same monotone color. So, minus all that piping, these teacups were done in 7 steps, mostly easy steps:
1. Line the cups  of a mini muffin pan with white or dark or milk chocolate to form the cup part.
2. Make a saucer out of partially hardened chocolate.
3. Form a handle out of partially hardened chocolate and 'glue' it on with melted chocolate.
4. Fill the cup with fudge (that's what I did here) or truffles or mousse or whatever.
5. Pipe white frosting on top to look like whipped cream (remember that cup of frosting I had left over from the red velvet sandwich cookies? It came in handy here! 😉 )
6. Sprinkle the whipped cream with a bit of Nestles Quik powder.
7. Form a little decoration out of partially hardened chocolate or make a chocolate curl or use some other decoration for garnish.
Here are pictures and "What I learned" tips with each step…
Step #1.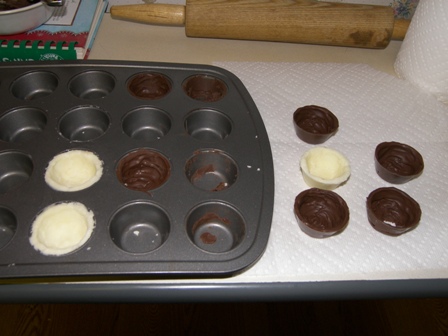 What I learned:
Grease the cups WELL.
The thicker the chocolate, the better… if it's too thin, the cups might break as you get them out (see the one in the front right has a hole in the bottom).
Chill before getting them out.
Best way to get them out is to push against the inside of the cup and turn it, when it comes loose, pull it out.
Step #2: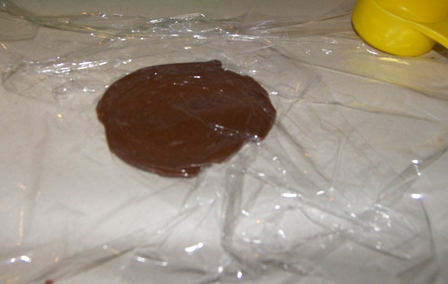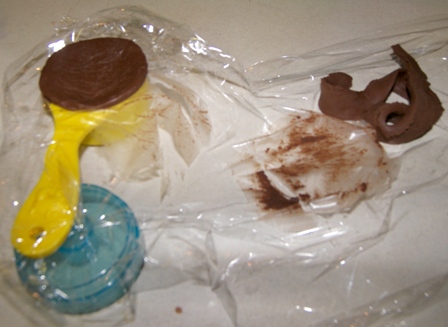 What I learned:
Use utensils/Saran wrap to do the work… using fingers melts the chocolate and creates a sticky mess.
Cut a perfect circle by using a round cutter… a drinking glass works great.
Lay the saucer on a measuring cup… it will sink down just a little in the middle to create a 'saucer' look.
The fridge was my friend. Chocolate hardens faster in the fridge. 😉
Step #3: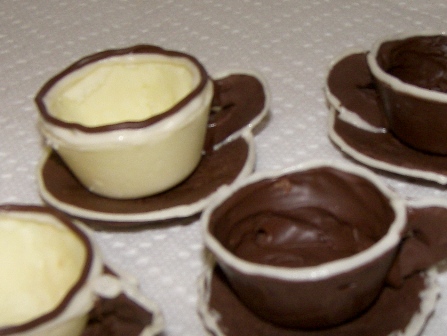 What I learned:
If the cups are chilled before putting the handles on, they adhere faster.
You need to hold the handle against the cup until the melted chocolate between them has hardened… otherwise the handle might fall off when you set it down. *rolleyes*
The rest of the steps don't have 'what I learned' tips because there were no issues/problems/lessons learned. That's a good thing. 

Step #4: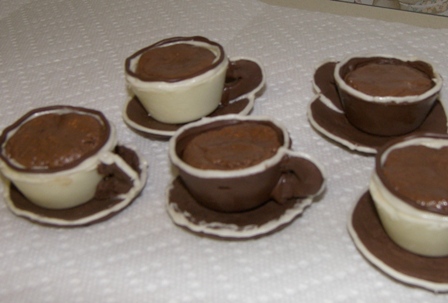 Step #5: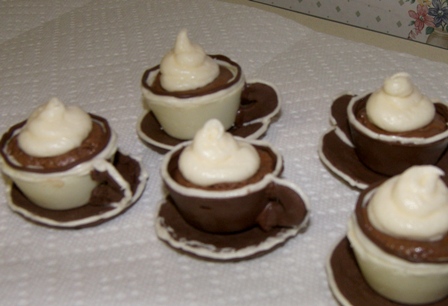 Steps #6 & 7: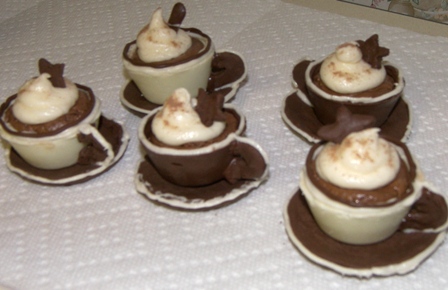 I made stars because, you know, Christmas. I thought stars would be easier than holly or trees or a wreath or a gift or a manger scene. 😉 I just made a ball, then flattened it, then pinched it in 5 places, then perfected the points. Haha, perfected the points? Then why aren't they perfect?! :p I guess I should've said I just made a ball, then flattened it, then pinched it in 5 places, then messed around with it till it looked more or less like a star.

Oh, and the one doesn't have a star, in case anyone noticed. It was the last one and REFUSED to turn out, so I ate it and just stuck in a random dripping from where I had drizzled the pretzels.
Oh, and here are the 5 plates of cookies that I came home with… Peanut Butter Kiss cookies from Rosalyn, Frosted Sugar cookies from Beth, Monster cookies from Sherri, Pumpkin cookies with caramel frosting from Rita, and White Chocolate Chip cookies and some coated party mix and chocolate-covered peanut butter crackers from Mary Esther. I love love love cookie exchanges!!! When else can you mass produce one thing and end up with a fun variety?!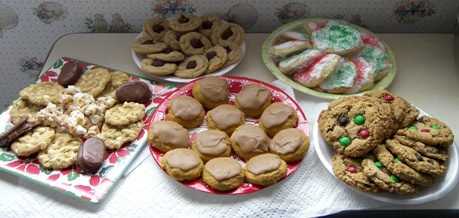 Every year, there are some cookies/candy that are a MUST, but I also like to find a couple of new recipes too. This is one of them. A few weeks ago, I was trying to catch up on my way-behind Google Reader (I won't tell you how many unread items there are because Shannon gives me a hard enough time about it, I don't need you all to, too 😉 … I know he's right when he says, "You oughta just mark them all 'Read' and start over!" but instead I say, "No! What if there's a post or two in there that I FOR SURE don't want to miss?!") and anyway, I clicked on The Cutting Edge of Ordinary and Lisa had just posted these bars. I knew right then and there that they had to be on my new-things-to-try-this-Christmas list. And they didn't disappoint me. They are just as good as they sound and look! And a few people that I gave some to let me know they were a hit at their house, too.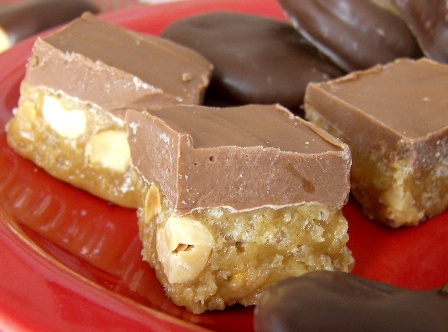 O'Henry Bars
1 cup Karo syrup
1 cup sugar
1 cup peanuts (unsalted, do not chop) I didn't notice this before I got ingredients and I bought salted peanuts, oops, but they turned out great anyway!
1 cup peanut butter
3 cups rice krispies
12 oz package chocolate chips
12 oz package butterscotch chips
Stir together the syrup and the sugar. Microwave for 2 minutes. Add the peanuts and the peanut butter to the Karo mixture. Microwave again for 1 minute.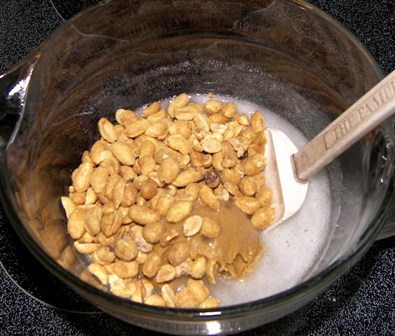 Add 3 cups of rice krispies.

Spread into a greased 9×13 pan.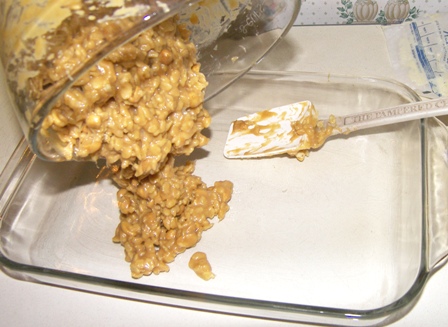 I pressed them into the pan with a buttered plastic bag.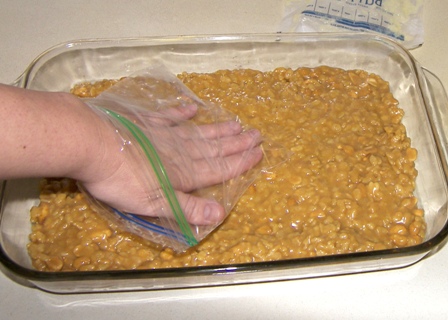 Combine the chips in a bowl and microwave for 2 minutes. Stir until smooth. Spread over the rice krispie mixture and cool in the fridge. Cut into 1 inch squares to serve.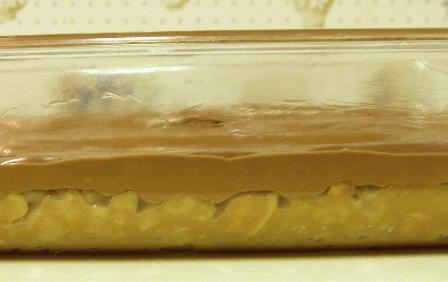 I should've taken a picture of them cut in the pan, but I think I cut them 6 across the short way and 10 the long way, so 60 little bars. What they lacked in size, they made up for in taste.

I think I might make some more of these and try something different… make the bottom part and cool it til it's firm enough to handle, then shaped them into little logs, chill them, then melt the chips and dip them. Maybe twice. 😉 The end result would be like a fun size candy bar!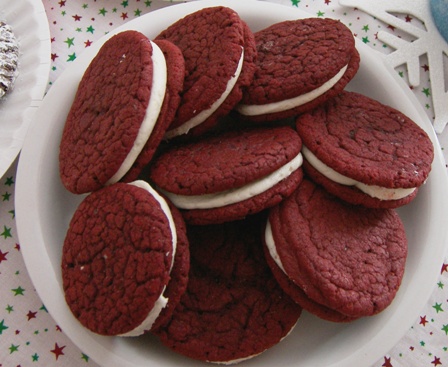 I was trying to picture a festive cookie plate to take to the cookie exchange. For awhile, I was waffling between White Chocolate Craisin Cookies and these. I ended up with these. I kinda got hung up on the white chocolate in the others, wondering if I wanted to 'waste' a couple batches of cookies on white chocolate… Shannon, maybe you should try them.

(Side note: This might be confusing to some of you because I have 2 Shannons in my life (my husband and one of my friends), both of which I refer to on here hit n miss, but if you know there are 2, you can usually tell which one I mean by the context. ;)) Back to these craisin cookies, I am planning to make a batch, and add the chocolate last, dividing the dough in half and adding white to one half and milk choc to the other.
 Wow, I just spent a whole paragraph writing about something that has nothing to do with what this post is about. Good grief.
First, before the recipes, I'll give amounts: I used 5 cake mixes, which made 9 1/2 dozen filled cookies, so I actually baked 19 dozen individual cookies. Me and baking 19 dozen cookies goes great together, I loved it… if it wouldn't make me gain 100 pounds, I'd bake every day. On the other hand, Megan (my 6-month old) and baking 19 dozen cookies does NOT go great together. Let's just say her naptime was blissful. Although, she thought it was bliss sitting back in a corner up on the counter playing with everything within reach (except toys). It's amazing how far a 6-month-old can reach, I found out! Anyway, I made the frosting recipe 3 times and had about 1 cup left over. So, I'll break this down for you to save you having to get out the calculator… 2 cake mixes would make approx 46 finished cookies (mine were anywhere from 2″ – 2 1/2″ across) and one batch of frosting would do approx 38 cookies… could become one of those deals where you make more frosting to use up the rest of the cookies, then you have too much, so you make more cookies to use up the rest of the frosting, then you have cookies left, so you make more frosting…… and so on.

Red Velvet Sandwich Cookies
1 red velvet cake mix
2/3 cup shortening
2 eggs
Mix. Shape into balls.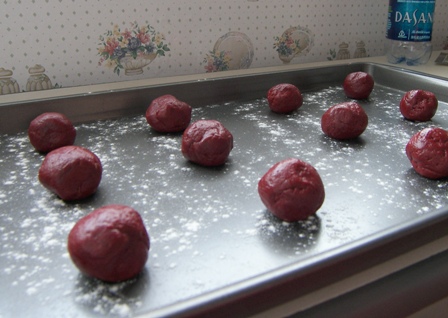 Bake at 375 for 7 minutes.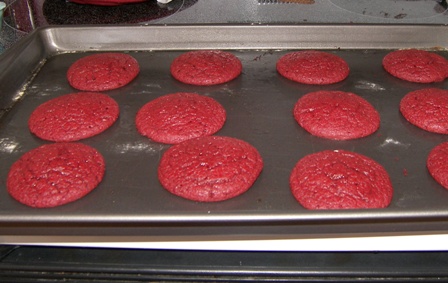 Meanwhile, this was going on…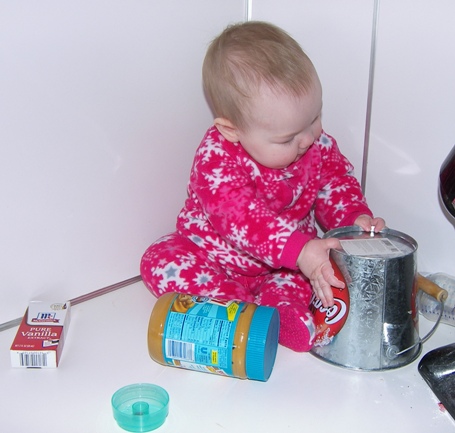 Marshmallow Creme Filling
2 sticks (1 cup) butter
1 7oz. jar marshmallow creme
3 cups powdered sugar
1 tsp. vanilla
Beat til creamy. Spread it on however you want, but I put it in a bag and piped it on. Easy and less mess!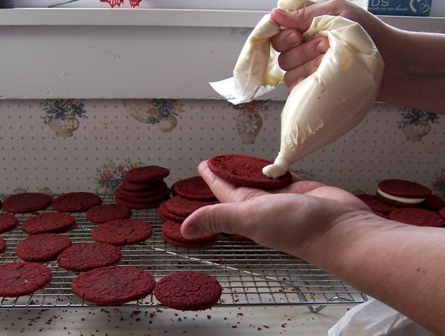 Put another cookie on top and you've got yourself a yummy little red velvet sandwich cookie!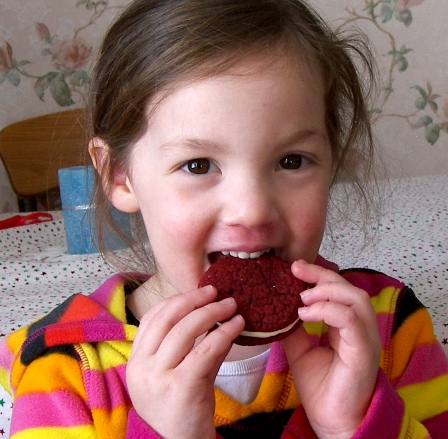 You know, I was just thinking, we could do all sorts of stuff with this because there are all sorts of cake mixes out there… use a white cake mix and put in green food coloring and have green sandwich cookies, make any kind of cake mix cookies and tint the frosting red or green, roll the assembled cookie in crushed red & white candy canes so it sticks to the frosting, dip half of a red velvet sandwich cookie in chocolate, mix up a white cake mix and a red velvet one and then fold them together til it's red & white swirled… any other ideas?
It's that time of year when I need to unlock my extra reservoir of willpower. Here is what's sitting on my table RIGHT NOW…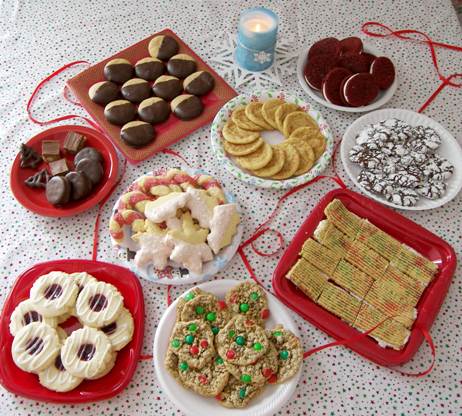 Seriously, the table these are on is 5′ away. I could stand up, take 3 steps, reach out and grab a handful. Or 2 handfuls (I have 2 hands). They are even all still uncovered from taking the picture. Thing is, I'm not even tempted. Nope. Huh-uh. Not me. Not at all. 😉
I'm not even sure what they're all called, so I'll just make up a name for them if I don't know. Oh, and hey, I'm really curious. What's your favorite of all those cookies? If they were, say, sitting on a table 5′ away from you and you could only pick one, which one would you pick?
First, we have Monster Cookies made by Carla. Monster cookies are my all-time favorite… I'd better hide them, the others would never know.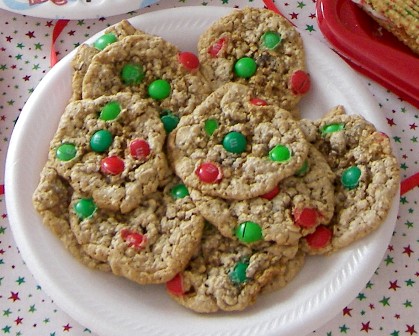 Next is Thumbprint Jam Cookies made by Julie. So pretty.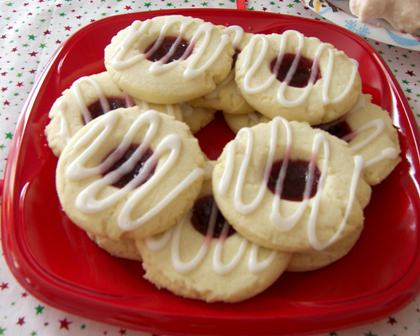 Here are Christmas Cutouts and Candy Cane Cookies made by Janae. Way too cute.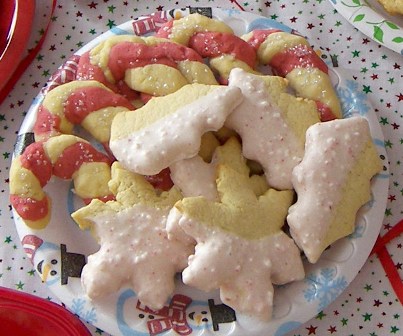 Then, we have Peanut Butter Cookies Dipped in Chocolate made by Linda. These call to me almost as loud as the monster cookies.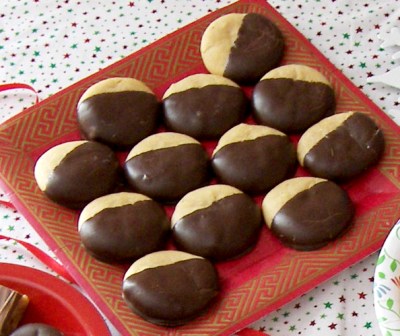 Next is Snickerdoodles made by Deb. Shannon will claim this plate.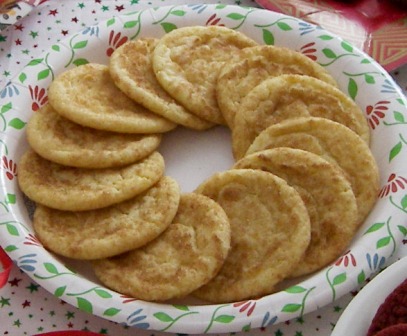 Here are Cream Wafers made by Renita. So beautifully Christmas-y.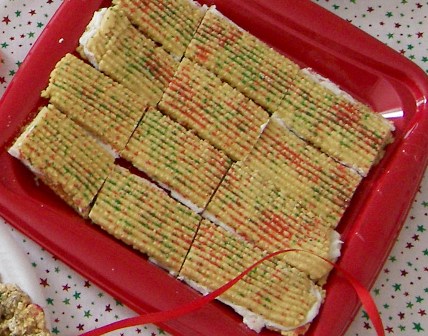 Next is Chocolate Crinkles made by Mary. Ohhhhh, yum!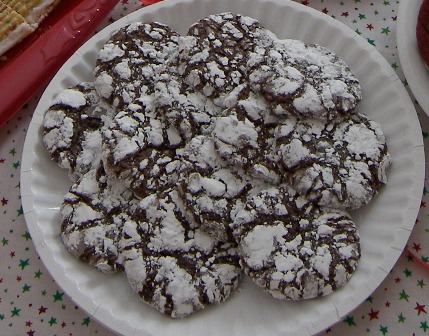 There are 2 plates left, one cookies and one candy. I made those. Here are Red Velvet Sandwich Cookies.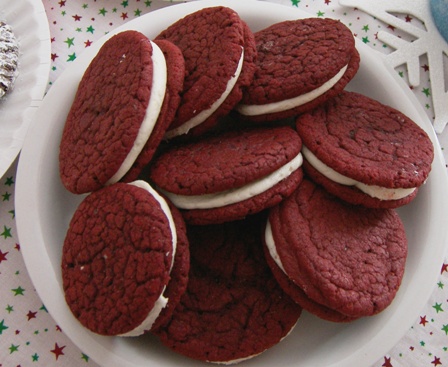 And this plate is Chocolate-covered Tree-shaped Pretzels, Chocolate-covered Ritz crackers filled with Peanut Butter, and O'Henry bars. The O'Henry bars recipe came from Lisa @ The Cutting Edge of Ordinary. Thanks, Lisa! They are awesome!!!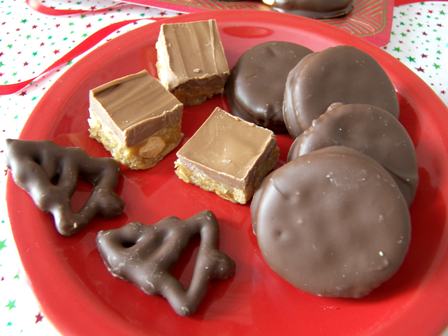 Oh, and I need to point out my candle and snowflake holder… don't you just love it? Julie (the one up there who made the jam cookies) gave it to me for my birthday this year. I LOVE it!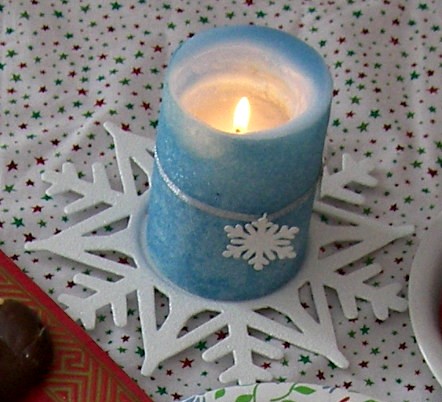 Ok, now I know I haven't been posting on here very much and I don't want anybody to faint, but I have some recipes to get in before Christmas, so I'm going to post one about every day for awhile. *thud* You fainted, didn't you?! Here are the planned upcoming posts, not necessarily in this order:
— Red Velvet Sandwich Cookies
— O'Henry bars (I know, you can get the recipe on Lisa's site, but I want it on mine, too

)
— Teacup Chocolates (excited about this one, this one happened only in my head so far, so hopefully they'll turn out!… I'm making them Thurs for another cookie/candy exchange on Friday)
— Chocolate-covered Ritz Filled with Peanut Butter (I know, you know how to do that already, just by the title, but I want to show you a trick that made the process faster and funner… more fun, whatever)
— Lexi's 8th birthday cake (it was a snicker bar with a fondant wrapper)
Don't forget to humor me with what kind of cookie up there you'd like best!