Lexi made supper tonight.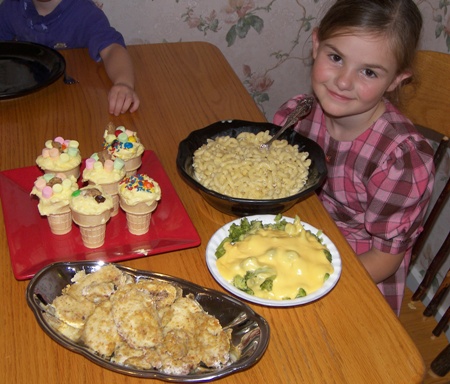 Her menu was:
Crunchy Chicken Tenders
Easy Mac n Cheese
Trees with Cheese
Puddin' Cones
There were only 4 ingredient spills. The only help Lexi accepted was finding some of the right ingredients and measuring cups/spoons and reading the recipe ("because it's faster if you do it and I don't know all the words") and a couple times, handling hot stuff. I did tell her when to do stuff so it would all get done at the same time. I also gave her lots of tips and how-to's, but she did the actual work. She did very well, actually better than I expected.
Now and then, Tiffany (3) crossed her arms, put on a scowl, and whined, "Mom, she won't let me dump that in. I don't have ANYTHING to do!"
I was planning to blog as it was going on, but I was kinda busy with damage control.

She loved doing this meal! I believe we have a cook in the making. 😉
Crunchy Chicken Tenders … recipe from Betty Crocker Kids Cook cookbook
3/4 cup cornflakes cereal
1/2 cup flour
3/4 tsp. salt
1/2 tsp. pepper
1/3 cup buttermilk or milk
1 pound uncooked chicken breast tenders, not breaded
Heat the oven to 400. Line a 9×13 pan with foil.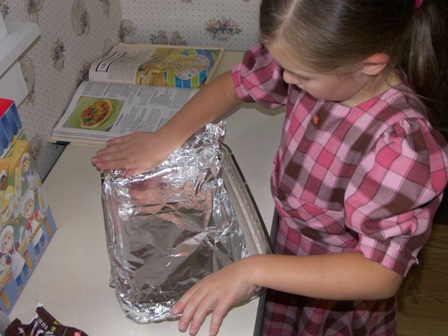 Spray the foil with cooking spray.
Put the cereal, flour, salt, and pepper in a plastic bag. Seal bag closed. Use a rolling pin to crush the cornflakes.
Pour the milk into a bowl. Dip chicken in milk.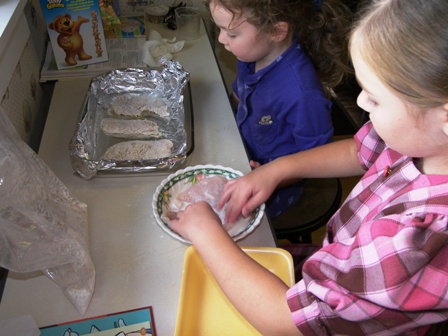 Drop milk-coated chicken, a few pieces at a time, into cereal mixture. Seal bag closed. Shake bag to coat chicken with cereal mixture. Put the coated chicken in the pan.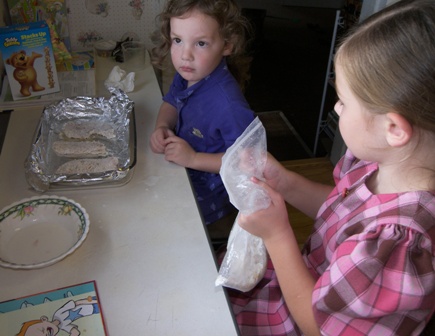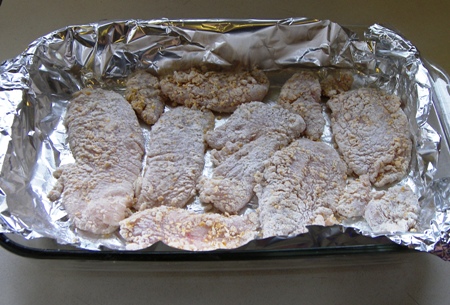 Spray chicken with cooking spray. Throw away any leftover cereal in the bag. Bake for 25-30 minutes or until coating is crisp and chicken is no longer pink in center. Makes 4 servings.
Dishing it up…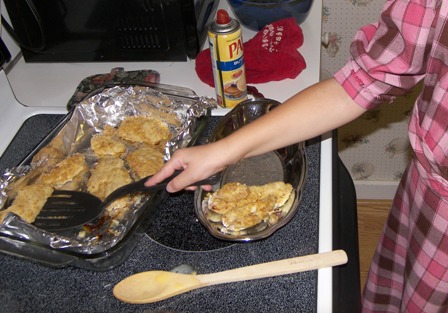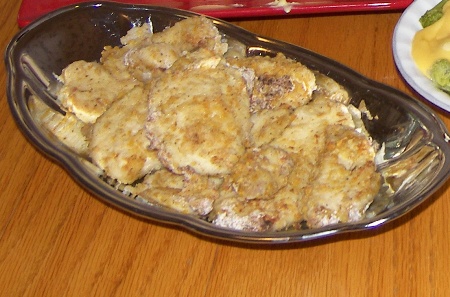 Good stuff! We ate them with bbq sauce. I realize I didn't get a picture of the rolling pin part… they had great fun with that!
Easy Mac and Cheese …recipe from Betty Crocker Kids Cook cookbook
Water
2 cups uncooked elbow macaroni or small pasta shells
1 Tbsp. butter or margarine
1 cup milk
1 1/2 cups shredded cheddar cheese or American cheese
1/2 tsp. salt
1/2 tsp. ground mustard (I had to talk her into putting mustard in!)
1/4 tsp. pepper
Fill a 3-qt saucepan about half full with water. Bring to a boil. Add pasta to water.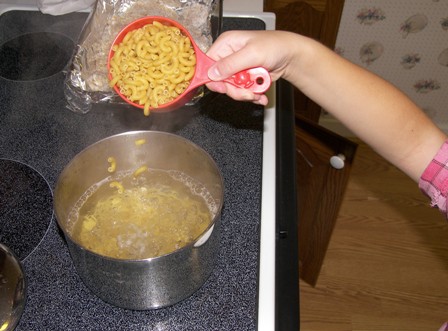 Heat to boiling again. Boil uncovered for 8-10 minutes, stirring often with a wooden spoon. Drain pasta (put a colander in the sink and pour the pasta into it). Put drained pasta back into saucepan. Add butter, milk, cheese, salt, mustard, and pepper to pasta.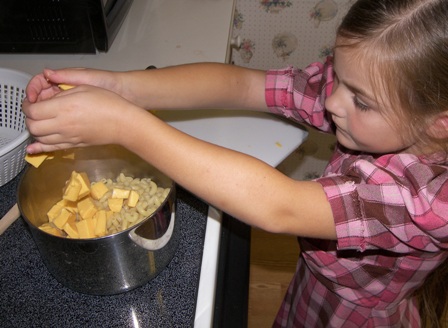 Stir with spoon until mixed. Cook over low heat for about 5 minutes, stirring a few times, until cheese is melted. Makes 4 servings.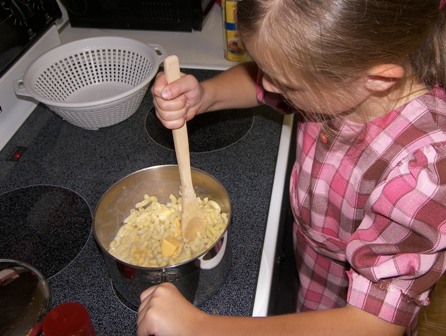 Dishing up. This was a bit wild! Whoosh! and it was all in the serving bowl in about 2 seconds. Pretty amazing that some didn't land on the floor!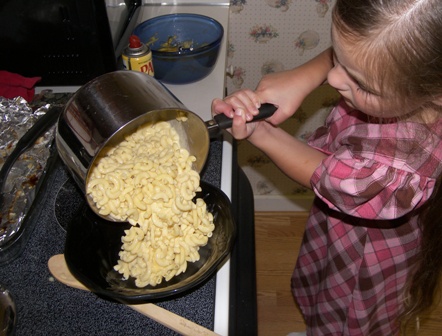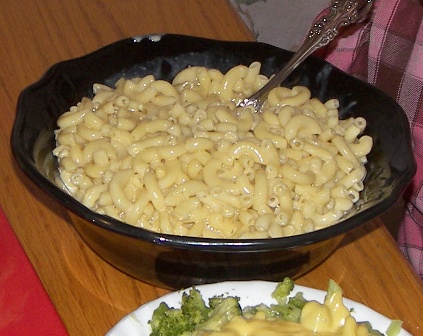 Trees with Trees … recipe from Betty Crocker Kids Cook cookbook
1 1/2 pounds fresh broccoli (I just had her use a bag of frozen broccoli florets.)
3 Tbsp. water
6 oz process American cheese loaf
1/3 cup milk
1/4 onion salt
1 drop red pepper sauce, if you like (she didn't like 😉 )
Microwave the broccoli and water till hot and crisp-tender. Melt the rest of the ingredients in a saucepan or microwave. Stir with a wooden spoon until the cheese is melted and mixture is smooth. Drain broccoli and put it into a serving bowl. Pour hot cheese over broccoli. Makes 6 servings. I didn't notice it at the time, but in all the photographing, I missed the broccoli, all except the dishing it up!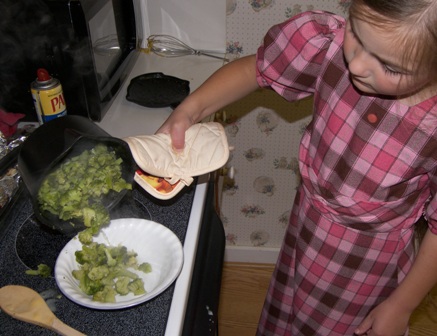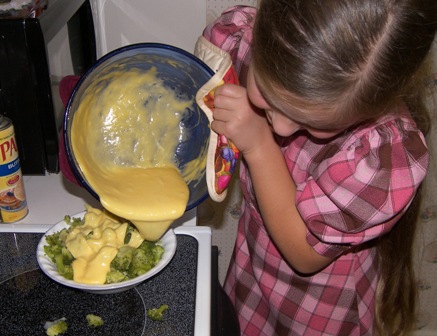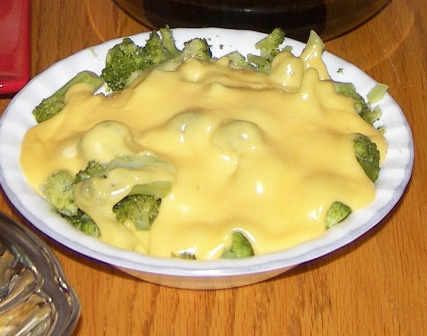 Puddin' Cones … recipe from the 2003 Quick Cooking annual cookbook
This is what sparked the whole idea of making supper. Her cousin Krista made these for dessert when she made supper one time and Lexi saw a picture and wanted to make them too. Krista, you're her hero!
1 1/2 cups cold milk
1 pkg. (3.4 oz.) instant vanilla pudding mix
3 envelopes whipped topping mix (when Lexi read this, she said "Envelopes?! What do envelopes have to do with cooking?")
8 cake ice cream cones (about 3 inches) She used only 6.
Chopped nuts, jimmies and miniature colored baking chips or topping of your choice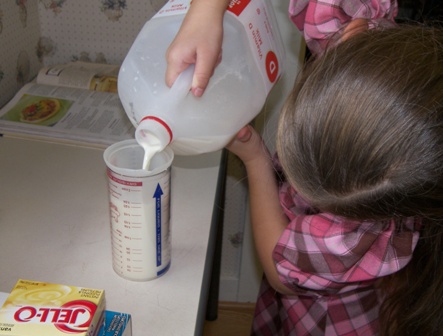 In a mixing bowl, beat milk and pudding mix on low speed for 2 minutes.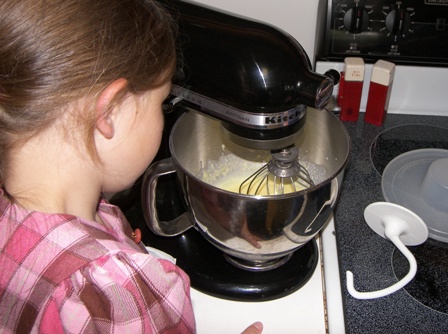 Blend in whipped topping mix; cover and refrigerate for at least 1 hour. Spoon 1/4 cup into each cone; sprinkle with toppings. Yield: 8 servings. I just told her to fill the cones, not to measure. When the pudding mixture was gone, there were only 6 cones used, which I think is better because they look more like ice cream cones if they're heaped a little.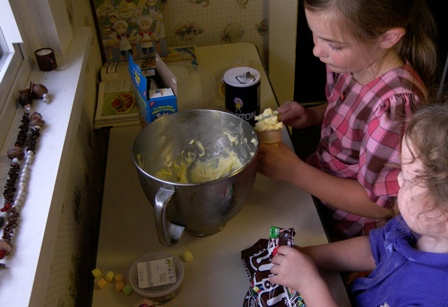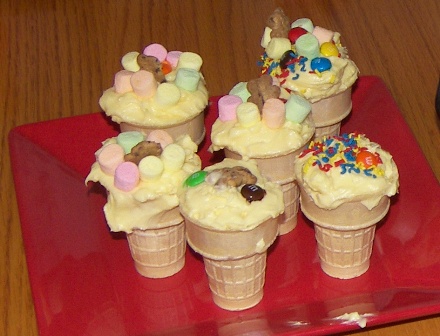 These were good, altho' not as good as real ice cream. She made them right before she dished up the food and till we got done eating and were ready for dessert, the cones were starting to get a little soft already. So, they should not be made too much in advance!
Really mini. Not 4″ pie pans.
Smaller.
Not cupcake pans.
Smaller.
These were made in mini muffin pans.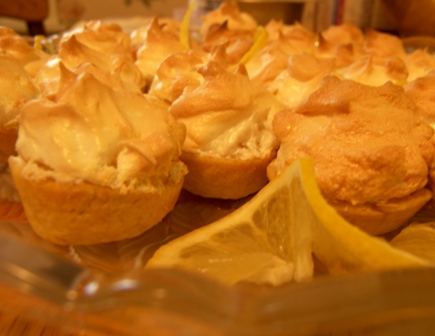 These are perfect for a bring-a-salad-or-dessert church gathering. You know, there are 20 desserts to choose from and you have a hard time narrowing it down to 5 and one of the desserts calling to you is pie cut into 8 pieces. A piece of pie is a complete dessert, so there goes the rest of the selections. I decided to try making little individual pies instead of a couple big lemon meringue pies to take to the Fall Praise Social picnic this past Sunday evening. And it worked! With these little things, you can have a taste of lemon meringue pie without passing up the pecan bars, eclair dessert, monster cookies, and fresh peach delight.
Use your regular lemon meringue pie recipe or use my favorite recipe featured here. Roll the crust a bit thinner than usual, then cut out circles. The tube of my Pampered Chef Measure-All Cup was the perfect size for circle-cutting. Then, press them into the mini muffin pan and bake at 375 for about 10 minutes. Make the filling and spoon into crusts. Make the meringue and spoon on top of filling. Bake at 375 for about 10 minutes. Should be easy to remember… everything to bake gets baked at 375 for about 10 minutes.

Here's the process in pictures: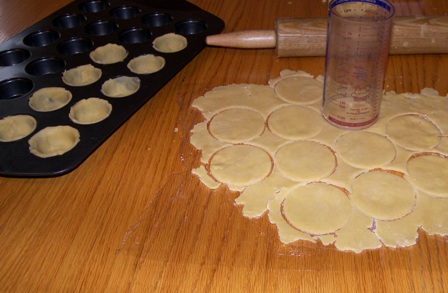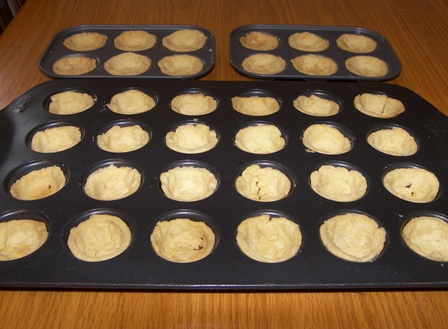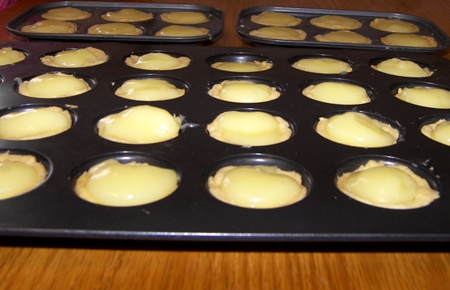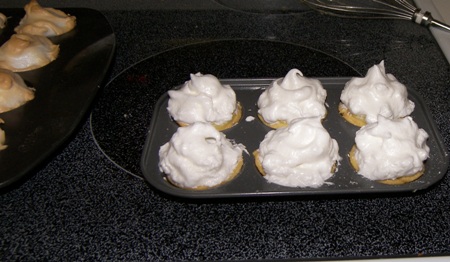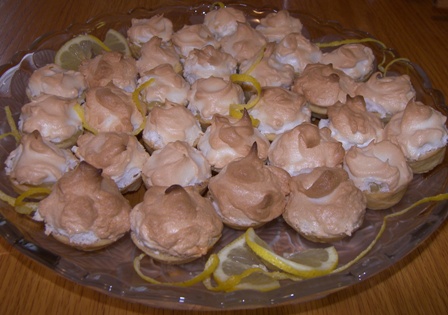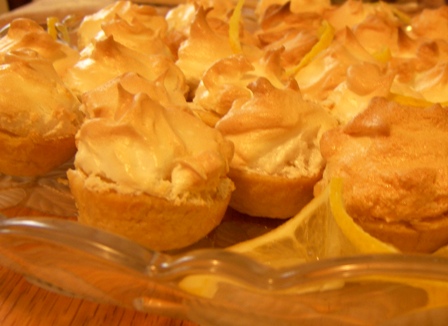 They tasted exactly like lemon meringue pie. I guess that would make sense, what with using that recipe and all. They're long gone, and I just feel like snitching one off the picture and inhaling it in 2 bites.
—————————————————————————————-
In other news, you may want to stay tuned. I think I might blog live this evening for a couple hours. Lexi is planning to make supper. She's 6. She feels quite capable and wants me to leave her alone in the kitchen with her cookbooks. Tiffany and I are allowed to help her by setting the table and we also may carry things to the table like bbq sauce and salt & pepper. I think she's in for a bit of surprise and will end up needing more help than she thinks she will. Here is the menu she picked out (going by pictures in cookbooks): Easy Mac n Cheese, Crunchy Chicken Tenders, Trees with Cheese, and Puddin' Cones. She gets home from school around 4:15. Supper is scheduled for 6:30.
Oh, and did I mention that she doesn't know the difference between a teaspoon and a Tablespoon?
Well, it's that time of the year again. School has started, or is starting soon (unless you're in Peru, where I just found out that 'summer vacation' is in the winter).
The kids come home from school,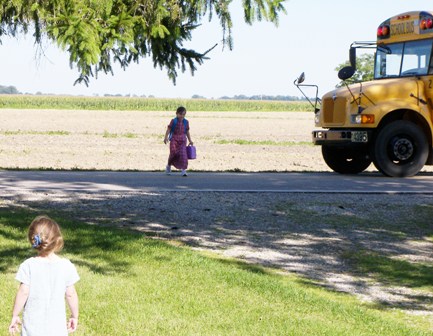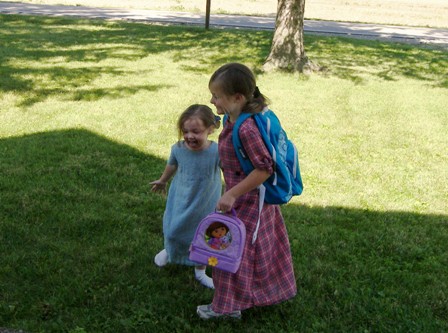 …and they are STARVING!!!!! Or so they think.
I remember that when I was a schoolgirl too. I NEEDED a snack. I was starving. We lived 1/2 mile from school and half of that distance was our 1/4 mile long lane. We'd often walk to school and sometimes Mom would put the snack on a platter and walk out to meet us, disperse the snacks, and we'd all walk together to the house, munching away. Good memories. My favorite snack of all is when she'd mix peanuts, chocolate chips, and marshmallows and put them in little cups.
Renita was telling me about an after school snack that she makes sometimes for her boys. So, yesterday I stole her idea and made it too. Here it is.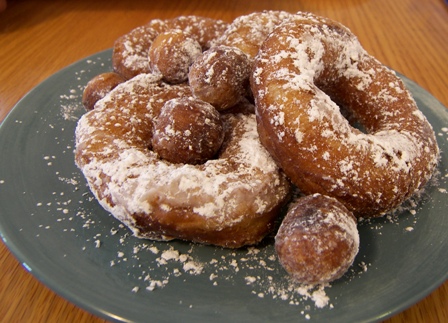 Biscuit Donuts
1 can refrigerated biscuits
Oil or shortening for frying
Powdered sugar
I put about a cup of shortning in a small pan and heated it to about 375 degrees. Take each biscuit and make a hole in the middle with something round.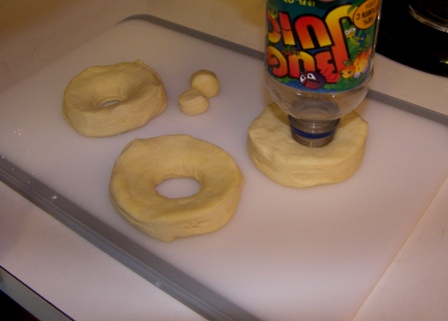 If you use the Grands biscuits with flaky layers, split them in half (where 2 of the layers meet)… makes so they aren't doughy in the middle when the outside is done. And it also makes twice as many donuts that way. 😉 Is donuts spelled 'donuts' or 'doughnuts'? I've seen it both ways, not sure what the difference is except that one way is shorter, so I'll stick with that one. Fry the donuts in oil for 45 seconds – 1 minute per side.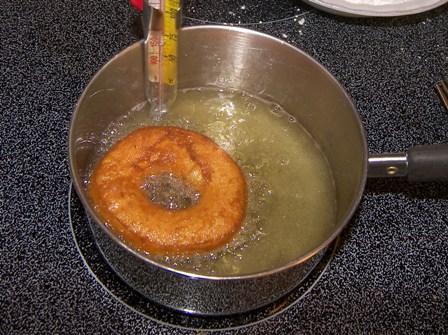 Drain on paper towel.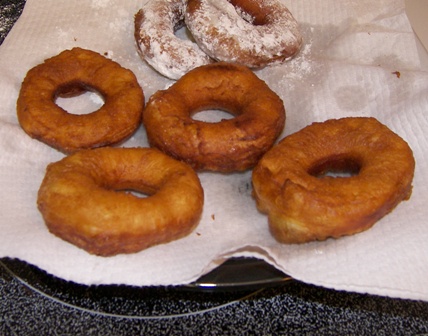 Coat with powdered sugar.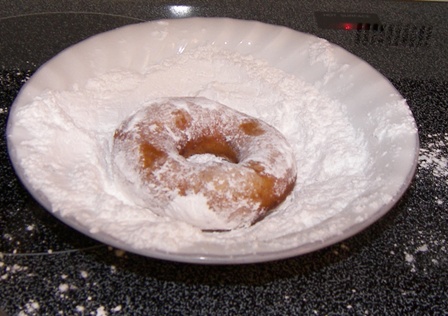 Easy.
Yummy.
Only 3 ingredients.
Other after school snack ideas:
— Apples with peanut butter
— Cookies and milk
— Their leftover lunch 😉
— Nachos with salsa (serving of tortilla chips spread out on plate and sprinkled with shredded cheese and microwaved for about 20 seconds to melt the cheese)
— Fruit
— Pudding
— Graham crackers with milk
— Reeses Puffs 😉
— Popsicles
— Salties (chips, pretzels, Cheetos, party mix, etc.)
That's all that came to my mind right now. What do you give your kids for an after school snack? Or do you say, "Go look in the kitchen, see what you can find."?

Today, I was in the middle of doing laundry, so I said that and they found goldfish crackers and drank chocolate milk.