V-A-R-I-E-T-Y!!!! That's what's so fun about these cookies! You know in the grocery store, in the baking aisle, how there are several shelves full of cake mixes? Red ones, yellow ones, white ones, brown ones, confetti ones, pink ones, orange ones, blue ones… are there blue ones? Not sure about that now that I think of it.
And you can make even more variety! You can mix the colors too… make brown and pink (chocolate and strawberry) for your daughter's slumber party… when you're rolling the dough into balls, make them half the size they should be, then smash a brown and pink one together and put it on the cookie sheet.
I should've made a bunch of different kinds and then featured them all. But, I guess I'll just feature them using one kind. The best flavor ever in the world of food.
Chocolate.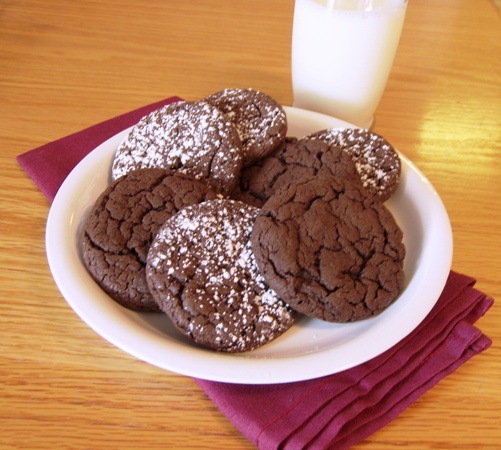 This recipe is adapted from the Tasteful Delights cookbook.
Cake Mix Cookies
1 cake mix
2 eggs
1/2 cup oil
1 Tbsp. flour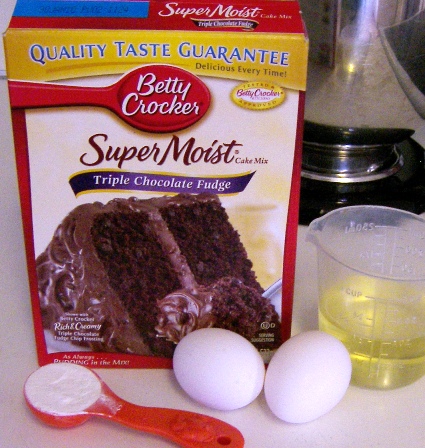 Don't you just wonder what magic that little tablespoon of flour does? Seems like it wouldn't make enough difference for the bother. Next time, I should be really daring and omit it, and see what happens.

Beat all the ingredients together. Roll into balls and put on cookie sheets.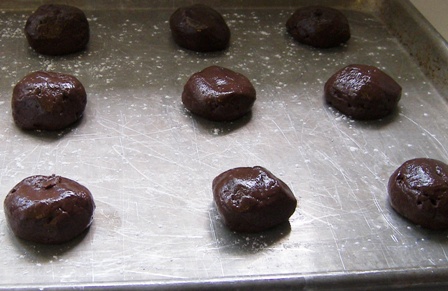 Bake at 350 for 11 minutes.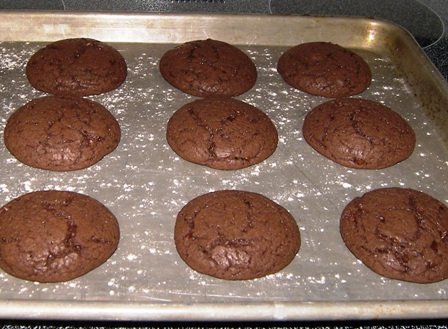 Yum. They have cracks in them. I like when cookies have cracks like that. Makes them look soft and chewy.
Sprinkle with sugar. I used powdered sugar. I just sprinkled some of them because I think I like the looks of them better without.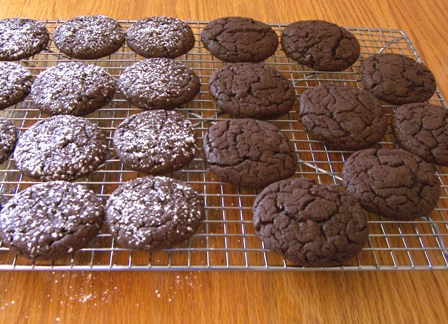 Actually, I think I like them best some with and some without. You know, variety.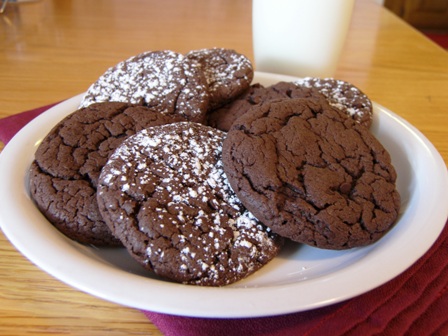 I made a birthday cake last evening for my friend Renita's 6-yr-old son, Jordan. His birthday is TODAY! The cake is a Lightning McQueen cake. I was thinking of updating as I make it, but decided not to this time. (That way, I don't get icing all over my mouse and keyboard. 😉 Just kidding, I have to wash my hands to handle my camera anyway.)
Here's a list of what all I used:
–chocolate cake mix
–store-bought white fondant ($6 at Walmart)
–red, black, yellow, and blue food coloring paste
–buttercream icing (recipe featured in this post, you'll need to scroll down a little)
–graham cracker crumbs
–small piece of thin cardboard
–small bamboo skewer
–2 toothpicks
–6 candles
It's all very common/inexpensive things, no molds or anything, so I hope that after you see this cake being made, you can see how easy it is to do one yourself.

I started by baking a 9×13 chocolate cake, cooled it and froze it (easier to carve that way), then cut out a section about 11×7 and placed it on the cake board. By the way, the cake board is a piece of foam board cut in half, stacked, and covered with tin foil. Renita gave me that little car to look off of. Very helpful!!!!
It took awhile to get the fondant red. See that little can of red paste? It was brand new and I used at least 3/4 of it! This is when I was starting to mix it…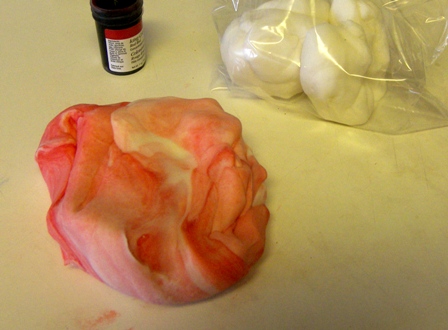 And then I never got a picture of it after it was red. *rolleyes* The way to mix it is to pull it, twist it, knead it, and whatever till it's all uniformly colored. It's easy to do swirly designs with fondant too!
Ok, now the carving starts. I took another smaller piece and stacked it on top for the cab. Is it called a cab when it's a race car? I can't think of what else to call it. Anyway, the part inside where you sit. This doesn't look too promising so far, does it?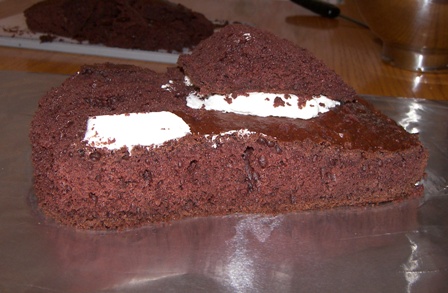 Ah, but frosting helps SO much and covers lots of imperfections! Not to imply that there are no imperfections here!!! But at least it looks like now it actually has a chance of becoming a race car.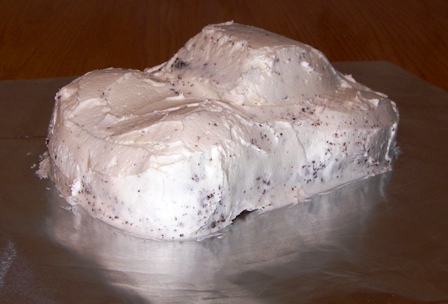 Now we roll out the red fondant. By the way, whenever you do cakes, please use concentrated paste, NOT liquid food coloring. Concentrated paste makes the end result such true vivid colors. Sprinkle the table with plenty of powdered sugar. Flatten the fondant a bit and sprinkle powdered sugar on it too, then simply roll it out like you would a pie crust.

To pick up the fondant, I rolled it around the rolling pin, then unrolled it off of the rolling pin over the car.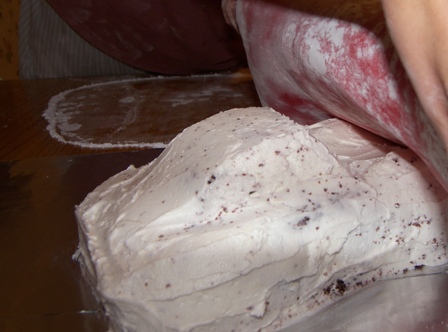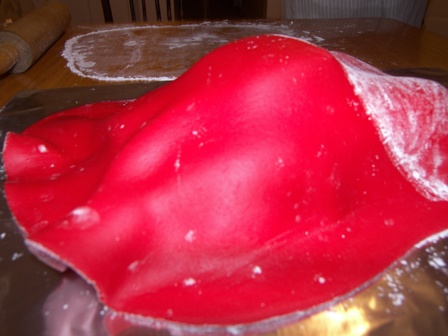 Kinda blurry, but you get the idea. There was a powdered sugar issue because it was really sugary on the bottom and then when I rolled it up onto the rolling pin, it got sugary on part of the top. I thought, "Oh no! Now what?!" because when I tried to brush it off, it didn't want to come off!
By patting and tucking, fit the fondant to the shape of the cake. Then, trim off the excess.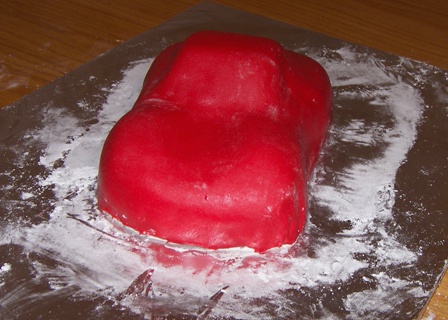 Roll out some white fondant and cut out the windows and the smile. To cut the fondant, I used either a sharp knife, a scissors, or a pastry cutter, whichever seemed like it would work the best for what I was cutting. Pieces of fondant don't automatically stick… you need to wet the back with water a little bit first, then they'll stick.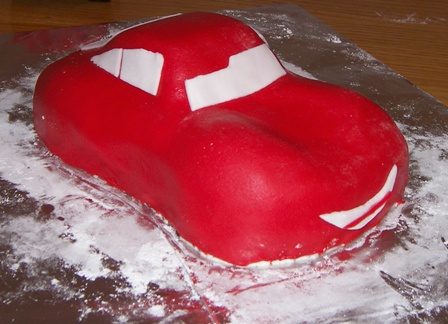 By the way, remember all that powdered sugar that was on the red when I first put the fondant over the car? The problem took care of itself… the sugar melted or something and dissolved into the fondant. I love when problems take care of themselves like that. 
Now we've got eyes. I know, one is bigger than the other. Oh well. To make the eyes, I used a small (clean) painbrush and black and blue coloring paste and painted them on.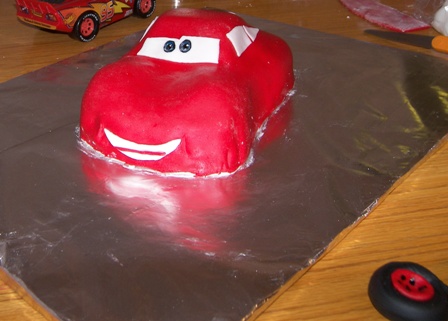 Now we've got wheels. They are made out of  black and red fondant. To put them on, I cut into the fondant, icing, and cake, making a wheel-shaped hole, then tucked the wheels in. I thought it might add a little character to turn the front wheels to give it a 'rarin-to-go' look. 😉

Now we have decals, 'lettering' on the tires, and headlights.

Now with the Rust-eze logo, the spoiler, a flag, and a racetrack, Lightning McQueen is DONE!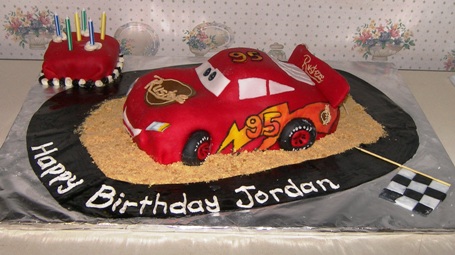 The track is rolled out black fondant. Everything here is completely edible except the bamboo skewer on the flag, a thin piece of cardboard inside the spoiler, the 2 toothpicks under the spoiler, and of course the candles. (The spoiler kept settling instead of staying at the proper angle, so I had to prop it up with toothpicks.)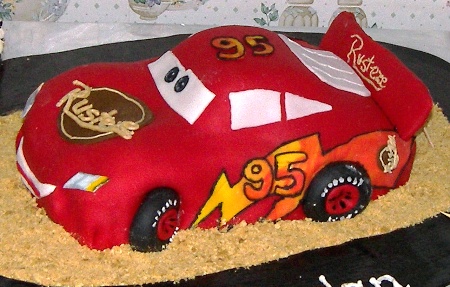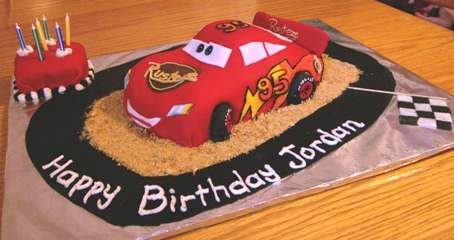 Happy birthday, Jordan! Have fun being 6! 
Edited to add: Several readers have been inspired to use these instructions and make a Lightning McQueen cake themselves! See their cakes here: Lightning McQueen cakes that readers have made They all did an awesome job! If you want to do it, I'd love to see your cake!

Email it to kay@kitchenscrapbook.com and I'll add it to that post!!

Edited April 25, 2011: I just made another Lightning McQueen birthday cake last week. It's posted here: Regan's Lightning McQueen birthday cake.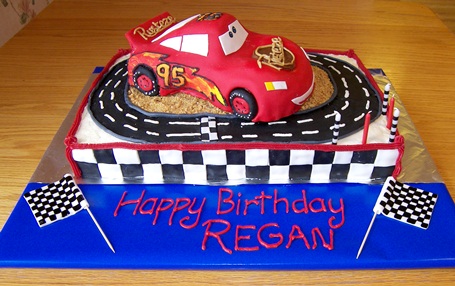 var _gaq = _gaq || []; _gaq.push(['_setAccount', 'UA-24111174-1']); _gaq.push(['_trackPageview']);
(function() { var ga = document.createElement('script'); ga.type = 'text/javascript'; ga.async = true; ga.src = ('https:' == document.location.protocol ? 'https://ssl' : 'http://www') + '.google-analytics.com/ga.js'; var s = document.getElementsByTagName('script')[0]; s.parentNode.insertBefore(ga, s); })();
If you want quick-n-easy, here you go. These would honestly fit into a "30 minutes to mealtime" category. And 20 of those minutes is the potatoes cooking, so that's some free time to fry some chicken, make a salad, or whatever else is for dinner. All you do is peel a stripe around the potatoes, throw them in a kettle to cook, then 20 minutes later, toss them with a butter and herb mixture and put them on the table.
This is one of those recipes I clipped a long time ago. Well, I didn't technically clip it, I scribbled it down. When I have a clipped recipe, sometimes I can tell where they came from, but when I just wrote it, it's only a guess. Maybe it was out of a magazine in a doctor's office or somewhere (because, you know, I'd never rip a recipe out of someone else's magazine!). I've seen this potato recipe in my stash of clipped recipes pretty often, but never tried it… maybe because it's so hard and complicated. Just kidding.
Anyway, this recipe is definitely a keeper. It's simple enough for a regular weeknight meal, but dressy enough for Sunday company. As I wrote that part about being dressy, I wondered what I thought makes it dressy and I guess it's because of the peeled stripe around it and the parsley garnish. 😉  We ate these with sour cream, but I wish I'd have thought of Ranch dressing. I'll bet that would've been really good with them too!
And here's the recipe:
Herbed new Potatoes
12 small new potatoes
4 tsp. butter
1 1/3 tsp. dried parsley (or 1 1/3 Tbsp. chopped fresh parsley if you prefer)
1 1/3 tsp. chives
Fresh parsley for garnish
Peel 1/2″ strip around center of each potato. Place in cold water in saucepan. Boil potatoes about 20 minutes or till done. Don't overcook.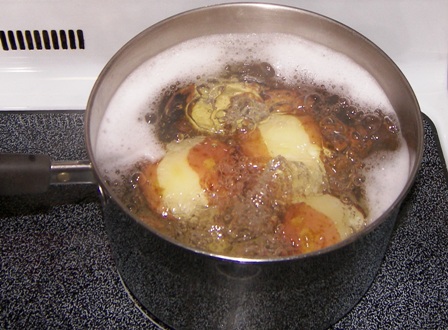 Drain and cover. Melt butter and stir in chives and parsley. Pour over potatoes and toss to coat. Spoon potatoes into bowl and garnish with parsley. Serve immediately. Serves 4. Variation: Can also sprinkle with bacon or finely minced greeen onions.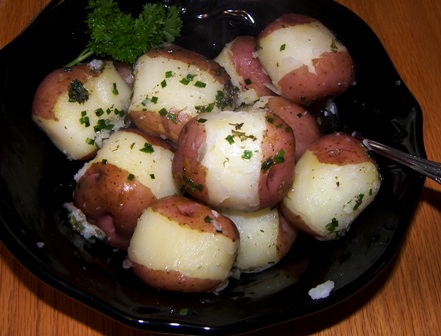 Oh, and about ripping a recipe out of someone's else's magazine… *ahem* … Confession: I did one time several years ago at an oil change place while waiting on my car to get done. But only that one time. Seriously. 😉 I forget, but I probably didn't have a pen and paper on me. It was a garlic biscuit recipe of some sort, but not these Red Lobster ones.
Change of subject now: This article hit the news last week. 😉 By Melissa Dutton for the Associated Press: http://www.wral.com/lifestyles/story/5579539/ I guess now you'll know what Lexi's 7th birthday cake will be.

So… how many moms perked up at the 'no drip' part?

I was just going to freeze Koolaid into popsicles, but then I saw this recipe and had to try it. Really, how can there be a no-drip popsicle?!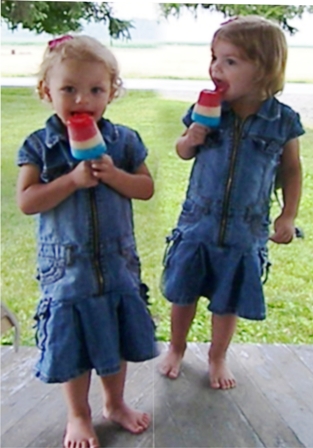 These are my friend Carrie's twins, Chloe and Jasmine. Aren't they just adorable? They are 2 1/2. You oughta hear them talk.
When I started thinking of how to make these popsicles, there was one problem… how to get the white part. The red is cherry, the blue is blueberry; both kinds are in the Koolaid dept and the jello dept. Well, what about white? The lightest thing I saw in the Koolaid was lemonaide, so I got that. And the lightest thing I saw in the jello section was pineapple, so I got that. When I mixed them together, it was yellow. Way too yellow. I still hadn't put all the water in, so I thought of evaporated milk and replaced some of the water with that. Worked great! And that layer actually tastes good too. That's always a plus. 😉
No-drip Popsicles …recipe comes from here
1 3oz pkg jello, any flavor
1 pkg kool-aid, (same flavor as jello)
1 cup sugar
2 cups boiling water
2 cups cold water
Popsicle molds (I used 9 oz. plastic cups and popsicle/craft sticks)
Pour boiling water over jello, kool-aid and sugar. Stir till completely dissolved. Pour into molds; freeze. I did this recipe 3 times (once in red, once in white, and once in blue) and it made 16 popsicles. Freeze between each layer. When the middle white layer gets thick enough, put popsicles sticks in. Making these took all day (poured the first layer in around 9 am, and the popsicles were ready to eat by 7:30 pm).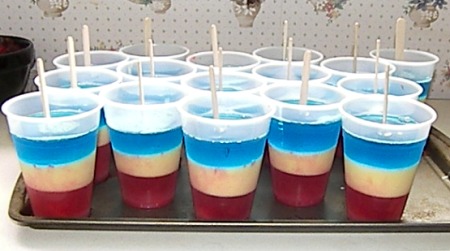 And here is our test crew to see if the popsicles are actually no-drip or not.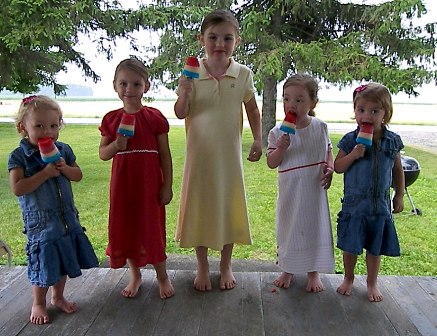 They, of course, did drip some, but I was pretty impressed. I've seen popsicles make alot bigger messes! I think the jello in there made it thicker… the juice didn't run too much. They're easy and quick to make (especially if you make them all the same color instead of layered).
What a great summertime treat! Send your kids outside with some!
Hope your day is filled with fun, friends, family, and good food!
On the menu for us tonight is burgers, hot dogs, beans, chips, salad, this dessert, and these popsicles for the kids.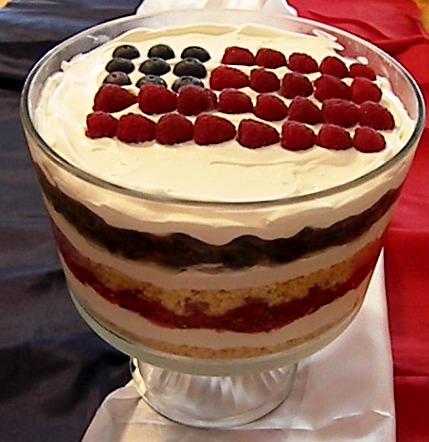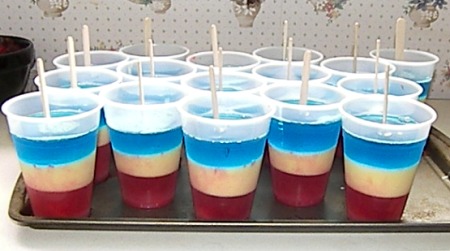 It's so easy to make food fit the 4th of July, especially if it's dessert. Make a USA or flag or star shape out of it OR pick out blue and red M&Ms or Skittles to use in it OR sprinkle it with red, white, and blue sprinkles OR change the fruit in the recipe to blueberries and strawberries or raspberries, etc. I'll post these trifle and popsicle recipes later.
Have a safe and happy holiday!