While we were eating this at lunch today and someone said, "I'll take some more broccoli", the person passing it said, "It almost seems wrong to call it broccoli". Getting your vegetables by eating this broccoli dish is kinda like getting a fruit by eating strawberry jam. 😉 Besides the broccoli, this has: sour cream, Parmesan cheese, buttered toasted crumbs, and cheese. I don't think I need to tell you whether or not it was good!!! We've got a winner here. A recipe that will be repeated in this household.
Another reason that this recipe will be repeated is because it's fast. I made it for lunch today. When we got home from church, I hadn't done anything ahead of time for this. It took a couple minutes to cut up the head of broccoli, then during the 7 min that it was cooking, I toasted the crumbs, measured the sour cream and Parmesan cheese, and grated the Swiss cheese. It took a minute to throw it together in the dish and then several minutes under the broiler. So, from start to finish, about 15-20 minutes total. Not bad. And I could've even saved a couple minutes by cutting up the broccoli earlier.
I don't know where this recipe comes from… it's an anonymous clipped recipe in my mammoth clipped-because-I-want-to-try-it-sometime recipe collection. Sometimes I wonder if I'll ever get thro' them. The reason I wonder that is because I think I keep clipping them faster than I'm trying them! Beside the recipe, it says, "Meal Ideas: Baked ham, oven-roasted potatoes, broccoli au gratin, apricot tart". Our meal was: Beef roast, herbed new potatoes, broccoli au gratin, crescent rolls, and fresh strawberry pie.
Broccoli Au Gratin
1 large head broccoli (about 1 1/2 pounds)
3/4 cup sour cream
1/4 cup grated Parmesan cheese
3 Tbsp. butter
1/2 cup bread crumbs I always use cracker crumbs when a recipe called for bread crumbs. They're tastier.
1/2 cup shredded Swiss cheese
Trim broccoli; cut off florets. Peel stalks; cut into 1″ chunks. In a saucepan, bring one inch of water to a boil over high heat. Add broccoli stalks; cover and cook for 2 min. Add florets; cover and cook until crisp-tender, about 5 min. Drain.
Melt butter in small skillet. Add crumbs and stir until coated with butter and toasted.

Combine sour cream and Parmesan. Stir in the broccoli. Pour broccoli mixture into a baking dish.

Sprinkle with bread crumbs and Swiss cheese.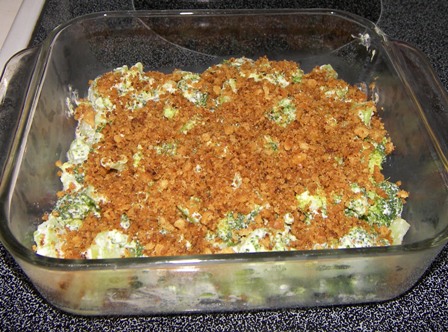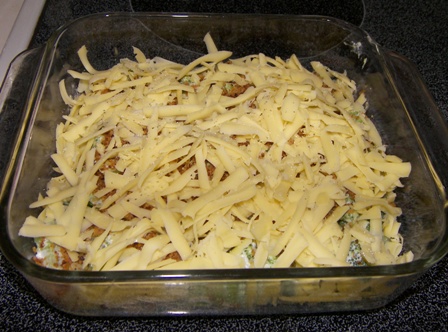 I don't know if you can tell it, but at this point is when I thought of it that there's no salt in this recipe, so I sprinkled s&p over it. Oh, and the cheese… I didn't measure it so I could put more on.

Broil until cheese melts. 4 servings. 4 servings is right… we had 3 adults and 2 kids and we had just a teeny bit left over.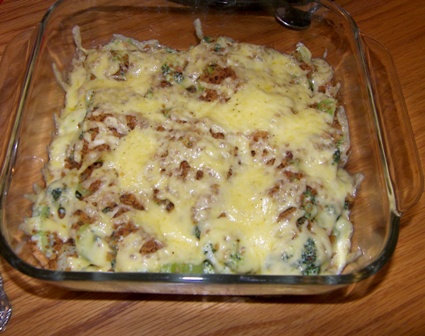 I just thought it would be ideal if I'd post this BEFORE the strawberries are completely over! You know, that way you could still try the recipe without having to go to the grocery store and buy some. How many of you have fresh strawberries in little square boxes in your fridge right now? Me! *raises hand* 
I made this pie last evening and it lasted only about 24 hours. We have 2 big people and 2 little people here. And we all like strawberry pie! So… I'm gonna make another one this weekend!

It is just so refreshing and bursting with juicy-berry flavor and so pretty!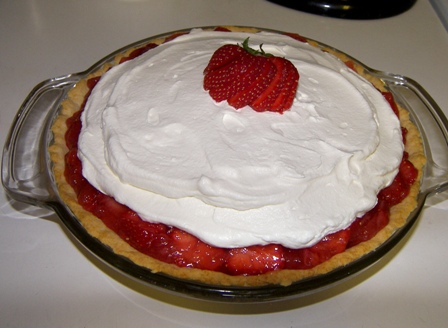 This recipe comes from my mother-in-law. There is something about this strawberry pie that makes it stand head and shoulders above regular fresh strawberry pie. You can't tell it by looking at it. It's a hidden feature, until you cut it and serve a piece… 
It has a cream cheese layer hidden under those strawberries! Mmmmmmm!
Fresh Strawberry Pie
Crust:
1/4 cup butter
3 Tbsp. boiling water
1 cup Bisquick
Mix and press into a 9″ pie plate. Bake at 375 for 15 minutes.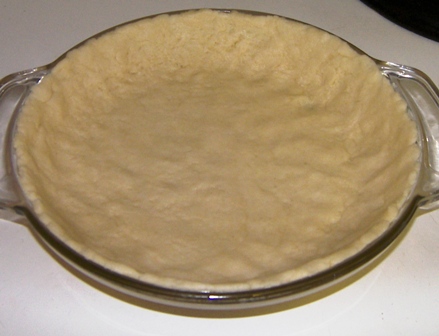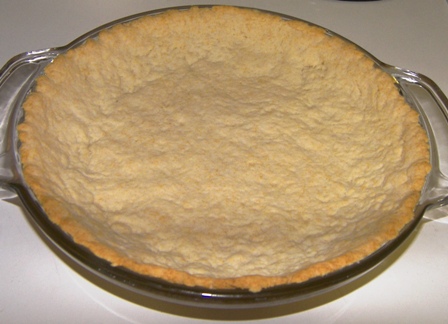 Cream cheese layer:
1/4 cup powdered sugar
4 oz. cream cheese
3/4 cup Cool Whip
Mix and spread on cooled crust.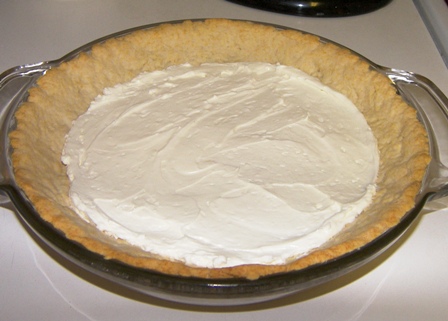 Strawberry layer:
1/4 cup instant Clear Jel
3/4 cup sugar
4 cups sliced fresh strawberries
1/2 cup water
Add the water to the strawberries. Mix sugar and Clear Jel together. Sprinkle over the strawberries and mix in.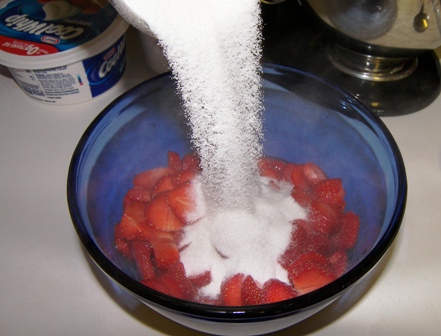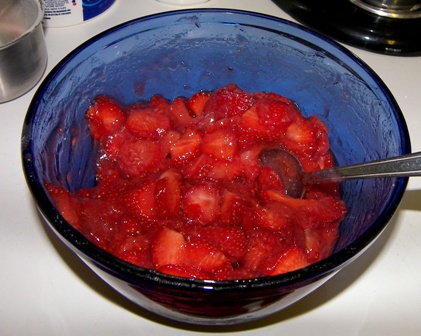 Pour over cream cheese mixture.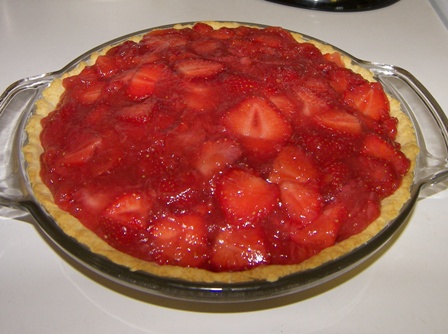 Top with more Cool Whip.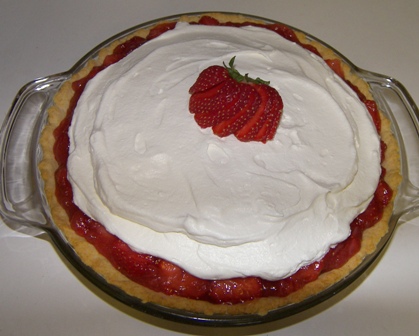 Chill. It sort of sets up right away, but it's best if it chills for a couple hours.
Important note 😉 :When peaches are in season, please remember this recipe… it works great to substitute the strawberries for sliced fresh peaches. I wonder if it would work to substitute other fruit too, like blueberries or raspberries.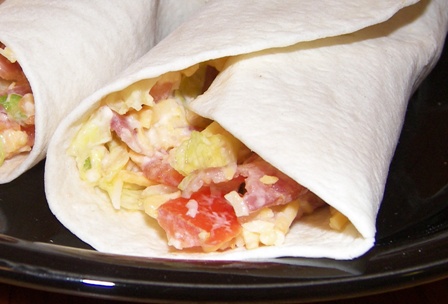 I'm trying to decide if this should even be a Cooks in Training post.
Reasons it should be:
1. Lexi and Tiffany made them.
2. The recipe comes from the Kids Cook! cookbook.
3. There is no kettle or baking involved.
Reasons it should not be:
1. What. a. mess!!!!!!
2. There is a sharp knife involved.
3. Next time we have these, I'll make them myself.
I don't want to give the impression that the Cooks in Training posts aren't usually messy. 😉 It's just that this one struck me as extra messy. Maybe it was because the floor around their chairs looked confetti-covered. Maybe it was because they were handling bacon (read: grease) twice. Maybe it was because when they wrapped their wraps up, the tortillas ripped and the filling was falling out and trying to fix the problem only made it worse.

Oh well, we all have our bad days in the kitchen. And these little cooks are no exception. The wraps tasted great, which is what matters. And it was a nice variation from a regular BLT sandwich. Which is not a bad thing either: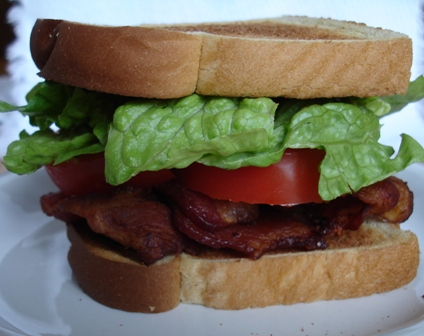 Mmmmmmmm! Yum.
This recipe has everything all diced up and mixed together, but it would probably be easier and quicker to just leave the ingredients whole and layer them in the tortilla.
Burrito BLT Wraps …from Betty Crocker's Kids Cook! cookbook
8 slices bacon
1 large tomato
2 cups shredded lettuce
1 1/2 cups shredded cheddar cheese (6 oz)
1/3 cup mayo or salad dressing
6 flour tortillas (8″-10″ across)
Put a paper towel on a microwavable plate. Put 4 bacon slices on top of paper towel. Add another paper towel and put on 4 more bacon slices. Put another paper towel on top of bacon. Microwave on High for 4 – 6 minutes or until bacon is crisp. Break it into pieces (after it cools, of course).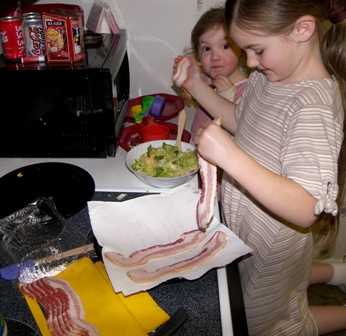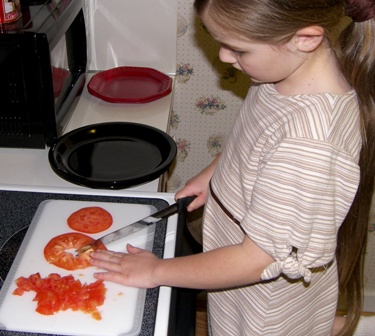 Chop the tomato into small pieces.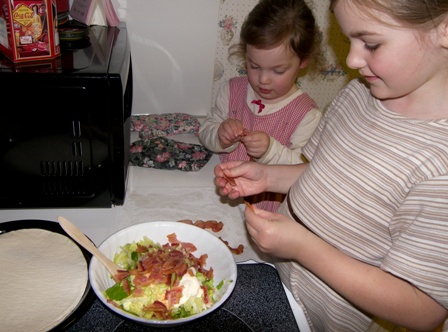 Put the bacon, tomato, lettuce, cheese, and mayo in a bowl. Toss together. Spread the BLT mixture evenly over the tortillas.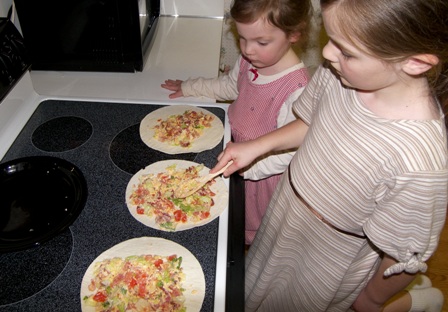 Fold up the bottom 1/3 of each tortilla, then roll it up.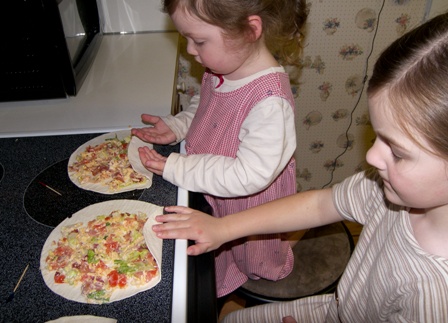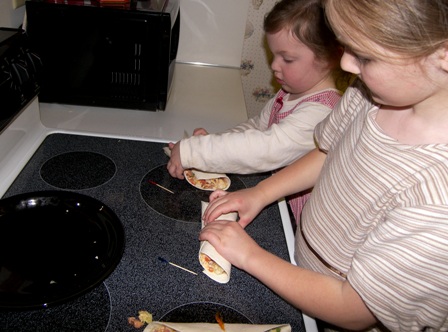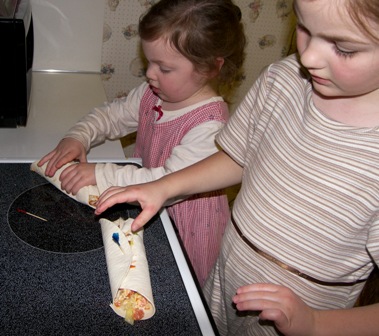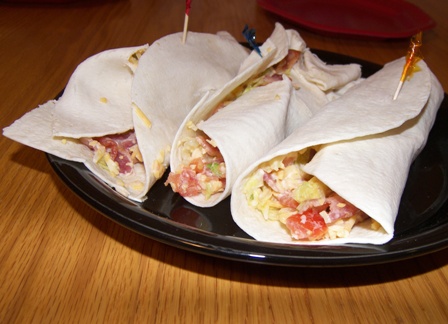 And here they are! In all their messy beauty. The pretty toothpicks were a bit hit. 😉
Whenever I think of BLT wraps, I think of one time when one of my friends said that one day, the whole family was working outside and suppertime rolled around and she made BLT wraps and cut up some watermelon and took it out to the picnic table for them to come and get it whenever. I just thought that sounded so summer-y.
When you saw 'Watermelon Cake' in the title, did you think it would be a cake that tastes like watermelon or a cake that looks like watermelon? Well, whichever you thought, you were right. It's both.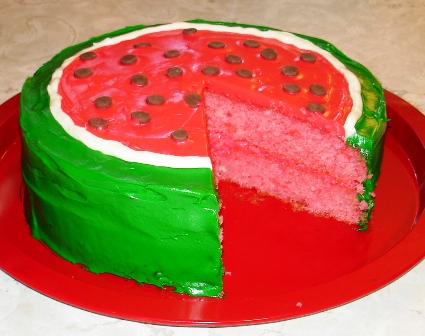 I was going back thro' some pictures the other day and found the making of this cake from last summer. I had totally forgotten about it! So, here it is now, a year later.
These pictures are dated July 4. Uh, wait, July 4?! July 4?!!!! I'm just wondering WHY in the world was I making watermelon cake on July 4th?! It's a holiday! I shoulda been out on a pontoon on Round Lake or at the grocery store buying burgers and brats or something! But the watermelon cake was right in among the USA jello and the flag fruit pizza and the fireworks pictures (all featured here), so… I guess it was the 4th. No wonder I forgot about it!
Watermelon Cake …from the 2002 Quick Cooking annual cookbook
1 pkg. (18 1/4 oz) white cake mix
1 pkg. (3 oz) watermelon gelatin …If you can't find watermelon flavored, just use strawberry or something else red or pink. That's what I did.
2 eggs
1 1/4 cups water
1/4 cup vegetable oil
2 1/2 cups vanilla or cream cheese frosting …I used cream cheese.
Red and green food coloring
Chocolate chips
In a mixing bowl, combine dry cake mix, gelatin, eggs, water, and oil. Beat on low speed just until moistened. Beat on high for 2 minutes or until well blended. Pour into 2 greased and floured round 9″ cake pans.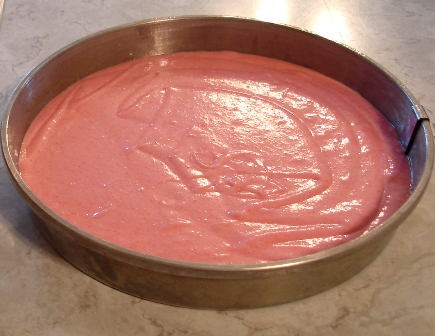 Bake at 350 for 30-35 minutes or until a toothpick inserted near the center comes out clean.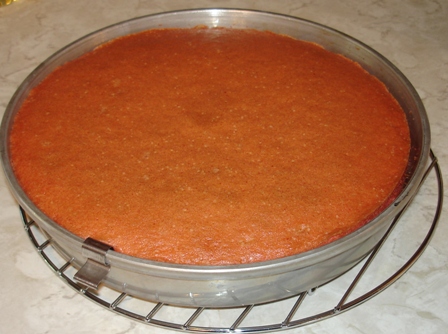 Cool for 10 minutes; remove from pans to wire racks to cool completely. Set aside 2 Tbsp. of frosting. Place 1 1/4 cups of frosting into a bowl; tint red. Tint remaining frosting green. Place one cake layer on a serving plate; spread with 1/2 cup red frosting to within 1/4″ of edges.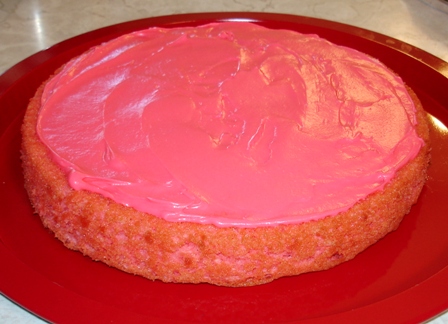 Top with second cake. Frost top with remaining red frosting to within 3/4″ of egdes. Frost sides and top edge with green frosting.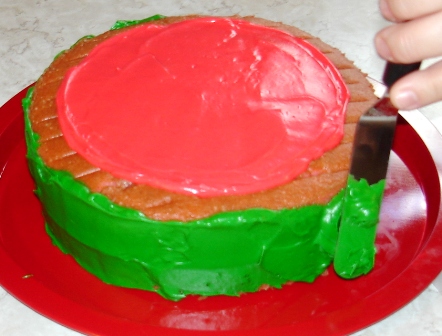 Place reserved white frosting in a resealable plastic bag; cut a 1/4″ hole in one corner. Pipe around top edge of cake where red and green frosting meets.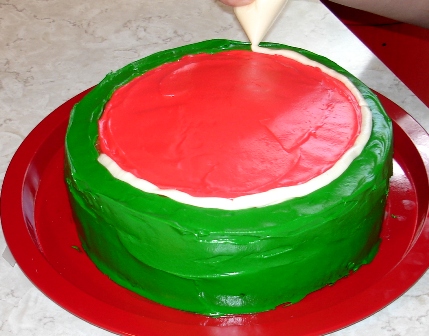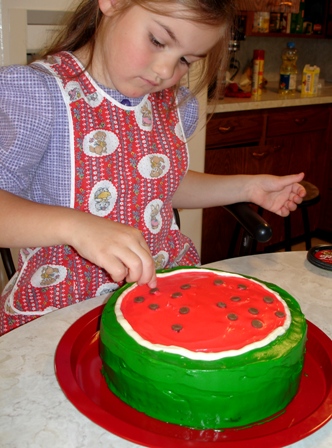 For seeds, insert chocolate chips upside-down into cake top. Yield: 12 servings.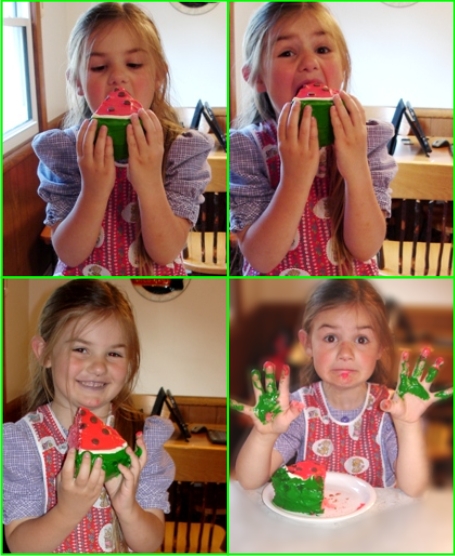 I've been making this pie since before I started this cooking blog. Every time I'd make it, I'd toy with the idea of featuring it. But I never did… here's why: I don't have meringue down to a science yet. Sometimes it turns out, sometimes it doesn't. I was planning to have this detailed 'How to Make the Perfect Meringue' tutorial when I feature it. But, instead of waiting until I'm a meringue expert, I decided to feature it now and get tips from you for making the perfect meringue. 😉 So, I made this lemon pie this past weekend and the meringue happened to turn out well… which was kinda handy because it's not as much fun to feature flops!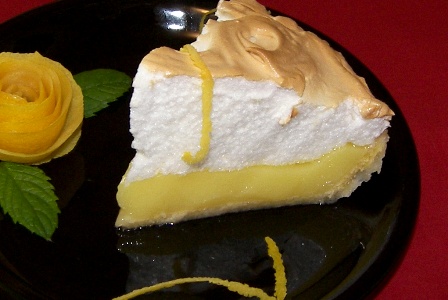 I think this pie has just the right amount of lemon flavor, just the right amount of yellow color, and just the right amount of meringue. It's adapted from the A Taste of the Country cookbook. In there, it's called 'World's Best Lemon Pie'. And so far, in my opinion, it's held true to its name. When I say it's adapted from there, I mean that I follow the recipe, but made a few little changes:
1. Deleting the 1 tsp. of grated lemon peel
2. Insisting on fresh-squeezed lemon juice as opposed to any lemon juice
3. Adding a 4th egg white to the meringue to make a higher pile of it
4. Adding 1/4 tsp. cream of tartar to the meringue
I'll post the recipe how I make it…
Lemon Meringue pie
1 cup sugar
1/4 cup cornstarch
3 Tbsp. flour
1/4 tsp. salt
2 cups water
3 egg yolks, beaten
1 Tbsp. butter
1/4 cup fresh-squeezed lemon juice
1 9″ baked pie crust (for a pie crust tutorial, go here)
Meringue:
4 egg whites
1/4 tsp. cream of tartar
1/2 cup sugar
In a saucepan, combine sugar, cornstarch, flour, and salt. Gradually stir in water. Cook and stir over medium heat until thickened and bubbly. Reduce heat; cook and stir 2 minutes more.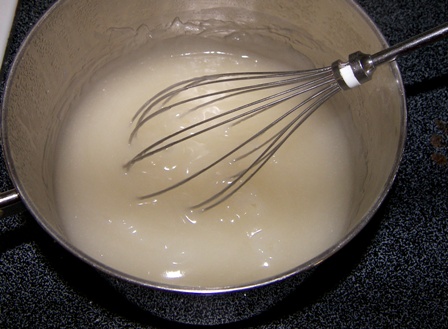 Remove from the heat.
Gradually stir 1 cup into egg yolks.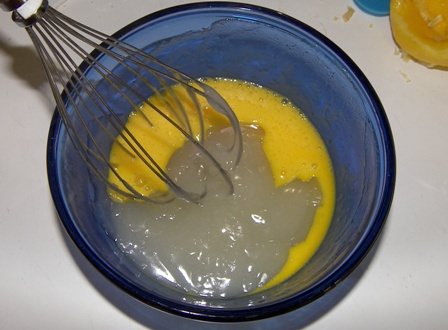 Return all to saucepan.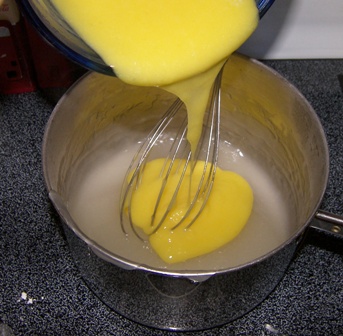 Bring to a boil. Cook and stir for 2 minutes. Remove from the heat. Stir in the butter and lemon juice.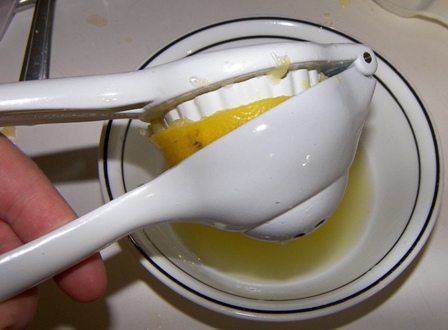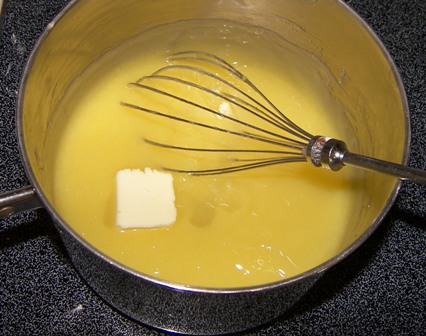 Beat egg whites and cream of tartar until soft peaks form.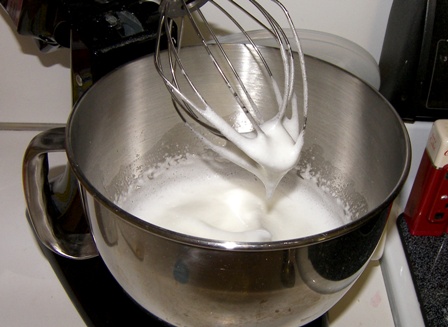 Gradually add sugar and beat until stiffer peaks form and sugar is dissolved (if you rub a bit of meringue between your thumb and finger, it will feel smooth as opposed to gritty).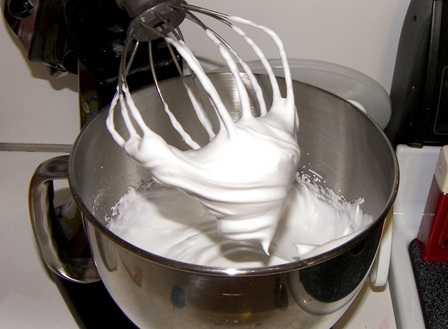 Pour lemon filling into pie crust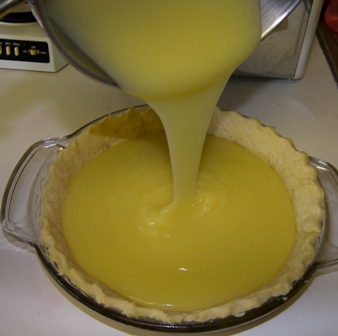 and immediately spread the meringue on, making sure to seal it to the edges of the crust. I start by taking a knife and sealing the edges, then pile and swirl the rest of the the meringue on.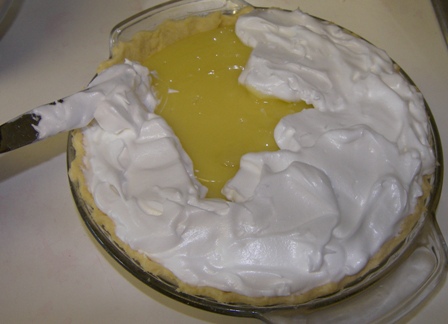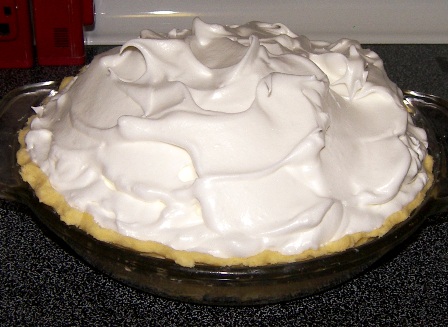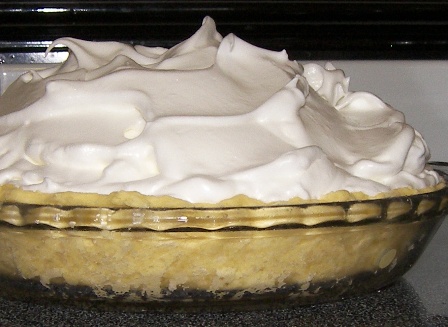 Bake at 375 for about 13 minutes. Cool.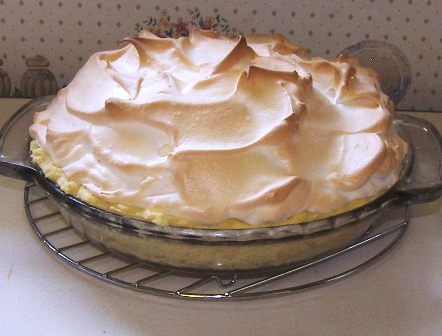 Store in refrigerator.
Tiffany (3) says she LOVES lemon pie… she eats the meringue off, then suddenly she's 'full and can't eat the rest'. Hmmm, never thought meringue would be so filling. 😉 I oughta make a meringue only pie for her sometime.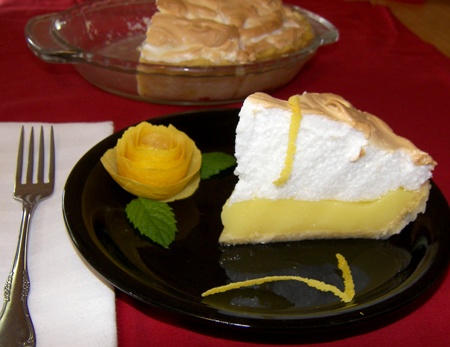 Want a piece?