Sometimes I feel stuck. In a rut. With cooking, that is. Well, other things too, but we'll just stick with cooking. 😉 
I have a certain style of cooking and I don't deviate from it much. I want to change that. Maybe doing some more 'Out of my Comfort Zone' foods would be a good idea. I don't make stir-able casseroles. Pretty much the only all-in-one casserole type things I make are wet burritos and lasagna. Other than that, it's sandwich-type things (like these melts) and most of the time it's meat, potatoes/pasta, veggies, and rolls. And I pretty much use the same seasonings too. So, this evening for supper, I was browsing a cookbook for new recipes and passed up the Chinese Beef and the Sirloin Squash Shish Kabobs and landed on something 'safer' like Chicken Cheese Melts. I use way more chicken breast than any other meat and I never buy the dark meat unless I get a whole rotisserie chicken. Other meats I keep on hand and regularily use are ham, ground beef, beef roasts, and bacon. And that's pretty much it. Other kinds of meat are very rare. Over the summer (think, more grilling), I buy pork chops, brats, and steaks.  
Do you think I need a bit of help here with diversity?

  What's your style of cooking? I'd love to hear it! Tell us in the comment section!
Meanwhile, here is a recipe using exotic ingredients like chicken breast, butter, cheese, and bread. Just kidding about the exotic part. This recipe comes from my newest cookbook, which I've owned for a little over 48 hours now… What's Cookin', compiled by the Schlabach family. Makes it more fun because I'm good friends with some of these Schlabachs. And I like seeing their names under a recipe now and then.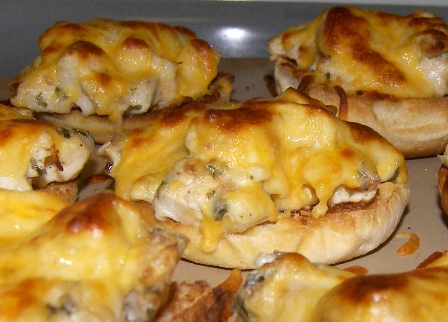 Chicken Cheese Melts
1 cup chicken, cooked and chunked (I used more like 1 1/2 cups, you can never go wrong with more meat 😉 )
1/4 cup margarine, melted (I used butter)
1/4 cup sour cream
2 Tbsp. onion, chopped
1 Tbsp. parsley flakes
Shredded cheese
Saute onions in margarine briefly.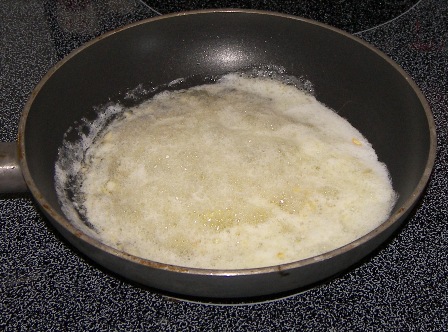 Mix together all ingredients.

Put on slices of French bread or any other bread. I used hamburger buns. And toasted them first. 

Top with cheese.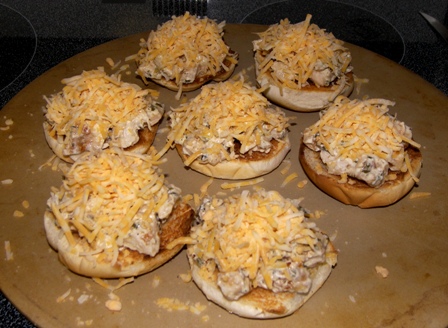 Bake at 350 until cheese is melted. The cheese was melted after about 5 minutes, but then I turned on the broiler because I like cheese to have a bit of browning on top.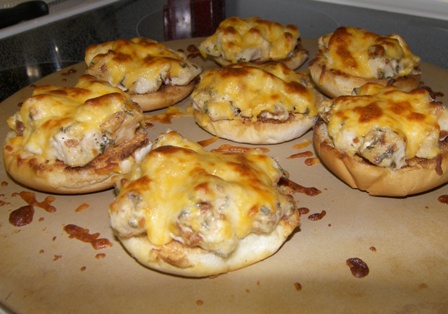 These, by the way, got rave reviews and were thrown into the 'Yum! Make again!' category. And they were easy and fast too, esp since I pulled chunked up fried chicken breast out of the freezer.
Now, I wanna hear about your this-is-the-norm-for-me cooking. Also, do you plan menus? I've seriously thought of doing that. Seems like that would eliminate the 4:00 p.m. staring in the fridge/freezer/cupboards/cookbooks for a supper idea!
Yeah, I know… as you scroll down this page, the posts look a little heavy to kid stuff. It wasn't planned, it kinda just happened, but how fitting… because that's pretty much my life. And I say that in a good way, I love my 2 little girls and I know they'll grow up way too fast. But until then, they'll be a part of my cooking blog.
Lexi is 6. She already loves doing stuff in the kitchen, especially if it involves using her mini cooking stuff. She has declared it her job to make the iced tea around here, if I just do the part of dumping the hot tea into the pitcher. And, on non-school days, she often makes lunch around here (nothing on the stove). I'd have her pack her own school lunch, except that it makes more sense for me to do it while she's eating breakfast or getting ready. She does have opinions though… the other day, she said, "Mom, next time you pack my lunch, do you think you could think of something healthy to put in it like an apple or something? I don't wanna get all weak and stuff." Thing is, it wasn't exactly unhealthy, it was a sandwich, chips, and grapes. 
Tiffany is 3. She loves doing stuff in the kitchen too. But WHY can't she dump a 2 1/2″ in diameter measuring cup full of flour into an 8″ in diameter mixing bowl without spilling it out over the side?!!!!! 😉
We've got a chocolate chip cookie recipe to feature today, from the Kid's Cook cookbook. Cute little chocolate chip cookies. I told them to make the dough into balls and (because of their little hands?) the balls ranged from the size of a marble to the size of a super ball. Instead of the usual 12 cookies that I bake on one sheet, we got almost twice that many on, no problem. I realized I kinda like little cookies… they're bite-sized and easy to pop in your mouth. This is not my usual chocolate chip cookie recipe, but it's actually pretty close. This recipe is a small recipe, which is nice because there's less chance of the mom having to finish the cookies when they get tired of making them and run off to play. I usually copy the directions word for word, but I'm just gonna paraphrase these because it's written kinda kid-like and detailed.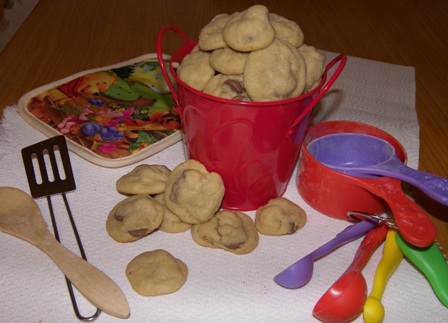 Chocolate Chip Cookies
1 egg
1/2 cup sugar
1/2 cup packed brown sugar
1/2 cup butter, softened
1 1/2 cups flour
1/2 tsp. baking soda
1/2 tsp. salt
1 cup chocolate chips
Heat oven to 375. Stir egg, sugars, and butter with wooden spoon until mixed.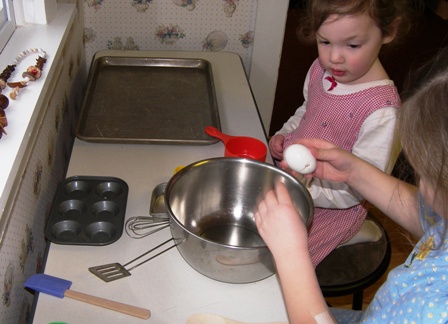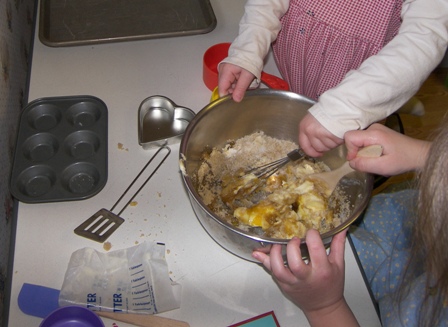 Add flour, soda, salt and stir with wooden spoon till mixed.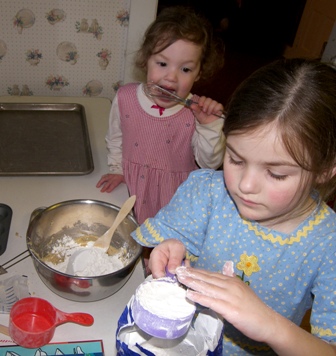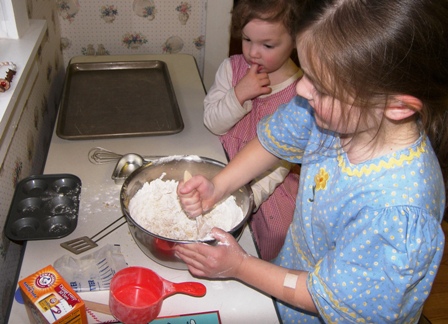 Stir in chocolate chips. Form into balls and put on cookie sheets.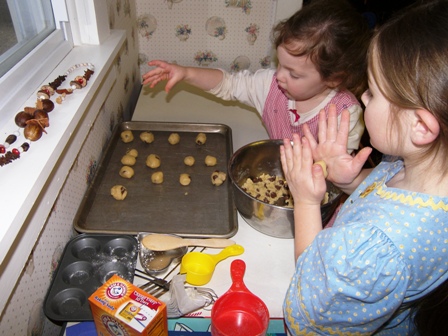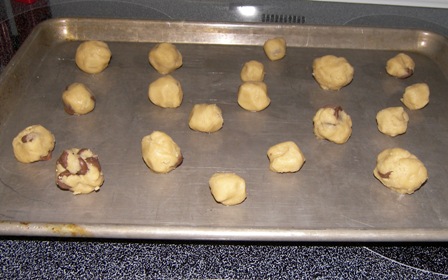 Could I please have the cookie in the front on the left up there?
Bake for 10-12 minutes.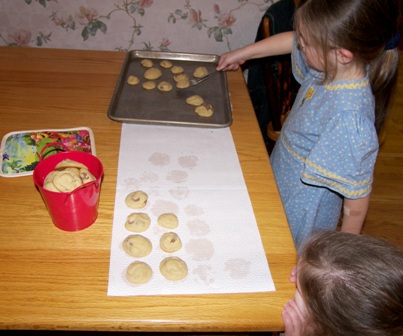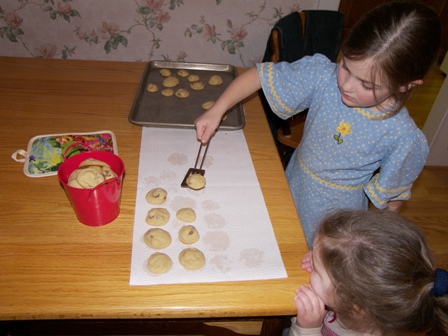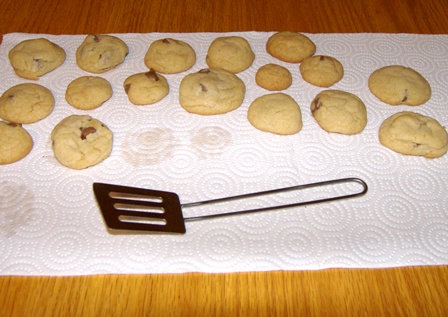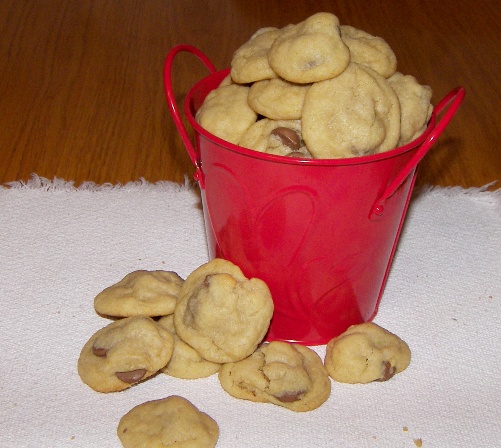 Pumpkin. Cream cheese. Chocolate. They make a fine trio.
This recipe comes from the Simply Wonderful cookbook compiled by the Honeybrook Community Church. I've only had this cookbook for several months and it's already a favorite! It's got lots of cheesecake recipes in it, a grilling section, and the salad department is outstanding! If I were to describe this cookbook in one phrase, it would be "good ol' Mennonite cooking with a bit of flair". My cookbook is dog-eared on pages with recipes I've gotta try.
Pumpkin Cream Cheese Squares
1 c. canned pumpkin
1 c. sugar
1 egg
1/3 c. oil
1 c. flour
1 tsp. cinnamon
1 tsp. baking powder
1/2 tsp. baking soda
1/2 tsp. salt
1/4 tsp. nutmeg
1/4 tsp. ginger
1/2 c. chocolate chips
4 oz. cream cheese
1/4 c. sugar
1 egg
Mix together pumpkin, sugar, egg, and oil. Sift together flour, cinnamon, baking powder, baking soda, salt, nutmeg, and ginger. Stir into pumpkin mixture. Pour into a greased 9×13 pan.

Beat together cream cheese, sugar, and egg. Drizzle mixture over batter.

Cut thro' batter with knife for marbled effect. I know, the whole marbling thing didn't get as pretty and marbled as I thought it should, either… too much white, not enough pumpkin showing on top.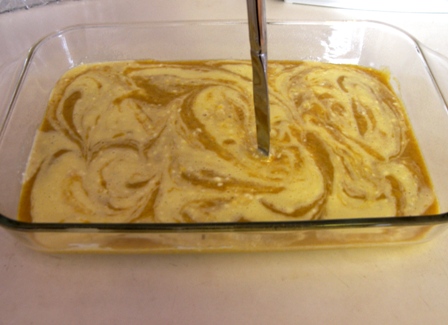 Sprinkle with chocolate chips. Shannon (H.), don't even THINK of leaving out the choc chips! 😉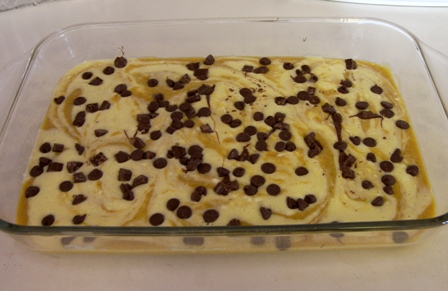 Bake at 375 for 25-30 minutes.

Mmmmmm! Make these at your own risk… they're dangerous to the waistline. And they loudly call your name every time you wander thro' the kitchen, even if you've hidden them out of sight.
Ideally, I'd plan ahead and make Easter food to feature BEFORE Easter, huh? Well, sigh, that didn't really happen this time.
I forget where I saw these little rolls… it was online last year sometime. The reason these are called an Easter snack is because they're meant to symbolize the empty tomb. It's pretty neat how it works. You wrap a marshmallow inside a crescent roll and while it bakes, the marshmallow melts and lines the inside of the crescent roll, leaving it empty inside!
I don't have an actual recipe, but my little cooks will show you how it's done…
Unroll refrigerated crescent rolls and separate into triangles. Butter the trianges.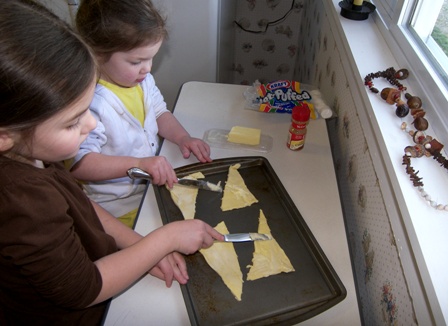 Put a marshmallow on each crescent roll and sprinkle with cinnamon.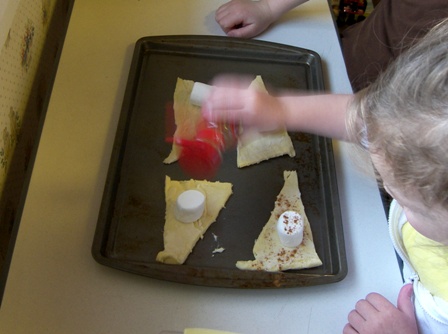 Fold the dough over and around till the marshmallow is all enclosed. Pinch seams to seal.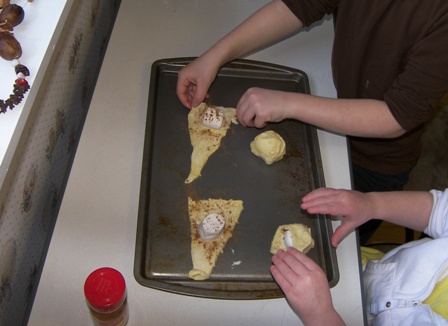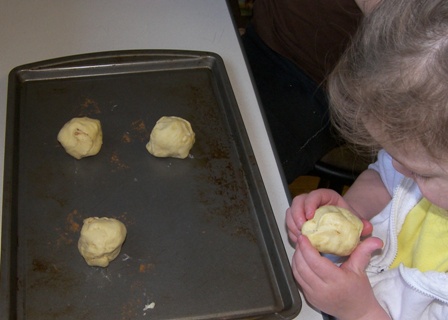 Bake at 375 for 12 minutes. And this is how they look! A couple of them were open, not sure if it was supposed to be like that or if the seams weren't pinched shut well enough.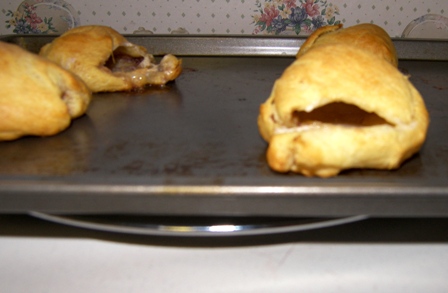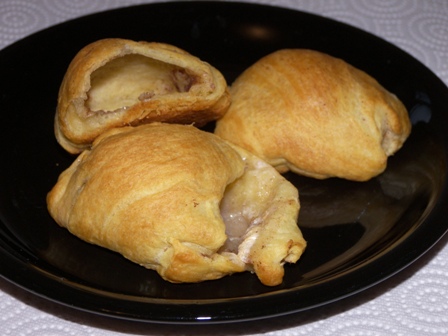 I hope you all had a happy Easter. We did. It started with an outdoor sunrise service at church. It was a perfect Easter morning… clear skies and a beautiful sunrise. The coffee, hot chocolate, donuts, and campfires were a nice addition too.

He is risen! Hallelujah!