I'm going to do this cake a little different. Instead of making it and updating when it's done, I'll keep editting this post and update as I go. So far, we have the animals and a baked 9×13 cake.
So, if you want to watch it develop into a whimsical little Noah's Ark, check back now and then! At least we hope that's what it'll develop into anyway… 😉
Next update: I cut 2 pieces from the cake (approx 5″x the width of the cake) and stacked them…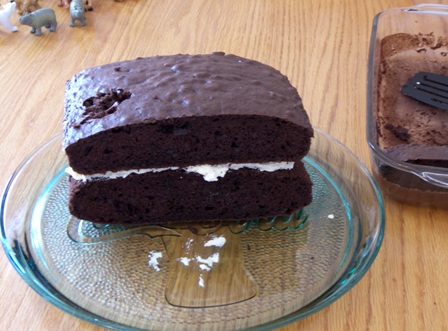 Now it's shaped a bit and has a door… yeah, frosting covers alot of imperfections!

 
By the way, Tiffany dug into the top of it, if you see a hole in the top. She said, "Well, I just wanted to taste it. You can mix the hole up again so we can't see it." Huh?
Now we've got some frosting on…


I know, the door didn't get in the middle. I did that on purpose. 😉 Just kidding, I was trying for the middle. *roll eyes*
Now the top part is going on…


Know what's between that chunk of cake and the graham cracker 'roof'? Frosting. Lots of frosting. I just piled a whole bunch on top and squished the graham crackers down over it. Doesn't get much easier than that!

 
Tiffany said now she wants water for her boat.
Lexi just got home from school (she's in Kindergarten)…

Got some trim on…

 The animals are chompin' on the bit to get in their ark.

The grass is started…

Here's how far I got with the grass till my hand was sore AND I ran out of green frosting. So, instead of trying to make more and match it, I decided to just make 'dirt instead. I was actually going to make the whole thing dirt because it was, after all, a construction site. But, the cake was colorless enough with the brown 'wood', so I thought grass would brighten it up a bit.

The girls are pairing up the animals. Soon, I'll turn them loose with putting them in the grass and up the ramp.

The animals are going on…

And the cake is DONE!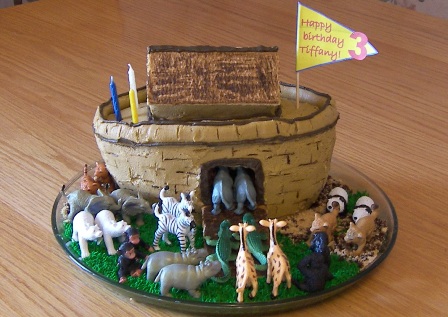 Here's the birthday girl. The party is tomorrow.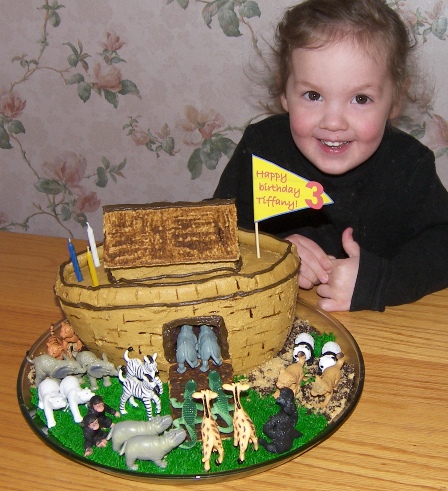 Roxanna asked in the comments where I got the animals… I got them at JoAnn Fabrics. My SIL Liz found them for me.
Other birthday cakes:
—winter scarf, hat, boots, & gloves cake
—doghouse cake and Legos cake
—coloring book cake
—cake with roses and ribbon
—123ABC blocks cake, snowman cake, ice cream cone cake, & house cake
———————————————————————————————-
Now it's the next day. The birthday party is over. Editting to add a couple more pictures…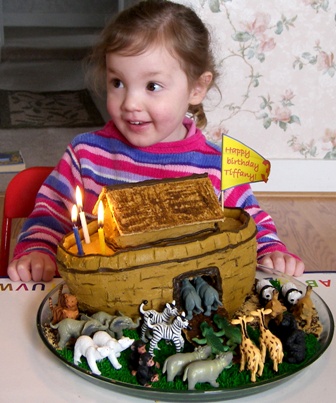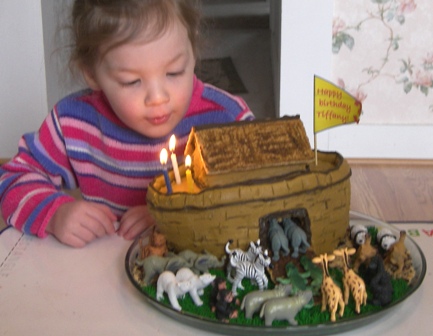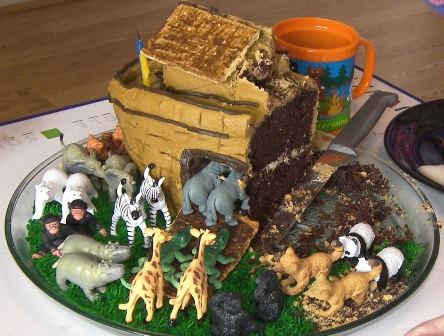 This is one of those recipe names that you pretty much know what the dish is… the 3 main ingredients in this dish are mushrooms, muenster cheese, and chicken. And a good combo that is!!! Really, how could you go wrong with those ingredients.
This recipe was in my pile of loose recipes. It's clipped out of a Country Woman magazine, I don't know what year or month. It was on page 51… I guess you don't need to know that, unless you want to go thro' your stack of Country Woman magazines and look up all the page 51s. 😉 In the italic print with the recipe, it says it won 1st place in a festival contest.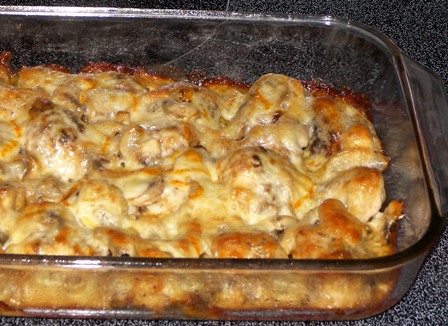 Mushroom Muenster Chicken
2 eggs
1 cup seasoned bread crumbs (I used crushed Town House crackers and mixed in a bit of Italian seasoning and seasoned salt.) 
1 lb. boneless skinless chicken breasts, cut into 1″ cubes
2 Tbsp. vegetable oil
1/2 tsp. Cajun seasoning
1/2 lb. sliced fresh mushrooms
10 oz. Muenster cheese (I have a little scale, so I dutifully weighed the cheese and guess what! 10 oz was exactly 10 slices!)
In a shallow bowl, beat eggs. Place breadcrumbs in a large resealable plastic bag. Dip chicken in eggs, then place in bag and shake to coat.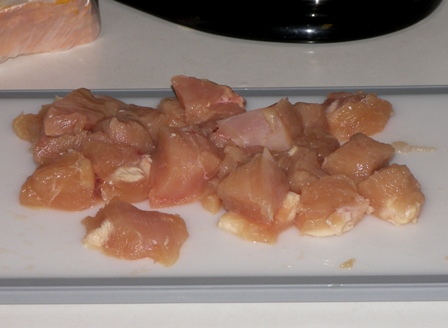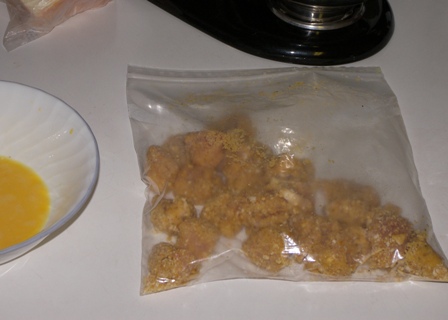 In a large skillet, cook chicken in oil over medium heat for 4 minutes, stirring occasionally.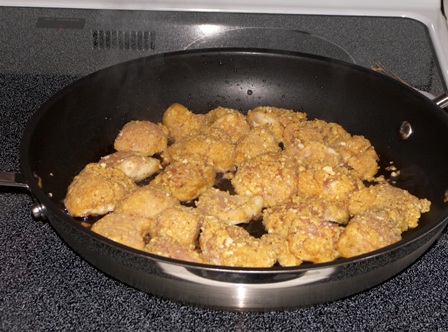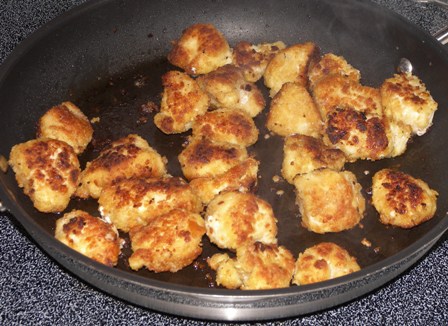 Transfer chicken to a greased 9×13 baking dish. Sprinkle with Cajun seasoning.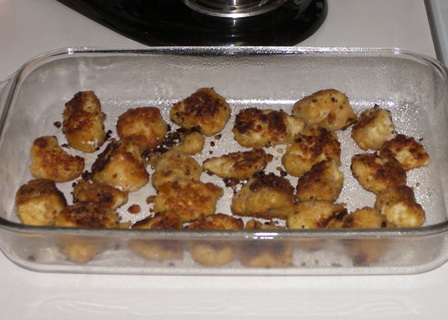 Top with mushrooms and cheese.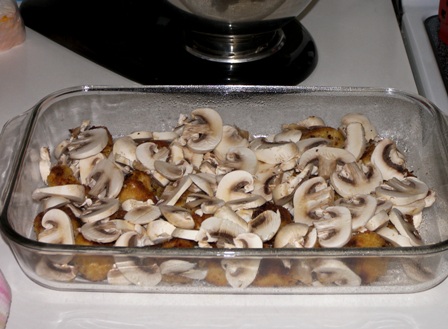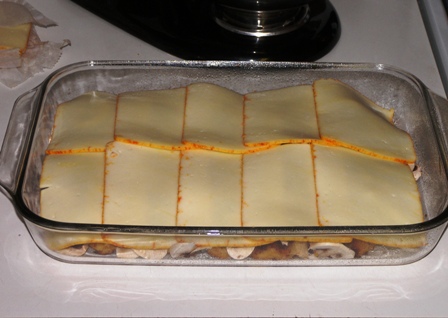 Cover and bake at 350 for 30-35 minutes or until chicken juices run clear.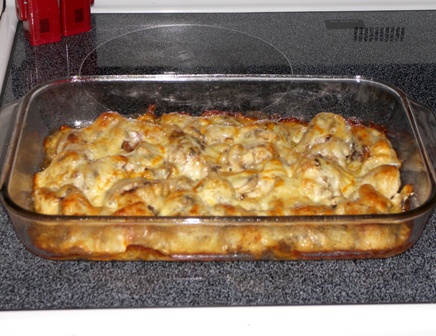 Yield: 6 servings. Serve with a mixed green salad or steamed fresh green beans. I served it with California blend veggies (cauliflower, broccoli, and carrots) and crescent rolls. And to serve the chicken, I just put a serving spoon in it and we dished it out like you would a casserole.
This tastes great and is easy to throw together, but we thought it was a little greasy. I want to try it with grilled chicken to see if the greasiness was from frying the chicken in oil. If it's still greasy w\ grilled chicken, I'll assume it's because of the muenster cheese and try mozzarella or provolone instead.
Have you ever tried that? Yesterday, while we were making fry pies, Renita and I were talking about quick lunches or something (I forget exactly how we got on the subject) and she said that her son likes his pb&j sandwiches fried, like a grilled cheese sandwich. I had never heard of it, so I decided I'd have to try it.
Fast-forward to a couple hours later… I got home around 1:00 p.m. and hadn't had lunch yet, so I was staring in the fridge when suddenly I remembered the fried peanut butter and jelly sandwiches. So, I made 2, one for me and one for Tiffany (Lexi was at school). Then, after eating that one, I made another one for me. They are good! The peanut butter gets all warm and melty and gooey and the sandwich is crispy to bite into. It just kinda bumps plain ol' peanut butter and jelly sandwiches up a level. 😉
So, here you go, no recipe, just the process in pictures…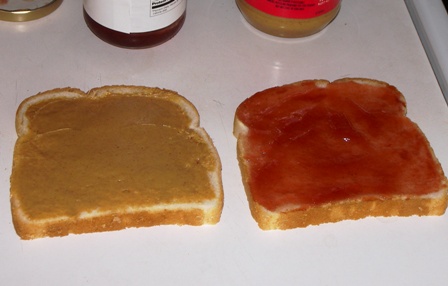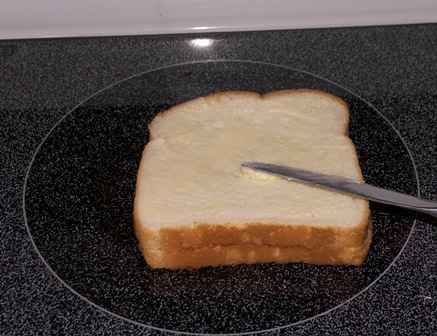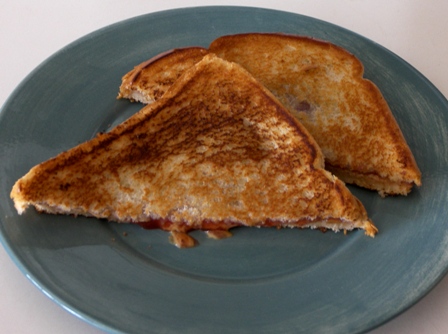 Peanut butter & Jelly…

Grilled cheese and tomato soup…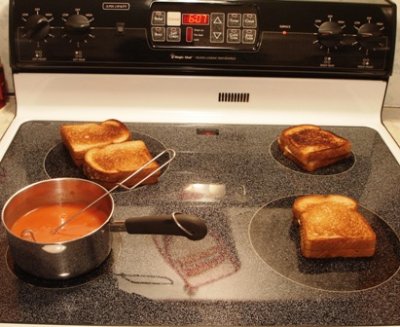 Yup, I don't use a frying pan for this type of thing, mostly which is grilled cheese sandwiches. And that reminds me of this post, which was written on my old blog before I started Kitchen Scrapbook. And when the posts were transferred to Kitchen Scrapbook, the comments didn't come with them, so here are a couple other ideas that people had for doing right on a smooth top burner and skipping the frying pan: warm tortillas up, make quesadillas, and someone knew of someone who fries onions and sausage right on the burner! I haven't tried that one! Someone also said this, "Something to try next time you have tomato soup.  Hard-boil 3 or 4 eggs, then grate or shred into soup just before serving.  Yummy!"
I LOVE my smooth top stove! Not just for this, but because it's easier to clean too.
I've never made granola before. Or granola bars. They always call for bran or wheat germ and those are 2 ingredients that keep me flipping thro' the cookbook and thinking, "Well, I guess I won't make granola this time".  (*whisper* I've never even seen bran and wheat germ or know what they are.) So, I buy my granola at the bulk foods store (only on rare occassions because it's pricey) and buy my granola bars at the grocery store.
Then, just lately a few of my friends started raving about this granola and when I looked at the recipe, I was glad to see that it took 'normal' ingredients! So, I made some. It is SO good! Like one of my friends said, it's good at any stage of the making process… you can't help but sampling it here and there while mixing, baking, and stirring it.
Eat it with milk in it, put it on top of yogurt, eat it plain as a snack, or sprinkle it on top of a dessert.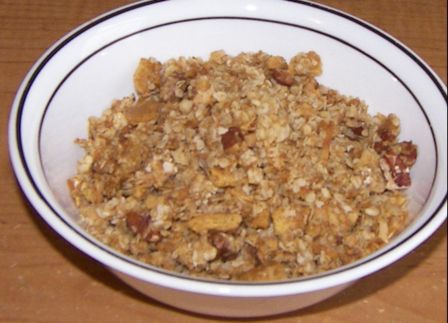 Granola
10 cups quick oats
3 cups graham cracker pieces (this was 1 1/2 packs of Honey Maid)
1 cup brown sugar
2 cups coconut
2 tsp. soda
1 tsp. salt
1 cup chopped pecans
3 sticks of butter (1 1/2 cups)
1 cup peanut butter chips (I tried some with chocolate chips… it was better 😉 )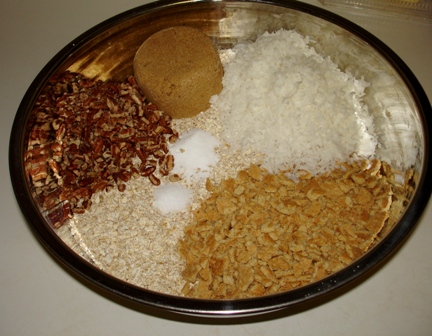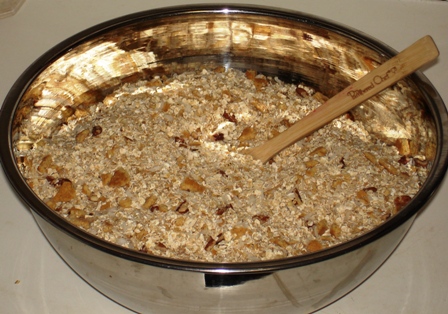 Melt the butter and mix with dry ingredients.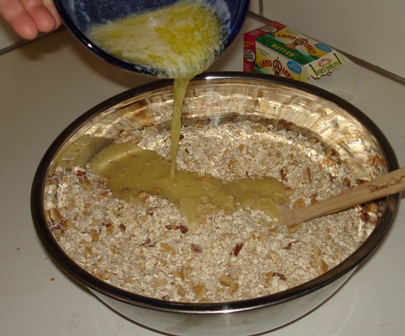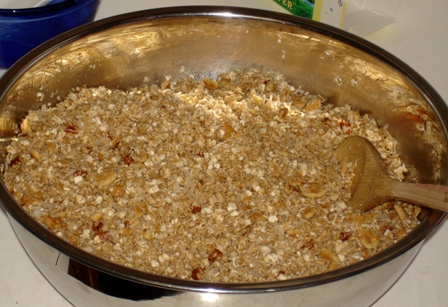 Divide between 2 large baking sheets. I did it on 3 baking sheets… the vertical one is chocolate chips and peanut butter chips mixed, the horizontal one in the back is peanut butter chips and the one in front is chocolate chips.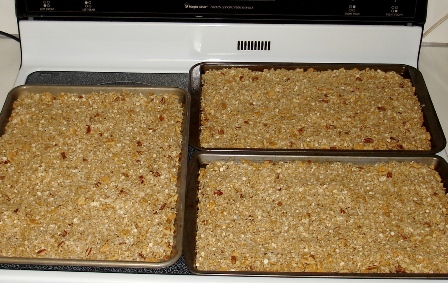 Bake at 300 for 40 min or until golden brown. Stir every 15 min the 1st 30 min, then every 5 min. Add peanut butter chips in the last few minutes of baking time.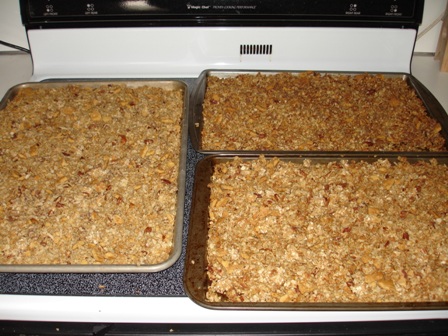 I sampled all 3 varieties and liked the one with just chocolate chips the best. I thought the next best was the one with chocolate and peanut butter chips mixed. The one with peanut butter chips was good too, but I will from now on just use chocolate chips and maybe put some peanut butter chips in too if I have some on hand.
And this is how I like to eat it the best: with milk and a spoon…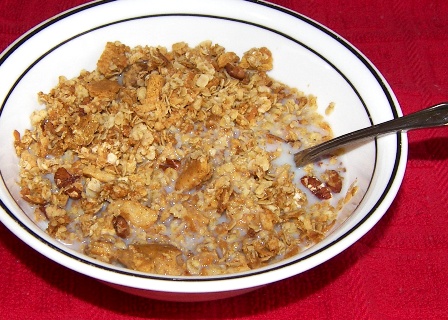 Hi again! It's been awhile! The 'famine' on here doesn't mean we haven't been eating! It means that the last 2 weeks have been abnormal weeks as far as cooking goes, with company and then being busy with a booth at a Home and Garden show. Not a cooking show booth, by the way. 😉
We were selling these: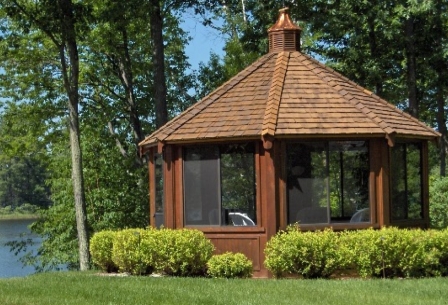 Anybody need a beautiful cedar gazebo in your yard?
I do love those little cooking show booths at shows though, even though the chefs always use the same lines and the same jokes. It just amazes me how they can talk AND cook at the same time! I think I'm a bit too absent-minded for that. And the cookware that cooks stuff without water… Wow! And the food doesn't burn… Wow! I have a hard enough time WITH water! Tonight while we were making supper, I even burned a piece of toast (not in water though… see, that's what happens when I cook without water)! Yeah, WE were making supper, not ME… because it involved grilling and that is my husband's territory.
Here, I'll show you what we ate tonight: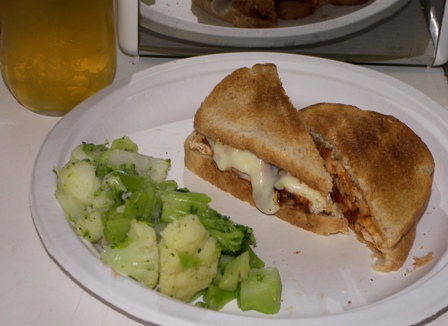 We're always trying to think of new things to do with grilled chicken breast besides chicken breast salad, shishkabobs, or just eating it plain w\ bbq sauce. This sandwich is actually along the lines of the Open-faced Pork Chop Sandwich that is a specialty around here.
Grilled Chicken Sandwich
Bread
Chicken breast
Provolone cheese (or cheese of choice)
Barbeque sauce OR dijon mustard
Toast the bread. Season and grill the chicken, then chunk it up.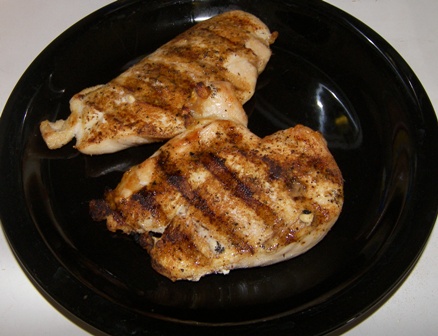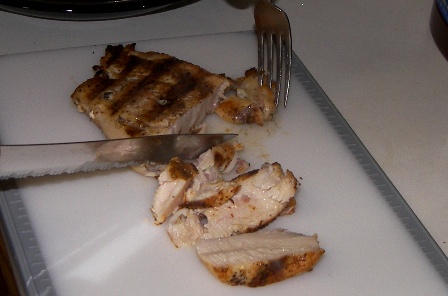 Assemble in this order: Toast, chicken, bbq sauce or dijon mustard, cheese, toast.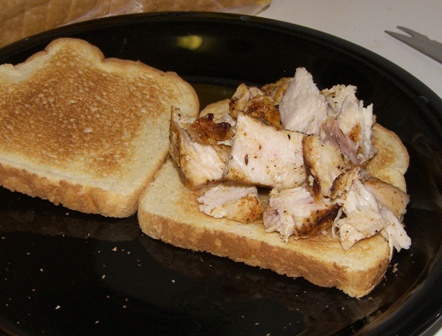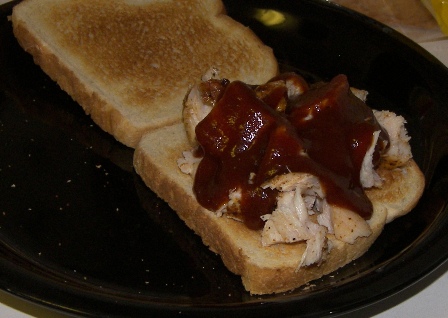 OR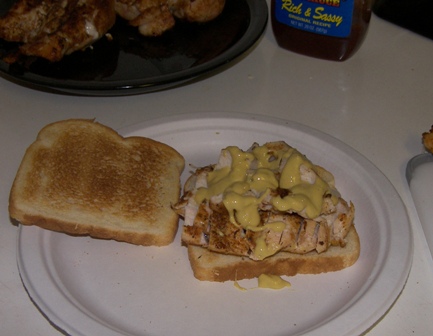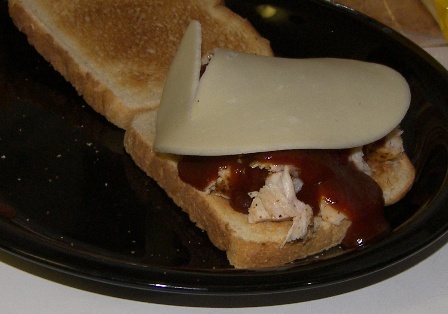 Microwave for about 1 minute, 2 min if you're doing 2 sandwiches.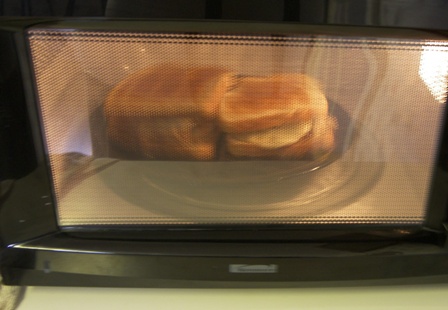 And… enjoy!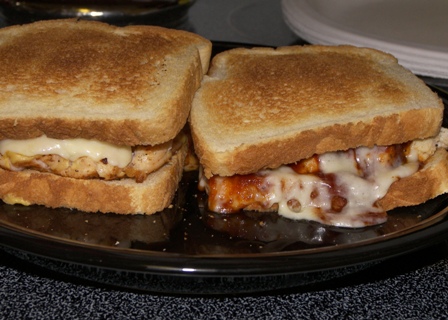 Mmmm, so good and so easy and so quick and not much cleanup!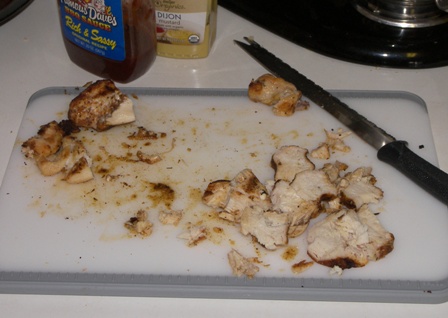 Wouldn't you just like to snitch a piece? It's flavored SO good and is nice and juicy! Not sure what seasonings he used.  Edit: He just said he used Cajun Black'n seasoning from the Bayfield Spice Company in Rhinelander, WI.