Once again, I've attacked my pile of loose recipes, which grew since the last time I got it out back when I did this post. I went thro' and categorized them all and am planning to be cooking alot from them the next while and will either paste them into my 'blank' cookbook or pitch them. In order to keep them, they've gotta be 'would definitely make again' quality. If it tastes good, is easy to make, and looks good, then it's a keeper. If only two of those three qualities are true, then I make a decision of whether those two outweigh the other one and still keep it.
So, here's the recipe I chose out first and I'll tell you at the end if I kept the recipe or threw it away. Yeah, I chose a recipe that starts with the word 'petite'!!!???!! When I think of 'petite', I think of things like little dainty delicate teacups with little BREAKABLE saucers under them. And I usually shy away from anything like that because I get all thumbs when I'm around those types of things.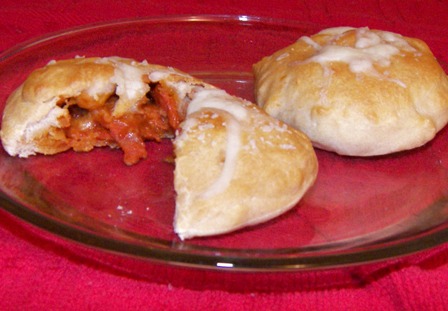 Petite Pizza Puffs …recipe comes from a card that came with my Pampered Chef Cut-N-Seal.
12 slices pepperoni
1/4 cup shredded mozzarella cheese
2 Tbsp. chopped mushrooms
2 Tbsp. pizza sauce
1 pkg. (10 oz) refrigerated pizza crust
Preheat oven to 375. In Small Batter Bowl, combine pepperoni, cheese, mushrooms, and pizza sauce. Roll out pizza dough to 11″x15″ rectangle, using Dough and Pizza Roller. Cut 12 circles in dough using Cut-N-Seal.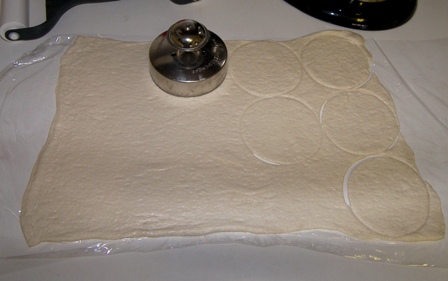 Using Medium Scoop, place 1 scoop (2 Tbsp.) pepperoni mixture in center of 6 circles, spreading slightly.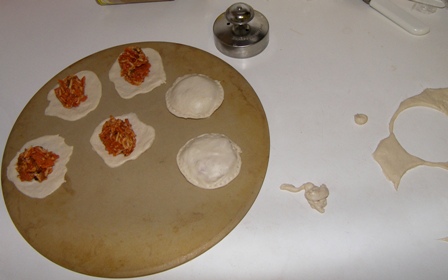 Place second dough circle on top. Lightly seal edges with fingers; seal with Cut-N-Seal.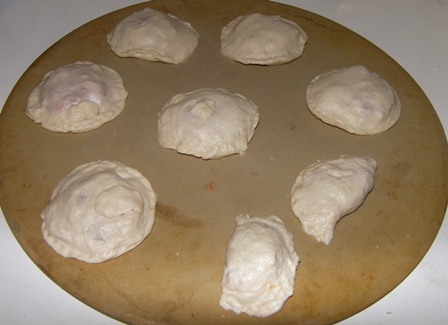 Place on flat Baking Stone. Bake 15-17 min or until light golden brown.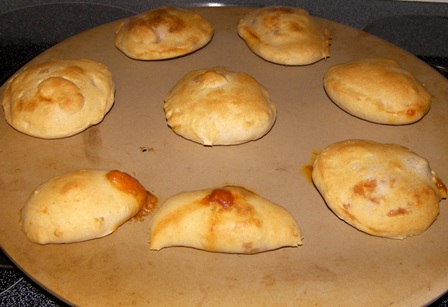 Serve with additional warm pizza sauce, if desired. Yield: 6 pizza puffs
I put a little more cheese on top and put them back in the oven for a couple minutes. Not sure why, I guess I just thought the tops looked a little plain or something. And more cheese is a good thing. 😉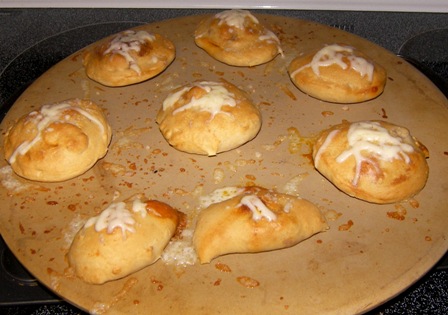 And there you go. Petite Pizza Puffs. Simple as that.
Or not!
So, the question: Will I keep this recipe? Yes, and decide for sure after I make them again. I saw afterwards how I should've done it to make it easier. How I did it was quite time-consuming and what a mess! I tried to assemble them on the stone and you cannot pick up a circle of thin sticky pizza dough and keep it from shrinking or ripping or losing its round shape. I should've assembled them right where I cut out the circles (which is how I think the recipe means that it should be done), then the whole puff may have been easier to move onto the stone. I should've also used some flour underneath the dough before rolling it out.
The taste was all there (I mean, really, how can you go wrong with those ingredients?). And the finished look was great.
So, here is the recipe. They really are perfect for something snacky or a lunch. Go ahead and try it and let me know some tips if you have any. If you don't have a Cut-N-Seal, a round cookie cutter and a fork or your fingers oughta work fine.
Lexi (6) was all into Valentines all week. So often I heard "Hey, we should try making that into a heart shape because, you know, it IS Valentines!" And setting foot inside a store created alot of inhales and exclaiming from her (the V-tine displays were always right inside the door). And she has a stack of Valentines ready to go with her to church tomorrow for her little friends.
We had a bit of fun earlier this week. We took regular cookie recipes and made Valentine cookies out of them. We used the Smiling Sugar Cookie recipe featured here, only they cut heart shapes out of rolled out dough instead of forming balls and putting popsicle sticks in them. We also used my good ol' chocolate chip cookie recipe (which I don't think I ever featured) and left the chocolate chips out, then they put chocolate decor on top of the cookies.
First up is the sugar cookies…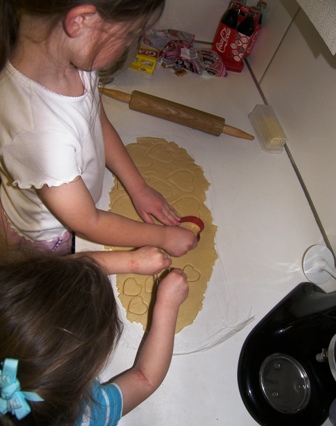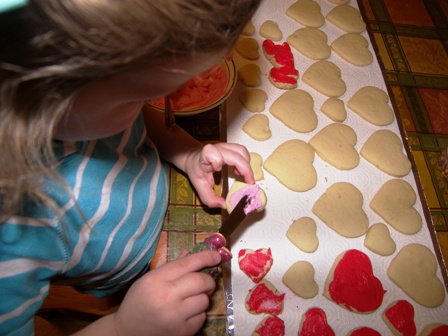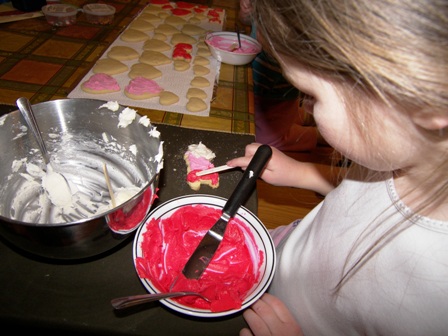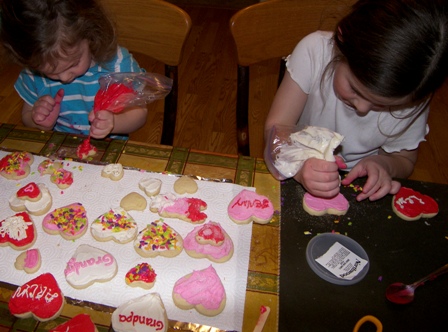 And then the chocolate chip cookies, with a bit of variation…
First, I melted chocolate and spread it out to harden, then they cut hearts out of it for on top of some of the cookies.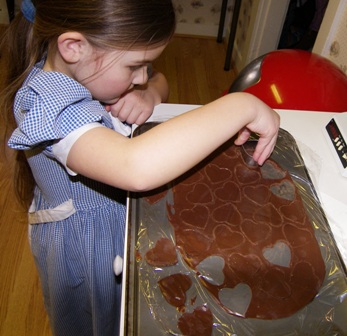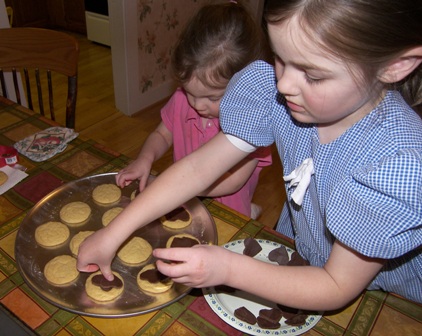 Then, they cut the rest of the cookies into heart shapes and decorated them with melted chocolate…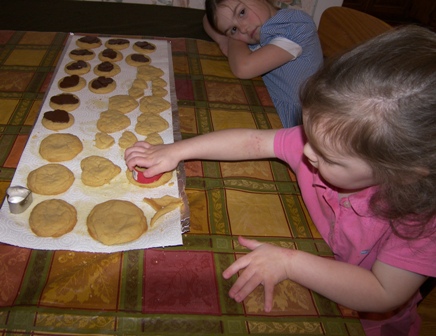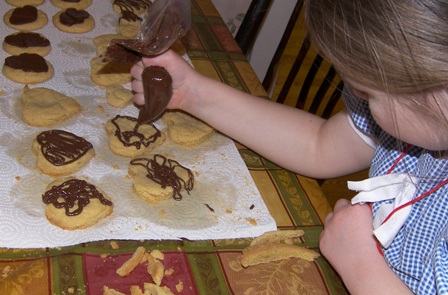 Now the cookies are all ready. We separated them out, one batch for each Grandma. Lexi scrapbooked cards for each one and we packed them in a box and UPSed them.


P.S. I did help some with these cookies so the process wouldn't drag on and on. 😉
And now, we wish you a Happy Valentines Day, with our Valentines gifts from Husband/Dad.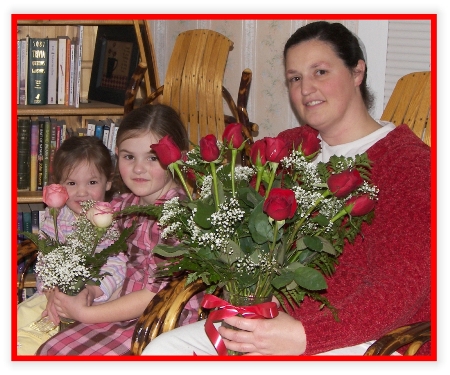 Valentines Day… Chocolate. Roses. What a perfect time to merge the two and make Chocolate Roses! Actually, it isn't just a Valentines treat, it's timeless decor for any table or dessert year-round.
I've been wanting to try these for awhile. But they always looked so complicated. But they still intrigued me. So, I finally made some…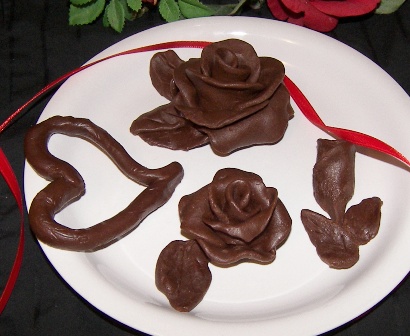 This is all you do:
Take about 2/3 cup of chocolate chips and melt them. Add about 3 Tbsp. light corn syrup.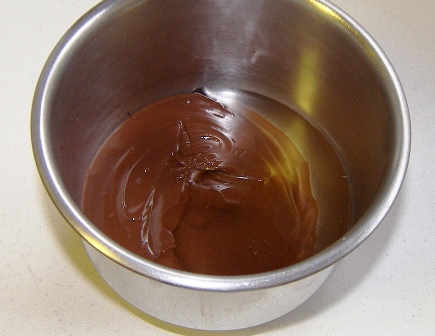 Stir until mixture starts pulling away from the sides of the bowl and starts balling up. It'll be kinda like taffy. Dump it out onto a piece of plastic wrap and flatten. Cover with more plasic wrap and refrigerate for a half hour or so.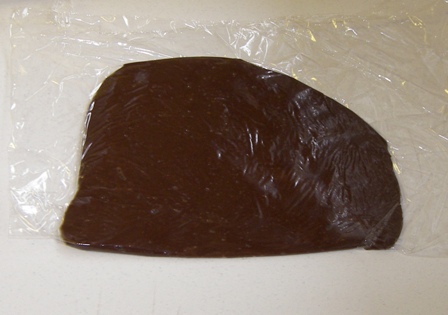 Get it out and pull a chunk off, about a tsp., and roll it around with your fingers till it's a smooth ball, then flatten it into a petal. Make 6 -10 petals, depending on how big you want your rose.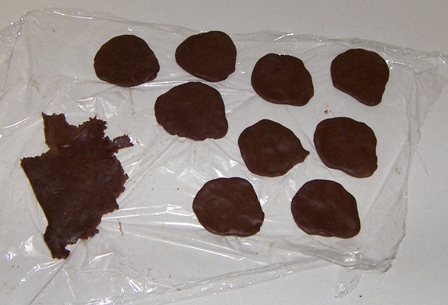 Take one of the petals and roll it up loosely. Use your finger to bend the top back just slightly.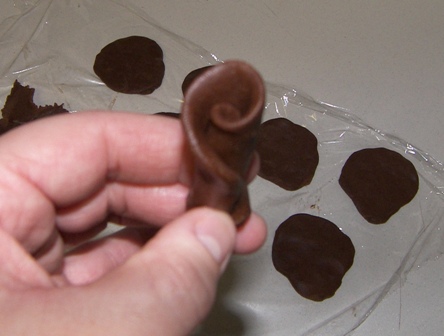 Take the next petal and start it just behind where the first petal ended.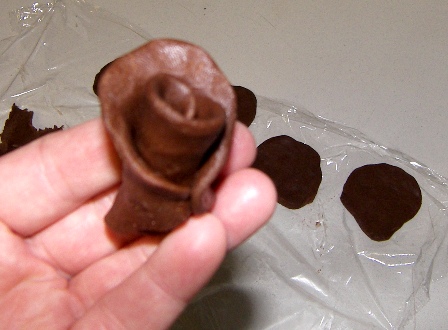 Continue like that until all the petals are used up, bending the tops back slightly as you go. When your rose is done, cut off the stem (which will have gotten quite chunky) so the rose can sit flat. Or, go ahead and try making it thin and having a long-stemmed rose! I might try that next time.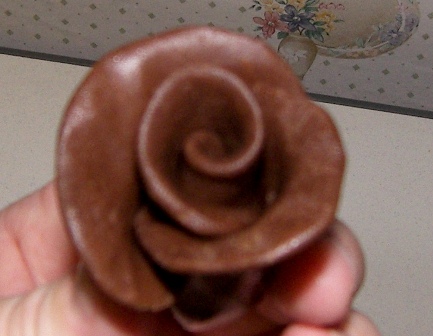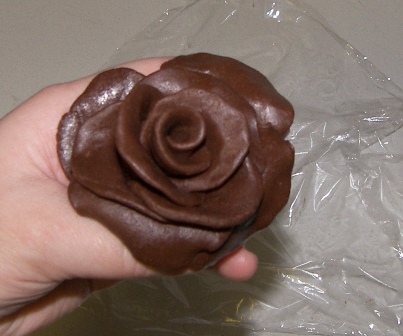 I tried a rosebud by using only 2 petals. After making 2 roses and 1 rosebud and the leaves, I had some chocolate left yet, so I just made a heart with it. So, what you see on this plate is how much 2/3 cup chocolate chips makes.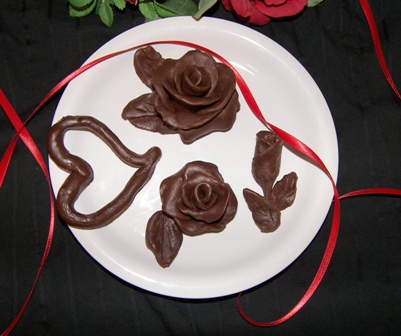 Now what I need is a nice dessert to put them on. 😉 But, I don't have one, so I'm just gonna keep them in the freezer and whip 'em out sometime when I need some quick dessert decor!
So, what do you think? You gonna try them?

Ok, enough of the chili soup and fry bread! And it IS warming up outside too! Yesterday felt like Spring! Yay!
 We'll have a Valentines 'Cooks in Training' post later this week with a couple Valentine ideas that Lexi and Tiffany are working on (and that I'm being the damage control person on) and another Valentines post or two, but for now, I'll just pull up some ideas from previous posts from other years.
Conversation hearts (featured here) out of angel food cake and glaze and frosting…

My family has an annual Valentines supper… Mom started making heart-shaped food for Valentines supper fun when we were little kids and she faithfully did it every year, then when we got older, we got more involved and now it's become a tradition. Over the last few years, the menu has changed every year, but this year is planning to be the Valentines meal menu we grew up with, complete with little heart shapes of bologna in the lettuce salad. 

Here are samples of the last couple years:
… and the links to the posts (2007) (2008)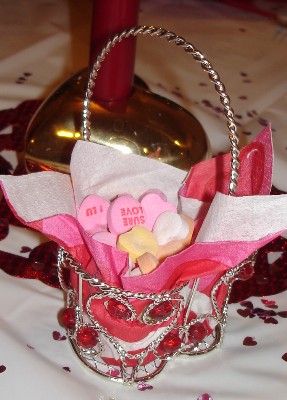 Simple easy decor… a little basket, a napkin, and candy.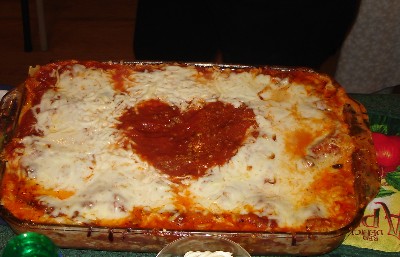 Lasagna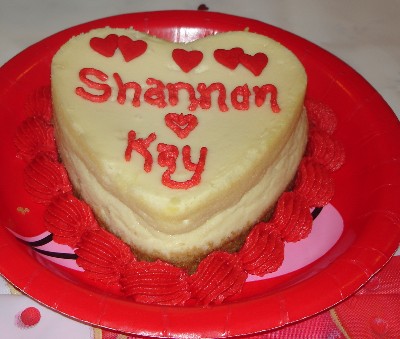 Cheesecakes to share. They're about 4″ wide. We put them on the table right away and used them as place markers.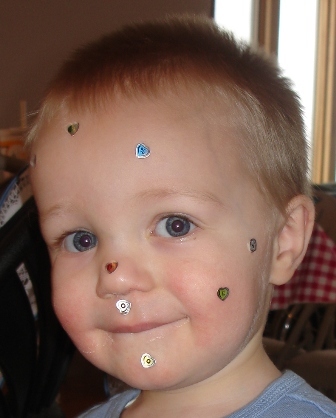 Decorate the kids.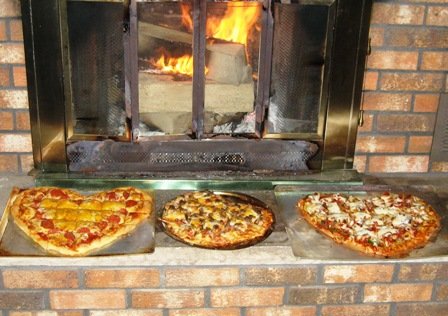 Heart-shaped pizzas staying warm by the fire till serving time.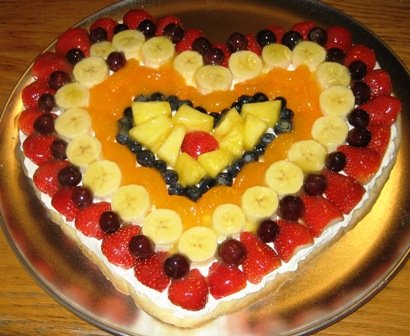 Fruit pizza. Yum, this picture makes me hungry for some. This recipe is actually featured here.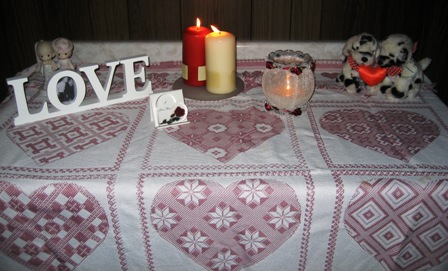 Any Valentine decor or food ideas from you? We'd love to hear them! 😉