When it looks like this outside,

it oughta look like this inside: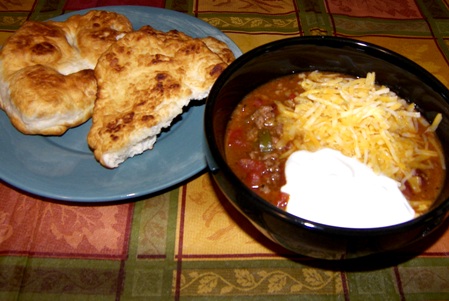 "Huh?! Shouldn't it be chili soup and cornbread?" you say.
Nope.
I do like chili soup with cornbread too. But not nearly as good as chili soup with fry bread!
I grew up with that combo. 'Chili soup and fry bread' was like 'peanut butter and jelly' or 'cake and ice cream' or 'donuts and coffee'… where one was, it was a given that the other would probably be there too. I wonder if my mom grew up with the chili-soup-and-fry-bread combo too. The reason I wonder that is because my fry bread recipe comes from my aunt Dar. She gave me a little collection of recipes when I got married and this was one of them. Aunt Dar and my mom are twins, complete with rhyming names… Darlene Fay and Marlene Kay (just a little tidbit from my family tree).
Navajo Indian Fry Bread …I'll bet you've got all the ingredients on hand for this.

Printable recipe coming soon
4 cups flour
2 tsp. salt
2 tsp. baking powder
1 1/2 cups warm water
Mix by hand. Set aside in a covered bowl for a few hours. Take out small bowl of soft dough and, with hands, stretch and flatten into shape of a pancake, round and flat. Melt 1 cup of shortening in frying pan. Deep fry at 375 degrees.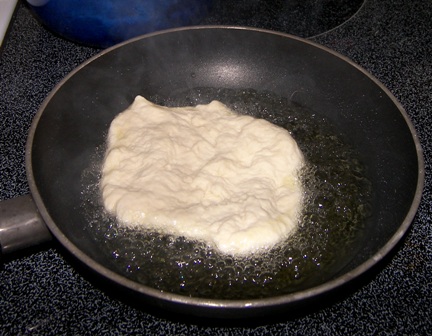 When it looks likes this,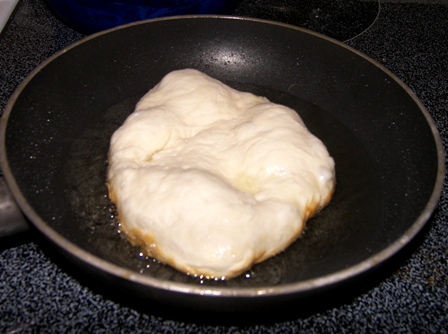 flip it over, browning on both sides.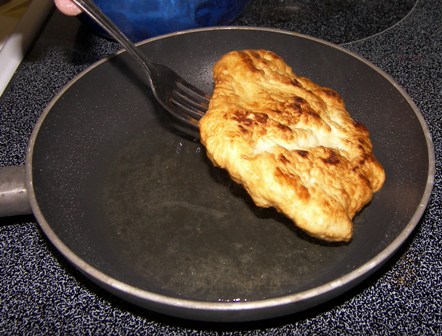 Makes 8 pieces, about 4″ in diameter. This, by the way, is a little saute pan. I only made a half batch of fry bread because they don't make good leftovers, so I just used a little pan. Another really good thing to do with this fry bread is to coat it with cinnamon sugar as soon as you get it out of the frying pan. Would make a good breakfast side dish or an after school snack. Yum!
HOT Chili Soup …as in spicy. This recipe did not come from a cookbook. This is from my kitchen, exactly how I like chili soup… 
Printable recipe coming soon
1 lb. ground beef
1/2 of an onion, chopped
1 28 oz. can diced tomatoes
1/2 cup water
1 Tbsp. flour
2 Tbsp. brown sugar
1/4 cup ketchup
1 16 oz can hot chili beans, juice and all, do not drain
2 tsp. chili powder
1/4 cup canned hot jalepenos, chopped
several shakes of Tabasco sauce
Brown beef with onion. Stir in rest of ingredients.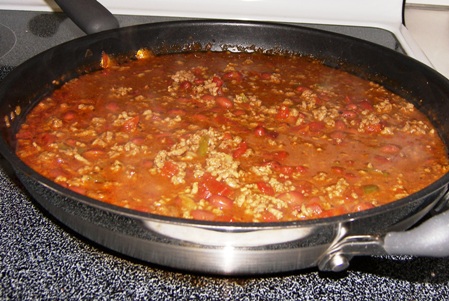 Simmer, covered, for 30 min. Serve with sour cream, shredded cheese, and FRY BREAD.

You could adjust the spiciness of this to your liking, maybe you don't like your nose to run while you're eating. This isn't very juicy. Or brothy. Or whatever you call it when it's chili soup. That's how I like it. You could always add more diced tomatoes or tomato juice.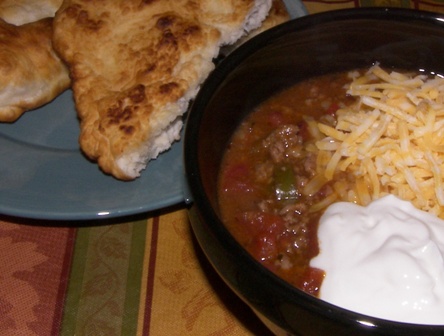 Other than the desserts and cookies, THIS recipe would have to be one of the best dishes on this site. And it's easy to make it a nice presentation too.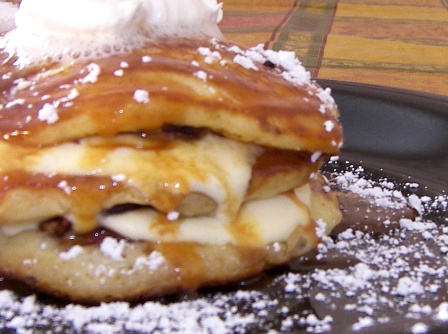 The last time I was at a Bob Evans restaurant for breakfast, I was looking at the menu and, as usual, everything was grabbing me. I always have that problem at restaurants. Sometimes it's so bad that after we've ordered and are waiting for our food, I forget which one of the 5 things I couldn't decide between that I actually ended up ordering. Anyway, when I saw these pancakes on the menu, the decision-making was OVER.
To make a long story short, I got hungry for these and decided to do a search to see if there was a recipe online. I found one at Meemo's Kitchen …this cooking blog has alot of recipes from restaurants on it! 
I didn't do any short cuts, in fact there are 3 recipes within this recipe! So, this is REALLY from scratch! 😉
Caramel Pecan Banana Cream Cheese Pancakes …I think Bob Evans' and Meemo's name for them was a little different, but mine aren't EXACTLY the same, so I'll name them this.
Printable recipe for now.
2 cups vanilla pudding
2 cups (or 2 8 oz pkgs) cream cheese
Pancake batter
2 Tbsp. honey-roasted pecans
1 banana, sliced (So far, in talking about this recipe to my friends, there's been some opposition to the bananas… you know who you are! 😉 They (the bananas) could easily be left out and it would not take away from the quality at all.) 
Caramel sauce
Powdered sugar
Whipped topping
I very seldom use instant vanilla pudding. Instead, I use the filling recipe that I use in peanut butter pie. I grew up with homemade pudding like that and there is just no other pudding that compares to it. So, I made this pudding, measured out 1 cup, added an 8 oz block of softened cream cheese, and whisked the mixture till smooth.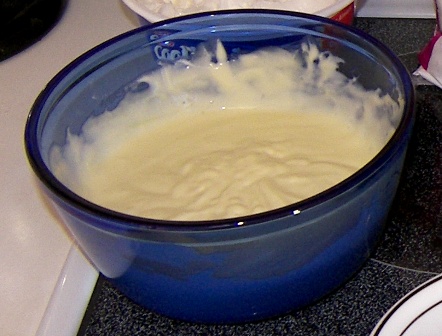 For the pancake batter, I used my regular pancake recipe here.
For the honey-roasted pecans, I took regular pecans, tossed them with some honey (approx 1/2 cup pecans w\ 1 Tbsp. of honey) and baked them at 350 for about 15 min.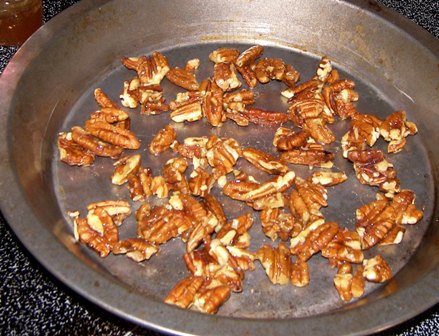 For the caramel sauce, I put 1 cup of sugar in a kettle (dry). Stir over medium heat and eventually it turns to a tan liquid! I should've timed it, I'd say it took maybe 7-10 minutes. After it's all liquid, add 6 Tbsp. butter and stir.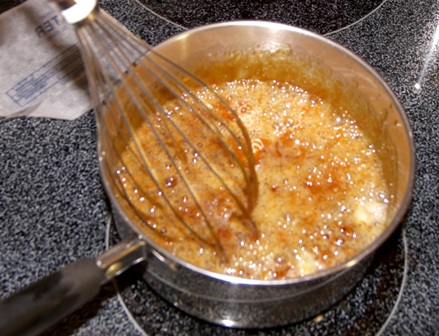 Remove from the heat and slowly stir in 1/2 cup heavy whipping cream. Whisk till smooth. Pour into a different container to cool. Note: That sugar is easy to burn! I made the caramel sauce twice because the first time, I stirred it intermittently while doing other stuff and burned it a little. I didn't know it was burned till I tasted it, it wasn't bad, it just had a tiny bit of a burnt flavor. The second time, it turned out perfect and was actually a shade lighter in color.
Now, the fun part… we've got it all ready to go here: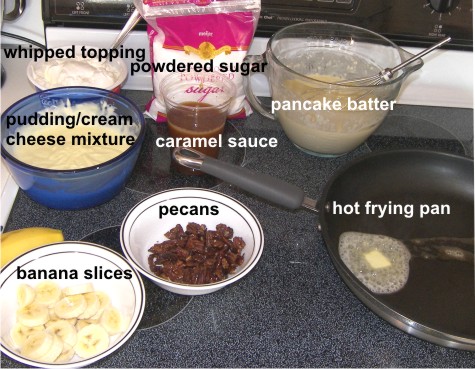 Pour batter into the frying pan like usual. I always do 3 pancakes in my frying pan because that's what fits the best. So, instead of a stack of 2 big ones like Bob Evans does, I made a stack of 3 smaller ones. And yeah, sometimes they get too big and run together, so my pancakes don't always turn out round. Put a few banana slices and some pecans on top.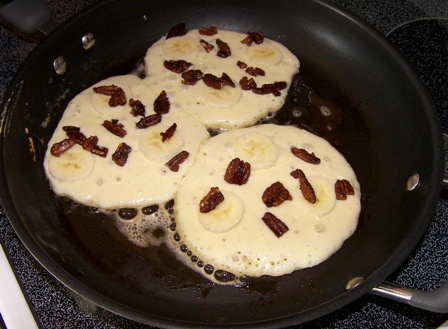 Flip pancakes as usual (and sometimes a banana slice may go flying off).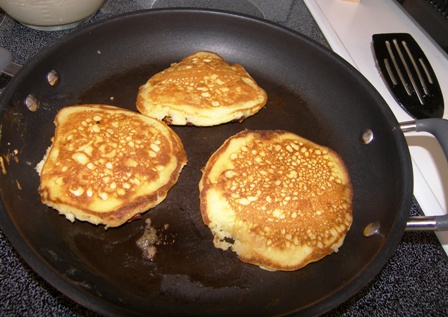 When done, put a pancake, bottom side up, onto a plate.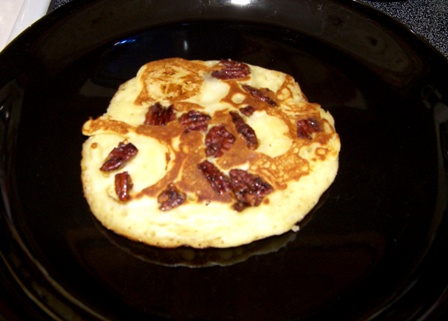 Spread a couple spoonfuls of the pudding mixture on top.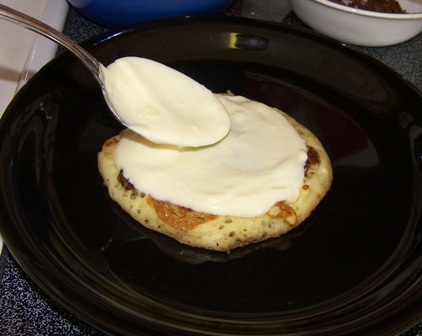 Put another pancake on top.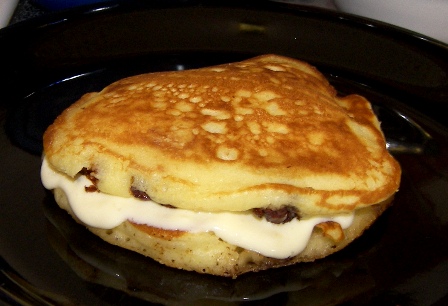 Spread some more pudding mixture on and drizzle with caramel.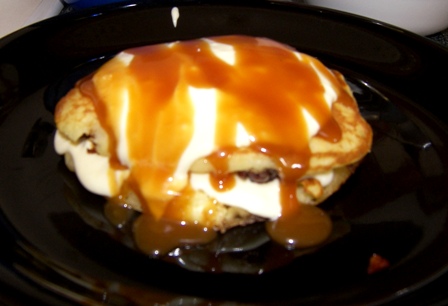 Put the 3rd pancake on top, drizzle with more caramel, sprinkle with powdered sugar,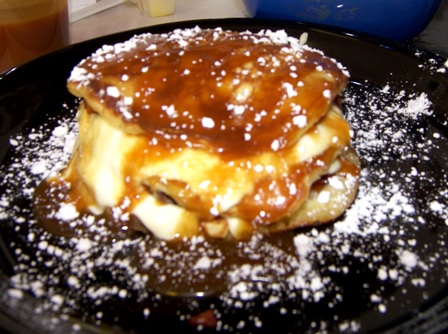 …and add a dollop of whipped topping.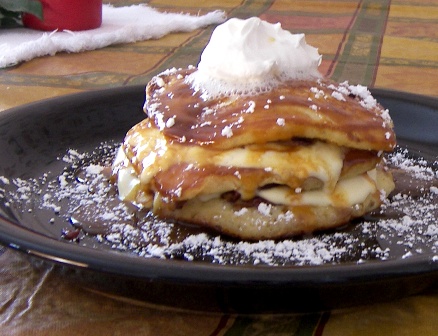 Mmmmm, I can't tell you how good this is! And it's very filling too! I didn't even eat lunch.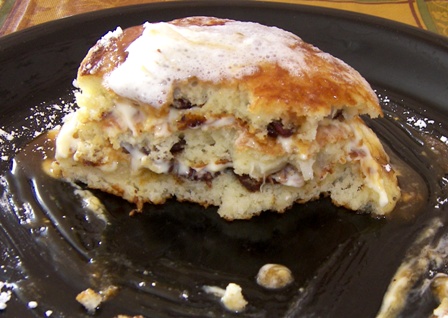 You've gotta try this! If it looks too complicated, you could buy caramel sauce, use regular pecans, and use instant pudding. But, it's so worth it to do it from scratch, especially the pudding!!!! (In my mind, I'm adding about 20 more exclamation marks about the pudding.)
Did you ever have it? I'm pretty sure I did before, but I'd never made it. Shannon grew up with it. He mentioned it awhile ago and I couldn't think what it looked like or tasted like, so I decided to try it. It was good!
About the only thing I've ever made with molasses is Gingerbread cookies at Christmastime. If you like molasses, you'll love this pie.
I got the recipe from my friend Charlene.
Wet Bottom Shoo-Fly pie

Crumbs
1 cup flour
2/3 cup light brown sugar
1 Tbsp. butter
Combine all ingredients and mix until uniform Set aside 1 cup.
Liquid
1 egg beaten
3/4 -1 cup golden molasses ( Charlene said, "I always use 1 cup", so I did too)
3/4 cup boiling water
1 tsp. baking soda
Stir soda into water. Combine all ingredients and mix thoroughly. Stir in remaining crumbs.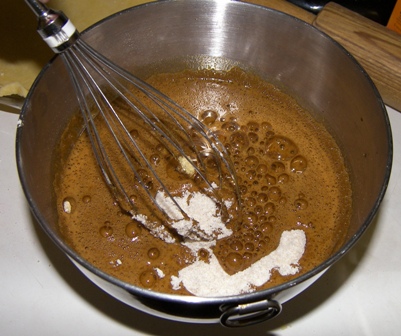 Pour into unbaked pie crust.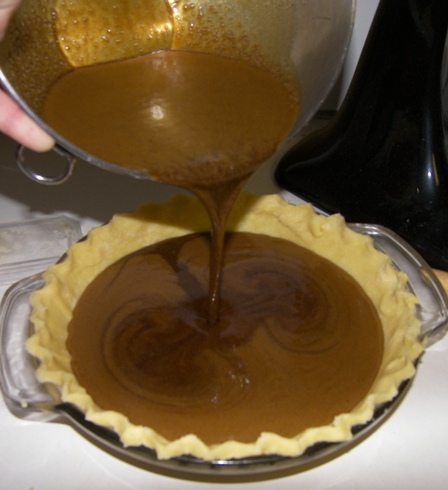 Top with 1 cup of crumbs.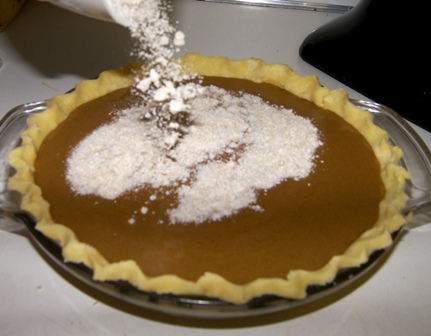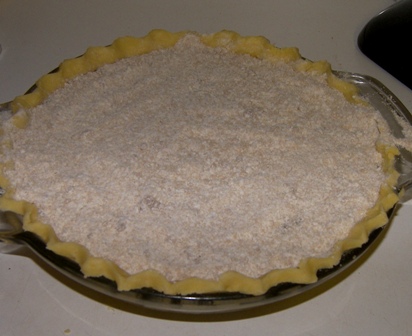 Bake at 375 for 10 min and then 350 for 30 min.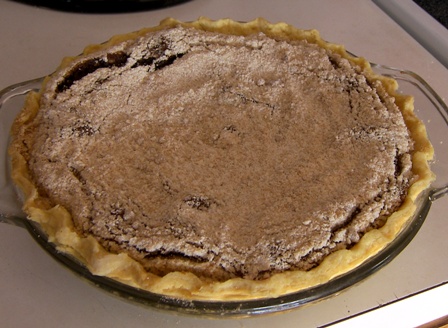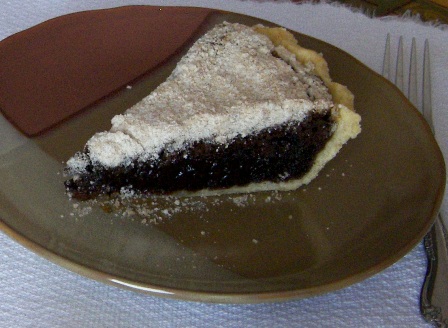 Yum! Make one for yourself! This one didn't last long around here.
Well, our little cooks are back! Actually, they never went anywhere and have been quite busy in the kitchen, it's just that they haven't been making recipes on their own lately. One reason I know they've been in the kitchen is because I'm often tripping over their little chairs that they stand on.
It seems like a hassle, the way they have to move their little chairs around while working in the kitchen… put them in front of the sink, climb up and wash their hands, get down, move the chair over to the cupboard, climb back up, etc. I do wonder how it would be to be working in the kitchen and the counter is at eye level though, so I guess it's worth all the moving around.
The food I'm featuring here barely merits calling it a recipe. But, we got it out of a cookbook and it was in recipe form, complete with amounts. We got a kid's cookbook (a Betty Crocker cookbook named Kids Cook!) for Lexi for Christmas. She loves it. She often gets it off of the cookbook shelf and sits around looking at it and saying, "Mom, we should try this!" So, one time I told her she could pick something to make sometime soon because we're going shopping and we should see first if we need any ingredients. And THIS is the recipe she picked. It is called:
Ants on a Log (Gag! Who ever named them that?!)
Celery
Peanut butter
Raisins
I'll spare you the recipe details and let the pictures and video show you how it's done. Or how it WAS done anyway, maybe not how it oughta be done (there was a bit of licking fingers by the 2-yr-old). One nice thing about the mini cooks making this is that it didn't involve the oven or stovetop or mixer. It did, however, involve a sharp knife for a little bit, but that was closely supervised, and when we were done with that step, everyone still had all fingers intact.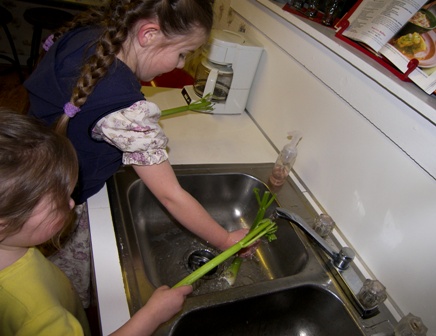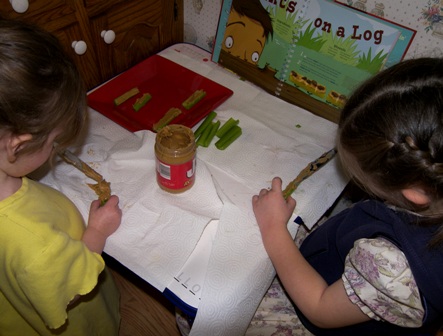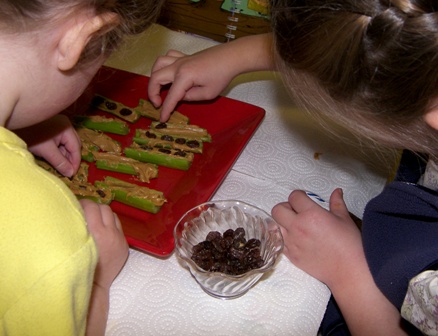 And here it is in action:


Mmmmm, soup. Perfect for winter. That reminds me, last Spring I got a taco soup craving and was going to spend this winter perfecting a taco soup recipe because I love taco soup… and now the winter is already half over!
One problem with soup is that you don't get as much meat as you would in a meal with the meat separate. So, when I made this soup, I doubled the meat because it was going to be the main dish (served with biscuits and mozzarella cheese sticks). I wasn't planning to feature it at the time I was making it because I put in double meat and added an extra spice (as in, I didn't follow the recipe perfectly), so after the first step, I stopped taking progress pictures. Then, at mealtime I was regretting it because it was SO good and I thought you oughta have the recipe after all. 😉 So, the 'done' picture was taken at lunch today when I warmed up the leftover soup and served it with fresh Red Lobster biscuits, salad, and sliced cheese.
Hearty Hamburger Soup …from the Treasured Recipes for our Mothers (compiled by the 3rd &4th grades 1990-1991 at Lebanon Valley Christian School, but I'll bet the moms did more work at the compiling than the students did, altho' the students names are written beside the recipes 😉 )
2 Tbsp. butter
1/2 cup chopped green peppers
1 lb. hamburger (I used 2 lbs)
1 cup diced or shredded potatoes
1/8 tsp. pepper
4 cups milk
1 cup chopped onion
1 cup sliced carrots
2 cups tomato juice
1 1/2 tsp. salt
1/3 cup flour
and I added about 1/2 tsp. of Chef Paul Prudhomme's Meat Magic seasoning
Melt butter in pan. Add onion, carrot, and green peppers. Cook until onion is tender, not brown.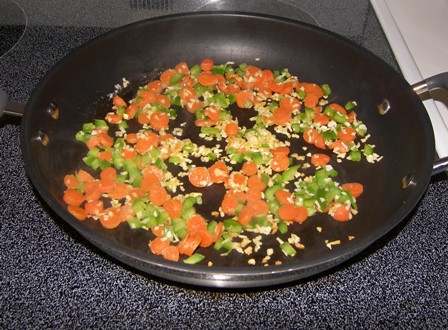 Add hamburger and cook until meat is crumbly (I assumed this meant how it gets after it's browned). Stir in tomato juice, potatoes, and seasonings. Cover and cook over low heat until tender. Combine flour with 1 cup milk and beat until free of lumps. Stir into soup mixture. Add remaining milk and heat, stirring frequently. Do not allow to boil.

Soooo… what do YOU usually serve with soup? It's often a got-all-the-food-groups-in-it dish (assuming you add crackers or croutons), so what food groups do you double up on?